One of the interesting coffees in the whole coffee industry is Armenian coffee. It has such a beautiful history as much as the taste. Most people probably wonder what Armenian coffee is and whether the coffee is the same as other coffee from the Middle East.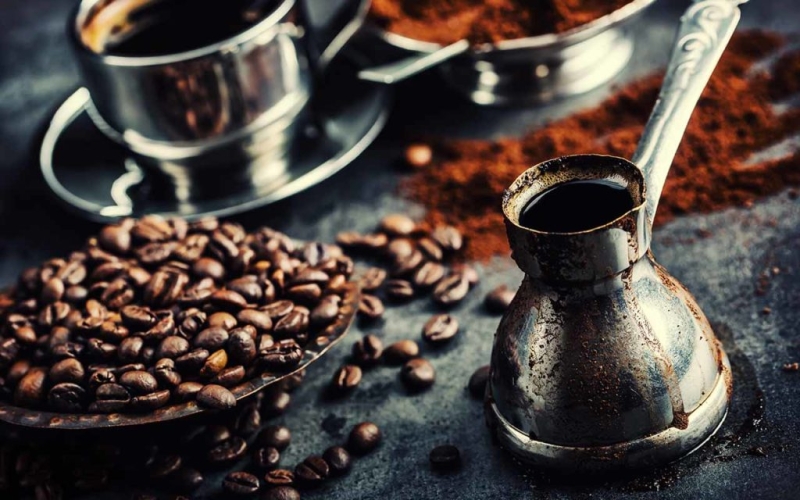 So, through this article, you will get to know more about Armenian coffee. And what it is called "sev soorj", a black coffee in the Armenian language.   
Where is the origin of Armenian coffee if it is not from Armenia?
A fun fact about this coffee is that the coffee beans themselves are not grown in the land of Armenia. There seems to be a complication in specifying the history of Armenian coffee whereas Greek and Turkish coffee are in line.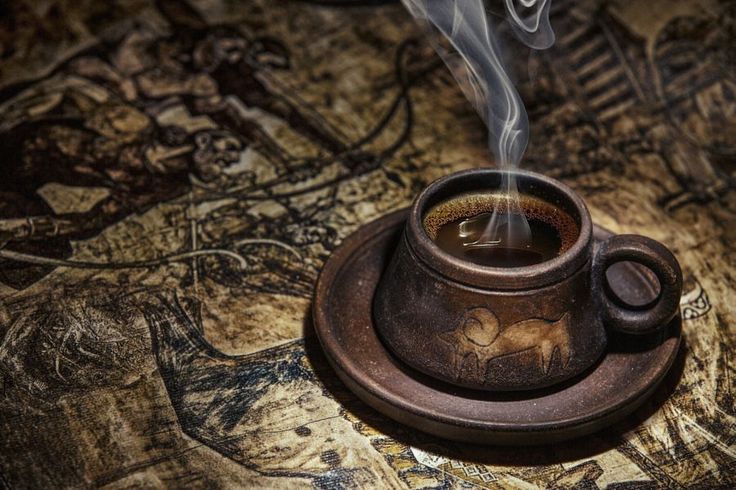 It all started during the Ottoman empire, the Armenian merchant opened the first coffee shop in parts of Europe in the 17th century. But the origin of the coffee drink was from Ethiopia throughout Europe and other regions including Armenia. Moreover, Armenian traders opened the first coffee-house in Vienna and Paris.
There are methods for making a good-tasting coffee based on Armenian cultures. Even though the coffee beans are not grown or have originated from Armenia, it can be said that they were the first that brought coffee to the world.
Why is it called Armenian coffee?
It is called Armenian coffee because during the Ottoman empire the coffee culture was first introduced by the Armenians on Corfu island. It is where the Armenian households were settling there.
However, the Corfu island was not part of the Ottoman. The Armenians had more freedom in establishing their first coffee shop in Europe and since then coffee became knowable in the West. 
The traditional Armenian making coffee technique is unique and so favorable to the end pitch of coffee flavor. This coffee recipe also gives a beautiful touch to its aromatic roasted beans by using its special Armenian coffee pot as a brewing stove. 
How to make a perfect cup of Armenian coffee drink?
Mostly the Armenian people consume coffee in the morning for breakfast or even during the noontime. On side roads, there were little stands selling freshly roasted coffee beans.
The traditional way of brewing coffee recipes is simple. There are only three things you need, good coffee beans, the coffee pot or the Moka pot, and patience. If you are using freshly roasted beans, you need to pre-grind them into a powdery blend so that the brewing is easier.
Thus, choosing coffee beans is critical, make sure to choose your favorite roast level and flavor. Yet, you also need to get your water, and sugar ready in prep time too.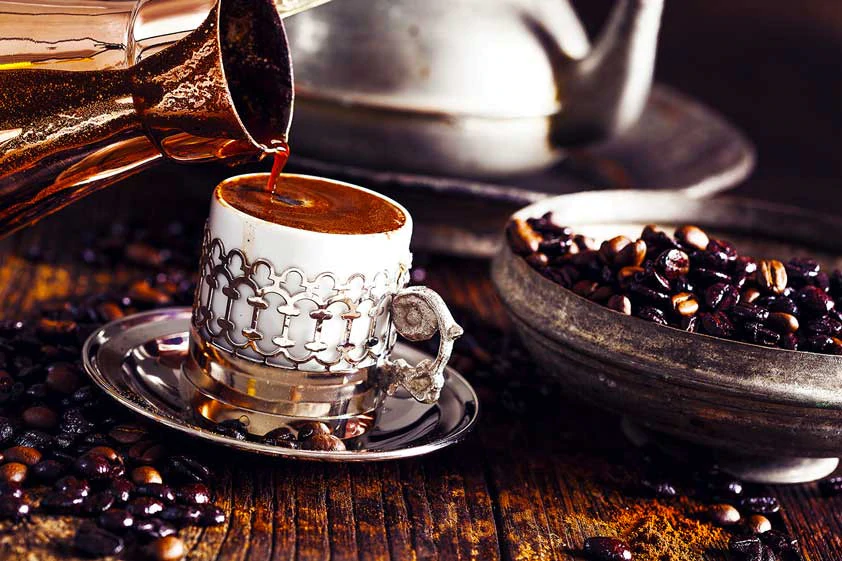 First, you just need to get your ingredients ready in your prep time. For a small serving size, you need one teaspoon of your finest ground, 2 ounces of water, and some sugar which is optional. The last ingredient is cardamom for 1 pod which is also optional. But it would be better if you give it a try. 
Secondly, follow these instructions and tips. Fill your espresso 2 ounces cup with cold water and then pour it into your coffee pot. And make sure to not use hot water or any other liquid because traditional Armenian coffee requires cold water.
Next, add a heaping teaspoon of your finest grounds into the pot, and if you want your coffee sweet, just add a little small amount of sugar and stir all the ingredients nicely. After that, place your coffee pot on a low heat stovetop. Carefully observe the pot to not let it over-boil, or else your coffee is ruined.
While the coffee is forming into bubbles, do not let it over-boil. If you want to add a spice note to the coffee taste, you may want to add a cardamom pod into an empty cup.
Remove the pot from heat and stir it quickly and nicely and return the pot back to the low heat and keep repeating the steps a few times before completely removing it from the stovetop.
Here is the final step, remove the pot from the stove and start pouring the boiling coffee into your cup slowly, so that you won't miss the cream.
Traditional Armenian coffee requires few ingredients but much time and effort. To have a perfect cup of this coffee, you need to sacrifice a little of your time to satisfactorily enjoy the brewing process and coffee taste.
Is Armenian Coffee Strong?
It is seemingly best for black coffee lovers and those who like their coffee a little bitter witha bold and robust taste. The taste is bitter than espresso and it is unflitered. 
What does it taste and look like from other coffee?
Flavor
It is normal for coffee to have different flavors from different regions. The exact flavor note depends on the type of coffee ground you use and the origin of the coffee bean itself. Thus, the taste of the coffee may result from different roast levels.
The variety tastes of coffee cups are dark roast, medium roast, and light roast. The coffee may have a strong taste (if you don't add any flavor). However, it won't have a bitter taste or a grainy texture. 
Aroma
Your kitchen will fill with the rich aroma of freshly ground coffee beans while brewing this amazing coffee, and a vibrant brew that will catch your senses from afar.
However, do not use a direct flame to your coffee beans when roasting or else you will get a burned coffee beans smell.  
Viscosity
This coffee has a thick consistency. Since the water used is unfiltered, when pouring into empty cups you need to wait for the grounds to fall to the bottom of the cups before sipping. Or else you will get that slushy residue. 
Crema
The perfect cup of Armenian coffee tends to have a thick crema and that depends most on brewing techniques. The coffee will develop a thick and rich crema when you stir the coffee pot. While it starts bubbling and it will disappear once you pour the coffee into cups. Stirring while the pot reaches the right temperature, it helps the coffee to develop a thick crema.
Final thoughts
In Armenian culture, learning to make coffee is considered a crucial step of adulthood. Since the coffee drink is a social drink in their culture, a ritual to bond friendships, families, and neighbors closer. The best way to learn to make the best coffee is to keep trying and always remember to measure and stir to combine all the ingredients nicely and carefully.
It is rare to find an authentic coffee shop that makes traditional Armenian coffee. Yet, the brewing method and technique are quite simple. The ingredient is easy to find too, you can also try making traditional coffee at home with Armenian coffee beans.
Reference
Here's How to Make Armenian Coffee – Heghineh Cooking Show By Heghineh Cooking Show