Escaping the city for camping is always a dream. It's where we get to refresh our minds for a little while with a campfire at night, stars over our heads, and waking up with the natural greenery morning breeze. Talking about the morning breeze, we always need to tag along with the coffee. Just imagine the smell of freshly brewed coffee while camping in such a natural atmosphere, so fresh isn't it?
However, we all have different techniques and tastes of coffee. But, if we decide to do camping, we have to deal with everything we possibly can. So why not try new techniques in making your own coffee?
Here are the 10 ways to make coffee while camping. You will find an easy yet tasty coffee during your camping. And keep in mind that adventure is fun when you decide to take some risk. Having a cup of coffee in the morning is always good to energize your body and mood for more adventure.
1. Instant Coffee or Steeped Coffee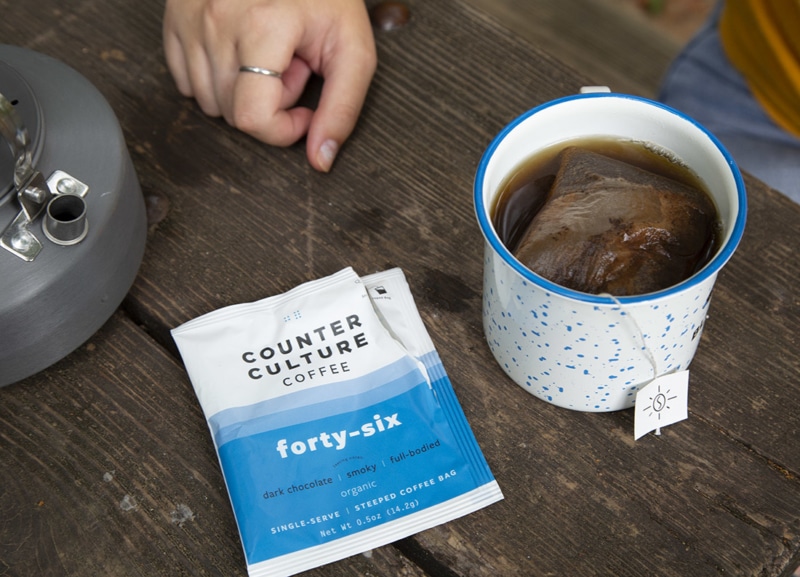 Instant coffee has its reputation for decades with its delicious taste and easy-to-go for traveling and is one of the greatest options for camping. Instant coffee is a coffee powder that is made from the beans of brewed coffee and has a lightweight that most adventurers prefer to save space, especially for backpackers.
To make coffee with instant coffee, all you need are just instant coffee, kettle, and clean water, and making this only takes about 30 seconds to less than 5 minutes for the coffee to be ready for you to enjoy.
However, if you want to find another method that works easier for instant coffee, you can go with steeped coffee, it is a coffee tea bag which is another great option to make coffee while camping. Both instant coffee and steeped coffee are great choices for those who want to save time and look for lighter things to pack.
2. Making Cowboy coffee
Cowboy coffee sounds so cool, the fact is this method is the simplest way to make coffee for camping, you only need a kettle that can be placed on the campfire to boil water, and also you need ground coffee to put in the boiled water.
Once the water is boiled, you may put the coffee beans in, and then you will hear the sizzling sound of the beans, after a few minutes the beans will sink to the bottom and you will have your coffee ready to serve.
But you need to be careful when you pour your coffee not to over pour because you would not want the ground coffee to get into your coffee mug and ruin your good coffee. This technique only needs about 5 minutes once the water is boiled, and you also need ground coffee, a mug, clean water, and a kettle that can be placed on the fire.
3. Use an AeroPress
If you are a dedicated person and care about your coffee, you can consider this method by using AeroPress to make you coffee during camping in which this is the coolest technique and also looks fancy for your camping as well.
Those who have experienced this AeroPress said that this helps the coffee to have a rich and smooth taste because this tool works in pressuring the ground beans into a small puck which resulted in a perfect brewed coffee and it is also to clean. And in order to make your coffee with this AeroPress.
First, you just need to push the plunger out of that chamber then put the filter in the filter cup. Next, twist the filter cap onto the chamber, and then place the chamber on your preferred cup. Take a scoop of your favorite grind coffee and put it into the chamber.
After measuring the level of coffee, add hot water to the level measured and stir for about 10 seconds. Then, insert the plunger and press it gently to make sure that you have a nice texture of your coffee. You only need about 3 minutes to make your favorite coffee with this tool, easy and enjoyable with your morning camping.
4. Use a Moka Pot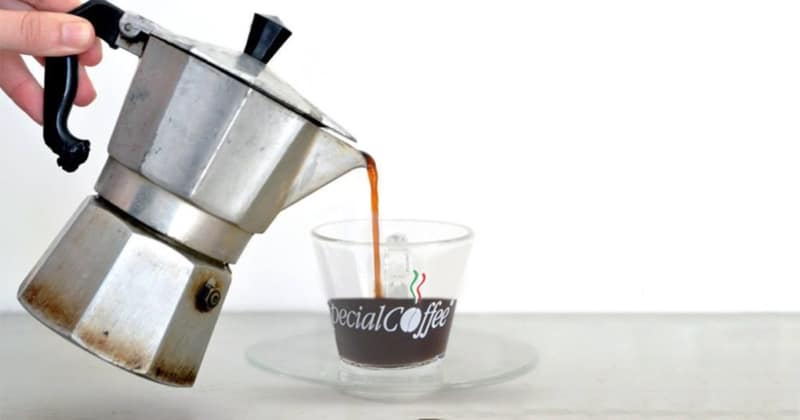 If we are out camping, we have to think of many different ways to live our days without electricity, so yeah if you want a cup of coffee in your morning. You also need to think of something ahead too. So, here we may suggest a way to make your coffee without needing electricity is by using a Moka pot.
A Moka pot is an Italian-made pot for coffee, this pot is what the campers should be considering using to make coffee during their camping or traveling. Using this technique might take a bit longer than AeroPress, but both are worth the wait.
First, you need about 20-22 gram of your grind coffee to make the exact shot of espresso. Then, boil water to fill the bottom half of your Moka pot to make coffee. Then, place the pot's filter basket with ground coffee and make it evenly balance.
After that, place it on the bottom compartment and cover the pot. Put the Moka pot on the stove pan with medium heat because you would not want to burn the coffee. Wait until you hear the bubbling sound from your pot that is when you know your coffee is ready to serve.
This technique might sound a bit complicated but trust me this is more fun when you get to make your own coffee during camp, plus this looks fancy having one of these pots.
5. Pour-Over Stand
This pour-over stand was designed as the best choice for those who care about their coffee. And this is made out of ceramic with such a lightweight and suit perfectly for campers who seek to enjoy the drops of coffee in the morning of their camping.
As a coffee lover who respects every drop of coffee, this is yet another best option for you. To make coffee during your camping with this, you need to take either paper or cloth. It should be made from neat materials that would not let the ground coffee get into the coffee mug.
So, take that paper or cloth filter to place over the cup with the coffee ground which is already filled in that filter. At the same time, boil your water because you need it.
Then, get your boiled water ready to pour slowly into the filter in a circular motion making sure that you get every edge of the coffee grounds and leave no dryness, and that is how you can get your coffee from using a pour-over stand.
6. Use Bripe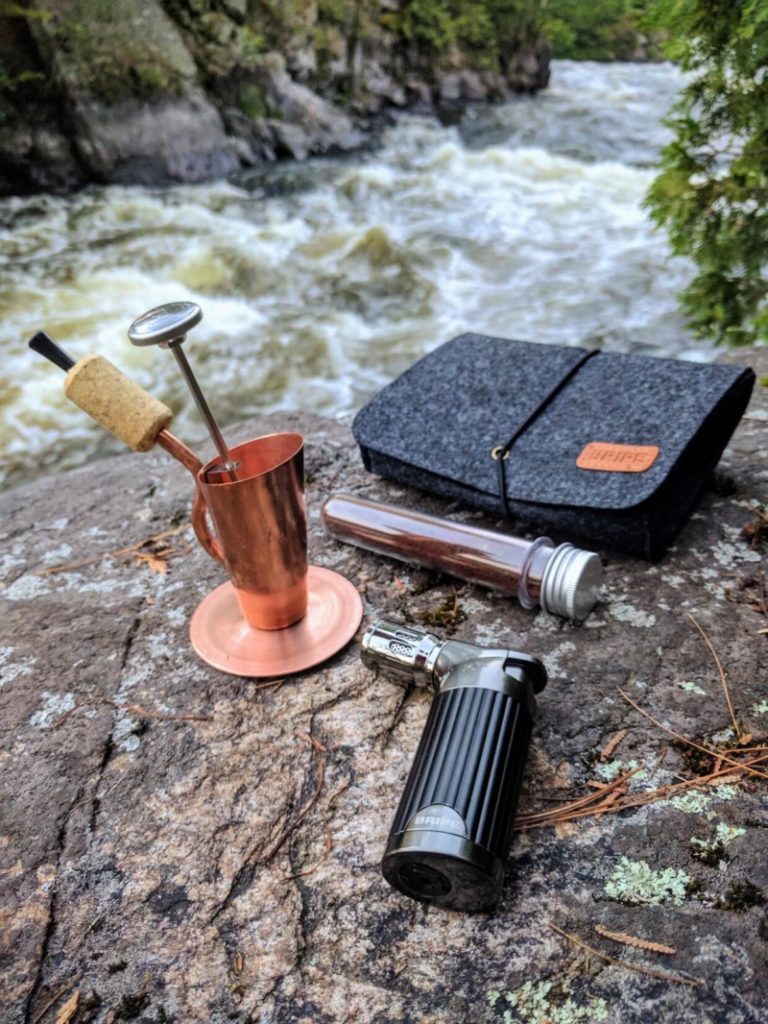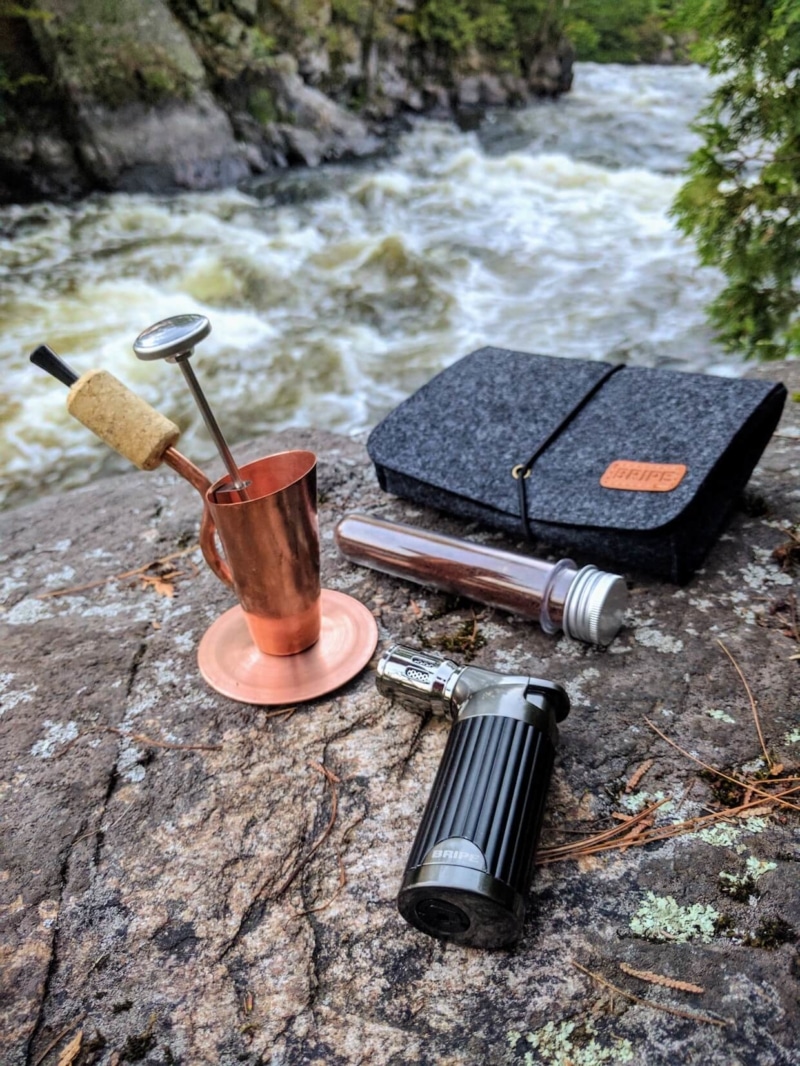 Bripe is seemingly like a pipe, which is perfectly suitable for you to make coffee while camping where you may take a sip and enjoy the wildest view. The bribe is all about the bowl with a pipe which you sip your coffee through.
Having one of the bripes along to your camping is already a good start since you will be able to make your favorite coffee while enjoying the best view in the clearest sky.
To use this bripe is easy, you need to find your preferred ground coffee and clean hot water. Once you are all packed with these, you may put the ground coffee into the cup of the pipe, pour the water in and boil it by using lighter or stove pan.
Also, you may also want to use a thermometer to measure the hotness for safety when you sip the coffee through that pipe, so you will not burn your tongue. After all, this bripe is what you should consider bringing along to make your favorite coffee while camping.
7. French Press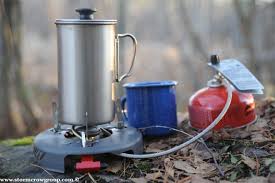 French Press has been recognized as one of the easiest and cheapest ways to make coffee. It is a portable carafe that you can tag along for camping or traveling.
There are a few things you need to make coffee with this French press. Those are a pot to boil water, ground coffee, a camping mug, and the heat source (whether a stove pan or anything that you can use to boil water).
So, making camping coffee with this portable equipment is not complicated. First heat up the water, then take your French press. After that, take out the plunger then add your preferred ground coffee to the brew chamber of your press. Then, pour your boiled water in and stir it gently for about 15 seconds.
After all, reinsert the plunger and leave it there for like 4 minutes and then pressure the plunger a little bit downward for another 10 seconds, and that is when your coffee is ready to serve.
8. Percolator Camping Coffee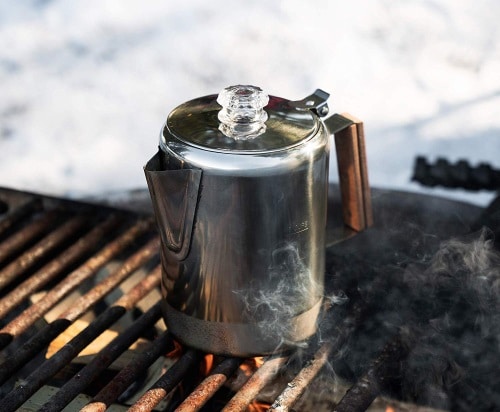 This method has been standing out as the easiest and most convenient way to make coffee while camping. This technique requires no electricity but fires like a leftover campfire which we can use to heat up the water.
The percolator is a stainless-steel coffee maker pot that is conveniently easy to tag along to your camping site. Making coffee while camping we also need to look out for small and easy equipment to make drinks or cooking. This percolator is what we should consider having one for our camping.
To make this coffee, we just need our favorite ground coffee, clean water for boiling, a coffee mug, and heat sources like coals or lighter or stove pan.
The procedure of making coffee in a percolator is also easy to catch on. First, remove the percolator apparatus and add water then close it back. Next, add the ground coffee to the filter basket.
Besides, make sure to align the siphon stem to the sight glass once you close the lid. Use medium heat brewing the coffee to your preference. Then, open the lid and take out the apparatus and you can pour your coffee into your mug and enjoy sipping your coffee with the nature view.
9. Portable Espresso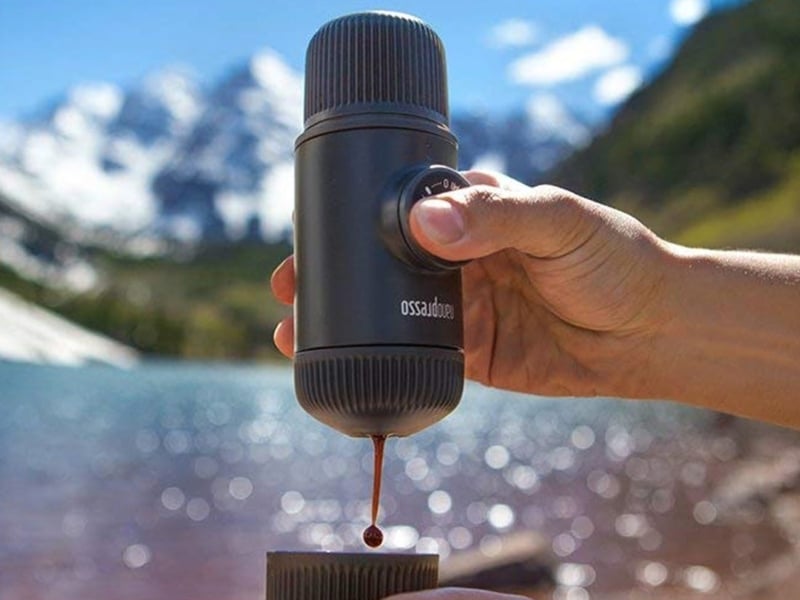 Camping is all about fun and excitement and making coffee is one of them. The portable espresso makers are the fancy model for campers who would like to enjoy their coffee while camping.
The portable hand-powered espresso maker needs just a quick drop of your preferred grounds coffee into one of the compartments. Adds boiled water into another compartment and then press the button to build out steams.
Control the amount of the extracted coffee into your coffee mug, once it is all out, you can enjoy your coffee right away. This portable espresso machine is a little fancy coffee maker that fits best for camping conditions.
10. Single Serving Pour-over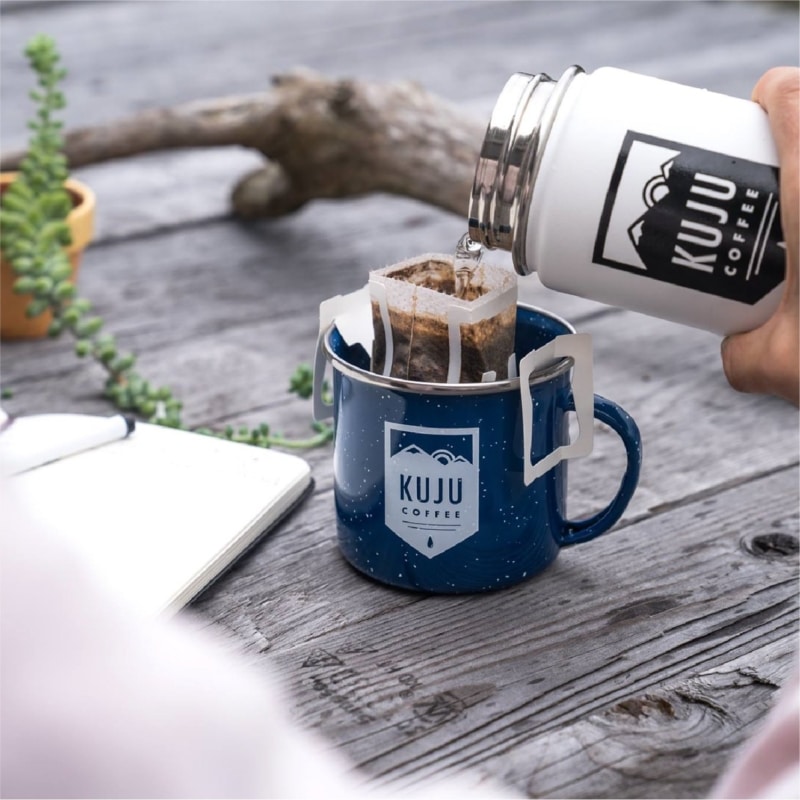 This method is similar to instant coffee and cowboy coffee but this is another version of pour-over coffee. The single-serving pour-over is packed with coffee grounds as a pouch that you use to place on the top of your cup. Just pour over the boiled water onto the coffee pouch till it is soaked, then you remove it and you can enjoy your delicious coffee.
Final Thought
There are different types and way to make coffee while camping. Those above-mentioned are the most convenient and preferred to most campers.
We all want perfect and memorable camping with our friends and loved ones. Meanhile, waking up to the morning breeze with delicious coffee in hand is in need to be captured. So, coffee while camping? Worry less.
References