When we live daily depending on coffee caffeine to boost energy, we also tend to look for more information regarding it. For example, you search for types of coffee and which one is suitable for you. Perhaps someday you drink coffee and it doesn't wake you up so you wonder why. Or because you need to know the strongest coffee brands, then you're here finding out the article reviews about them to see which product is worth purchasing.
Before jumping into that, you might love to read some insights discussing the amount of caffeine, the factors that cause coffee change.
What is Strong Coffee?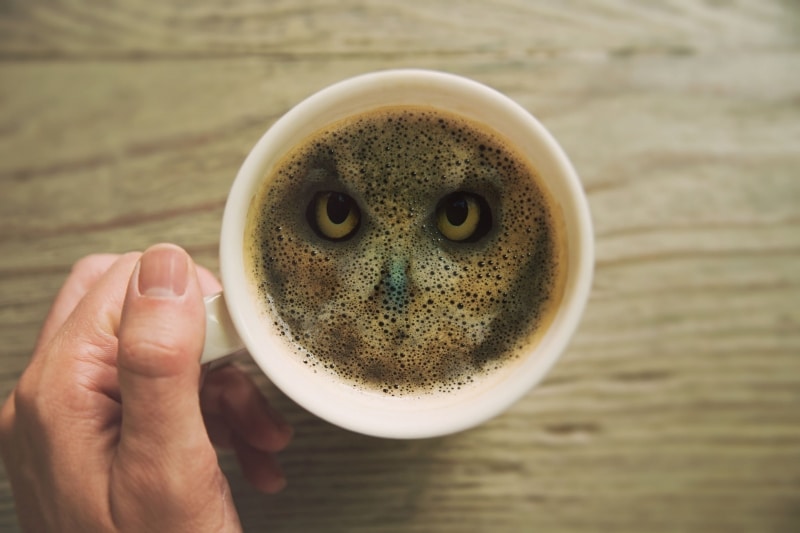 We drink coffee every day and are ambivalent about the meaning of strong coffee. Like me, I used to get confused when I first wasn't a coffee addict. Don't assume that bitter-tasting is strong coffee.
In particular, strong coffee refers to high caffeine coffee. Usually, we hear of the words "rich", "bold" or "deep" they all associate with strong. Explaining in an understandable term, it should be something that enables you wide-eyed, to wake up, to stay alert for many hours or maybe a night.
How Much Caffeine is in Coffee?
There is no specificity in how much caffeine can be in a cup of coffee. Coffee strength depends on various factors, namely types of beans, roast, and coffee grounds. If you drink instant coffee, decaf, brewed coffee, espresso shots, they do not contain excessive caffeine that would be harmful to your health.
a. Beans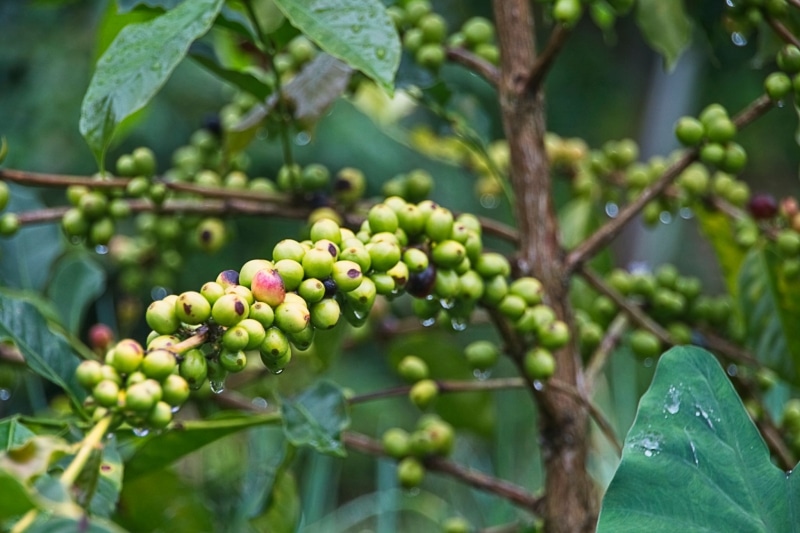 For beans, there are 2 well-known types including Arabica and Robusta coffee beans. Coffea canephora or the Robusta has double the caffeine content than the Arabica kind.
Specifically, 1 kg of dry roasted Robusta caffeine content is between 68.6 mg and 81.6 mg.
However, Arabica has around 34.1-38.5 mg caffeine per 1 kg dry roasted coffee.
Comparing their coffee tastes, Robusta beans are more bitter and less sweet than Arabica. Most of the time, we'll see that coffee brands have a blend of these two coffee varieties.
b. Roast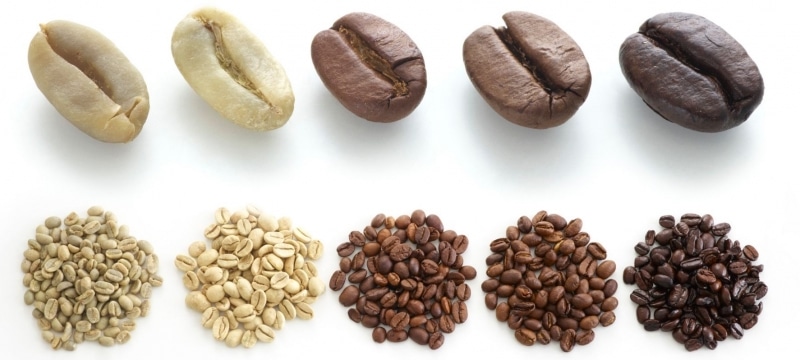 As for roasting types, they're light roast coffee, medium roast, medium-dark roast, and dark-roast. This category ranges from the most caffeine to the least caffeine content. So let's be clear that the colors contrast caffeine content. The light color the more caffeine it has.
c. Size of Ground Coffee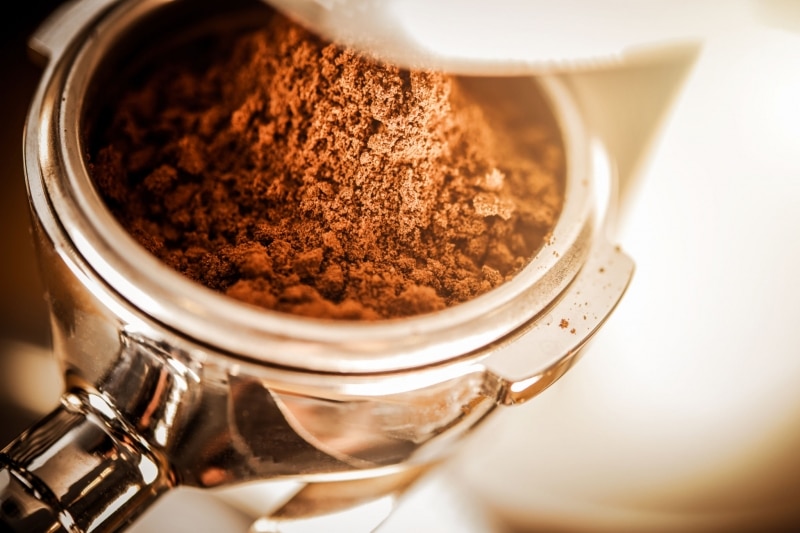 There's a difference between the fine and rough grounds. Can you guess which one has more caffeine content?
Ta-da, the finer the grind is the more caffeine it produces. If you measure 21 grams finely grind into the portafilter, you'll be able to brew 160 milligrams of caffeine. Preparing coarse coffee grounds with the same portafilter, however, will produce less caffeine and a weaker-tasting drink.
With Different Brewing Methods, How Much Caffeine is in A Cup of Coffee?
a. Drip Coffee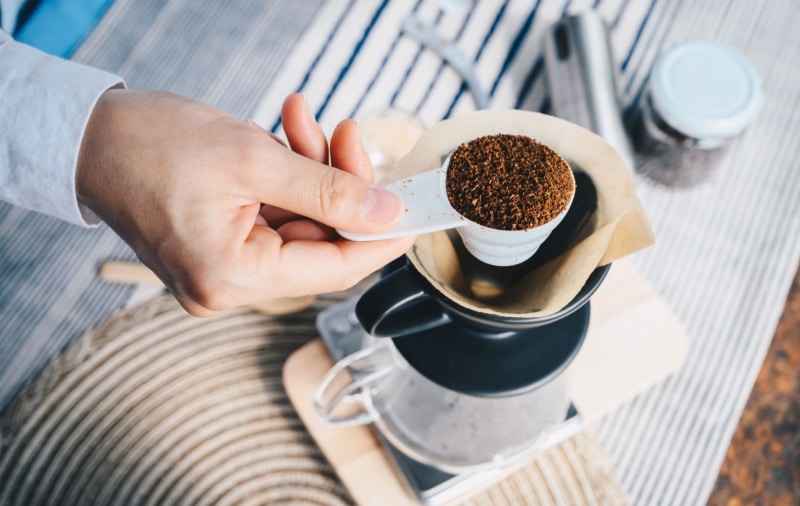 The average 12-ounce cup of drip coffee has about 142 or 160 milligrams of caffeine. Caffeine levels in drip coffee can be rather high. You may make a strong cup of coffee by adjusting the water to coffee ratio; 1-ounce cup of coffee and 6 oz of water. You may also change the ratio by increasing or decreasing it.
You can easily make drip coffee for one cup or several cups at once. To get a delicious coffee, use a water reservoir, ground coffee, and heat.
b. Espresso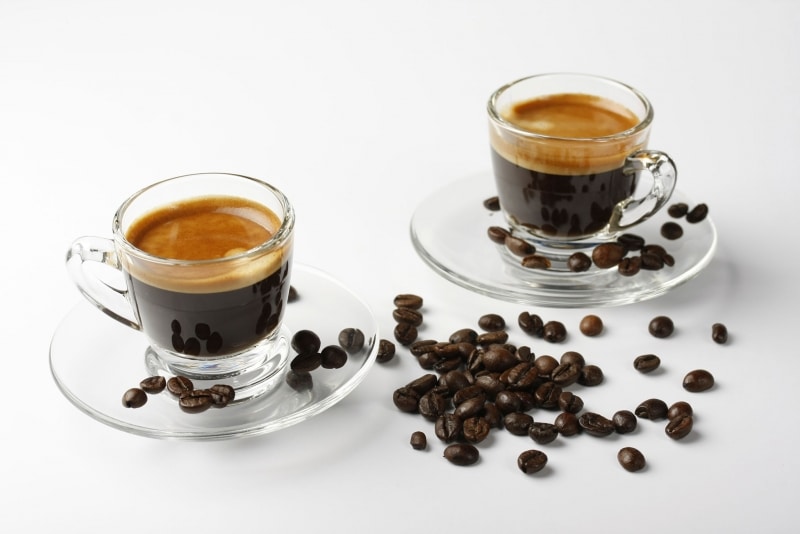 Generally, an espresso machine uses hot water (extremely high temperature) and very fine grounds in order to guarantee that it's robust and a very strong coffee. The average espresso contains approximately 65 mg caffeine per 10 oz shot.
c. Cold Brew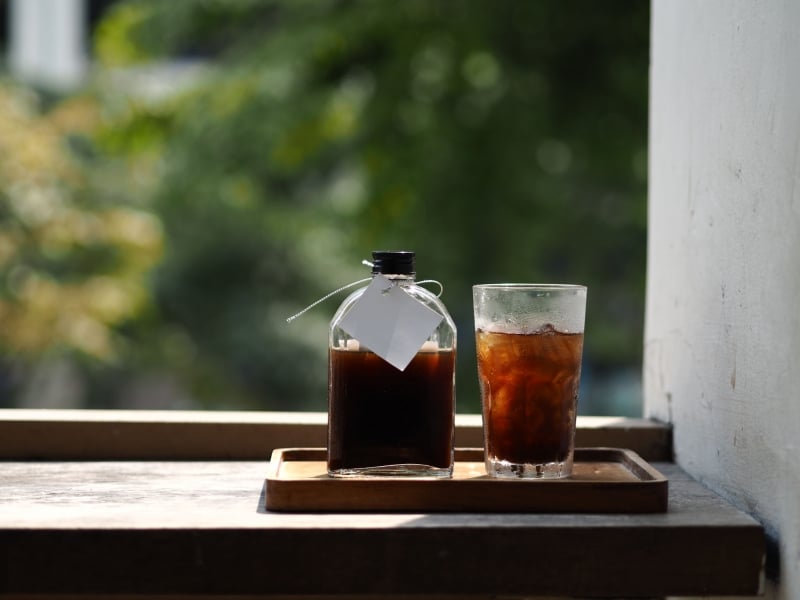 Talking about this coffee preparation, it gives around 150 milligrams of caffeine per 12 ounces cup. You can also make it with less caffeine content with around 100 milligrams of caffeine per 8 ounces cup.
If you want to make an excellent cold brew, steep rough ground coffee in water for approximately 12 hours before straining.
d. French Press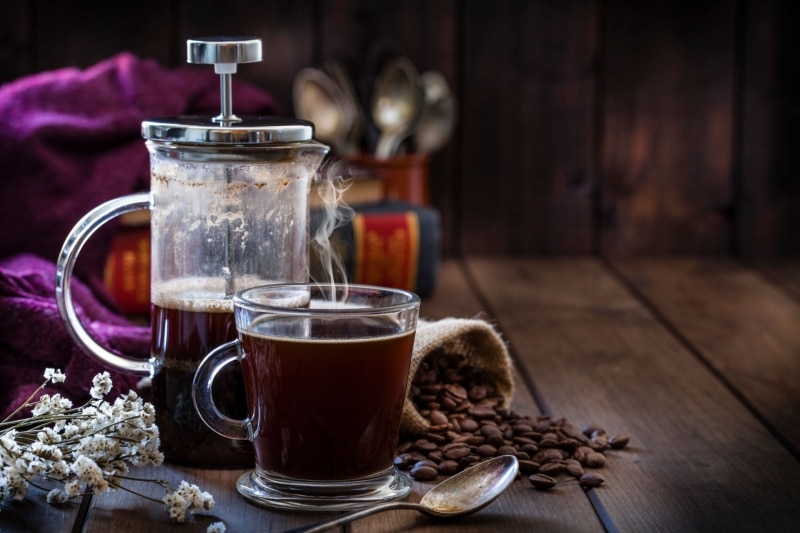 Getting a tasty and high-level coffee caffeine is what French Press can help you with. In fact, you'll get 160 mg French Press coffee caffeine per 12 oz serving.
The French press extraction process is rather harsh, and unlike other brewing methods, there is no filter to absorb any of the oils or chemicals from the coffee beans.
How Much Caffeine is Too Much?
It's considered too much caffeine when your body has symptoms. Caffeine consumption can positively affect your body yet it also leads to unfavorable reactions such as headache, irregular heartbeat, or difficulty sleeping. These are signs showing you absorb so much caffeine. Although caffeinated coffee consumption can be cut down, recommended intake should be around 400 mg per day for most healthy adults.
Nonetheless, 10 items below reach high-level concentration but they're safe to drink for those who have good tolerance or are also known as caffeine addicts.
List of Top Strongest Coffee Collection in 2023
10. Biohazard Coffee, World's Strongest Coffee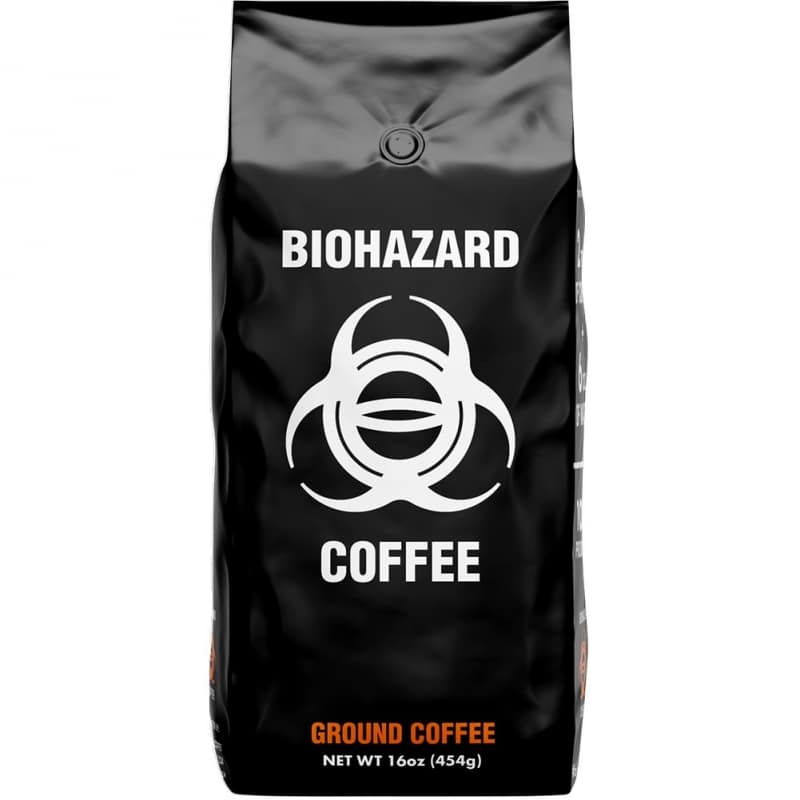 This ground coffee keeps you persisting in an early morning college classes or being a night owl to study for exams. With 928 milligrams of caffeine per 12 ounces cup, you'll be awake from feeling lethargic as it has 4 times caffeine content than regular coffee and 2 times the energy of most energy drinks. 
Biohazard coffee is produced through completely natural processes. It's a dark organic roast coffee made with Robusta beans. Additionally, it's packaged pre-ground and in a one-pound bag. You cannot easily find such the strongest coffee with none of the bitterness like Biohazard coffee. If you have great coffee tolerance, this won't let you jitter.
What we like
Palatable taste
Allow you stay wide awake longer
Provide you a sharp mind with clear focus
9. Lavazza Kicking Horse Coffee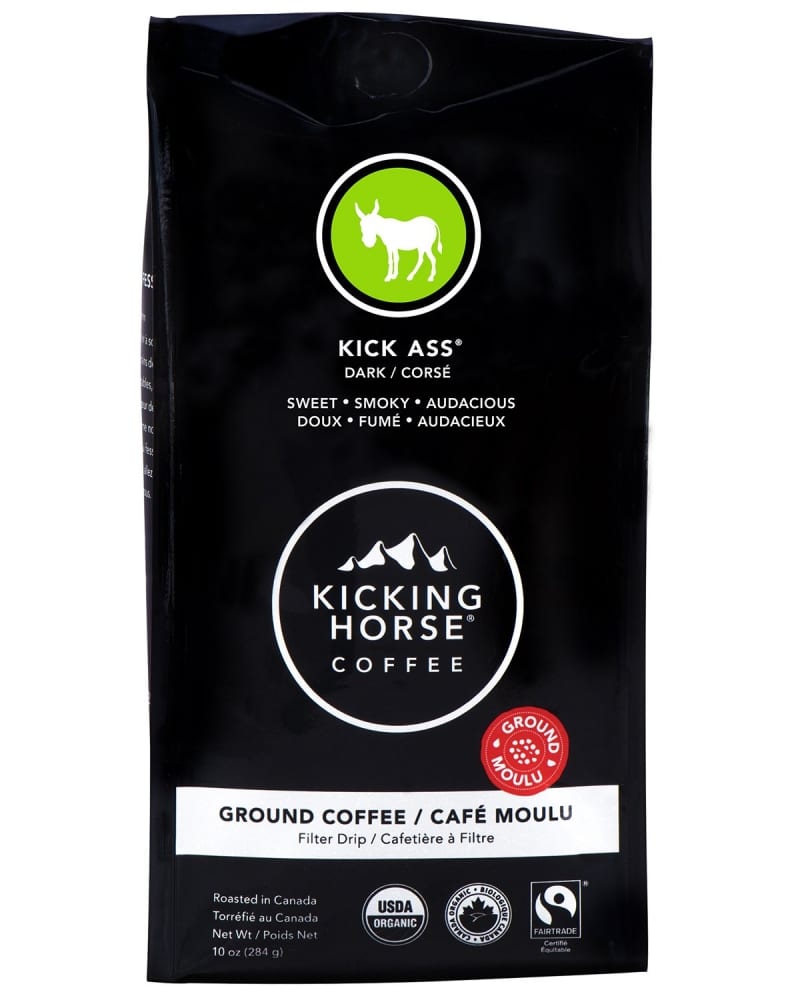 Deep, dark, delicious, Lavazza is one of the strong coffee brands based in Canada and made from Arabica beans. Although the plants are originally grown in Indonesia and South America, the coffee beans are roasted beneath the towering Canadian Rocky Mountain peaks.
This coffee ground offers the aroma of chocolate malt, molasses, licorice, and an earthy finish. In brief, it has a sweet, smooth, and smoky taste. Moreover, its brewing method is either machine drip, pour-over. It's also fine to brew it in the cold but you might not get the best-tasting coffee. Whatever you prepare for drinking, it'll surprisingly make you stay focused.
The site seller didn't specify caffeine content, yet it's a strong coffee that some purchasers recommend.
What we like
Fresh, bold and flavorful
Affordable price
The product is fairtrade
It is USDA organic certified and Kosher Check
What we don't like
Might not be the choice for those who dislike smoky flavor
8. Italian OLDE Brooklyn Coffee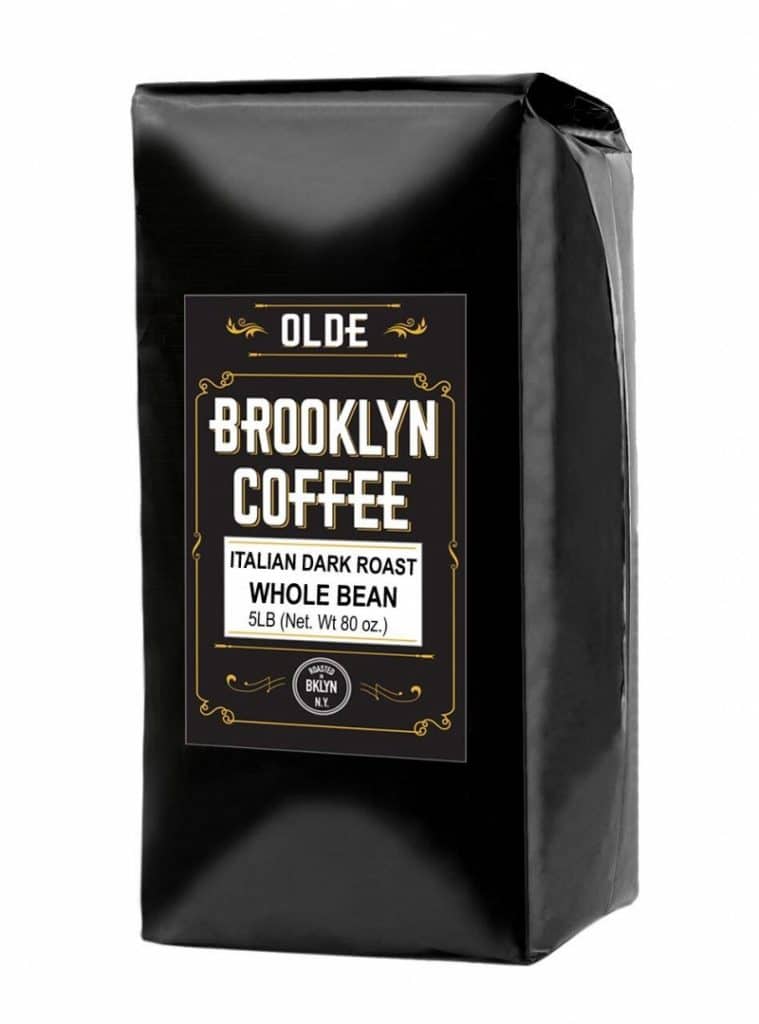 Another dark roasted coffee appearing in the whole bean, it's a unique blend of Columbia, Brazil, and Guatemala varieties. Coffee drinkers can always experience the latest cup because it is roasted weekly to ensure fresh beans. 
Let's begin the morning with this freshly brewed coffee. Also perhaps you prefer cold brew or make it in Fresh press, it's perfectly suitable with any preparation. This coffee leaves no bitter aftertaste with the note of chocolate. But if you make espresso, it offers a full-bodied and little bitter flavor.
What we like
Smooth and strong coffee
Freshly roasted
Can make with any coffee machine
What we don't like
A few customers complained that this dark roast coffee is usually inconsistent
7. Dark Roast Join Top Shelf Grind
Offering "success starts first thing in the morning" grind according to its website, this brand claims to be high caffeine coffee premium dark roast. Its caffeine content will amplify your focus and support you to perform steadily throughout the day.
This coffee is available in the whole bean so you're required to use a grinder. You can grind coffee beans before consumption prior to brewing for the freshest taste in every cup. But if you grind them and keep them fresh ground in the coffee canister, they will hold up well.
What we like
High caffeine content
Low acidic
Light and smooth flavor
Zero toxin and mold
Reasonable price
What we don't like
A few customers criticized it has unpleasant taste
6. French Market Coffee Pack of 6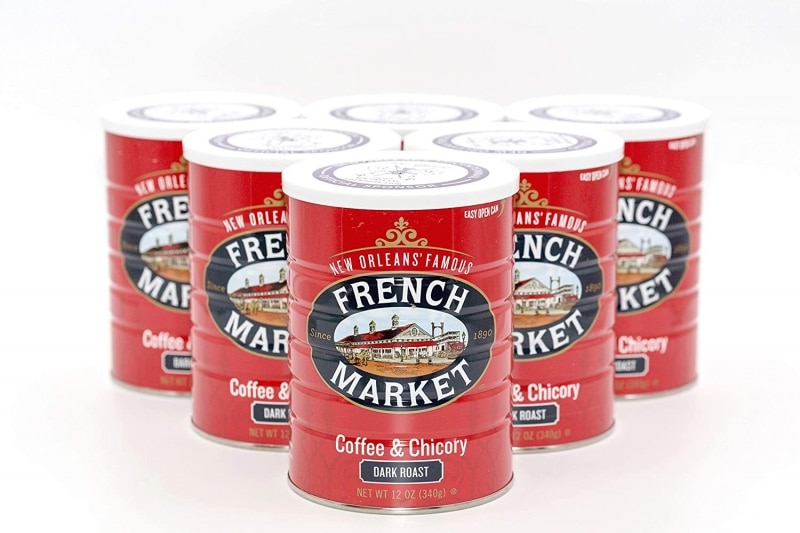 This exotic ground coffee, which skilled roasters handcrafted, is made out of French chicory and 100% Arabica beans. It delivers a deep and smooth flavor to your mouth that will be mind-blowing, don't you believe it? You will feel energized and enjoyable after taking a sip. Doesn't give you jittery!
For the overall best flavor, use a drip or filter method. Whether you want a bracing cup to wake you up in the morning or finish a long evening, French Market dark roasted coffee is sure to be your impeccable partner.
It's one of the highly caffeinated coffees rated five stars by a lot of purchasers although its selling site didn't mention caffeine content.
What we like
Bold and rich taste
Bitter free flavor
Gluten free
Great price
What we don't like
For some people, it smells quite odd
5. World's Strongest Coffee Valhalla Java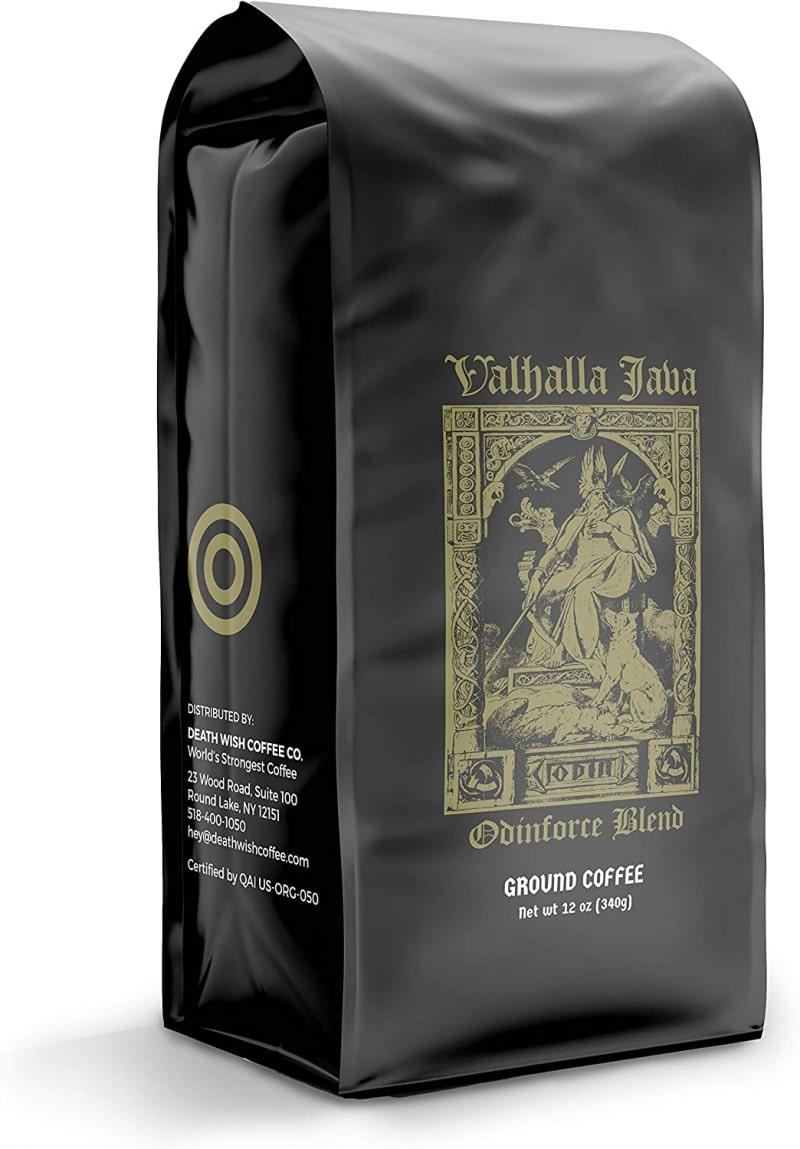 We're reaching the strongest coffee content which "this blend will bring you back from the nights you thought you'd never wake up from" according to the website. Valhalla Java is a product named by Death Wish that was produced by legendary guitarist Zakk Wylde.
It provides a caffeinated-flavorful aroma because it's a blend of arabica and robusta coffee beans. You know, the notes of nuts and chocolate will leave you with a distinct finish. At around 600 milligrams of caffeine per 12 fluid ounce cup, this coffee ground will let you function properly for a long time without feeling sleepy.
What we like
Smooth and earthy taste
2 in 1 blend of top coffee types
Make you wide awake
Excellent customer service
4. Café Bustelo Espresso Style Dark Roast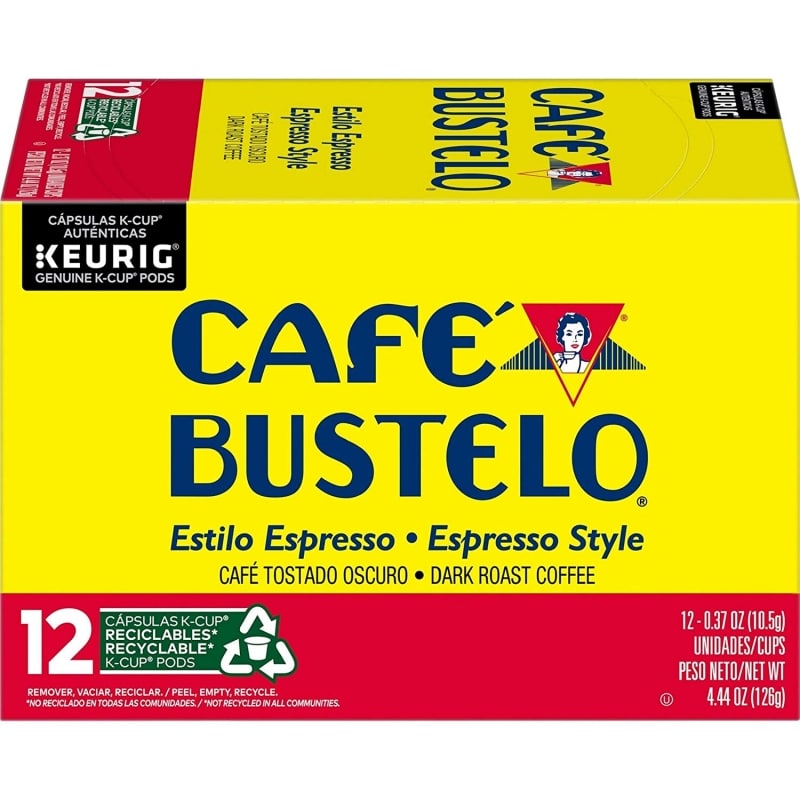 Gather K-cup hardcore fans to purchase this! But it's okay if you're not. This coffee is super handy for daily consumption, coming with 6 boxes, which each box consists of 12 pods. Café Bustelo can help you from a craving for Spanish-styled coffee, and you can simply make it in less than a minute.
This K-cup pod set is compatible with Keurig K-Cup brewing machines. It'll surely give you a high-octane performance in the morning with its robust taste and captivating aroma. From some customers' experience, 12-ounce cup serving might be less strong. Their suggestion is you may try to brew at 4 oz and enjoy this strong caffeinated coffee.
What we like
Delicious
No harsh taste
Wake you up
Easy to make
Worth the price
What we don't like
It might not be that dark roast favourites of a minority of people
3. World's Strongest Coffee Death Wish Pods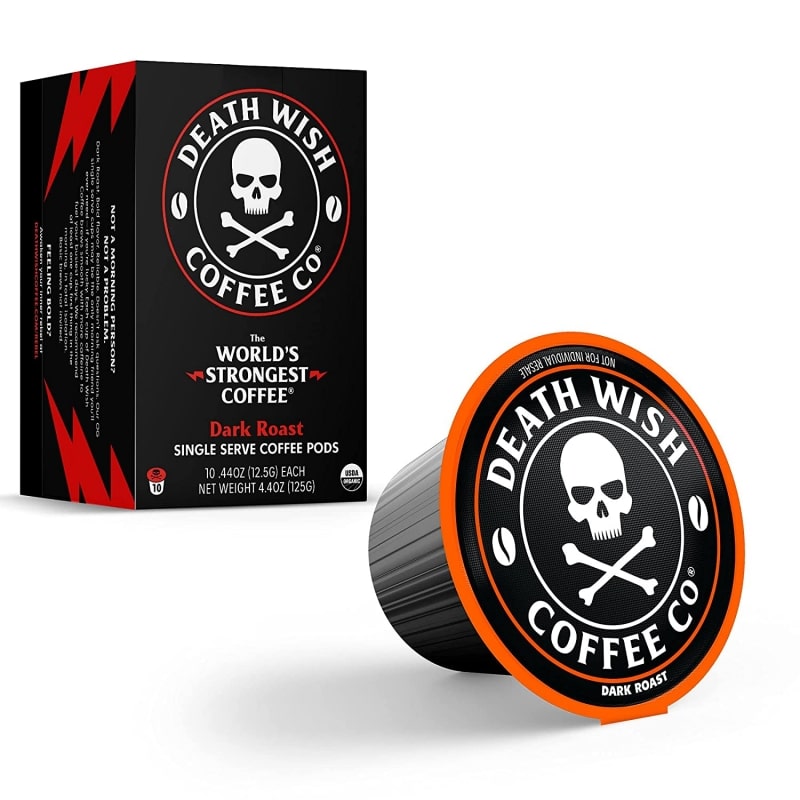 One of the full-bodied coffee that you need to try. Just a single-serve pod instead of 2 or 3 cups, all done and easy, you're fully awake. It's beneficial to those who work many shifts, they can be invigorated by its around 700 milligrams caffeine content per drink.
These cups are convenient to use since it has compatibility with most coffee brewing machines. With a blend of arabica beans and robusta, make this coffee's flavor bold with the little cherry and chocolate notes. This is also why this most caffeinated coffee has low acidity.
What we like
Strong and smooth coffee
Not bitter taste
Fair Trade Organic
Easy to use
What we don't like
Pricey for such small quantities
2. Solimo Amazon Brand Coffee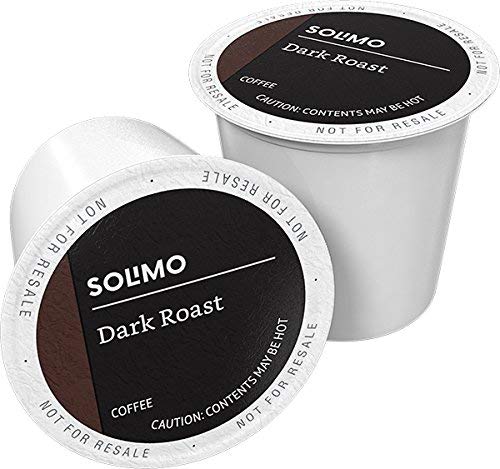 Solimo has a fully Arabica coffee in which it's a mixture of beans from Latin America, Africa, and Indonesia. This coffee caffeine promises a strong and satisfying flavor but contains mild acidity. So regarding an intense flavor scale from 1 to 10, this coffee ranks 8.
For the brewing method, you can use 1.0 and 2.0 K-cup brewers. You should make a 10 or 12 oz setting to get the rich flavor cup of Solimo. In a package, there are 100 pods and they're easy to use, especially necessary for busy people.
What we like
Smooth and deep flavor
No burnt or bitter taste
Suitable to be a morning coffee
What we don't like
A few customers encountered issues with the pods, either explode or not match with machine
1. Death Wish Strongest Coffee in the World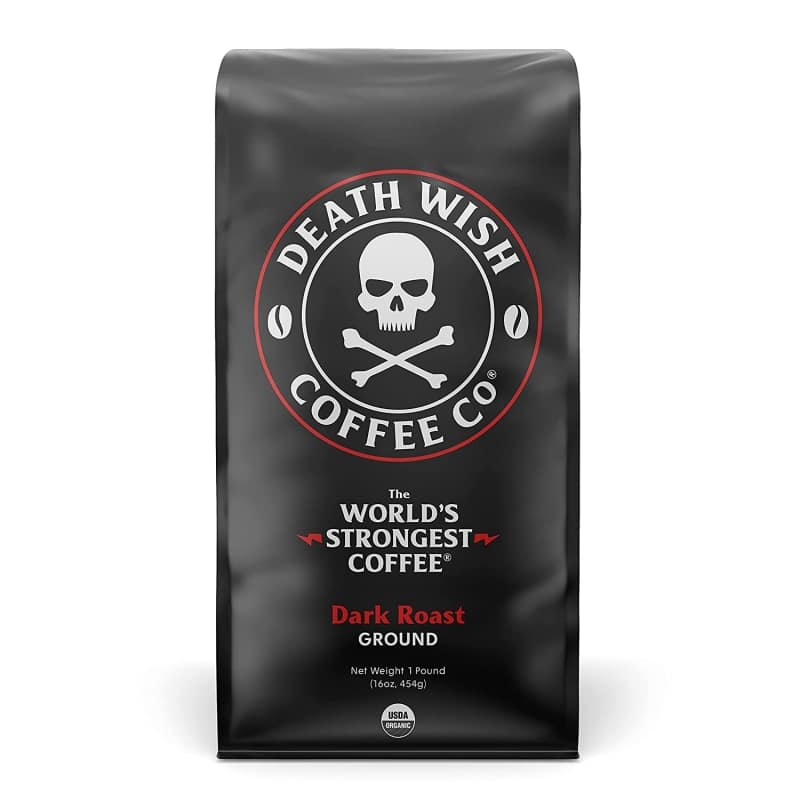 With the crossbones and skull designed as the label name, it'd hit you extremely hard for drinking it. But you'd not complain when the energy it gives you can help you focus at work. In spite of exceptional quality, Death Wish coffee is really a warning for those who have a heart condition.
The coffee is made with Arabica and robusta beans that offer a bold, smooth, and zero-acidic aftertaste with the notes of chocolate and cherry. Moreover, it's double the caffeine content which contains over 700 milligrams per 12 ounces cup. Furthermore, it's a risk-free guarantee in which you can receive a complete refund or a new product if you're not satisfied with it.
What we like
Strong and flavorful
No bitter tasting
Best energy drink for morning and work
Fair trade and USDA certified organic
Great customer services
What we don't like
Show side effect to some people
Buying Guides To Choose The Top Strongest Coffee Collection in 2023
Single-origin vs Blend
Caffeine addicts, who want a balance between more caffeine and flavorful tastes, need to stick to blends. Arabica and Robusta solution is made of beans from many origins and roasted by master roasters to obtain a certain flavor profile.
Single-origin is better to drink without sugar because you can enjoy its uniqueness and different taste notes.
Beans vs Ground
If you're willing to invest in a grinder, pick whole beans to ensure optimum freshness and, as a result, greater flavor. This will also help you to properly ground them for various brewing processes.
Ground, on the other hand, is a handy option when you normally grab a cup of coffee in a hurry and always prepare it in the same method.
Manufactured Date
The freshness of the beans is the most essential factor when it comes to the coffee flavor and high quality. If the coffee caffeine isn't fresh, you'll notice that it has less scent and that the flavor is stale and not as excellent as it should be. So, rather than checking the expiration date on a product, look at when it was roasted before you make a purchase.
Frequently Asked Questions (FAQs)
Which Coffee Brands Contain the Most Caffeine?
The strongest coffee brands are Biohazard and Death Wish. A single cup of any of these contains enough caffeine to surpass the daily limit of recommended consumption.
How Strong Coffee is Death Wish?
Death Wish is one of the world's strongest coffee beans, with 59 mg of caffeine per fluid oz, or twice more caffeine as a regular coffee.
Will the Strongest Coffee be Deadly?
It depends. Drinking coffee responsibly, which means you should have a maximum of 400 mg caffeine intake per day. But since this coffee, you reach the safe limit, make sure you hydrate water regularly as well as maintain a healthy diet. Simultaneously, you can try to make movements such as stretching, jogging. Doing these tips will lessen the adverse effects like jitter, then you'll be fine.
Drinking caffeine at your own risk! But if you have severe anxiety and know your health issues, all strong coffees are perilous to the point that there could be a fatal outcome. Their caffeine amounts can put pressure on your heart.
Conclusion
Some coffee drinkers may look for famous coffee brands, but no, it's better to choose the product that has the caffeine content you want. Many coffee companies have marketed themselves as seriously strong coffee in the world, yet lots of consumers are not happy to drink. As we reviewed the products above based on customers' experience and satisfaction, you can give them a try.
References
Check out: The World's STRONGEST COFFEE… but how does it taste? By Vat19