Starbucks coffee is a favorite for many of us. We can find many best coffees at Starbucks and at many locations as well. However, your Starbucks experience may be different now amid the COVID-19 pandemic. Travel is restricted, social-distancing is in practice, and we're encouraged to stay more at home. Regardless of these issues, you surely can still order your favorite Starbucks and deliver it to your home. But more or less, the delivery can bring about some bad experiences like late delivery, wrong drinks, wrong location, and more fees. 
For now, you don't have to run for Starbuck coffee anymore. Also, being stuck at home is not a bad thing at all because you can now make your Starbuck copycat at home and save your expense. In this article, we will offer you the top 10 take-away home recipes to make your favorite Starbucks coffee.  
10. Iced Vanilla Latte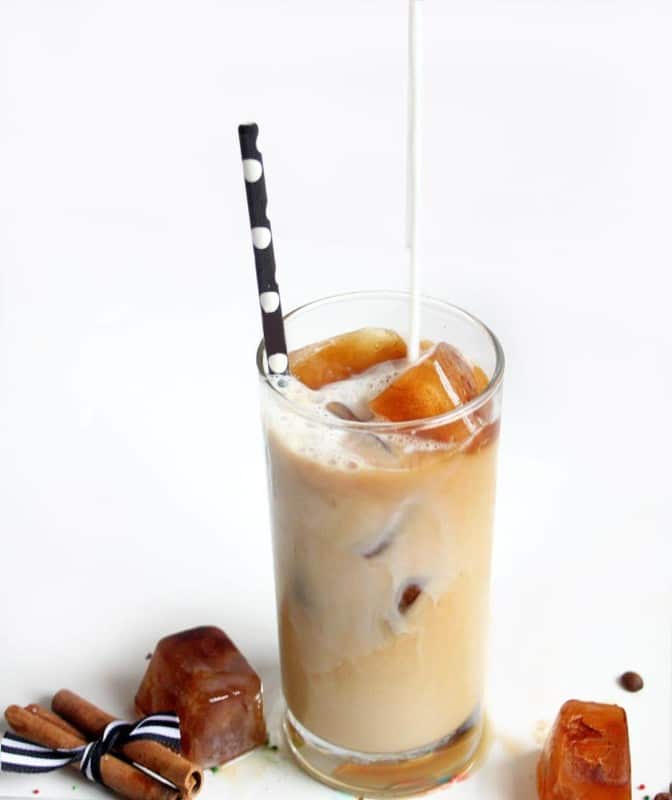 If you're in a hot summer, you need an iced vanilla latte to cool up your day. Treat yourself and your family with an iced vanilla latte from the home recipe with just 3 ingredients in just 3 minutes.
Ingredients You Need
2 cups of cold brew coffee
2 tablespoons (tbsp) of vanilla syrup
Milk or cream (of your choice)
Ice
Instruction
First, you mix the vanilla syrup, cream/milk, and coffee together in one glass. You can put the coffee in a proper amount that you like strong or less strong coffee. Furthermore, when the ingredients are mixed, prepare a cup of ice and then you can pour in the mixture over the ice. Now your vanilla coffee is ready to serve. 
9. Iced Caramel Macchiato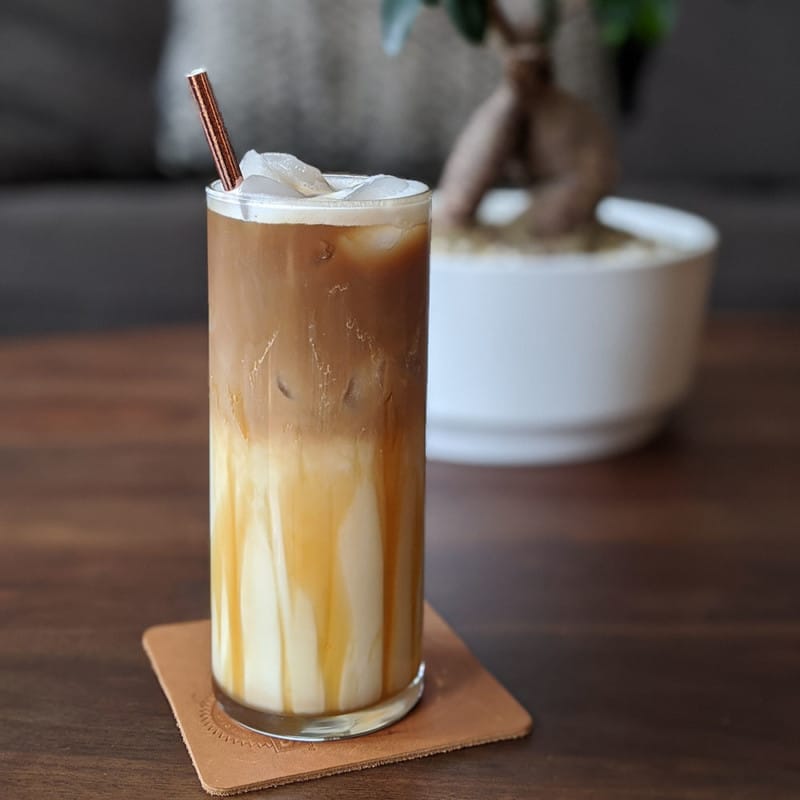 Iced Starbuck Caramel Macchiato is probably the top favorite drink to cool you down. Therefore, with just 5 ingredients in 5 minutes, you will get your favorite Iced Starbuck Caramel Macchiato at home. Yet, let's first look at the recipe. 
Ingredients You Need
Your choice of milk (160 ml)
2 tsp of vanilla syrup
1 shot of espresso
Ice
Caramel sauce
Instructions
First, you get your serving cup and then add in 2 teaspoons of vanilla syrup. Second, you need to froth 160 ml (or ⅔ cup) of milk with hot steam. You pour the hot milk into the serving cup. Next, you add ice and then one shot of espresso. Last, you drizzle the caramel over your texture and you can enjoy caramel macchiato.
8. Mocha Frappuccino
Add more taste to your day with mocha frappuccino! Forget about going out to grab a mocha frappuccino; instead saving your dollars and cents by having the Starbuck copycats at home. Hence, you only need a few ingredients ready, and then you can start making your coffee right away. 
Ingredients You Need
1 shot of Starbuck espresso coffee
Sugar (amount of your preference)
½ cup of milk
Ice
Whipped cream
2 tbsp of chocolate syrup
Instruction
First, you make a fair amount of coffee. While it is good hot, get your blender and pour the coffee in. Then, add sugar in the amount you like and mix until it gets dissolved. Next, you add milk and chocolate and mix them together. Left the mixture in the fridge to keep cold. After 10 mins, add some ice into the blender and mix it at high volume until it is well mixed. Last, you pour it into a glass and top it with whipped cream. Yes, it is ready to serve!
7. Starbucks Mocha Iced Latte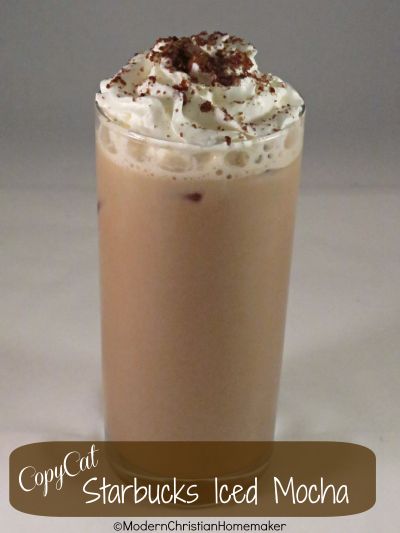 Are you working from home amid quarantine? and need some fresh coffee for productivity? Ice latte is a must have of all times. In addition, it takes you only a few minutes to make your copycat Starbuck Mocha Iced latte. And soon you will become a barista of the house.
Ingredients You Need
2 cup of brew coffee (cold)
½ cup of milk
3 tbsp of chocolate syrup
Ice
Whipped cream (optional)
Instructions
First, you fill your serving glass with ice. Next, you put the chocolate syrup and then ½ cup of milk. After that you pour in the cold coffee after brew. Finally, your iced mocha latte is ready for drinking. As well as, you can also add whipped cream if you like. 
6. Green Tea Frappuccino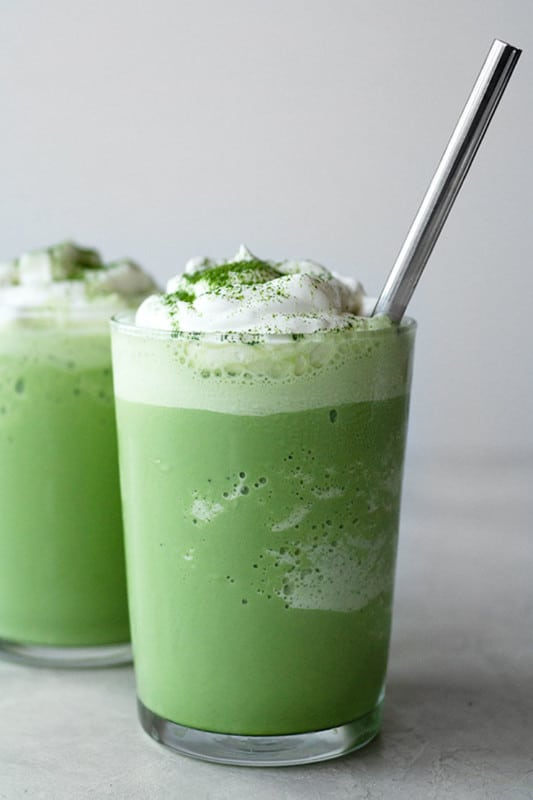 Green Tea frappe, a fresh iced drink that is made of Japanese matcha-green tea powders, matcha-green tea is very well-known to many Starbucks lovers. Therefore, there is always a saying, the greener the color, the tastier the green tea drink. Additionally, Green tea can be made into different types of drinks either hot, cold, or iced, it is all good to go. But the most preferred drink of green tea is a frappe.
So, having the right cup of green tea frappe is already a blessing in your day, the best green tea frappe can be found at Starbucks because the drink has such a strong smell and flavor of the green tea powder. However, saving up is also a good choice, you can make your own Starbucks green tea frappe yourself by just having the right amount of ingredients and follow the steps carefully and correctly.
Ingredients You Need
1 cup of ice
1 cup full fat milk or milk type of your choice
1 tsp vanilla extract
3 tbsp of powdered sugar
1 ½ tbsp of premium Japanese matcha-green tea powder
Instructions
These ingredients can be easily purchased at the supermarket nearby your place or you may want to try the authentic Japanese store which is always the best choice if you could find any. So, after gathering all the right amounts of your ingredients, the next step will be a bit difficult but as long as you keep your calm and focus, you will have your favorite drink in hand. Moreover, the process of making green tea frappe is way easier if you already got your ingredients ready, the only thing you need to do is put all the ingredients in the blender and blend it well with a normal speed until it gets smoothie and creamy, then you may add heavy cream if you want. Thus, you are all set with your green tea frappe.
5. Iced Chai Tea Latte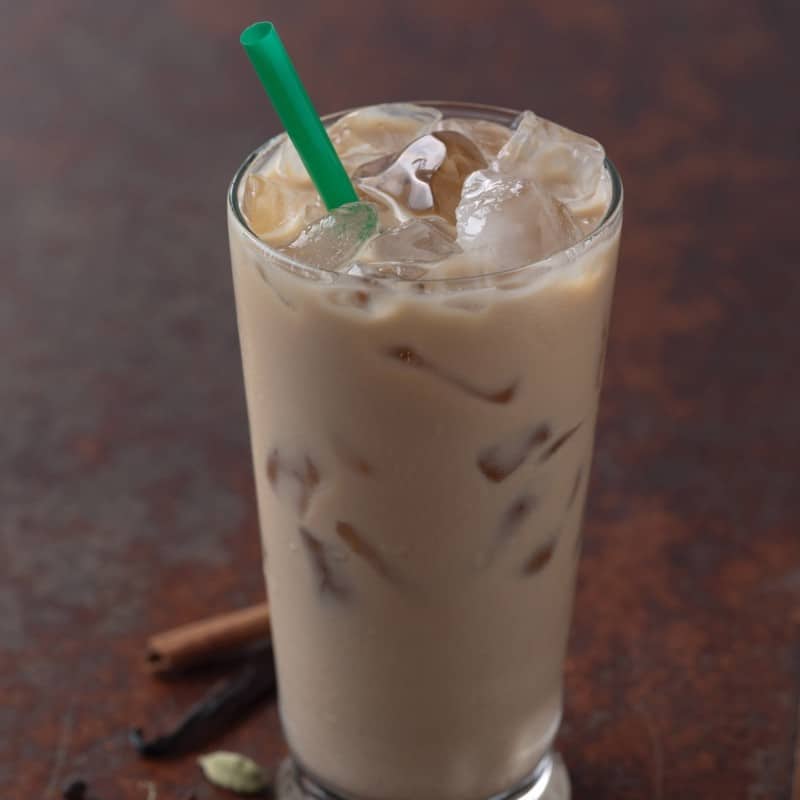 Iced Chai Tea Latte is one of the finest recipes of Starbucks that is very recommended. The process of making this drink is a little bit complicated but is not that hard as long as you have all the ingredients required and follow a careful direction then you can have your tasty iced chai tea latte. The ingredients are simple and easy to find at any grocery store or supermarket.
Ingredients You Need
2 chai tea bags
1/2 cup water
1/2 cups of milk or milk alternative of your choice
2 tbsp of honey
Cinnamon and nutmeg to garnish
Instructions
After having all the required ingredients, you can begin your making process right away. Firstly, you need a saucepan to boil your water and add the tea bag in and then let it dribble steaming for about 7 to 10 minutes. Next you can add in the milk and honey but also do not forget to lower the heat in order to warm the milk but not getty your milk burnt. Get your milk frothing tool to blend it until it gets foamy and finally you can transfer this mixture to your serving cup. Also, if you want topping, you can add some sprinkle of cinnamon or nutmeg for an extra aftertaste.
4. Chocolate Frappuccino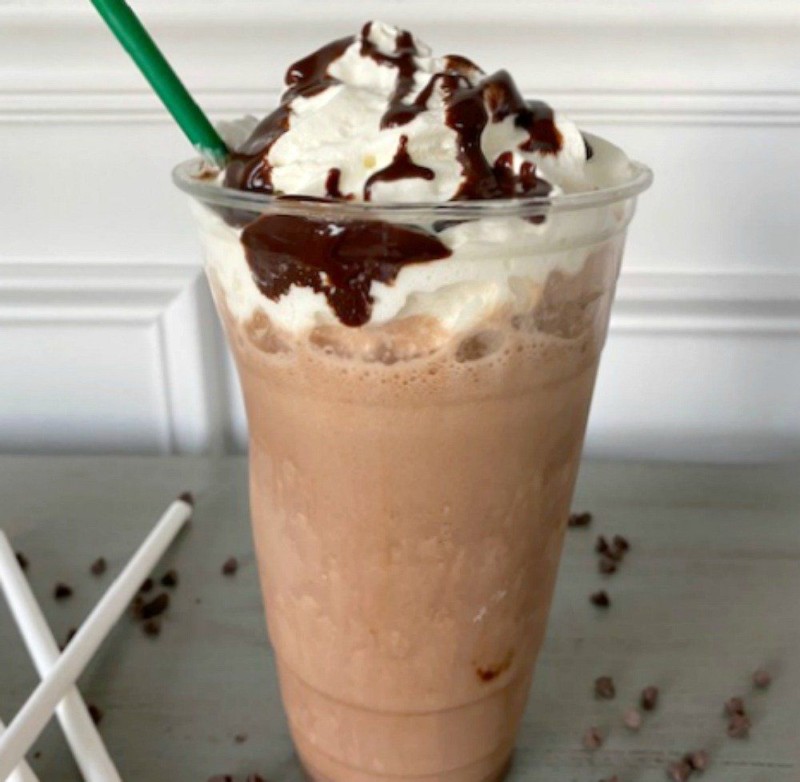 One of the most delicious frappes from Starbucks is CHOCOLATE FRAPPE, not gonna lie but their chocolate frappe is so well done. There is a strong smell and taste of real chocolate. So, if you wish to make your own chocolate frappe like the one from Starbucks you just need to follow the instructions and get the right required ingredients and that is you are set. And those ingredients are nothing special and you can buy it at any supermarket nearby.
Ingredients You Need
1 ⅛ cup of milk
1½ tbsp granulated sugar
⅓ cup mini chocolate chips
3 tbsp chocolate syrup
1½ – 2 cups ice
¼ tsp vanilla extract
¼ tsp of Xanthium gum, optional for added thickness
Drizzle syrup for top and remaining chips
Whipped topping or whipped cream, I used aerosol from the can
Instruction
Once you have all the ingredients in hand, the next step is to put in the 1½ fresh ice into a blender and then put other ingredients to blend it together to get a smooth texture and then if you can add more ice if you so, and last but not least, you may pour the smoothie in any of your preferred cup with your choices of topping either syrup or whipped cream. Making your own frappe is all fun and worth the hard work if you do it well.
3. Iced Coconut Milk Latte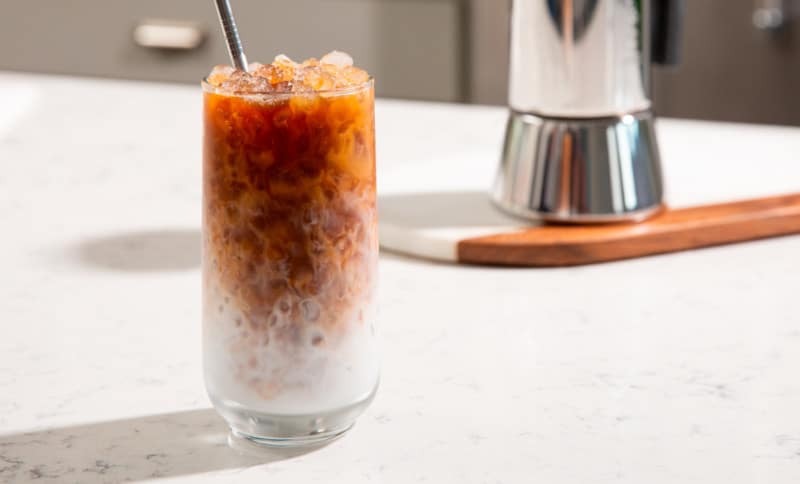 For those coffee lovers who are not really hardcore of bitterness, but still feel the need for coffee, Iced Coconut Milk Latte is the coffee that you should be aiming for. Moreover, its sweetness will be able to brighten your day with the first sip. The sweetness allows you to feel refreshed and ready to start your day. Not only that, the iced coconut milk latte recipe which we will be providing to you is also dairy-free. With clear step-by-step instructions provided, we hope you will get to feel the taste of Starbucks at your own convenience.
Ingredients You Need
1 Starbucks Espresso Roast by Nespresso capsule or 1 oz Starbucks Espresso Roast ground coffee
¾ cup of coconut milk
Ice
Instructions
For the start, you will need to brew Starbuck Espresso Roast via an espresso machine, and for authenticity, You can also brew Starbuck Espresso Roast by Nespresso capsules. Once you are done, straightly pour in the coconut milk and the espresso into the ice. Furthermore, with all these in place, just stir the drink and your Iced Coconut milk latte is good to go.
2. Cafe' Americano
Café Americano originated from the Italian interpretation of "America coffee" with a bit of adjustment on the hot water usage to be replaced with a simple espresso drink. In fact, the coffee can be quite strong as it doesn't really add in all the sweetness. Thus, you will be able to brighten up your rough day by having sips after sips and enjoy the hotness of it. This can be hard for "newly-joined" coffee members as it is bitter with an add-on of hot water. Still, if bitterness is what you are aiming for, Café Americano is good to go.
Ingredients You Need
Starbucks Espresso Roast (or 2 Starbucks Espresso Roast by Nespresso capsules)
1 ¼ cups hot water
Instructions
Making Café Americano is not hard since it is more on just coffee without additional sweetness. Moreover, you can start boiling your water and pour it into your mug then add on 2 shots of espresso by brewing Starbucks Espresso Roast via an espresso machine. In case you have no espresso machine, a stove-top Moka pot will also work. By the end, just pour in the espresso you have brewed and start enjoying the coffee.
1. Caramel Frozen Blended Coffee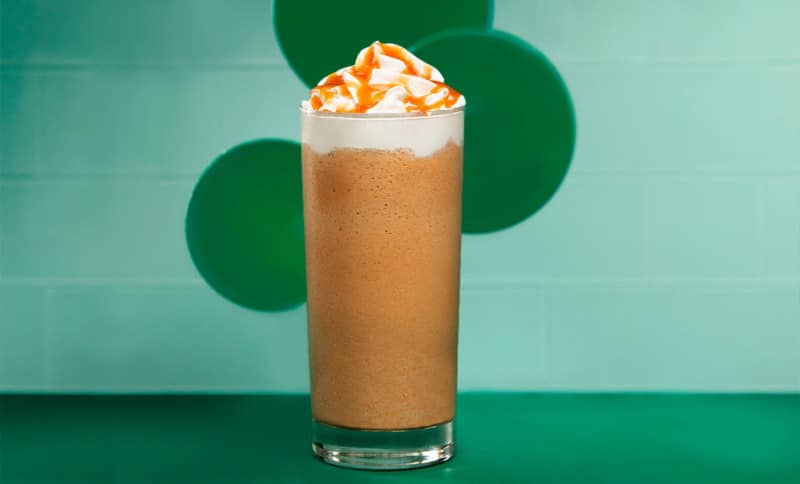 On a summer day in which the weather is warm and you need a cold drink to start your day, please think of Caramel Frozen Blended coffee. Obviously, this individual drink itself has a combination of coffee, milk, and ice. Obviously, with this perfect combination, a bad day will never get to be included in your calendar. Hence, with enough ingredients, you will get to taste this amazing Caramel Frozen blended coffee. 
Ingredients You Need
1 packet Starbucks VIA Instant Italian Roast
A quarter cup of milk
2 tbsp Starbucks caramel syrup
Pinch of salt
Ice
Whipped cream
Caramel sauce (Optional)
Instructions
Right from the start, just blend your Starbucks VIA Instant Italian Roast coffee in a blender along with your milk, syrup, salt, and ice. Mix on high until smooth. The level of smoothie will be based on your preference, but we recommend mixing them until it is very smooth. An additional pinch of salt will add more flavor to the coffee. Next, pour the smoothie into a cup and add on the whipped cream on top of it with or without authenticity will both work. An additional drizzle of caramel sauce will be a bonus point for you. The last step, enjoy the perfectness of Caramel Frozen Blended Coffee.
After all, you don't need to spend your dollars and cents on Starbucks during quarantine; instead, be your own barista and make your own favorite Starbuck drinks. And if you're working from home, coffee is a must-have for your fresh start and more productive. Therefore, after you read this article, we hope you can take home any of the top 10 Starbuck copycat recipes to serve yourself. In addition, whether you want a hot, ice, latte, frappuccino, macchiato; not to mention, espresso, mocha, or chocolate, you can do them all by yourself. It is easy; you only need some easy ingredients as guided and spend your 3 – 10 minutes processing. Be a barista of the home and show off your family and friends with your homemade Starbucks drinks. 
References:
Check this out: Making Starbucks Drinks At Home | But Better By Joshua Weissman