Whenever you drink hot coffee, ice coffee, or wine, almost every time that the table is left with mess, stain, and stickiness. It is so tiring and annoying to get them off each and every time and sometimes it doesn't even come off and sometimes the glass even scratches your furniture and causes damage permanently.
In order to avoid these kinds of problems, all you need is a perfect coaster. Drink coasters are not only useful for protecting your furniture, providing convenience, they can also be a great decoration to add to your home collection.
Therefore, our team has selected some top items that received great reviews from previous customers to recommend to our dear readers. In the following article are the Top Favorite Drink Coasters in 2022 that will allow you to have more convenience while enjoying your favorite drinks. We hope you enjoy the rest of the article and find it helpful with your purchase.
List of All-Time Favorite Drink Coasters in 2022
15. AARON Leather Goods Vendimia Estilo Store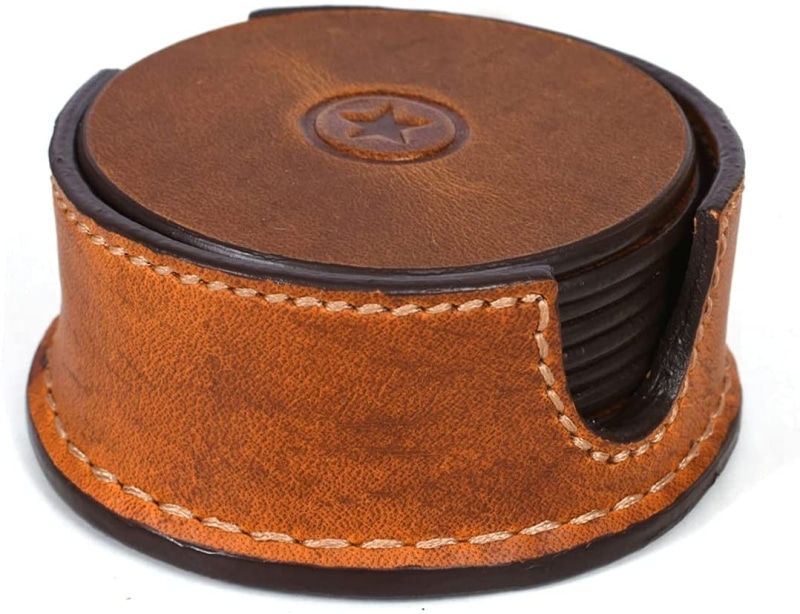 If you are looking for some well-made drink coasters that can be decorative while also being practical, try these from AARON LEATHER GOODS VENDIMIA ESTILO Store. It comes with six efficient leather coasters and a holder.
Talking about the quality, these are top-tier. They are made of real leather and hand-crafted by professionals, using top-grade material to stitch precisely with carefulness. These grain leather coasters are durable and absorbent. They absorb condensation from cold drinks and protect hot drinks from staining your furniture.
Moreover, they are sturdy and non-slip, keeping your drinks in place properly. Both the coasters and the holder are attractive. The leather holder makes it convenient to store the coasters when they are not in use. Of course, these are perfect to display on your dinner table when there are guests coming over. You'll be asked where you get these.
14. 365park PU Leather Coasters for Drinks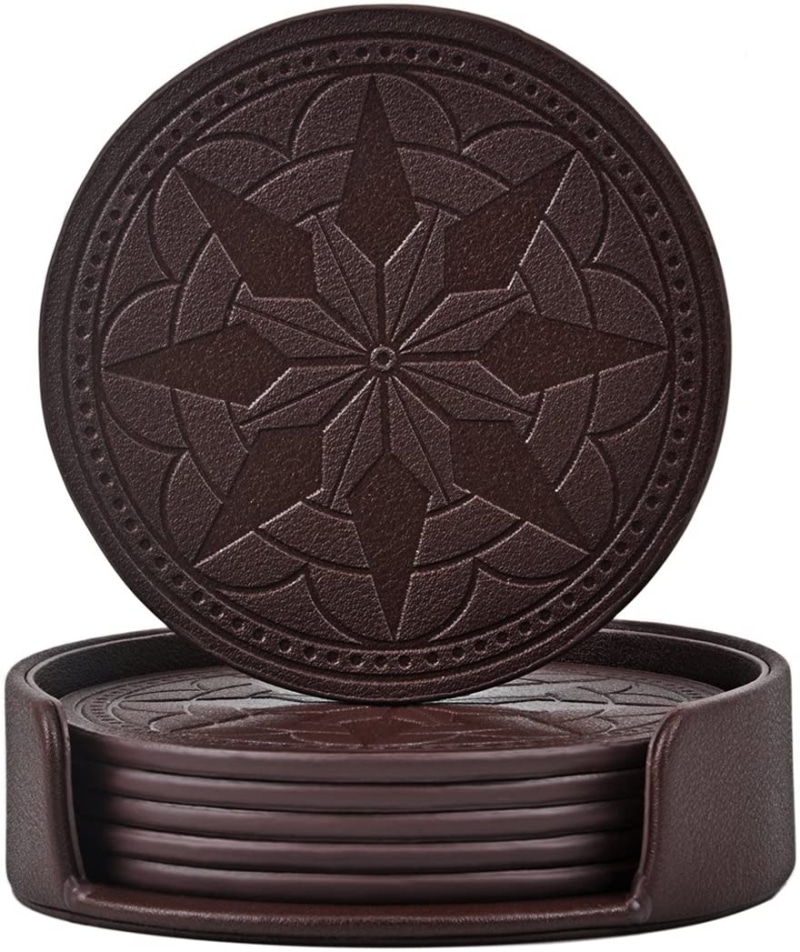 Stop letting your drink ruin your tabletop or tablecloth, and use these 365park PU Leather Coasters for Drinks. It comes as a set of 6 coasters and a matching holder.
These are made of PU leather which is eco-friendly and lightweight, easy to use around the house or office. Moreover, it looks so attractive and elegant that it can be decorative on your fancy dinner table during special occasions like Thanksgiving, Christmas, or a birthday party. The dark brown, dark coffee color will be suitable for any interiors.
These are very soft so they won't harm or scratch your furniture. Since they are also long-lasting, they're perfect for those who are looking for long term use coasters. Apart from that, the matching holder allows you to keep the coasters organized and tidy instead of flying around.
13. Bear Coasters Set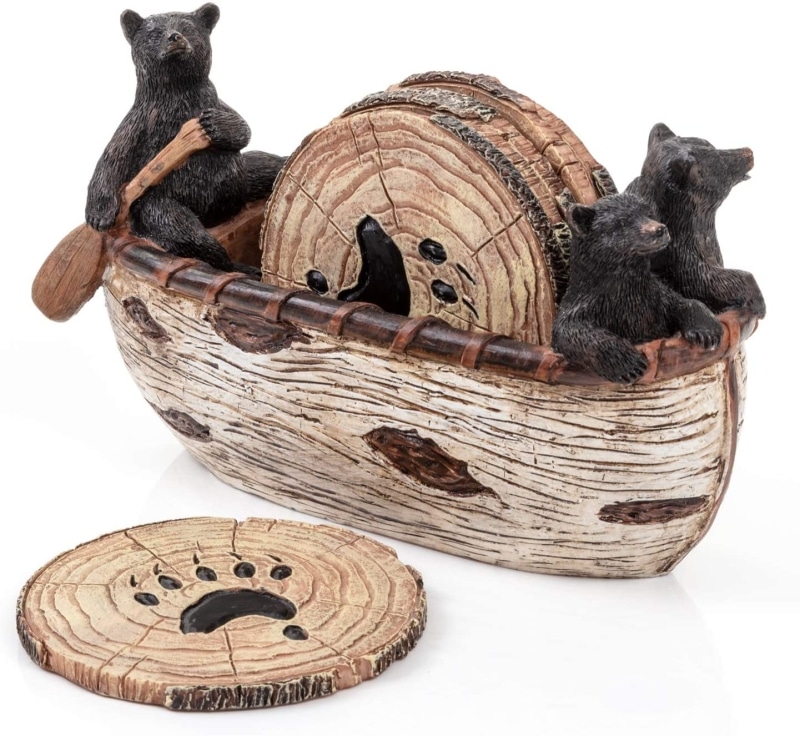 This Bear Coasters Set is just so cute, how to not love them? You can't help but fall in love with the eye-catching and unique design of both the coasters and the holder. This is a full set of 6 wooden coasters and a holder.
The most impressive thing about this set should be the design. Hand-crafted and designed little bears on a canoe with the coasters in the middle. Made of solid resin, each coaster has a bear paw in the middle, looking adorable and stunning. These high-quality coasters would make a perfect gift for a housewarming or birthday party.
Not only that they are pretty, but they are functional as well. They absorb condensation well and are easy to store. They are big in size which is 3.5-inch diameter fitting large cups or mugs with no problem. Something you can't take your eyes off!
12. IYARA CRAFT Wood Coasters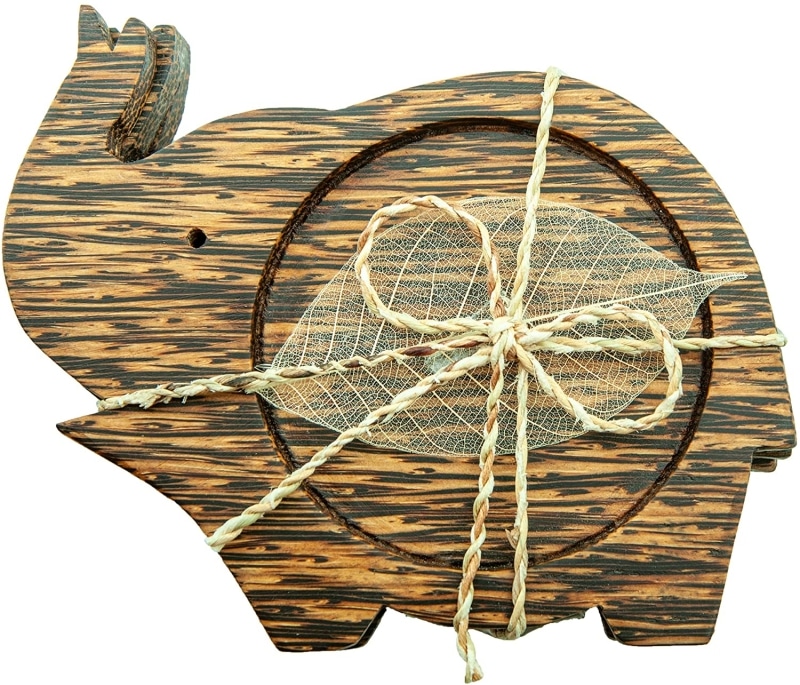 Decorate your dining table with these IYARA CRAFT Wood Coasters! This is a set of 3 wooden coasters, adorably tied like a present. This single set has both quality and appearance.
These coasters are made of natural palm dish wood, crafted by Thai professional craftsmen, durable and convenient to use. The design is a shape of a chubby elephant lifting its trunk. It doesn't come with a holder but it comes with a binding rope and a dried leaf, so cute that you can just give them as a present right away.
An ideal choice to light up your living room, dining room, and etc. The manufacturer guarantees the high quality of the coasters and the material that is used to make them. Dinner is more fun with these beautiful coasters.
11. OUR CASA Coasters
Hey, music lover out there, who's your favorite musician? Is he on one of these OUR CASA Coasters? Because these coasters have pictures of many famous musicians. This will be your next favorite coaster of all time.
It comes with a set of 6 coasters that look like music disks with different pictures and their signatures and quotes. They are round coasters that will protect your table from getting wet or damaged by hot or cold drinks. Made of top-grade vinyl, they are easy to use and easy to clean.
In addition, they come in a beautiful gift box so that if you need them as a gift, it would be perfect, you don't need to wrap them or something. You can also use them to put on display or as a coaster, multi-purpose, whichever you prefer.
10. Buery Store Cactus Coasters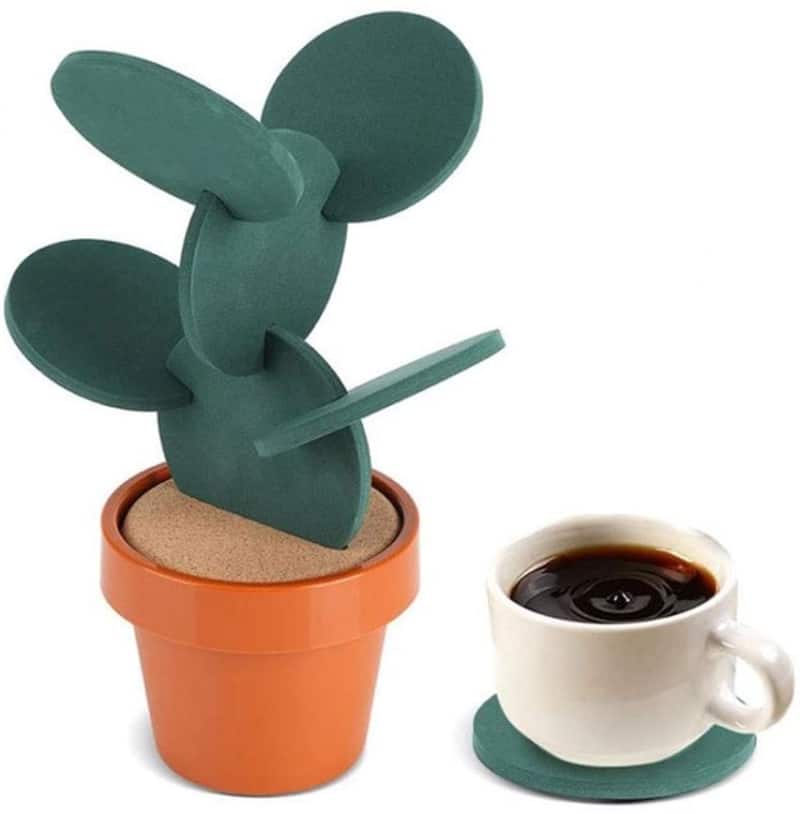 No more wine stain on your beautiful table cloth with these Buery Store Drink Cactus Coasters. This is one of the most unique and attractive coasters ever. The one-of-a-kind design makes these coasters stand out among the others.
If you look at each coaster individually, they look like simple dark green round coasters. But they are detachable, and DIY products. It comes with a flower pot as a holder. The coasters can be assembled and turned into a beautiful cactus in a pot. There are 6 coasters in total. Once you finish using them, put them together and make a cactus.
9. Dremisland Store Woven Coasters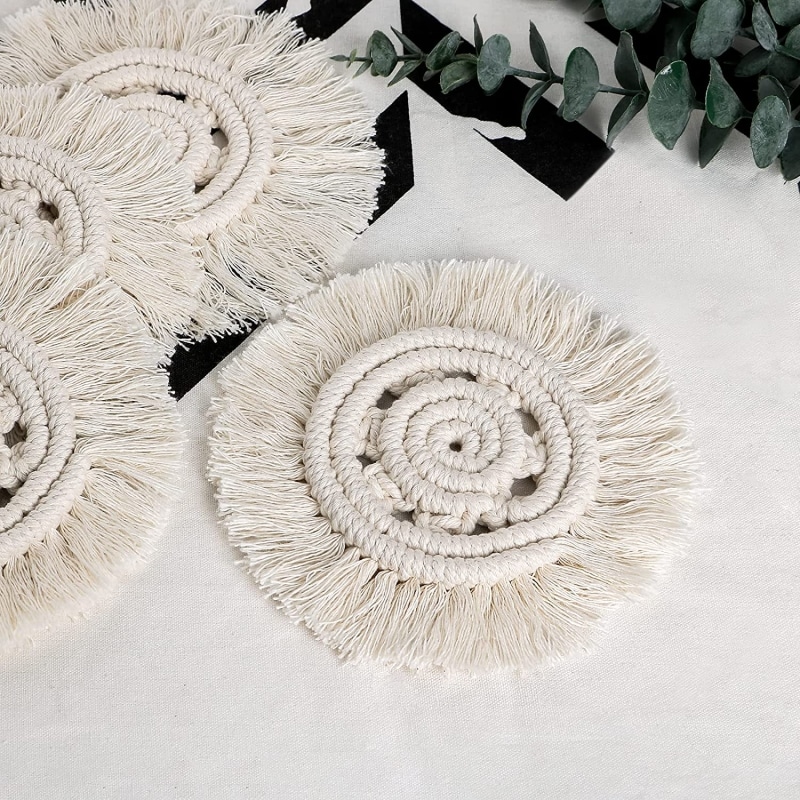 One of the best coasters of all time should be these Dremisland Store Woven Coasters. These well-made products are high in quality and even have an affordable price. It comes as a set of 4 coasters with matching patterns and no holder since they are so easy to store.
This coaster is made of organic cotton weave that absorbs water fast like magic. They are handmade products that will allow you to experience a new feeling with this coaster set. Designed with tassels and white color, these coasters pull off a vintage look that will suit any decor. Eco-friendly, stylish, and functional, perfect for everyday use.
Each coaster is 7 inches big, a standard size for a wine glass, or coffee cup. We recommend hand-wash and air-dry only and do not brush or use bleach to maintain the coasters' longevity.
8. DuoMuo Coasters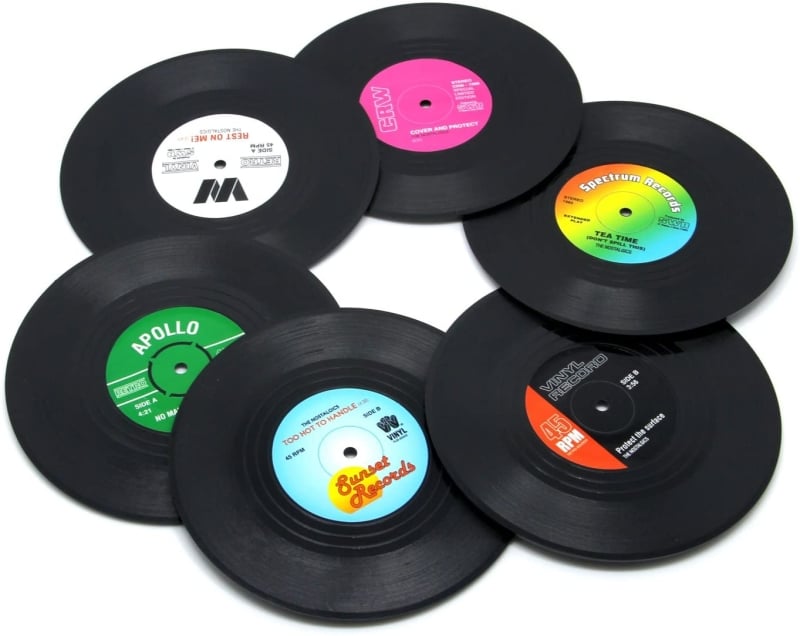 Protect your countertop from damages with these retro DuoMuo Coasters. They come in a set of 6 vinyl coasters. Amazing product with beautiful design for your convenience in your daily life.
These coasters are made of top-grade vinyl that guarantees a durable and lightweight to use. The retro design of the music record disk makes you feel nostalgic and fun while drinking your favorite coffee in the morning. Each coaster has a small rubber at the bottom to protect your countertop from damage and also protect your drink from slipping.
The creative and interesting design is fun to use and easy to use. No more stains on your table when you drink hot coffee!
7. Dressplus Rattan Coasters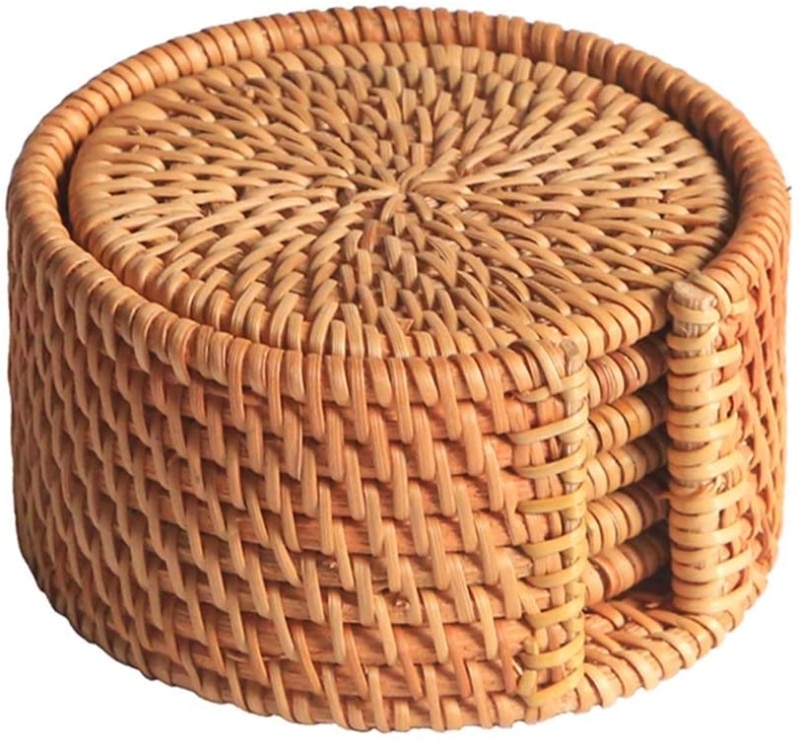 These coasters receive a lot of positive responses from the previous customers which is why you should miss such an amazing product, Dressplus Rattan Coasters.
These coasters are made of natural rattan, easy to put on your hot or cold drinks with no worries. They are thick and super absorbent that absorb spills, water droplets, and condensation to protect your table. Moreover, they come with a coaster box (also rattan) to store the coasters and put everything organized.
They are super easy to clean, just rinse with water and let them dry naturally. These are perfect to use when you have a family gathering or party. They could pass as a gift as well. The receiver will surely be satisfied with this gift.
6. Accmor Braided Coasters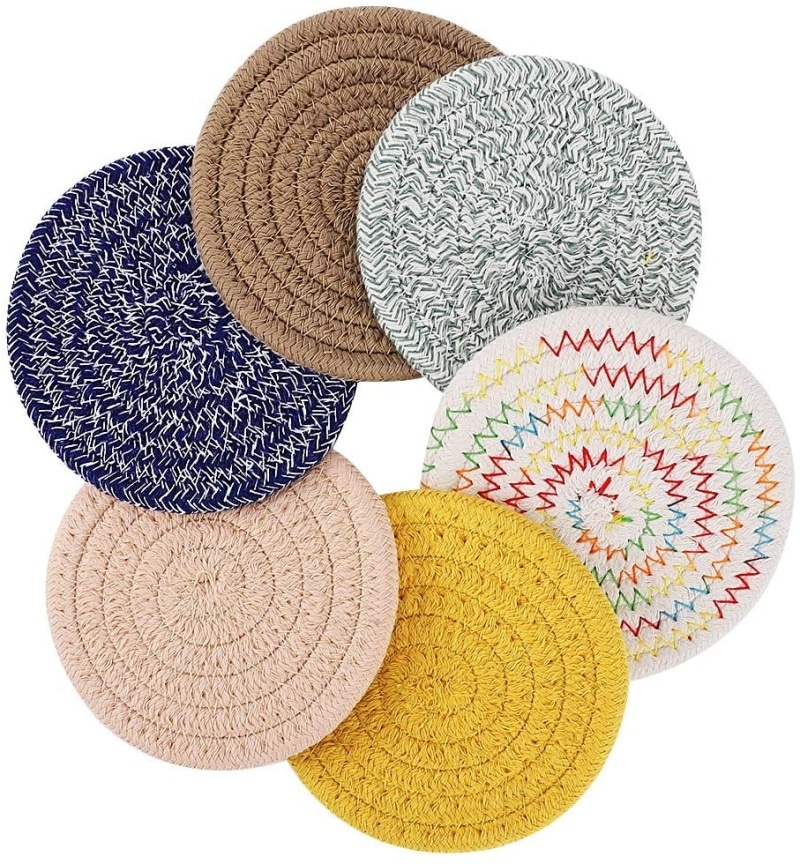 If you don't like using the same thing over and over again, you should try this set, Accmor Braided Coasters. It comes with 6 different coasters and each one is different. Perfect for everyday use.
This unique coaster set has 6 different patterns and colors coasters that are made of high-quality cotton design in woven style. They are simple round coasters with 11 cm in diameter but each design is unique and gorgeous. They are super absorbent, heat resistant, and durable. You can also use it as a hot pad for pots on the dining table.
They are reusable and easy to clean. This is a decent housewarming gift or holiday gift. Perfect to give to your family or your favorite person.
5. DomeStar Fruit Coasters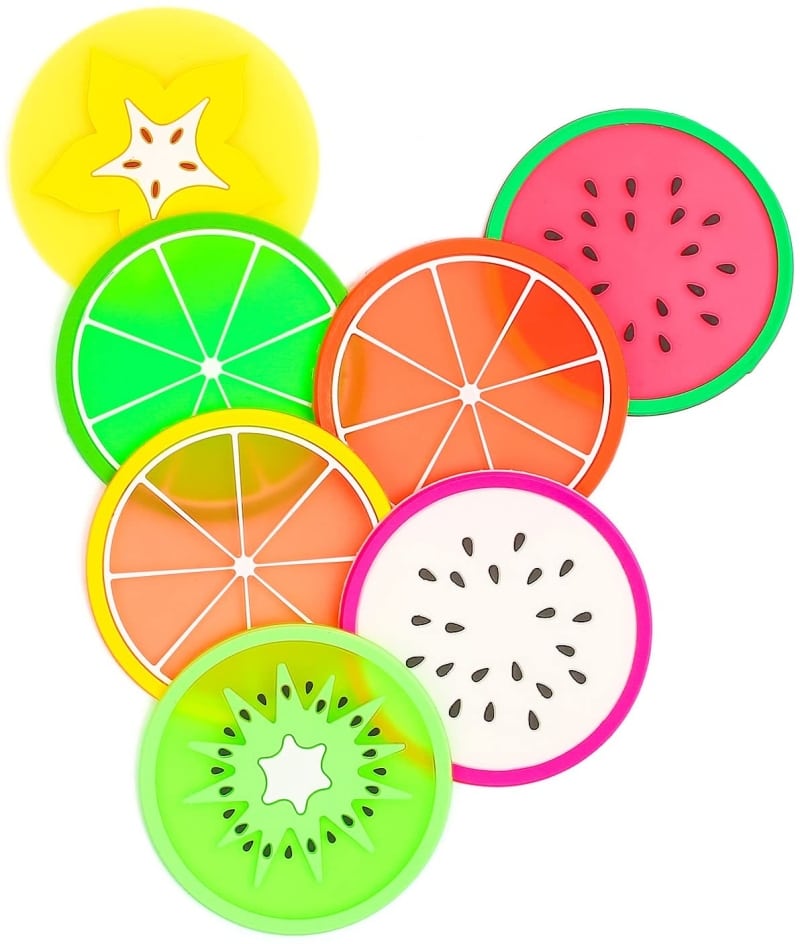 Drinking your morning coffee can be more refreshing and fun if you use these DomeStar Fruit Coasters. The 7 pieces of coaster set have different fruit slices, super cute and practical.
These are silicone coasters that received LFGB approval, a healthy product to use for your convenience. Each coaster is 3.5 x 3.5 x 0.1 inches wide, there are many fruit patterns including carambola, orange, lemon, pitaya, lime, kiwi, and watermelon.
Secure your drink from sliding, providing heat insulation to protect your hand and your furniture from the heat of hot drinks. They are easy to use, clean, and store. The thin silicone can be washed with water without damaging the shape and then stack together when they are not in use.
4. BedRock Blue Agate Coasters for Drinks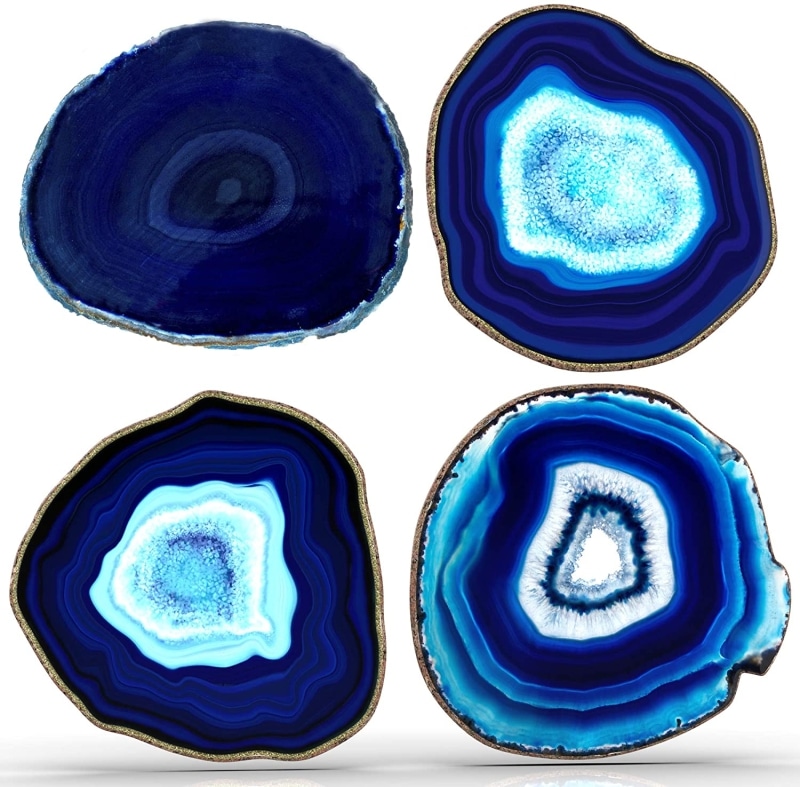 Impress your guests with these BedRock Blue Agate Coasters for Drinks. These gorgeous coasters will definitely brighten up your home decor. They come as a set of 4 coasters with different patterns.
Each pattern of these coasters differs from each other because they are carved from agate rock, each slice has its own unique pattern. Mostly they are vibrant blue giving off the chilling and party vibe, perfect for cocktail glass. These amazing crafted rocks will melt the heart of a rock lover or nature lover. OF course, they would make a great gift as well.
3. DIMROM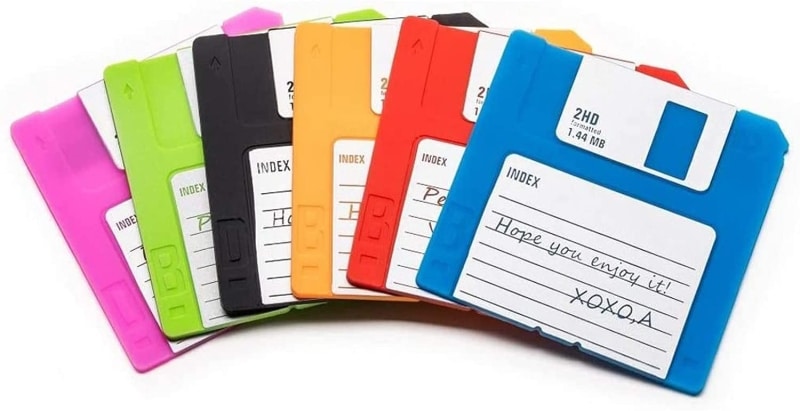 DIMROM is here to offer some great products to add to your home collection which are these disk coasters. This is a set of 6 coasters with different colors.
These are square silicone coasters with the shape of computer disks and a cheerful quote that says "Hope you enjoy it" on the top of the designs. Just as the quote says these coasters will help you enjoy your drink more because of the convenience that they provide and the bright colorful design.
They are of the same size: 3.54 inches x 3.54 inches x 0.2 inches, perfect for standard-size wine glasses or coffee cups. Easy maintenance, you can just rinse them off in the water or use a dishwasher since they are dishwasher-safe. Have a good time with your hot cappuccino with these coasters.
2. Design Ideas Toast Coasters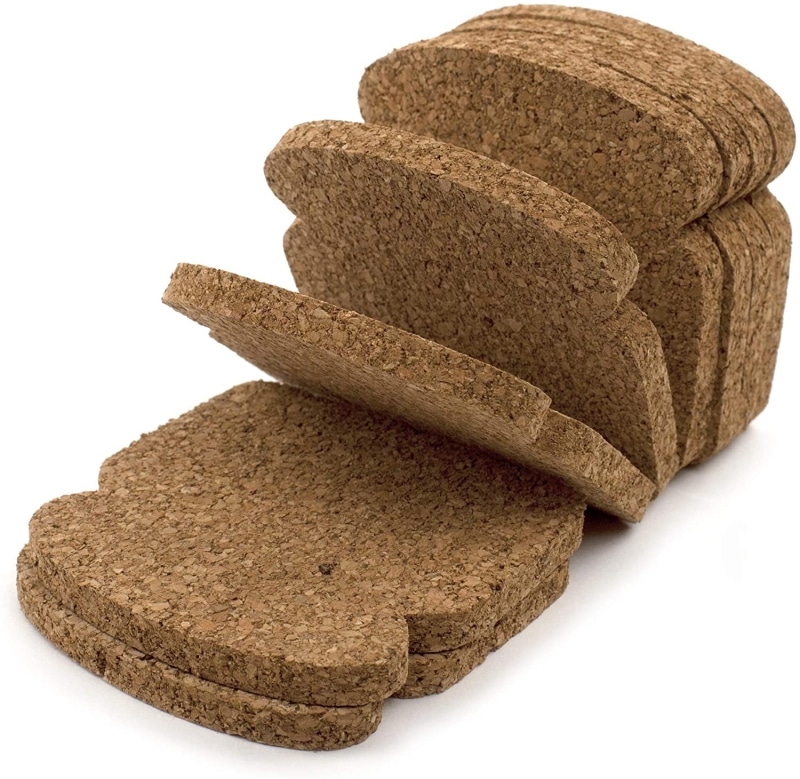 Whenever you drink hot chocolate, wine, or coffee, it always leaves a mess from the condensation or the drips. Well, you can say goodbye to that because these Design Ideas Toast Coasters will not let that happen.
These coasters are made of cork that has a superior absorbent ability to stop the mess from both hot and cold drinks. They are designed in the shape of toast with the color of dark brown, classic and stunning. It comes as a set of 8 coasters. When they are stacked up they look like a loaf of toasted bread. Don't be mistaken and eat them!
They are 4″ x 4" big and pretty thick, fitting almost all types of cups and glasses. They don't come with a holder but you can just stack them up once you're done using them. Since 8 is a lot you can share some with your family members!
1. Creative Hobbies Coaster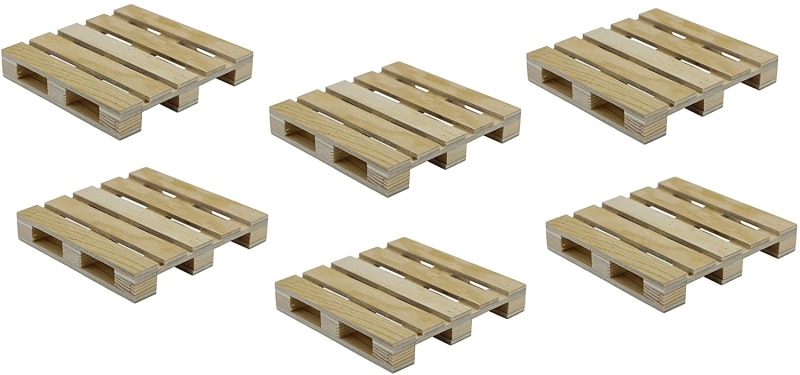 Thanks for the long wait. These are our top one and last recommendation of top favorite drink coasters in 2021. Of course last but not least, Creative Hobbies Coaster is a must-buy product that is worth the money.
This is a set of 6 mini wood pallet coasters the size of 4 inches. This is a product that you need to complete your home decor collection. The unique design using high-quality Paulownia wood (similar to pinewood) in natural wood color makes each coaster look attractive and shining. Great for DIY options for weddings or parties, you can paint them with different colors based on your preferences.
These were just perfect! The price of the 6 coasters is affordable and worth buying. Great quality and a fun-looking cool item for your dining table.