Often or not, we crave a luxurious cup of coffee. Though, sometimes the best way to attain the best coffee is through a coffee maker or espresso machine. Likewise, not all coffee machines are the same. Most of them are for use at home while others are perfect for industrial mass production. Similarly, the prices range widely. For instance, you can easily get an espresso machine for a reasonable price as opposed to finding the most extravagant coffee maker.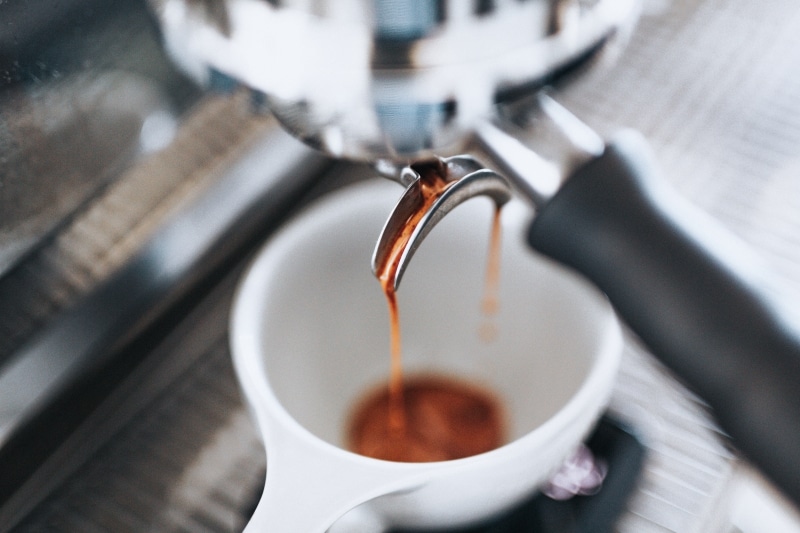 In an obvious manner, coffee enthusiasts usually prefer expensive coffee machines simply due to the fact of that boost in quality, texture, and taste. Still, there are plenty of lavish coffee machines out there. However, is quality alone good enough to justify the colossal price tags? As a result, there are many factors in choosing your new expensive brewer. With that said, what are some of the most beloved expensive coffee machines products? And, we're also going to find out if they are better than regular ones.
List of The Best Latte Machines You Will Love in 2023
12. Keurig K155 Office Pro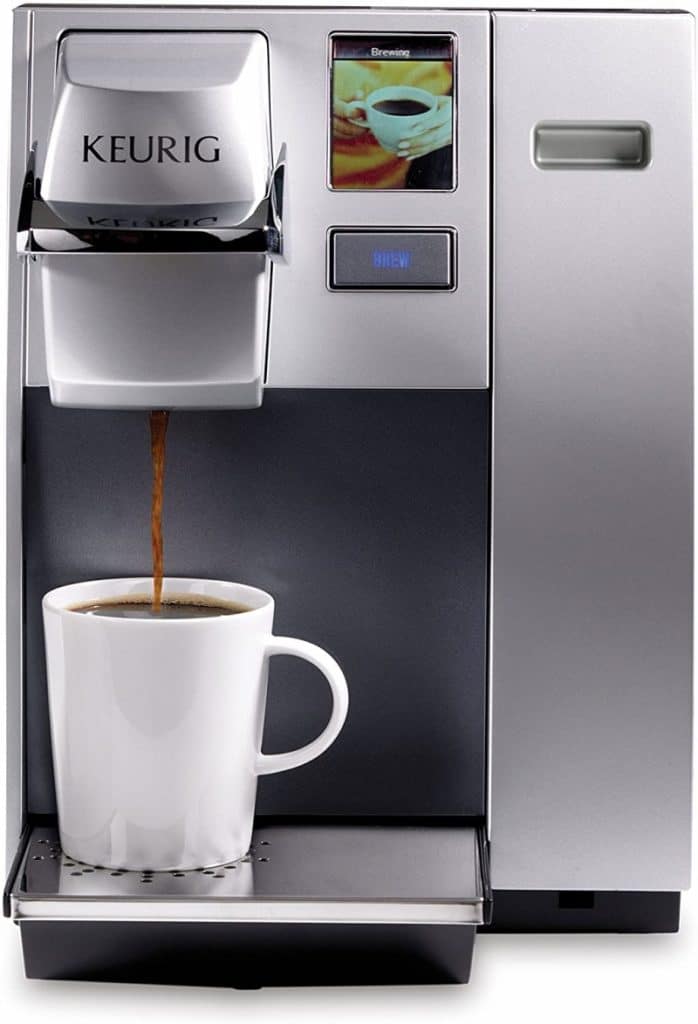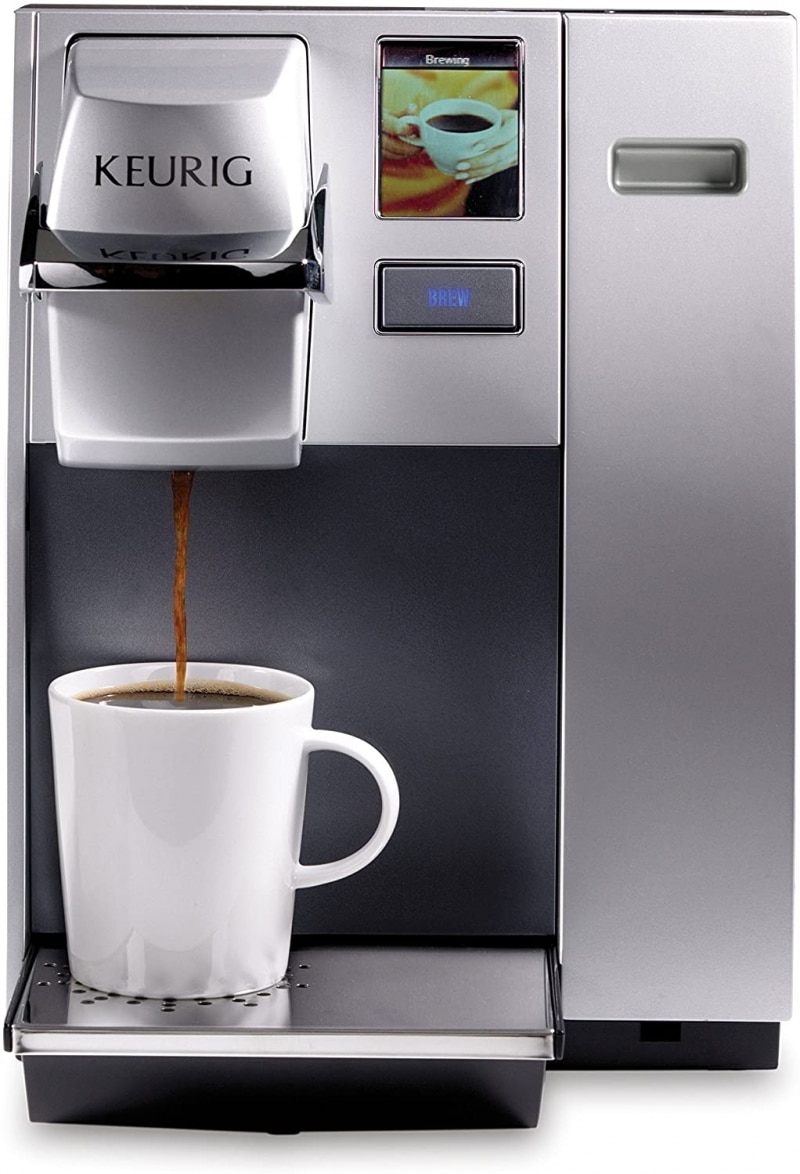 In less than a minute and also with a button press, you can brew the best coffee, cocoa, tea, and even iced beverages by using The Keurig OfficePRO. Furthermore, everyone can brew whatever they love as this coffee maker is completely programmable with a precise touchscreen. Additionally, with this design and feature, you can adjust the brew temperature, configure the Auto On/Off setting and change the language to your preference, ranging from English to Spanish to French.
Likewise, this coffee maker offers a four-cup size choice as well as a removable drip tray, which welcomes travel bottles, travel mugs, and a drainable water tank for transportation or storage purposes. Furthermore, it includes a bonus 12 Count K-Cup box. What's even more extraordinary is that you can easily select from more than half a thousand options of coffee drinks such as espresso, tea, iced coffee drinks, and specialty choices from over 75 popular brands. Overall, if you want both durable material and a gorgeous espresso machine, the Keurig K155 is an outstanding contender.
What we like:
Fully colored touchscreen
Configurable temperature for brewing
Programmable for personal usage
Stays quiet when brewing
Drains with convenience
Features an auto on/off option
Equipped with various beverages to select
What we don't like:
The durability of the water reservoir is inconsistent
The auto-off features can turn off the entire machine, not just the screen
11. De'Longhi BCO430BM
If you love espresso and drip coffee, there isn't anything better for you than The De'Longhi BCO430BM. It combines an espresso machine and a drip coffee brewer into one. Besides offering the best of both worlds and being an all-in-one, this coffee maker prepares anything you can imagine. From cappuccino to the aforementioned espresso to perfect lattes via a creative preparation system with easy steps for the user. On top of that, this coffee machine can brew two drinks at the same time!
Specifically, with a full cappuccino section on one side and for the other side is mainly for drip coffee. With the built-in 15 bar pressure, you can extract the most flavor and wanted temperature in each cup of coffee that you brew.
In addition, this coffee machine is guaranteed to deliver a unique and tasty flavor every single time. For drip coffee, it allows you to load water and coffee from the front without needing to move it from below the cabinet via a frontal loading system. The 24-hour timer allows you to configure it to have a pot full of coffee waiting for you when you wake up or whenever you want it. This is such a convenient coffee maker to use and the quality is also immaculate.
What we like:
A machine that does it all
Extracts all the flavor and aroma with its Flavor Savor Brew System
For drip coffee, the frontal access has a water and coffee reservoir
Advanced Cappuccino System allows you to have velvety foam and rich milk
Has filtered water for a better brew
Easy to take off or clean
Warming plate for a perfect and hot cup of joe
What we don't like:
The coffee spout design is mediocre
Coffee pot may leak sometimes
10. Breville Grind Control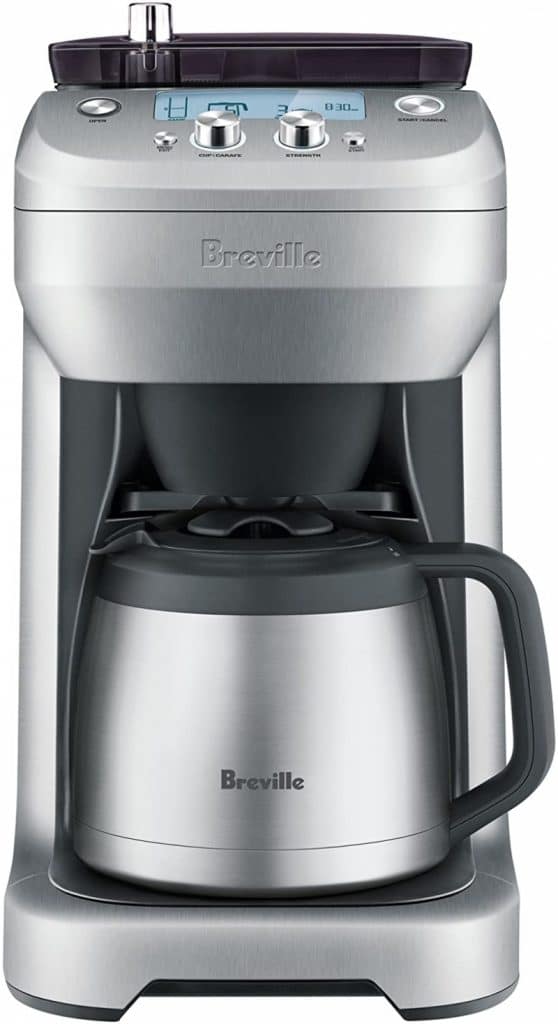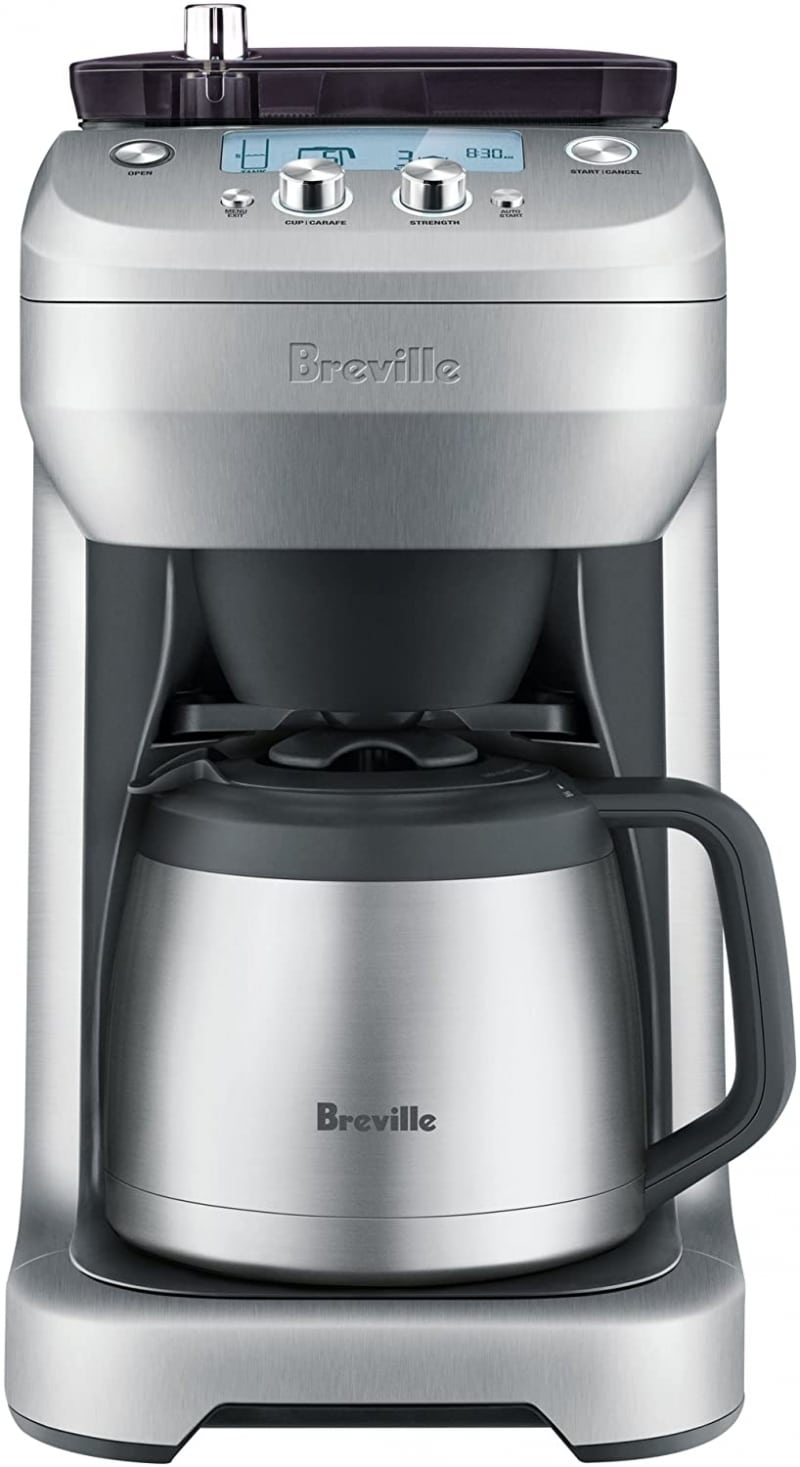 Looking for an adjustable grinder with a calibration feature that allows the user to customize the size of your grind and volume as well? Then you're in the right place because Breville Grind Control is undisputed. In about a minute, you can easily brew your ground coffee flawlessly as the explosive fragrant dissipates instantly.
As a result, the built-in grinder catches the newness and important oils from the beans by grinding them right before you decide to brew. Furthermore, the steel burrs allow the user to have dependable ground particle sizes when it comes to getting a rich and flavorful and arguably, the best coffee you'll ever have.
Overall, this coffee machine includes stainless steel burrs, a bean hopper that has a locking mechanism to ease removal, storing, and transferring. However, if the coffee basket drips or other problems occur, there is a way to minimize it.
After using the coffee maker, make sure to wash the coffee basket, and rinse them carefully, especially the chute area. Next, dry the basket and the chute precisely. To guarantee that there are no grinds left, line the coffee basket with a paper filter or gold-tone which prevents the coffee machine from overflowing. And, make sure that the carafe is empty before you start brewing.
What we like:
The steep and release feature allows you to grind before the brew
Programmable function for auto-start
Adjustable grinder for personal preference
Clear LCD display for customization and navigation
Has the choices of the carafe, coffee cup, or travel mug
Features stainless steel burrs
Burr grinders have six different features to select from
What we don't like:
Needs a lot of cleaning and care
A common error is frequent
9. Calphalon BVCLECMP1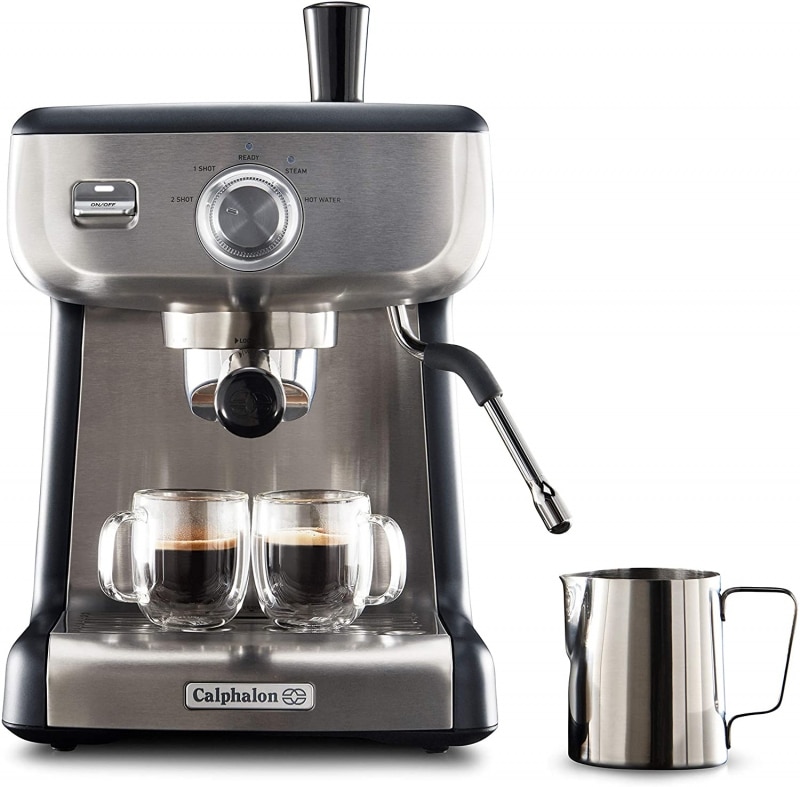 This espresso machine heats evenly to make sure that you have the most perfect cup of coffee by using precise heating technology. Furthermore, this coffee machine also heats the espresso extraction via PID temperature control and thermo-block heating, mixed with pre-infusion to boost espresso grounds' flavor. A 58 mm portafilter lets water disperses and has a robust flavor. Moreover, the mighty steam wand creates creamy froth as well as microfoam milk for beverages such as espresso, cappuccinos, mocha, lattes, and many more.
The Calphalon BVCLECMP1 coffee machine is equipped with a steam wand that controls the temperature for a much better coffee taste. Additionally, with items such as a steam wand, cup warming tray, and the auto-shot volumetric control system, the delicious espresso you're going to receive will always be consistent. On top of that, that delicious espresso is at the comfort of your home!
What we like
The 15-Bar pump makes the coffee flavor richer with its pressure and temperature
Dial interface for selecting and customizing beverages
Portafilter contains more grounds
Thermoblock heating technology, as well as the PID temperature control, gives you the power to pick your desired coffee temperature
The 2L water reservoir is easy to fill
Warming tray to keep the cup warm
Cleaning is not a hassle
What we don't like
Might have a power issue
Mediocre support service
8. Cuisinart DGB-900BC
With the magnificent Cuisinart DGB 900BC, you can brew yourself the best cup of java every single time. Make your friends and family go "Wow!" with the outstanding flavor of burr ground coffee that is fresh by pressing a button. Besides that, you can fully program the coffee machine to maintain your favorite setting or to extract the true flavor when grinding your beans to ensure that nothing more than a bright slash bold taste delivers a bright and bold taste. To seal in the warmth and freshness, the thermal carafe is designed to be double-walled which makes sure that the last cup is as great as your first.
What's crazy is that you can brew up to 12 cups with this programmable coffee maker! In addition, this product has a built-in burr grinder, which grinds all of your beans automatically before you decide to brew. With its grind-control feature, the program is easy to navigate and configure how much coffee you desire. Not only that, but its power selector lets you choose between mild, medium, or strong coffee. The coffee maker's bean hopper handles half a pound of beans and to prevent moisture, it comes with a sealed lid.
What we like
Fully programmable for auto-on or auto-off
Programmable for personal usage
Automatic burr grinder with beans hopper
Has strength control and grind control
Features charcoal filter and gold-tone filter
Brew Pause feature lets you enjoy a cup before it's even finished
What we don't like
The grinder is extremely noisy and loud
Cleaning this machine is a nightmare
7. Ninja CM407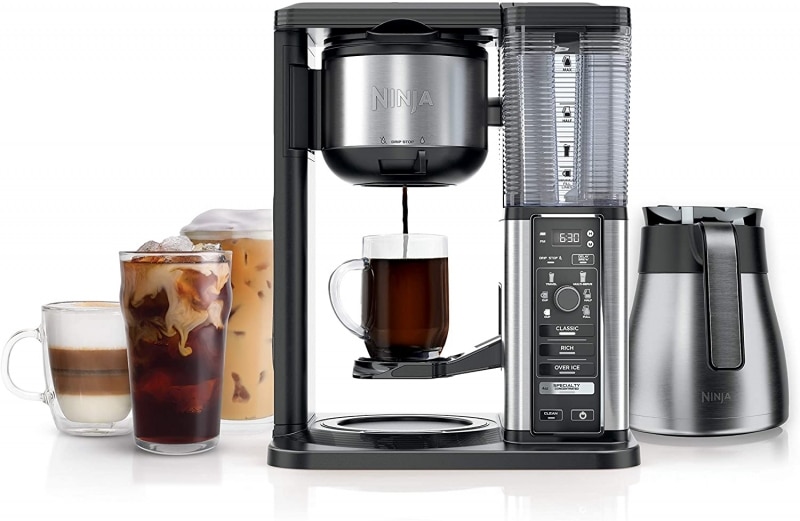 Hypothetically speaking, how awesome would it be to bring the entire coffee house with you? With the Ninja CM407 coffee machine, you can! You can get a super tasty cup of coffee by using this machine alongside its various features such as the milk frother which creates hot or cold frothed milk to brewing a coffee house type of drink.
Furthermore, you can brew from merely a single cup of joe to a half carafe or a full carafe with your favorite coffee beans or grounds, and you don't even need pods for that! All of your coffee drinks won't be watered down, instead, it's quite the opposite. You will get nothing short of a super-rich cup of coffee, delicious mochas, macchiato, lattes, amazing cappuccinos, and many coffee house beverages.
What we like
Specialty brew for the richest and most flavorsome coffee
Brew fresh iced coffee that's as good as gourmet ones
6 brew sizes to choose from
The fold-away frother lets the user turn the milk into a foamy froth
No need to use pods
Features an auto on/off option
Equipped with a thermal carafe
What we don't like
The size is larger than some commercial coffee makers
6. Gaggia Brera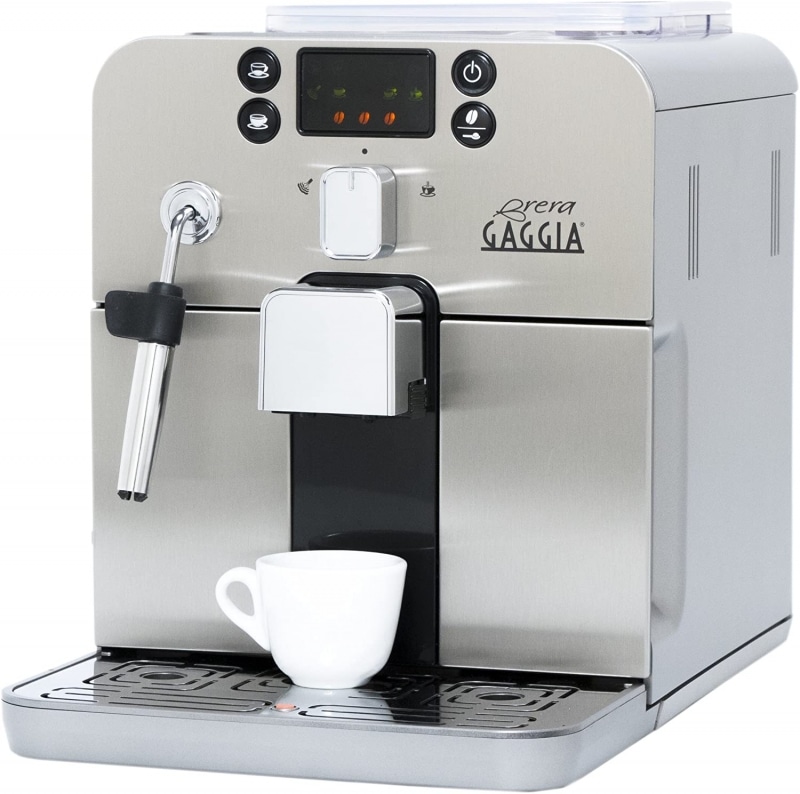 In a nutshell, The Gaggia Brera is a small, compact, and simple semi-automatic coffee machine, It is capable of brewing just about anything you want from coffee drinks such as espresso to latte, to cappuccino, etc. Additionally, the Pannarello wand acts as a milk frother as it streams or foams your milk till it becomes smooth and creamy which is exceptional for when you want to top off your coffee beverages and it's also great for making hot chocolate! At roughly 12.4 inches, Gaggia Brera is feature-packed.
With things such as a water reservoir and a front-loading dreg drawer, you can place it below your kitchen cabinets and have plenty of counter space to do whatever you please. The Gaggia Brera offers an exquisite brushed stainless steel panel at the front and a small yet simple design that is much more space-adequate than most coffee makers on the market. However, don't get tricked by its small size; this semi-automatic coffee maker takes full can toe-to-toe with the industry's massive coffee makers.
What we like
Has Panarello wand for excellent milk frothing
All compartments are easily accessible
The interface is user-friendly
Rapid steam technology allows you to get steamy coffee faster
Is fully programmable
Has a stainless steel front panel
What we don't like
Oftentimes, could potentially break even under warranty
5. De'Longhi ESAM3300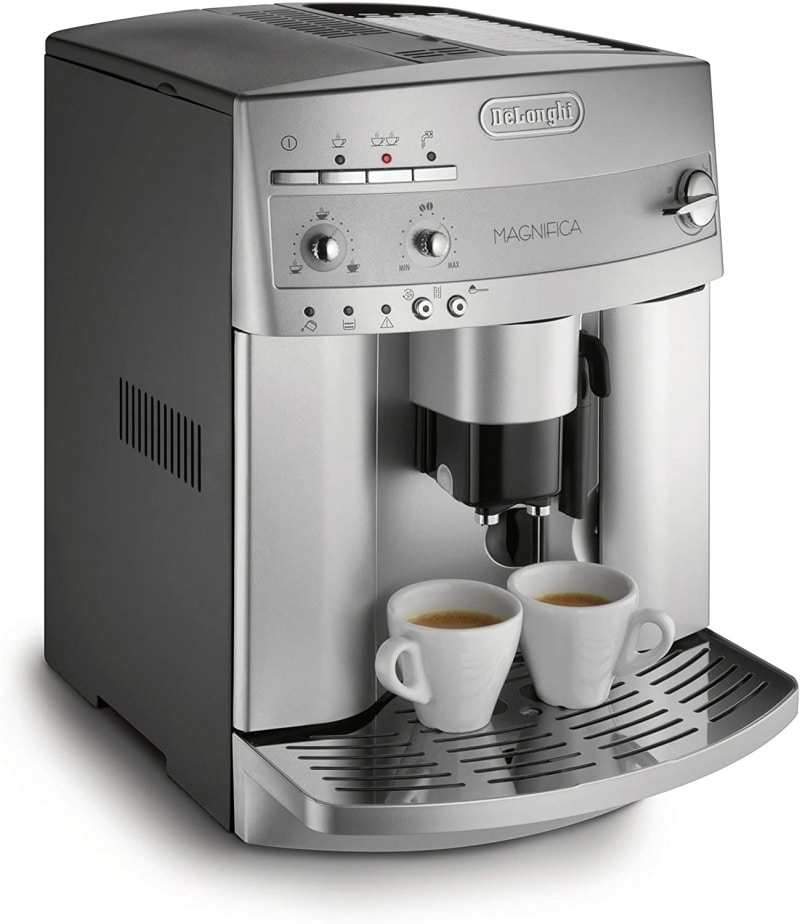 Wanting a capable coffee maker? Well, the De'Longhi ESAM3300 got you covered. Have fun brewing beverages such as espresso, latte drinks, cappuccino, mocha, and many more. Moreover, this semi-automatic coffee maker offers a unique and creative beans-to-brew system that allows the user to brew exceptional aromatic coffee by grinding the beans before brewing.
Additionally, the coffee machine is equipped with two stainless steel boilers which give amazing heat distribution and acts as an instant reheat feature, which makes sure that the machine is at a perfect temperature, no matter how long and how much the interval between cups are. Furthermore, the coffee maker's quiet burr grinder turns the beans into grounds efficiently and you can even set it to the desired grinding level if you want.
However, the product does support ground coffee as well. The front panel of this machine lets you access controls for turning it on or off and also the option to adjust the water quantity and coffee to meet individual preferences and tastes, from options like short/weak to long/strong. The patented cappuccino system turns around 180 degrees which allows all sizes of milk containers. Plus, you can adjust the coffee spigot height to house all kinds of cup sizes from a cup such as the classic espresso mug to a very tall cup. Even more, is that the machine's exclusive cup tray warms up the cups before usage.
What we like
The professional burr has 13 options to select
Manual frother lets you pick your preferred frothed milk type
The brew is consistent every time
Programmable to brew automatically
Cappuccino System lets you brew an exception cup of latte and cappuccino with ease
Design your own coffee and save the recipe for future usage
The controls are easy to use
What we don't like
The beans could get stuck
Might have a reboot issue
4. Breville BES870BSXL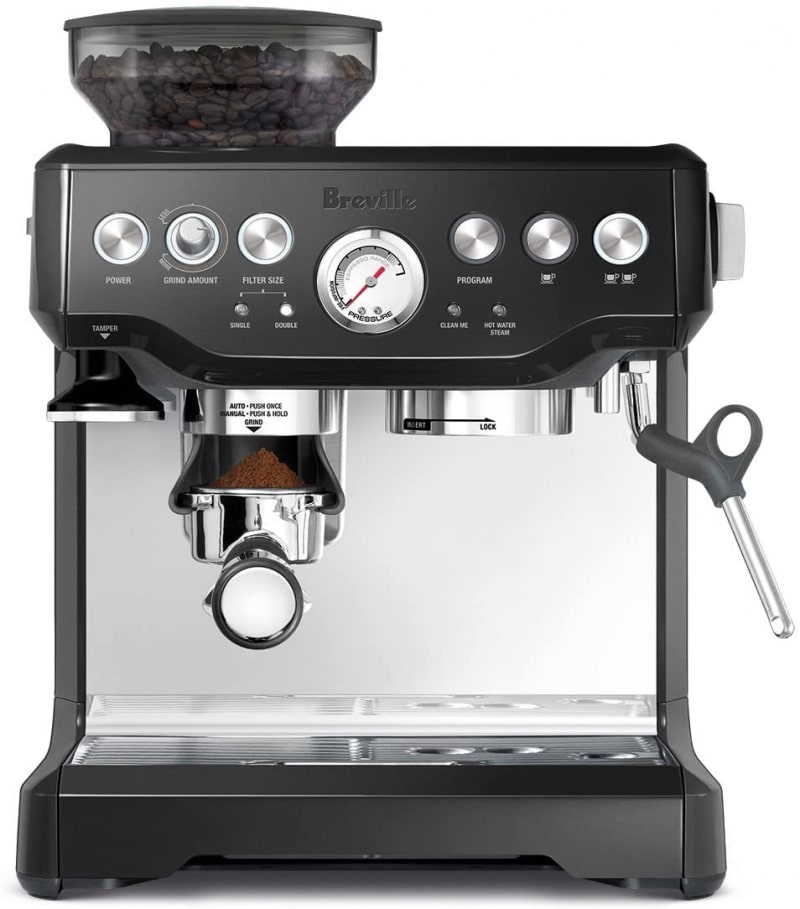 In less than a minute, you can create an awesome-tasting espresso or coffee. By using the Breville BES870BSXL, you can grind your coffee beans way before the extraction process. Moreover, with its filters that are interchangeable and the choice of selecting between a semi-automatic or manual option which allows you to have authentic café type of coffee in just about a minute.
In today's age, we can determine the freshness of a coffee in a matter of seconds. Therefore, after five minutes of sitting, the ground beans might have lost their gracious flavor. Hence, grinding coffee beans right before you wish to brew a fresh cup of espresso is necessary. Oftentimes, however, it's a trade between convenience and flavor. But, The Breville BES870BSXL solves all of this issue by giving you fresh and high-quality espresso really quickly via its integrated burr bean grinder.
What we like
Delivers specialty coffee at the comfort of your home
Features dose control grinding
Offers optimal water pressure feature
Coffee extraction is precise
Milk frothing is manual
Comes with a bean grinder
Equipped with grind size dial
3. Philips 3200 Series Fully Automatic Espresso Machine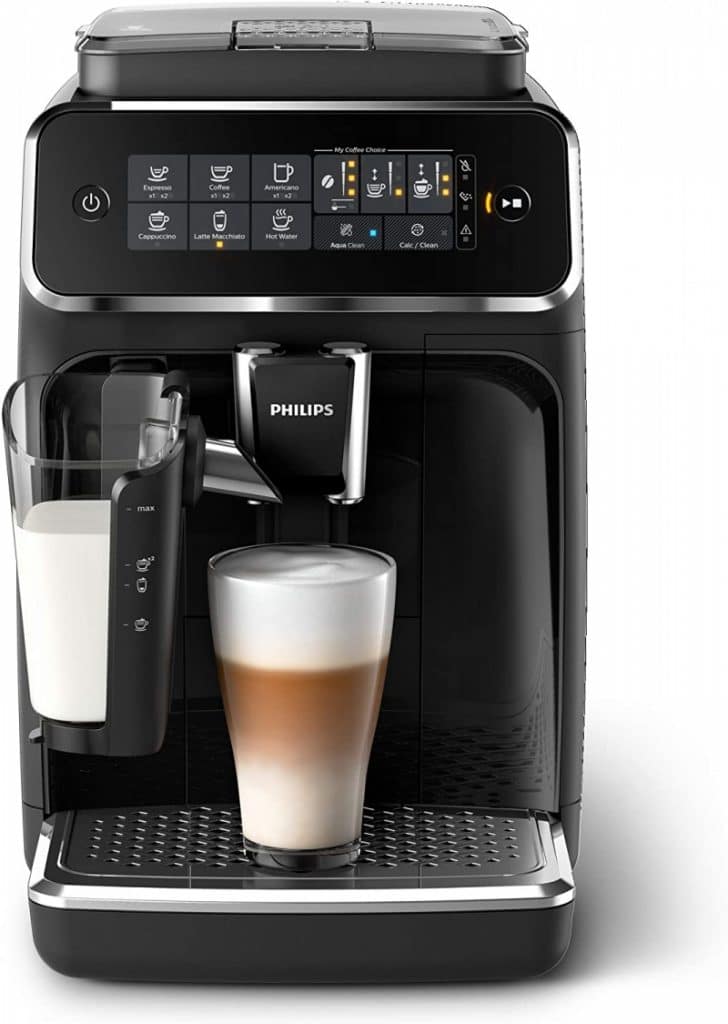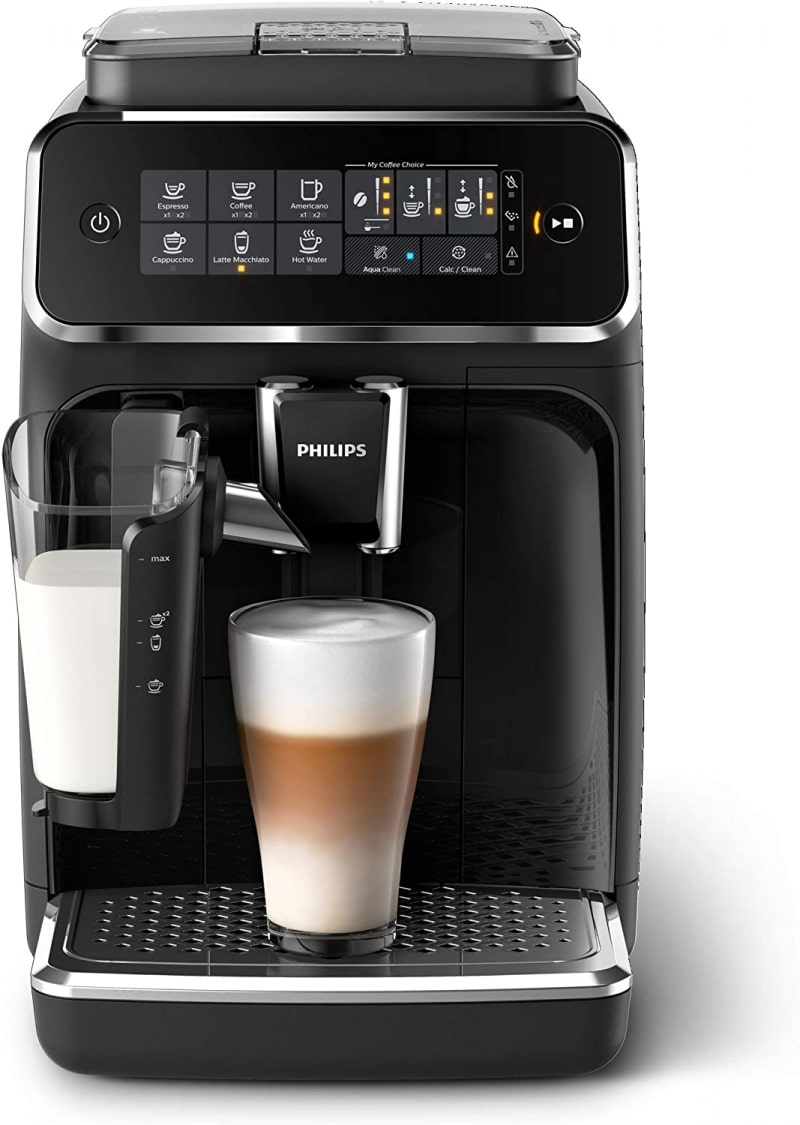 Looking to make aromatic coffee such as espresso, latte, macchiato, etc. by simply pressing a button? The Philips 3200 Series Fully Automatic Espresso Machine is the one for you! With its integrated milk frother, you can top your coffee with milk that ranges from silky smooth frothed milk to thickened type, and it is so easy and simple to install and set up. Furthermore, you can easily clean it in less than 15 seconds!
Whether you desire a cup of espresso, a classic coffee, or a milk-based beverage, this semi-automatic coffee machine always gives you a perfect cup every time without any hassle and faster than most coffee makers on the market. The touch display is also great too as it lets you choose your favorite coffee.
What we like
Has intuitive touch-screen control
Adjust grinder level to 12 level
Aroma seal keeps your coffee beans' aroma last longer
Easy to clean and store
Offer an auto on/off option
Comes with various beverages to select
What we don't like
The power button is hard to push
2. De'Longhi ECAM35020B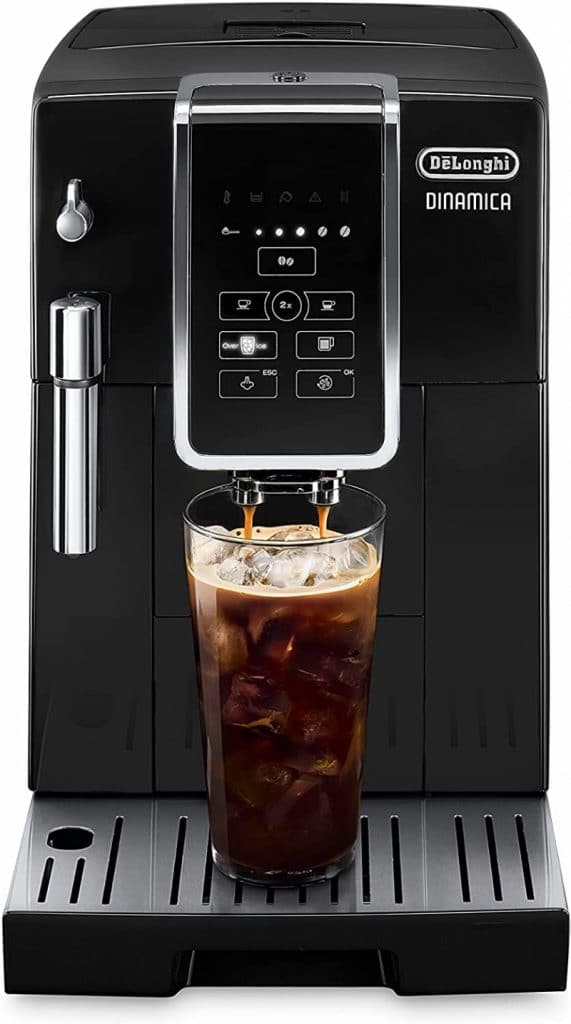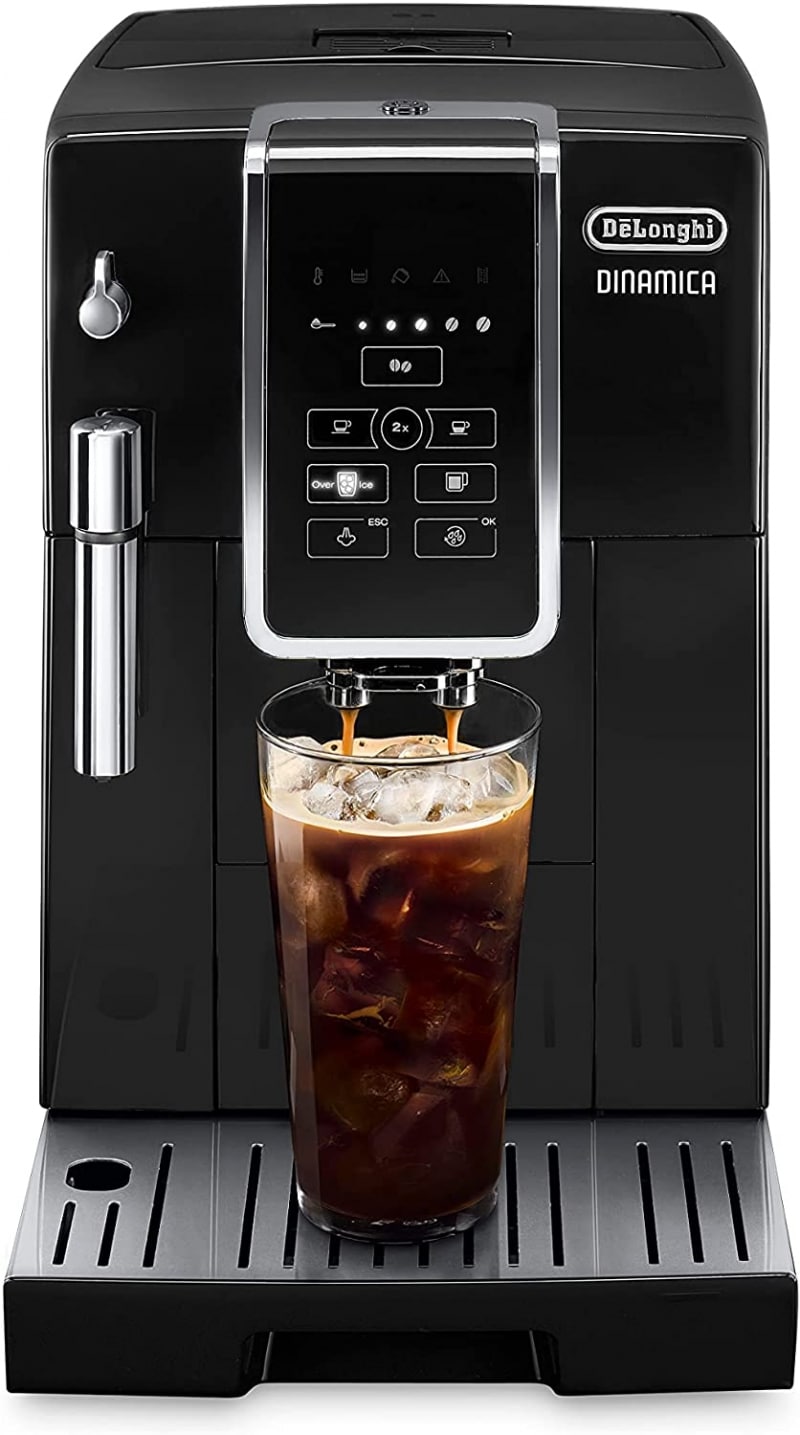 No one deserves to get a low-end, watered-down version of their favorite coffee, especially iced coffee at home at all. In order to fix this, De'Longhi offers another great product once again, this time with the De'Longhi ECAM35020B which is the first and only fully automatic coffee maker. Here's how it works: when brewing at a low temperature, it lets pre-infusion, which is the saturation of coffee grounds, occur, and what offers is the ability to configure and customize how strong or light your coffee will be. With that said, you can easily enjoy a ton of great coffee or traditional types at the comfort of your house.
Furthermore, it is also an automatic bean-to-cup machine, which makes the process of brewing and waiting for music faster. Like other coffee makers, this one also has an integrated awesome milk frother, which produces long-lasting milk foam which you can use all kinds of milk, even soy, coconut, rice, almond, or classic cow's milk. This revolutionary technology easily and precisely grinds the bean to produce the freshest and most flawless coffee. As for the cleanup, it's very snappy and takes half the time compared to other coffee makers. Unlike the rest of the market's coffee makers, you don't need any chemicals to remove the drip tray and clean it with the dishwasher. With the touchscreen interface, you can get the same quality cup every time without hassle!
What we like
The true brew process allows users to create a smooth and rich cup of joe
Heat the mug or cup up in less than 40 seconds
Bean-To-Cup system brews the freshest coffee every time
Has manual milk frother
Offers up to 2 years of warranty
Versatile with its personalization
What we don't like
Coffee brewing could be inconsistent
1. Breville Fully Automatic Espresso Machine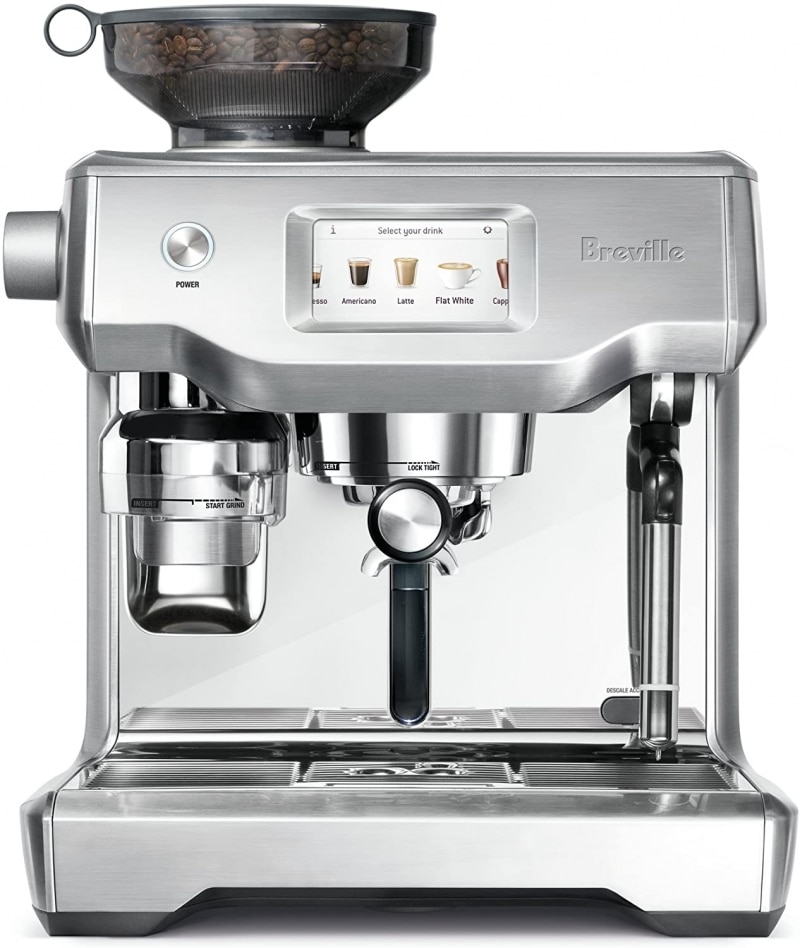 Unlike most coffee makers, this espresso machine with a milk frother is the simplest to use and the most convenient. With the inclusion of a touch screen, the operation is much easier to process and do whenever you crave your coffee. To make your favorite coffee, all you have to do is follow these three steps. First, grind, then brew, and lastly, add your desired milk. You can also change the coffee strength, the texture of the milk, and even the temperature to fits your desire. After that, you can save that setting for future uses.
With the capacity of 8, you can add plenty of coffee configurations that suit everyone in the household. Similar to other expensive coffee machines, you can become a barista at home. As a result, you can get a velvety texture in your latte, and also control the steam texture to create the best latte you will ever have. Overall, you can customize your coffee as your heart desires and enjoy that amazing creation of yours after you brew it!
What we like
The interactive touchscreen allows you to program and control your desired coffee
Has dose control grinding to meet the preference
Optimal water pressure for excellent brewing
Coffee extraction is beyond precise with its temperature control
The milk frother is manually and also automatic
Auto grind and tamp feature is present
Results are always consistent
Buying Guide To Choosing Best Luxurious Coffee Makers in 2023
Milk Frother
If you really love latte or cappuccino, your espresso machines do need a milk frother. Likewise, there are many milk frothers to choose from, however, there are four big ones.
The Steam Wand: The traditional method by frothing the milk in a separate cup.
The Milk Pod: Essentially a pre-made powdered milk mod that puts the froth into the cup.
The Automatic Milk Frothing: You can find some on pod machines or bean-to-cup espresso machines. All you have to do is add milk to the built-in container and the frother will produce foamed milk for you.
Accessories: Things such as whisks and heat are some of the great ways to steam your milk and get a foamy froth. Furthermore, you can pick them up as individual accessories as well as finding them in some espresso machines.
Customization
Good espresso machines, especially expensive ones, should allow you to select and personalize your coffee setting. Moreover, they also need to remember your selection so that you can always get your favorite java every time. Things such as strength, texture, etc.
Longevity
If you're buying luxurious espresso machines, it's best that they last you for a long time. Cleaning them shouldn't be much of a hassle, and taking them apart for storing or transporting purposes should be convenient as well.
Smart Features
Did you know that some espresso machines can even connect to the internet? Likewise, many expensive and smart coffee makers and espresso machines have a touchscreen that allows you to access recipes, plan brewing schedules and save your favorite beverages with their memory function!
Frequently Asked Questions (FAQS)
Is it true that all coffee machines brew the same results?
The true answer is no. The ability to brew a great coffee is a science in itself. Though a good coffee is subjective, most coffee makers still produce different java. Things such as extraction, filter, and temperature still play massive roles in crafting a good cup.
Glass or thermal carafe?
Most filter coffee machines integrate thermal or glass carafe. To keep the coffee warm, the glass carafe comes with a hot plate. As for the thermal carafe, it retains the coffee temperature by the insulated walls.
Is the coffee that I use important?
In most cases, yes. To be frank, it all depends on your preference and taste. However, some coffee beans are quite better than others. For instance, Robusta is less tasty than Arabica. But still, preference is the deciding factor here.
Conclusion
Overall, grand coffee makers are definitely better than regular ones as they should be. The price tag alone should justify the quality as well, and likewise, coffee enthusiasts will surely love any of the above-mentioned products. Furthermore, it's safe to say that there are many factors in brewing the best coffee.
The machine alone doesn't do the trick, but the temperature, the beans, the milk froth, and our ability to select and customize the best coffee are some of the factors to excellent java. However, it's extraordinary that with these 12 coffee makers, we can get gourmet coffee in the comfort of our home easily!
Reference:
Check out: Best Coffee Machine in 2023 – How to Choose a Good Coffee Maker? By Hype Tech