Do you want to try new things? Sometimes blunt, regular coffee can tire you easily. Experiencing new flavors and types of drinking can entice your love of coffee to another level. And coconut coffee could be the initial start of that new experience. This ethnic drink yet a popular one is well-known over the globe and is famous for its beautiful taste.
Today we are introducing coconut coffee recipes. It is promisingly easy to make and the ingredients are totally effortless to find. The three recipes will range from easy, intermediate, and advanced. Although there are levels to these recipes, it is not difficult to make at all. Each will bring you a wholesome new taste and at the end of the day, you will get a beautiful result to share with friends on social media and beloved ones to taste.
1. What is coconut coffee?
Have you ever come across the term Coconut Coffee? If you are living in one of the Southeast Asia Regions, you would probably encounter this name frequently.
Coconut coffee is simply adding coconut recipe into the coffee. However, what is special about it is that instead of having rough coffee, consumers might also like the additional aroma of coconut onto it. This particular recipe is simple and delicious because it compliments one another in the best way possible. Furthermore, the taste, texture, and creativity put into this is beyond imagination. The texture of the coffee is smooth yet it has this everlasting smell of natural coconut to it. Plus, the taste of the coffee is interesting because it has a scent of coconut milk and meat mixed into it. Usually, it is soft and once in a while you may encounter the coconut meat while you are drinking. However, this depends on the maker's recipe but it is usually welcome to put coconut meat in it always. Hence, today we are introducing three coconut coffee recipes namely: the original Vietnamese coconut coffee, Ice-Blended Vietnamese Coconut Coffee, and Cold and Creamy Coconut Coffee.
But before diving into the recipe right away, it is important to explore the origin of this coffee first. Coconut coffee is actually rooted in the country of Vietnam but it has influenced neighboring countries such as Cambodia, Thailand, or Laos as time goes on. Firstly, Vietnam is one of the largest coffee producers in the market and the root of all creative coffee recipes. It has been exporting coffee to the U.S. and other European countries for centuries and centuries already. Secondly, since Vietnam is a tropical country, coconuts can be found anywhere and everywhere within the country's border as well. It is traditional for Vietnamese to use coconut in cooking and daily remedies. Moreover, it is overly common to use coconut in dessert and cooking as well. Then, it became the norm to incorporate coffee with coconut milk and meat to enhance the flavor of the coffee to the next level.
In Vietnam, coconut coffee can be discovered anywhere from small vendors to big coffee shops. They called it "café dua" or "café cot dua". Furthermore, this particular recipe is simply delicious because it adds another interesting flavor to just blunt coffee. The taste, texture, and creativity enhance the popularity of the coffee even more.
Once again, this passage is introducing three recipes of coconut coffee for you which is Vietnamese coconut coffee, Ice-Blended Vietnamese Coconut Coffee, and Cold and Creamy Coconut Coffee. These three special recipes are going to be mind-blowingly delicious and tasty. Throughout the passage, we are going to inform you of the instructions, equipment needed, and note-worthy information that are going to help you achieve the perfect coconut coffee.
2. Recipe: The Making of Coconut Coffee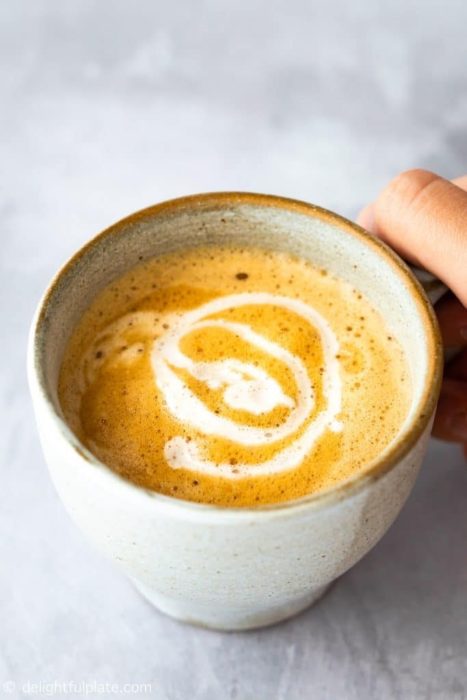 2.1 Vietnamese Coconut Coffee
Today we are introducing three main coconut coffee recipes for the audience to try it out. Firstly, it is the original Vietnamese coconut coffee. This recipe will remind you each time about Vietnam. Because it is the original taste that the locals usually go for. Although it may sound straightforward and uncomplicated, this recipe is known to bring the best of coconut coffee for first time consumers. You would need: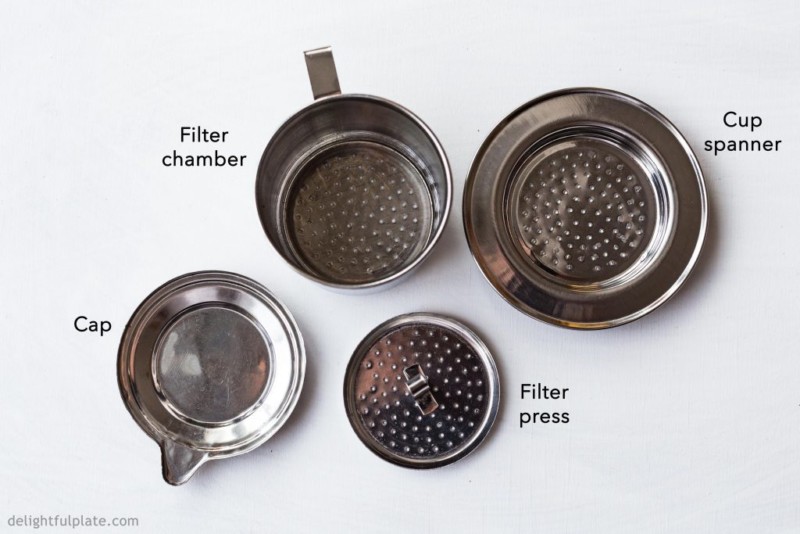 Equipments
Cup spanner
Filter Chamber
Filter Press
Cap
Ingredients
2 tablespoons of Vietnamese Ground Coffee
½ cup of hot water
1/3 of coconut milk
2-3 tablespoons of condensed milk or preferred option
Instructions
Brew the coffee. Fill the spanner with ground coffee over your glass then press the filter over the ground coffee tightly
Add ½ cup of hot water and wait until the coffee drip into the glass enough for your satisfaction
In a small saucepan, heat and stir both the coconut milk and sweetened condensed milk at medium-low to medium heat.
Heat and stir until little bubbles appear. Do not let it boil.
Froth the coffee by using the electric frother or shake vigorously in a concealed jar.
It can be easy as the steps above. However, in creating the best, authentic coffee like the one in Vietnam, it requires additional work. To create the ultimate best Vietnamese Coconut Coffee, you would have to froth the coffee first. It is unlikely to froth the coffee rather than the milk. Yet, you can choose to froth either one however, it is most likely better to froth the coffee.
First, you would have to buy an authentic Vietnamese ground coffee. There are definitely many coffee brand names out there in the market. However, choosing the right coffee would bring the best result and experience. In particular, if you can find authentic Vietnamese coffee at your supermarket or Asian convenient store. The local taste would enhance the originality and level up the experience better. Nevertheless, if you cannot find the local brand name then any ground coffee would be just fine. Moreover, at any price range is totally acceptable, but bear in mind to buy ground coffee instead of regular powder coffee.
Next, coconut milk is the second important ingredient. There are many coconut milks out there in the market with different brand names. It usually comes in a can or a carton. This is also a best option for those who are looking for a vegan coffee recipe. In certain cases, where you can get natural coconut milk, that would be absolutely awesome too. You can just use that coconut milk for this recipe as well.
Last of all, sweetened condensed milk. This specific last item is also easy to find on the market as well. You can find it on the regular market as well as in the supermarket. There is no specific brand which limits you to buy. You can choose whichever you believe is best in providing the best outcome for your coffee. In the case where you are looking for vegan milk, you can also choose to go instead with a dairy-free or vegan version of condensed milk. Otherwise, another option to replace condensed milk is sweetened condensed coconut milk.
2.2 Ice-Blended Vietnamese Coconut Coffee
The second recipe is Ice-Blended Vietnamese Coconut Coffee. Unlike the first one which is based on the original coffee, the second one is likely to be modern. The final outcome is going to remind you of ice-Americano with the twist of coconut. Furthermore, it also requires extra equipment as well such as a blender. However, the flavor and taste would still be the same and unique.
Equipments
Blender
Vietnamese Phin (Vietnamese coffee filter)
Ingredients
7 g of French roast coffee
100 g of water
¼ cup of coconut cream
¼ cup condensed milk or preferred condensed milk
2 cup ices
Instructions
Store the coconut slush in the fridge first. Be careful not to freeze it because we are going to need to blend it later
Use the Phin to drain the coffee otherwise you can use the normal coffee chamber and filter to drain the coffee as well
Then store the coffee in the refrigerator at most 30 minutes or less than that
Next, you may go ahead and blend slushy then freeze it from 30 minutes to an hour
Combine coconut cream, ice, and condensed milk into the blender
Blend the three until the result of the consistency is thick and frothy. Stop when you can see some little ice floating here and there but not completely vanished
Mix coffee with the combined coconut cream, ice, and condensed milk together
Finish off with the topping of blended coconut slush for better taste and decoration
In the making process of this particular coffee, there are a few things needed to be reminded of. First of all, it is optional to go with either French or Vietnamese coffee. However, if you are in the region where it is difficult to find local Vietnamese coffee, French or any ground coffee brand would do. Then, the most important step would be making aromatic coffee. Place the coffee on the spanner and filter with French Press or Phin.
Secondly, boil the water to 205 F and pour into the French press or Phin and steep it for 3 minutes or more. After you are satisfied with the amount of coffee you need, then place the coffee in the fridge for about 30 minutes. Because storing it in the fridge would maximize the taste and texture even more. Remember we are making Ice-coconut coffee therefore hot coffee would not do the trick.
Thirdly, the blender. This is not optional or not but it is mandatory to use a blender in the particular case. Without the blender, it is difficult to achieve a nice texture of slush in the coffee. You need the slush to be in the middle, not too smooth or crunchy. Moreover, this recipe requires you to blend ice, coconut cream, and coffee together. Therefore, it is compulsory to have a blender to get that frothy texture as well as the best experience of coconut coffee.
2.3 Cold and Creamy Coconut Coffee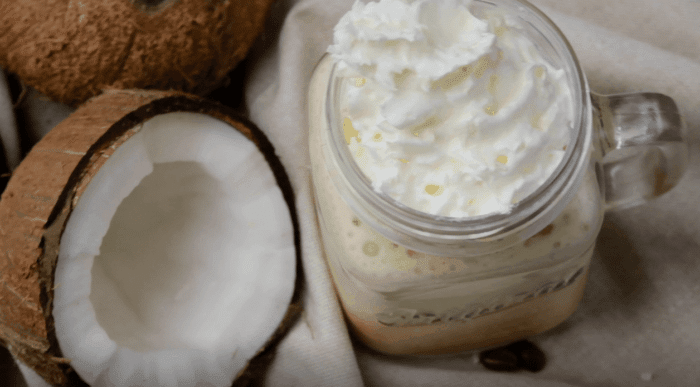 Cold and Creamy Coconut Coffee is the perfect drink for hot weather. Unlike the earlier drinks, this particular drink is creamier. It is more like frapped coffee but with coconut instead. The flavor of this coffee is fluffy that gets from the whipped cream and blended coconut slush. Finally, there is additional sweet flavor to it because of the vanilla syrup.
Equipments
Blender
Standard ice tray
Ingredients
1 standard tray of coffee ice cubes
1 cup of Coconut milk
1/3 of cup cooled coffee
3 tablespoons of sweetened coconut flakes
2 tablespoons of vanilla syrup (optional)
Whipped cream
Coconut slush/meat for topping (optional)
Instructions
Freeze coffee into ice cubes
Mix the frozen coffee cubes and coconut milk together into the blender
Blend it smoothly
Add vanilla syrup or you can replace it with either sugar or condensed milk
Top with whipped cream
And toasted coconut meat on top
This is perfect on any occasion that you have leftover coffee in your fridge. With your leftover coffee, you can turn a blunted coffee into a creative one. This is also a better alternative to reuse your coffee as well. Instead of throwing it away, you might as well reuse and recreate it by adding coconut.
Secondly, Vanilla syrup is basically optional to use. It can be replaced by your preferred sugar agents. For instance, it is definitely welcoming to substitute with sugar or condensed milk. At this particular part, it is up to your personal preference.
Moreover, whipped cream is quite optional as well. Nevertheless, whipped cream may enhance the sweetening flavor of your drink to another level. Also, it accentuates the appearance of your coffee. If you are making this for your significant others or beloved person, adding whipped cream would make it look luxurious.
Final Thought
With that being said in the earlier paragraphs, coconut coffee is a popular drink in one of the Southeast Asia countries, Vietnam. They are usually called "café dua" or "café cot dua". They can be found in almost every place in Vietnam. The first impression of this drink is a mixture of coffee and coconut. Yet there is a unique add-on flavor from the coconut. It may sound simple however the combination of coconut and coffee is just utterly stunning.
Above are the three best ways to make coconut coffee. These recipes are according to the range of beginners, intermediate, and advanced. As for the ingredients, they are totally easy to find at the supermarket, local market, and even at convenience stores. Besides, we have also listed the important equipment already in the earlier text. Therefore, you would have to make sure that all equipment is gathered properly. Most importantly, all starters would not have to worry about the instructions. This passage has already simplified step-to-step in making the coffee. So, you can just immediately rock the recipe and get a great outcome. In case, you are lost or worried about a certain point or information. There is also an extra note at the end of each recipe as a guide so that you would follow it correctly and get the perfect coconut coffee.
In addition, these are easy for beginners to practice at home as well. Even if you are more familiar with coconut coffee, these recipes are unique and will deliver the perfect drink on a hot day. So, without further adieu, let's try these recipes out and prepare to be amazed by the outcome. Also, do not forget to share this with your families, friends, and your loved ones!
References: