For some time, the stereotypes that coffee should be drunk at coffee shops arose. It could be due to a large and expensive espresso machine, or it could be due to the complicated roasting process. 'Home cafe' challenges these stereotypes.
Even if you don't have a large and expensive machine, even if you don't know the complicated roasting process, or if you don't have a skillful operation, you can enjoy delicious enough coffee at home with a little interest and passion for coffee.
In this article, we will show you 5 proven methods to roast coffee beans at home to make a good cup of your coffee for yourself. Also, there will be some useful tips and recommendations for you as well. Let's check them out together!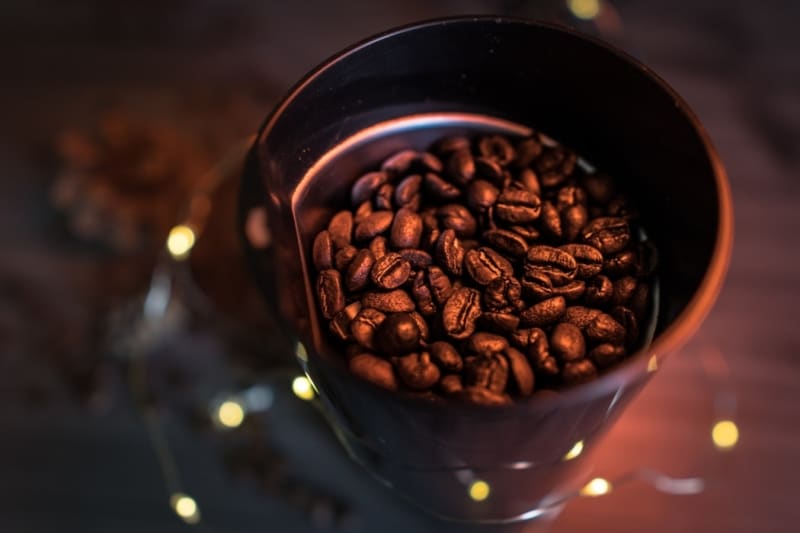 Facts & Opinions
Since the process of making coffee is a combination of numerous variables, numerous trials and errors are followed to obtain a certain result. Among them, roasting, which determines the flavor of coffee by roasting green beans, is one of the most difficult processes to predict the outcome.
Not only does the taste change through the moment when the temperature changes, but the green beans can also burn black in a matter of seconds.
Even the same green coffee may have a different flavor when roasted at different temperatures and times. In this sensitive and delicate roasting process, it takes a lot of time and effort to consistently produce predictable results.
In fact, it is not easy to do this roasting in your home cafe. Of course, home roasting is possible with a simple device, so it is not difficult to try. 
Things You Have To Follow After Purchasing Green Beans
In many cases, from the process of harvesting sacking the green beans, the defect beans or some other substances are being together. Especially, if the price of green beans is cheap, then you will face this problem more often.
So, now it is your responsibility as a roaster to pick out those substances by your hands. If you pass this process, then it will badly affect your coffee taste and aroma. Therefore, you'd better pick them out before you roast the green beans.  
5-Proven Methods To Roast Coffee Beans At Home – Coffee Roaster Alternatives
1. Home Roasting Using Strainers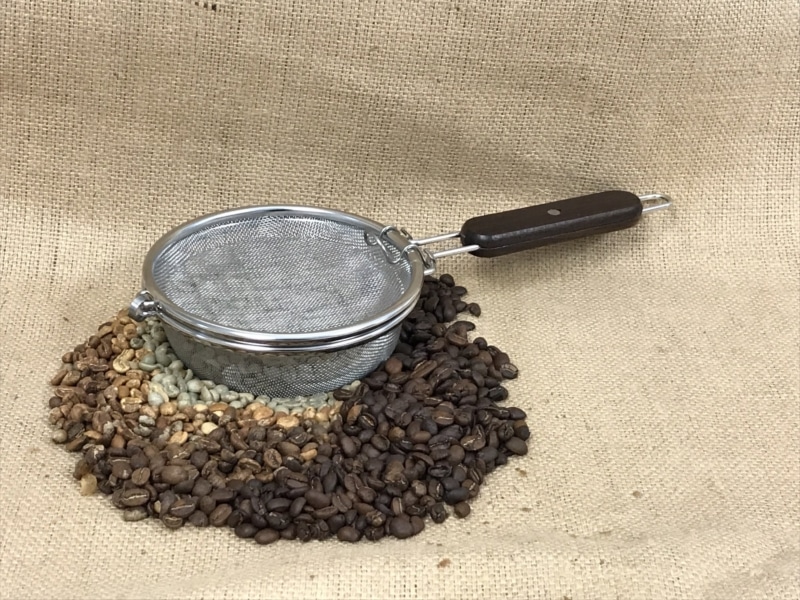 Strainer roasting is a direct fire-roasting method in which green beans are roasted directly in the fire. And you can easily see the change of green beans with your eyes and nose. Also, you can feel the wild taste and aroma of raw beans.
Depending on the size of the strainer, the amount of green beans to be input is different as well. For a strainer with a diameter of 13 cm, about 20 to 40 g of green beans is suitable. But if a large amount is added compared to the size, the roasting is not evenly done, so it is easy to produce a mottled result.
The larger the strainer, the greater the number of green beans that can be input. Weight also increases. If you add constant agitation activity to this, it can be overwhelming on your shoulders and wrists. Therefore, it is better to start with a small size rather than choose a large net from the beginning.
Method
Put the right amount of green beans depending on the strainer size.
Turn on the gas stove, shake the strainer at around 40 to 50 cm high.
It takes around 2 to 5 minutes to take the moisture away. (might have some difference depending on the fire level)
When the moisture almost finises, the surface color of the bean turns yellow and has a smell of wet grass.
After all the moisture compeltely finsihes, then it is time to heat the beans deeply. Here, lower the strainer up to 20 to 30 cm from the fire and at the same time start mixing the beans.
A few moments later, you will hear the pat pat sound, and we call it the first crack. When you hear a strong pat pat sound, then you can turn the gas down and lower the strainer up to 10 cm from the fire.
Now, you can decide the time to turn the coffee beans out. Normally, the beans for drip coffee roast one more minute after the first crack.
However, if you want dark roasting, you can go for the second crack, but be careful from burning.
2. Home Roasting Using Frying Pan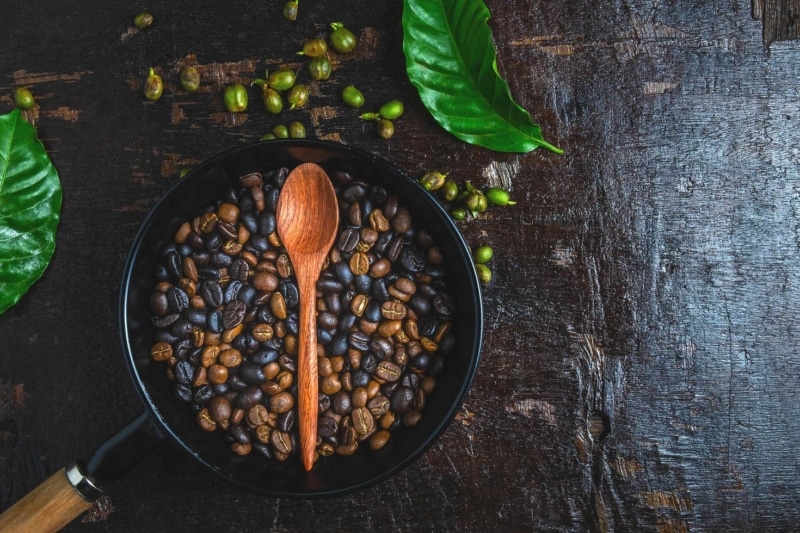 Frying pans are familiar kitchen utensils owned by more than one at home and are also traditional roasting utensils that have been used for a long time.
Experts recommend to purchase a frying pan separately as coffee roaster rather than using the one at home. There are no specific frying pans for roasting, but a pan with a certain depth is easier to roast. This is because space is in need so that the green beans can be evenly mixed during stirring.
The size should be 20 cm in diameter and 7-8 cm in depth. A pan with a lid is good, but if you don't have it, you can easily replace it with a lid of the same size. It seems that you can see the change of green beans without opening the lid made of tempered glass. However, it becomes useless because the silver skin and coffee oil get tangled and stick to the inside of the glass. Above all, it is not a recommendation because it weighs quite a bit.
Method
Close the lid of a frying pan and preheat for around 1 or 2 minutes over high heat.
Can roast around 200mg to 250mg at one time.
Open the lid and heat for 2 to 3 minutes, at the same time, mix and stir the green beans well.
Watch and check the change of the green beans and heat them evenly. Must wear gloves to avoid the burn.
After the heating starts, to turn the inside heat up, close the lid and lower the heat a bit up to 150 to 160 degrees.
When you mix the beans, it is important to stir the beans evenly by grabbing the handles.
When the first crack starts, reduce the heat to low and open the lid to lower the heat.
Then it is the end of the process of roasting coffee beans with a frying pan.
3. Home Roasting Using Ovens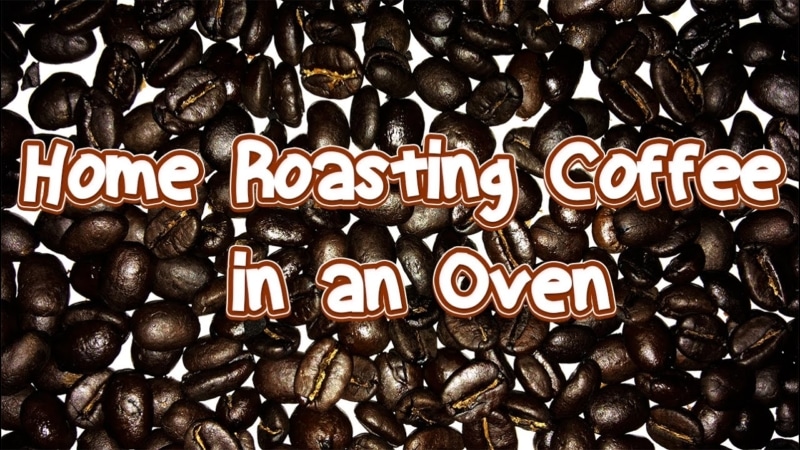 Another basic and easy way to roast coffee beans is using ovens at home. Do you belived, you can use an oven as a coffee roaster? That's incredible. You can easily do it with little cost. It won't show you the dramatic effects, but still, the outcome will amaze you.
Every oven is different. So the amount and time to roast are not the same as well. One thing that you need to check before toasting is whether your oven has a flashlight inside or not. If not, then you will need to turn the torch on with your hands to check the change of the green beans.
Method
Preheat the oven to 170 degrees.
And spread the green beans well on the tray and place them inside of the oven.
After that, roast the beans at 170 degrees for 4 minutes. Then you will see the color of green beans turn yellow.
Next, increase the heat up to 200 degrees and roast for 7 minutes. It will take around 6 minutes to increase the heat from 170 degrees to 200 degrees. Here, the first crack is happening.
When the heat is at 200 degrees, wait for 5 minutes more to roast and then take the coffee beans out from the oven.
Cool them down and you can use them.
4. Home Roasting Using Popcorn Machine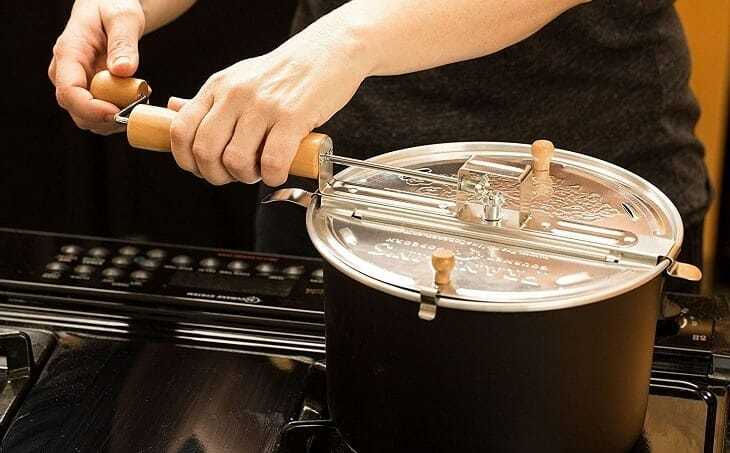 The next roasting method is using popcorn machines. They are very easy to use and produce well-roasted beans as well. What is good about popcorn machines is that they have built-in agitation. Therefore, you do not need to spend your energy and efforts to stir them. In other words, using popcorn machines is the easiest and simplest way to perfectly roast green beans.
However, one thing that you have to keep in mind is that they can be broken after 4 or 5 times use. So, be careful when you use them, and it is suggested to buy a cheap one in order not to waste your money.
Method
Before you start, if possible, roast the green beans outside of your home to avoid making your house full of smoke.
Depending on the products, the time of preheating would be different. Anyway, preheat around for one minute.
Measure a certain amount of beans and drop them inside of the machine. Do not put too much, otherwise, the agitation would not work well.
Now wait for the first crack, it would take 3 to 5 minutes. Then, you will get light roast coffee beans.
If you want medium roasted, then you can wait for 6 or 8 minutes.
For dark roasted, you can wait another 30 seconds. But be careful from burning the beans.
After all the roasting process is finished, you can place the coffee beans in a cool place to cool them down.
5. Home Roasting Using Home Coffee Roaster Machine
Last but not least, there is one more proven way to roast coffee beans at home, which is using the home coffee roasting machine. If you are very serious about roasting the beans, then you can use this method.
Without a doubt, compared to other methods mentioned above, it will give you a much better outcome for sure. Although the price of the machine is a bit high, once you purchase it, you will use it for a very long time, unlike the popcorn machines.
Method
Before you start, make sure that you are roasting at a ventilating place.
Turn the coffee machine on, follow the instructions given with the machine. It will be slightly different from each model.
Check and control the whole roasting process.
Listen for the first or second crack depending on your coffee preference.
Transfer the coffee beans from the machine to a cool place.
Leave the beans for 12 hours to vent CO2.
As we just mentioned above, there are several easy methods to roast your green beans to make a cup of coffee. However, to have great quality roasted beans and to make your work more convenient, you should use coffee bean roasting machines. No doubt, they will show you the best outcome of your coffee beans. Of course, they're more than one choice of coffee roasting machines in the market.
So, right here we highly recommend you the top 3 best coffee roasting machines that can help you roast good quality beans at home easily. With those products, you can roast a large amount of your favorite flavor green beans and enjoy your own coffee anytime anywhere you want.
Real-Time Temperature Display
1 Year Warranty
Roast 4oz/ 120 Grams
9 Levels of Heat and Fan Settings
US 120V Certified only for US and Canada
View Price on Amazon
Basically, this product has great features, such as offering 9 heat and fan speed. You can adjust the heat level according to your needs. Obviously, the 9 heat levels can offer you much convenience and better-roasted bean quality compared to simple low, medium, high heat levels.
Additionally, the glass chamber is enhanced for better visibility. This allows you to check the change of color and roasting level of green beans easily. There is a panel that enables you to adjust the heat level, time, and fan speed.
What is more, you might be concerned about its cleaning process. Actually, it is very easy and simple to clean the machine. If you are familiar with using popcorn machines to roast your beans, you will see a big difference and convenience with this Fresh Roast SR 540 coffee roasting machine. Last but not least, due to its excellent performance and quality, this model is selected as Amazon's Choice product.
Thickened anti-scalding handles on both sides
Time & Temperature Control are available
Efficient Heat dissipation, uniform Roasting
can roast a variety of beans & nuts
Heat resistant, durable, with a top four-hold ventilation system
View Price on Amazon
This high-ranking product is offered by BAR WELL. First of all, it comes with an upgraded timer function which is up to 60 minutes. Also, it can automatically keep the beans warm for a few hours. Secondly, the temperature can be adjusted from 100 to 240 degrees to roast your green beans perfectly.
This coffee bean roaster machine would be an ideal product for beginners to use. Thirdly, this model has a very powerful agitation, which plays an important role when it comes to roasting. It can mix or stir the beans inside of the machine evenly and will show you the desirable outcome. 
Fourthly, the BAR WELL model comes with a large capacity that can handle up to 750 grams at one time. That is enough for one week for the coffee lovers who drink more than 2 cups per day. Additionally, it can roast your beans within 25 minutes quickly and easily. Moreover, the quality of the product is very durable and heat resistant as well. Also, the handle can be placed safely and it is not hot at all.
On top of that, this model is easy and safe to use and gives even heat to your beans so that they can be roasted very well. What is more, the product is also very easy to clean. Last but not least, this coffee roasting machine is a multi-machine, meaning that you can roast whatever besides the coffee beans, such as peanuts, popcorn, and so on.
Material: Body- Ceramic, Grip-Genuine cowhide
Eco Ceramic Roaster 100% ceramic
Waffle-shaped internal structure equal roasting
Can enjoy a popping sound due to the rear hole
Includes 1xCeramic Handy Roaster, Made in Korea
View Price on Amazon
This special best coffee bean roaster is a bit different from the above products. It is not a machine and it is an eco ceramic handy roaster. Nuvo eco ceramic coffee roaster offers a simple way of roasting green beans manually. Just like its name, it is a very eco-friendly product and also very handy. Therefore, you can bring it anywhere you go, if you only drink or like to drink your own coffee.
Although it can be roasted only a few at one time, it is good to roast your fresh beans with your hands and drink a fresh cup of coffee every day. Moreover, the price is also very economical and not burdensome at all. Furthermore, the design and appearance are also very aesthetic as well. What is more, you can easily learn how to use this product in a short time. Most importantly, Nuvo eco 100 % ceramic handy coffee bean roaster can roast evenly, which is a very important factor to have a good taste of the coffee.
Well, well, well… now that you've learnt about the 5-proven methods to roast coffee beans at home already. How about coffee beans themselves? What are the best tips to choose the best coffee beans for home consumption? Calm down, Hear us out down below through the frequently asked questions that you may have in mind.
Frequently Asked Questions (FAQs)
What type of fresh raw coffee beans should I buy?
There are various types of fresh or raw or green beans according to the countries, mountain areas, and grade. What you have to remember is that it is not recommendable to buy expensive raw green beans just because they claim to have good quality.
This is partly because there is no absolute standard of coffee, but more importantly, beginner-level or amateur roasters can easily burn the green beans due to their poor practice of handling fire temperature.
Thus, it is better to start with cheap raw beans, going through the roasting practice, rather than purchasing the expensive one. After that, you can approach other good-quality green beans depending on your preferences.
How to store the green beans?
It is good to store raw beans in a place where there is little direct sunlight and have the appropriate temperature and moisture. For instance, if the weather is hot that can make molds easily, then the green beans should be kept where they have good ventilation.
The longer you store the raw beans, the more their freshness and quality will be lowered. Thus, it is recommendable to buy the right amount you need and reduce the storage period as much as possible. And after the roasting, you need to learn some effective ways according to experts to store your roasted coffee beans the right way according to experts.
Final Thought
Coffee roasting techniques accumulated from numerous experiences can be different from time to time. After all, the pleasure of making your own coffee is a happiness that cannot be felt in a cafe that only receives finished coffee. Thus, it can be said that it is the advantage of home cafes that you should enjoy even at the expense of the inconvenience.
Not all problems come without a solution. Even if you don't have a large and expensive machine, even if you don't know the complicated roasting process, or if you don't have a skillful operation, you can enjoy delicious enough coffee at home with a little interest and passion for coffee.
References
• Want To Roast Your Own Green Coffee Beans At Home? | HOMEGROUNDS
• Five Ways To Roast Your Own Coffee At Home | DIY Natural | Debra Maslowski
• A Beginner's Guide to Roasting Great Coffee at Home | PERFECT DAILY GRIND