Addicted to coffee? Boring to stand in a busy line to grab just a cup of your favorite coffee? If your answer is "yes", congrats that you have landed on a proper page. So, if you love drinking coffee, but are bored purchasing at the coffee shop, why not do yourself a favor—Easy Homemade Coffee Drinks.
Brewing a cup of coffee at home has many benefits for your daily life. It simply saves you so much money, time and of course it will bring so much enjoyment and peace of mind when you brew your own coffee drinks. 
To help you out in brewing a cup of coffee successfully as a professional barista does, we are going to show you 10 well-known easy coffee drinks homemade recipes that you can't help, but falling in love with every one of them instantly. Below the description appears 10 well-known and tasty coffee recipes. Let's have a look at it now!
1. Iced Coffee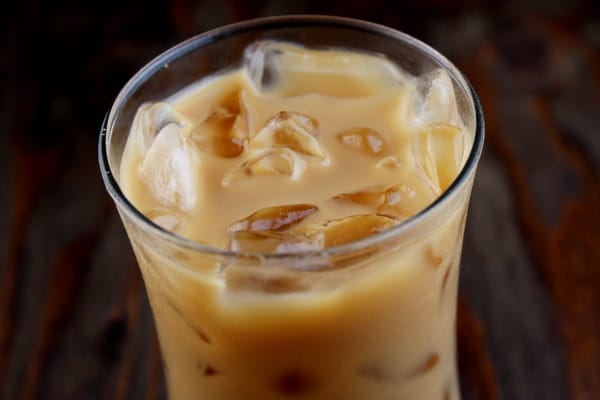 Iced coffee is one of the easiest coffee drinks to make. Firstly, prepare a tall glass with a long spoon to reach the glass bottom. Secondly, fill the glass with some cubes of ice. Thirdly combine instant coffee, sugar, and warm water in a sealable jar. Next, cover the jar as well as shake till it is foamy. After that pour the mixture into the iced glass. In this step remember to fill it almost to the top.
Then fill the glass with milk. However, if you desire a decadent coffee, just add cream. Yet, if you prefer a little lighter, you can simply use whole milk or fat-free milk. Whereas, nonfat milk is for taste lighter. Finally, add either 1 teaspoon of sugar or whatever type of sweetener as you usually add. Lastly, serve yourself this tasty and simple iced coffee, surely you will love it.
Sum-up Ingredients
2 ts instant coffee granules
1 ts sugar
3 tbs warm water
6 fluid ounces of cold milk
2. Cafe Latte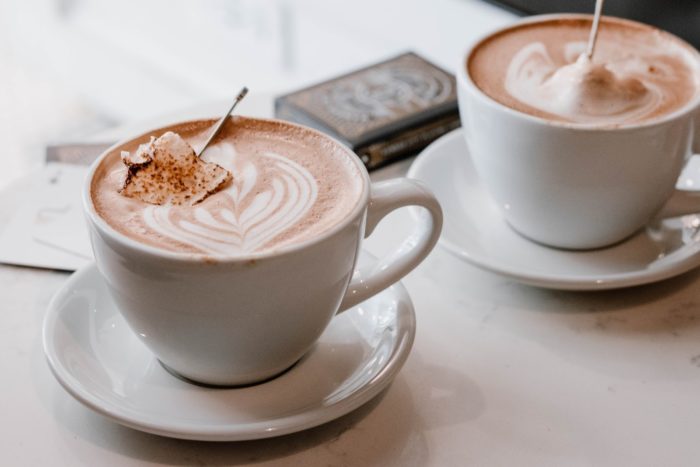 Here you go, the convenient homemade coffee drinks—Cafe Latte. A caffe latte, is a coffee drink that mixes espresso with steamed milk as well as a thin layer of foam. Moreover, latte tends to serve both hot and iced. Yet, it is mostly served hot. Hence, comes with us to make a cup of cafe latte with the recipe description below.
Firstly, heat milk in a saucepan with medium-low heat. Secondly, use a wire whisk to whisk briskly to make foam. Thirdly, brew espresso and pour them into 4 cups. After that pouring the milk in. Additionally, it should be up to a 3 quarter-inch layer of foam on top of the cafe latte. Lastly, gently pour the foam with the back of the spoon. On the other hand, if you prefer iced latte, you could just pour espresso and milk over ice without froth the milk. 
Sum-up Ingredients
2 cups of milk
1.33 cups hot freshly brewed espresso coffee
3. Pour-Over Coffee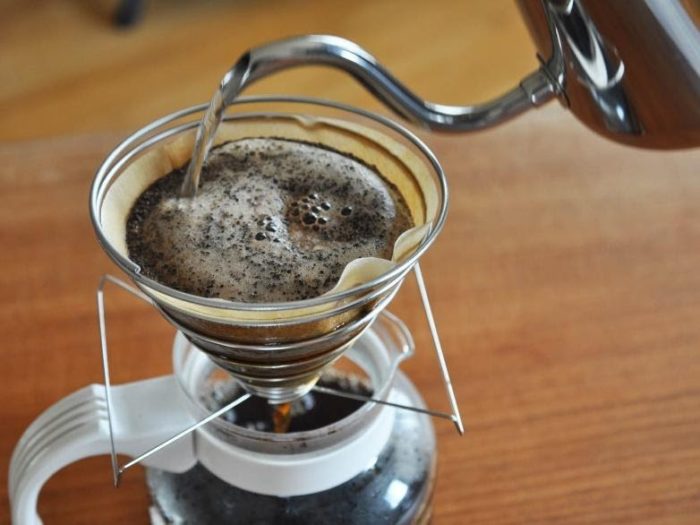 Super simple brewing method will be seen from Pour-over coffee when you have all of the tools and ingredients. The pour-over coffee is a coffee drink that lets you taste the real flavor of the coffee. In order to make the pour-over coffee, specific tools should never be overlooked. Including a pour-over coffee brewer, which has a dripper and carafe, and a gooseneck. After gathering all of the needed ingredients and tools, begin with warming the serving cup with hot water first. 
Then, add water to the gooseneck kettle and heat it to reach temperature between 195 F-205 F. Next grind coffee beans as coarse sand size and measure the ground coffee in the brewer. Dumping the water from the cup after the water is heated and set the drip cone on the cup's rim. After that pour just sufficient water from the center of the coffee grounds. Leave it to stay still for 30-45 seconds. Then continue slowly to pour water over the coffee as circles which begin in the middle and move outwards. Lastly, the coffee will dip for about 30 seconds then add rest from the 300mL water.
Sum-up Ingredients
18 grams coffee
300mL water
4. Cappuccino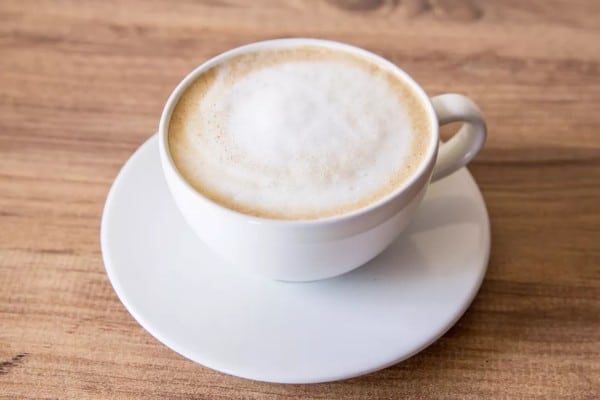 Coffee lovers enjoy drinking cappuccino which is Italian coffee. The special feature of the cappuccino is, it is made of equal parts dual espresso, steamed milk, and milk foam on the top. Moreover, it is smaller in volume compared to a latte. Also, includes a thicker layer of micro-foam. Likewise, espresso usually uses dark roasted coffee and ground finely. To make a cup of cappuccino, you have to gather all of the needed ingredients in advance which includes coffee, water, and milk. 
Firstly, take the water to the boiler of the espresso machine and add 2 shots of ground espresso into the portafilter. Secondly, press coffee down for 2-3 times to ensure tightly packing the grounds. Thirdly, bring the portafilter to the espresso machine's group head as well as turn to the right to lock in place. Then, place a glass carafe under the group head and pull the shot for 23-30 seconds. Consequently, you have finished with double shots of espresso when the shot is pulled. Next step is to foam the milk. Place the milk into a glass and insert into the container with the milk. Remember to keep the tip of the wand towards the side of the container because it will make a vortex with the milk. When the milk has foamed just turn the steam wand off. Finally, top foamed milk on the espresso and quickly add the milk.
Sum-up Ingredients
2 tbsp of coffee
4 ounces of water
4 ounces of milk
5. Affogato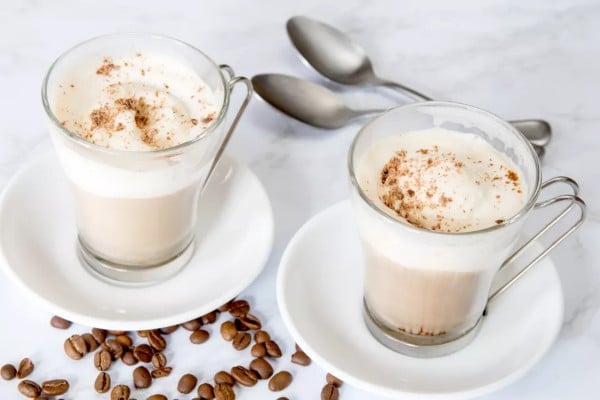 If you prefer to drink coffee and eat dessert at the same time, an affogato is an incredible choice. The Affogato is an Italian coffee drink that has ice cream on top of the espresso. Amazingly, it is super easy to make it at home. With that said, all of the needed ingredients are a scoop of vanilla ice cream, 2 ounces of hot brewed coffee and a piece of chocolate. 
Firstly, leave a glass in the freezer for less than 20 minutes. As a result, no more concern on melting a scoop of ice-cream when pouring the hot coffee in. Secondly, add a large scoop of your favorite vanilla ice cream in the glass. Thirdly, pour the coffee slowly over the ice cream. Lastly, garnish grated chocolate to enjoy in a tasty taste.
Sum-up Ingredients
1 scoop of vanilla ice cream
2 ounces hot brewed coffee
1 piece of chocolate
6. Frappuccino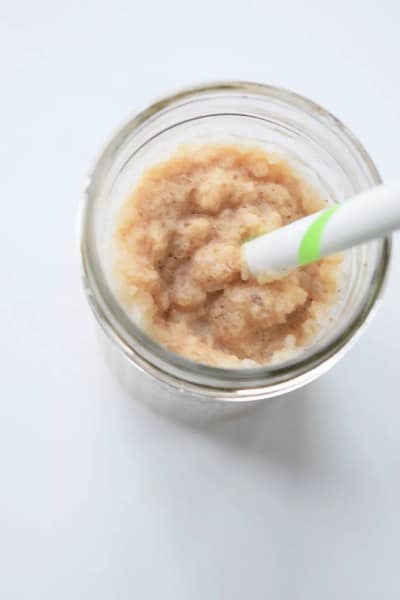 Even Frappuccino seems to have a lot of calories, yet when it is made at home, it will be different. No doubt, you are able to control the calories by yourself. In addition, the Frappuccino is not so difficult or complicated to make. Now, you can just freeze the homemade Frappuccino in either mason jars or thawed. In order to make the Frappuccino, just follow the instructions below.
Firstly, brew strong coffee and let them cold. In this step, you can directly keep in the freezer to speed up. Secondly, add the string chilled coffee and milk with sweetened condensed milk to mix. Thirdly, split half of the vanilla bean and take seeds in the blender. Fourthly, fill ice into the blender until there is a little space at the top. Finally, mix them until smooth as well as top up the prepared whipped cream. 
Sum-up Ingredients
3 cups of brewed coffee
2/3 can of sweetened condensed milk
A cup whole milk
0.5 of vanilla bean
2 tsp of vanilla
8 cups of ice
7. Coffee With Tea (Hong Kong Yuanyang)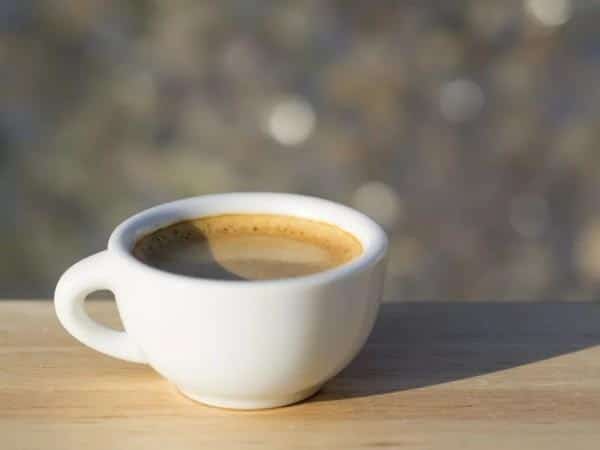 Is it fine to combine coffee with tea? The answer is "Yes" and it tastes flavorful. Hence, comes with "Yuanyang" which is a popular coffee drink in Hong Kong. This type of coffee drink is made of coffee and tea and tastes so perfect. Want to have a drink? Now, you do not have to fly to Hong Kong. You can still drinks that kind of coffee at home based on the following recipes.
Firstly, brew Bolivian drip coffee for extra strong taste. However, you can use a dark roast such as Italian or French expresso if there are unavailable Bolivian coffee. Secondly, mix the coffee with the tea in a medium-sized pitcher. Then fill ice into two 8-ounce glasses. Finally, pour the mixture of coffee and tea over the ice. You will gain a tasty Coffee With Tea immediately.
Sum-up Ingredients
1 cup extra strong drip coffee
1 cup of Hong Kong-Style milk tea
0.5-1 cup of ice
8. Maple Almond Latte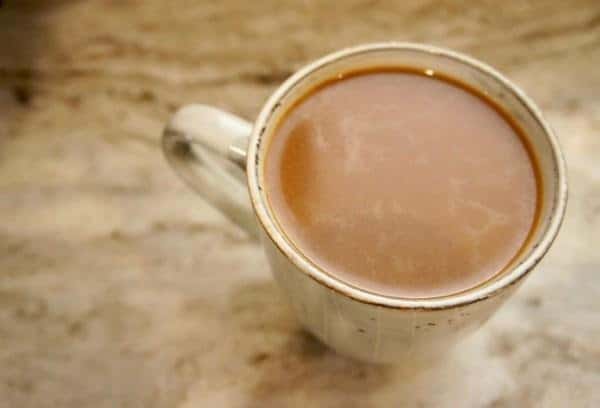 The Maple Almond Latte is a heaven flavored coffee beverage. Within just 5 min, you will enjoy a cup of homemade Maple Almond Latte. Moreover, it is so convenient to make this type of coffee drinks. You just brew a dark roasted coffee and pour it over maple syrup and add a little of almond extract.
When in the step of waiting for coffee brewing, heat milk in the microwave for 30-45 seconds until hot. After that, shake for 30 seconds until the milk turns into the frothy. Next, pour coffee and frothed milk with almond extract over the maple syrup to stir. Last step, sprinkle cinnamon for a good look and increase the taste.
Sum-up Ingredients
12 oz brewed a dark roast coffee
1 Tbsp of maple syrup
1/3 c. 2% of milk
4 drops of almond extract
Cinnamon
9. Cocoa Flavors Whipped Coffee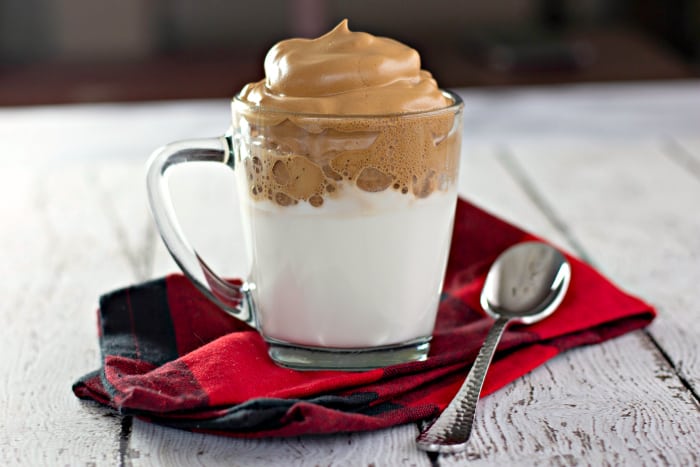 Cocoa flavors whipped coffee is an interesting coffee drink for those who enjoy both coffee and cocoa flavor. However, one tbsp cocoa powder is enough to bring the cocoa flavors into whipped coffee. Firstly, gather all of the necessary ingredients including instant 2 tbsp coffee; sugar and hot water each. Along with 3/4 cup ice or hot milk and 1 tbsp cocoa powder.
Secondly, combine instant coffee, warm or hot water, and sugar in a huge bowl and prepare well to whip. Then using your high-speed whisk technique to whip the combination continuously. Thirdly, just add in the cocoa powder and whisk for 15 seconds. Maybe it takes a long time because the cocoa is the dry powder, it needs some time to dissolve. Finally, pour the cream on the top of a hot or cold cup of milk. Everything is all set up as a result.
Sum-up Ingredients
Heavy coffee cream
One tbsp of cocoa powder
3/4 cup of ice or hot milk
10. Caramel Vanilla Iced Coffee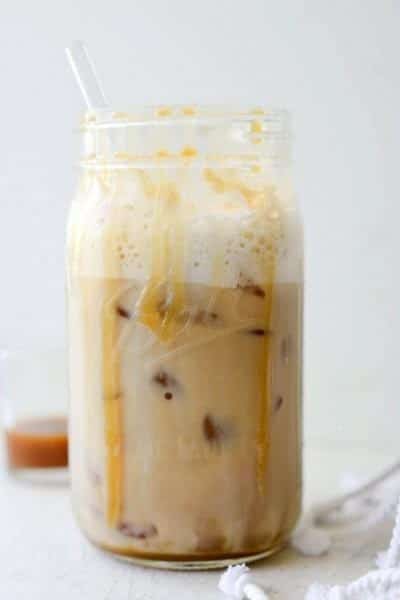 Updated the taste of your homemade coffee to smell like a mix of Caramel and Vanilla. This homemade recipe is called Caramel Vanilla Iced Coffee. We are sure that you will become addicted with this tasty coffee drink. It is extremely simple to make and taste unparalleled and delicious. Moreover, there are only 4 main ingredients including coffee, ice, caramel and milk.
Firstly, drizzle a bit of caramel sauce in a tall glass and fill some cubes to almost the top of the glass. Secondly, foam the milk and pour it over ice. Then pour 2 tablespoons of vanilla syrup to a brew espresso shot and add over the frothed milk and ice. After that drizzle with additional caramel. Lastly, serve yourself this tasty Caramel Vanilla Iced Coffee Drinks. 
Sum-up Ingredients
Caramel sauce
Ice cubes
3/4 cup of milk
2 tablespoons of vanilla coffee syrup
1 shot of brewed espresso
As a coffee lover, spending valuable time to make a cup of favorite coffee drinks will be the happiest moment in the world, especially brewing many different types of tasty coffee at home. The above 10 homemade recipes stand to be the best tutorial course for those who enjoy drinking self-brewed coffee. We hope that the description will give you a hand to become a pro barista at home. Moreover, please let us know if you have any questions on the comment below.
References: