All of us have grown accustomed to our regular coffee shops. To put it simply, they're the places where you go get yourself a cup of coffee. Besides that, the other main attraction of every café is also the atmosphere such as the interior design or extraordinary sights. From New York City to Los Angeles to Washington D.C. San Francisco to around the world, there are always coffee shops that make the customers go "Wow!".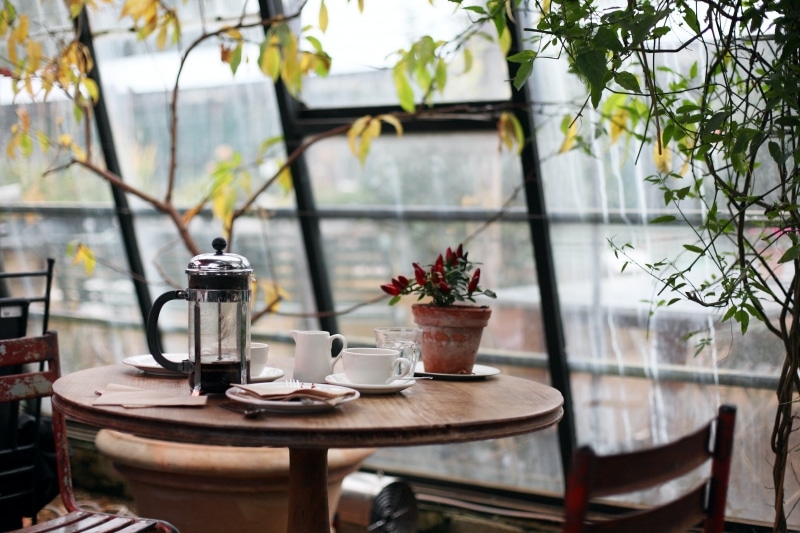 With that said, it's no secret that there is at least a café in every location. As a result, there is always something to discover about that specific coffee shop. Whether it is the espresso they serve or the street/neighborhood they locate in, all of those shops contain marvelous characteristics. Nonetheless, these are the 17 most extraordinary cafés that you can't stop admiring.
Taiwan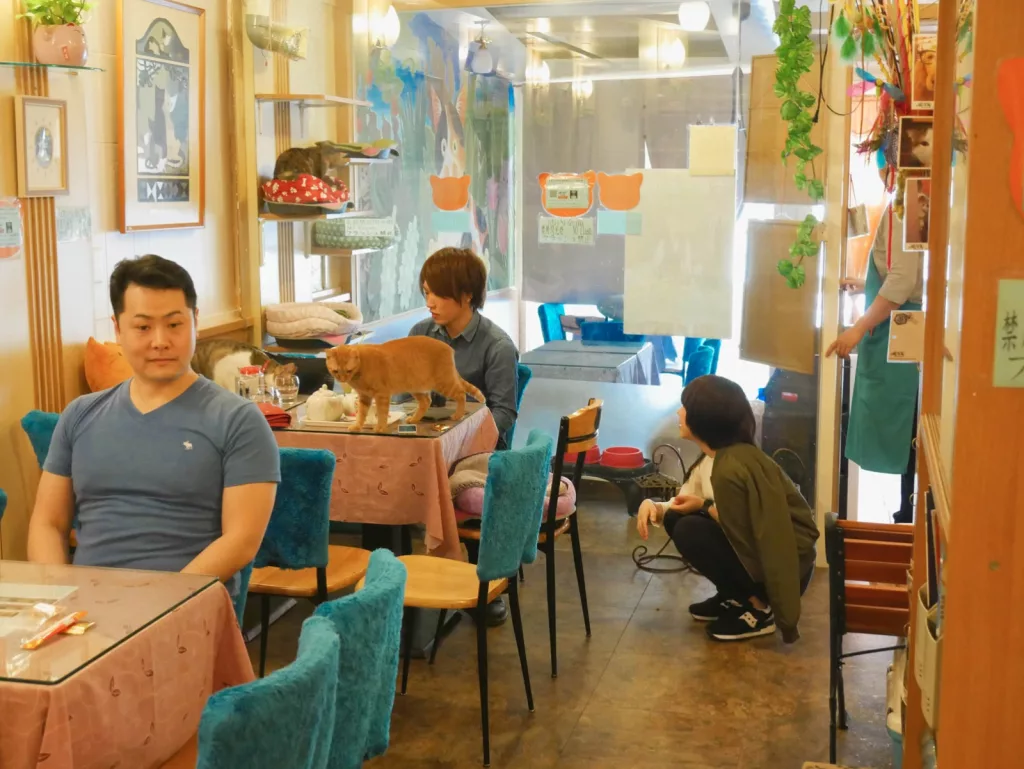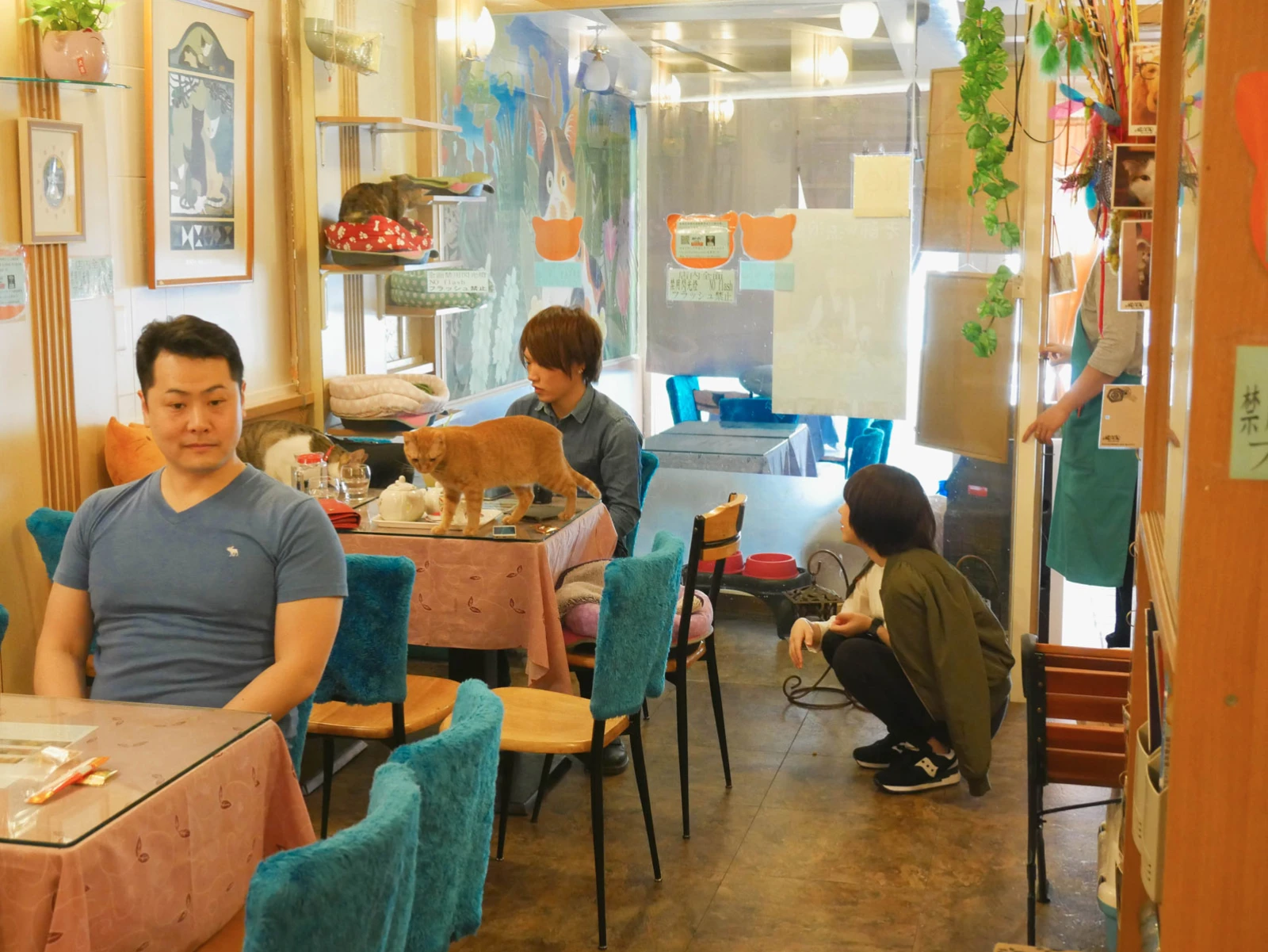 1. Cat Flower Garden
In 1998, a cozy little café was born named "Cat Flower Garden". Hailing from Taipei, Taiwan, this coffee shop is believed to be the first-ever cat café. Even though business isn't buzzing right now, it laid down the blueprints for all cat cafés that would spread all over the world like wildfire. Furthermore, what's not to love about the concept of enjoying your espresso while various cats are next to you?
Residing in the Shilin district, this store houses roughly 15 cats, 2 dogs, and a single bird. The two main patrons here are tourists from Taiwan and Japan. Furthermore, there is a minimum drinking fee to battle against loiterers.
In addition, the cats are free to do whatever they like! They can jump around, sit on the table or people, and be fed as well. That's also partially why it's extraordinary. On the other hand, if you'd prefer to enjoy your coffee in solitude, then have no fear as the cats would most likely sleep if left alone.
If you're looking for a cozy coffee shop, then look no further. Cat Flower Garden's menu offers fruit teas, coffee, and oftentimes, desserts as well. On top of that, there are freshly baked delicacies such as cakes and cookies. And, if you're a big fan of the felines, there are also cat-shaped cookies!
Other than that, there is your usual espresso, iced coffee, etc. Certainly, if you desire to drink the best coffee while having cats accompanying you, there isn't any place better than this. The pink wall also embraces the coziness and cuteness of this coffee shop.
2. Tamed Fox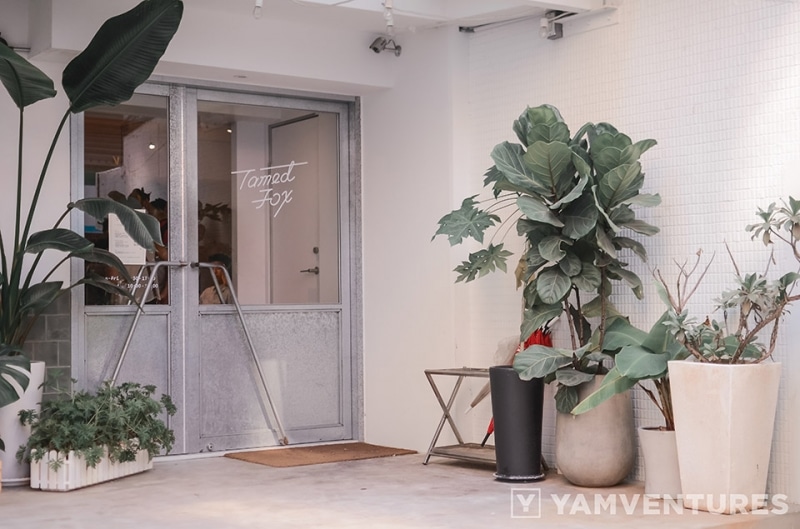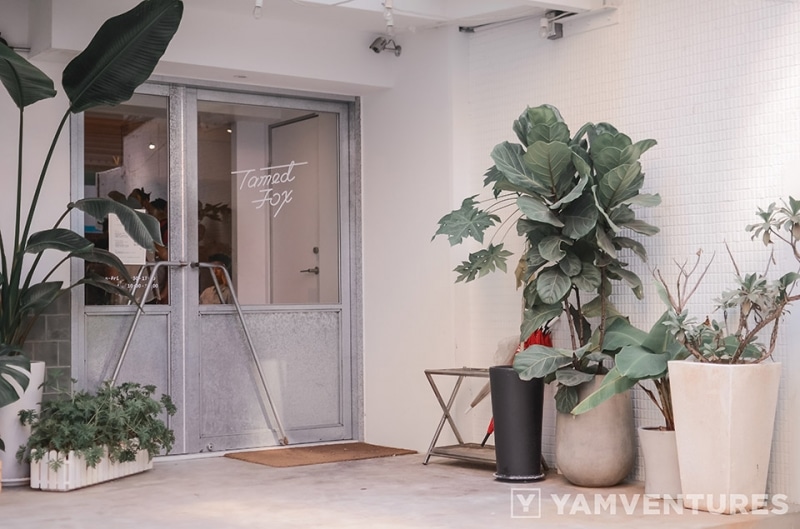 Opened roughly 4 years ago, Tamed Fox is situated in the central Daan District. Many customers are in love with its beautiful bright colors and spectacular dishes. This minimal coffee house is only a few minutes away from the Xinyi Anhe station, making it quite accessible.
This café is seriously the ideal place to unwind and enjoy coffee. When you first step foot here, you will be in awe of the gorgeous interior designs which form a relaxing and calming atmosphere for all customers.
Aside from being a comfy and minimalistic coffee shop, this café is also a great place to take your Instagram pics. Moreover, if you got sick of regular old street foods or milk tea from Taipei, Tamed Fox serves a great alternative to your needs.
Speaking of which, the name "Tamed Fox" came from "The Little Prince," a novel by Antoine de Saint-Exupéry. At its core, this coffee shop is health-oriented as its owner is a dietician, meaning that it offers many creative dishes that are completely healthy yet yummy at the same time.
The menu is arguably Tamed Fox's strong point. You can get things such as a yogurt bowl or something like miso salmon belly and homemade ricotta smoked salmon pretzel bread sandwich! To keep it short, the menu is crazy, however, it's nothing short but healthy for your health.
Additionally, unlike other coffee shops, this one is also known for its doughnuts which complement perfectly with the coffee they serve there. Even though the food is a bit pricey, the tastes and content can easily justify that. And, if you are wary of your sugar and fat intake, don't worry, because these hand-crafted dishes are made with low sugar and fat content.
Australia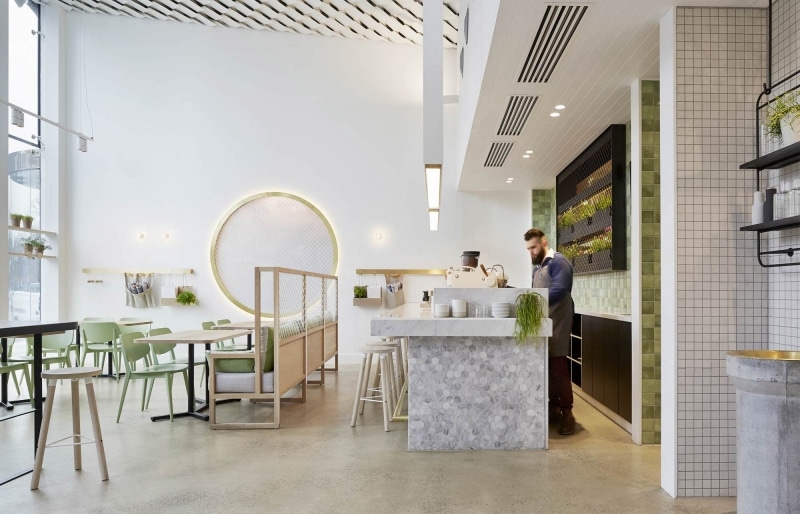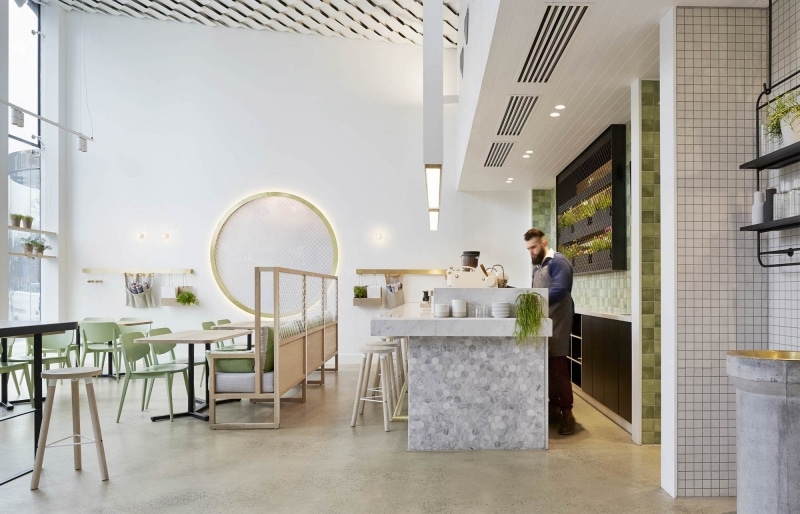 3. The Kettle Black
Resting between a café and a restaurant, The Kettle Black offers an experience unlike other coffee shops around. This coffee house is one of Melbourne's finest, and should not be overlooked if you desire sophisticated food and beverages.
This coffee shop oozes out style and mixture between old-school architecture and modern aesthetic that you can't help but appreciate. As for the baristas, they are masters of brewing espresso and various types of coffee. It's not hard to be astounded by the taste of this café's coffee.
The first thing that you will notice even before coming inside is the immaculate exterior. The seamless blend of old and new styles seriously set the tone of what's about to come. When you get in, hoo boy, the smooth oak timbers and the polished concrete along with green furniture and marble tiles will make your mind explode by how beautiful this coffee house is.
On top of that, due to its dazzling mastery of architecture, The Kettle Black is perfect for those who wish to set up a celebratory event. What's even more impressive is that this café can house from 40 guests to 150!
The coffee here is brewed to perfection by the amazing baristas. Not only that, but they equipped themselves with quality instruments, from the coffee roasters to milk frothers, etc. Apart from this, this café chooses to run two espresso machines! One machine for those who want to enjoy their cup of coffee inside and another machine for takeaways. Also, there is undoubtedly your favorite cold brew or iced coffee, cappuccino, chocolate, and many more. 
As for the food, they offer both breakfast and lunch options. You have your regular eggs and toasts, and then you have seaweed salad with tataki trout. Overall, this café is as awesome of a restaurant as it is a coffee shop. You can easily find Melbourne's greatest dishes at this very place.
Italy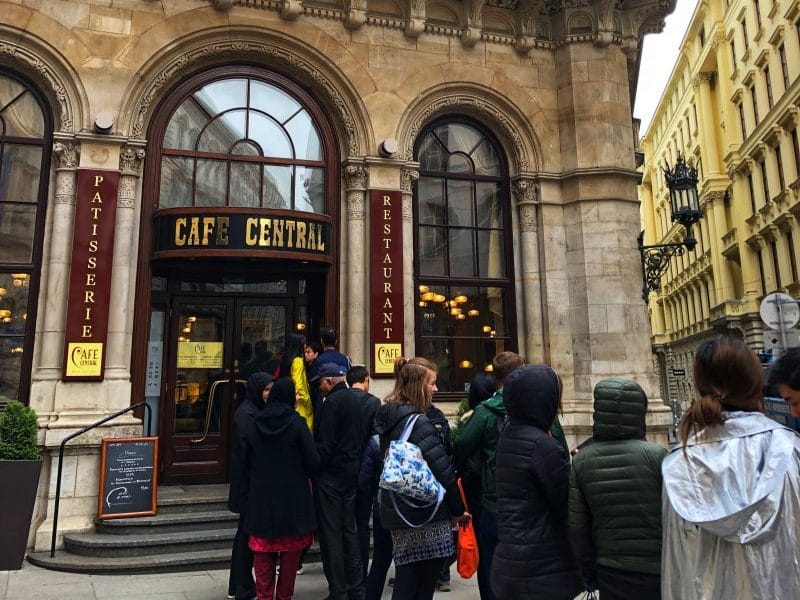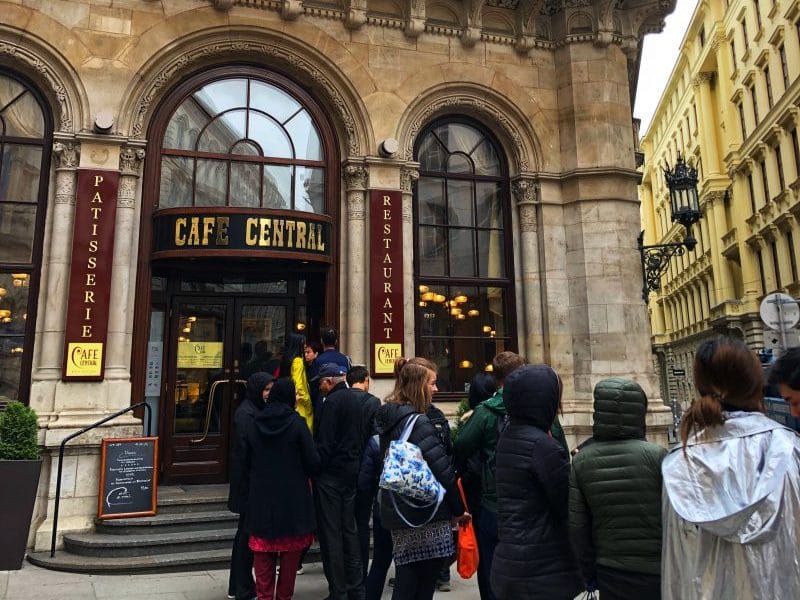 4. Café Central Vienna
Opened more than 150 years ago, Café Central Vienna is directly in the center of Vienna town. Originally established in 1856, it was initially a chess school. When World War II emerged, people had used this café as a bank and stock exchange office. Furthermore, it was a popular meeting spot for Vienna artists, politicians, scientists, and literature. Fast forward to the present day, it is a well-known tourist destination.
Similar to various coffee shops, once you get inside, you will witness people enjoying their cup of coffee. Moreover, with heavy decorations such as beautiful archways attached to a counter of sweet delicacies, the interior does not disappoint. The atmosphere is also pleasant since Vienna is known as the capital of music, you are guaranteed to enjoy your cup of coffee and food with an unmatched ambiance surrounding you. The baristas are quite nice too. The service is also professional and straightforward.
Like other cafes, Cafe Central offers a variety of breakfast options, daily lunch menus, and formal dinner menus. At Cafe Central, you can order classic Austrian dishes, fantastic goulash soup, schnitzels, apple pies, and hearty delicacies. All you have to do is write down the number of cakes or pastries or dishes you want to order and tell your waiter. A large counter is filled with all kinds of delicious cakes, neatly packed, waiting for you to choose. A paradise for the sweet teeth.
5. Antico Caffè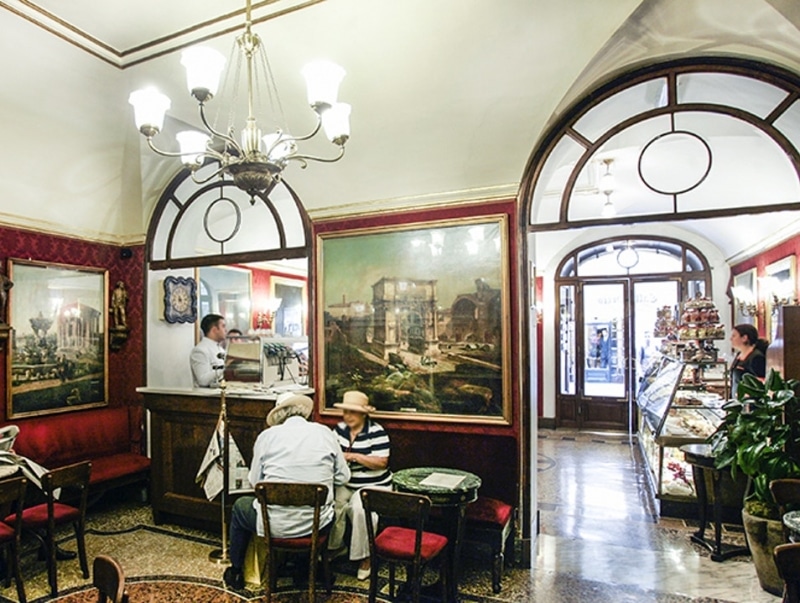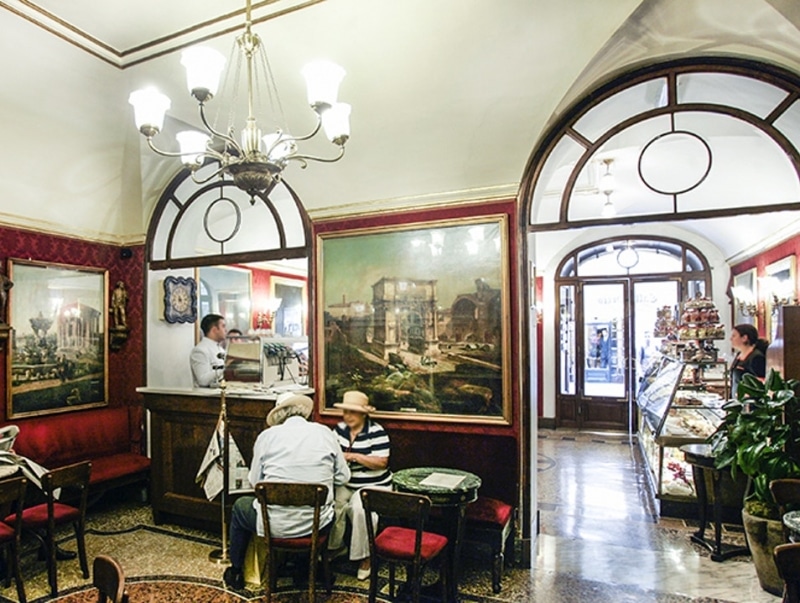 Founded in 1760 by an Italian of Greek descent, this is considered the oldest café in Rome. Perhaps thanks to its age, it offers something a touch different from the many other coffee shops all over the world. An intimate space, the proximity of the tables during this atmospheric space invites you to strike up a conversation together with your neighbor, a bit like in the good old days!
Around 300 art pieces, memorabilia, and classic photographs of the illustrious clientele mask the walls of the hallowed bar, whose gilt mirrors and grand help it to retain its other-worldly atmosphere. However, visitors should remember that Caffe Greco's prices don't come cheap.
Like your typical coffee shop, this ancient yet elite coffee shop has everything you could ever want in a café. In addition, this café is also a bar which makes your ability to choose what you desire to drink even harder!
Thailand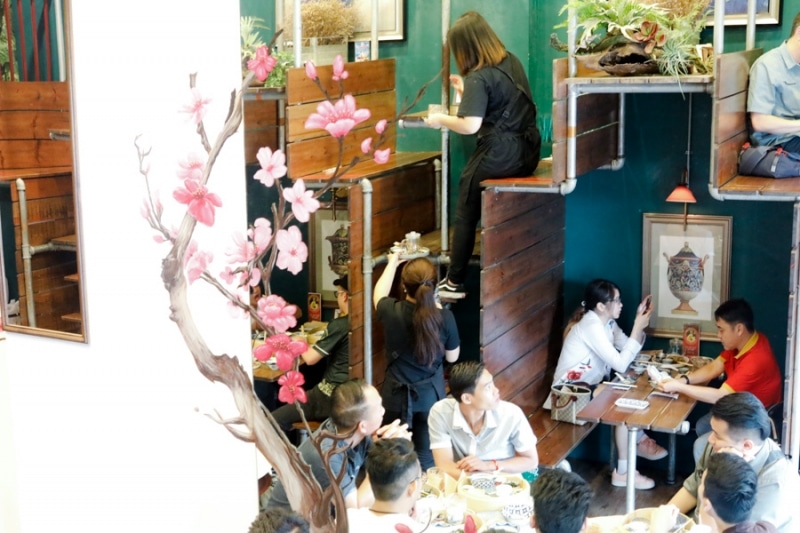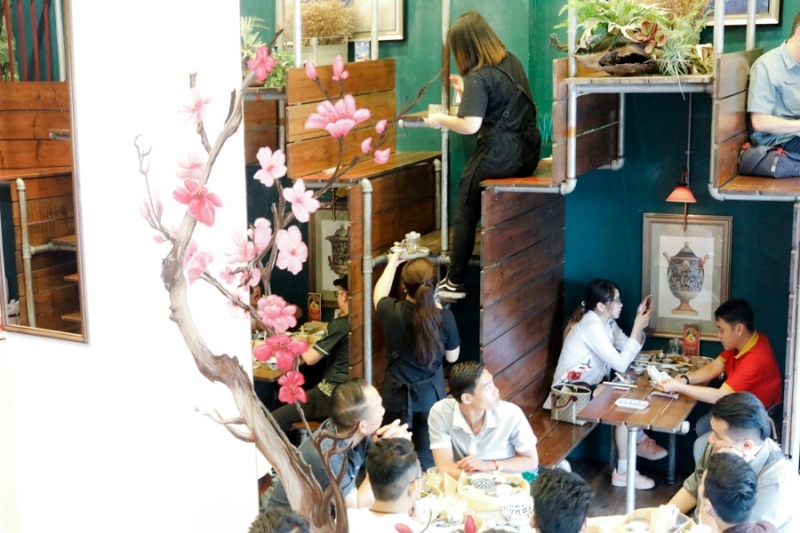 6. Lhong Tou Café
There is no shortage of cafes in Bangkok for your social media pictures, but this trendy café in the heart of Chinatown on Yaowarat Road has quickly become the latest hot spot. As it is close to Chinese markets and restaurants, it is very convenient for tourists to visit. Only if you don't mind the long waiting time.
The reason why the coffee shop is modish-different and classy is that its very owners conceptualized the interior designers and also, they are food stylists themselves. One of the main gimmicks of this coffee shop is the double-decker bunk seats. You can sit on the first level or the upper level by climbing a brief ladder.
The menu here is outstanding too. Notably, the top-selling cuisine pieces include the Mini BBQ Pork Bun, Lhong Tou Shu Mai, Mala Fried Chicken, Prawn Spring Rolls, Egg Lava Bun, Mandarin Orange Cake, and Chestnut Tart. Almost every table, though, there's always the Chinese Breakfast Set.
United States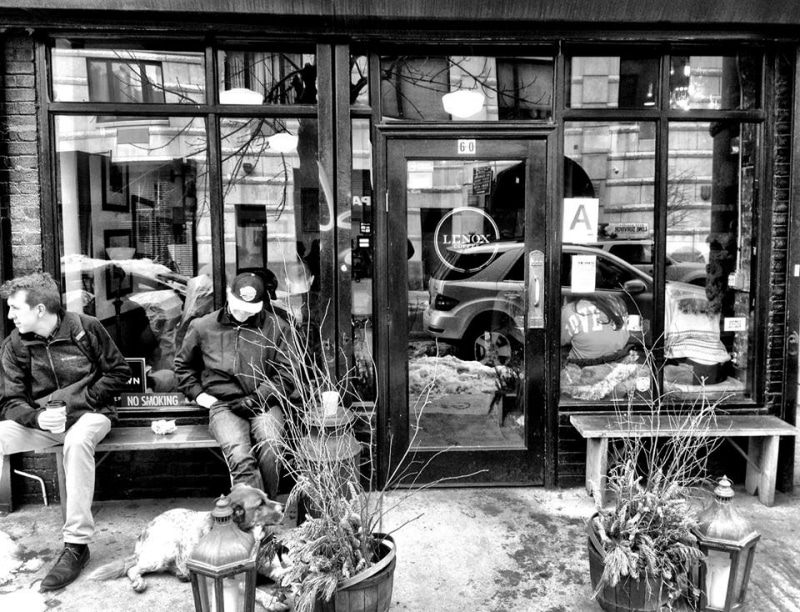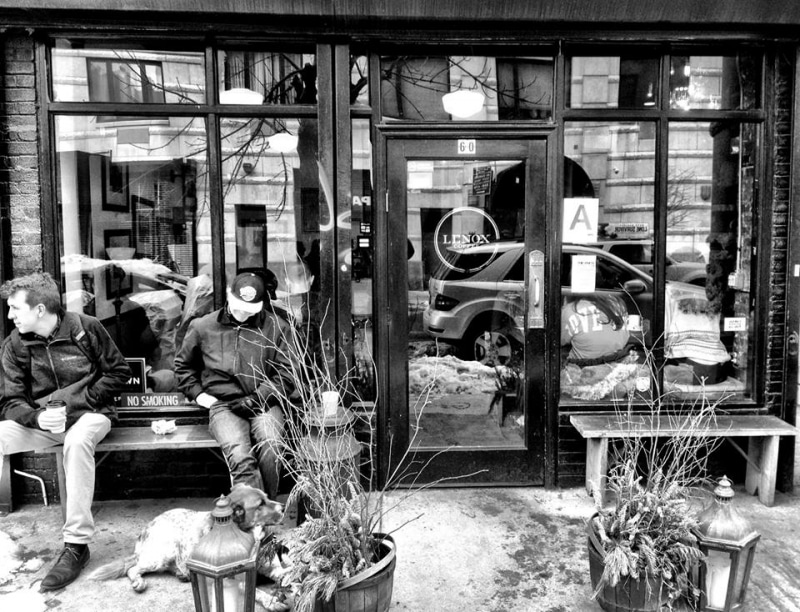 7. Lenox Coffee Roaster
A cozy coffee spot with free wifi access, elite coffee, friendly and approachable staff, and unrivaled snacks. Those do sound like attributes of a great coffee shop. Now take that one step further and you furthermore may need a place that serves a pleasant selection of beer and wine?
A specialty café, Lennox Coffee alongside Micro Coffee Roaster, was opened by Jeffrey Green in 2011. It's currently owned and operated by Monica and Rosa Prado and is found in Central Harlem. Additionally to their own unique line-up of seasonal Single Origin Drip Coffees, Single Origin Cold Brews and Espresso Blends, they serve light breakfast and brunch items including croissant and bagel breakfast sandwiches, hearty in house-made artisanal lunch sandwiches and vegan soups, pastries, oatmeal, food, sweetbreads, small desserts, and cookies.
This cozy coffee spot features a sort of hot drink to stay warm during the weather. they provide everything from coffee, cocoa, hot teas, cappuccinos, espresso, green tea, and more! The employees personalize each drink with a fun design, and if that's not the simplest part, free wifi is additionally offered to all or any of their customers!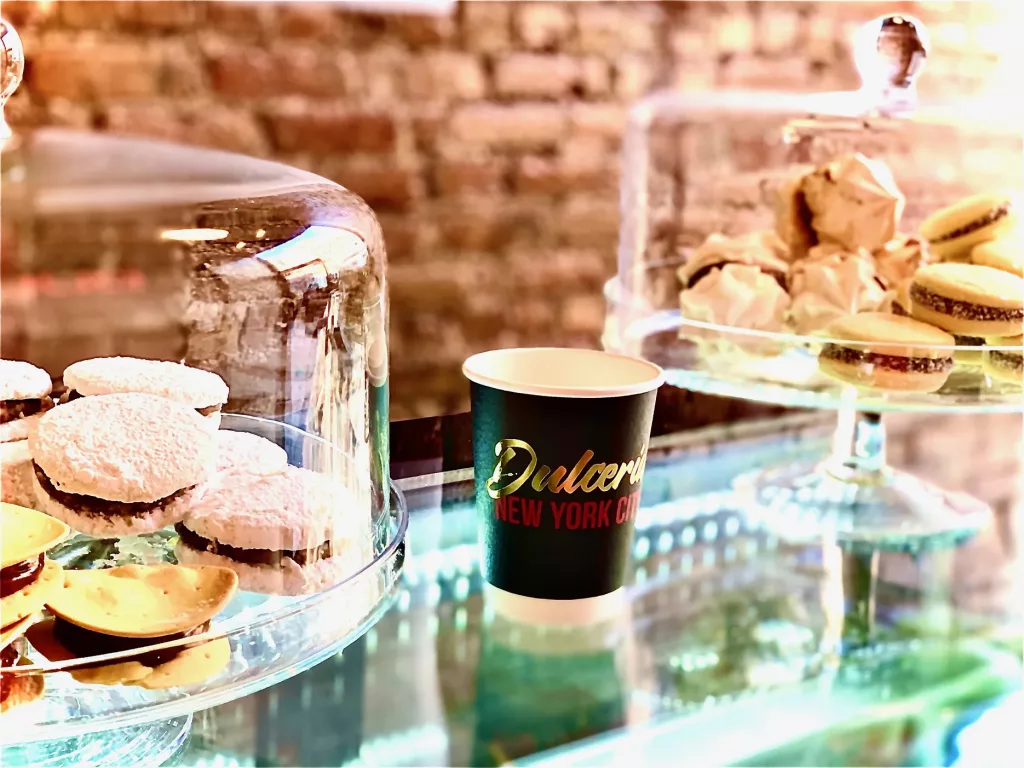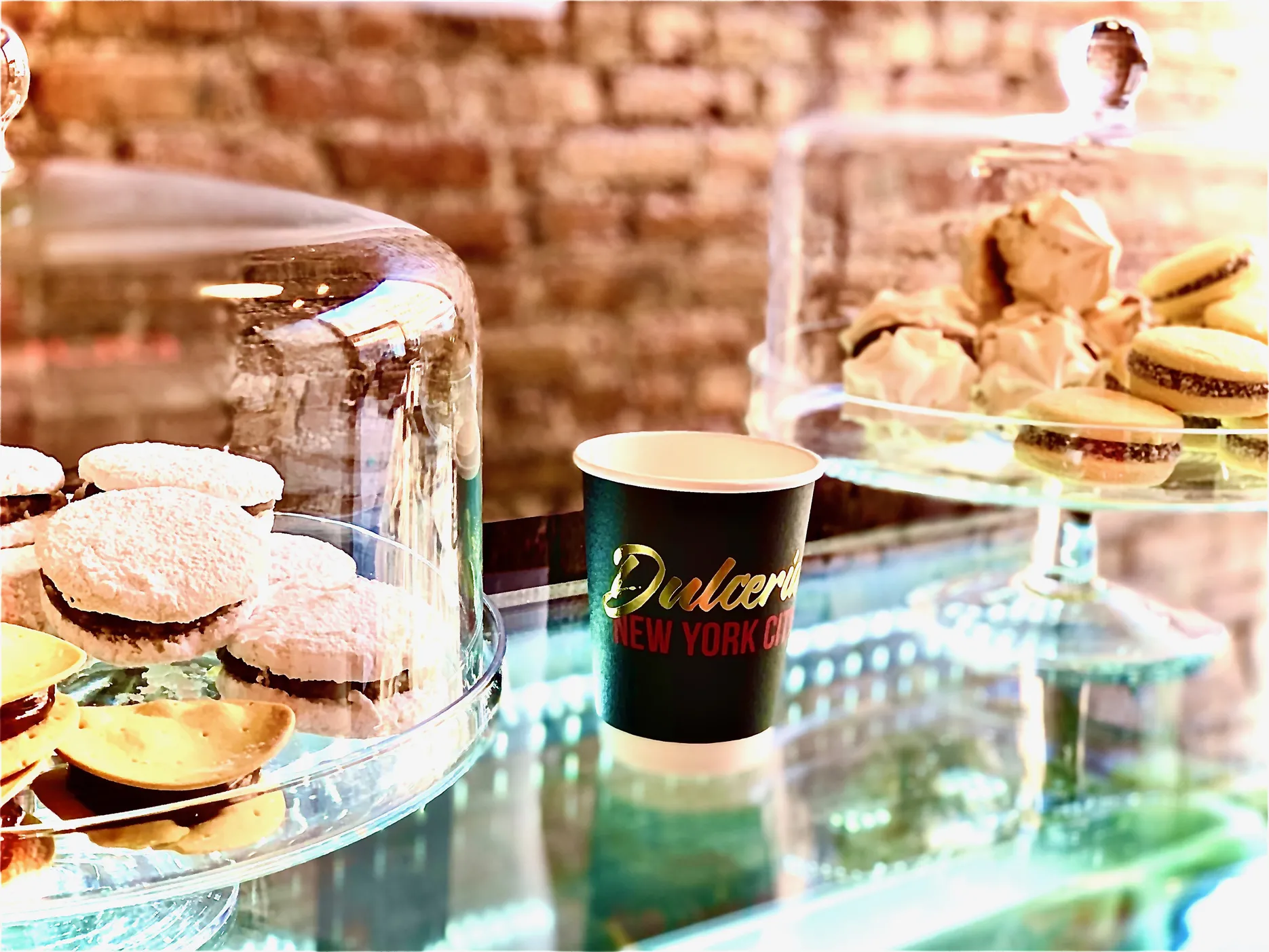 The coffee here is pretty decent, but it works best as a complementary factor to unrivaled pastries available at this Chilean bakery that opened late last year in Harlem. Daniel Minzer, who is the owner, highlights class Chilean desserts at the shop, including a variety of undisputed Alfajores.
If you are a fan of everything dulce de leche, you're in the right spot. This Chilean pastry shop is quite the place where the chef might spend seven hours making ten pounds of the caramel spread from zero.
Behind the counter, you potentially could see out a minimum of three different types of Alfajores. Not just that though, but tiny sandwiches, biscuits with lemon meringue tarts. And, the most popular dessert at the stop by far is the Amor. Essentially, they layer it with confection and berry preserve, also combining them with dulce de leche and whipped cream.
9. Moon Cat Cafe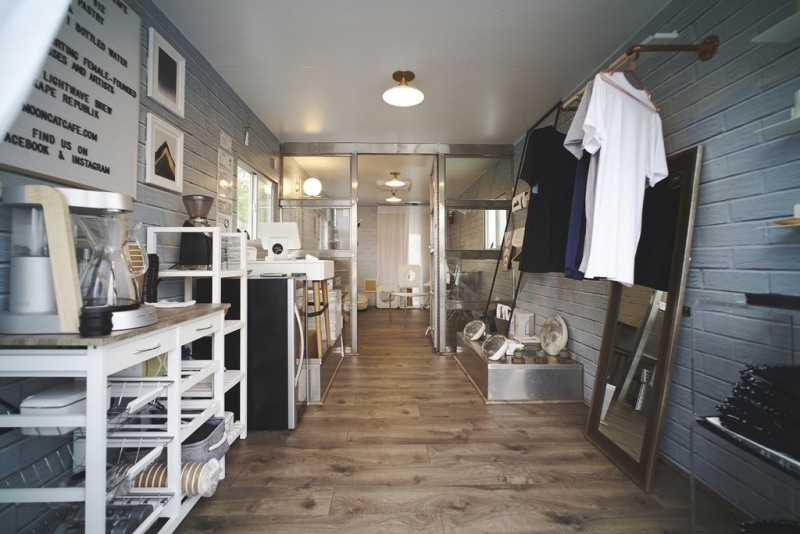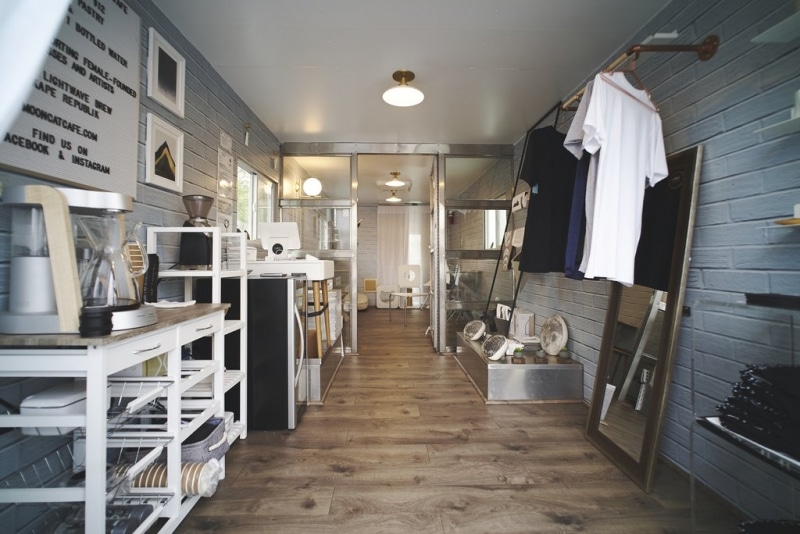 Moon Cat Cafe is extraordinarily run by one woman. She is Janet Pao, a 30-year-old Taiwanese-American. Janet graduated from Cornell University and got a job in consumer technology for 6 years before establishing Moon Cat Cafe.
Janet founded Moon Cat Cafe because she wanted to make a singular cat cafe that stands out from the remainder and is also ready to help many local non-profit cat rescues rather than only one. By being mobile, Moon Cat Cafe is the only cat cafe that will bring the experience to the masses and develop valuable relationships with diverse communities across Los Angeles.
When you enter this very cafe, you will feel pleasure as you have just indulged yourself in a little cat-themed coffee shop, which also has the scent of freshly brewed espresso and cold brew too. The founder will welcome you and introduce you to the local partnering non-profit cat rescue. Moreover, the adoptable cats are featured within the cat cafe area.
The cat cafe area is divided from the store with a glass door, which you can see the cats and visitors interacting during a small cafe setting with modern decor and interactive cat furniture. You can choose to buy a cat cafe visit, which costs and that incorporates a drink and fresh-baked pasta. After you pay the fee, you have unlimited time within the cat cafe area.
The $12 fee to enter the cat sanctum includes a beverage, a pastry, a reusable coaster, and a visit with the adoptable cats. A part of the fee goes to all the Moon Cat Cafe's rescue partners. Moon Cat Café may be a cashless business, so bring a credit or an open-end credit.
As for the felines, they are the foremost important elements of Moon Cat. They are brought in by volunteers from the rescue organizations that Pao partners with. Most of the rescues are located in LA County, but Pao is branching into Orange County.
10. Coffee and Plants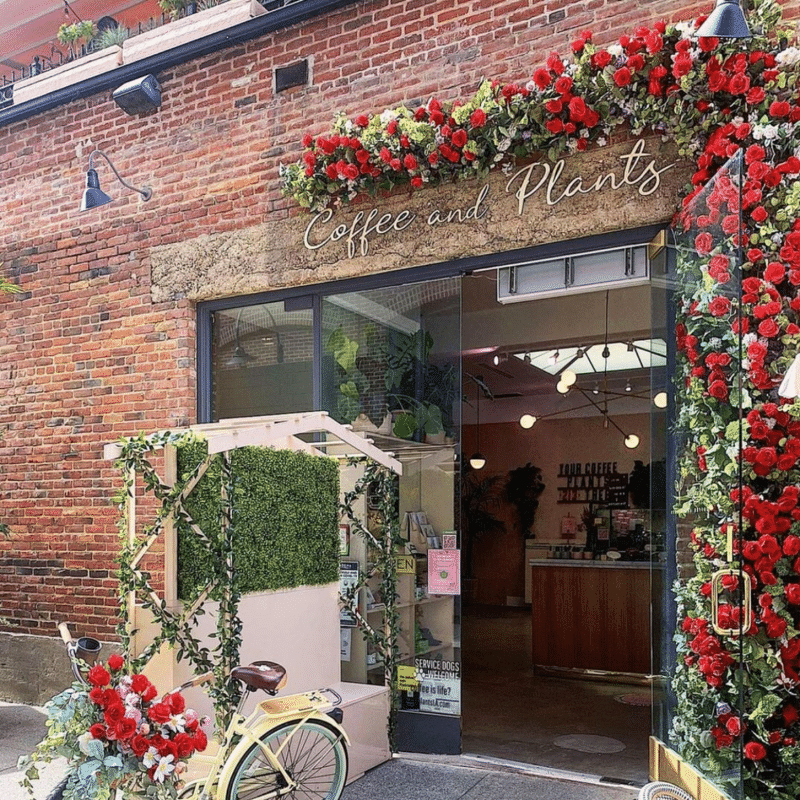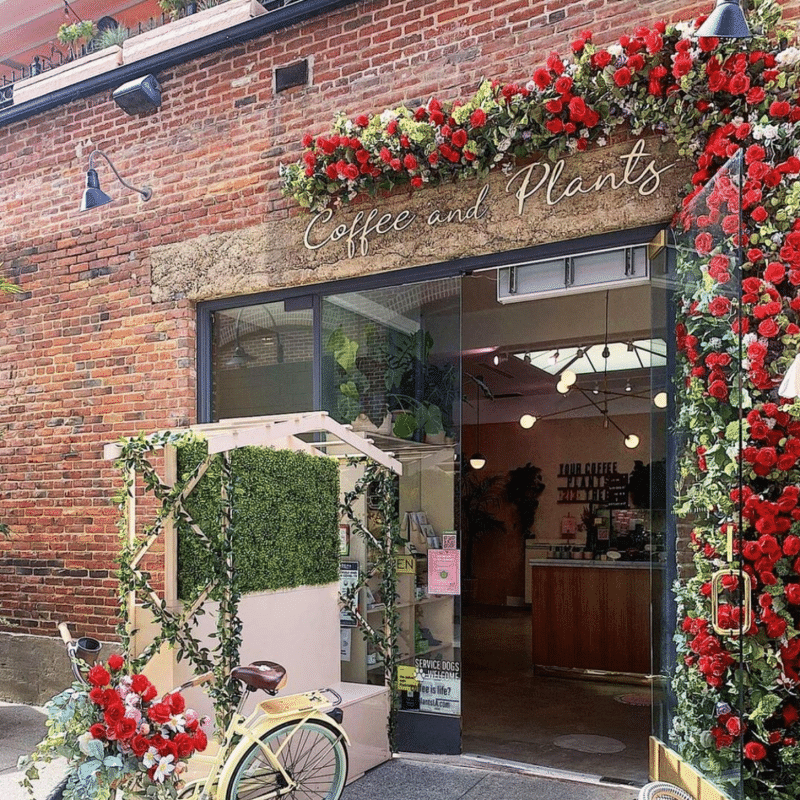 Coffee and Plants may be a plant-based movement that's changing the coffee experience as an entire. Sustainability and taste co-exist in this flaccid neighborhood. Fully plant-based, fresh ingredients and a commitment to try to be great for the planet, which are actually the key elements to refill every cup and soul along the way.
Coffee And Plants is a mission-driven, plant-based coffee concept like no other. Whenever you enjoy an item from our menu, it reduces our carbon footprint as an entire. They can do this via eradicating the negative environmental factors from the industry of dairy, and by getting into partnership with the National Forest Foundation's people to plan to plant a tree for every 100 cups sold. To help abused and neglected animals in need, they donate the proceeds of select items to our partners at Hopefield Animal Sanctuary.
For those seeking a savory or sweet treat, choose one (or all) of Coffee and Plants' rotating selection of food and pastries, made with wholesome and organic plant-based ingredients, just like the delicious mushroom and astonishing croissant or blueberry poppyseed muffin. While patrons may come for the drinks, they choose to remain there for the good vibes of Coffee and Plants' ethos: to be kind, do good, and feel good.
United Kingdom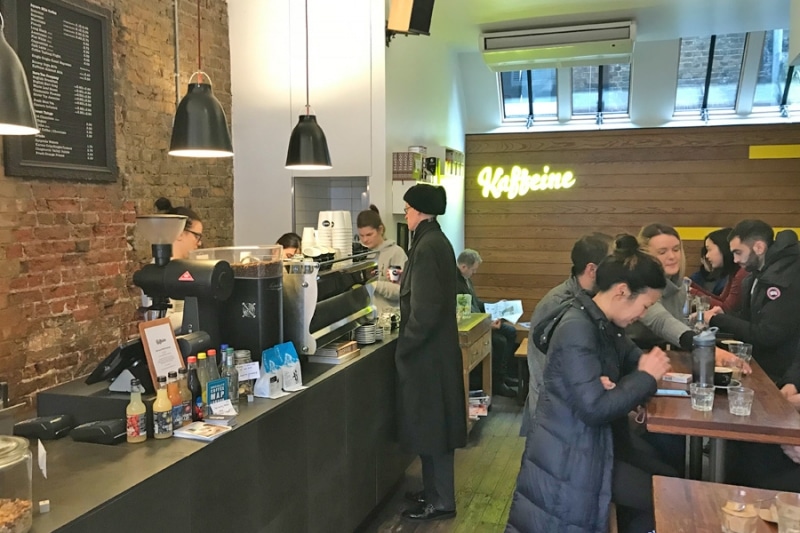 11. Kaffeine
Established in 2009, Kaffeine is one of the crowdest cafes in London, and many consider it a pioneer of the UK's specialty coffee field. This independent New Zealand/Australian-owned café consists of two locations in Fitzrovia. Similar to other excellent cafes, both coffee houses have short walking distance from one another and attract both tourists and young office workers.
The interior is minimal with white subway tiles and a number of other oak benches where you'll sit and luxuriate in your coffee. There's an easy black menu board and a yellow Kaffeine sign that provides this cafe a classy look. Service was friendly and also functioned like clockwork. This is often almost the place you'd sit for long hours, but would be one for affordable and attractive coffee and food.
Aside from professionally made espresso coffee, smooth latté, and loose leaf teas, they serve a spread of foods including salads, sandwiches, and food. One among the to-get items is the buttery Croissant with Italianroast ham with taleggio cheese, spinach, and plum tomatoes, the highlight being the cheese that might melt over the ham after being toasted.
12. Fernandez & Wells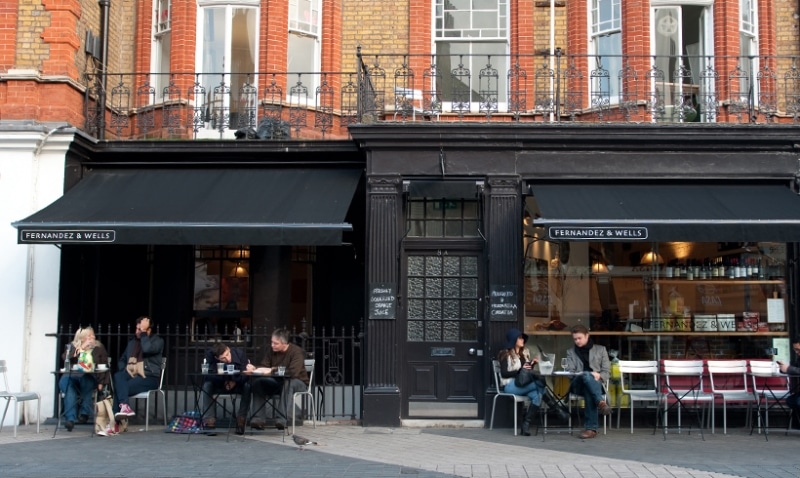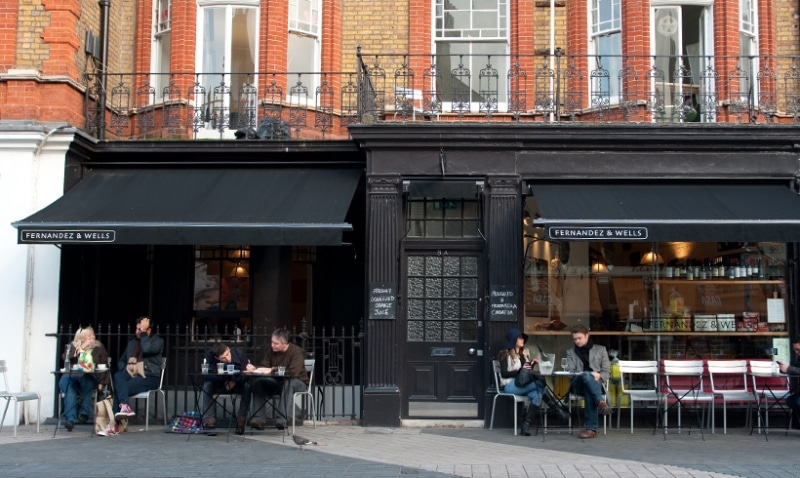 If you're in a popular as well as crowded part of central London, and you happen to find yourself craving for a good cup of coffee and snacks, the likelihood is that you would like not to look further than Fernandez and Wells. It's not a surprise that they draw thousands of individuals in with their tasty foods and awesome brew.
Jorge Fernandez and Rick Wells met in Monmouth, which is a cafe. During that period of time, Jorge was still working and after starting their friendship, they established the first Fernandez and Wells café in the year 2007. The branch in South Kensington is close to the V&A museums, and to their advantage, those who stroll through Hyde Park can get a cup of coffee easily.
A menu full of sandwiches and pastries is waiting for you at the entrance. From regular citizens to foreigners are enjoying their time in this cozy environment that emits good vibes. Moreover, if you acquire eggs or omelets, the offerings also include them with other dishes that have fried eggs.
Dubai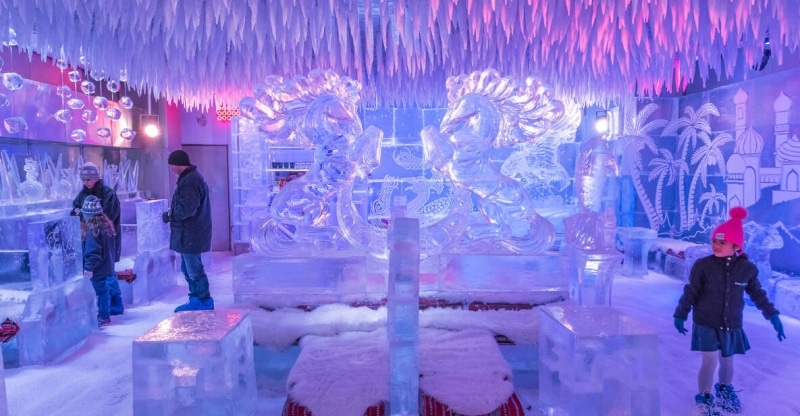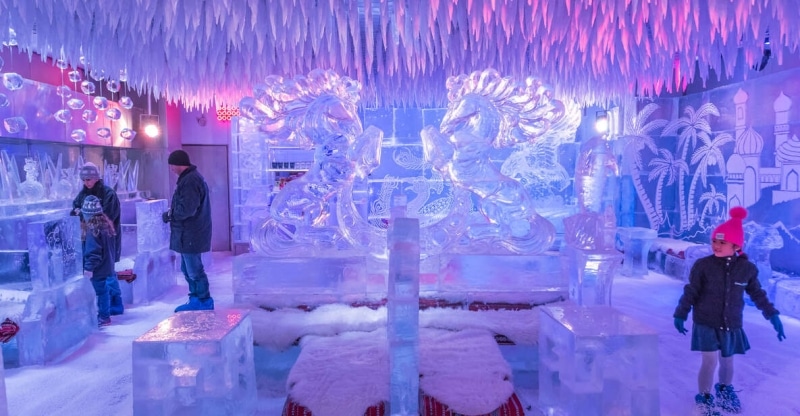 13. Chillout Ice Lounge 
Chillout is the first ice lounge within the Middle East. They have been running ever since some time in June 2007. Its location is inside Times Square. Moreover, The Chillout Ice Lounge offers a singular and unmatched experience both for residents and visitors in Dubai and has become one of the definitive landmarks within the region. It is an area that is captivating with its frosty sculptures, and lightened interiors.
Over a decade ago, Sharaf Hospitality created The lounge, created by Sharaf. It had a serious refurbishment in July 2014. Dubai's first sub-zero lounge is decorated with frosty sculptures, creative seats, and lit interiors. All are maintained within a -6 degree Centigrade environment, providing an icy escape that creates a memorable unwind experience.
There are hot drink options to assist guests to banish the icy chill and a spread of classic hot meals on offer. Once visitors arrive they're given thermal clothing to stay. This specific lounge offers hot food such as soups, and sandwiches, and even juices as well as chocolates, fuming coffee, hot tea, and a spread of desserts too.
14. Forever Rose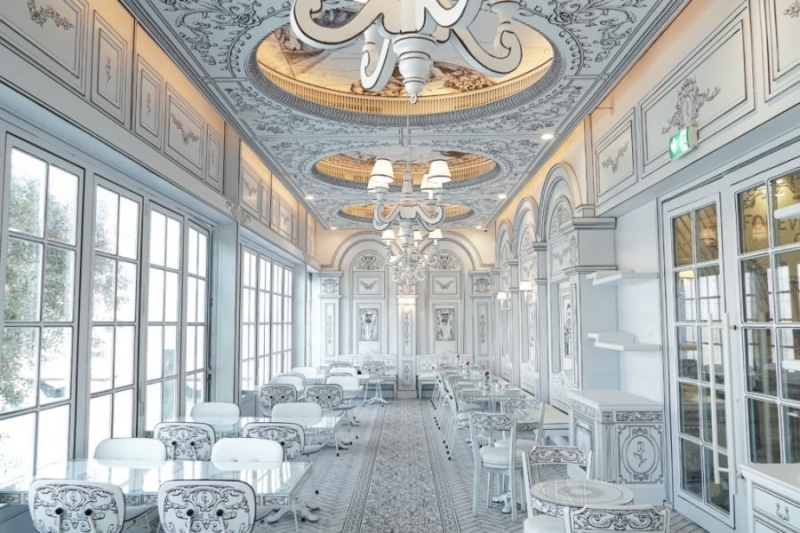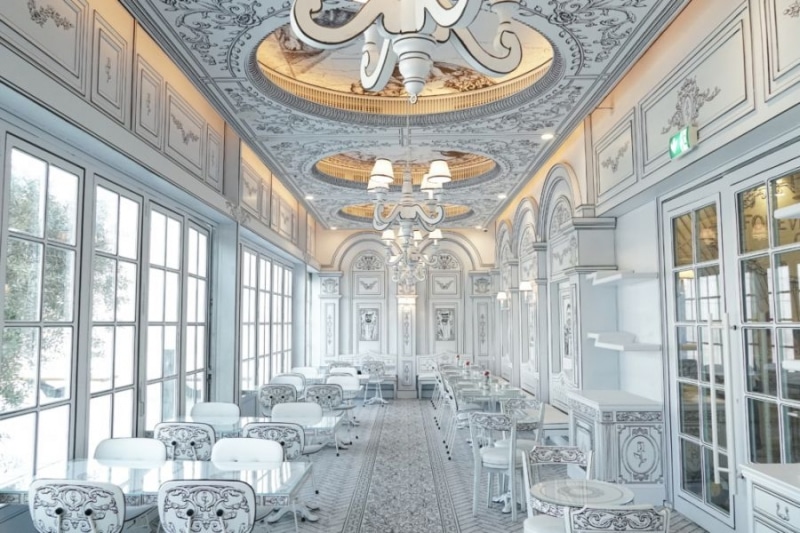 Designed to desire something straight out of a storybook, Abu Dhabi's Forever Rose Cafe has made its thanks to Dubai, serving up an all-day menu of healthy eats and treats at its new home at Dubai's Box Park. This picture-ready 2D building is made entirely in monochrome, from tables and chairs to the walls, leaving only the cafe's food and drink color.
Designed to represent something straight out of a fantasy book, Abu Dhabi's Forever Rose Café has made its thanks to Dubai, serving up an all-day menu of healthy eats and treats at its new home at Dubai's Box Park. The picture-ready 2 dimensions café is constructed entirely in monochrome, from tables and chairs to the walls, leaving only the cafe's food and drink color.
At its United Arab Emirates's capital branch, there are dishes such as a menu packed with elegant pastries and sophisticated sweets such as cheesecake and milk cake! They also serve gourmet coffees as well, and the coffees that are on the menu within the capital go together with the option to add a spread of French syrups, including extract of rose, lavender, and orchid. It looks and sounds amazing.
Japan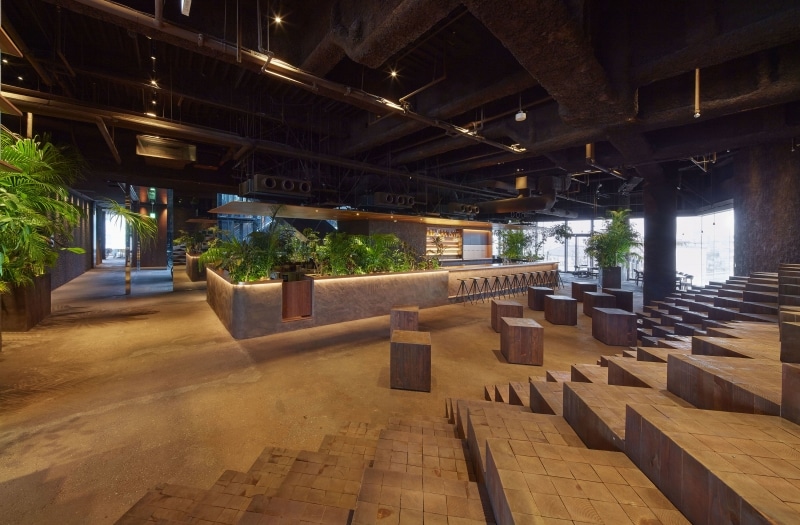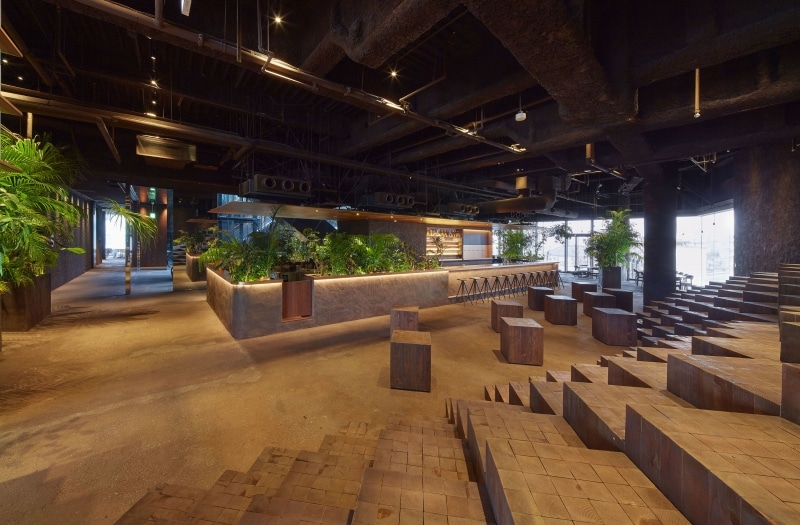 15. Uni Gyre
This café is inside Gyre, the Omotesando plaza designed by renowned architectural firm MVRDV. Situated right off of Cat Street, you couldn't evoke a more convenient and accessible location. While Gyre is crammed with luxury fashion boutiques including Chanel, Delvaux, and Comme des Garçons, the fourth floor is dedicated to Gyre Food, with the ground divided into a café, gourmet grocer, and two restaurants.
The Uni consumes an honest half the space and it is importantly characterized by shocking seating made from wooden squares in different heights. The room was designed by Atelier Tsuyoshi Tane Architects and is inspired by soil, with the ground and walls covered in several sorts of earth. The encompassing greenery adds to the natural space and provides the café a forest-like feel. Its stoic and calming atmosphere makes it the right place to rewind.
Akin to other coffee shops, there are small pastries and sandwiches. Not only that but also the same as various coffee shops, you have your classic espresso, latte, macchiato, cappuccino, cold brew, mocha, as well as many teas too. Furthermore, some beers make this café one of the unique ones in Tokyo.
16. Little Nap Coffee Stand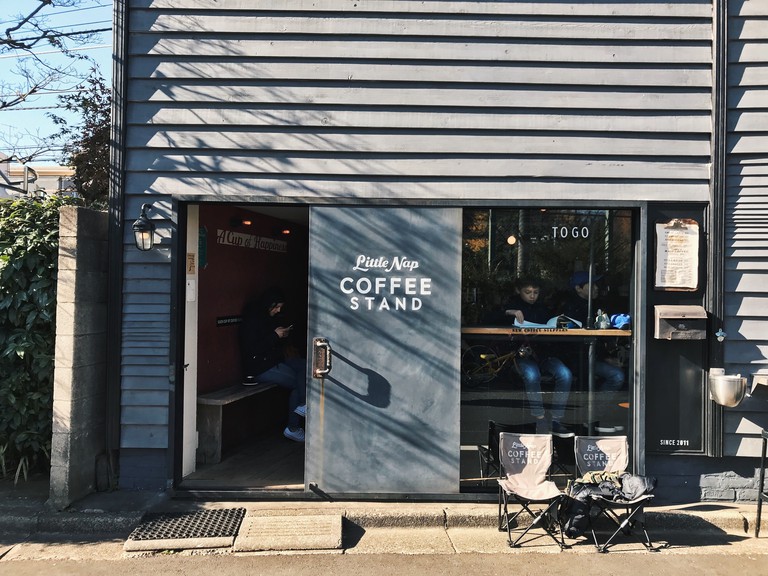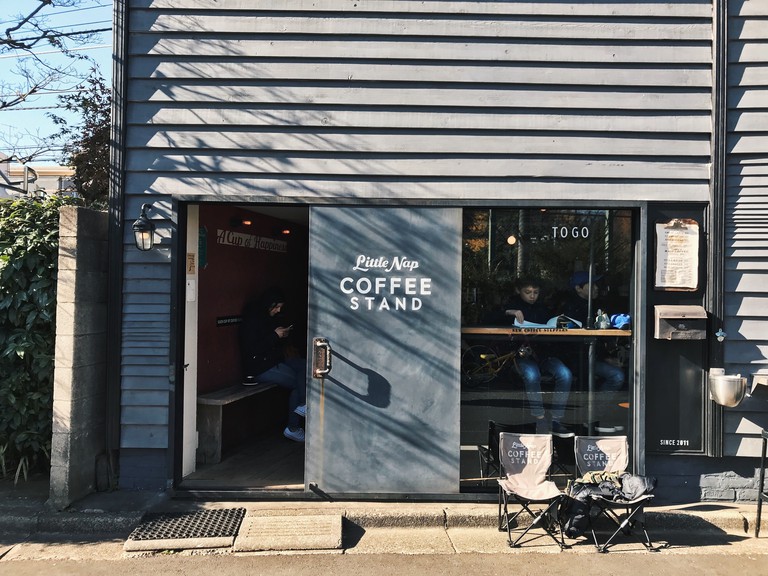 Just across from Yoyogi Park in Shibuya, you'll find Little Nap Coffee Stand, a small café with a couple of extra seats outside. It's a laid-back atmosphere and therefore the friendly owner, Daisuke Hamada, is going to be quite happy to interact in conversation with visitors. The high-quality beans are roasted on-site, and therefore the menu includes single-origin coffee alongside the standard espresso-based drinks, which are prepared on a Synesso machine.
Just about a five-minute walk from the Odakyu line, and some other stations, Little Nap Coffee Stand may be a cozy café located pretty accessible to the Yoyogi Park where you get the fresh air with beautiful greeneries. If you're keen on rich coffee, or maybe frozen dessert, then this is often where you ought to stop by for a coffee break!
They offer regular beverages such as espresso, latte, cappuccino, americano, and drip coffee! you'll choose between a little or medium size, and therefore the price ranges from 350 to 450 yens. apart from their coffee menu, they provide fruit juice, fruit juice, and lemonade! They even have muffins, doughnuts, and hot dogs. What's perfect for a hot summer day? frozen dessert. Their pistachio flavor may be a must-try! For the best coffee demanders and frozen dessert lovers, they even have affogato too, so make sure to see that out too.
17. Eorzea Café
Eorzea is the country where people begin their adventure to become the Warrior of Light. The aptly named Eorzea Café is where diners begin their go after delicious food. Within the game version of Eorzea, there are three city-states: Gridania, Ul'dah, and Limsa Lominsa. The Akihabara café, which opened in 2014, is decorated after the forest city-state of Gridania.
Once you've got a ticket in hand and therefore the day of your visit has arrived, simply attend the restaurant and await the slow to open. It's recommended that you simply arrive 15-30 minutes early. While standing in line the staff, usually dressed as in-game retainers, will take your drink order, provide you with the coaster of your choice, and fork over the tablet menu.
The Osaka menu and therefore the Akihabara menu do differ. There also are limited menu items that correspond with in-game events and holidays. You'll see various weapons and armor from different jobs around the restaurant, paintings from game locales, and even gaming stations—as if you'd rise from your table.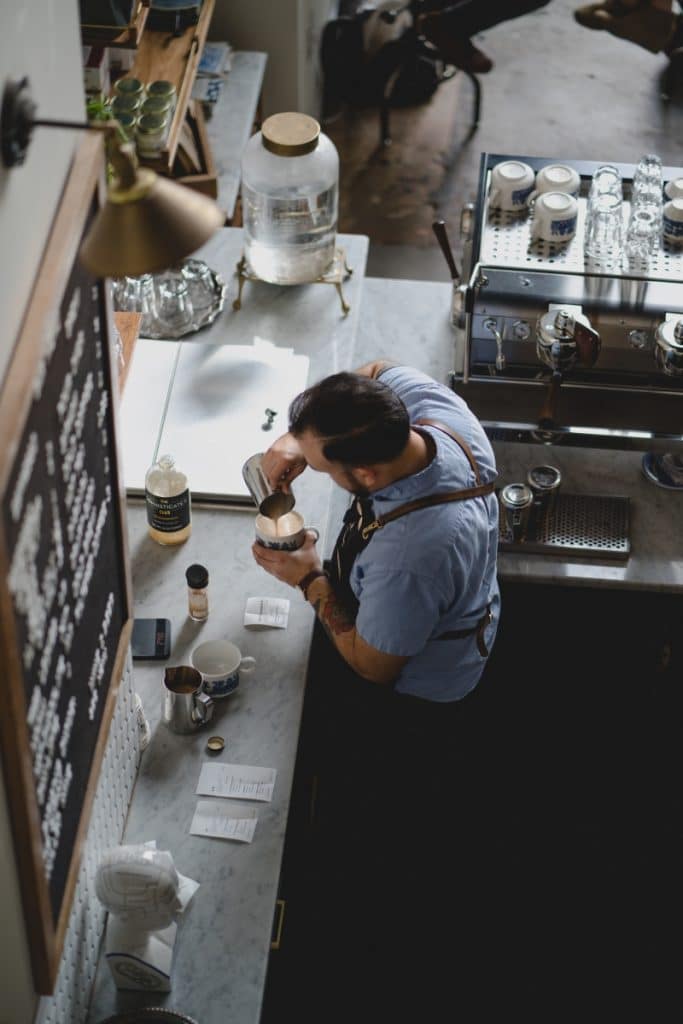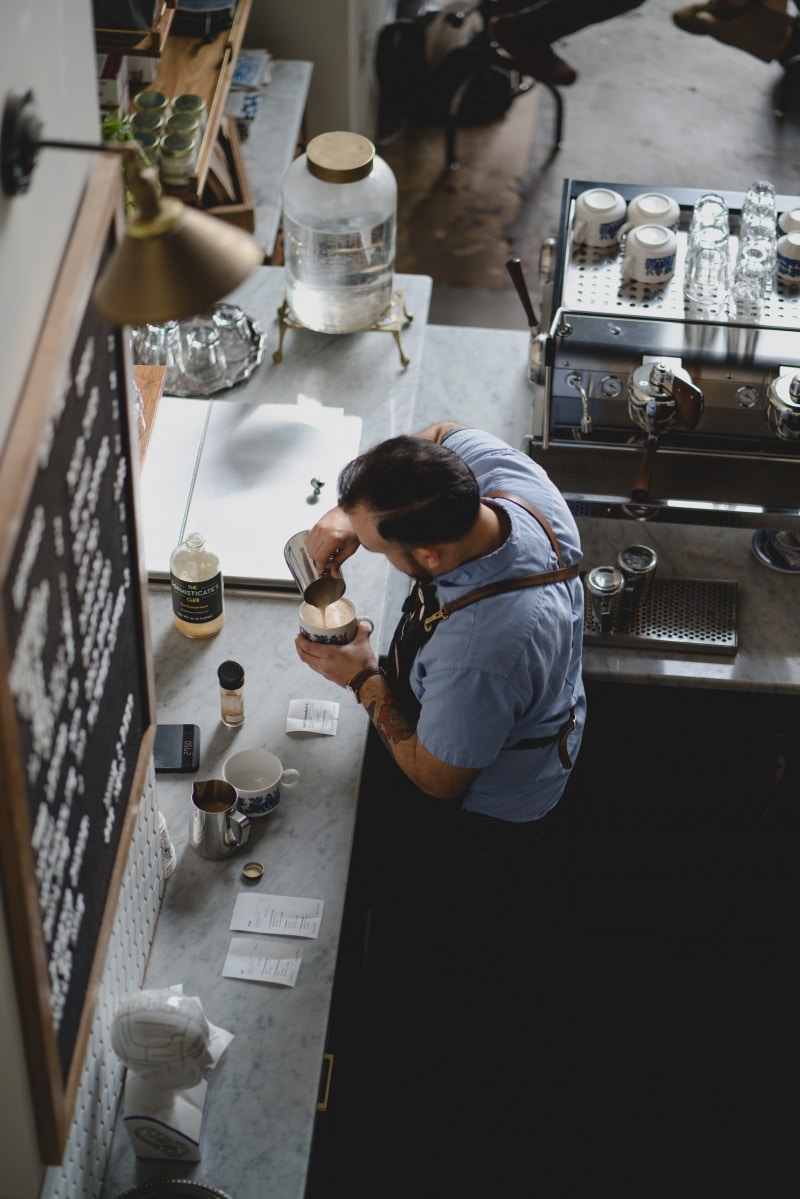 Conclusion
It's unbelievable that before coffee was somewhat of a delicacy, but right now, we can easily go get a cup of the best coffee by just walking a few steps from home. What's even more incredible is that there are so many cafés all over the world. Furthermore, not all of them are any simple coffee shops or coffee houses, there are also thousands of unique and extraordinary cafés out there to really impress the casuals and coffee lovers. Still, it doesn't matter how awe-inspiring or grand a café has to be, as long as it delivers its promises as being a place for someone to get a cup of coffee, then it is an extraordinary café already.
References:
10 Amazing Themed Cafes Around The World By TheRichest