Good coffee with such a perfect vibe can satisfy many consumers. It's true that the environment plays a crucial role in achieving customer satisfaction for coffee consumption. So, the owner of the coffee shop needs to pay more attention to decorating and designing their coffee shop.
Starbucks, one of the world's most famous coffee shops, has been operating around 30, 000 shops in the globe. Starbucks has been doing good and trying its best to renovate or decorate its branches effectively to attract customers. However, not all the branches of Starbucks are having the same design.
Some of the branches are decorated with greens and walnut shades, while some come up with a new and unique design based on local people's culture and lifestyle. With different styles and designs around the world, here are the top 10 most aesthetic Starbucks that you should have a visit when you have time and opportunities.
Starbucks' Kyoto Ninenzaka Yasaka Chaya, Japan
Located in a two-storey Japanese building called Machiya which has existed for more than 10 decades, Starbucks' Kyoto Ninenzaka Yasaka Chaya has been known as one of the most beautiful Starbucks coffee shops around the world.
The coffee shop can be considered as one of the most visited places in Kyoto while it is also a place for coffee lovers to enjoy their drinks. It is very easy to be recognized. From the street, you will see the noren curtain. There is a store framed with wooden walls with the tiled roof which makes the shop look unique and follow Japanese style.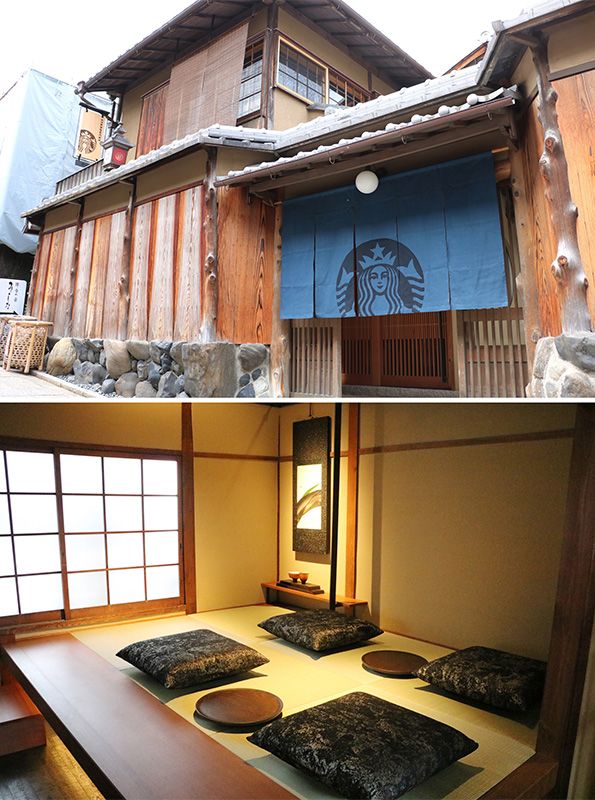 Since it is designed following the Japanese tradition, you should take off your shoes when you go inside the shop. Meanwhile, there are Tatami rooms for you to enjoy your drinks sitting on the silk cushion.
If it is your first time visiting this Starbucks branch, you, then, can find it along the same way to one of the UNESCO World Heritage Sites, which is called Kiyomizu Temple. Furthermore, within this Starbucks branch, you can enjoy a nice view of Kyoto as the former Imperial Capital of Japan.
Starbucks Dewata Coffee Sanctuary-Bali, Indonesia
Another aesthetic Starbucks that you would love to visit is in Bali, Indonesia with the name of Starbucks Dewata Coffee Sanctuary. It is also known as the latest branch in Southeast Asia. The building itself is made with the combination of the modern and traditional Balinese architecture.
With 20,000 square feet, this Dewata Coffee Sanctuary has a coffee farm growing Arabica coffee trees allowing you to experience the process of preparing a cup of coffee from planting, harvesting to brewing. In addition, the customers can also get involved with the farmers seeding.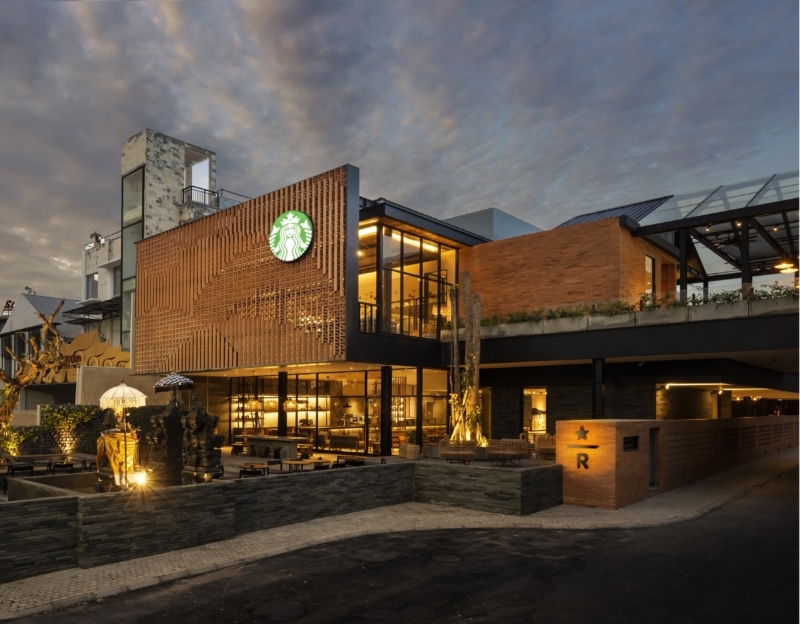 Besides, the visitors can also enjoy an experience with more than 100 handcrafted drinks which are all exclusive to reserve including Lavender Latte, House Affogato, and Origin Flight. Furthermore, there are some exclusive merchandise that you should not miss including mugs and tumblers because those are all unique and well-designed.
However, you will definitely love the premium customer services there since it offers valet parking and concierge service. Therefore, you are suggested to visit there if you have time.
Starbucks Weilan, Taiwan
Designed by a Japanese architect with the inspiration of coffee trees and Hualien's culture, Starbucks Weilan is another Starbucks branch in Hualien Bay Mall in Taiwan. It also can be considered as an artistic storytelling and is made of 29 recycled shipping containers that are stacked over one another and painted with playful colors.
Each container has its own decoration which means the 29 containers are all different from one another. Thus, the outer wall of the container has a color code representing its own story. Therefore, this is a perfect place for coffee lovers who enjoy drinking coffee while exploring geometric masterpieces.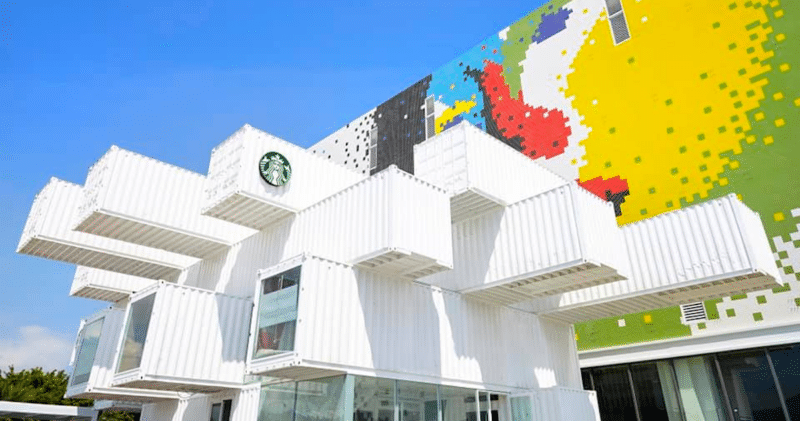 Moreover, the seating arrangement is decorated and arranged over 2 floors with a stylish design allowing customers to enjoy the outside view of the coffee shop as well. Meanwhile, different from the other branches, the furniture in this branch are all different based on the specific container.
Talking about its outlook, it can be seen obviously that it is very similar to the container market, specifically like an art installation if we ignore the logo of Starbucks.
Starbucks Wave-Seoul wave Art Center
This branch of Starbucks is located in Seoul Wave Art Center, a cultural exhibition center floating on the Han River. This 300 square meters floating building is made of full floor-to-ceiling glass walls offering a 360 degree view of the river.
This branch of Starbucks coffee is designed with a different style compared to others that normally come up in wood and forest green. Instead, it did not do much interior design; it typically just designed the table arrangement rather than the wall.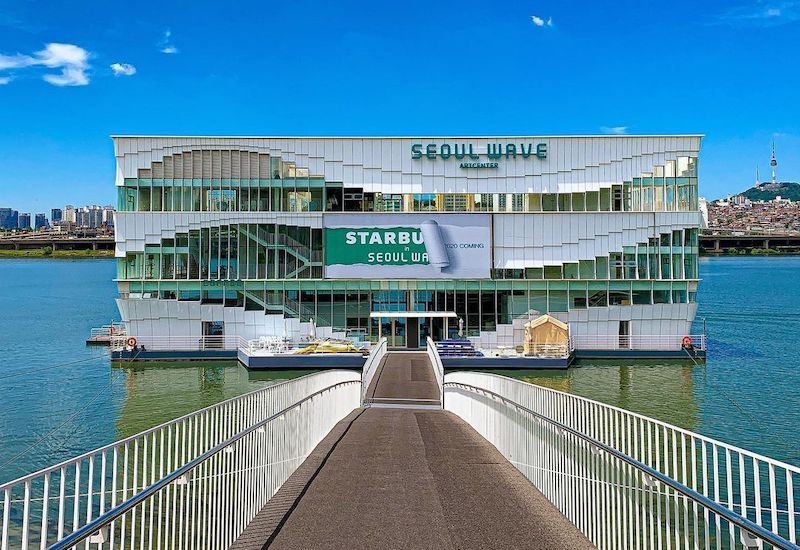 Without pictures or paintings on the wall, the customers or the visitors are able to enjoy the whole view of the river and the sky. Sitting and relaxing in the coffee shop enables you to feel like riding on a cruise ship, especially the nighttime view as it reflects the entire view of the building on the river.
Additionally, the whole building is lightened up with a warm glow of golden lights. Besides, although you are a seasick person, still, you can put your mind into peace and visit the coffee shop due to the fact that you can enjoy the beautiful view which will not make you worry and remember about being seasick anymore.
Starbucks Capucines, Paris, France
This is another branch of Starbucks that comes with a wonderful design. Located in a 17th century building near the Opéra Garnier in Paris, this Starbucks Capucines comes up with a different design compared to what it used to have. Since it is situated in an ancient building, it offers a romantic interior.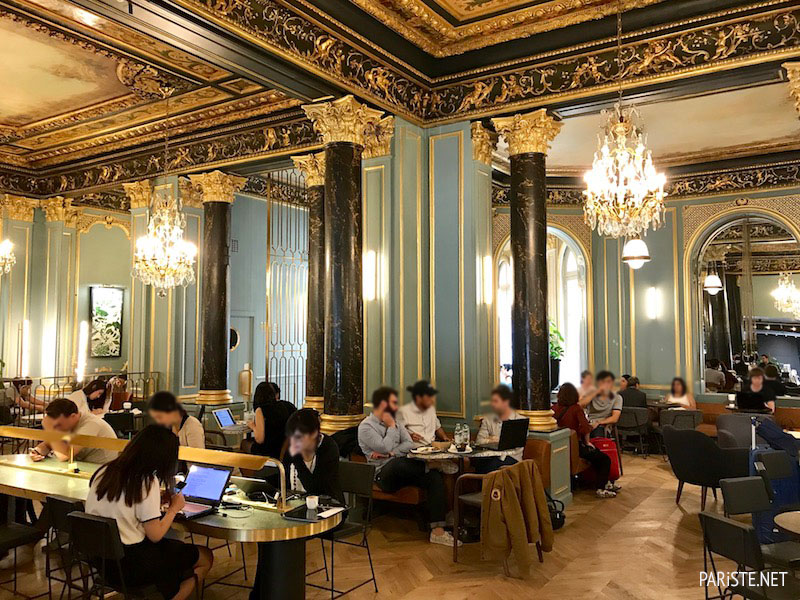 To decorate a coffee shop with the existing architecture, Starbucks' team has been working very hard. At a first glance, the inside of the coffee shop looks like a ballroom because it is full of steel glass, chandeliers and ornate ceiling murals. Thus, it definitely rehabilitates the coffee shop to fit the original state of the building as it used to be. Thus, it is recommended to visit there when you have time.
What is special about these Starbuck Capucines is that there are Arabica Pika coffee plants growing in this coffee shop to complement this Starbucks branch to the existing design. Besides, having parquetry timber flooring, new brass balustrades, and bespoke furniture, it maintains authentic spaces while offering innovative and creative Starbucks experiences.

Starbucks Hana Biyori, Japan
Located in a new botanic garden in Tokyo, Hana Biyori, this Starbucks has come up with a new concept in designing with the aims of offering a new coffee experience. Since it is full of glass ceilings and flowers and hanging baskets abloom with geranium, fuchsia, bellflowers etc, you will feel like you are surrounded by nature with real plants while enjoying your favorite drink.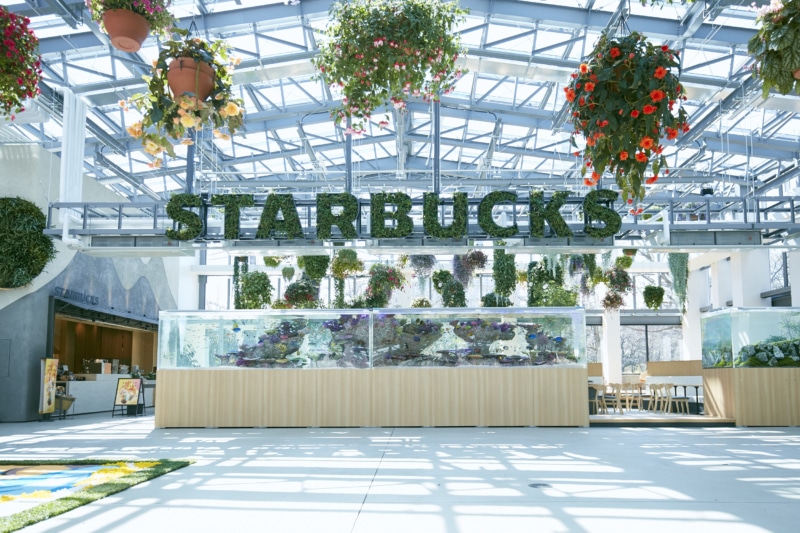 The logo and sign of Starbucks is signed with the use of plants and flowers. Moreover, with the use of wooden furniture, flowers for both interior and exterior, the airy spaces, it makes the coffee shop look amazing and wonderful rather than Starbucks.
On the other hand, some of the furniture was handmade by the local artisans using typhoon-damaged trees' timber growing on Yomiuri Land. Since the furniture is made of timber with different shapes, the chairs and the tables in this Starbucks were made and designed into different master pieces. Thus, sitting in such nice furniture and view while enjoying your favorite drink would be a great coffee experience.

Casablanca's Anfa Starbucks
This Casablanca's Anfa Starbucks would never make you unhappy with its design and decoration. The whole design is integrated in the modern style with Moroccan and French styles. Thus, it has been known as one of the best places to relax and release your stress.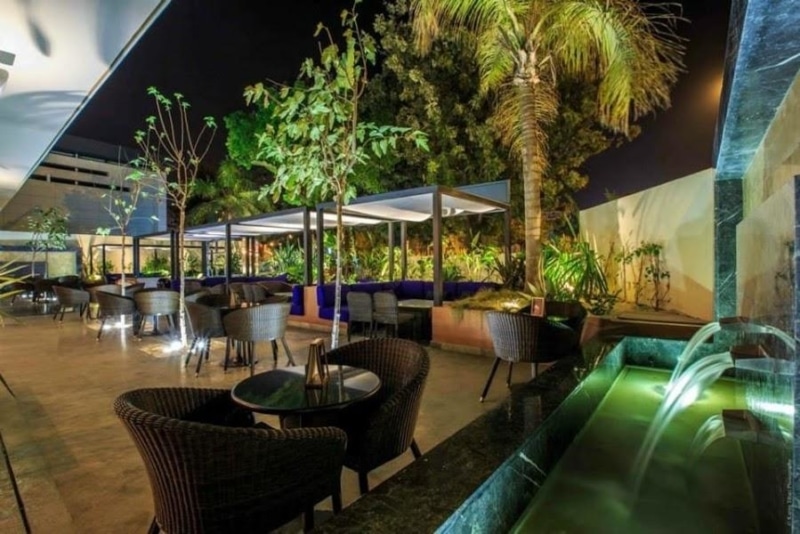 The coffee bar is designed with the aim of reflecting a European atmosphere. Moreover, the inside of this coffee shop features various rooms that are eclectic together with vintage styles.
However, outside the Starbucks store, there are two alfresco for you to enjoy your drink while listening to the bubbling fountains and releasing your stress since there are fountains there. Some people said that the fountains make them feel like they were in 1940s romance, which is a romantic place for the couple. So, what are you waiting for?
Starbucks Train, Switzerland
Coming up with an exactly new concept, Starbucks has launched a new coffee shop with the aims of delivering a railway travel coffee experience. Starbucks has partnered with SBB to unveil the first Starbucks store in a train from Geneva Airport to St. Gallen in Switzerland which enables passengers to enjoy their journey with a nice drink.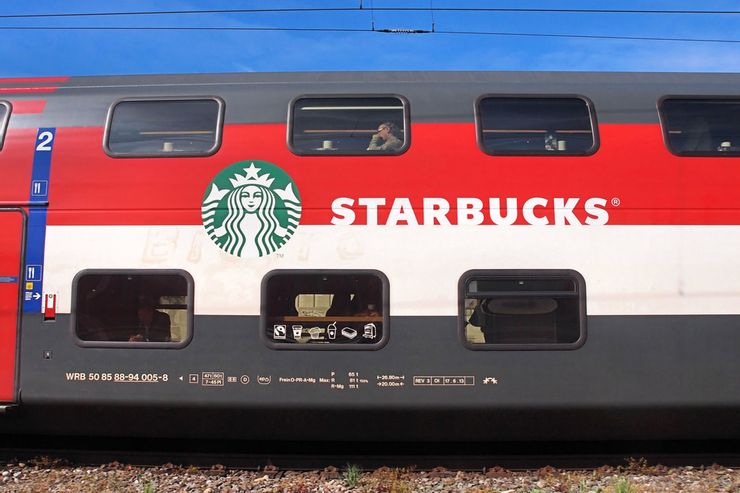 The exterior of the train is colored in red and white together with Starbucks' logo. The white icon typically represents the items in the menu including drinks and muffins. While the interior is colored with brown and white which are the normal theme for Starbucks if you are a fan of Starbucks.
Since there are two levels of the train, it is designed and featured for different purposes and experiences with a warming color palette. For the first level, you may enjoy your drink at the wooden standing bar. The second level, however, is featured with a well-designed lounge area with movable club chairs and shared tables for passengers to finish their work on the laptop. Hence, they can maximize their productivity while they are on the train. However, the train can accommodate 50 people only.
Prado Norte Starbucks, Mexico
Another beautiful Starbuck store on our list is Prado Norte Starbucks which is located in Mexico. The whole architecture is inspired by the Spanish style. The outside of the store near the entrance has a fountain and a gorgeous staircase with an awesome design.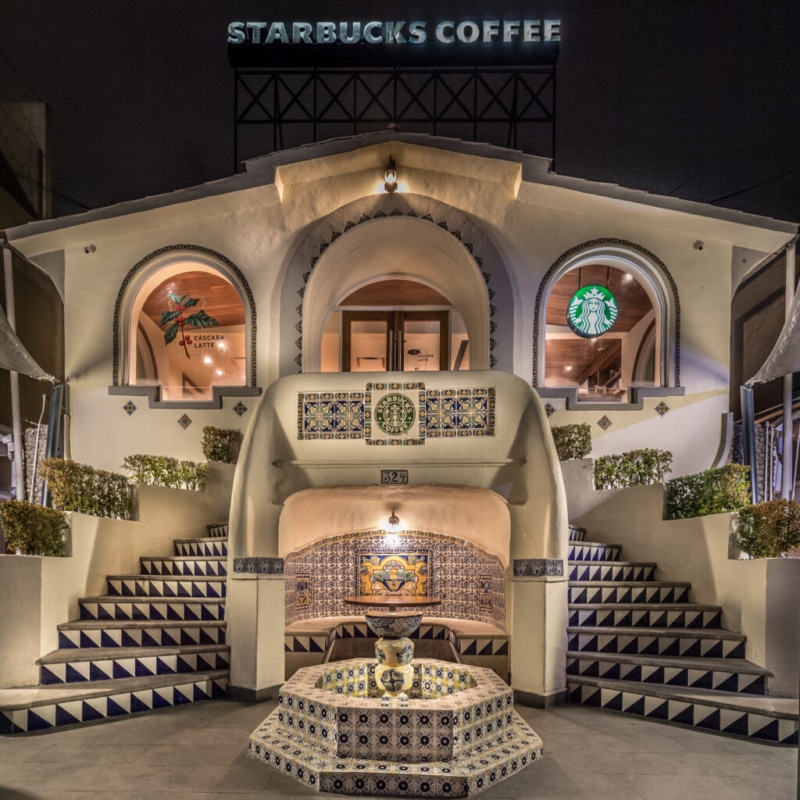 You can capture some pictures outside of the store nicely. There are garden plants and intricate murals along with the staircase which guides you to the storefront. With such a design, it makes customers feel like you are going to the party rather than a Starbucks store.
Also, the furniture is innovated with the low-slung chair enabling you to relax with comfort. Furthermore, you can also enjoy your favorite drink with Starbucks while enjoying the beautiful view of the surrounding tile murals.
Starbucks Seattle Roastery Reserve, Chicago
This is another amazing Starbucks branch that you would fall in love with once you visit there. With 35,000 square feet, it comes up with 5 floors offering the largest retail experience. The whole design is integrated art with craft of the coffee in an immersive environment featuring an impressive environment of the coffee bar and the retail.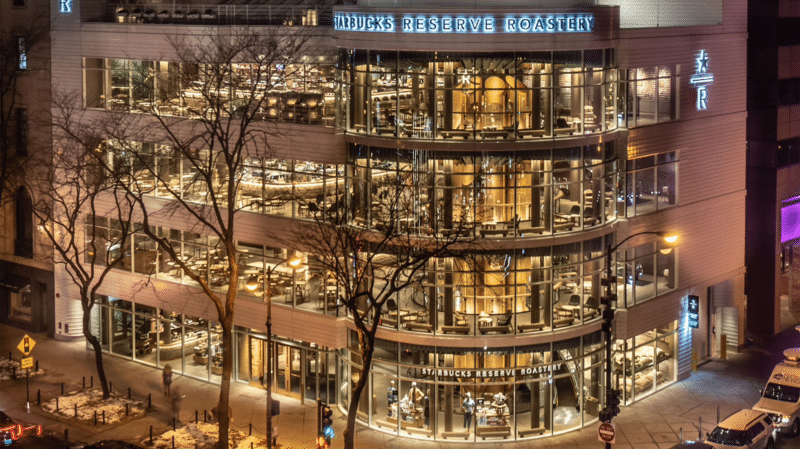 The available space in Starbucks offers the customers as well as the visitors with an immersive experience from coffee bean to the final production. Since it has 5 floors in total, each floor displays a different coffee experience, delectable food and drink selection.
On the first floor, you can explore handcrafted coffee beverages, freshly baked Princi, pastries, exclusive gifts and coffee roasting. While on the third floor, you can explore the brewing methods, coffee preparation and coffee transporting throughout the whole building. So, what are you waiting for?
Final Words
The 10 Starbucks stores mentioned above are the most aesthetic Starbucks around the world that you will fall in love with once you visit there. If these Starbucks stores are located in your city or near your place, you should never miss it. These most aesthetic Starbucks will enable you to enjoy the scenery and surrounding environment while having your favorite drinks.
Reference