The Keurig Mini is a simplified model that is straightforward to produce great coffee. Is it, however, worth your time and money? We decided to put it to the test in order to assist you to answer that question. The K-Mini is an excellent entry-level model that will suit most kitchens and budgets. It is easy to use and clean, and it works with all standard K-Cups. In addition, it also creates hot, excellent coffee with the press of a button. 
If you want more from your coffee machine, you may need to switch to a more feature-rich Keurig. Let's take a look at our review on Keurig k-mini coffee maker.
Product Overview
Fast and fresh brew
Compact with a travel mug
Auto shut-off function
One-cup brewing reservoir between 6 to 12 oz
Compatible with K-Cup universal reusable coffee filter
View Price on Amazon
Keurig K-Mini Coffee Maker At A Glance
Key Feature
Item weighs 4.6 pounds
1-cup brewing capacity
Multiple colors available
Made of plastic matt finish
Product dimensions: 12.1" H x 4.5" W x 11.3" D
Recommended Keurig accessories: descaling solution and rinse pods
Overall Editor's Rating: 85%
Worth the money: 86%
Feature and performance: 80%
Coffee flavor: 88%
Ease of use: 86%
Things To Consider Before Buying A Keurig K-Mini
The Keurig K-Mini single serve coffee maker has a streamlined design with a matte finish and is the right size for any room or occasion, measuring less than 5 inches wide.
The K-Mini maker is incredibly simple to use: simply fill the reservoir with fresh water, insert your favorite K-Cup pod, hit the brew button, and have freshly made, excellent coffee in minutes. In addition, choose from hundreds of delectable K-Cup pod flavors to enjoy 6-12oz of your favorite coffee, tea, cocoa, or iced beverages.
The K-Mini coffee maker, with a single cup reservoir and cable storage, is a compact brewer that makes any location ideal for outstanding coffee.
Compactness
The Keurig Mini is a beautiful, compact machine that will fit on even the small kitchen counter. Moreover, it appears in four various hues, including green, and pink, and is operated by a single silver button on the top. The 12-ounce water reservoir may be found in the back.
Furthermore, it has translucent sides that let you see how much water you've added, and it fits wherever on your counter and is easy to move.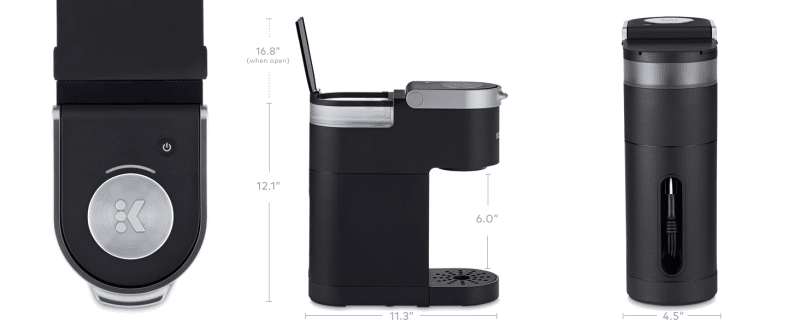 However, this may be difficult to notice from the front. For easy portability, the power cable may be coiled and put in the machine's back. Furthermore, the machine as a whole weighs only 4.6 pounds.
Convenient Operation
The basic conclusion is that the Keurig Mini is super easy to use, as well as this coffee maker has a sleek design which makes this Keurig k-mini so popular. 
This is mainly a positive thing, particularly if you require coffee in the morning to boost up your day. There are only two buttons: a power button and a brew button, with a curved light that blinks to indicate when the machine is ready to brew.
You will have to add water every time because the reservoir is so little and there's no method to alter cup size. Moreover, you may add 6-12 ounces of water, and the machine will utilize all of it when you press the brew button. You can have a freshly brewed delicious coffee with all your heart's desire.
The detachable drip tray is a useful feature. This can be removed for easier cleaning or to use a taller travel mug. Moreover, the Mini can hold mugs up to 7 inches tall without the drip tray.
However, the auto-off option, which turns the machine off 90 seconds after each brew cycle, is the most automated feature on this machine.
To operate this machine, simply add water, insert a K-Cup, push the lever down, and press the brew button. Indeed, now you can enjoy a hot cup of freshly made coffee in a few minutes.
Compatibility With K-Cup Universal Reusable Coffee Filter
All standard-sized Keurig K-Cup pods are compatible with the Keurig Mini. It does not work with the K-Carafe, K-Mug, Vue, or Rivo pods.
The good news is that, because this model isn't a Keurig 2.0, you won't have to worry about it not reading your K-Cups. So, enjoy freshly made cups of coffee with a one-cup reservoir.
Fast, Fresh, And Flavorful Coffee
How does the Keurig Mini do in terms of coffee quality? It was equivalent to other single-serve coffee makers in our testing. The coffee is hot, fragrant, and tasty, just as you would expect.
Easy To Clean
The Keurig Mini, like other coffee makers, has to be cleaned and descaling on a regular basis. In fact, the main downside is that there is no cleaning indicator or program, so you must remember to manually perform a thorough descaling cycle.
Furthermore, it includes a detachable drip tray and reservoir, and it's very easy to clean. Overall, this model's cleaning requirements are reasonable.
Keurig K-Mini Coffee Maker Wrap Up
What We Like
Affordable, easy, and simple to use
Lightweight and compact
All K-Cups are compatible
Available in a variety of colors
What We Don't Like
Not looking expensive as a coffee maker
Quite louder than others
There is no timer or programming
There are no self-cleaning functions
FAQs – Your Top Questions, Answered!
What is the difference between a Keurig Mini and a regular?
K-Compact has a small 36 oz water reservoir. Plus, it is removable and easy to refill and clean. K-Mini, like the K-Mini Plus, has a single-serve water tank. The only difference is the K-Mini Plus has a removable tank.
What does the Keurig Mini come with?
Keurig k-mini plus single serve coffee maker with a pod storage unit that fits in your brewer and can hold upto 9 k-cup pods. Pod storage: Holds 9 k-cup pods and fits in your brewer for ultimate portability and saves counter space. Cord storage: For easy transport and tidy countertops.
Can You Put Milk in a Keurig?
No, absolutely not! That will ruin your machine, for sure. Keurig (or any other coffee makers for that matter) can be filled with WATER only.
Is Keurig K-Mini worth it?
Keurig K-mini is a worthwhile single-serve coffee maker, offering great value for its very appealing price. It is easy to use, reasonably simple to clean and produces tasty, hot coffee. However, the bottom line is that the Keurig K-Mini is a simple, affordable single-serve coffee maker that is well worth your money and time.
The Verdict: Is Keurig K-Mini For You?
This Product Is For You If:
The Keurig K-Mini is great if you are looking for a slim, compact brewing experience and don't mind refilling before each use (or the non-removable reservoir). Nevertheless, if you are looking for a removable reservoir and don't mind refilling before each brew, upgrade to the K-Mini Plus.
The Keurig K-mini is a solid single-serve coffee machine that provides excellent value for its low price. It is simple to operate, easy to clean, and makes delicious, hot coffee. Therefore, there is no timer or clock, and there is no way to program size or brew strength. But, in the end, the Keurig K-Mini is a simple, low-cost single-serve coffee maker that is well worth your time and money.
This Product Is Not For You If:
You are looking for a multi-complex brewing method. For example, you may need an an-all-in solution for your ultimate customized drinks such as latte, flat white, cappuccino, or maybe bulletproof coffee. Therefore, you should switch to a bigger and more advanced coffee maker.
Hence, we do have the reviews for you to check before you buy, such as programmable coffee maker, coffee maker with grinder, coffee maker with milk frother, and even the most expensive coffee makers.
Youtube video