There is a rumor saying that drinking black coffee can help you to maintain your health, yes, it is true, BUT drinking black coffee alone will not make any much difference at all. There are some other ingredients that you can make delicious drinks with coffee in a healthy recipe. Meanwhile, those ingredients are simple and can easily purchase at your nearby stores or shops. Even though coffee is somehow good for your health, not everyone is into black coffee or probably black coffee is not their most preferred drink to-go, that is why there are several healthy coffee recipes that you could easily make and have a taste to energize your body.
Not to mention the fact that healthy coffee drinks have less calories, instead you will absorb more vitamins and proteins which can help in boosting your brain energy and immune system.
1. Vanilla Almond Coffee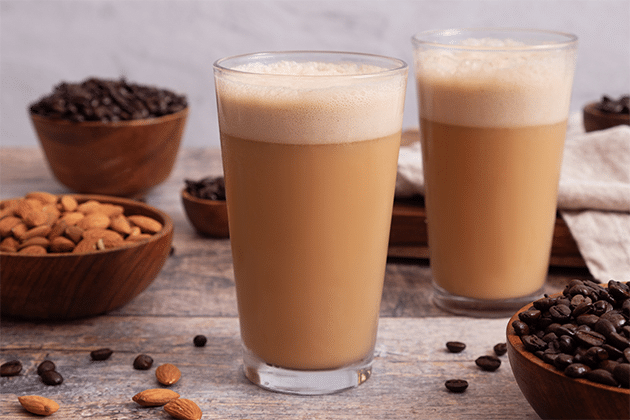 As said, black coffee might not be everyone's favorite, and here is why we would recommend vanilla almond coffee that is rich in proteins. All you need to do is to follow the recipe description bere. After gathering all the needed ingredients, prepare your 1 pound ground coffee, 2 tablespoons of almond extract, and vanilla extract, and then you need to follow the recipe direction.
First, place coffee in a fitted air-tight lid, and add in the extracts. Then cover and shake the jar well to make sure the mixture is nice and last you can store your mixing coffee in an airtight container. Make sure that it is tight enough to secure the safety of your coffee. Afterwards, place it in a cool, and dry place or the safer way is to store in the freezer. So, you are ready to go about your day with a healthier and flavorful vanilla almond coffee, which does have only 4 calories with zero fat and cholesterol.
2. Whipped Banana Latte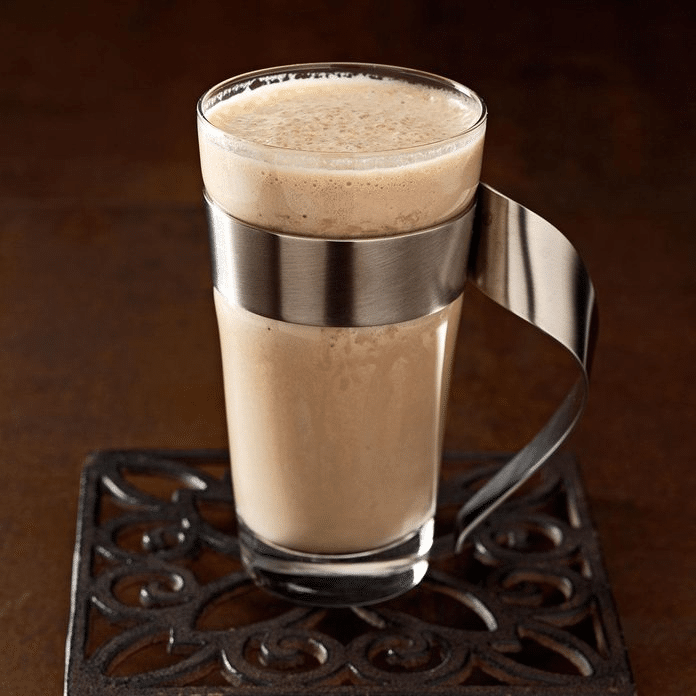 Alright, this probably might sound a little weird but adding banana to your coffee is not that bad, you should definitely try it out. This is another version of a healthy drink, whipped banana latte, perfectly a morning drink. The ingredients are simple, you just need a cold strong brewed coffee, half cream, 2 medium ripe bananas, ice cubes, ¼ sugar, and 2 tablespoons of chocolate syrup.
After having all the needed ingredients, get it in a blender, and blend it well for 15 exact seconds. In case you prefer a little smoother, you may proceed it a few more seconds and then pour it in any of your preferred glass and here you have your whipped banana latte. This cup of drink contains 149 calories, 4g fat, 18mg cholesterol, 24 mg sodium, and 2g proteins. This might sound a bit much, but trust me, a banana is one of the fruits and rich in flavors and proteins.
3. Honey spiced latte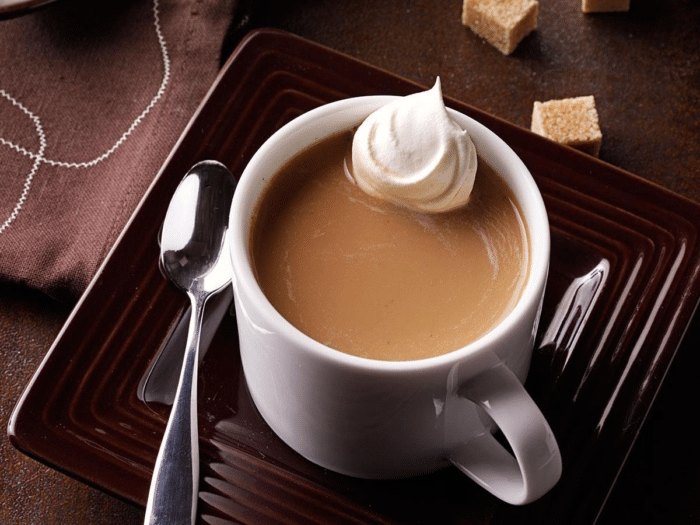 Honey alone is already helping your body and immune system, so adding it with coffee would not be a problem but probably one of the best-tasting coffees you could ever have. To make this drink, the ingredients you need are ½ cup of ground coffee, 1-1/2 cups cold water, 1-1/3 cups milk, 2 tablespoons honey, 2 tablespoons molasses, 4 teaspoons sugar, 1/4 teaspoon ground ginger, 1/4 teaspoon ground cinnamon, 1/8 teaspoon ground nutmeg, 1/8 teaspoon ground cloves, and whipped cream but this is optional, based on your preference only.
This might need a lot of ingredients but patience is key, so it will be worth a try. And here, follow the description to have your drink ready, get your coffee in a drip coffeemaker, add in water and brew it well. Put it in a small saucepan, first add milk, honey, molasses, sugar, and spices and then stir it well with medium heat to avoid the burnt or stick the pan. Turn off the heat and transfer the cooked ingredient to a blender and blend it for 15 seconds until foamy and here is the final stage. Lastly, pour your final product into your glass, and add whipped cream if you want to. This drink has 134 calories, 3g fat, 8mg cholesterol, 44 mg sodium, 3g proteins. Nothing less but the best-tasting honey spiced latte.
4. Pumpkin Spice Latte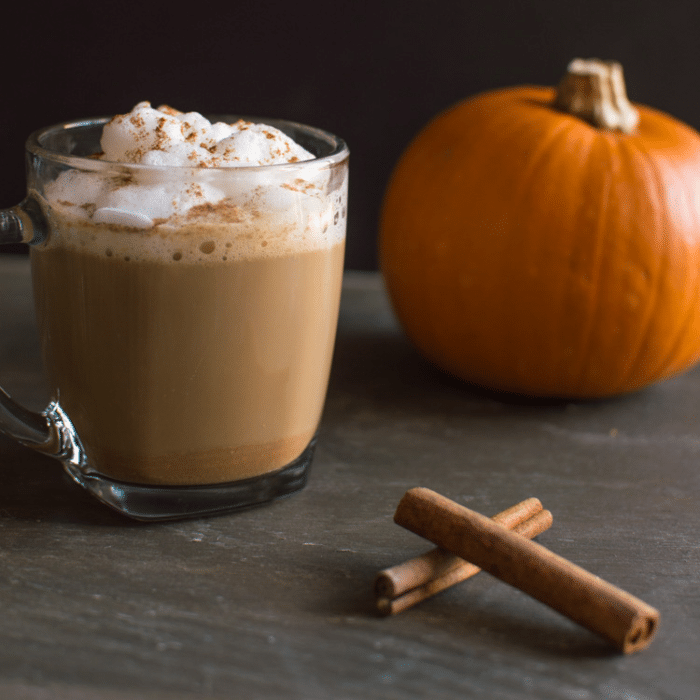 Besides honey spiced latte, pumpkin spice latte is also a healthy drink to cannot be skipped in this topic. Pumpkin is rich in calcium, magnesium and also contains vitamins E, C, and B as well. So, in the making of this drink, you need any preferred choice of coffee, coconut milk, pumpkin puree, maple syrup, vanilla extract, and other spices such as cinnamon and ginger. And here is the fun part, get a small saucepan and put all the ingredients in a whirl to mix, turn on medium heat and stir until there is bubbling and then slowly add your preferred coffee and continue stirring.
Next, you will get a hot pumpkin spice latte, or you can also make an iced version by just adding all the ingredients to an air-tight jar and stir for a good texture. Then, add ice and shake it well for 30 seconds till it is all combined with a nice texture. And you can also add the topping with coconut whipped cream or cinnamon if you want. This drink contains 125 calories, 2.7g protein, 6.1g fat, 0mg cholesterol, and 50mg calcium. This would be a perfect drink after a long tiring day at work, cozy up for the winter season.
5. Cinnamon Coffee
Cinnamon is known as the perfect spice to have without gaining calories. Adding cinnamon in your coffee not only helps in maintaining your healthy morning serving drink but it also helps in reducing the bitterness of coffee and helps in boosting the metabolism. And the ingredients are 1/3 cup ground coffee (not instant coffee), 3/4 teaspoon ground cinnamon, 1 cup of milk, 2 to 3 tablespoons sugar, 2 tablespoons baking cocoa, 1 teaspoon vanilla extract, 4 cinnamon sticks and whipped cream which are both optional.
After having all the needed ingredients, you need to follow the instruction here. First, get the coffee and ground cinnamon together in a coffee maker basket. At the same time, combine milk, sugar, cocoa, and vanilla in a saucepan and turn on low heat for 5-7 minutes and stir it well to avoid the burn. Pour in that hot milk into four cups and add that cinnamon-flavored coffee you mixed together and you will have your drink. And if you want, you can also add whipped cream on top. A cup of this drink contains 77 calories, 2g fat, 8mg cholesterol, and 3g protein. Besides boosting your energy, having a cup of this can help to relieve your stress and mind.
6. Vanilla Coffee Creamer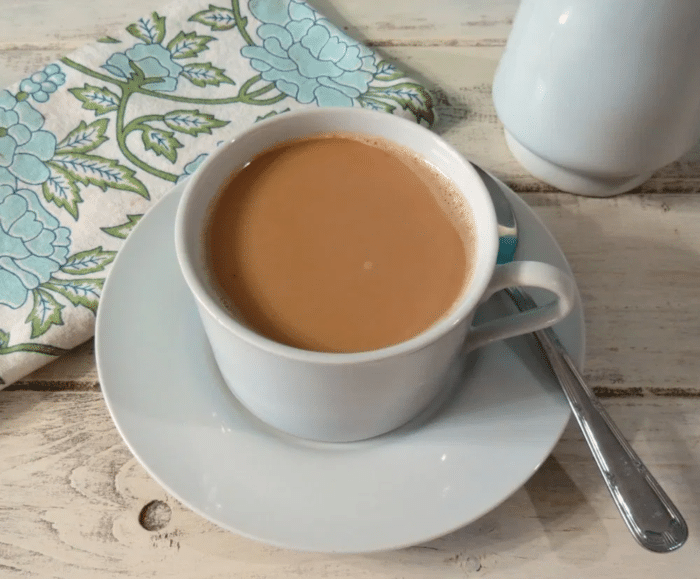 If you like your drink to be creamier, you can consider making your own vanilla coffee creamer. Making your own drink is more fun and you can also customize your drink better. The recipe to make this healthy drink is simple, all you need are just 1 vanilla bean, 1 can of sweetened condensed milk, 1 cup half and half cream, 2% milk or heavy whipped cream and lastly is dash salt.
After having your needed ingredients, you need to follow the instructions carefully for a satisfying result. Separate the vanilla bean in half lengthwise and then use the tip of your sharp knife to pull out the seeds from the center into your saucepan. Then, add all the ingredients in and stir it well in the medium for 5-7 minutes. Turn off the heat once it is cooked then let it rest for 15 minutes. Once the flavors are all blended in you may put it in an air-tight container and place it in the fridge for 4 days maximum. Before brewing it, do not forget to stir it. Since this drink is made out of vanilla and coffee which is similar to the one above, vanilla almond latte, so their nutrition is only having slight differences.
7. Turmeric Latte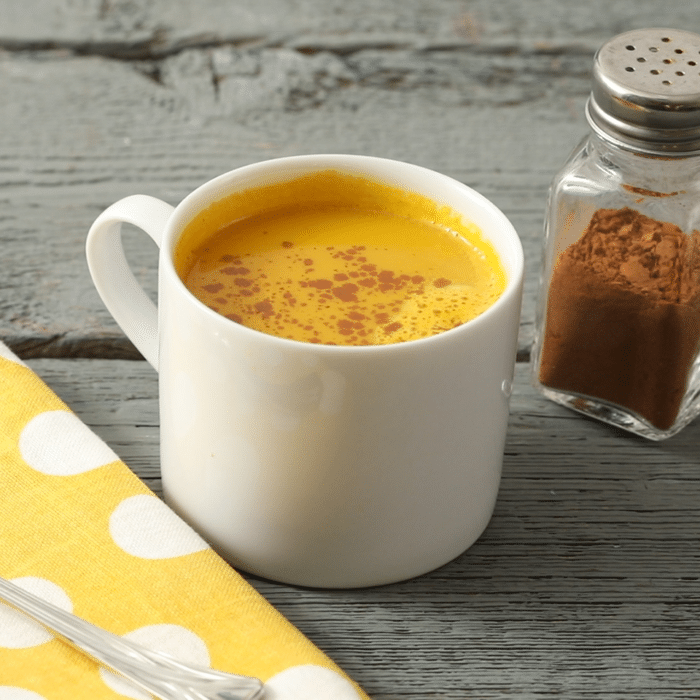 After seeing the name of this drink, you would be questioning, "Turmeric in coffee, seriously?", but yeahh nothing is impossible unless you give it a try. Turmeric is one of the beneficial spices, not only you can put in the food, but also in the coffee too.
Turmeric is mostly used for medicinal purposes like preventing heart disease, an anti-inflammatory, and is also good for your skin as well. So, why not give yourself a try with this new coffee drink, plus its recipe is simple and easy. The ingredients you may need are 2 cups almond milk, 1 tsp ground turmeric, 1/3 tsp ground ginger, 1/3 tsp ground cinnamon, 1 tsp vanilla bean paste, 1-1/2 tsp good-quality instant coffee (any brand you preferred), 2 tsp coconut sugar which is an option or you can use honey or any regular sugar you like.
The process of making this drink is first you need to put all the ingredients into a small saucepan and turn on medium-high heat and whirl-stir well to avoid the burn and make sure to get a thick foam. Cook it to only hot enough but not till the boiling part because it can ruin the taste of your drink, once it is all done, you can pour it into any cup you prefer and you can also style your drink with a bit of turmeric sprinkle if you like. This cup of drink contains much nutrition for you to desire, it has 66 calories, 1g protein, 333mg sodium, 54 potassium, 300 calcium, a little 3g fat, and, unlike other drinks, this one has 0.5g iron which is amazing. You should not miss this drink, try this out, folks.
8. Coconut Water Iced Coffee
With just its name it can already freshen your brain, the coconut water iced coffee. Probably, some people might have a question again like, "isn't it weird putting coconut in your coffee? Is it good for the stomach? Like really, coconut iced latte?" Sure it is, as a natural fruit, coconut is nutritious and has a high tendency to hydrate the body with its sweetened flavor, so why it will not work with coffee.
The recipe to make this drink is way easier than other drinks, all you need are just a cup of coconut water and 1/2-1/3 cup of coffee and cream is optional. And then put the coconut water and your brewed coffee together in a glass and add ice cubes and then stir well till it has a nice balance color or your drink, you can also add sugar if the sweetness is not your level. And this drink is better served cold, it tastes better, though it can also reduce your hangover and hydrate your body.
To sum it up, there are many different spices and types of coffee that you can put up in your healthy lifestyle if black coffee is not your type. There are more healthy coffee recipes, but these 8 coffee recipes mentioned above are the well and best recommended healthy coffees that you should never miss, should at least give your tongue a healthy taste of the coffee.
References: