Winter is around the corner!! It is the best time of the year for everyone to enjoy. Winter would not be perfect if you cannot find a perfect coffee to warm yourself up during this holiday season. Hot coffee is not enough, it is too simple. There are a variety of choices to choose from and you can also be creative or go crazy with your drinks. Below are the top 10 most drinks coffee during the winter time. Don't forget to scroll down, maybe your favorite drink is also on the list. If not, you can try those drinks once not to regret your wonderful winter time.
10. Slow Cooker Peppermint Mocha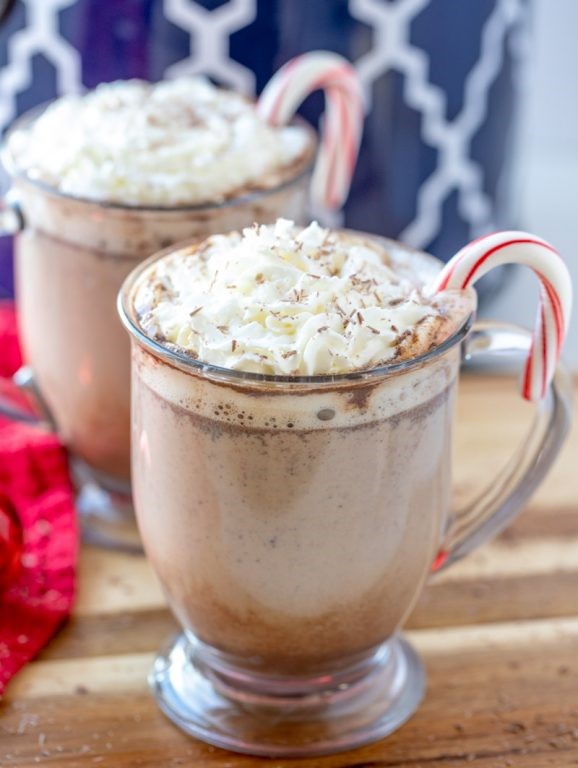 When you see these drinks, you know surely that it is winter time. It is usually served in the crockpot and keep the coffee mugs, whipped cream, chocolate shaving, and candy canes next to the crockpot. Sometimes, it is served individually, but it would be perfect to let the guests scoop it on their own mug and top it as they wish. The topping can be crazy with loads of peppermint candies, chocolates, or even whole candy canes. It might be weird to hold, but as long as you enjoy your drinks, it will not be a problem. This peppermint mocha is always ready to serve a large group of people because you can make it in bulk simultaneously. Moreover, it is easy to keep warm all night during the holiday and easy to serve. Time-saver drink for holiday parties, isn't it?
9. Holiday Eggnog Coffee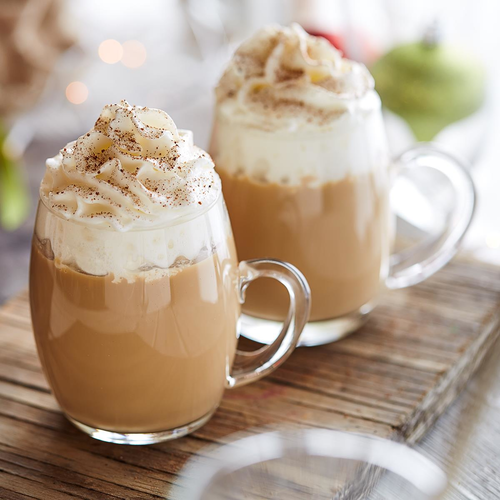 If you are running out of time, but still want a nice cup of coffee, these drinks are perfect. This Eggnog coffee uses only 2 ingredients to make. This classic drink is ideal for last minutes entertaining options, quick and easy at the same time. It is made with eggnog cook and stirs in coffee. Usually, the coffee is served immediately and cannot keep for a longer time. Otherwise, you will not be able to taste its best flavor. If you do not like topping, you can drink eggnog and coffee. But, if you need a little bit more extra, whipped cream or ground nutmeg work the best for you. These drinks are very simple and easy to make. All the abovementioned are available in many coffee stores during winter time.
8. Gingerbread Spiced Coffee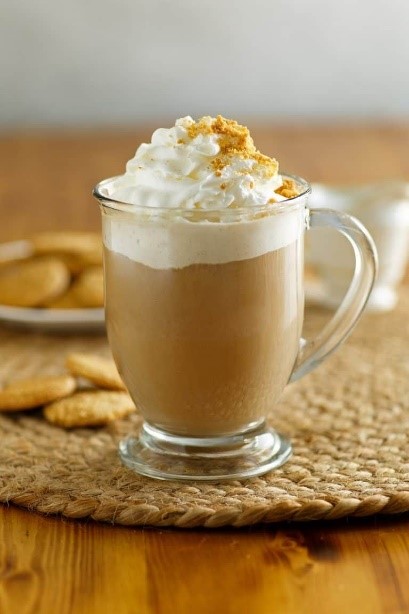 Here is another type of coffee to warm you up after the fall season, a snowy freezing winter season. It comes only once a year, right? Many teenage children love this Ginger spiced coffee a lot because of their sweet tastes with cinnamon mixed with coffee. Sometimes, you can also add more molasses or maple syrup or creamer, or even gingerbread cookies to enhance the taste. You can seek this drink in many coffee shops nearby your house. In case you want to save money or dare not to go out during winter, this coffee drink works best for you to make for yourself or your family. All you need to do is takes about 20 minutes to make. If you want to impress your guests, these drinks are for you to try.
7. Boozy Mint Mocha Coffee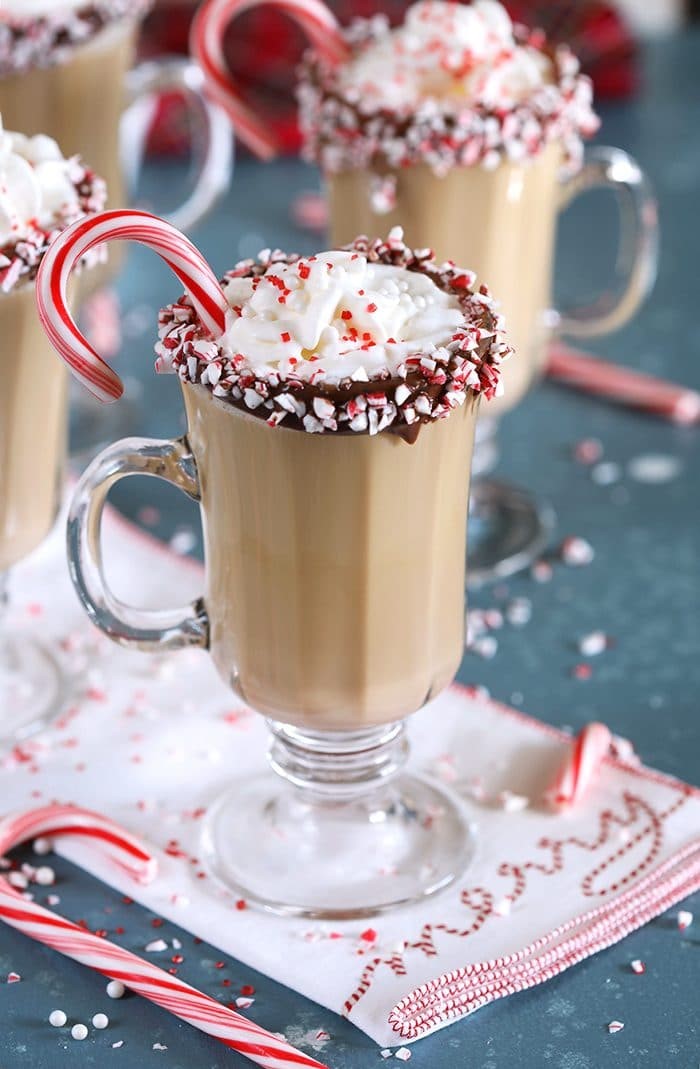 I would not recommend children to drink this type of coffee because it is an alcoholic coffee drink. If you need a drink that is stronger than the usual cup of coffee, this is the one to try. How long does it take to make Boozy Mint Mocha Coffee? You can put brewed coffee, crème de menthe, chocolate liquor, and heavy cream. Normally, this coffee might be too strong to consume, but you can put whipped cream and crushed peppermint candies on top. Then, you should sprinkle to reduce the firm taste a little bit. Other than that, you will have to spend about the same time as regular coffee to have this most incredible coffee taste.
Many adults love these drinks so much after seeing kids screaming at the top of their lungs in the fall. These drinks do not usually serve in the coffee shop much, but there is another version for non-alcoholic to try in many coffee shops. It looks very pleasing to drink because of the varieties of topping. You should not miss this drink in this cold season.
6. Coconut Bourbon Coffee Nog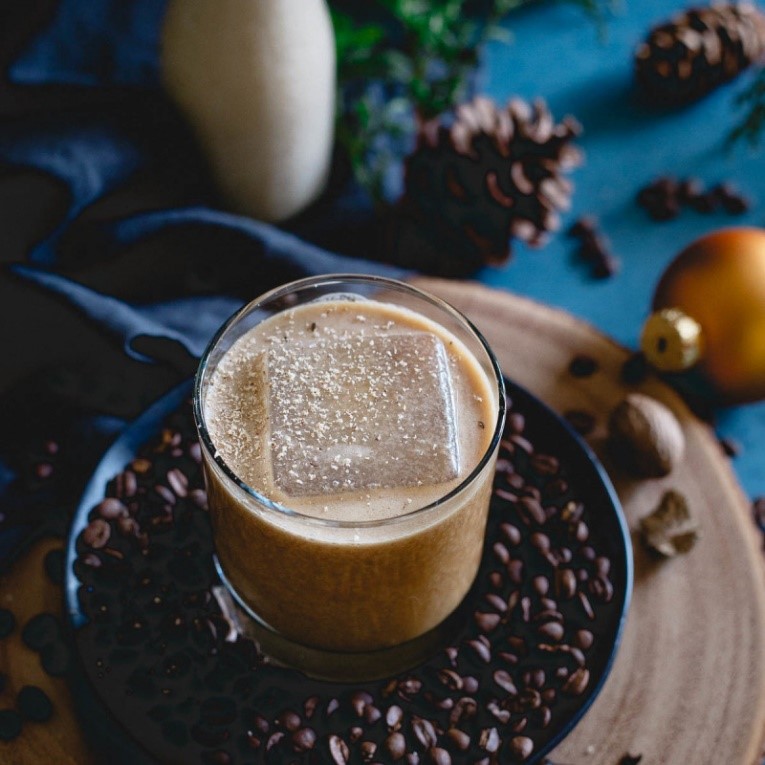 If you like cold, creamy, spiced milk drink and caffeine, you can try a Coconut Bourbon Coffee Nog to booze you up. For this coffee, it takes about 30 minutes to make from beginning to end. Why do 90% of people love these drinks so much? Because this coffee provides resourceful micronutrients to support your body. Initially, it contains low calories and has enough daily requirements of vitamins and minerals. Second, it has just a few ingredients in the making, such as coconut sugar, ground cloves, full-fat milk, and coconut milk.
If you want the coffee to look fancier, you can garnish it with freshly grated nutmeg. Then, you are able to drink it immediately after the meals. Plus, It is also available in many coffee shops during holiday seasons.
5. Butterscotch Caramel Coffee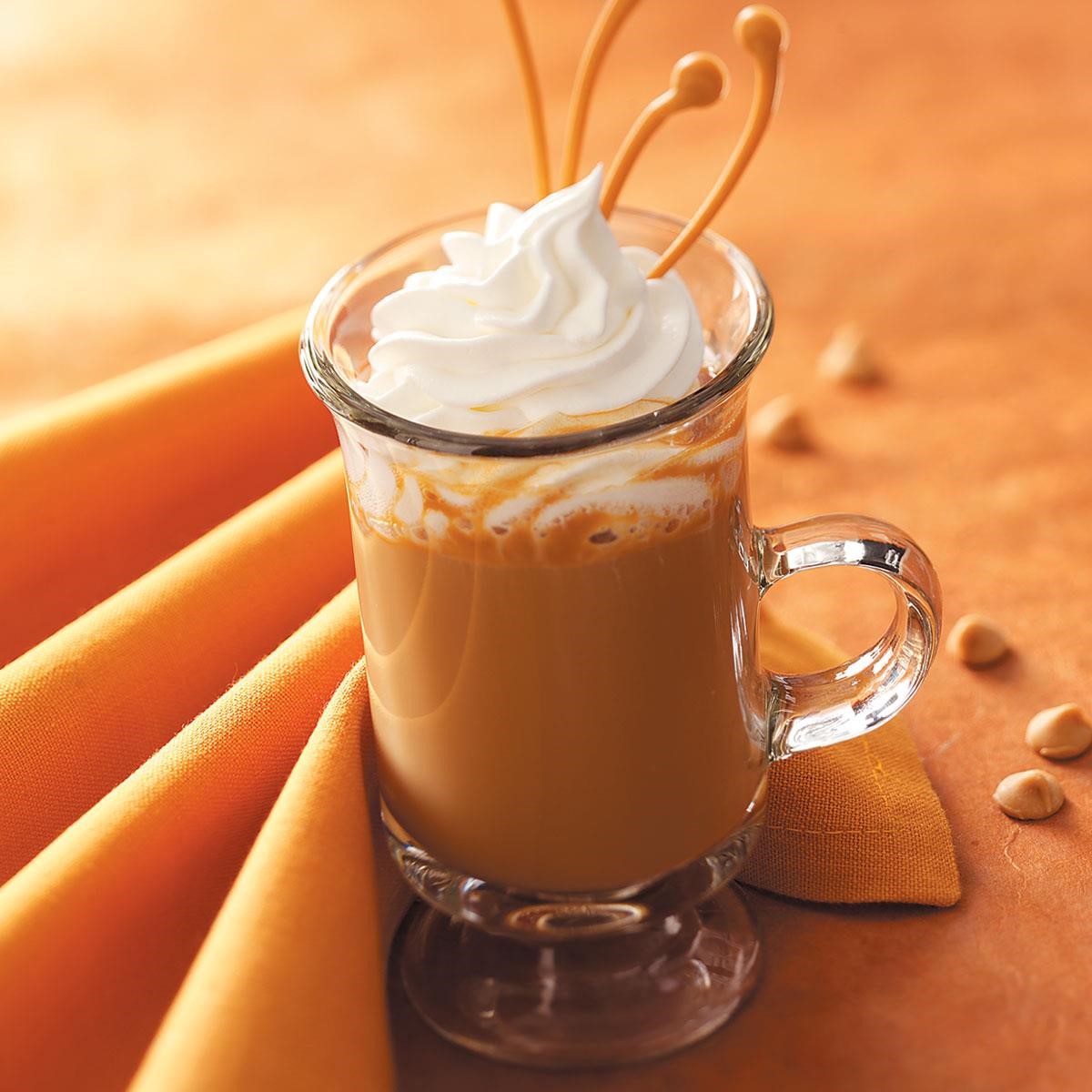 Here is another simple drink for cold nights in the cold season. If you are craving a warm drink, you should not miss out on Butterscotch Caramel Coffee. This coffee is ideal to serve at the party because you can easily make it in a large portion at a time. Plus, you can make it within 5 minutes. Other than that, there are only a few ingredients like coffee, cinnamon, butterscotch schnapps, heavy cream, caramel, and caramel sauce. Moreover, if you like to be sweeter, you can top it with whipped cream. This drink is good for adults, but not for kids because of the butterscotch schnapps containing alcoholic flavor. For the non-alcoholic version, you can replace butterscotch syrup instead of butterscotch schnapps. Your kids will surely love these drinks. Don't forget to add this coffee to your holiday list!
4. Mexican Spiced Mocha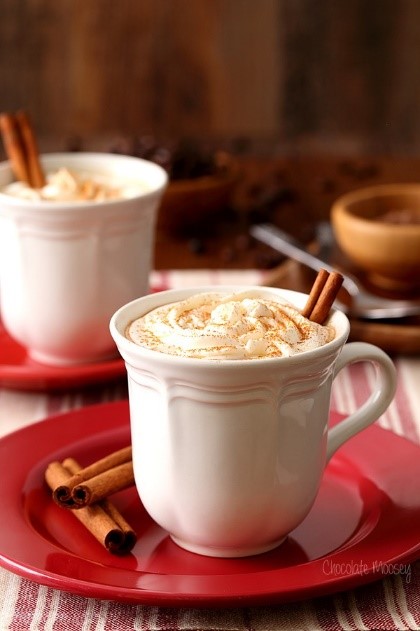 This is when coffee meets hot chocolate in this Mexican spiced mocha. With the extra help of cinnamon and chili powder, it keeps you awake when you need it the most. The Mexican Spiced Mocha is a very popular coffee. What are the things that make this coffee? Well, there are only a few ingredients needed to make such as powdered sugar, cocoa powder, chili powder, and milk. Chili powder can be a bit difficult for many people to drink, but you can adjust it at your level. Plus, adding whipped cream and garnish with ground cinnamon help to increase the aroma of the drinks instantly. This spiced mocha might not be the best choice in general. However, for those who love spice in their coffee, you really need to add it to the list. You can find this Mexican Spiced Mocha in many coffee shops as well. If you don't want to go out or spend a lot of money, you can make it at home too by putting in the abovementioned ingredients.
3. Mocha Mistletoe Coffee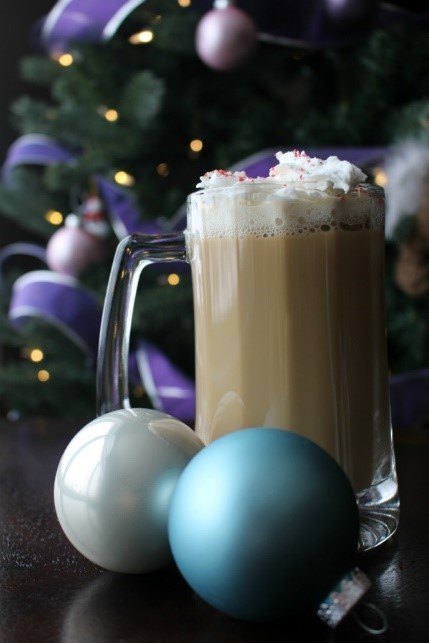 If you want to stick with the basic coffee drink, a very traditional one in the holiday season, Mocha Mistle Coffee should be in your first thought. As simple as it is, this mocha coffee would not take you a lot of time to make. The main ingredients are coffee and hot chocolate. If you are feeling extra festive, you can add Kahlua or even Bailey's Irish Cream Liquor to the drink. The coffee is super traditional, but also fancy at the same time with varieties of topping as your preference such as crush candy canes, sprinkles, whipped cream, or chocolate drizzle. However, if you are on a budget, you can consider making a single cup of coffee at home with your coffee machine. Therefore, you can enjoy your most favorable coffee drink at home!
2. S'mores Latte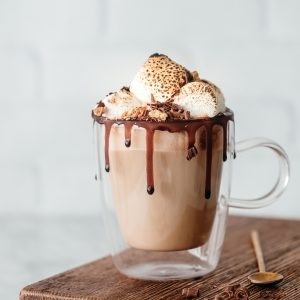 S'mores Latte is one of the most pleasurable drinks during the holiday season with the combination of chocolate and coffee. The most exciting part of this latte is a combination of your favorite childhood treat that turns it into liquid. What is the flavor? The latte is not sickeningly sweet, instead, it has all the flavors of your favorite campfire treat. Plus, there are few ingredients within this coffee latte, such as chocolate syrup, cracker crumbs, ground coffee, milk, and marshmallows. With all these inputs, you will make one of the most decadent coffee drinks ever.
Winter can't be Winter without S'mores latte. You will need just 5 minutes to put together this S'more latte. In addition, every coffee shop always includes this drink on their menu during the holiday season. If you do not want to miss your childhood treat, you should put it on your favorite list.
1. White Chocolate Cinnamon Latte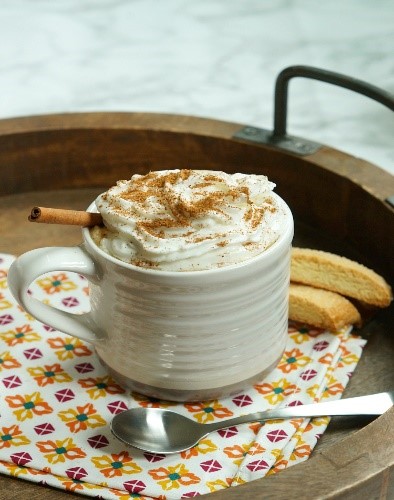 Impress your guests with White Chocolate Cinnamon Latte, they will surely enjoy drinking it so much. To make this drink, there are only a few ingredients including blend coffee, cinnamon stick, white chocolate chips, vanilla, and cinnamon. Putting all the ingredients in the slow cooker for 2 to 3 hours until the chocolate is melting. Then stir it and add to the mug for serving. Moreover, there are many options for garnishing. You can opt for things like cinnamon, cinnamon stick, or whipped cream. Most importantly, this latte can be made quickly at home with a coffee machine. At the same time, you can make this drink for many people. However, if you are lazy to do it, just go to the coffee shop and buy it straightaway. Don't forget to grab it during winter time.
Final Words
Drinking coffee is one of the most common things to do during cold weather. It's a traditional habit but also a way of expressing love to your family and friends. The 10 drinks above are the most popular drinks during the winter time. Have you ever tried one of those? If not, add it to your list right now. Moreover, all these drinks are easy to find because they are available in many coffee shops. You can also make it at home by yourself because it has only a few ingredients to make. Plus, you can also be more creative to impress your guests as well. We hope that you can find a perfect drink and enjoy it with your loved one during this holiday season.
References