No matter what the season is, a cup of coffee will always accompany all coffee lovers getting through every hardship. A cup of hot coffee will warm them up during the winter season. On the other hand, a cup of warm coffee drink will warm up their cold hand during the rainy season. In contrast, a glass of cold coffee drink will lower their body heat during the summer season.
But, how about in springtime? The weather is not too cold nor too hot during the spring season. Thus, what types of coffee drinks fit the best during that season?
You stuck with your idea, don't you? Do not worry, we are here to answer the question. It is true that the weather in springtime is so comfortable, yet it is also the time for plants to blossom. Consequently, the lovely flower of lavender rose, and so on should be an incredible ingredient for preparing a cup of coffee.
This article contains 11 fancy coffee drinks for this lovely springtime with a recipe description for homemade. Not wasting time anymore, let's check it out!
1. The Lavender Latte
The lavender latte would be the perfect one for the first week of the spring season. It is super springy. With that said, this light and spring season coffee is extremely famous in the spring season. The flowery lavender provides a modern spin on top of the classic expresso.
The lavender latte is slightly sweet and deliciously hot. Honestly, a delicate way to consume is to drink iced as it tastes like ice cream. Additionally, you can try to make a lavender latte at home.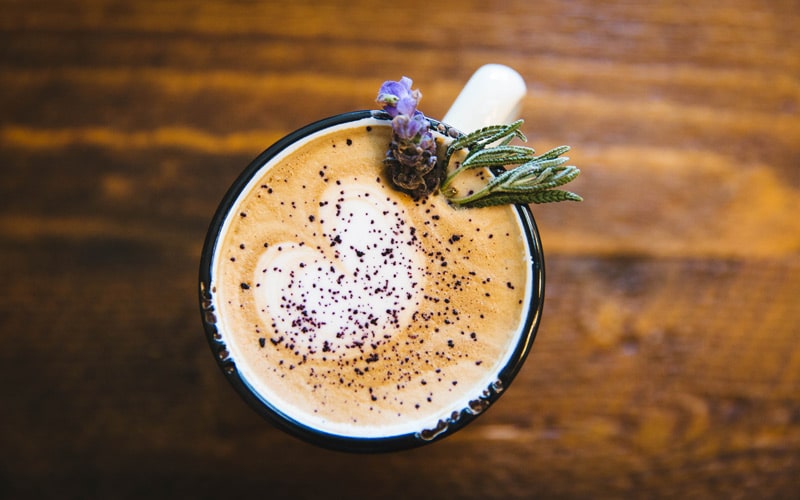 Ingredients
Lavender Vanilla Syrup
1/2 cup of sugar
1/2 cup of water
2 teaspoons of dried culinary lavender
2 sprigs of fresh lavender
1 vanilla bean split in half
1/2 teaspoon of vanilla extract
Latte
6 ounces of milk
2 shots of espresso
2 tablespoons of lavender vanilla syrup
Fresh lavender sprig
Firstly, prepare a saucepan over medium-low heat then add in sugar, water, lavender, and vanilla bean. Secondly, whisk the mixture till the sugar dissolves. Then, brings the mixture to a simmer and cook for 1 minute. 
After that, turn off the heat as well as set the saucepan aside to let it cool. At the same time, strain the mixture through a fine-mesh sieve for removing the lavender. Then, you can stir in the vanilla extract and store it in a sealed container in the fridge. Finally, add milk and lavender vanilla syrup in a large iced glass and stir together well with espresso. Do not forget to garnish with fresh lavender for a good appearance.
2. Café Con Miel (Spanish Coffee)
Café con Miel is a Spanish coffee style that includes milk, honey, vanilla, cinnamon, and nutmeg as ingredients. Therefore, it is low on fuss yet big on taste. It is a sweet and flavorful coffee that fits in the spring season. Also, it takes only 5 minutes to prepare and make. You also can try it with blueberry extract for an additional spring season taste.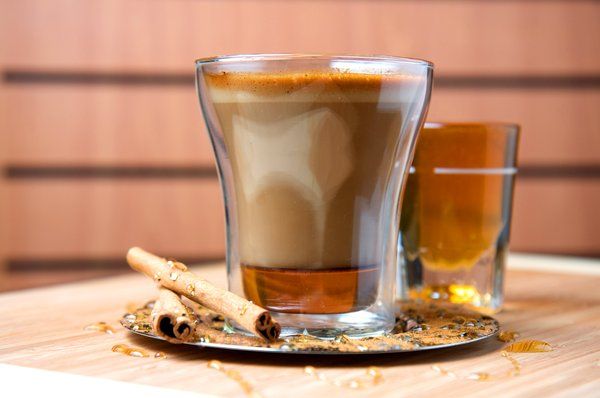 Ingredients
2 cups of freshly brewed drip coffee
1/2 cup of milk
4 tablespoons of honey
1/8 tablespoons of pure vanilla extract
1/8 tablespoons of cinnamon
Dash nutmeg
To make Café con Miel, combine all of those ingredients into a small pot. After that, boil them on low heat. Start stirring continuously until honey dissolves. In the end, you will enjoy a tasty hot Café con Miel. Serve hot is specifically delicious than cool.
3. Iced Coffee Vietnamese Style
Vietnamese iced coffee is a thick, creamy and delicious drink that is made from sweetened condensed milk. Moreover, it has a strong and dark taste. There are 2 ways to make this kind of coffee including using a heatproof container method or a metal filter. The Vietnamese iced coffee is super convenient to make.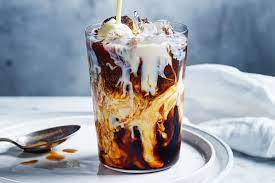 Sum-Up of Ingredients
2 tablespoons of dark-roast ground coffee
2 tablespoons of sweetened condensed milk
Firstly, just steep coffee grounds in a heatproof container or a metal filter with 2/3 cup boiling water for 4 minutes. Secondly, pour the liquid through a coffee filter into a heatproof glass. Bringing 1 cup of water to a boil and removing the top screen from the filter to add coffee, then screw on the top screen. After that, place a filter over a heatproof 12 oz cup. At the same time, pour a splash of hot water into the filter to bloom the coffee grounds.
As soon as coffee begins to drip, just add enough water to reach the filter top and let coffee drip for 4 minutes with the lid on the filter. Remember to gently loosen the screw when coffee stops dripping for relieving pressure. Lastly, stir in sweetened condensed milk until blended with ice.
4. Raspberry Mocha
The combination of raspberries and chocolate is a matching flavor made in this spring season. No doubt that a cup of coffee with these tasty raspberry chocolate flavors is just like you'd get at a professional coffee shop even if you make it at home. Besides that, a refreshing and crisp way to vitalize your mocha is the existence of mint. However, there are not many people who enjoy mint, so below is the raspberry mocha recipe.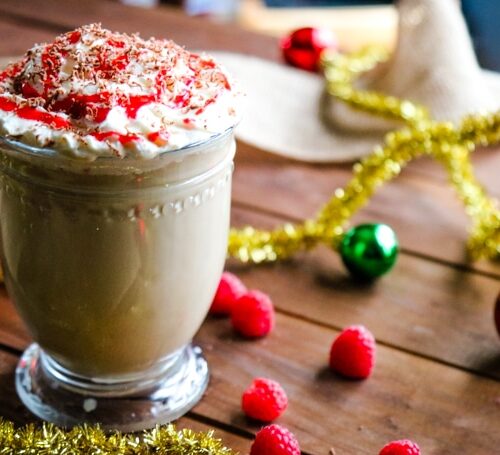 Ingredients
1/3 cup of cold heavy cream
1 tablespoon of powdered sugar
1 tablespoon of unsweetened cocoa powder
1/8 teaspoons of vanilla extract
1 cup of milk
4 tablespoons of raspberry-flavored syrup, divided
4 tablespoons of chocolate syrup
1/2 cup of strong brewed Roast Coffee
Fresh red raspberries
Firstly, pour heavy cream with powdered sugar, cocoa as well as vanilla into a small bowl. Then, whip them with an electric mixer on low speed till cream starts to thicken and beat on high speed for a thick consistency. Next, place milk in the microwave for 1.5 minutes or until it is hot.
Also, whisk the milk till foamy. After that, pour the raspberry syrup and chocolate syrup into steamed coffee cups and put them in the microwave for 20 seconds. Lastly, stir the coffee with milk and top chocolate whipped cream over the coffee. Remember to garnish with raspberries for a delicious serve.
5. Iced Americano
The weather in spring is warming up so our coffee should be cooling down. A cup of iced americano is simple and classic coffee. It is extremely perfect for all espresso lovers. The iced Americano contains nothing more than brewed espresso, water, and some cubes of ice.
It comes as a great way to cut unneeded sugar out of your life without giving up the taste of your favorite espresso. In a simple way, the iced Americano is shots of espresso topped with cold water to produce a light layer of crema, then served over ice.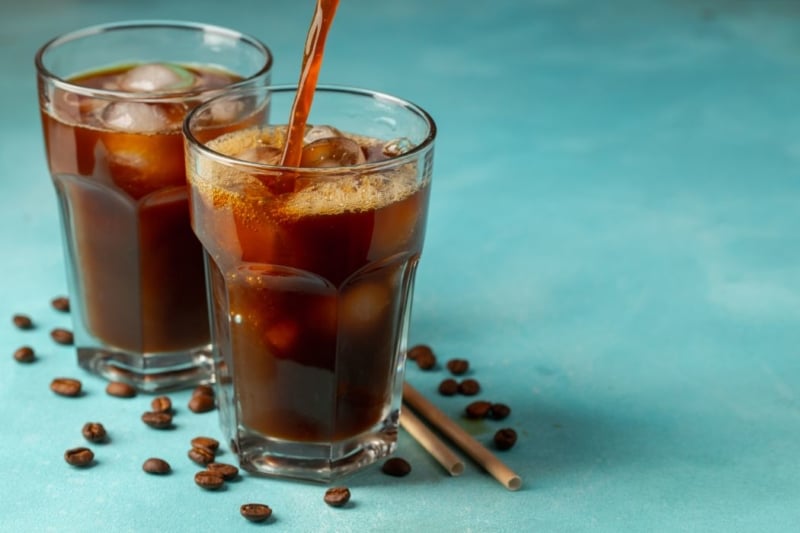 Sum-Up of Ingredients
2 ounces brewed espresso
6 ounces water
2 to 3 ice cubes
To make this unsweetened espresso taste, you have to brew extra-strong espresso first. Then set it aside for a few minutes. After that, add a glass of water with ice cubes. In the last step, pour the brewed espresso into the glass and stir well.
6. Caramel Frappuccino
Caramel Frappuccino is one of the famous coffee drinks during the spring season for years. The existence of its perfect-fit ingredients such as instant coffee or espresso, caramel, milk, and ice will lead you to a cool and relaxing zone unexpectedly. The Caramel Frappuccino might be an incredible drink for those who especially love drinking coffee with caramel flavor.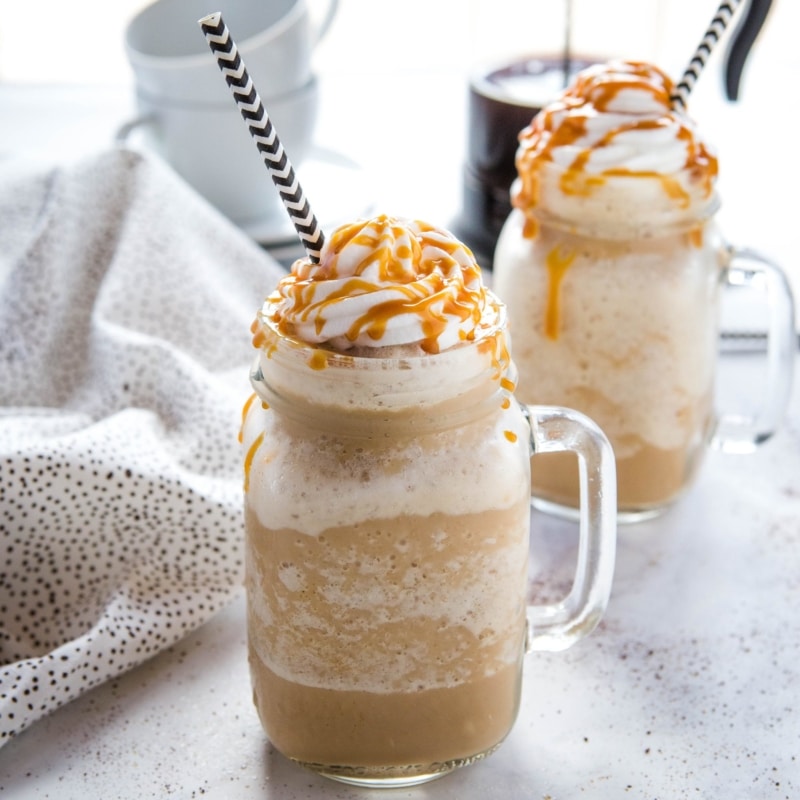 Ingredients
1/2 cup of strong coffee or espresso
1/2 cup of milk
2 cups of ice cubes
2 tablespoons of liquid honey
1/4 cup of caramel sauce
Whipped cream and caramel sauce for topping
Lucky thing is that you can make the caramel Frappuccino at home if you desire. Firstly, combine prepared coffee, milk, ice cubes, honey, and caramel sauce to the blender on medium speed until it becomes creamy and smooth. Secondly, pour them into a glass. After that top whipped cream as well as caramel sauce on the glass. As a result, you will gain a glass of tasty caramel Frappuccino to enjoy with a straw.
7. Sea Salt Cream Iced Coffee
Sea Salt Cream Iced Coffee might be made you strange at first with its flavors together. Yet, I am sure it will turn out to be an amazing taste during springtime. You are going to draw in and be addicted to its flavors. From that point of view, you will get so many different levels of taste going on. Begins with the bitter and slightly sweetened coffee to the smooth salted cream to point out the other flavors.
Ingredients
1 cup of whipping cream
1/2 teaspoon of sea salt
4 cups of strong cooled coffee
3 to 6 Tablespoons of sugar
1/2 to 3/4 cup of simple syrup
At the first step, you have to combine salt and cream in the prepared bowl. Then start whipping the cream until slightly thickened without large bubbles remaining. After that just set it aside.
The next step, sweeten your coffee by using either sugar or simple syrup. Remember the coffee should be sweet enough to balance the saltiness of the cream. Finally, fill ice in a glass and pour the coffee into the glass over ice with two large spoonfuls of salted cream on top.
8. Rose Cappuccino
During the spring season, why not treat yourself with a specialty rose cappuccino. It mixes rose water into milk with light espresso which makes the whole drink full of lovely garden roses taste. Furthermore, the taste of light espresso perfectly fits all of the coffee lovers in this springtime. Besides, you can make the Rose Cappuccino by just following the recipe below.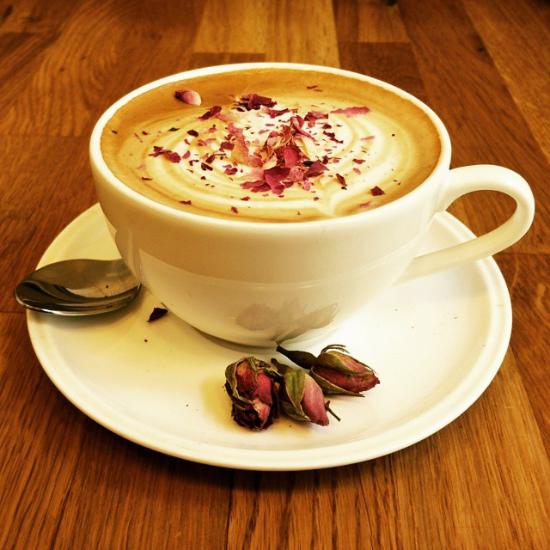 Ingredients
Expresso
100 ml cold milk
Rosewater
White chocolate flakes
Crystallized rose petals
Firstly, combine a thin layer of white chocolate flakes with rose water to the glass bottom, then place it directly under your coffee dispenser. Secondly, brewing a single espresso which is at the desired level of aroma to cover it.
After that, fill the coffee with 100 ml of cold milk. Do not forget to prepare a cup of cold milk foam at the maximum level of froth. Next, you just mix the cold milk foam with the rose water and pour them over the hot espresso. Finally, crystallized rose petals and white chocolate flakes for decoration.
10. Irish Iced Coffee
The days are getting longer, which means spring nights are almost upon us. For an evening drink, try a cup of Irish Iced, which is a great drink to wake you up and get your evening started properly. Irish Iced Coffee is considered to be one of the wonderful cocktails and it has a simple way to brew. With that said, all of the ingredients are not complicated to prepare this kind of drink.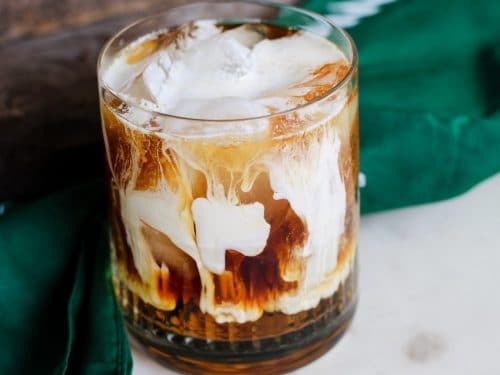 Ingredients
2 sugar cubes (white sugar, brown sugar, a combination of sweeteners)
1/5 oz whiskey
6 oz of hot coffee
Whipped cream
First and foremost, you need to brew fresh coffee. You can use espresso for strongly flavored drinks. Furthermore, your glass for Irish coffee is required to warm up. Then you can add hot coffee to about 3/4 full of glass. Follow with 2 cocktail sugar cubes and stir well to a fully dissolved. Nest step just adds sugar for the sweeter. After that, start pouring the 1/5 oz of Irish Whisky into the mixture as well as stir well. Finally, lightly top the whipped cream. Check out the best collection of Irish glass here.
10. Cold Coffee Bloody Mary
Coffee Bloody Mary is a good combination of cold brew coffee with tomato juice. You might think it tastes weird. But, trust me, this combination of cold brew coffee and tomato juice will shock every coffee lover at their first sip. This cold brew coffee is sweet, delicate without a hint of bitterness which is perfect for the summer and spring months.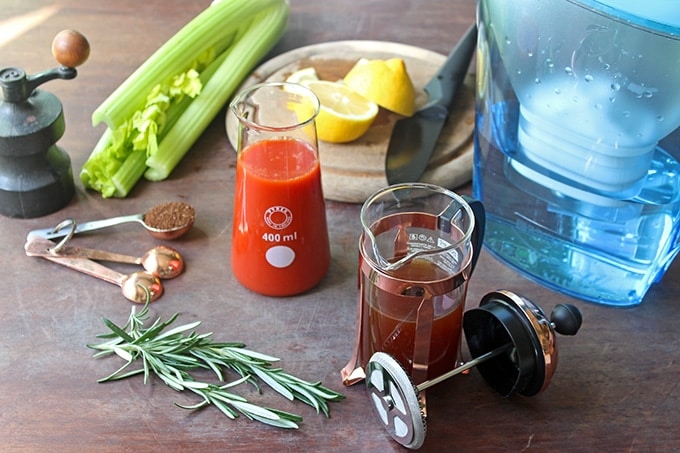 Ingredients
75ml cold brew coffee
15ml freshly squeezed lemon juice
75ml tomato juice
15ml sugar syrup
Tabasco, Worcestershire Sauce, and Black Pepper
Celery Stick & Rosemary Sprig
Make the sugar syrup using 1 part sugar to 2 parts BRITA filtered water at your first step. At the second step just mix the cold brew coffee, lemon juice, tomato juice with sugar syrup in an iced glass and stir well. You can adjust the taste with Tabasco, Worcestershire Sauce, and freshly ground black pepper. Last but not least, garnish with a sprig of rosemary and enjoy the taste of Cold Coffee Bloody Mary.
11. Iced Mandarin Orange Coffee
The last option coffee drink we should never overlook during the spring season is Iced Mandarin Orange Coffee. It is a wonderful flavor combination of chocolate, coffee, mandarin orange, cinnamon, and nutmeg. Likewise, it becomes a real treat when pouring them over ice. The important thing is to serve without stirring the cream. As a result, you will be able to drink two layers of creamy.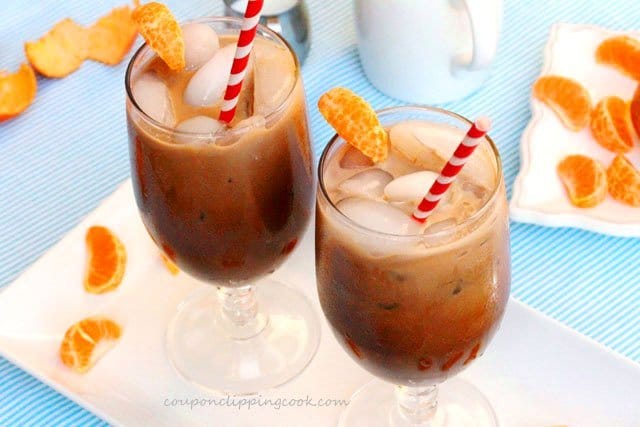 Ingredients
2 cups of milk
1/4 cup of cocoa powder
1/4 cup of granulated sugar
1 tablespoon of instant coffee granules
1/2 teaspoon of ground cinnamon
1/4 teaspoon of ground nutmeg
3 Clementine mandarin oranges
1 pinch of ground cloves optional
1/4 cup of cream
First and foremost, add milk, cocoa powder, sugar, instant coffee granules, cinnamon, nutmeg, and the juice from 3 clementine oranges in a small pan on medium heat. Add just a super small pinch of ground cloves if you prefer cloves to taste.
Remember to turn the heat down when the mixture begins to boil and stir them continuously till it becomes thick. Then set the pan to cold aside for 15 minutes and stir a few times. Pour the mixture into iced glasses, leave it about 2 inches of space from the top, and add cream to the coffee mocha. The last step just garnishes with a segment of a clementine orange.
Conclusion
Do you enjoy drinking coffee, especially during the warm weather in spring break? Have you ever tried one of these coffee drinks? If the answer is "no", it is time for you to start an action and try those drinks during this season.
From that point of view, the above-listed recipes are the real fancy coffee drinks to enjoy during your lovely spring season. More than that they all can be handmade which means you do not have to go out to grab one at the coffee shop every day during this COVID-19 caution. Therefore, no longer hesitate and move up your confidence to grab a new talent.
References