People have different taste, some may prefer iced latte, black coffee and else, though those sweeteners and creamers are mostly contain lots of calories and sugar, even it is good for the body but still you should break the norm of your daily drink and try some these new favorable flavors that blend well with coffee. Sometimes, having the same drink over and over again can be a bit boring to your tongue, so why not allow your tongue to have some extra spice flavors. Those extra flavors are natural plants, so having these with coffee combinations might sound a bit yuck, but trust me once you have a try, nothing could beat the richness of its flavors.
As a fact that black coffee is already boosting your healthy lifestyle, but it would not be that bad if you could add some extra flavors on it, yet those spices could also energize your body and mood even better. So, there are 12 suggesting extra flavors that blend well with your coffee.
Cinnamon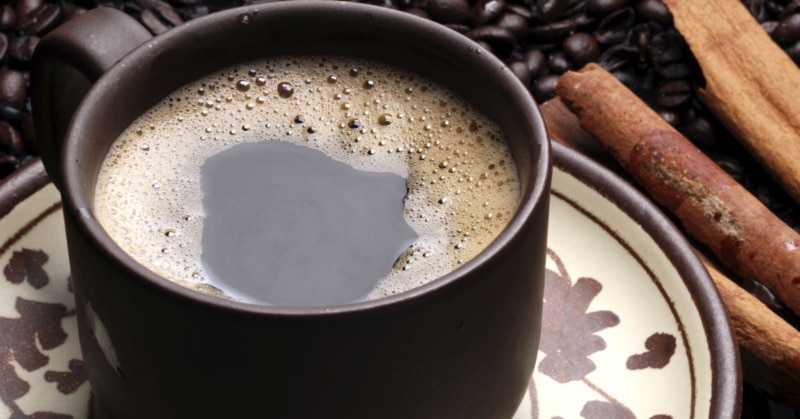 Cinnamon, a natural plant that is used for cooking and even as a medication has such a rich benefit in helping the body to push out the toxins and freshening up the mood. So, adding cinnamon to your coffee would not be that bad and nothing new at all since some people would take cinnamon to imbue with the coffee bean to give cinnamon a more playing role rather than sprinkling the cinnamon on top or touch a bit into the brewing process. There are different methods in making this drink that you can either use the cinnamon powder, pulverize the cinnamon sticks with your coffee, or sprinkle the cinnamon to the ground of your serving cup before adding water, then you can stir it well and sips it up. However, it is recommended that putting your cinnamon first could give you a strong taste of it to your coffee.
Ginger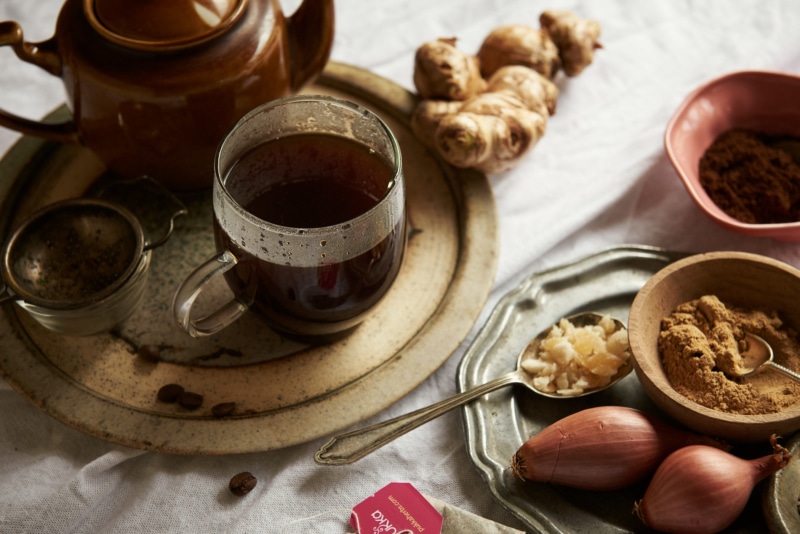 Ginger is not so different from cinnamon as a natural plant but the strong sense of its richness is another story. Ginger can loosen up sort of sickness such as fever, flu, headache and else, that is why ginger is more preferred to other spices. Ginger is so beneficial in mixing with drinks like tea or coffee. Ginger with tea sounds normal, but with coffee? A bit strange, isn't it? Despite its strangeness, adding ginger to your coffee could be an extra benefit to your health, relieving the stress level and freshen up the mood. You do not need to put the whole ginger into it, a few slices would be cool, ginger powder would also be fine but it is said that the fresher the ginger, the better the taste. Adding ginger to your coffee would be a good combination as a hot drink with slices of ginger. If you do want the slices, you can also use the ginger powder to supplement the slices which is also fresh and nice.
Lavender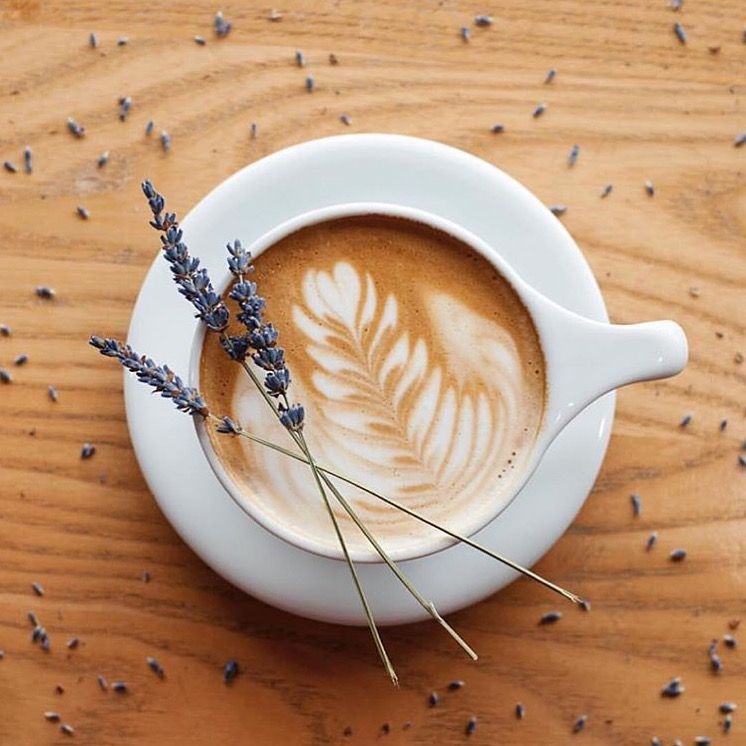 Lavender is 90% everyone's favorite companion since it goes well with so many variables, soaps, ice creams, fragrance and so. So, surely it does no miscount on coffee; mostly people only hear lavender with tea but adding lavender to coffee is also a thing, because lavender is a kind of plant/flower that gives such a pleasant smell to freshen up ourselves, mood and our thought, especially during a tough day. So why not give yourself something to enjoy, like a cup of coffee brewed with extra flavor of lavender, this could really help to relieve and energize your body. To make this drink, you can add lavender sprinkles in your ground coffee or add a few drops of lavender oil to your brewed coffee then you are good to have sips. In whichever way, it all tastes great, and this drink fits so well during your tough day, to relieve stress, for winter.
Raw Egg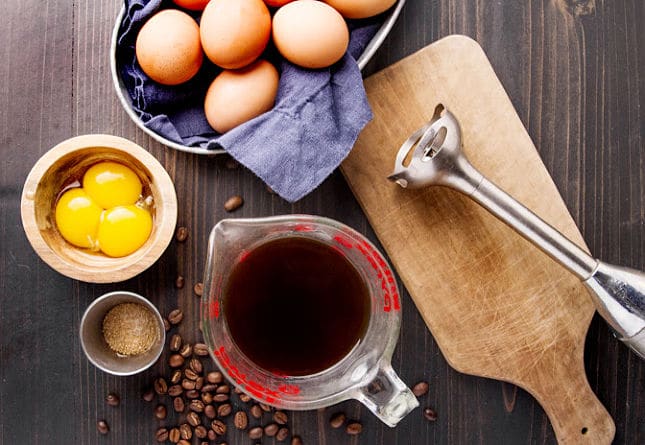 At this point of discussion, I am not going to lie but raw egg is no exception to coffee, it goes so well and tastes so great together. Adding raw egg to your cup of coffee is like combining the proteins of both egg and coffee together and it sounds like an energy drink but actually this is a normal coffee with extra raw add. Raw egg is one of the best combinations to hot coffee, nothing could beat it's kind of flavor. You should try it, raw egg with coffee is not that disgusting, but instead it gives you that slightly creamy taste after all and it does boost your vibe for the day. If you are interested, get an egg, do not separate the yolk or the white egg just put it all in and yeahh you have your delicious coffee ready to rock your day.
Peppermint Oil
Peppermint oil appears to be perfectly suitable as an extra flavor to coffee due to its high scent that can help in promoting positive and calming feelings for drinkers. Peppermint oil has such specialty in inducing the pains, dry lips, heartburn and else. Though, adding this to peppermint oil to your coffee will not affect your health, instead awaken your sense of peace. However, you should only add a little drop of peppermint oil to your coffee to allow its fresh aroma to go along with your brewed coffee, because peppermint oil has such a strong scent so if you add too much of peppermint oil, it could invade the texture of your coffee so your coffee will lose its taste. By righting a cup of coffee with peppermint oil, you just need to get a stick or a toothpick, which is perfect, and insert it into your bottle of peppermint oil then put it in your cup of coffee and swirl it well. Also, if you prefer to have more peppermint oil, you can also repeat the steps, by doing so it can protect your coffee from the overflow of peppermint oil in it.
Coconut Oil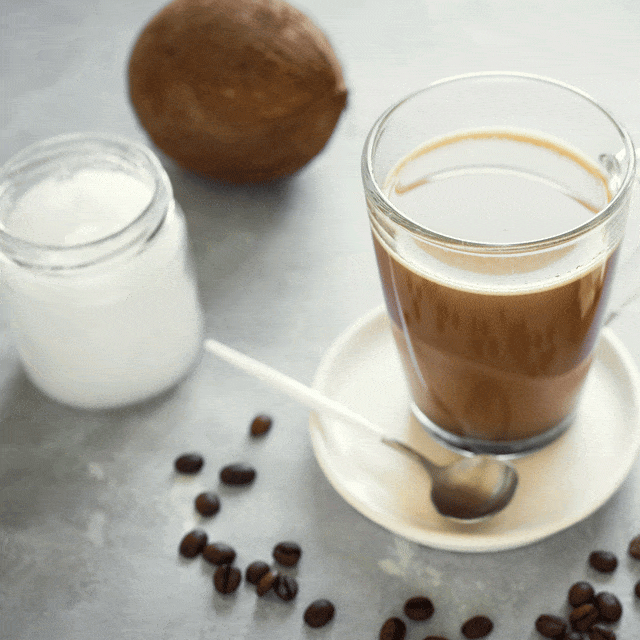 Coconut oil is not only playing a role as a nutrition in benefiting your health but it can also be a flavor to any food or drink, and not to mention the fact that adding coconut oil to coffee can give such a creamy texture to your coffee and that nice smell of coconut which reflects a good combination together. Coconut oil has its nickname as a superfood that contains a high amount of fats, but this is not necessarily bad, instead coconut oil has that medium-chain triacylglycerol that links to weight loss and it also improves your immune system to fight all the bacteria. So, do not ignore the weirdness of this drink because its weirdness brings about the changes in you. A cup of this drink in the morning can freshen your brain and boost more productivity to your daily work.
Salt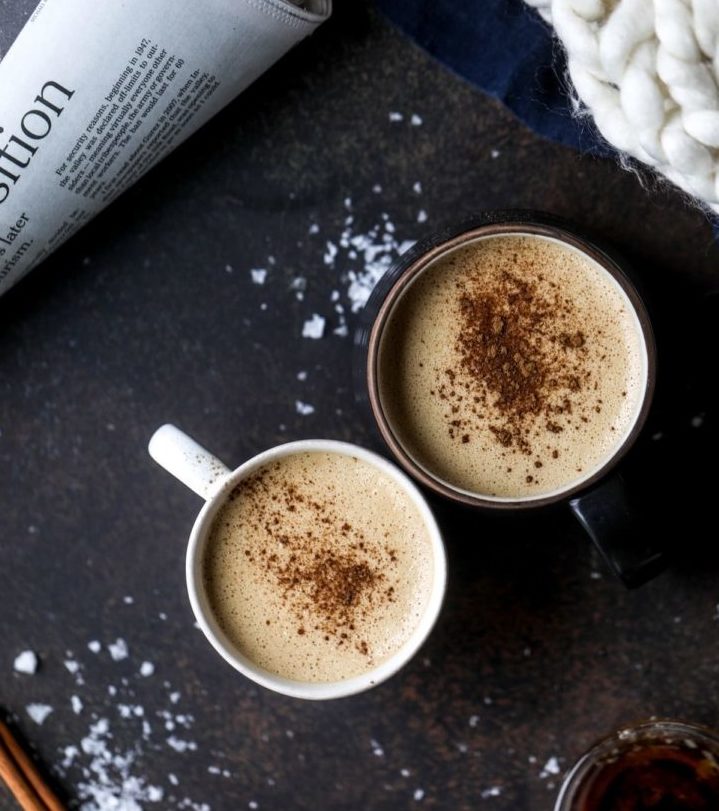 This might be a bit weird hearing that salt can be put in coffee because mostly we only use sugar or milk. Let me turn around a bit to the advantages of salt, salt is a kind of mineral that contains a high level of sodium, it helps to maintain a balance of fluid in your blood, reduce blood pressure and act as a nerve transmission. Howbeit, we normally know that salt is used in food and other cooking, but in coffee? Won't it affect the value of coffee? The answer is no, it does not affect the value of your brewed coffee, but Yes, it does help ejecting the strong bitterness of your coffee and at the same time it also rebuilds the sodium you lose when you drink your coffee. Simply meaning that you do not want sugar to play a role in your coffee, so adding salt in your better choice to your coffee is helping in eliminating the bitter taste. And this works well when you do not want to have a high level of sugar in your body.
Maple Syrup
Maple syrup is rich in its taste, nutrition which goes well with coffee. Maple syrup also does contain a high level of calcium, magnesium and potassium that white sugar does not have. So, adding maple syrup to your coffee can give you a nice extra flavor and texture to your coffee and nutritious your body too. Maple syrup can go with either cold or hot coffee because it does not need to dissolve, you just need to stir it nicely to get a good mixture and you are all set. Why do we need to add maple syrup? It is that adding maple syrup is somehow better than adding so much sugar because drinking so much of sweetness does not perform well your organ or your body, so having it moderately with maple syrup is better.
Hazelnut oil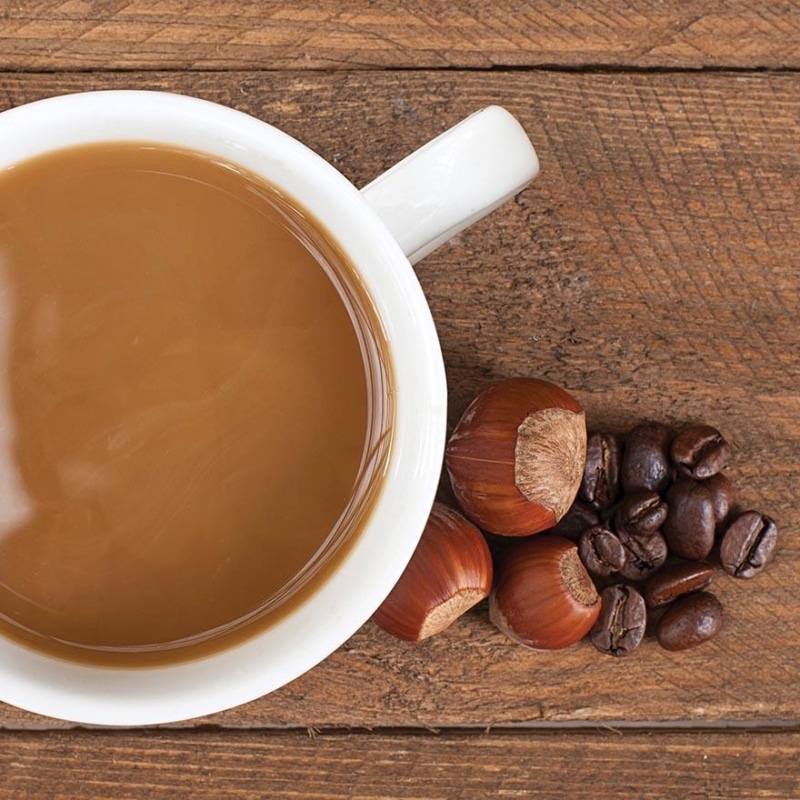 Hazelnut is so beneficial, it has so many functions and is nutritious including vitamins, minerals, antioxidants components that help your body to function more effectively and improve your immune system. As said, it is a health benefit. So, adding hazelnut to grinding with your coffee is also good or else you can use hazelnut oil a few drops to your brewed coffee to have a little more extra flavor of hazelnut. I admit that everyone has different taste in coffee, so adding any flavors to your coffee is based on their preference. Yet, this flavor is one of the best recommended flavors to suggest for drinkers who seek a diet coffee but still want to enjoy their best cup of coffee, hazelnut oil and coffee is the best combination you should never neglect, best taste is there, unless you try it.
Rose Water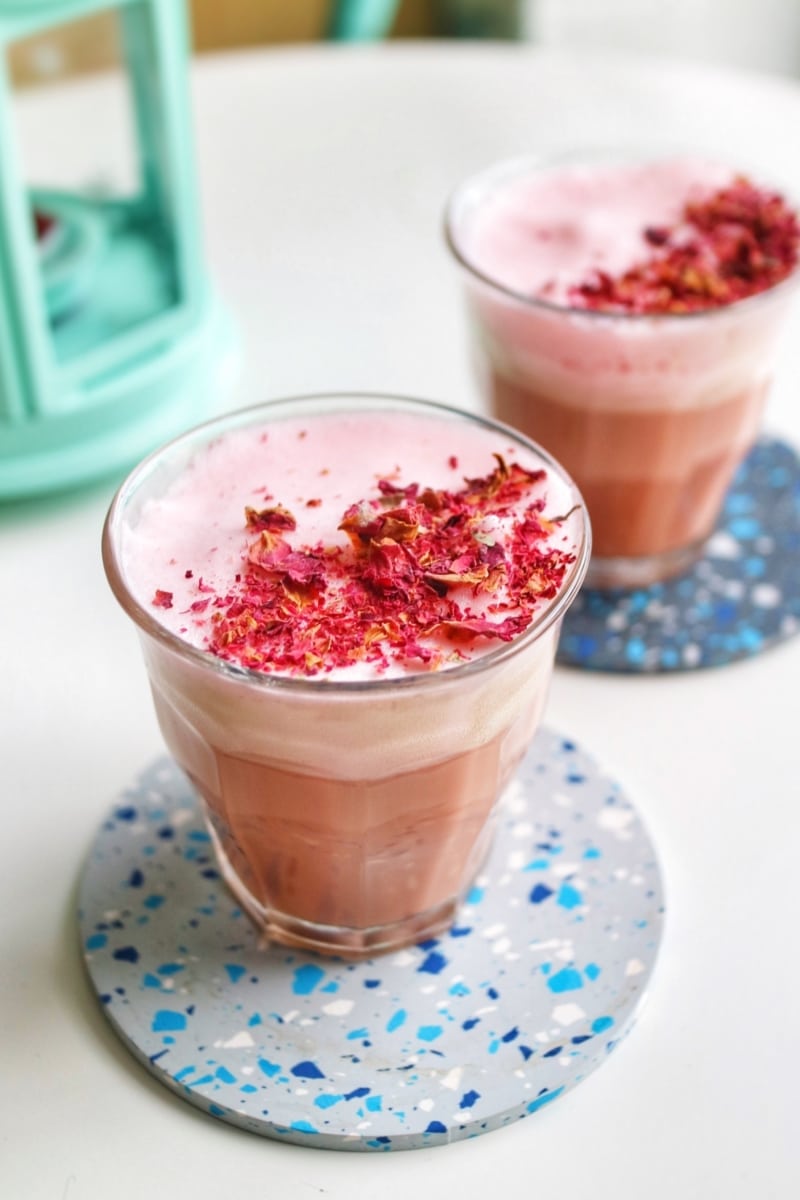 You probably only know about rose water as fragrances and you might find it weird if it is added into coffee, like why do they add rose water into coffee, right? So yeah, here is the answer, as the inhalation of rose water helps brighten up the mood, so does the liquid that we can orally drink or use as an extra flavor to coffee. Adding rose water into coffee is well recommended because as rose water has that sweet and floral flavor and it helps in loosening your stresses and lightening up the mood and also at the same time you can also enjoy your favorite cup of coffee. Though, using rose water in drinks is not new at all, it happened originally in the Middle East where people usually put it in tea or coffee along with other spices as they believe it could help to maintain a healthy lifestyle by reducing the stress level, digestion and anxiety. So, if you are having a bad day or under weather, you should have a cup of rose water coffee, it will brighten your mood.
Pumpkin Pie Spice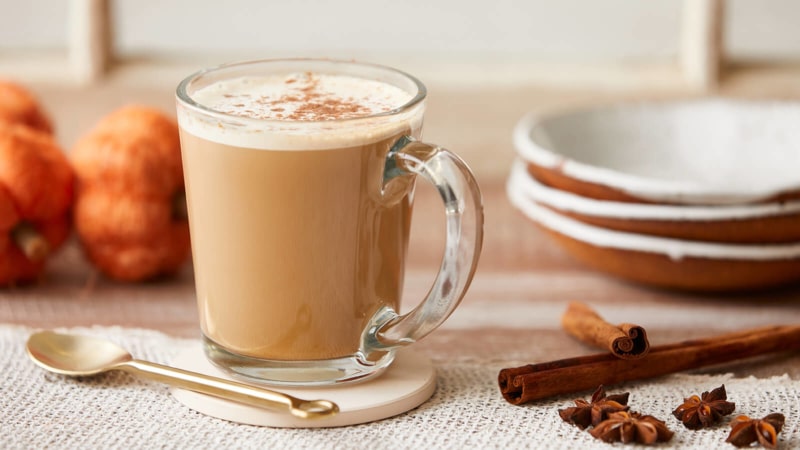 Pumpkin has already served a large amount of nutrition, vitamins and proteins in itself alone, so considering using it as an extra flavor into coffee? Why not, right? Adding pumpkin spice into coffee is one of the greatest choices, why? Because as it can give you the sweetness of pumpkin flavor and the little bitterness of your nice brewed coffee which leads to a good combination cup of coffee flavored pumpkin pie drink, not only it does give you a great taste but it is nutritious, can be your go-to in the morning or suit even better during winter and spring. So yeahh, give your tongue a nice flavor, wouldn't ya?
Condensed Milk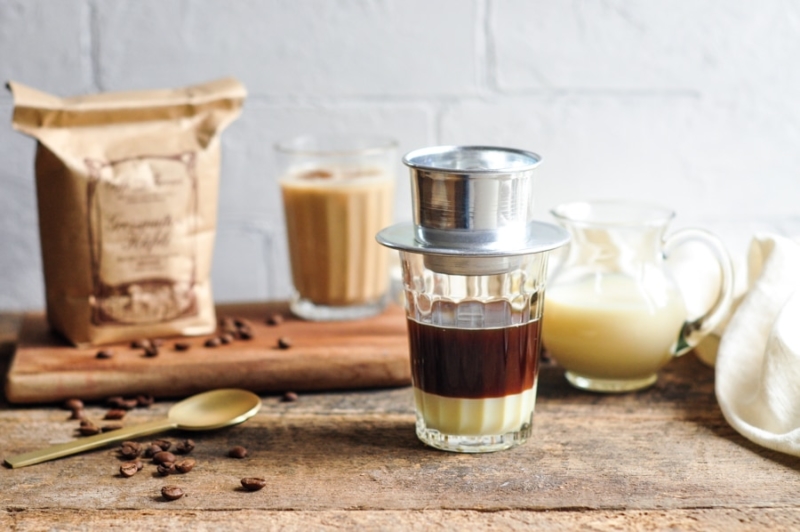 Condensed milk has its unique factor in adding flavor to your black coffee, it might not have much of the nutrition like other above-mentioned spices, but it does give you a good combination of sweet-bitter taste to your coffee. Condensed milk coffee is originally coming from a country of Southeast Asia, Vietnam, that it serves well for both hot and cold coffee. This drink has such an attractiveness of its smell and delicious flavor, even I sometimes crave for its well-mixed flavor.
To sum up, these 12 above-mentioned extra flavors that fit well with coffee are the most recommended flavors of all times. These are so nutritious which are perfectly good for our body, our brain, immune system, loosen our tough day at work, school or else that we could possibly use these good coffees for help. So, I hope you enjoy the briefs and folks, you should not miss it, better try these out.
References