During the hot sunny day or any day, you want to feel refreshed, iced cold coffee is one of the best cold drinks to lift up your mood. However, good coffee is not everywhere, and especially when you want to have a special sweetener that makes great coffee.
The first option we think of is sugar, but using sugar can result in having a pile of sugar gunk at the bottom of the coffee cup. The second option, besides sugar, is the store-bought coffee syrup, which is not a good option. The store-bought coffee syrup contains a lot of junk, and it is not a healthy choice for us. Talking about syrup, caramel syrup is one of the essential sweeteners.
If you like making coffee at home, want to stay healthy, and also looking for the syrup to sweeten your coffee, you have come to the right place. The healthiest way is to make yourself at home.
This article will guide you to some recipes of easy homemade caramel syrup, especially the nutrition information. Also, we will discuss the different facts about both caramel and other syrups, namely the similarities and differences between them.
Caramel syrup for coffee
It is very easy to make, and you can always make it by yourself at home in just a few minutes.
How to make a homemade caramel syrup
The store-bought coffee syrup is not always good, they can be unhealthy because they contain more calories and lack flavor. We advised you to make it at home if you want a cup of perfect flavored iced coffee.
With just an easy recipe, you can now make yourself a flavorful caramel iced coffee. This simple syrup is not hard to make, and it also gives your drink a rich flavor.
Ingredients to make caramel syrup
These are the ingredients you will need to have:
1 cup of sugar
¾ cup of water
1 teaspoon corn syrup
1 teaspoon vanilla extract
Salt (a pinch)
Instructions to make the syrup
The technique is different from making caramel for desserts, which requires you to be more careful. Then, there are a few instructions to follow:
First and foremost, there is no precise method to make caramel syrup for coffee, so you don't have to worry about heat or caramel color. The first step is to stir the mixture of sugar and water in the small pot over low heat.
Secondly, you add a bit of corn syrup because it helps you prevent the syrup from crystallizing in the pot. However, if you don't want to use corn syrup, drizzled honey is a good alternative, yet it will change the flavor slightly a bit.
Thirdly, when the sugar mixture is dissolved, set the heat to medium. Then, you cover the pot and cook it for about 2 minutes to start the caramel process. Next, you stir constantly until it gets the light amber color. If you want a deeper caramel flavor, you can stir it until it gets darker.
Fourthly, when it becomes the right color, be careful to remove it from the heat, add ½ cup of water, and stir it slowly. Also, you add a bit of vanilla and a small pinch of salt.
What is the best caramel syrup for coffee
What defines the caramel syrup for coffee might be depending on personal preference, but there is also a specific standard as well.
Starbucks Caramel Syrup recipe
For those who like the flavor of Starbucks caramel syrup, you come to the right place. The syrup from Starbucks that is pumped into coffee or frappuccino does not taste like homemade caramel. They taste more like butterscotch candy. Here is the caramel simple recipe you can follow, but remember that this recipe takes a bit longer than the normal homemade caramel syrup.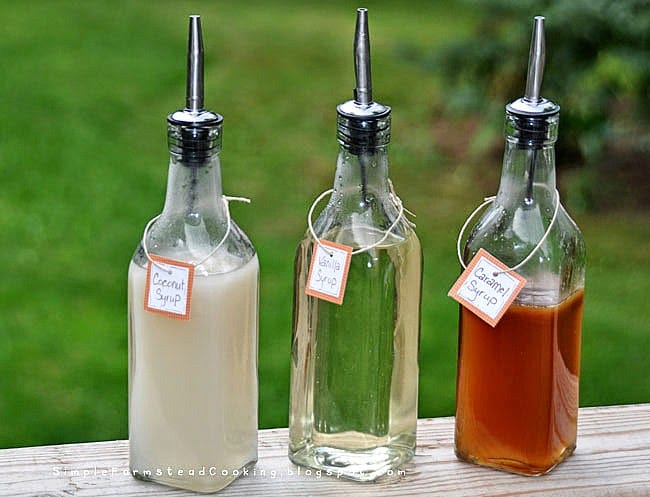 Directions:
First, dissolve the sugar in the water in the pan over medium-high heat, and do not stir. Let it dissolve on its own because stirring it may cause crystallization. When the sugar mixture boils, reduce the cooker heat to medium.
Secondly, let the mixture bubble over medium heat, until it gets light golden brown. Then remove it from the heat.
Thirdly, quickly stir the mixture once you remove it from the heat. Then add the caramel flavoring (which is optional) if you want extra flavor, and additional water.
Fourthly, let it cool before pouring it into the container for use. There you go, a homemade Starbuck caramel syrup for coffee.
Salted caramel syrup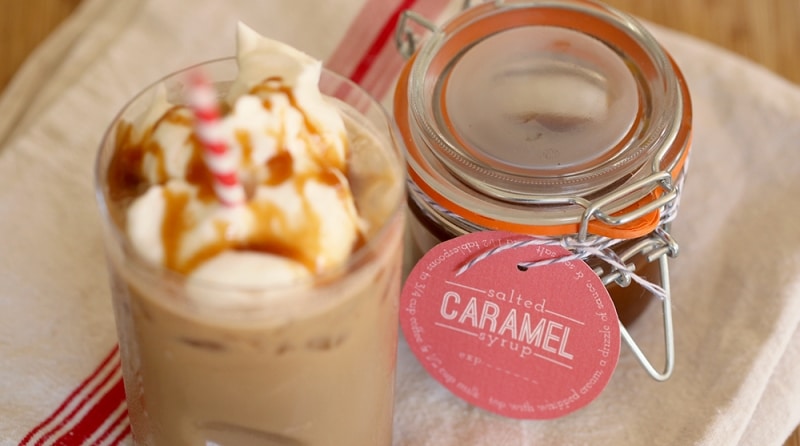 Ingredients:
1 cup of granulated sugar
6 Tbsp of salted butter, and cut up into 6 pieces
½ cup of heavy cream
1 teaspoon salt
Directions:
First, set the cooker to medium-high, and heat the sugar in the pot. Stirring constantly till it turns a light amber color. Sugar will later melt into a thick amber-colored liquid as you continue, but be careful not to burn.
Secondly, stir in butter, and heavy cream for 1 or 2 minutes.
Thirdly, remove from the heat, stir in the salt, and let it cool down.
Other syrups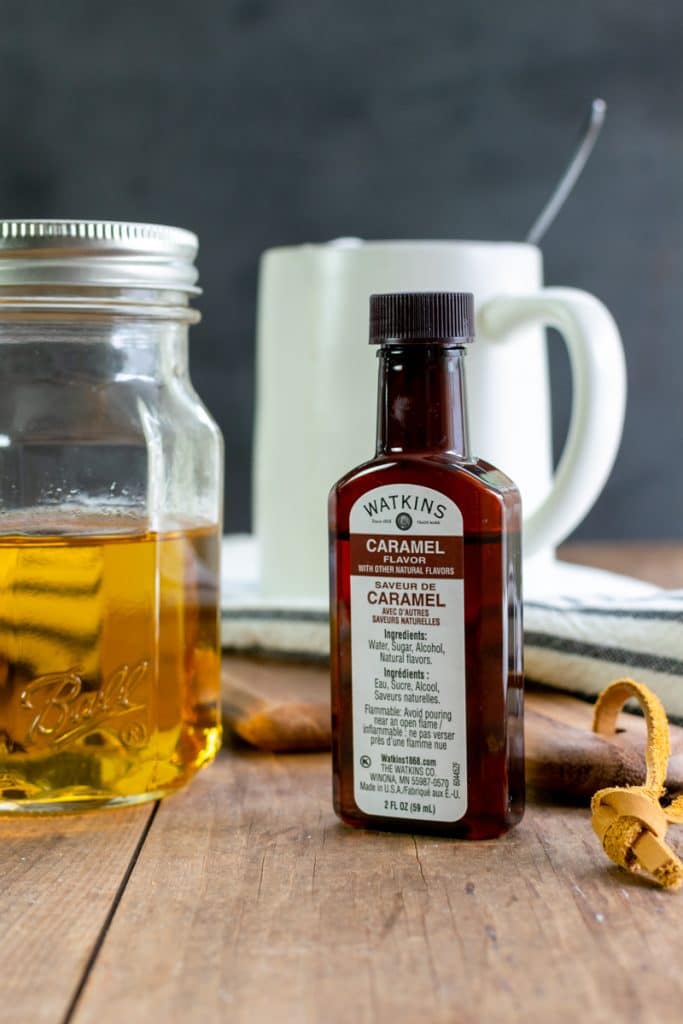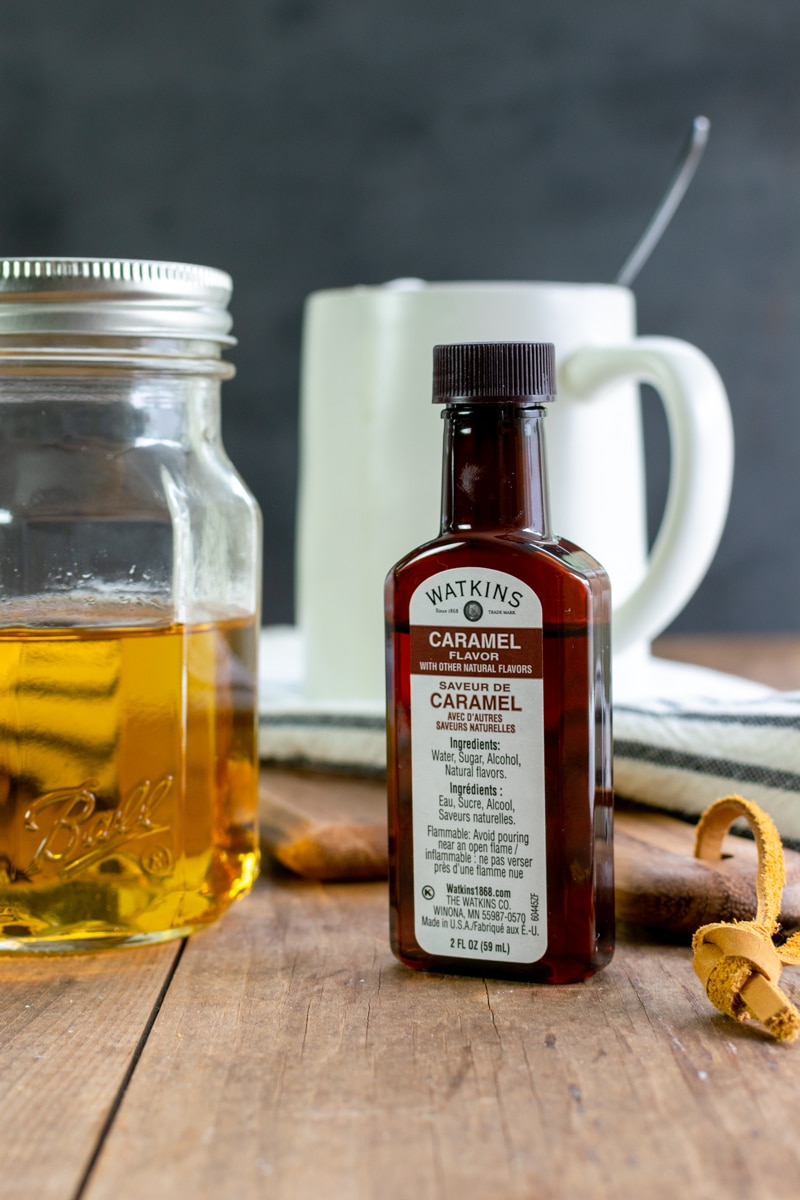 Besides caramel, there are other types of syrup that work well with coffee and other drinks. These are a few that are used to make beverages and add extra flavor such as corn syrup, cinnamon dolce syrup, hazelnut flavored syrup, vanilla syrup, and gingerbread-spiced syrup.
Chocolate caramel sauce
Ingredients:
Recipe from allrecipes.com:
1 cup of heavy cream
1 cup of corn syrup
½ cup of white sugar
½ cup of brown sugar
A pinch of salt
8 ounces of chopped milk chocolate
¼ cup of butter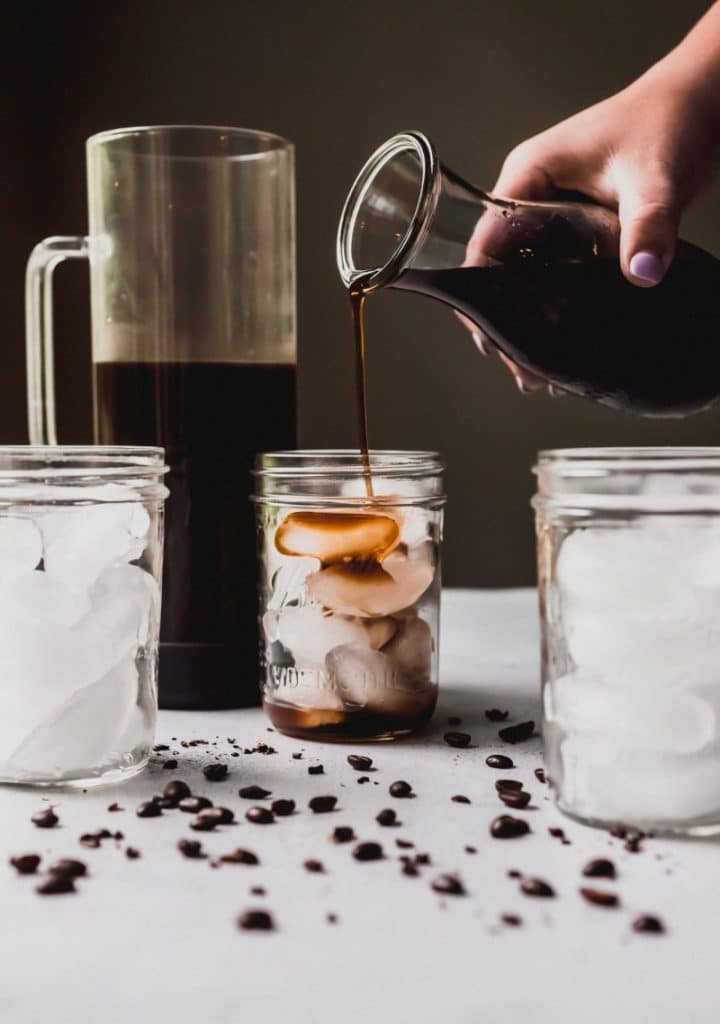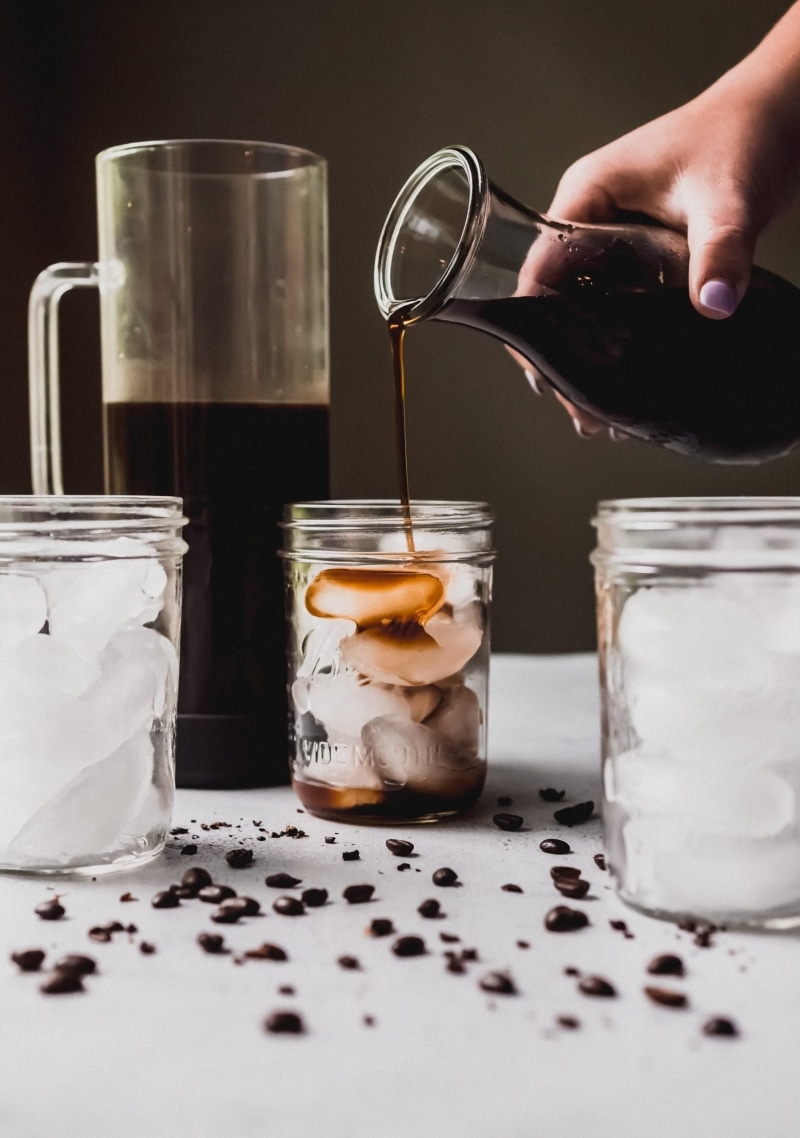 Directions:
Instructions Checklist:
Step 1
Stir together the cream, white sugar, corn syrup, brown sugar, and salt in a saucepan. Cook it over medium heat and continue to boil until the liquid becomes thick and dark brown. Boil it for 8 to 10 minutes. Remove from the heat and stir in the butter and chocolate until the mixture becomes smooth.
Step 2
Now you brew one or two shots of espresso. Add about 2 tablespoons of the syrup in a coffee mug. After that, you pour in a cup of steamed milk and stir, then lift from the bottom of the mug, until blended. For toppings, you can add chocolate shavings or whipped cream.
Nutrition information and beverages recipes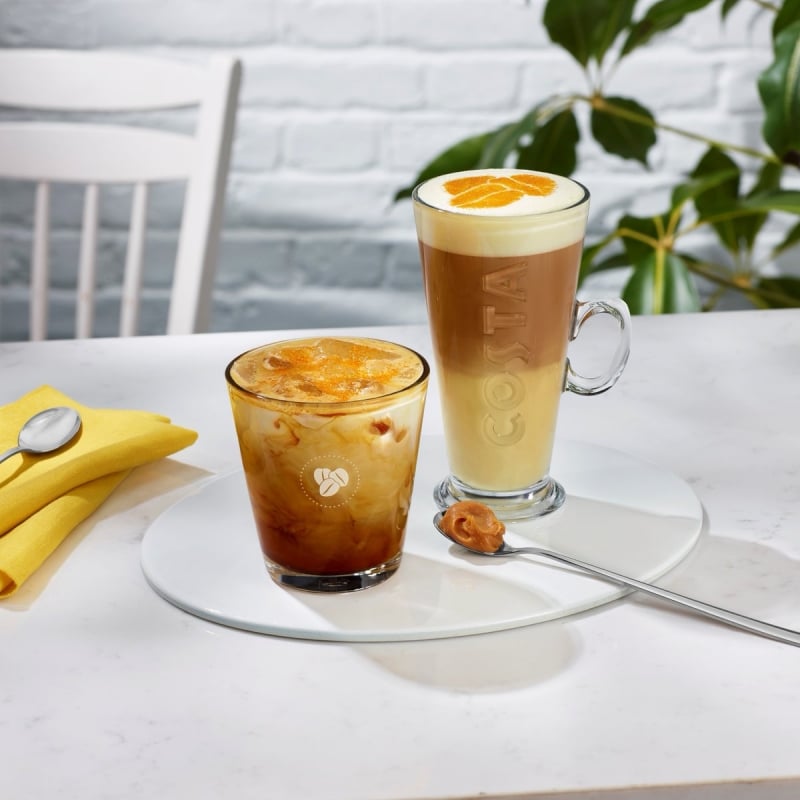 It is undeniable that syrup contains quite a lot of calories per serving, and here we will discuss a bit about its nutrition, and how its effects on health.
Nutritions
The nutrition in caramel sauce is based on the serving size. For 2 tablespoons of serving size, which is equal to 40 g, there is about 110 kCal.
Moreover, in the same serving size, there are 27g net carbs, 18g of sugar, 1g of protein, and 65g of sodium.
Caramel and calorie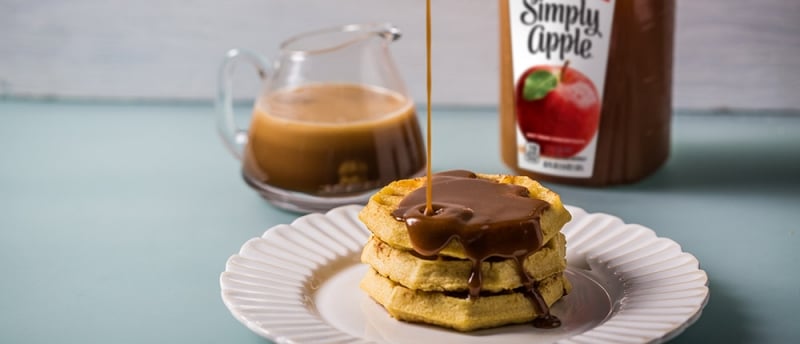 As we discussed in the above paragraph, caramel sauces exhibit a high amount of sugar, which is not a good option to consume for those who want to maintain consistent weight or lose weight.
If you consume more calories than you expend, you can gain weight. The calorie-rich food you consume generates energy, so when you eat foods that are calorie-rich frequently like caramel sauce or food with too much sweetness, it can cause the midsection to swell.
Most importantly, you should be cautious with calorie-rich food intake because it can lead to having the disease in the future.
Also, caramel is sugar. Drinking or eating too much sugar can increase triglyceride. Triglyceride is a type of fat that runs through the bloodstream. When there is an excess amount of it, it risks having heart disease.
Sodium content in caramel sauce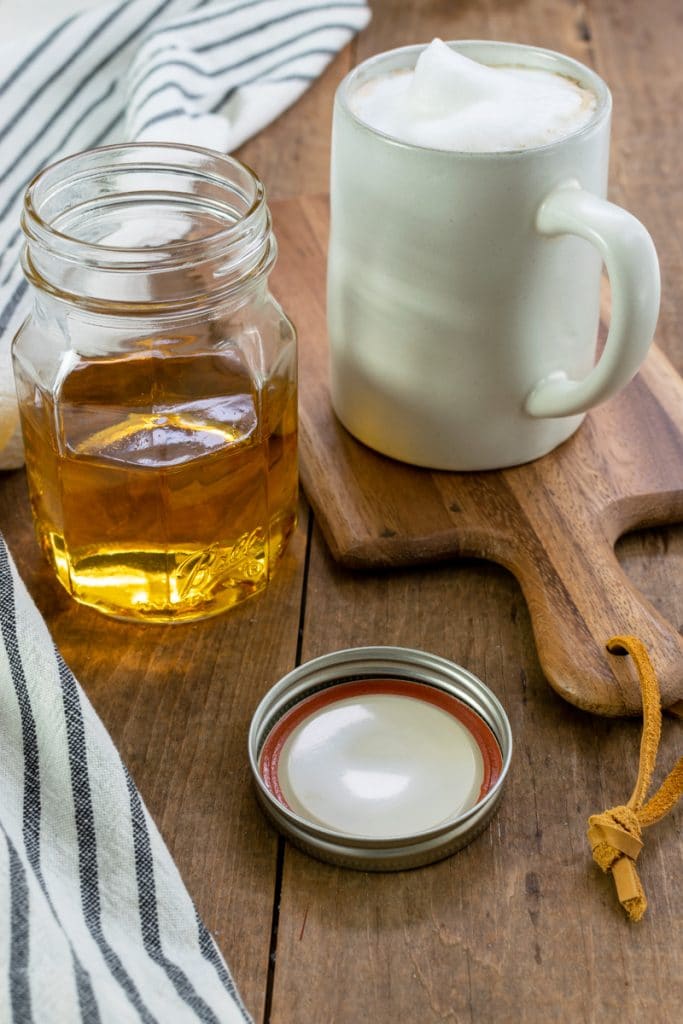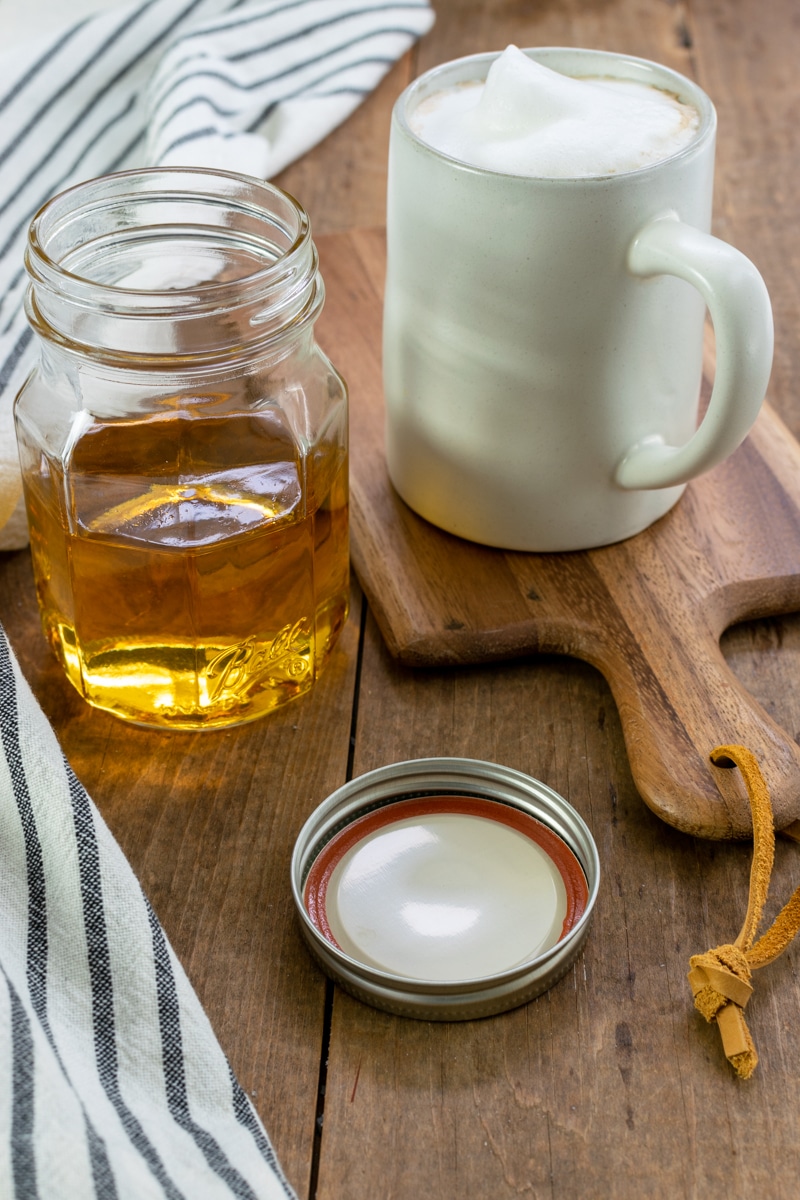 According to research, caramel has a pretty high content of sodium or salt. 2 tablespoons of caramel topping contains approximately 140 milligrams of sodium, which is about 10% of your daily value.
From that, you can easily and quickly exceed the value if you are not careful. The negative effect of over intake of the content can be harmful to our body and health.
Over intake can lead to such diseases including cardiovascular disease, edema, stroke, heartburn or cardiac enlargement.
You should know that there is potassium sorbate, which is the salt, but there isn't any saturated fat in caramel.
Other health concern
Eating too much caramel can cause other health problems as well.
First, it can damage your oral health from eating too much sweetness. Sugarcoating your teeth allows bacteria to grow. Therefore, the bacteria can cause acid to your teeth and make your tooth decay; this is according to the American Dental Health Association.
Second, caramel is a calorie-rich food, so it might cause unhealthy weight gain. On top of that, it makes you lack other nutritional substances.
What Coffee drink can you make with caramel flavor?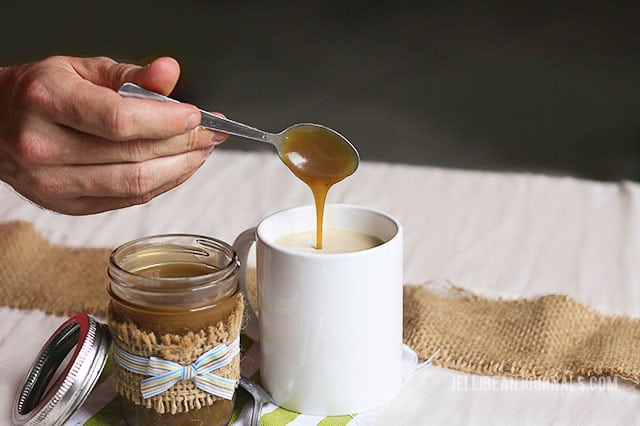 There are so many recipes you can try with caramel coffee syrup, here are some of the recommendations you can do at home.
Coffee based beverage
Caramel is often used for a variety of drinks, specifically coffee. It adds flavor and fragrance to these coffee based drinks.
You can follow the below coffee recipe as a recipe developer, or create your own.
Iced caramel latte
This recipe is inspired by All Recipe.
Ingredients:
½ cup of milk
1 tablespoon of brown sugar
1 tablespoon of sugar-free caramel topping
1 tablespoon of caramel sauce
¼ teaspoon of vanilla extract
1 cup of coffee
Directions:
Put milk and sugar in a small pot and cook it over medium heat. Cook it until it gets frothy and close to simmering, which takes about 3 minutes.
Then put it to low heat; whisk the caramel with vanilla extract, and mix with coffee. Add ice for iced coffee.
What about frozen caramel latte?
Add about ½ cup of ice for additional ingredients. Don't forget whipped cream for topping.
Put the espresso, sugar, and caramel in the blender. Blend it on high until it dissolves.
Pour milk in, and add the ice. Then, continue to blend the mixture until it becomes smooth and frothy.
Lastly, top your blended coffee with whipped cream before serving.
Keto salted caramel dalgona coffee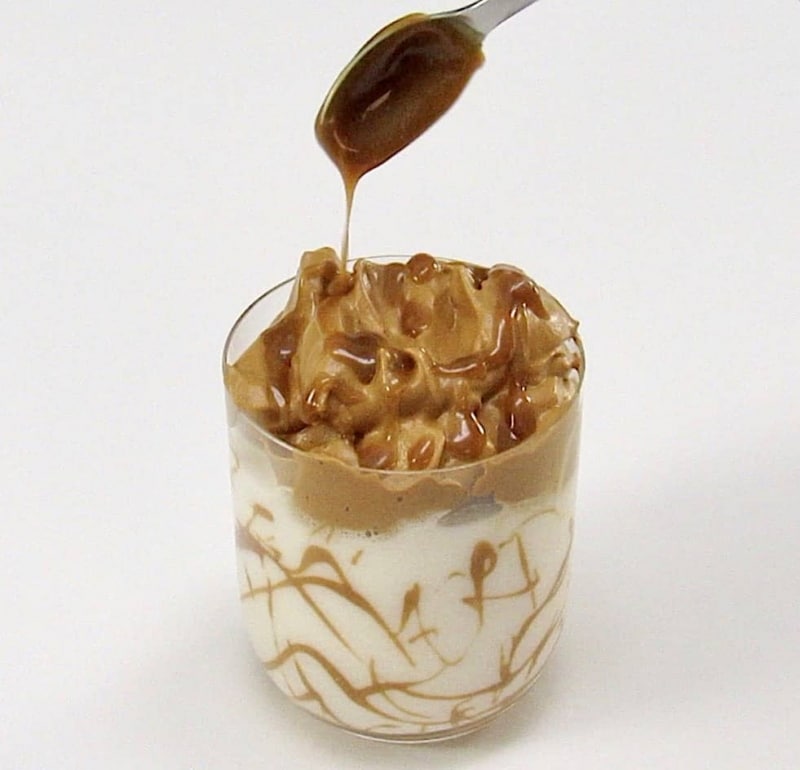 Dalgona coffee is one of the trendy drinks these days. This is how you make Keto salted caramel dalgona coffee.
Ingredients:
2.5 tbsp of espresso or instant coffee
2.5 tbsp of powdered monk fruit or erythritol
4 tsp of boiling water
2 tsp of sugar-free caramel syrup
2 cups of unsweetened nut milk
sprinkle of salt
Directions:
First, put coffee, sweetener, and hot water in a small bowl.
Second, mix it until smooth by using an electric mixer. You can hand whisk it but it's going to take about 10 minutes.
Third, mix in the caramel.
Fourthly, pour a cup of cold nut milk into the glass. Then top it with the Dalgona coffee foam, and sprinkle a bit of salt.
Take away
Caramel syrup is one of the sweeteners that are great to sweeten your iced coffee, gives your beverages a delicious flavor, and an amazing fragrance as well.
It is the best coffee gift specifically for the coffee lover!
References:
Check out: Salted Caramel Syrup for Coffee Recipe | Kin Community By Kin