Drinking coffee once a day helps to keep you awake and refreshed so that you are able to start your day feeling energetic for work or school. Moreover, coffee is not only good for your internal system but external as well and that means your skin.
Your skin is a very important barrier that keeps bacteria and other microorganisms that might cause you an infection. However, it also needs to regenerate so that the new cell will keep producing amino acids to create a new lively complexion as well.
That's why most dermatologists recommend you to exfoliate your skin by using a scrub, peeling solution, or wash off mask that will support your skin degenerates. Furthermore, if you are one of the coffee lovers, then these DIY coffee face packs would totally satisfy you. Therefore, I would like to introduce you to the DIY coffee face mask that you can just make at home with the abundant source that you can easily find at home or at the store.
Coffee With Turmeric and Yoghurt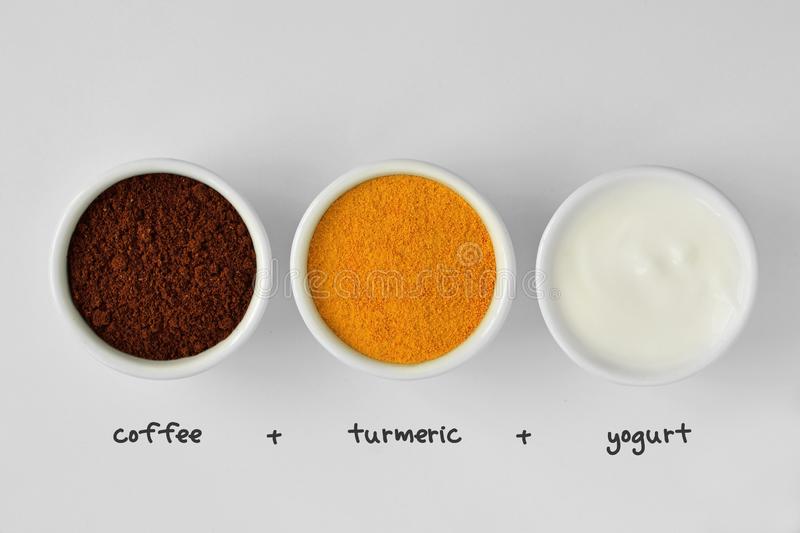 This is one of the great combos of the DIY coffee face mask that is suitable for acne-prone skin and acne scars. Moreover, turmeric is an antibacterial ingredient that helps fight acne and pimples. While yoghurt contains good fat that helps to keep your skin moist and reduce any excess oil from your sebum as well. Also, the main ingredient is coffee which is a specialty to exfoliate your skin with the antioxidant that provides the best smooth complexion.
How to use
Mixed 1 tablespoon coffee grounds , 1 teaspoon of turmeric and 1 tablespoon of yoghurt
Stirred them well with bowl directions facing you until it becomes a thicker paste
Apply to your skin and keep it for 5-10 minutes
Rinse it off with lukewarm water
Recommendation
Suitable for acne-prone skin and oily skin, use this mask 1-2 times a week for better result
Coffee With Aloe Vera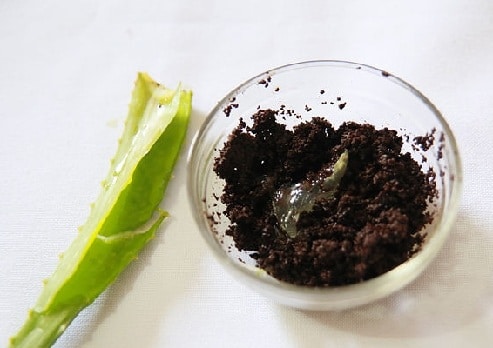 As you already know that aloe vera is a really beneficial plant for burning skin, sunburn, and even for healthy drinks as well. Since it already is a great abundant source as it is itself, mixing it with coffee even added up the formula to create a perfect coffee face mask. Furthermore, coffee helps to fight wrinkles and fine lines that make your skin look old and aloe vera help to keep your skin hydrated while regulating oil production as well. It also helps your skin fight acne and removes any harsh chemicals from your facial skin that you get from your makeup or skincare routine.
How to use
For this mask you can either use aloe vera gel or freshly mince aloe vera and for coffee I recommend using coffee powder
Mixed 1 tablespoon of coffee powder and the amount of aloe vera that you think is enough to create semi-liquid paste
Applying coffee mask on your face and gently message for the first 1- 2 minutes and leave it on for 5-10 minutes
Rinse it off with room temperature water
Recommendation
Suitable for sensitive skin, dry skin, use this mask twice a week
Coffee with Tamarind and Milk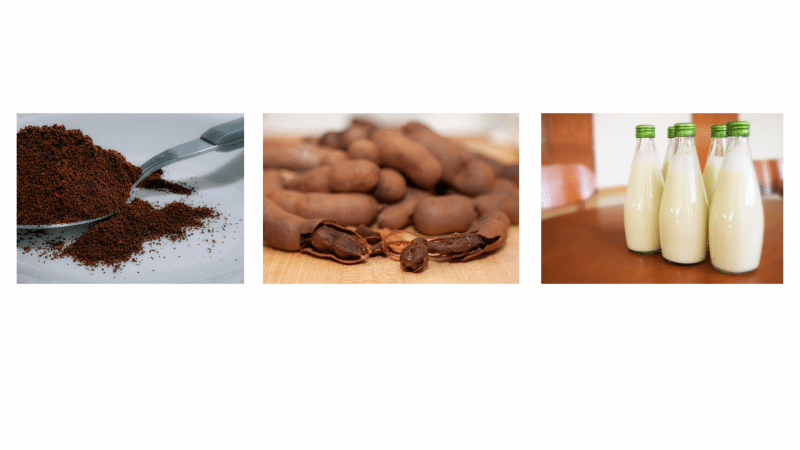 Tamarind is one kind of fruit that contains natural vitamins which help to remove any dark spots and under-eye circles. Moreover, milk contains cholesterol and protein that support your skin complexion to become brighter. Other than that, coffee will help to lighten your pigmented skin or spots to create a better complexion. These face masks will surely create a magical tightening effect so that your skin looks like it doesn't age at all.
How to use
For this recipe i recommend using coffee powder , tamarind powder and whole milk
Mixed 1 tablespoon of coffee powder and tamarind powder in a suitable amount to make it a thick paste
Apply this paste and keep it on for 5-10 minutes
Rinse it off with lukewarm water
Recommendation
Suitable for dull skin, scar and dry skin. Use coffee face masks once a week to keep your complexion
Coffee with Honey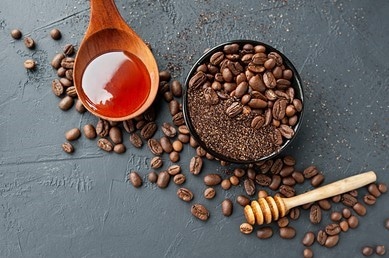 For these coffee face mask recipes, coffee plays a huge role in removing dead skin cells and providing a brighter skin tone. Moreover, honey consists of enormous antioxidants that would help to prevent bacteria and fungus from causing pimples and acne. Other than that, honey helps heal your old scar caused by fungus acne and stubborn breakouts. Also, those two merge together as a coffee face mask that would create a new complexion for your skin since honey naturally locks in moisture while coffee beans help regenerate your facial skin. Furthermore, these recipes are also ideal for a body scrub that help to improve the appearance of stretch marks and remove dead skin on your body part as well.
How to use
Used coffee grounds , cocoa powder and raw honey for this coffee face mask
Mixed 1 tablespoon of ground coffee and 2 tablespoons of raw honey
Apply the coffee face scrubs onto your sleepy skin , then gently massage for 1-2 minutes and leave for 5-10 minutes
Rinse it off with warm water
Recommendation
Suitable for dry and dull skin, acne scar, dark spots and dark circles, used it twice a week for better result
Coffee with Lemon Juice and Milk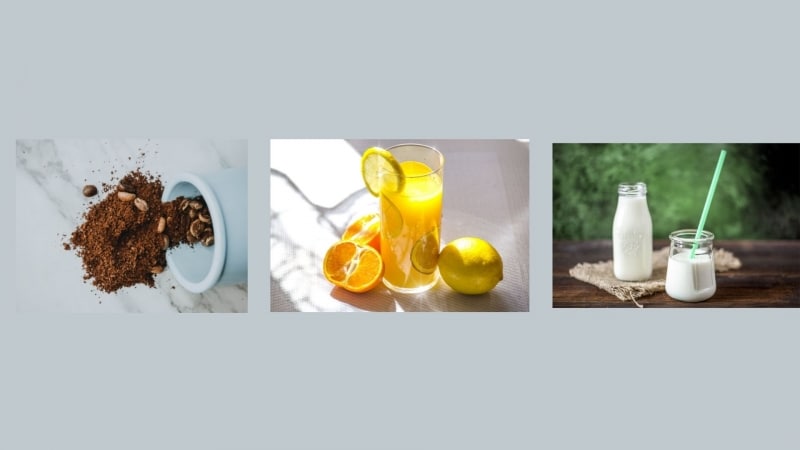 As you already know, lemon juice contains natural vitamins such as vitamin C, free radicals that help to give your skin a healthy glow. Other than that, this natural vitamin C provides magical tightening effects which help make you look younger than your actual age. Also, in this combo mask coffee beans reduce inflammation while rejuvenating your skin at the same time. Another thing is that milk contains vitamin B12 that is one of the main keys to producing red blood cells that help with your blood flow so that your skin absorption becomes more effective..
How to use
For this coffee mask , you can use additional lemon juice and for milk you can either use almond milk , unsweetened whole milk
Mixed 1 tablespoons of ground coffee , 2 teaspoons of lemon juice and 5ml of milk
Apply the coffee mask for 5-15 minutes
Rinse it off with cool water
Recommendation
Suitable for extra oily skin, freckles and wrinkle treatment, dark spots and scarred skin types
Coffee With Organic Oil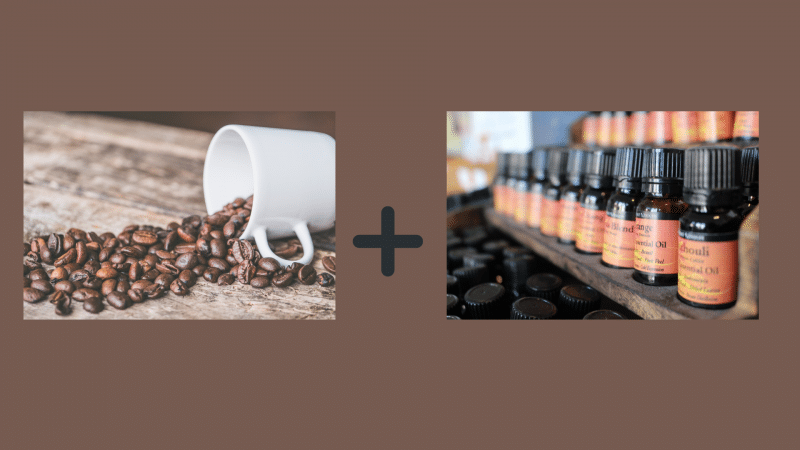 This coffee mask is a combination of coffee beans with organic oil that will boost your puffy eyes. Moreover, organic oil such as coconut oil, olive, or almond oil contains natural fatty acid and folic acid that help to heal your skin that is affected by rash chemicals and make your skin firm. Also coffee provides extra antioxidants that prevent skin from aging and keep your skin hydrated with organic oil. Since it is a great combination many beauty companies started to make it as a daily skincare routine mask for the facial and body as well.
How to use
For this coffee mask , you should use coffee powder or cocoa powder and as for the organic oil you can either seed oil , olive oil , almond oil , coconut oil according to your like
Mixed 1 tablespoon of coffee powder and 10-15 drops of the organic oil
Apply the coffee mask onto your face and leave it for 5-10 minutes
Rinse it off with warm water
Recommendation
Suitable for dehydrated skin, puffy eyes and sleepy skin. Use this mask once a week
Overall
As you can see, people mostly buy pre-ground coffee in the coffee good category, so that they can easily grab a cup of coffee while staying indoors working. Therefore those ingredients that they purchase not only coffee but home recipe ingredients cocoa powder can be more than just food recipes but also a skincare recipe like these coffee face masks to boost your skin complexion, texture and appearance as well. With the coffee face mask benefits, you will find not only your face but your body layer becomes healthier and more delicate. So as a coffee lover I hope all of the descriptions above would make interests in coffee become more exciting.
References
Review 10 BEST 2-INGREDIENT FACE MASKS FOR CLEAR, GLOWING AND HEALTHY SKIN By LITTLE DIY