When it comes to coffee makers, it is important to choose one that works well for you, because it is an item that you will most likely use at least once a day. We recently put the Cuisinart 14-Cup Brew Central Programmable Coffeemaker, automatic within 24 hours through its paces to see if it lived up to its reputation for producing a strong—and hot—cup of coffee.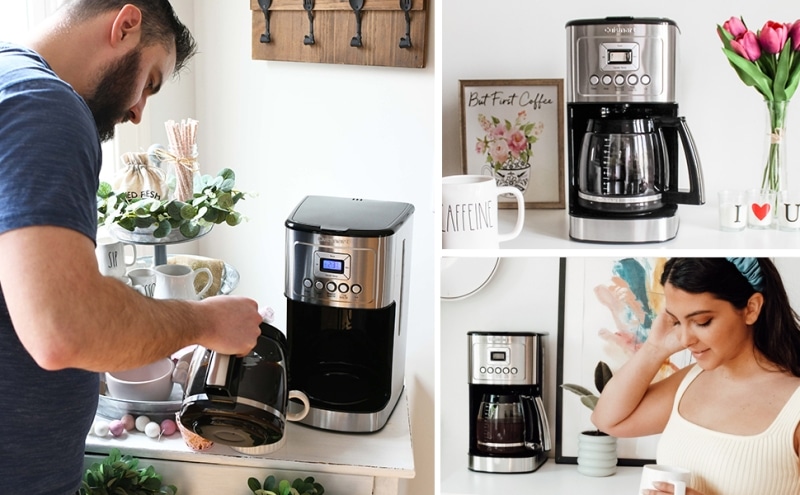 We tested it for weeks on end, brewing pot after pot to see how hot the pot lasted, how strong the brew was, and if it was readily programmed. So, is it worth the somewhat higher price tag? Let's check out our reviews to determine if it is worth your money.
Product Overview
Fully automatic coffee machine
Advance heating and high brew-strength control
See-through water window for 14-cup brewing
Self-clean function
Programmable timer setting
View Price on Amazon
Cuisinart DCC-3200P1 Perfectemp Coffee Maker At A Glance
Key Feature
Come in black or silver color
14-cup programmable brewing capacity
Attach with glass carafe
Item weights 8.75 pounds
Made of Stainless steel
Push button control
Auto-shut off within 4 hours
Ready alert tone
Overall Editor's Rating: 90%
Worth the money: 90%
Feature and performance: 80%
Coffee flavor : 90%
Ease of use : 85%
Things To Consider Before Buying A Cuisinart 14-Cup Brew Central Programmable Coffeemaker
Increase the flavor and temperature of your coffee with the Cuisinart 14 Cup Programmable Coffeemaker! In addition, using cutting-edge coffee technology, the 14 Cup Programmable Coffeemaker can brew hotter coffee without losing taste. Choose a standard or robust taste profile and set the brew time up to fully automatic 24 ahead of time so your next cup is ready when you are.
Shops always have a Cuisinart coffee machine on hand. It is the DCC-3200P1 in this situation.
High Quality Brew Strength Control Thanks To PerfecTemp Technology
Nothing is more aggravating than brewing a cup of coffee only to taste a lukewarm brew shortly after pouring it into a mug. Thus, this is not true of this coffee machine.
We made one pot of coffee after another and observed that the coffee was at the same temperature each time. Moreover, you may also change the temperature of the carafe by pressing a button on the LCD display to low, medium, or hot.
Brew Pause Feature: Regular or Bold
Different days need different brew characteristics. Fortunately, depending on your mood that morning, you can choose between regular and powerful coffee.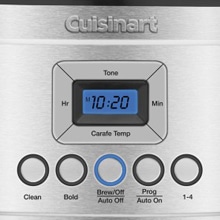 If you really need a pick-me-up, press the "Bold" button to obtain a stronger cup.
Furthermore, the coffee maker also has a "Brew Pause" feature that allows you to remove the carafe while it is still brewing to pour the first cup.
Moreover, Cuisinart recommends that stealing the first cup will change the overall strength of the final pot since coffee prepared at the start of the cycle is much stronger than coffee brewed at the end.
Easy Timer Setting
The Cuisinart 14-Cup Coffeemaker, which takes up very little room even in a small kitchen, can be configured with 24-hour programmability, making it simple to wake up to the delightful aroma of freshly brewed coffee.
You may also set the auto-off button to switch off the coffeemaker immediately or after up to four hours of brewing.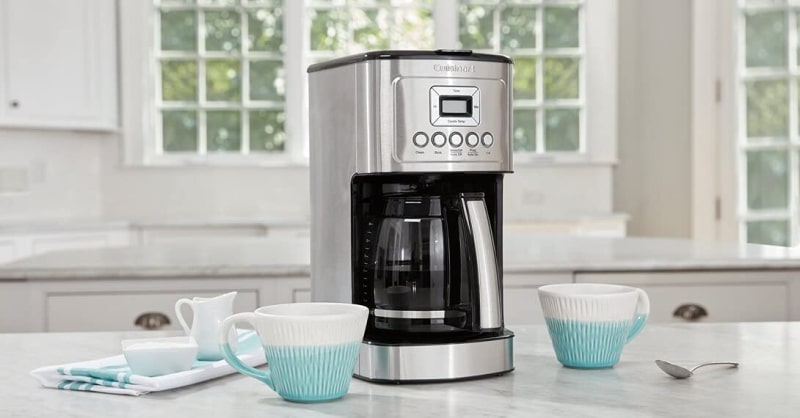 We configured the coffee maker to brew automatically in the morning and engaged the "Ready Tone" option, which prompted the machine to beep five times to warn us when we could pour our first cup.
Large Coffee Pot
You can brew as little as 1-4 cups or pour as much as 14 cups. The handle of the 14 cup glass carafe is accented with stainless steel.
Gold-Tone Filters
A reusable gold-tone filter for convenient brewing and a charcoal water filter to ensure great-tasting coffee grounds are included. So you don't have to worry about buying filters.
Cuisinart 14-Cup Brew Central Coffeemaker Wrap Up
What We Like
With a 24-hour brew start, it is programmable.
Cups stay boiling hot thanks to temperature-control technology.
Controlling the brew strength is simple
14-cup brewing capacity
Come with gold-tone filter
Trustworthy brand
What We Don't Like
More expensive than its competitors
A bewildering number of solutions are available for digital displays.
There are several pieces to clean. That's why some customers have expressed dissatisfaction with this model.
There is little space in which the carafe fits. According to users, you have to carefully adjust it to fit.
While pouring a cup, condensation would form. Another common problem was that the gold-tone basket overflowed when generating 14 cups. In other words, you're making 14 weak cups of coffee.
The filter barely has enough ground coffee to make 12 cups. Another point of contention has been the pronounced plasticky or chemical taste. This is prevalent with almost all low-cost drip coffee machines in the market.
Warm water in a plastic reservoir causes the problem. This is why you should run a few plain water cycles through it before the first batch.
FAQs – Your Top Questions, Answered!
Can you use a Cuisinart coffee maker without a water filter?
Yes, you can use a Cuisinart coffee maker without the charcoal filter if you are using filtered or bottled water to brew coffee.
Why is my Cuisinart coffee maker not working?
Clogging is the most common cause of this problem. It happens when you do not clean the coffee maker regularly and thoroughly. The machine will have a clog, and that will affect the brew cycle.
How often should you change the filter in a Cuisinart coffee maker?
We recommend changing the water filter every 60 days or after 60 uses, more often if you have hard water.
Is Cuisinart superior to Keurig?
Cuisinart and Keurig are two extremely distinct firms, making it difficult to say which is superior. Cuisinart is a superior choice for regular drip coffee, although Keurig is more practical for single-serve cups.
How often should you change coffee grounds?
It is also important to never use ground coffee more than two times, max. Not only will the coffee just taste completely horrible, but you'll be wasting water at that point as well, so there is really no point in trying to stretch things this far.
Can you run coffee through the machine twice?
Is it possible to brew coffee twice? You certainly can. However, you must exercise caution when it comes to the equipment you use and the temperature of the water. However, please do not use the brewed coffee in your electric drip coffee maker to produce the second brew.
The Verdict: Cuisinart 14-Cup Brew Central Programmable Coffeemaker For You?
This Product Is For You If:
You are searching for a well-designed coffee maker. This well-designed device is worth paying for, and with a glass carafe that holds enough coffee for 14 cups, it's ideal for a large party. Although Cuisinart 14-Cup Programmable Coffeemaker is plainly more expensive than a basic coffee maker, it provides additional benefits to justify the cost. With its elegant look, temperature control, and really useful capabilities, this coffee maker just brings so much to the table. Your morning cup of coffee will never be the same again if you buy this product.
This Product Is Not For You If:
You are a strong-brew coffee lover. You might be tight on budget. Otherwise, you don't need to serve coffee for a lot of people per brewing time.
Reference
Youtube Video: