A wedding can be a bit overwhelming. I mean, you are thrilled, excited for your wedding day because it is a day you have been waiting for so long, the way you tell the world that you are officially married. But, you may be worried about all the protocols, including the wedding reception- the food, the drink because you do not want the guests to leave unsatisfied.
Talking about beverages, there is a variety that fits the wedding theme, mostly seen including fancy alcoholic beverages such as champagne, cocktail, soda, or tea. However, a specific beverage that most might overlook is 'Coffee'. Coffee is indeed the most popular beverage on a daily basis but for a party or ceremonies, like weddings, not so much.
This article would serve to empathize with 10 extraordinary ways to offer coffee at your wedding and make your guests satisfied. But first, we shall look at the importance of serving coffee for any future bride or groom who likes the idea of having coffee at their weddings.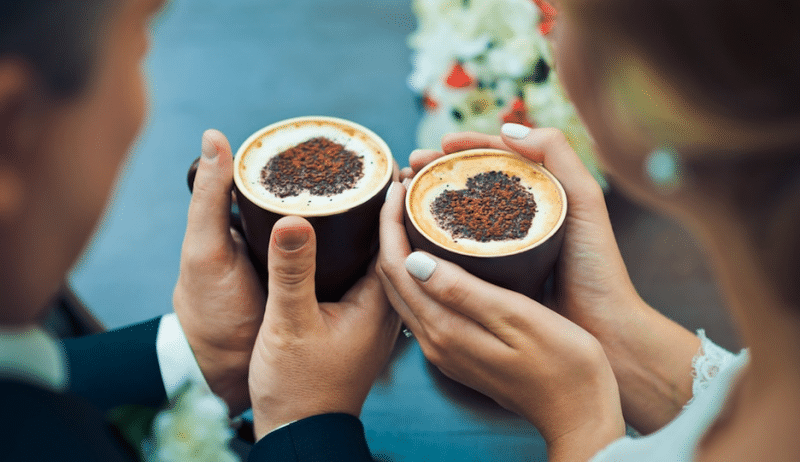 Importance of Coffee At Weddings 
Coffee can hold a special place for some guests, with or without any deep meanings. For some guests who are coffee lovers, they would be really thrilled to see a coffee bar at a wedding reception. Some others just need a sip of coffee to help them digest after a big meal and it would be perfect along with the dessert-like doughnuts or the wedding cake.
Moreover,  it keeps boosting their energy to continue dancing, the fun at the party or maybe just to wake them up if the ceremony is in the morning. If your love story started from the first date is at a coffee shop, then coffee should be presenting at your wedding. 
Lists of Ways To Serve Coffee At Weddings
1. Get Ready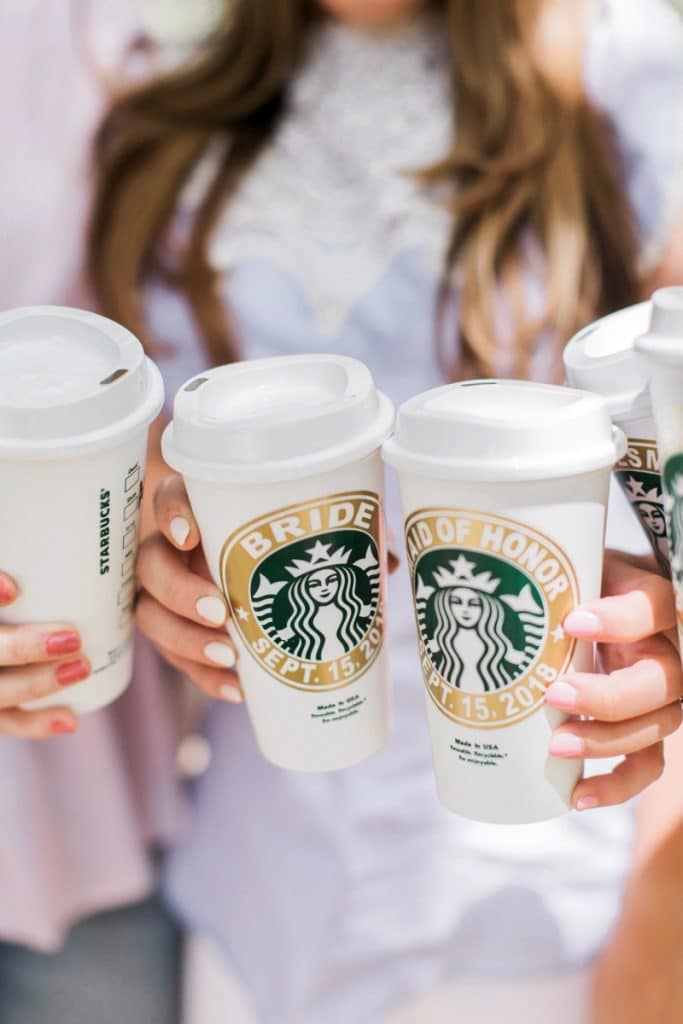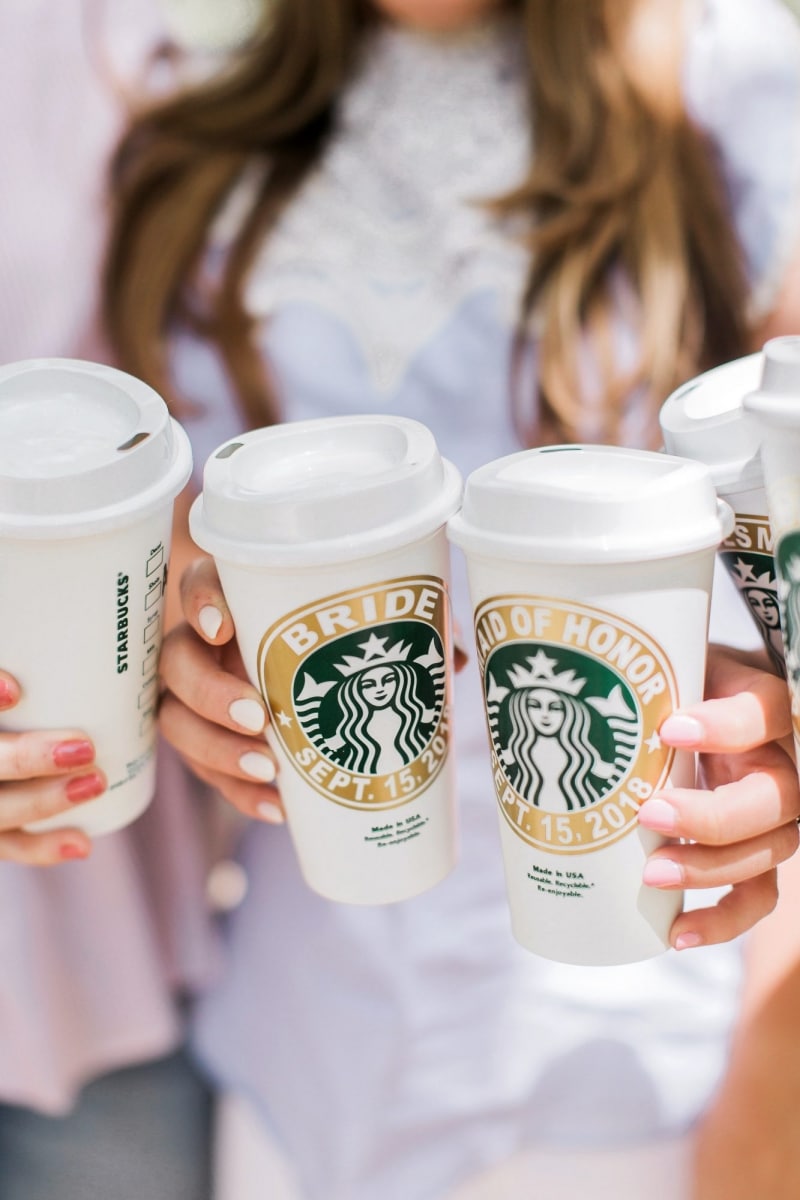 The day has come, you are going to wake up in the morning, very excited and nervous or even sleepy. Then, coffee is the perfect choice to get you ready for the ceremony. Not only you, your family and friends who are there beside you would also like a sip of caffeine to drink while getting all the things done. 
2. Set Up A Coffee Bar
The wedding reception is one of the critical protocols on our wedding day as guests would like to eat and drink after standing, cheering, partying for so long. One of the best ways to include your favourite beverage on your wedding day is to set up a simple coffee bar. It is very easy, you just need a stable-even, flat table to put all the disposable coffee cups, carafes, ground coffee, coffee machines, milk, creamers and other additional treats to serve with the drink.
You may want a large table to fit other decorations such as flowers, accessories like coffee beans, cardboards with designs that can be an attraction as well. In face, there are diverse ideas of a coffee bar but there are two main ideas that are mostly seen around the world, including, vintage coffee bars, and classic coffee stations. 
Vintage Coffee Bar 
Just like the name applies, the vintage coffee bar is a tradition that has been used since the dawn of time. This type of coffee bar may bring back the touch of retro, rustic, or even Victorians.
You would need an old wooden table or dresser as the supporter. Place the coffee mugs, mug holder, drink coasters, and the vintage coffee pot. Also, a clear crystal jar for the sugar and creamer with some flowers to decor on the table for the wedding style.
Moreover, with this type of coffee bar, it would be perfect to display the rustic, antique vibe which goes along with an outdoor wedding.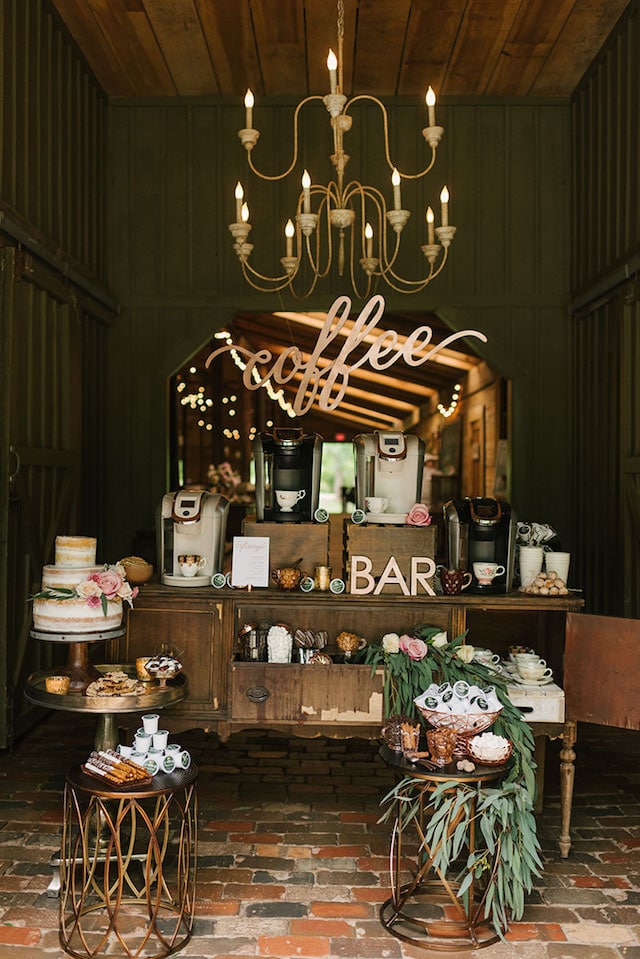 Classic Coffee Station 
If you are not a fan of vintage vibe with many details and decorations, you may like the modern classic coffee station. You just need a table, with white fabric-linens to cover over with simple refillable coffee pots. Also, place the coffee mugs and a box of white or brown sugar packets near the coffee pots and if there is still space, you can add dessert alongside. 
3. Rent A Coffee Cart 
If you are the type of person who does not want to worry about a million things or couldn't care less about a coffee bar but still want to incorporate coffee in the wedding reception, you can just rent a coffee cart. If you know a local coffee shop that you are a regular, you would like to rent them to do the catering because it would be convenient for you and also bring your favourite taste to the guests as well.
Also, it provides a hangout spot for the guests to enjoy after a big dinner since the coffee shop's barista would be on standby assisting in making fresh brew coffee drinks at the reception all night long.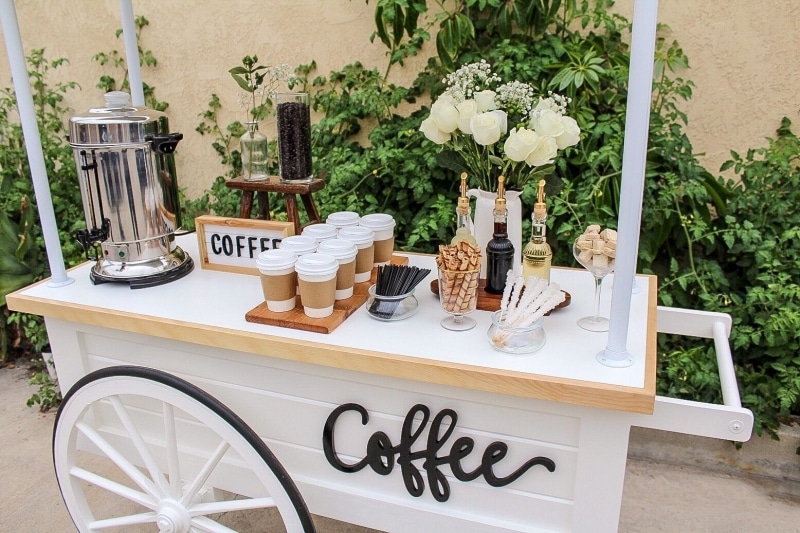 An additional benefit to this is that you can offer entertainment through the baristas you hired from the coffee shop. After enjoying your wedding ceremony for quite some time, your invitees would want to relax for a bit.
Here comes the fun part, people would find it interesting to watch those baristas brew their coffee beans which can be a free lesson for the attendees to try it at home.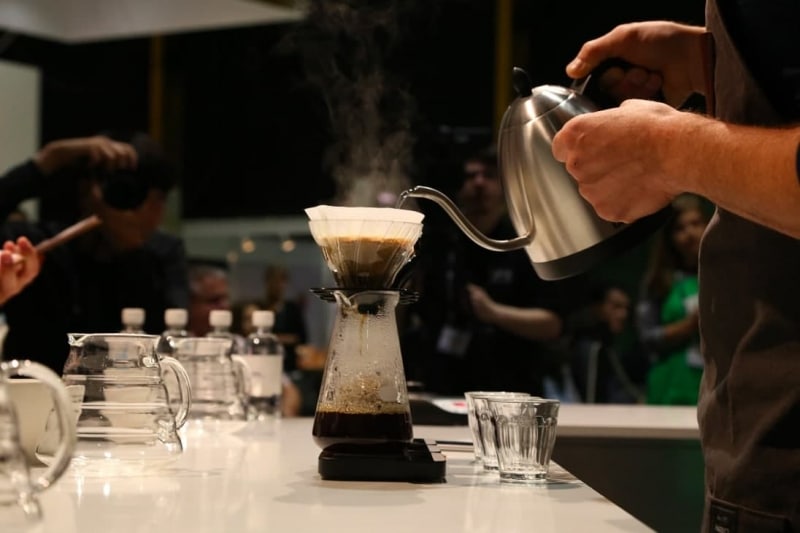 4. Offer A Variety Of Types And Flavors 
Now that you have your coffee bar or coffee cart set up, the next thing to tackle is to offer different types of coffee because you certainly do not want the guests to drink only an espresso or instant coffee for the whole day. Guests like it when the options are open as each has different tastes in coffee so it would be best if there is a wide range of types.
Other than different types, flavours are also essential. Each individual is certain about how they prepare their drinks so offering a variety of flavours by having bottles of syrups including caramel, vanilla, and chocolate will definitely improve the taste of the drink.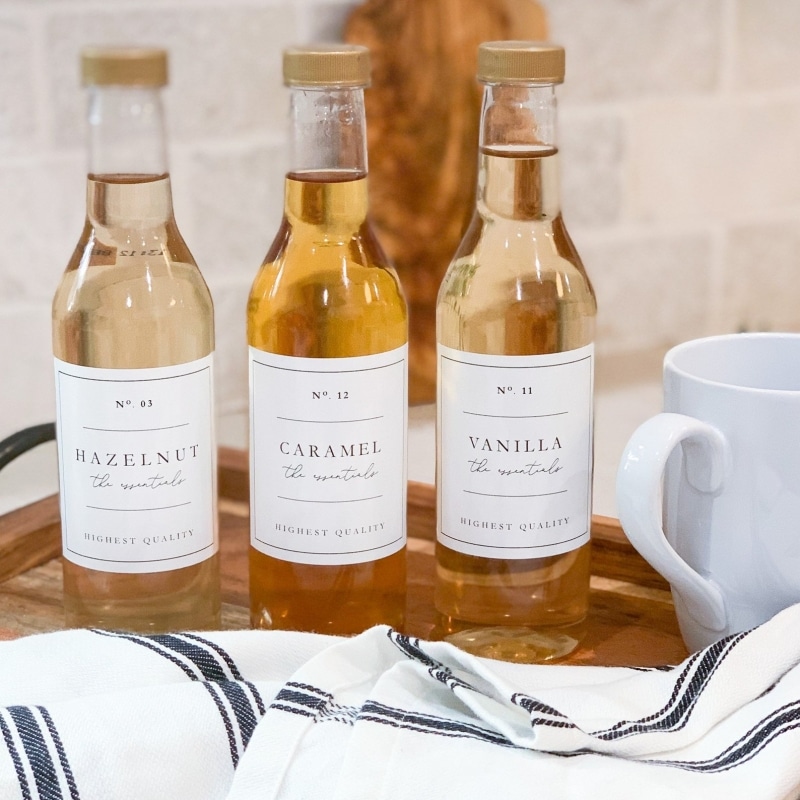 5. Offer Iced Blend Coffee At Your Wedding
If you are planning to have your wedding during hot summer, then you certainly need to offer something icy. There are several ideas including offering a sweet chocolate iced mocha, frappuccino, iced lattes, the very least would be iced brewed coffee.
Having to drink something cold would be really refreshing and gain back energy to have more fun in the hot season.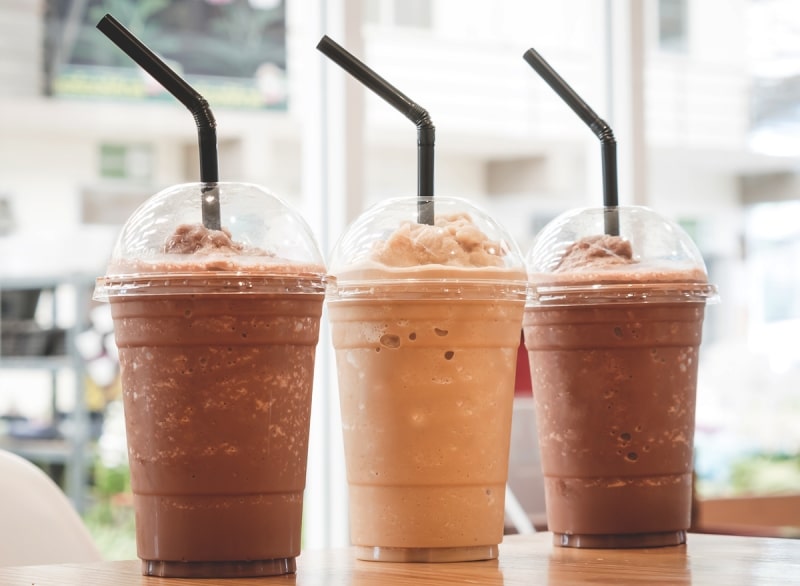 6. Custom Cups And Sleeves 
There are other things that could be done by the coffee bar you set up or rent to decorate your wedding reception by another level. One creative idea is through the cups that serve the coffee. A simple white cup is too plain for your wonderful day, a customized cup with fancy decorations, coffee artworks, or just meaningful letters would add a little touch. 
Another alternative if customized coffee cups might take too long, trying coffee sleeves. It can serve different purposes, one of which is obvious when you serve hot coffee like hot espresso or brew, guests would likely ask for those sleeves to be comfortable holding the cup. Moreover, it can serve as decoration with meaningful letters, poems on the sleeves which fit perfectly to the wedding theme.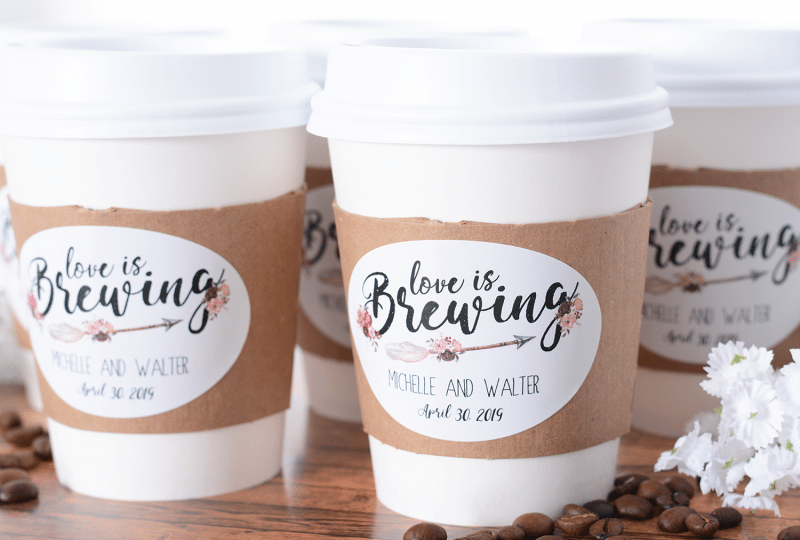 7. Wedding Coffee Bar Love Sign
When going to weddings, the noticeable thing you will see is the meaningful love sign with sweet meaning. Well, coffee can play a role in this big ceremony by hanging signs to display for decoration. You can hang the sign as an outdoor stand in the backyard, or at the wedding reception where everyone gets their food, or at the coffee bar or station where people go to get their cup of coffee. For instance, hanging signs like "I love you more than my morning coffee" would be romantic and sweet.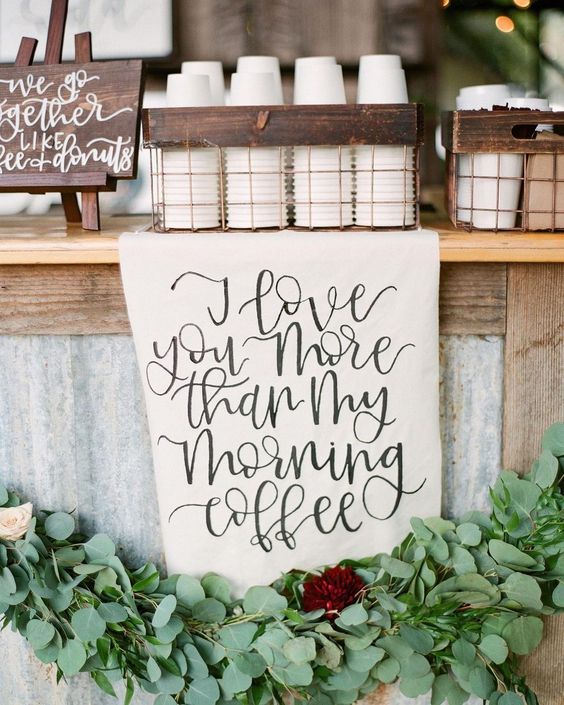 One of the interesting sign ideas which couples use to display a lot at their wedding is the phrase "Something Old, Something New, Something Borrowed, Something Brewed" which basically means hope and happy marriage.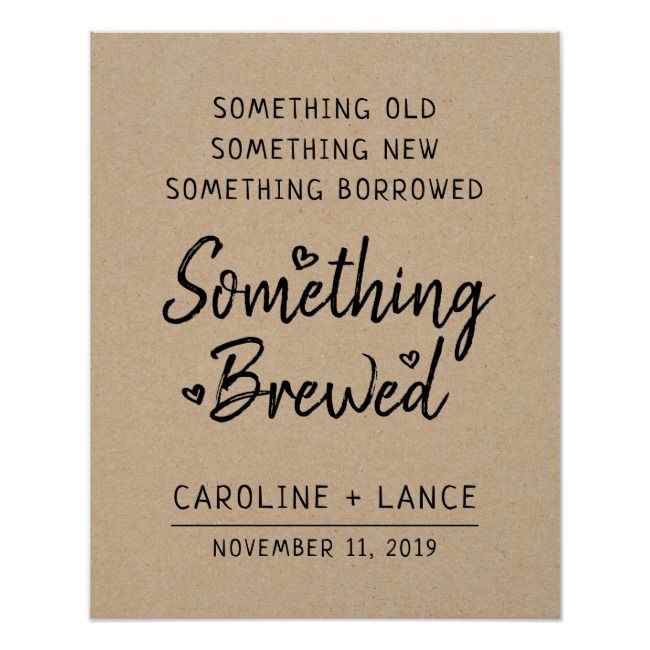 8. Display Monogram 
If you are looking for other ideas to display your love other than a love sign to make your wedding day even more meaningful. You definitely should try having monogram topping on the coffee you offer. The presentation would be appealing and attract more people to drink coffee and show off on their Instagram stories.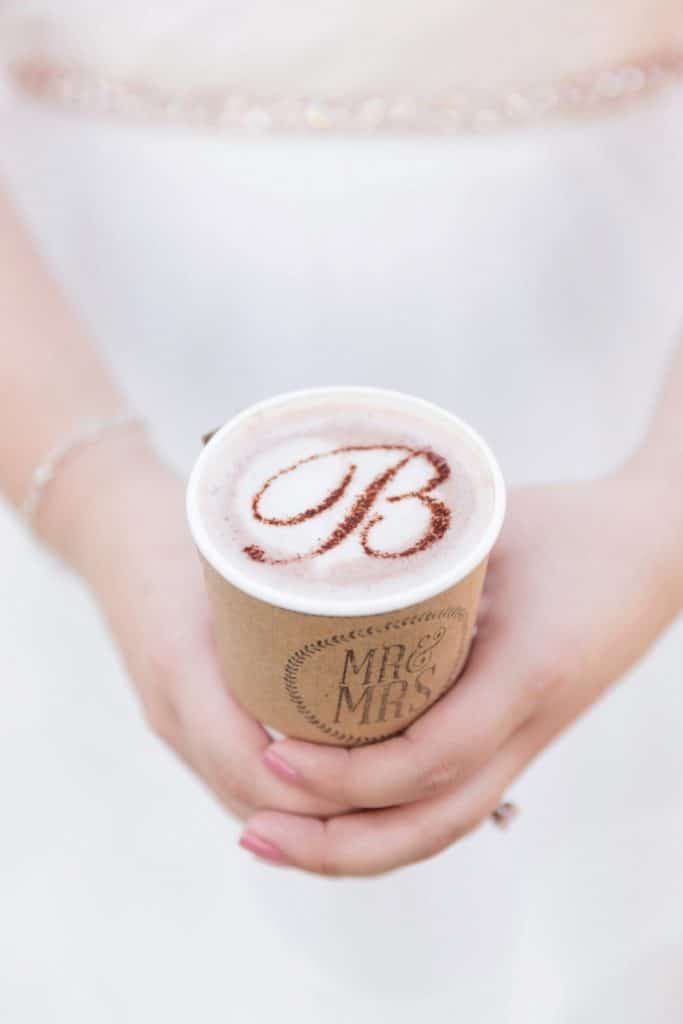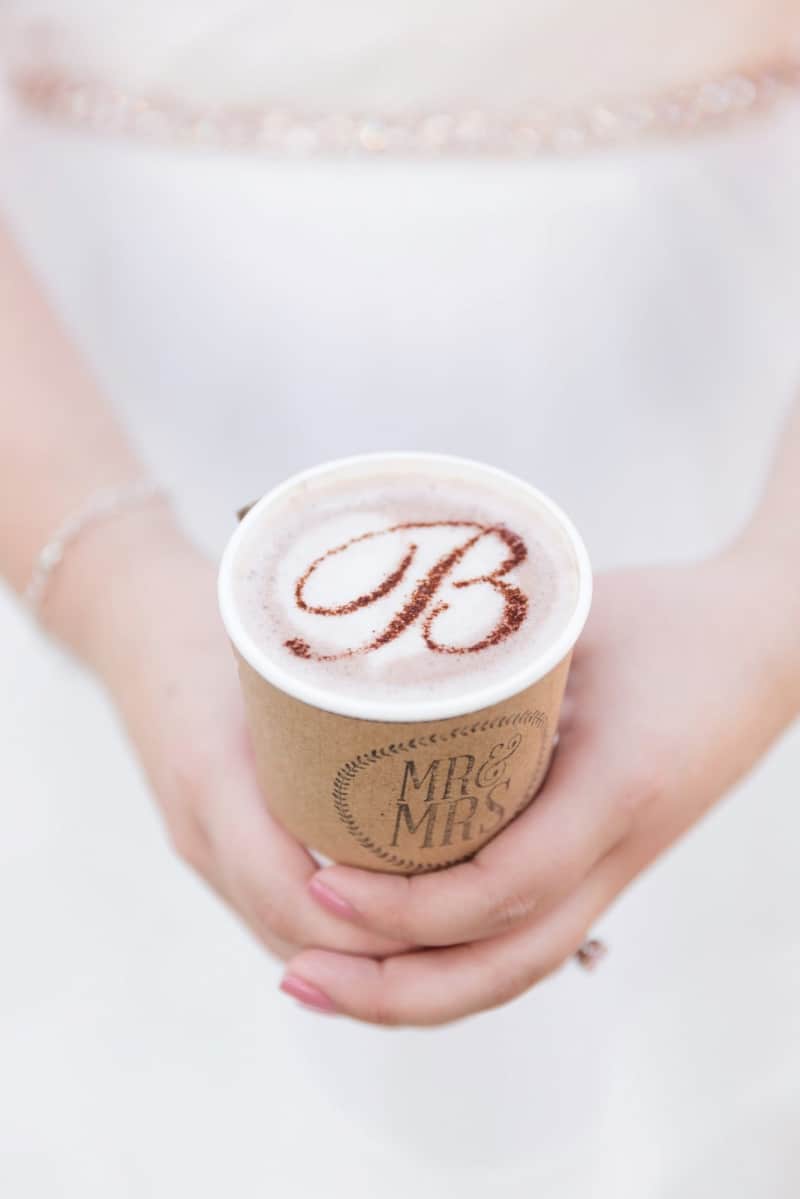 9. Additional Treats 
One of the most important treats at your wedding reception after a big solid dinner would be dessert. There are a variety of ideas for incorporating coffee along with the dessert you served.
One of the common ideas is to offer coffee with small pieces of doughnuts because when people drink coffee they feel the urge for something that contains sugar, something sweet like a doughnut. Scientific researches also claim that the combination of caffeine and sugar adds perfect flavours to our pallete and is indeed a perfect match.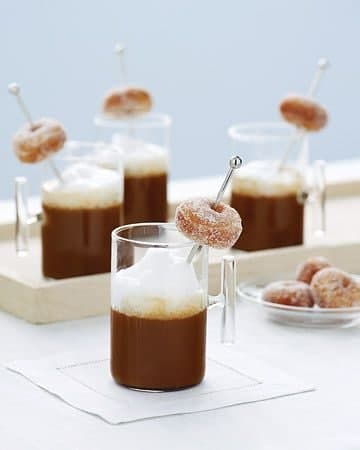 You can offer coffee alongside a donut in the same glass or you can display it at the coffee bar or station you set up at the wedding reception. You can add a variety of donut flavors, regular or small with different flavors and coffee next to the donuts.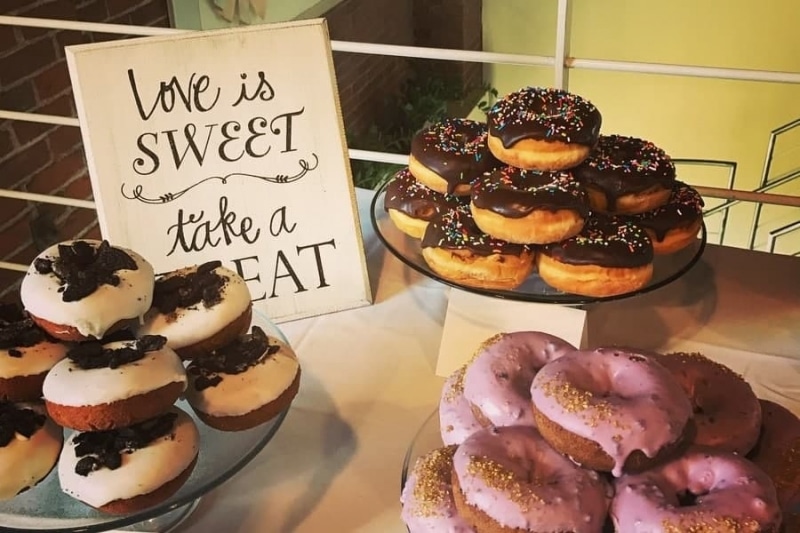 Tired of chocolate cake at wedding ceremonies? Well, how about other ideas that make your wedding extraordinary, which is a coffee-flavoured wedding cake which can be made out of espresso with some flowers or coffee beans decoration.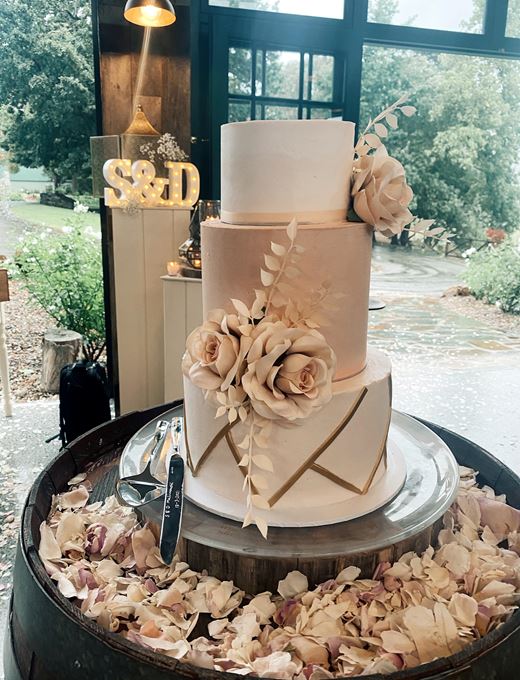 10. Caffeinated Favors
Some couples may find it hard to decide what to give out as favours to the attendees after the wedding party. An interesting idea is to offer caffeinated favours which can be a bottle of coffee, personalized by the couple themselves with some extra touch on the letters and designs. Or even a pack of coffee beans would be a great idea.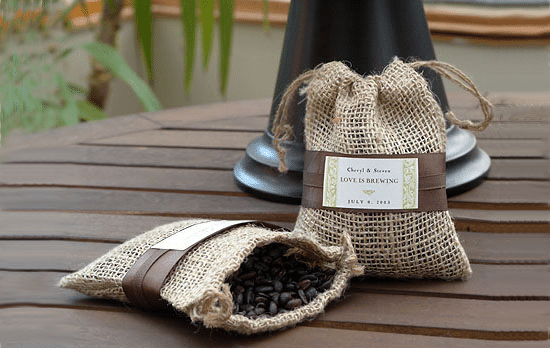 Final Thoughts
There are several fascinating ideas to incorporate coffee into your wedding. Having a coffee bar would be a significant addition to the attendees that can offer different types of free food, to boost their energy to continue dancing at the party.
Also, a certain coffee bar would show rustic details which go well for an outdoor wedding. Moreover, there are other ideas that fit the reception such as offering different flavours, toppings, monograms, or a sleeve that bring comfort to the attendees. With coffee, your wedding will be on the next level. 
References
Coffee Bar at Monica & Ferry Wedding By Kopi Trip