Do you know that coffee can shift it into your skincare routine. Coffee is a beverage that people reply to in the morning to boost both energy and metabolism in daily life.
But this caffeine in coffee is also gaining a well-known reputation as an alternative remedy for skincare benefits. Your skin is the largest organ that gets nutrients to thrive from your bloodstream. Also, it is porous. In other words, it will absorb what you put it on from the outside.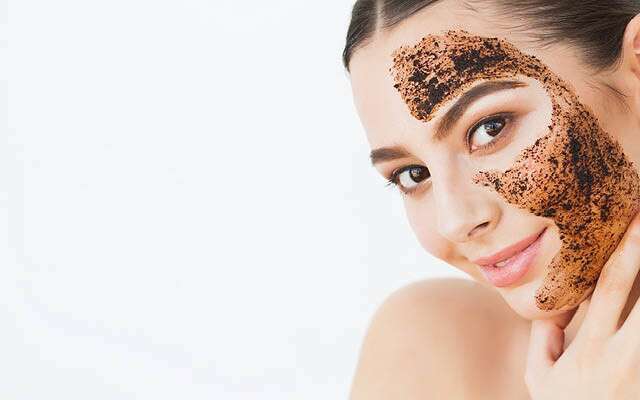 Did You Know That Coffee Is Also An Excellent Choice For Your Skin?
Thanks to antioxidants which are substances that have a powerful function to prevent or slow the damage to cells since it helps fight free radicals. According to the American Chemical Society, they have found that coffee is the most popular beverage enriched with a source of antioxidants in the United States, and these substances are enriched in coffee more than wine and tea.
Coffee is not only the favorite drink for your mood, but it is also the favorite drink for your skin. When you are having a busy lifestyle with the early morning, late nights, too much screen time, snacking habits, erratic sleeping, it does not only burn you out physically and mentally, also, it would lead you to have tired-looking skin as well.
Luckily, many researches have shown that the compounds in this multipurpose product, it has the power to enhance, protect and smooth your skin to make it healthier. You can apply coffee as in your skincare. Plus, it can improve your circulation as well as giving you glowing complexion skin. So let's enjoy the 7 amazing beauty benefits of caffeine in coffee that you can apply to wake up your skin to the next level together.
Before jumping into the beauty benefits of coffee, let's get more info about the coffee first.
What Is Coffee?
Coffee is more than a tool to make your day fresh and it is a highly bioactive plant that is filled with fatty acids, antioxidants, diterpene esters, proteins, melanoidins, sugar and many more which are beneficial to all of the human health, skin as well as well being. Therefore, people usually viewed it as a sustainable health elixir rather than just a normal beverage.
In fact, coffee is produced from the fruit's seed (usually called a bean) that grows on the coffee plants. Then, these beans are roasted and ground in order to produce small granules. Less than 1% of its compounds are extracted. In addition to that, the used coffee grounds still include all of the bioactive compounds mentioned above.
Hence, we as coffee drinkers normally use it in our favorite hot drink. With its caffeine in the cups of coffee, it has stimulating effects on the body which helps to boost our energy plus concentration levels.
What Are The Beauty Benefits From Coffee?
The following are the seven advantages of using coffee to apply in your skincare which is awesome for skin health.
Coffee Benefit #1: Cellulite Reduction
As hardcore coffee lovers, we have explored all the wonderful things that you can use from the coffee grounds around your home. Coffee can reduce the appearance of cellulite on the skin. Cellulite is pesky, troublesome, and pretty much refuses to go away from us.
Anyway, where there is coffee, there is a solution.
The caffeine content in coffee is the main factor to reduce cellulite since it can dilating blood vessels beneath the skin. At the same time, it can also improve the overall blood flow very well. Furthermore, it can break down the fat stored in the fat cells as well. As a result, it helps reduce the appearance of cellulite.
Additionally, a good scrub with coffee can shed the dead old skin cells and make your skin appear smoother than before. It also draws fluid away from the fat cells, so it can minimize the visibility of cellulite. Since coffee can reduce the retention of water in the skin, so it is easier to do it right away with the rumpled look of cellulite. Due to the presence of antioxidants in the coffee, it plays a significant role in reducing the toxins present in the skin effectively which is a win-win!
To get a fruitful result of this skincare method, you can use it via a coffee scrub.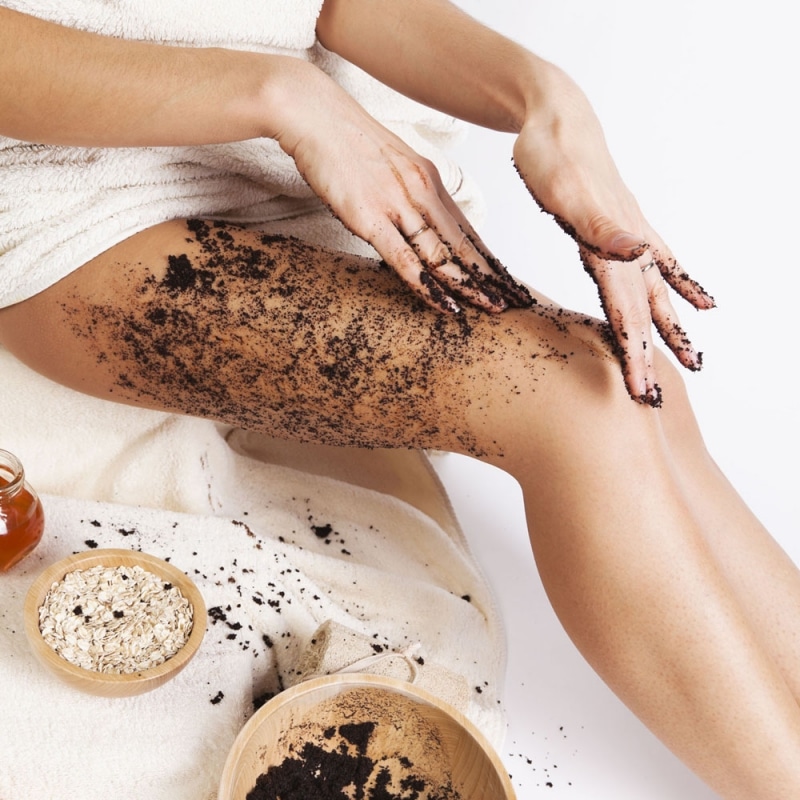 The reason is that the exfoliation has a great ability to smooth your skin which provides you an even appearance. So you can try using the fresh and wet coffee ground to do this scrubbing and exfoliating the cellulite area. Thus, it not only helps to smooth your skin, but it also has the ability to increase blood flow to your body with this method.
How to do so?
Here is the bonus tip to implement this scrub for cellulite reduction coffee.
Add 1 cup of coffee grounds, ½ cup coconut oil, ⅔ cup coarse sugar (or turbinado sugar), 4 to 8 drops of cinnamon oil (less if u are sensitive skin), 8 drops of vanilla oil
Mix well to combine
Store in a reusable container
Apply the paste to the cellulite area with the circulation massage
Wrap the area with the cling film to get the strengthen effect of the anti-cellulite from coffee
Keep it for 20 – 25 minutes
Rinse it with lukewarm water
Apply the anti-cellulite cream to get your skin even firmer
Retail Products of Coffee Body Cream / Exfoliation
Coffee Benefit #2: Brightening and Toning by Removing Dead Skin Cells on Face
Do you know how one whiff of coffee can instantly wake you up with a brightening mood? Yes! It has a positive effect on your skin. Once you apply it as your facial scrub, it will stimulate your skin cells with blood flow enhancement. As a result, you would be surprised to see your glowing skin tone.
Julia Hunter, MD, a dermatologist at Wholistic Dermatology in Beverly Hills, CA, when it comes to antioxidants, mentioned that "Drinking coffee is one piece of the puzzle; another is putting it on the surface of your skin". A facial from the coffee can be a way to brighten your skin since the acid in coffee provides some chemical exfoliation for you, and it also helps bolster the protective barrier of the skin to promote healthy skin and stay away from bacteria, viruses and fungi, says Hunter.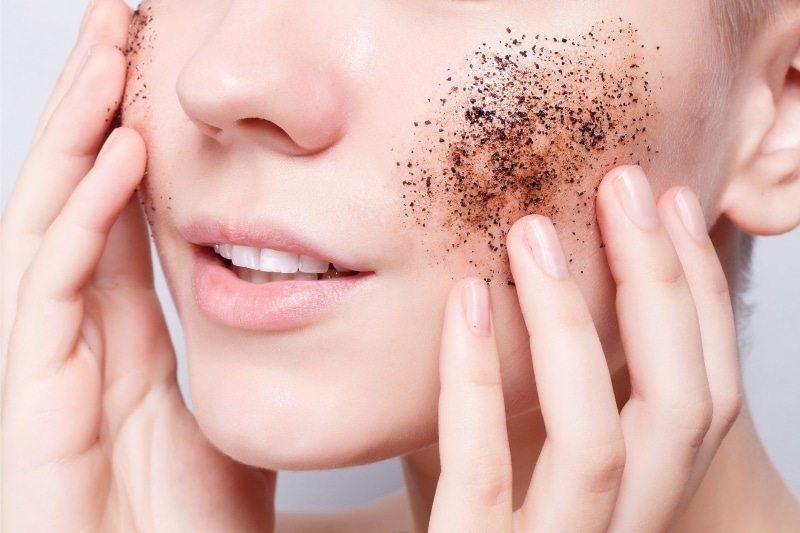 How To Use The Coffee To Brighten Your Skin?
Regarding the radiant plus glowing complexion, you can even try a coffee mask.
By taking half a cup of the coffee, then mixing it for thick consistency with just a few spoons of milk only. So you can use this mixture as a face pack and apply it in a circular motion, then leave it for 10 to 15 minutes and wash it off. Remember, you should use lukewarm water to wash it off. Basically, this face mask can help you to get rid of the dead skin cells and leave you with brightening, glowing, and toning skin.
If you want to get the actual product, then these caffeine cleaners are a good choice for you:
Alternative Choices of Facial Scrub / Exfoliator
You can consider the Face Mask that contains Caffeine as following as well:
If you are a Face Serum lover, here are your choices:
This Coffee Moisturizer is suitable for both male and female:
Coffee Benefit #3: Hair Growth Restorement
Both males and females can be affected by the hair loss that can occur with age. But did you know that your favorite coffee drink can benefit your hair as well? Generally, coffee is not considered as only healthy drinking.
In contrast, caffeine application can also make your hair healthier and it also helps to grow your hair. So as coffee drinkers, you can stop the hair loss and regrow it by just applying the coffee to the hair and scalp topically.
Regarding the male baldness case, the dihydrotestosterone (DHT) hormone can damage the hair follicles which results in hair loss. Whereas women with too much DHT will give the experience hair loss.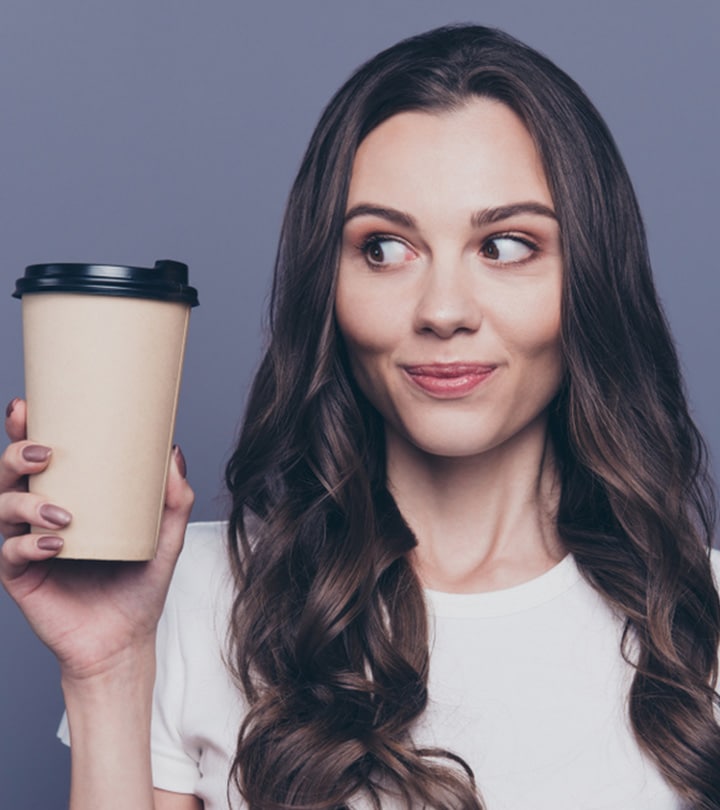 As we know that the hair follicles can happen gradually, and even lead to baldness. However, according to the research in 2007 of laboratory study, caffeine can block the effect of the DHT on the hair follicles in male. It stimulates the elongation of the hair shaft and produces longer and wider hair roots. Moreover, it prolonged the anagend duration that gives you a result of the growing your hair stage.
Simultaneously, the study tested the female hair follicles with the affection of caffeine. Therefore, it is found that coffee can also promote the growth of female hair follicles, too.
Because of the stimulant in caffeine, it can increase the blood circulation to your hair follicles as well. Thus, there is no double of some hair products that also use coffee as the ingredients to grow your hair faster and become stronger and stronger to give a fuller appearance with the thicker hair.
Alternative Ways To Get The Hair Growth From Coffee
Retail Products
Caffeine-based hair care products are conveniently available on the current market. You can find caffeine-based shampoo, conditioner and even serum for your hair around the corner. All of these products contain the coffee beans, so users can enjoy the benefits of the coffee offers. Therefore, you would be surprised to see the appearance of your affected area volume since most of the caffeine-based shampoos have biotin and hyaluronic in boost your hair to grow faster.
Below is a good review of coffee hair growth shampoo/conditioner/ oil
from the customers
DIY Methods
In case, if you do not want to use those products or feel uncomfortable in doing so, you can try these DIY methods to get a fruitful result.
Getting The Hair Wash With Coffee
Pour the cold coffee into your spray bottle
Spray it on your hair, wet hair is preferable
Massage the scalp with your fingers to feel relaxed
Tie up your hair
Wear a shower cap
Leave it for 20 minutes
Clean it off with lukewarm water
Coffee Hair Mask
Mix the coffee powder (2 tsp), carrier oil (1 tsp) (coconut/ almond/ olive), honey (1 tsp) in a bowl
Use the brush to apply it on hair and scalp
Wear the shower cap
Let the mask stay for 20 minutes
Rinse it off with water
Coffee Conditioner
Pour the caffeine into the container
Wash your hair with the natural shampoo
Apply the coffee to your hair
Massage your hair
Let it stay for 5 to 10 minutes
Wash it off with water
Coffee Oil
Heat up the carrier oil (2 cups) (olive/ almond / coconut) in a saucepan
Add the roasted coffee beans
Cook it on a low flame
Wait for around 7 – 8 hours for the oil to come out
Let the oil cool down
Pour it into the glass container
Keep it in a cold place
Apply it on the scalp before the bed
Other Alternative Retail Products of Coffee Oil
Coffee Benefit #4: Acne Treatment
The regular use of coffee can help combat the problems of harmful bacteria which happen in acne, wounds or frequent skin infections. The stimulants, antioxidants, and chlorogenic acids (CGA) in coffee contain both anti-inflammatory properties and antibacterial properties that can fight this issue effectively via the scrub for the face.
Normally, acne appears when dead skin cells, oil, and any other substances clog pores, and the bacteria can infect it, so it would cause the area to get inflammation. So you can scrub your face with the natural exfoliation of coffee grounds to unclog the pores and get clear dead skin cells. In addition to that, the CGA of caffeine in coffee may reduce inflammation and also it can protect your face against some strains of bacteria.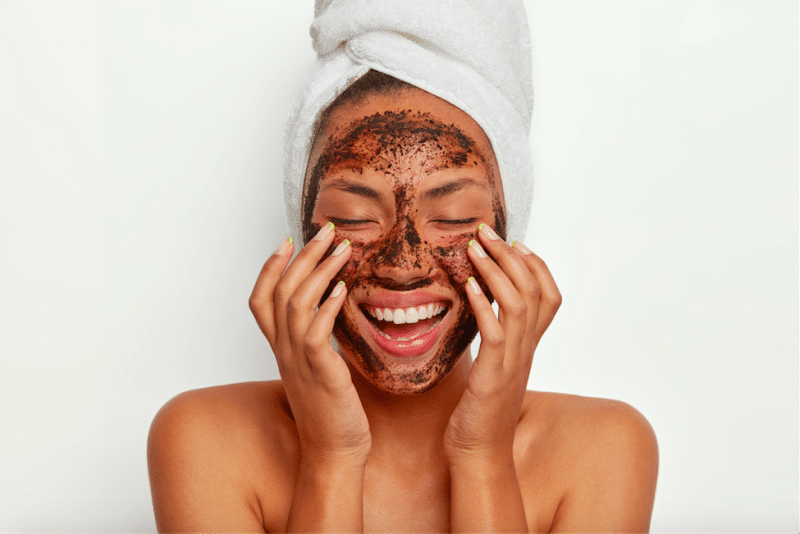 How to do it?
Method 1:
All you need is to take 1 tsp of granulated sugar, 1 tsp of ground coffee, and enough lemon juice so that you can make a scrub for your face. Then, you can mix it well to get the result of an even constituency. After that, you can simply apply it to the face and scrub it well. Finally, you can rinse it with warm water.
Method 2:
This scrub method is used for people with dry skin. You can take 2 tsp of ground coffee to mix it with milk and malai, so you would get a thick paste. Since the coffee can help you to clean the pores, at the same time, milk and malai will offer you moisturization.
Coffee Benefit #5: Dark Circles and Puffy Eyes Reduction
Lack of sleep, long hours in front of the screen, genetics, and dehydration – all of these can cause you to get dark circles. As we know that the round eye area is extremely delicate that needs ultimate care.
Stubborn dark circles, when hearing it, we all wish to reduce the dark under-eye circles appearance of it on our eye area. If you are also struggling with this issue, let's count on coffee. Instead of applying more layers of concealer, it would be a great choice to consider using the caffeine contents in coffee to treat stubborn dark circles. It is full of anti-inflammatory properties and antioxidant properties that have a useful function to boost the circulation around the eye area and works to firm and tighten skin. Thus, it is very effective when it comes to reducing the dark under-eye circles.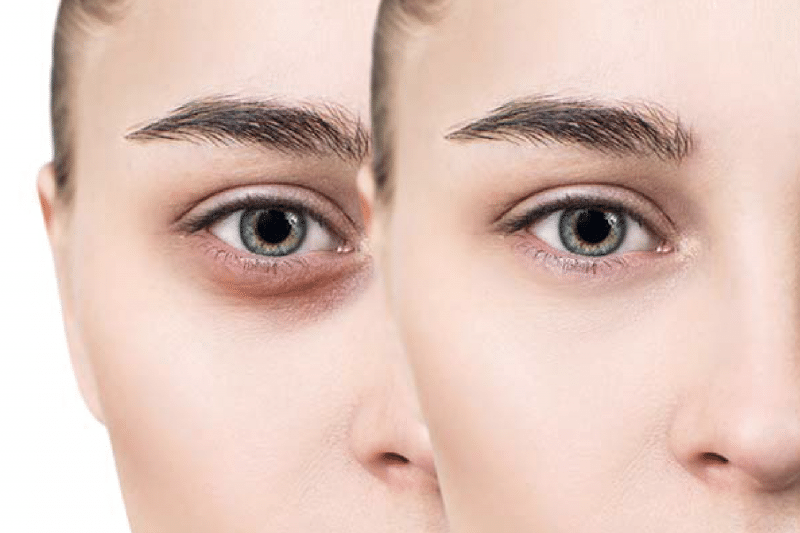 At this point, you know that caffeine is a dark circles coffee for the eye area, but did you know that it can be applied to eliminate the bag under the eyes? For coffee drinkers or non-coffee drinkers, you can enjoy this amazing coffee beauty that can benefit skin for people with puffy and inflamed eyes.
Caffeine can increase blood flow and dilate blood vessels. With the stimulating of the blood flow, it would help the aging to tighten the skin naturally. Therefore, it would result in getting rid of the inflammation around the dark under-eye circles. You can dab around your eye area with a paste of very finely ground coffee, also the liquid from the coffee itself to get an effective result.
To get the amazing result for the problem under the eye area, you can use the coffee as the following methods:
Combining half tsp each of olive oil and coffee grounds
Add in a couple of drops of water, so you can make a small paste in hand.
Patting underneath your eyes gently without rubbing
Leaving this mixture for 5 to 10 minutes
Wiping the mask with soft cloth gently or rinsing off with water
Repeating as often as needed.
If you think that it would be more convenient to use Coffee-made Eye Products, you can consider these options.
Coffee Benefit #6: Sun Protection
Most females are very concerned about aging, but you know you can be gorgeous at any age. Anyway, it does not mean that you have to accept all of the visible signs of aging that appear on your face like sunspots, redness and fine lines. Surprisingly, there is a direct correlation between drinking coffee and describing photoaging effects according to one study.
When it comes to your skin, coffee is queen. Since coffee contains antioxidants like polyphenols which are beneficial to your skin health. It has the ability to protect your skin against ultraviolet or UV rays as well as other signs of aging which are related to sun exposure, so you can say bye-bye to those sun spots, redness, and fine lines, redness.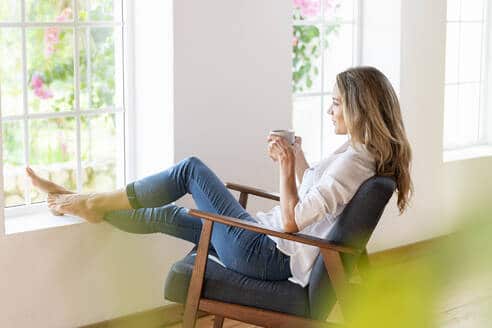 Scientific studies have shown the rejuvenating effect of coffee beans. Due to anti-inflammatory and antioxidants action, chlorogenic acids and caffeine can protect your skin from UV-induced damages greatly. Thus, the coffee oil can combat the effects of photoaging like discoloration, redness and wrinkles.
Because of the UVB protection properties in the coffee intake, it has been proven that coffee oil filters selectively light within the scope of wavelengths from 280 nm to 320nm, which can allow the skin to brown whilst and protect it from solar erythema.
In 2015, the authors of a study concluded that the participants that consume the highest amount of polyphenols from coffees or other resources, the UV age spots would appear fewer only if compared to others. Regarding those participants, they were Japanese women who are age from 30 to 60 years old. So coffee drinkers can apply coffee to the skin or just drink it, it is just the simple way for you to deliver these substances, antioxidants to fight free radicals, to the body.
Besides, other studies also illustrate that caffeine can protect us from skin cancers. Because the scientists believe that caffeine on the skin would give you great prevention of the UV light from damaging the cells as well as causing skin cancer from the sun damage. And just drinking the coffee regularly, would help the coffee drinkers not only protect from fine lines, redness and the like but also to protect your skin from sun damage against many other cancers like nonmelanoma skin cancers.
Not only that, it can be used for post-sun care. The key here is to make your sunburned skin appreciate your soothing treatment. So below are some tips to make a coffee-based skin treatment for sunburn after sun care:
After brewing a fresh cup of coffee, you can dilute it with the cold water.
Place a study paper towel or soft cloth in the water and wring out for any excess.
On the affected areas of skin, dabbing the cloth gently.
Repeat it several times a day until you get a subside of redness and swelling.
If you are interested in scrubbing, these alternative choices of Caffeine Body Scrub are recommended for you:
Coffee Benefit #7: Foot Bath
Here is a way to get a quick and stunning cleansing of your feet. You know the secret of the ingredients already, it is coffee.
Did you know coffee grounds do not dissolve in water? That is why it is one of the many reasons to make such a great exfoliant in the bath or shower. This is a simple cleansing routine that is a lot cheaper, quicker than the professional pedicure, but it gives you very pleasing results.
As the underlying theory, it is simple that coffee helps to increase blood flow and gives you an exfoliator beautifully. On the other hand, when dealing with the feet here, making a face mask or a paste is not going to be very helpful. A foot bath, however, will work well.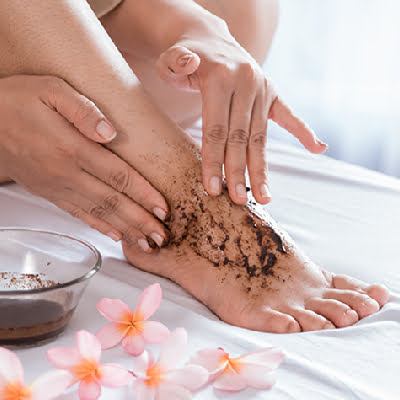 Coffee can be very effective in cleansing the feet to get smooth skin around this area. The coffee grounds can help you to scrape away the dead skin cells from the feet area, and the other effects of caffeine in coffee can help to increase blood flow and circulation in your body very well.
The recipe is super simple and does not require a lot of work. To get a positive result from the footbath, you can do the scrub as following:
Brewing a large cup of coffee
Adding the used grounds and coffee to a tiny tub or bucket.
Waiting for the coffee to be cooled so that it does not burn your skin.
Soaking your feet in the coffee
Using the grounds to scrub away those dead skin cells to get a smooth skin
What do I Have To Be Cautious About In Using And Drinking Coffee?
Well, everything requires a balance, and the same thing applies to coffee consumption usage too. Despite all the benefits coffee offers for your hair, face, body and feet, excessive use can backfire. It is not only applied for the topical use of coffee but also in the over consumption cause that gives you a negative impact on a particular area, so better to use or drink particular cups of coffee to get healthy skin and healthy habits.
Takeaway
Coffee contains many different compounds that benefit not only for skin but also other parts of your body's health for both male and female. In the case of overall skin health benefits, you can use high quality and freshly ground beans, it would be more effective than instant or packaged coffee. Anyway, the result can vary, so the benefits of coffee can happen once you try a few different types to see which one works best for your skin. 
It is clear to see that coffee is not only the favorite beverage for your body but also for your skin. We know that drinking a cup of coffee can provide us an internal boost; however, it can also offer a new set of benefits once you apply it to your skin which explains why coffee is your skin's new favorite drink.
Anyone curious about using the coffee on the skin should contact the dermatologist first before using it.
Reference
Review Skin Whitening With Coffee Facial | Get Spotless-Radiant-Milky Whiten Skin Permanently (100% Result) By SHORT TIME SECRET