You've probably had your fair share of coffee drinks, such as Americanos, cappuccinos, flat whites, and even mochas. But have you tried any of these unusual coffee beverages, such as egg coffee or wine coffee?
Plain coffee is sort of a mixed feeling, and some of us really need something to make it less harsh and sweeter. However, cream and sugar aren't for everyone. Some individuals cannot begin their day without a freshly made cup of coffee. They are so obsessed with coffee that they refer to themselves as "coffee addicts." And we are all too aware of this.
Drinking your daily cups of coffee, on the other hand, isn't always a negative habit. Scientists claim that it is, on the contrary, healthful. Your regular cup of coffee gives you more than simply an energy boost.
There are so many weird recipes that many of us have never heard of or not even tried but we got that for you today, we have found 13 weird but interesting coffee that you must try!
Here Are Our 13 Strangest Yet Interesting Coffee Drinks You Must Try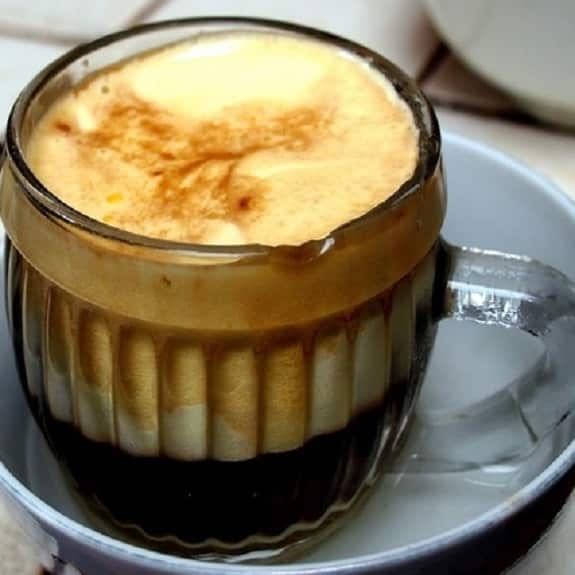 This Scandinavian-style brew is popular in Minnesota (it's even served at the state fair).
Despite the name, it's not a one-bowl breakfast: Mixing an egg into brewed coffee in a pan is simply a technique to remove bitterness while also clarifying the liquid and providing a smooth texture.
If you want to give it a shot, here's how to do it: Simply combine one raw, gently beaten egg with roughly 1 1/2 cups ground coffee and 1/2 cup cold water to form a sticky paste.
Ingredients
8 cups cold filtered water
1 cup ground coffee of choice
1 egg (with shell) plus 1/3 cup water
How to make it
Bring 8 cups of water to a boil.
In a separate dish, add the ground coffee
Use egg with shell (give the shell a thorough cleaning beforehand, just to be safe) and 1/3 cup water
Allow the egg mixture to sit while the water heats up.
When the water is boiling, add the coffee-omelet goo. When you do this, it will froth a little. ( Don't be alarmed: this is quite natural!)
Turn off the heat and take it from the burner as soon as it returns to a boil. Allow it to sit for 6-7 minutes, or more if you like it very strongly. Because the hot water cooks the eggs, the coffee grounds clump together and float in odd-looking pieces.
Add the cream and taste it before adding any sweetener…you could find that you like it without the sugar!
Naturally, the enzymes in the egg will neutralize the acid in the roasted coffee beans.
It has no effect on the flavor of the coffee, but it does make it extremely smooth. We discovered adding sweetness to soften the impact of the acidic aftertaste, regardless of how wonderfully brewed it was.
When you brew your coffee with an egg, it gives it a smooth, mellow flavor that is robust but not overpowering.
2. Kopi Gu Yu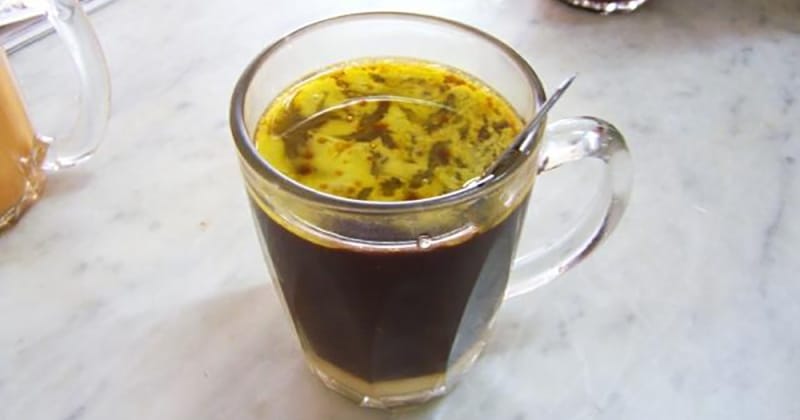 This coffee is roasted, brewed, then drunk with butter! People in Asian nations such as Singapore, Thailand, and Malaysia feel that butter helps to create a lively and rich flavor in coffee.
This coffee is typically served with condensed milk on the bottom of the mug and a slice of butter on top. Kopi Gu You translates to "Coffee Butter" in Hokkien.
The addition of a slab of butter to coffee (with condensed milk) is said to have been adopted by Hainanese coffee shops in the 1930s to give it a caramelized flavor and soothe the harsh notes of Robusta coffee beans.
Even while most coffee shops still use Robusta beans or a combination of Arabica and Robusta, most do not add butter to their coffee. Instead, the beans are roasted in sugar, butter, margarine, or lard, which caramelizes their surface and gives them their mellowed flavor character.
Ingredients
2 cups of coffee
2 tablespoons unsalted butter
and 1–2 tablespoons of oil.
How to make it
2 cups of coffee, brewed
Mix in 1–2 teaspoons of oil.
If you don't consume normal butter, use 1–2 tablespoons unsalted butter, or ghee, a form of clarified butter with less lactose.
In a blender, combine all of the ingredients for 20–30 seconds, or until the mixture resembles a frothy latte.
Is it safe to consume Bulletproof coffee?
Overall, Bulletproof coffee may be beneficial to certain people, particularly those on a ketogenic diet who do not have high cholesterol levels. Bulletproof coffee, when combined with a balanced diet, may help you lose weight and boost your energy levels.
If you discover that this morning drink enhances your well-being and quality of life, the lower nutritional load may be worth it.
To be safe, if you drink Bulletproof coffee on a daily basis, you should get your blood markers checked to ensure you are not increasing your risk of heart disease and other diseases.
3. Kentucky Coffee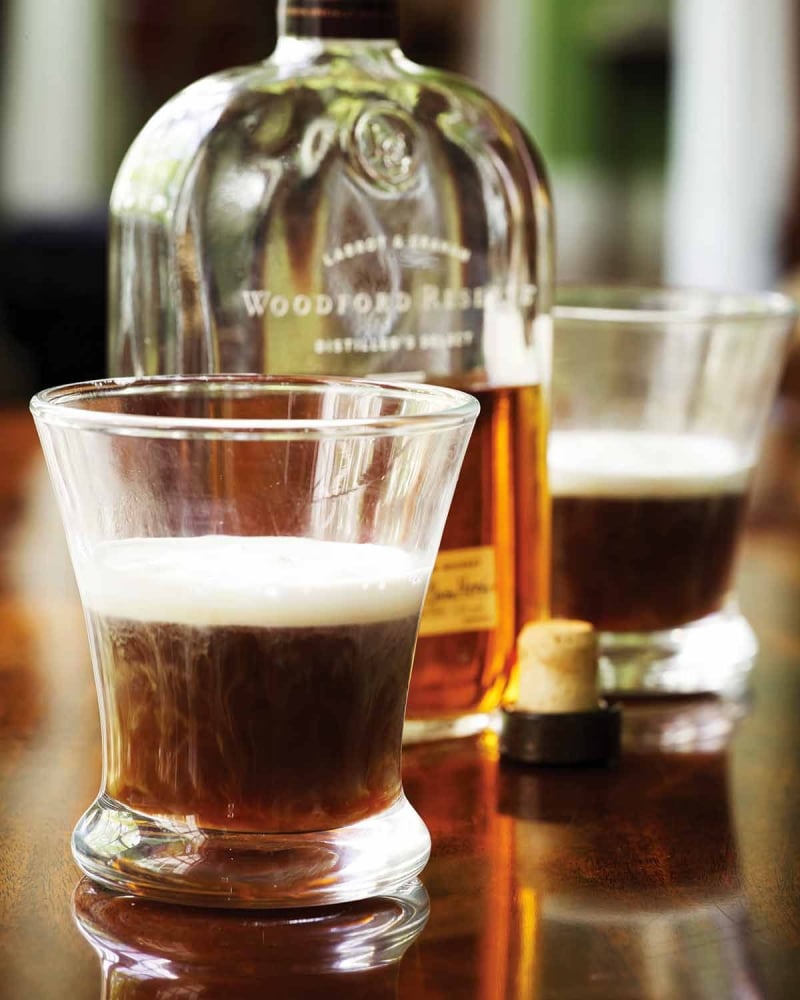 Have you ever thought about mixing coffee with alcohol? You know, we sometimes think of something weird yet attractive, something interesting that we never tried before.
Think Irish coffee, but from the American South. Kentucky is famous for its bourbon, so what better whiskey to pair with coffee? Try Kentucky Coffee for the greatest coffee and bourbon combination.
This Kentucky coffee is an after-dinner drink that is smoother, sweeter, and more subtle relative to classic Irish coffee, which is made with freshly brewed coffee, sugar, cream, and whiskey. Whatever brand of bourbon you choose, whether Maker's Mark or others, will work well in this recipe.
Ingredients
8 sugar cubes or 8 granulated sugar teaspoons
12 tbsp. high-quality bourbon
4 cups strong, steaming coffee, freshly brewed
1/2 cup gently whipped heavy cream
How to make it
In each of four 12-ounce coffee mugs, place two sugar cubes (or four tablespoons of sugar).
To each mug, add 3 tablespoons (1 1/2 ounces) of bourbon. Muddle the sugar and bourbon together with a muddler or the end of a heavy long-handled spoon until the sugar dissolves.
Fill each mug halfway with hot coffee. Place the back of a clean, dry teaspoon against the inside of the glass and slowly pour the thickened cream down the spoon and into the glass.
Alcohol with coffee?
Bourbon is an excellent companion to coffee. The whiskey frequently has strong vanilla and caramel overtones, and some also have cinnamon and spice aromas.
The strong taste and inherent spiciness of Wild Turkey 101 Bourbon and the brand's American Honey Liqueur are called for in this recipe. It's an all-American spiked coffee that honors the finest of Kentucky bourbon. (Easy Kentucky Coffee Recipe)
If you like, top the drink with whipped cream to mellow the taste a little. However, when left alone, it's incredibly powerful, especially if you pick a robustly brewed dark roast or bourbon barrel-aged coffee beans.
4. Affogato Coffee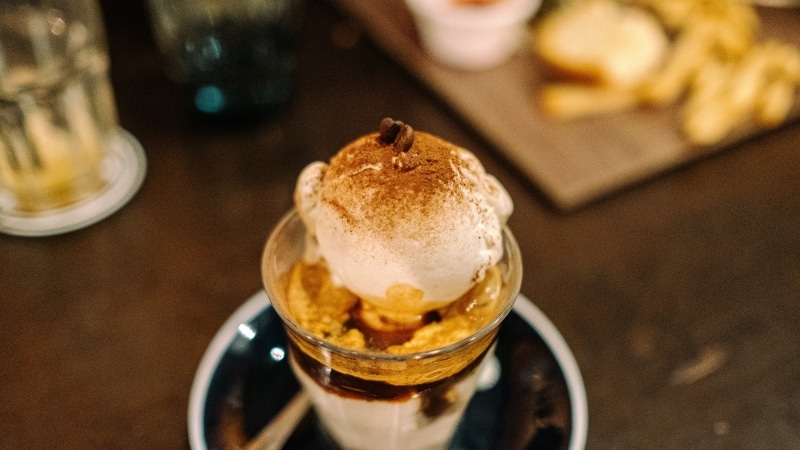 Kentucky isn't quite southern enough for you? Cross the border into Mexico to see this colorful take on coffee.
It's time to get out the tequila and ice cream for Mexican Coffee. What could be better than ice cream, coffee, tequila, and Kahlua? To be honest, probably nothing.
Affogato is an Italian coffee dessert, usually called Café Affogato. Although Italians have liked to enjoy it at the end of a meal for many years, it became more and more popular in North America.
Hot espresso is poured on vanilla and mixed with ice-cold coffee and cream to form a beautiful rich coffee pocket. All this recipe requires is premium ice cubes or vanilla ice cream and some freshly brewed espresso.
Ingredients
¼ cup of vanilla ice cream
½ oz Kahlua
½ oz tequila
6 oz hot coffee
How to make the Affogato coffee
Cool dessert cups or cups.
Ensure that the ice cream or ice cream is very cold.
Brews espresso before serving.
Either pour the espresso on ice and serve immediately, or put the espresso aside and let your guests pour it themselves.
If you don't want the dessert to melt too fast, please cool down the coffee first. The
The side dish is optional, but you can try sliced ​​almonds or other nuts, chocolate curls, or a little Frangelico that resembles liqueurs, almonds, or other coffee liqueurs.
When will you serve affogato?
Italians enjoyed this simple coffee dessert after lunch or dinner. The short answer is anytime! If caffeine keeps you awake at night, use decaffeinated coffee. This ice cream and coffee dessert are as popular on cool winter nights as warm summer nights!
Affogato means "to drown" in Italian. Dip one or two scoops of very cold vanilla ice cream or ice cream into a little hot espresso, watch the pie melt and savor each scoop of the simple and spectacular flavors that Italians are familiar with.
5. Bavarian Coffee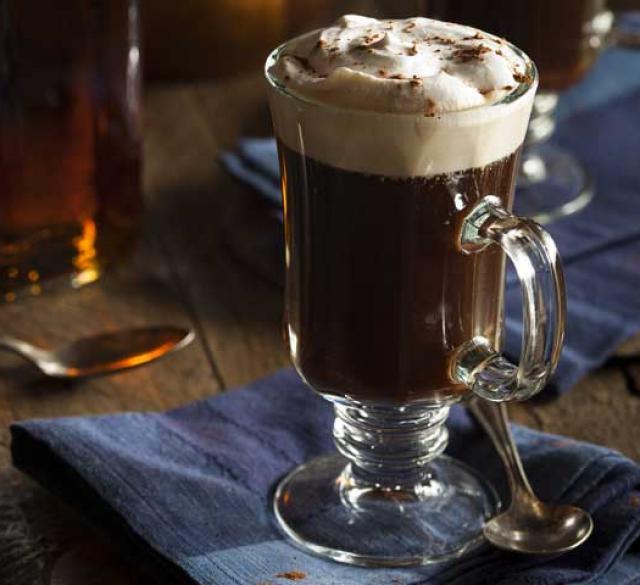 Where is Bavaria and what coffee do they drink? First of all, Bavaria, also called Bavaria, is the largest state in Germany and is known for its beautiful old-world charm.
So what cocktails would Bavarians make with coffee? It starts with the familiar ingredients of hot coffee, coffee beans, sugar, and cream. Kahlua is definitely the first choice for coffee liqueur drinks-this drink takes Kahlua to a new level.
The most important thing is to add mint gin. This is how we make sweet, mint, and cream coffee that we dream of on vacation. Haven't had mint gin? Tastes like candy canes! Think of mint cream, but not so sweet.
Ingredients
5 ounces of hot coffee
½ ounces mint gin
½ ounces Kahlua
sugar
fresh cream
How to make it
Pour coffee and liqueur into a coffee cup and add sugar to taste.
Spread the cream lightly on it.
Sprinkle it with chocolate chips.
Why should you choose Bavarian Coffee?
Try Bavarian coffee this holiday season by pairing mint gin and Kahlua with 5 ounces of hot black coffee. Season with sugar and top with whipped cream. To try Bavarian coffee this holiday season, just pair mint gin and coffee beans with 5 ounces of hot black coffee.
6. The Spanish Carajillo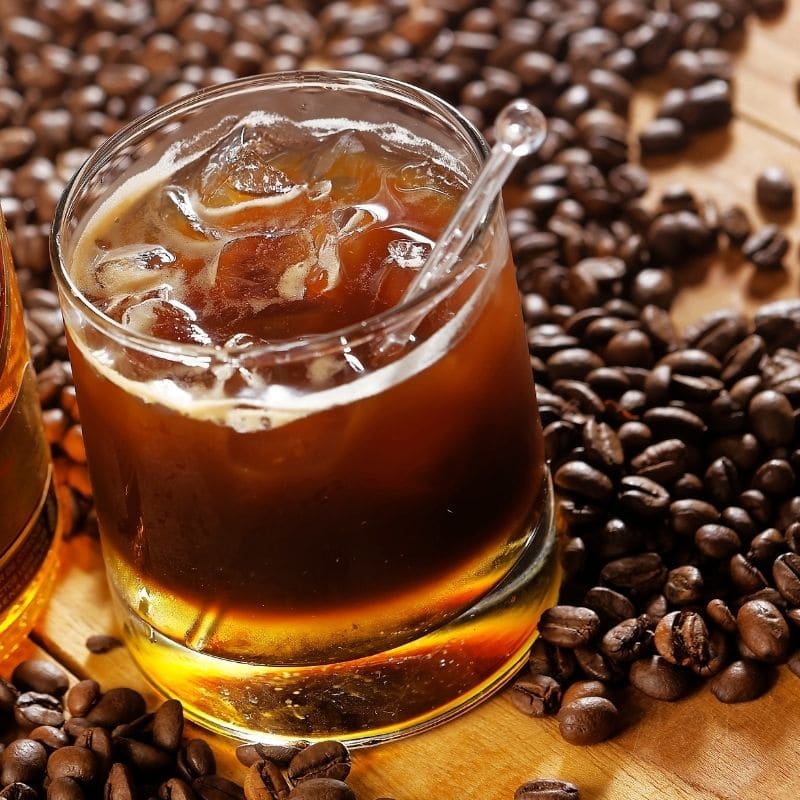 Spanish culture is full of drama. So it's no wonder that "Spanish coffee" or Carajillo is as strong as everything this extremely beautiful culture has to offer. This is how to make a classic Carajillo.
This carajillo formula is a mild and powerful combination of caffeine and alcohol that will definitely make you want to come back for more.
Ingredients
4 oz coffee
3/4 oz Grand Marnier
1 oz rum and coffee liqueur
3/4 oz Jamaican rum
1/4 oz red syrup
4 oz whipped cream
caster sugar (optional)
orange Slice (optional)
How to make The Spanish Carajillo
Using an orange slice, wet the rim of the glass. Place sugar on a plate and turn the glass upside down in the sugar.
Pour in the contents of the shaker, as well as the Jamaican rum, 14 oz Grand Marnier, coffee liqueur, and brown sugar syrup.
Stir.
Using the back of the spoon, gently float some cream on top of the drink.
Why The Spanish Carajillo
Spanish coffee is a type of alcoholic coffee beverage created with hot brewed coffee, coffee liqueur, and rum. It's a popular after-dinner dessert drink in areas of Europe, although it's more typically associated with cooler weather in North America.
This recipe is more often used as a weekend fall afternoon drink because it isn't especially holiday-season orientated.
7. Cold Brew Sour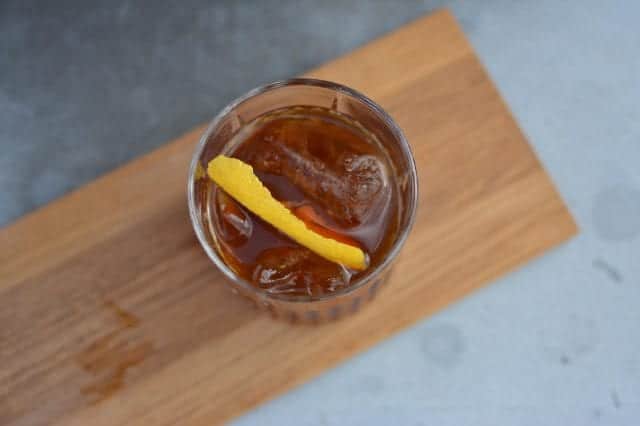 The Cold Brew Sour is an adaptation of the whiskey sour. It's crisp and tangy, as well as cold and refreshing. The tart/sour flavor is nicely balanced by the sweetness of the coffee, resulting in a drink that many people will appreciate.
If your cold brew tastes bitter, it's probably because the concentrate was over-extracted due to a too long time or a too fine grind. Reduce the brew time or use a coarser grind for immersion.
We recommend Cold Brew Sour because who would taste a bitter coffee with a lemon?
Ingredients
2 oz concentrate cold brew coffee
Lemon juice from 1⁄2 a lemon
1 teaspoon simple syrup
1 slice of lemon
How to make this weird coffee
Pour all of the ingredients into a rocks glass filled with ice, mix
serve on a sunny afternoon for the best results.
All the possibilities with Cold Brew Sour
Cold brew coffee is coffee that has been made using cold water. This may imply that coffee beans are soaked in cold or room temperature water and steeped for 12+ hours.
Other times, it means slowly dripping cold water over a bed of coffee over several hours. Try some cold brew lemonade (it's seriously delicious)!
8. Goth Latte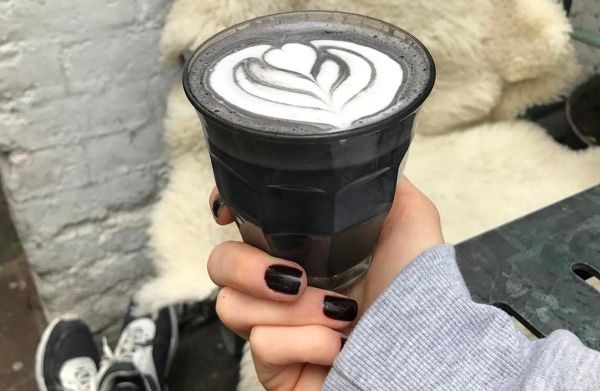 Colorful meals appear to be all the rage these days, and it's easy to understand why—rainbow colors are a visual feast.
However, black is now making a dramatic statement in sweet delights such as ice cream, and its menacing beauty has lately swept over the latte world.
Trendy cafés are making stone grey beverages with activated charcoal that will satisfy your inner goth.
Ingredients
A latte
1 cup vanilla almond milk, unsweetened
half a cup of water
1 teaspoon activated charcoal (food-grade)
1 teaspoon agave nectar 1/2 teaspoon pure vanilla extract
How to make it
Combine all ingredients in a small saucepan over medium heat.
Whisk the milk quickly until it begins to foam.
Pour into a cup and serve warm.
The benefits of drinking Goth Latte
Lattes aren't exactly considered healthy pleasures, but this activated charcoal drink is. It is supposed to cleanse your digestive system of undesirable chemicals.
However, medical specialists urge that you only eat it in approved dosages. However, in tiny doses, such as a charcoal latte, it is both tasty and beneficial to your health.
9. Clear Coffee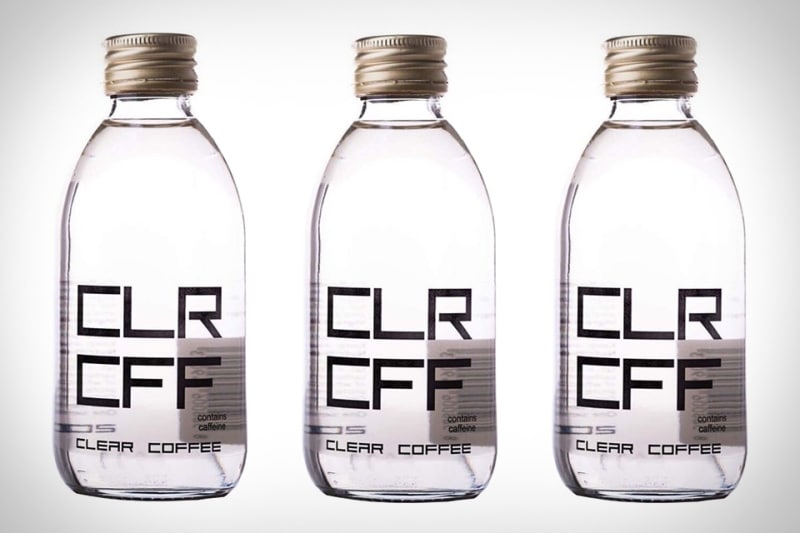 I mean Clear Coffee, we all know all coffee has a dark color which makes them interesting but Clears coffee? That's another interesting story about this weird coffee.
There aren't many drawbacks to drinking fresh coffee, but one thing we could do without is the harm it may cause to your teeth. Clear Coffee is the world's first colorless coffee drink, and it claims to keep your pearly whites gleaming.
It's prepared with high-quality Arabica coffee beans and clean water and contains no artificial flavors, preservatives, sugar, or other sweeteners. As a result, you get a delicious, ready-to-drink coffee that's low in calories and provides the caffeine boost you need to go through your day stain-free.
Ingredients
9 cups of coffee brewed using your preferred method
3 grams of unflavored gelatin
How to make it
Begin by making 9 cups of coffee according to your preference. Allow cooling. Set aside roughly 7 cups of this coffee in a separate container.
Weigh and divide the remaining 2 cups of coffee in grams by 100. Take that much gelatin and weigh it.
Bring the two cups of coffee to a boil, then whisk in the gelatin for 15 seconds.
Remove from the heat and transfer the hot coffee mixture to a big container. To this mixture, add the remaining 7 cups of coffee.
Place the entire mixture in 5 sealable containers in the refrigerator. Allow to sit for 24 hours. Pour the now formed coffee jelly onto a cheesecloth and hang it over a saucepan to drain.
Discard the cheesecloth and its contents. Pour out the cleaned coffee and serve
10. Strawberry Latte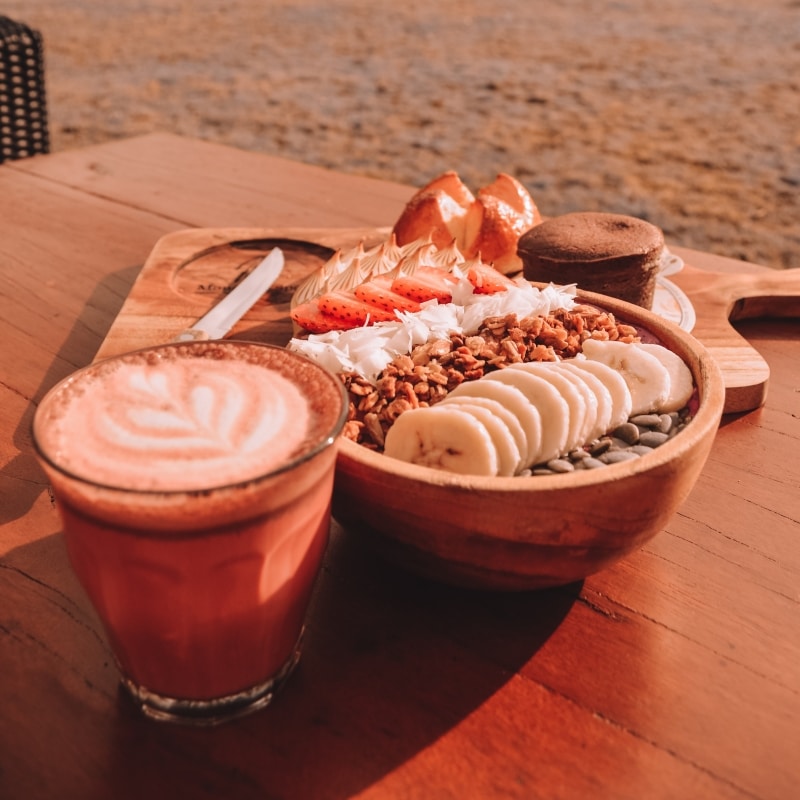 Coffee connoisseurs may choose their beans based on the roast or their coffee maker based on its speed, but a truly passionate coffee drinker chooses their beverage based on the weather.
Nothing beats a summertime iced coffee for people who live in places where warm weather is the norm. Nothing rivals the flavor of a freshly made iced strawberry latte.
An iced strawberry latte is a coffee-based beverage made with strawberry sauce, milk of choice, strong espresso coffee, whipped cream, and ice cubes for a refreshing touch.
Ingredients
1 cup (0.12 liter) whole milk
two shots of espresso
2 tablespoons (30 grams) strawberry sauce
Optional: a dollop of whipped cream
Cubes of ice
How to make it
Begin by making the espresso shots.
Cool the espresso coffee by adding a few ice cubes after it has been made. You may also prepare these ahead of time and chill them in the fridge overnight.
Pour the strawberry sauce into a large glass.
Fill the glass halfway with ice cubes. I prefer to add enough ice cubes to fill the glass halfway.
Pour the milk into the glass slowly.
On top of the milk, pour the espresso coffee.
Optionally, serve with whipped cream and a dab of strawberry sauce on top.
Nothing can go wrong with Strawberry latte
Summer is the ideal season for iced coffee. A cold glass of this delightful beverage is not only a fantastic way to chill down, but it may also spark creativity. Make the most of your morning with this coffee recipe.
Try this iced strawberry latte recipe for a refreshing, low-calorie coffee drink this summer. You'll like the delicious flavor and lovely strawberry texture. Make it your own by adding whipped cream and a splash of syrup to taste.
11. The Sparkling Iced Coffee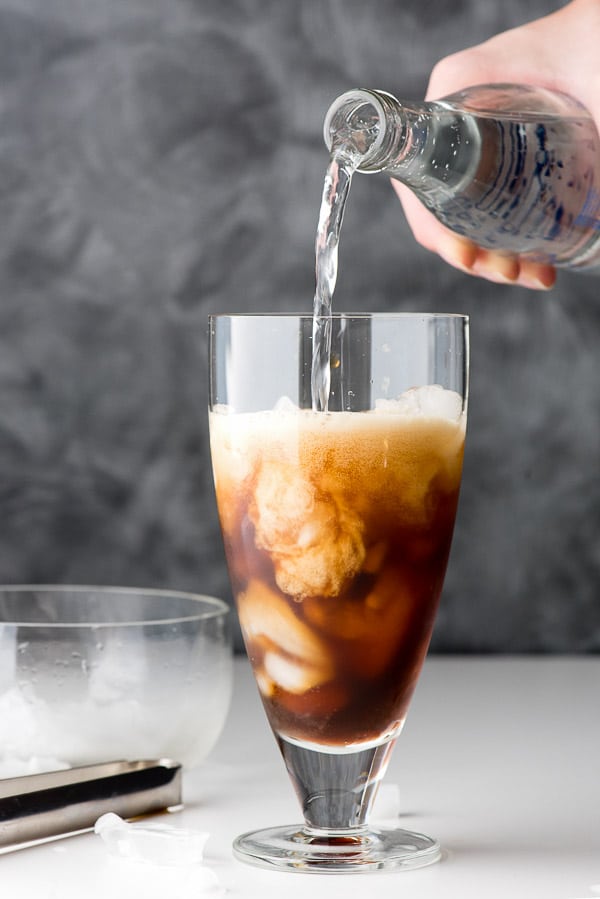 It's the ideal method to get your caffeine fix without consuming any dairy. Sparkling coffee can be made with espresso, cold-brew, or freshly brewed coffee that has cooled to room temperature.
Fill a glass halfway with ice, then add the sparkling water and your coffee or espresso. It's a summer beverage.
Ingredients
a third cup of ice
Water with a Sparkle
3/4 cup coffee or 2 espresso shots
1 tbsp. Vanilla Syrup (optional)
How to make it
Fill a large glass with ice, then pour in the sparkling water until the glass is about two-thirds full. If desired, add coffee and vanilla syrup.
Stir gently to blend, then serve!
The best summer coffee drink
When there is heat, there is always sweat and hot but with cold, fresh sparkling coffee to brighten your day. It would be the best summer drink cause you wouldn't taste anything like this. Take a glass of fresh sparkling water, a shot of espresso, and a few drops of vanilla extract, and you're set to take the awesome coffee!
12. Grilled Pineapple latte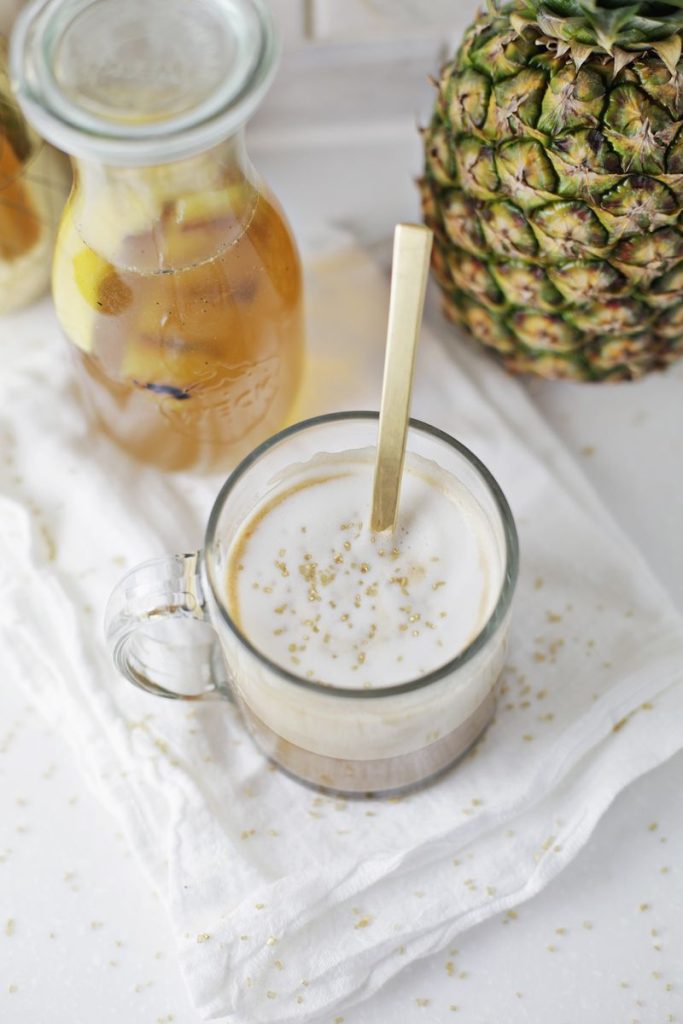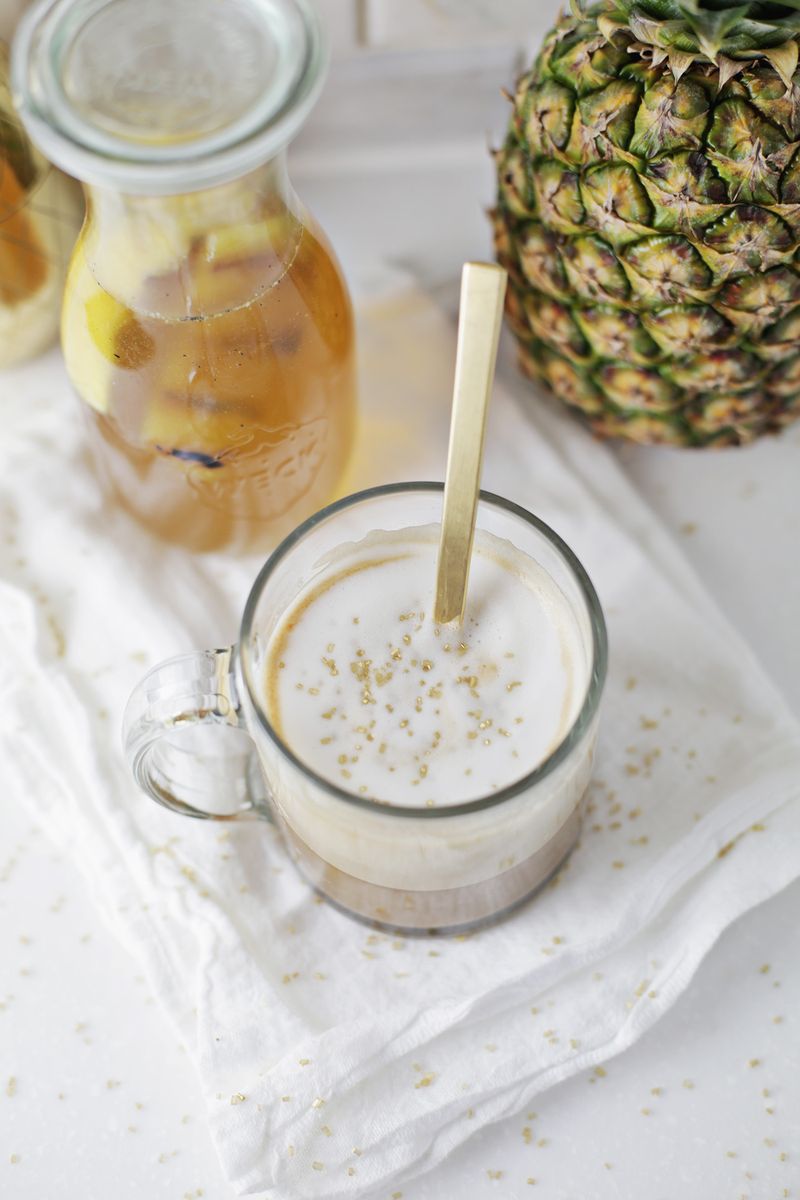 This delectable warm beverage is prepared by combining an almond milk latte with pineapple simple syrup. The grilled pineapple latte, created by Emma Chapman of the blog A Beautiful Mess, is a fruity twist on flavored coffee.
Other flavored lattes exist, but a fruity version is unusual. The handmade grilled pineapple simple syrup is inspired by Imbibe's pineapple syrup and includes pineapple, butter or olive oil, water, and sugar.
The syrup is then mixed into an almond milk latte, which you can prepare at home with an espresso machine or buy at a cafe. The slightly burnt flavor elevates the sweet mixture in any drink, whether it's a latte or a cocktail.
Ingredients
12 oz. pineapple
2 tbsp. butter or olive oil
2 c. sugar 2 c. water
A cup of espresso
How to make it
Remove the pineapple's top, bottom, and outer peel.
I heated a grill pan and coated it with olive oil.
Grilled one side of each pineapple wedge until some beautiful charred pieces appeared.
In a large mixing basin, stir the sugar into the water until fully dissolved. Then add the grilled pineapple chunks and soak for 24 hours, covered.
Strain through a fine-mesh filter and keep it in a jar. Add one tablespoon to a handmade almond milk latte.
Tropical coffee drink
What goes together better than coffee and pineapple? Yes, it's surprising… but wonderful. This caffeinated tiki-inspired mocktail has a fantastic combination of depth from the cold brew coffee and orgeat and tropical brightness from the pineapple juice.
13. Coconut Latte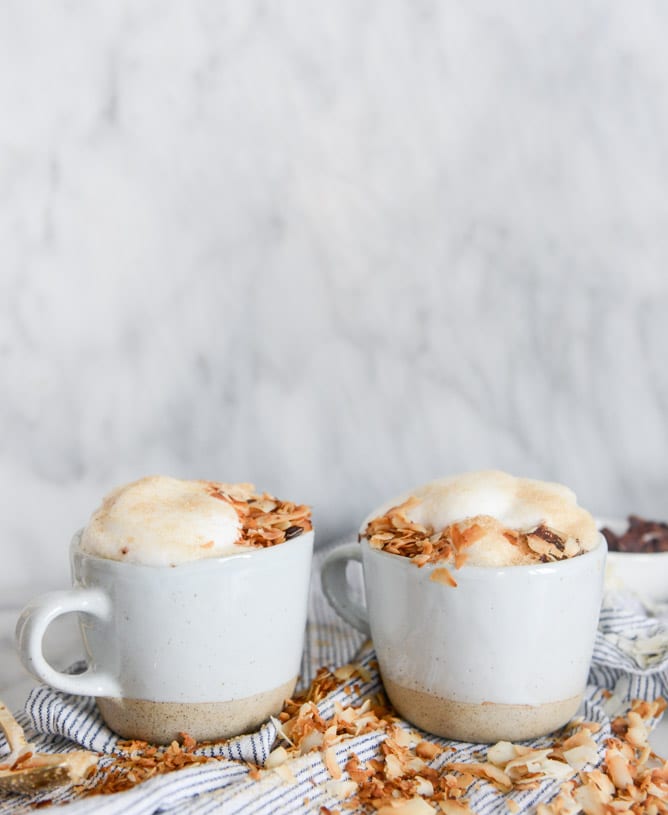 Lattes with coconut. Not with coconut milk (though you may use it! ), but with some homemade coconut syrup. What's with the tropical coconutty flavor?
You want just enough coconut flavor with a dash of vanilla and coffee. Then there's steaming milk and froth, followed by toasted coconut and coconut sugar.
Ingredients
1 espresso shot
1 to 2 tbsp. coconut syrup
4–6 oz. heated milk with froth coconut sugar for sprinkling toasted coconut over the top
How to make it
In a saucepan over medium heat, mix the water, coconut milk, and coconut sugar to produce the coconut syrup. Whisk continually until the sugar dissolves and the mixture comes to a boil. Remove from the heat and set aside to cool fully. Transfer to a jar and refrigerate.
Brew one (or two!) shots of espresso to make the latte. Pour in the steaming milk and whisk in 1 to 2 tablespoons of coconut syrup (depending on how sweet you want it and how much coconut flavor you want). Sprinkle it with coconut sugar and toasted coconut before serving.
Why is coconut latte good?
Is there anyone else who is fascinated with coconut? Surprisingly, it is the flavor of choice. It was just a matter of time until you attempted to make your favorite coconut milk coffee recipe from scratch. This latte is OUTSTANDING. It's also extremely easy to prepare and, by chance, plant-based/dairy-free.
FAQs
What are the best yet weird coffee drinks that you should try?
Well, I would recommend coffee with alcohol but one thing that stands out most is clear coffee cause it's weird that it's actually clear coffee. You should try it.
Is coffee bad for you?
Yes and no. Think of a positive way. Coffee may be bad for some people but it has a lot of health benefits. Always keep positive thinking.
Final Thoughts
Overall, the recipes of coffee that have been mentioned above are weird yet fascinating coffee drinks that you should try and make. When most people think of coffee, they think of its potential to give them a burst of energy.
However, some evidence suggests that it may also provide some major health advantages, such as a decreased incidence of liver cancer, type 2 diabetes, and heart failure.
References
Check out: Coffee types explained By TRT World