Mixing favorite foods together is such a common mouth-watering experience, meanwhile mixing favorite drinks together would be also an incredible attempt. Imagine adding a little liquor to your freshly brewed coffee, what's gonna happen? Voila, there you go the supremely tasty Coffee Cocktails!
Coffee cocktails are not new, but still many people haven't tried them yet. Believe it or not, coffee cocktails come to fulfill your satisfaction when you crave to drink coffee and alcohol at the same time. There are a large number of coffee cocktail recipes represented in every corner of the world but only if you know what tastes best for you.
Don't wait, don't hesitate, come with us to explore the truth about coffee cocktail recipes that you may never know before. We display the 11 best coffee cocktail recipes in order to satisfy your desire for caffeine and alcohol in just one glass. Since coffee cocktails have such an alluring savor with thousands of super convenient ways to mix it up, wouldn't you give it a try? Check out our collection of coffee cocktails recipes now!
1. Irish Coffee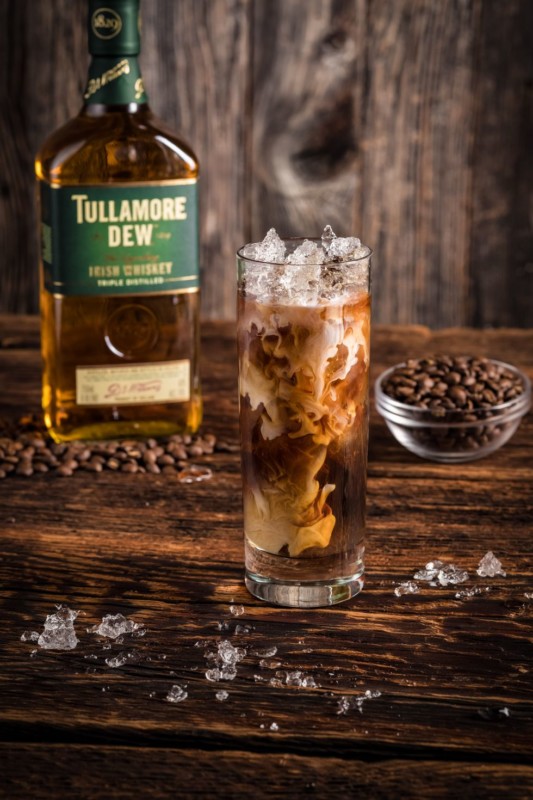 Irish coffee is the traditional recipe that all coffee lovers should never overlook. It was found in the 1940s in Ireland as well as considered to be a standard wonderful coffee cocktail. Moreover, it has a simple way to make Irish coffee. There are no complicated ingredients to prepare the Irish Coffee.
Firstly, you have to brew the fresh coffee first. Use espresso if you prefer strongly-flavored drinks. As a result, a batch of regular brewed coffee is an incredible option. Secondly, warm up a glass of Irish coffee in advance with hot water. After that, add hot coffee to approximately 3/4 full of glass. Then, add two cocktail sugar cubes and stir well until fully dissolved. Here for the sweetener, you can use either white sugar or brown sugar, or molasses, or a combination of sweeteners. Next, add the Irish Whisky of one and a half oz to the mixture and stir really well. Then, top with the whipped cream lightly.
Sum-up Ingredients
2 sugar cubes or either white sugar or brown sugar, or molasses, or a combination of sweeteners
one and a half oz whiskey
6 oz of hot coffee
Whipped cream for topping
2. Hot Boozy Coffee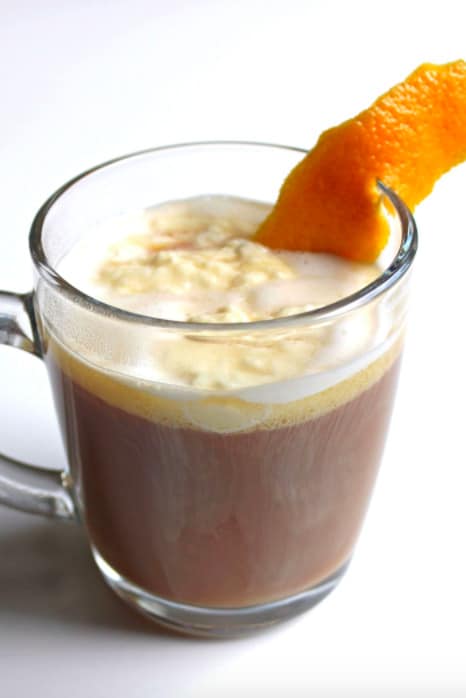 Start a party day with this comfort drink, which is called Hot Boozy Coffee. With that said, it has a super convenient step to make a cup of hot boozy coffee. Firstly, put the whipped cream into a bowl as well as a whip with a whisk, it can be electric. In this step, you have to whip until soft peaks. Next, add granulated sugar to taste.
Secondly, bring out Sunkist orange peel and lightly "burn" with a lighter. Consequently, it will assist the oils to come out which will flavor the coffee at the end. Thirdly, pour both 1/2 oz brandy and Grand Marnier as well as 1/2 oz of Kahlua with freshly brewed coffee in a mug. Then, stir them well with the orange peel. Lastly, top the whipped cream on the finished mixed coffee and enjoy tasty Hot Boozy Coffee.
Sum-up Ingredients
1/2 shot Brandy
1/2 shot Grand Marnier
1/2 shot Kahlua
1/2 cup heavy cream
1/2 tsp of sugar
4 or 5 oz hot coffee
1 orange peel
3. Irish Winter Cocktail Coffee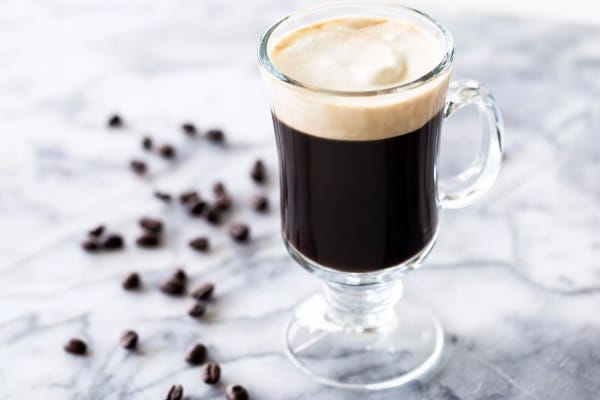 For just 3 minutes to prepare, guarantees you will gain Irish cocktail coffee for this winter. Of course, the drink for the winter season is a hot drink. As a result, this Irish winter is a hot cocktail which has quick and simple recipes to make it. It is a subtle transformation of the original classic Irish coffee, which just follows the Irish coffee recipes. With that said, in a warm mug pour both Irish whiskey and coffee liqueur as well as Irish cream. Remember that in order to ensure it stays warm even the last drop, you have to leave hot water inside for a few minutes.
Then fill with hot coffee and stir well to combine the mixture. However, for this winter Irish recipe has to dual up on the coffee flavor by just adding a little shot of coffee liqueur for sweetness. Then backed by Irish whiskey and softened with whipped cream. Finally, there will be a perfect-rounded hot coffee cocktail appearing in-front of you.
Sum-up Ingredients
Irish Whiskey
0.75-ounce coffee liqueur
0.75-ounce Irish cream liqueur
4 ounces freshly brewed coffee
Whipped cream
4. Cafe Amore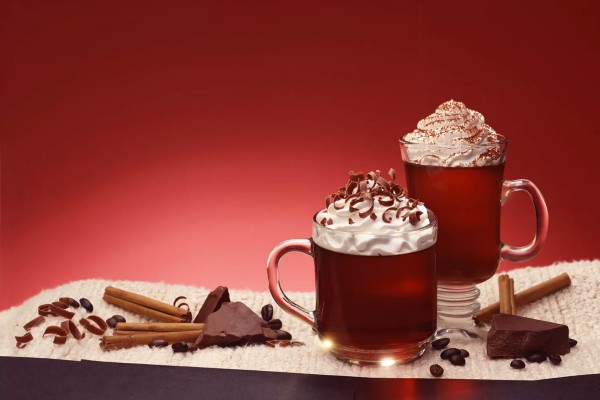 Other types of coffee cocktails are Cafe Amore or French Connection. This kind of coffee cocktail is made of cognac and amaretto. In order to enjoy the Cafe Amore, you just mix both equal amounts of cognac and amaretto liqueur into a cup of hot black coffee. With that said, just a simple adding an ounce of Cognac and an ounce of Amaretto to an ice glass and stir it. Next, fill the glass with hot black coffee.
On the other hand, the ratio of the 2 liquors of this Cafe Amore recipe is adjustable. If you prefer sweeter, just pour more amaretto. In addition, if you like an interesting look, whipped cream and shaved almonds are an incredible option to top up on the Cafe Amore. The French Connection is also a perfect recommendation alcoholic drinks for the winter season, have a try, we are sure you will like it!
Sum-up Ingredients
Hot coffee
1 oz Cognac
1 oz Amaretto
Shaved almonds
Whipped cream
5. Italian Coffee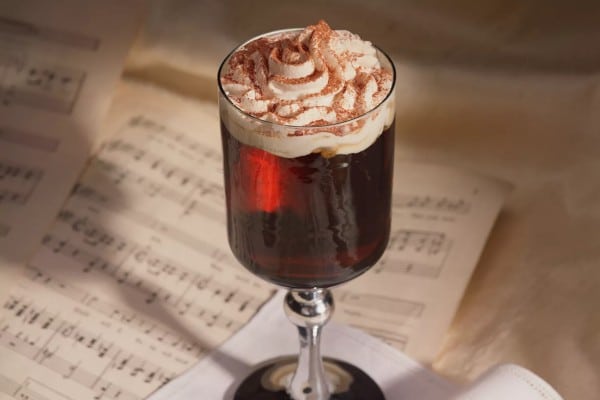 The Italian coffee was produced in Campania, Italy in 1860. The main needed ingredient of Italian cocktail Coffee is Strega. Strega is an herbal blend that is seen in golden color after infusion with saffron. However, the Strega releases a wild aroma of mint and a sweet smell of fennel and juniper when mixed with hot coffee. Consequently, combining hot coffee with the Strega will bring you an aromatic bouquet sense for a comforting experience.
With just a few ingredients and simply add in, you will have a taste of Italian coffee. With that said, just pour coffee and Strega into a hot coffee glass and add 1 tps of sugar. Finally, top some cream as well as sprinkle with nutmeg. The unique taste of Italian Cocktail Coffee is waiting for your sipping.
Sum-up Ingredients
5 oz hot coffee
0.5 oz Strega
1 tps sugar
oz whipped cream
6. Kentucky Coffee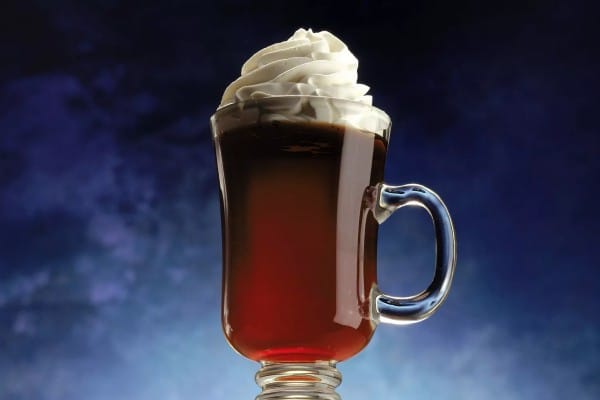 Kentucky is an American South Irish coffee. Likewise, thinking of the Kentucky coffee, paring the bourbon with sweetener and whisky will appear in the sea of the brain. Of course, another important ingredient is 6 oz of hot coffee. The Kentucky coffee has a super easy recipe to follow. Consequently, prepare all of the mentioned ingredients and make the Kentucky coffee within a few minutes.
Firstly, fill half full of hot coffee to the glass and add 1 oz bourbon with a dash of vanilla extract. In addition, for sweetening just add sugar to taste and top whipped cream on the glass. Moreover, you can use Honey liqueur as the sweetener to tame whisky perfectly.
Sum-up Ingredients
1 oz bourbon
0.5 oz Kahlua
Dash of vanilla extract
Sugar
Whipped cream
6 oz of hot coffee
7. Black Orange Russian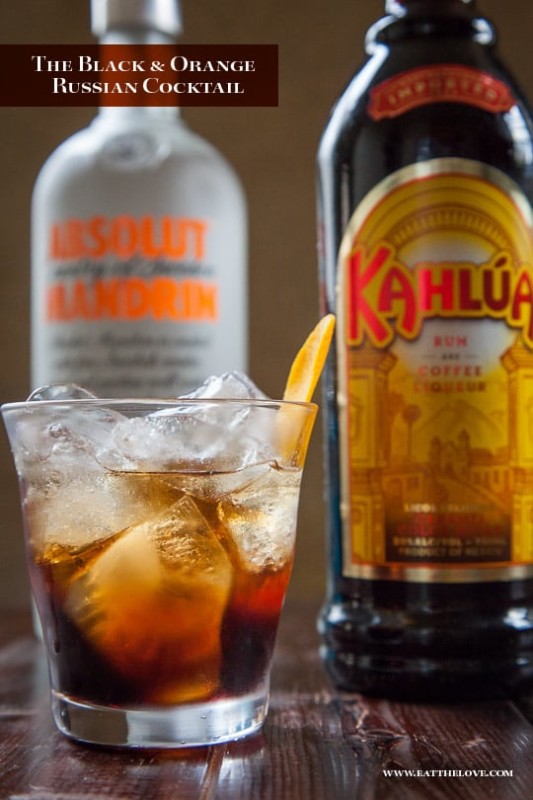 The Black Russian is a tasty twist coffee cocktail. Moreover, it only needs two essential ingredients including coffee liqueur and vodka. It is so simple and easy to make the Black Russian. Make it a try with us. Within a few minutes, guarantees you get a delicious Black Orange Russian.
Firstly, fill a coffee glass with some ice cubes and pour vodka and coffee liqueur. After that, stir it well and garnish with the orange peel. Besides, the Black Russian can use either a chocolate or a chocolate raspberry vodka for an extra interesting experience. Then serve yourself this delicious drink.
Sum-up Ingredients
1.04 oz of vodka
0.75 oz of Kahlua
Orange peel
Some cubes of Ice
8. White Russian Coffee Cocktail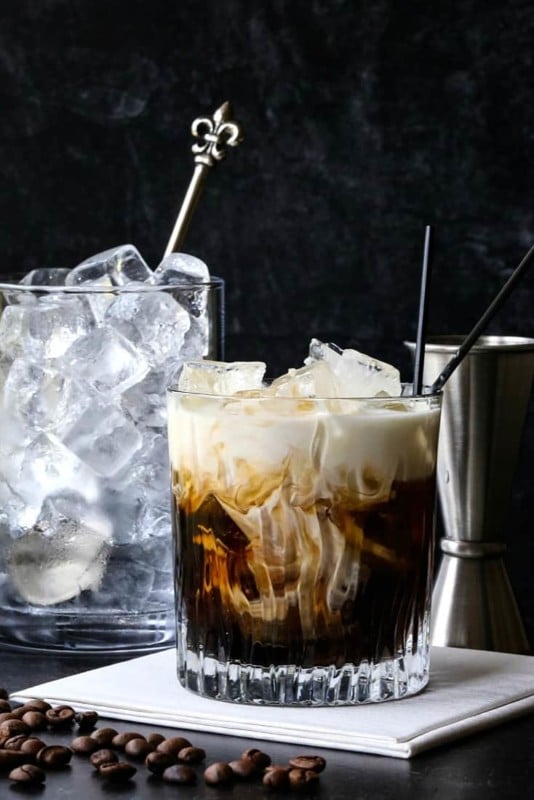 The White Russian cocktail is a drink which transformed from Black Russian. There are several interesting ways to make the White Russian. Firstly, create Black Russian in advance and just add cream to it. Hence, it will turn from a dark color to white color.
Second way is to adjust the coffee liqueur with cold brew coffee. In this method, you have to fill a glass with some cubes of ice first. Then add vodka and either milk or cream with cold brewed coffee. After that, stir it well, it will turn to white. Lastly, the White Russian can be served hot by just adding the vodka and milk to a glass of hot coffee.
Sum-up Ingredients
2 oz of vodka
1 oz of cream or milk
1 oz of cold brew coffee
9. Sombrero Cocktail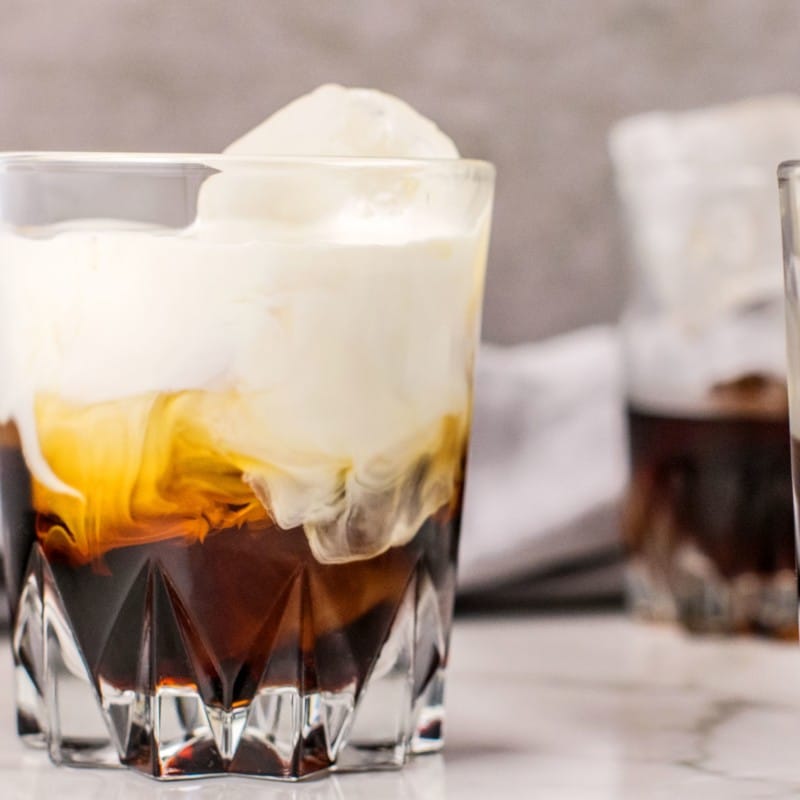 The Sombrero Cocktail is another including Kahlúa with milk. Moreover, it is the most convenient drink to mix up and stands for a wonderful dinner cocktail. Specially for those who prefer a smooth and casual cocktail. Yet lighter than the White Russian in comparison. The Sombrero Cocktail is an incredible choice to make a try.
Kahlúa is a well-known coffee liqueur on the everyday market. Also, the sombrero can be used with any coffee liqueur. So, you can freely choose one of your favorite coffee liqueurs. Next comes up with an easy way to make the Sombrero Cocktail. Firstly, gather all of the ingredients for saving time. Secondly, pour a shot of coffee liqueur after filling some cubes of ices into the glass. Thirdly, top with milk or cream. The sombrero is a little thicker when you fill it with cream. However, half and half or cream and milk should be a perfect middle ground. Finally, enjoy your Sombrero Cocktail with a stir stick if you prefer to stir it, though the sombrero cocktail usually served unstirred.
Sum-up Ingredients
2 ounces coffee
2-3 ounces cream or milk
10. Nutty Irishman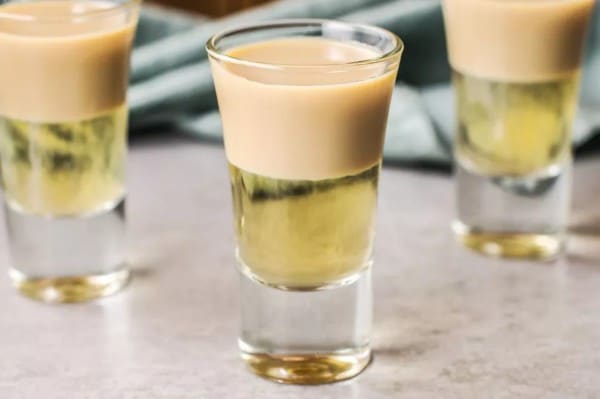 The Nutty Irishman is a delicious and famous drink that has an easy recipe to make it. No matter your desire for either a layered party shot or a creamy sipper, the Nutty Irishman is a perfect mixed drink to fill out your needs. The most essential ingredients to make this type of drink have only two including hazelnut liqueur and Irish cream.
Firstly, choose a shot glass to prepare for the Nutty Irishman. Secondly, pour the hazelnut liqueur into the glass. Thirdly, add the Irish cream on the top slowly by pouring over the back of a spoon. Within just 3 minutes you will enjoy the Nutty Irishman for your winter.
Sum-up Ingredients
3/4 ounce hazelnut liqueur
3/4 ounce Irish cream
11. The Spanish Coffee Carajillo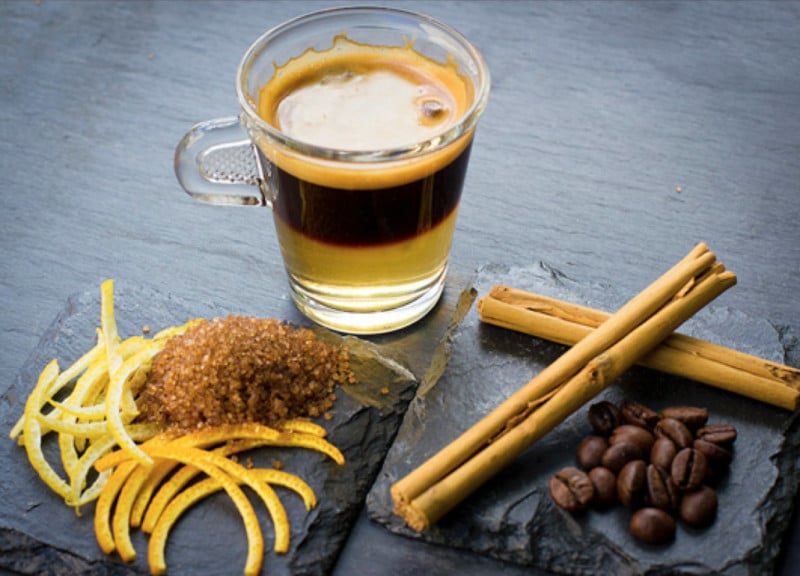 After trying this Spanish Carajillo once, we are sure you will desire it more. With that said, because of its smooth and powerful combination of alcohol and caffeine. The Carajillo has a convenient recipe to make this drink. However, the Spanish Coffee Carajillo recipe has many steps to go.
Firstly, wetting the rim of a glass with the prepared orange slice. Secondly, pour sugar onto the plate as well as dip the glass upside down into the sugar. Thirdly, brew the coffee and add the shaker contents with Jamaican rum to the coffee. As well as add both ¼ oz Grand Marnier and coffee liqueur with brown sugar syrup. Next, stir the mixture perfectly. After that, slowly float cream by the back side of the bar spoon to the top of the glass.
Sum-up Ingredients
4 oz of coffee
3/4 oz of Grand Marnier
1 oz of rum and coffee liqueur
3/4 oz of Jamaican rum
1/4 oz brown sugar syrup
4 oz whipped cream
Sugar
Slice of orange
No longer hesitate, bring this recipe's article and mix up one of your favorite coffee cocktails for both the summer and winter season. Finally, leave us a comment if you have any questions. As well as let us know your experience when you have tried with one of these 10 coffee cocktails in the comment below.
References