Every coffee drinker should have come across the term blonde coffee at least a couple of times during your coffee journey. Some might argue blonde roast coffee or medium roast coffee and dark roast coffee all taste the same! Well, it is certainly a controversial topic but be careful not to offend your coffeeholic friend. If you have never tried blonde coffee, there is always a first time for everything. Maybe it will fit your taste better or maybe it will not. As you read this article, we will discuss more blonde roast coffee. So, hang on tight!
A Little About Light Roast Coffee
Different types of roasts have their taste, aroma, and characteristic. There are 3 levels of roasting which are light roasts, medium roasts, and dark roasts. Blonde roast is basically under the category of light roast. The lighter roast can also be referred to as cinnamon roast, New England, Half City, Light City, and Light Coffee.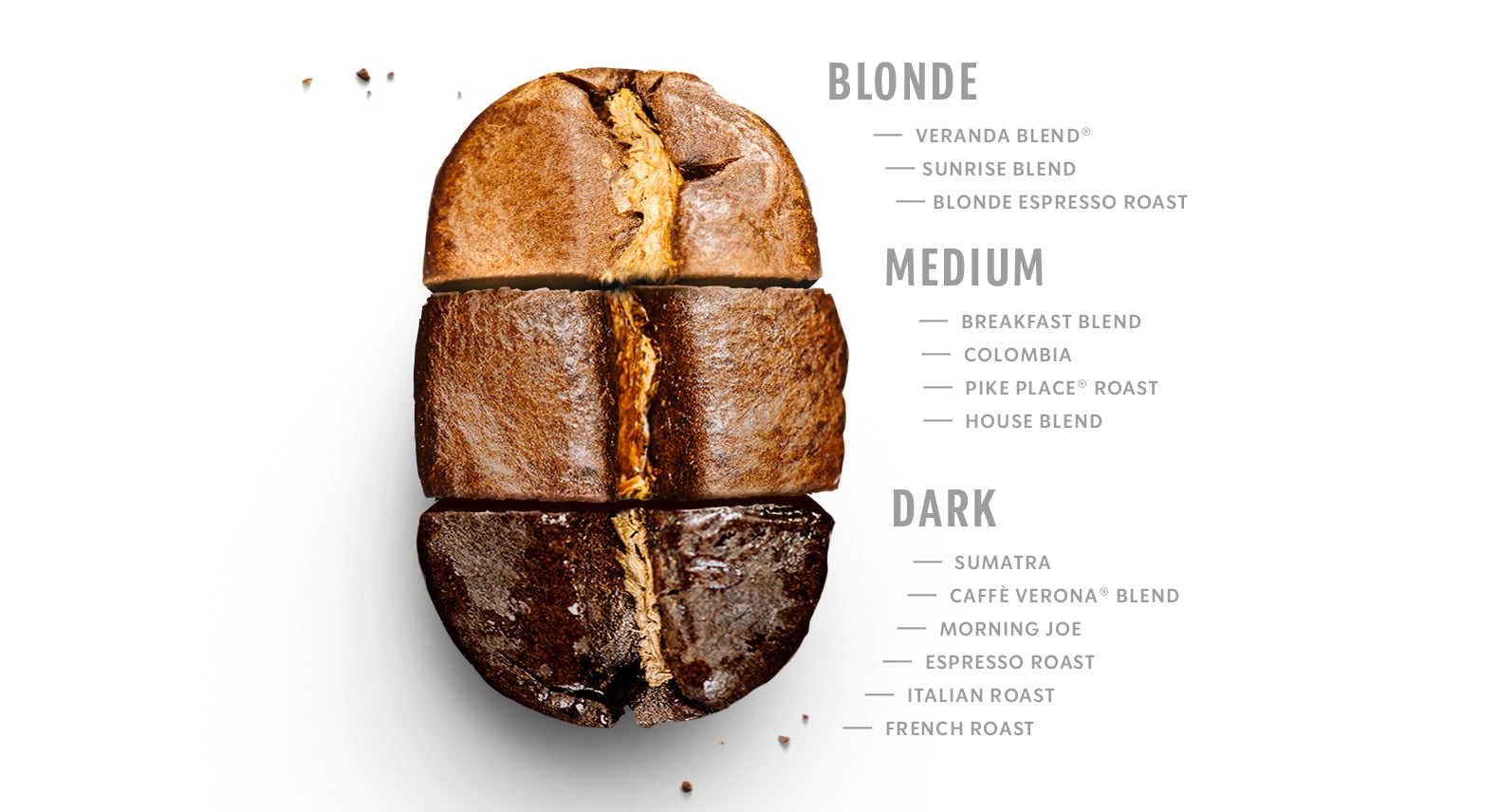 A lighter roast tends to provide more caffeine, more acidity, lesser aroma, and a mellow flavor. Due to the short roasting process, While doing a light roast, the coffee bean will reach the temperature of 350F – 400F and will be lifted after the "first crack".
Lighter roast also has some health benefits. Light roast tends to have more anti-inflammatory properties, which are related to a whole host of chronic diseases, However, it does not mean that dark roast coffee does not have any health benefits to us, the lighter roasts just provide more benefits for us.
Your nearest Starbucks will also provide a light roast beverage for you. They also have pre-light roasted beans that are served in packages, which you can purchase in their store and on Amazon as well. There are various options for clients to choose from in terms of picking a Starbucks blonde roast coffee, and we will be discussing it shortly.
Brand: Starbucks
Flavor: Veranda Blend
Weight: 12 ounces (6 packages)
Fresh Taste
Subscribe and save
View Price on Amazon
This premium ground coffee delivers an abnormal and delicious multiple cups of coffee of Veranda Blend roasted ground coffee. Veranda blend is known to be the lightly roasted coffee along with malts and baking chocolate to give off this sweetening taste. Moreover, Starbucks ensures customers provide them with premium standards. It is so easy to make your everyday cup in a swift.
This product in particular is only sold in 6 packages with 12 ounces in each bag. It is suitable for those that drink blonde roast frequently and save time from buying one bag at a time, they are now supplied with 6 packages in one purchase. 
Thus, it will be able to supply us coffee drinkers with Starbucks grounded blonde roast coffee for the time being. Especially during this pandemic situation, many places are restricted. Therefore, having a bag of coffee at your house could ease your coffee cravings.
Brand: Starbucks
Flavor: Veranda Blend
Weight: 28 ounces (1 package)
Fresh Taste
Subscribe and save
View Price on Amazon
This next one is the same variant as the first one as well. However, instead of having six packages this one only sells in a singular package with a heavier weight of 28 ounces. Starbucks has expanded its target audience and provided them with multiple choices that they could pick.
So, for those that wanted to taste a blonde roasted coffee for a temporary period, this is suitable for them. Without having to buy multiple bags like the first 1, they can just buy 1 bag to their desire.
After cup after cup of Veranda Blend gently roasted ground coffee, this premium ground coffee delivers an amazing cup. The Veranda mix is noted for being the lightest roasted coffee, with overtones of toasted malt and baking chocolate to give it a sweetening flavor. Furthermore, Starbucks guarantees its customers that they will receive the best possible service. Making your perfect daily cup and enjoying it in a flash has never been so easy and so simple.
Brand: Starbucks
Flavor: Veranda
Item Form: Capsule
Size: 32 Count (Pack of 1)
Roast Level: Medium Roast
View Price on Amazon
With this next one, Starbucks has made it even more convenient for coffee lovers to enjoy booster beverages. For those that enjoy their coffee from home yet still have a taste of premium coffee, this will aid their needs a lot.
This product comes in the form of a capsule, called K-CUP. K cups, however, need their dedicated machine to produce the coffee. Though you have to spend a little bit, it is permanent.
Unlike the normal dripping process, you just put the K-CUP of your preferred coffee in the machine, it will automatically brew your morning cup for you. Especially, if you are busy in the morning, you just need to pop one K-CUP inside the machine, continue on your task and when you come back to it, you will have your coffee ready for you. It could arguably be the easiest to drink coffee at home for you.
Brand: Starbucks
Flavor: Sunrise Blend
Item Form: K-cups
Size: 10 Count (Pack of 6)
Roast Level: Light Roast
View Price on Amazon
Another product from Starbucks that is a little bit unique from the rest is this blonde roast sunrise blend. This product is not just like any coffee. Starbucks Sunrise Blend has lightly roasted American beans for a well-rounded, mild taste with slight notes of chocolate.
For those that favor coffee and chocolate, you will find this tastes great. Since it has a blonde roast coffee, the caffeine content will greatly awaken your senses and deliver a flavorful cup to your taste buds.
There are various options for you to pick but this one, in particular, is sold in a bundle of 6 packages, and in each package, there are 10 counts, thus 60 pods in total. Therefore, for those that have a big family or those that have a love for both coffee and chocolate, or those that want to share in their workplace, it is the perfect product for you with a decent amount for everyone to enjoy their light roasted coffee with hints of chocolate. 
Brand: Starbucks
Flavor: Blonde Roast Veranda Blend
Item Form: Capsules
Size: 32 Count (8 capsules per package)
Can be made through Nespresso machines
View Price on Amazon
Up this on our list is a blonde roast veranda blend. The inspiration behind this taste is that Starbucks blonde-roast coffee has a caffeine strength of 6 with mild notes that is blended with beans from Latin America.
The feature that it comes with is that it can be made through Nespresso machines. This machine is similar to the K-cup machine, however; it is much more expensive than the k-cup.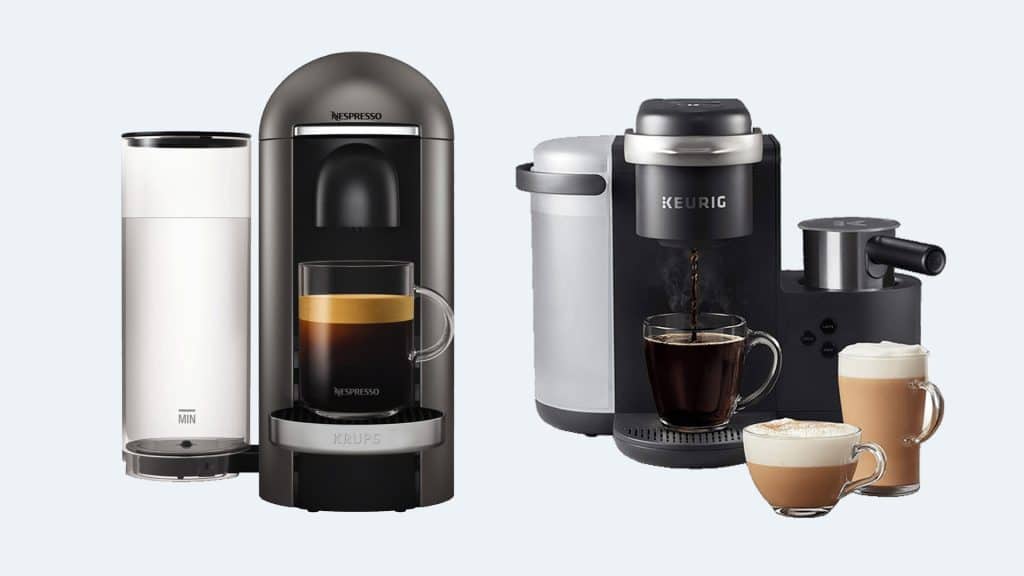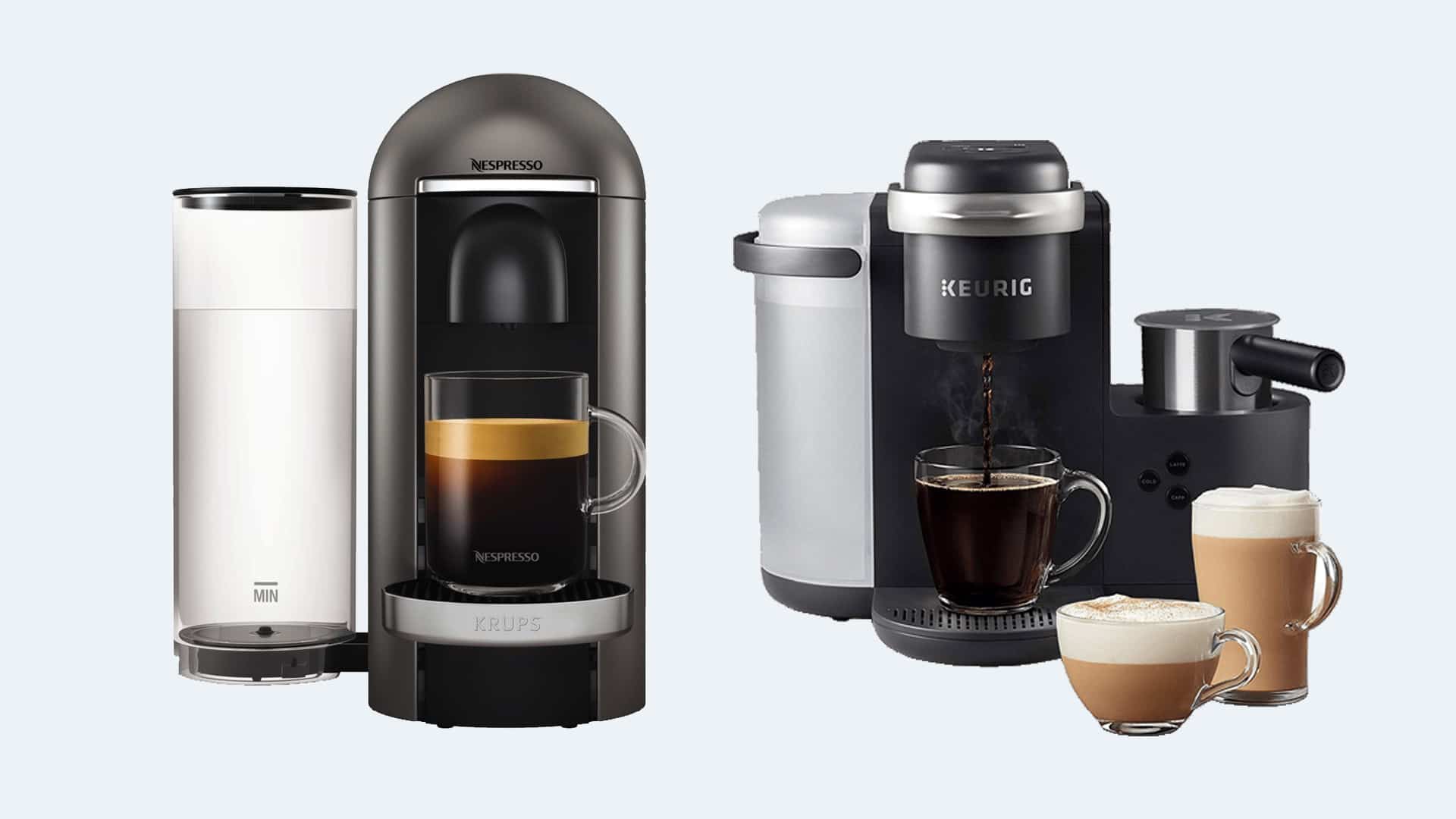 You may be wondering what differences it brings between these two coffee machines except their taste. First of all, Keurig can be used to make tea, chocolate, and other hot drinks, while Nespresso can only brew coffee, espresso, and cappuccino, which Keurig won't brew espresso. Moreover, the Keurig machine can also be cheaper than an espresso machine. 
Even though the Keurig machine is much cheaper, if you are a true coffee drinker and wanted a consistent and premium flavor in your coffee, then you need to pick the Nespresso machine instead.
Brand: Starbucks
Item Form: Instant
Caffeine Content: Caffeinated
Flavor: Blonde Roast
100% Arabica beans
View Price on Amazon
This product could arguably be the easiest option for us coffee snobs that need a good coffee with enough coffee strength to give us a quick and easy coffee run in the morning. This Starbucks coffee blonde roast premium instant coffee is crafted with the same high-quality 100% Arabica beans they brew in their cafés.
This 3-pack case makes up a total of 120 cups in total. Moreover, the crisp and light-bodied taste of a blonde roast coffee just gave off a bright yet complex crisp and flavor taste profile. 
With Starbucks premium instant coffee, it provides you with an option to adjust how much coffee you stir in so that you can perfectly adjust the sweet, light, or heavy, flavor accordingly to your tastes.
It is easy to make an incredibly smooth and delicious cup of coffee just by simply adding instant coffee, pouring hot water, and stirring. You will be greeted with this premium-tasting instant coffee at your house. Especially, with this small form factor, you can easily pack in wherever you want to go. You could be going on a trip, camping, or going to the office, with just one can, you can drink coffee with a premium blonde roasted coffee from Starbucks.
Brand: Starbucks
Item Form: Powder
Caffeine Content: Caffeinated
Flavor: Caffeinated
Roast Level: Medium Roast
View Price on Amazon
This is another product from Starbucks that has instant coffee as well. Starbucks via instant coffee is ensured to deliver another surprising flavor cup after cup with this 50 count box of Starbucks via instant Veranda blend instant coffee. 
Unlike the previous one, this product offered a singular package within one big box. This is ideal for workplaces, hotels, and other lounges that many people have to access daily. So, to provide a hygienic coffee package, this Starbucks via instant coffee is the one for you!
Since it is also a veranda blend, it offers the lightest roast along with roasted malt and chocolate which make it suitable for all ages to enjoy their brew by pouring water and stirring.
The fresh taste that Starbucks guarantees to provide to the proper standards and the latest product that ship to you are the same roasted 100% Arabic coffee beans that they brew in their cafés. Whether it's a start of a new day, or as a reward at the end of a long one, you can easily enjoy your routine cup of coffee in an instant.
Brand: Starbucks
Item Form: Liquid
Flavor: Coffee
Caffeine Content: Caffeinated
Roast Level: Light Roast
View Price on Amazon
Lastly, our list came down to this small and compact bottle of energy from Starbucks coffee. This was influenced by the culture at Starbucks, where this blonde roast iced coffee was crafted for home customization.
This bottle is made of about 48 fl oz serving of refreshing iced coffee. With this small bottle, you can customize however you want with your coffee. 
Maybe you don't like how Starbucks made your coffee to your liking. So, now you have a choice to drink it black over ice or you want to add milk or you can add more sugar or you like to drink your coffee a little bit creamy, you can design it according to your preference and make it possible through this one little bottle. It is perfect for the late afternoon for those that need a quick boost, just pop one out and move on with your day.
Conclusion
We sure did cover a lot of different types of blond roasts and options that Starbucks offered for us to purchase in this blond roast coffee review. People all have different coffee tastes according to their preferences.
Some might like darker roasts and some might enjoy a true light roast. But there are no true definitions of what is the best coffee. However, in this case, blonde roasts sure provide some solid points to prove why you should at least give it a try before concluding.
Among all of the popular coffee that is listed above, all serve their purpose in providing us with our daily injection of caffeine. Some came as a bundle or singular package. They also came with a mixture of chocolate inside their coffee so that it provides a sweet and addicting flavor for the drinker.
There is an option for those that have a Keurig machine or Nespresso machine, which they can choose to purchase according to their liking. Furthermore, there are options for those that are looking for a quick and instant coffee. As shown above, Starbucks does offer instant coffee in both cans and packages.
Customers can choose to purchase correspondingly to their environment whether it be at the workplace or home. Nevertheless, dark roast coffees, medium roast coffees, or blonde roast coffees will not matter; all that matters is that you will never stop enjoying drinking coffee every day and IT IS A FACT!
References:
Youtube Video