You drink coffee to wake up, at workplaces, with friends, in a meeting, after a meal, when you're dating, when you're lonely, or when you are tired. You enjoy it when it's hot or cold. Of course, people drink coffee more than ever in 2023.
For this reason, there are countries that produce the most coffee, countries that yield the best coffee beans, and countries that have the highest coffee consumption. But in the name of a coffee lover, do you know the biggest coffee companies that exist in the world? In this article, we will find out such interesting fact together. 
10. Maxwell House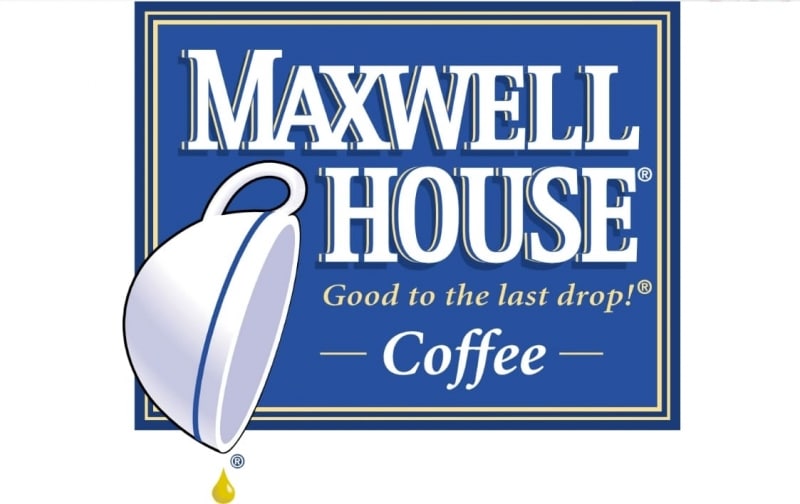 Maxwell House is one of the top coffee brands of Kraft Heinz in America. In 1884 in Nashville, Tennessee, coffee brokers Joel Cheek and Roger N. Smith met and studied the optimal blending ratio. 
In 1892, the company became famous by supplying Nashville hotel 'Maxwell House Hotel'. Then, Cheek quitted his job as a broker and met John Neal, a wholesaler of raw materials, and entered the consumer coffee industry. From 1917, he started using the famous catchphrase "Good To the Last Drop". 
In 1928, Maxwell House, which became the property of General Foods Maxwell House, entered instant coffee market. Despite its premium line, the Maxim brand did not perform well. After going through the 'New Maxim' in the 1970s, around the mid-1980s, all models except for the trademark rights were re-incorporated into the Maxwell House. Remember that Maxwell House has several kinds of coffee products, such as coffee mix, canned coffee, coffee beans and so on. 
9. Keurig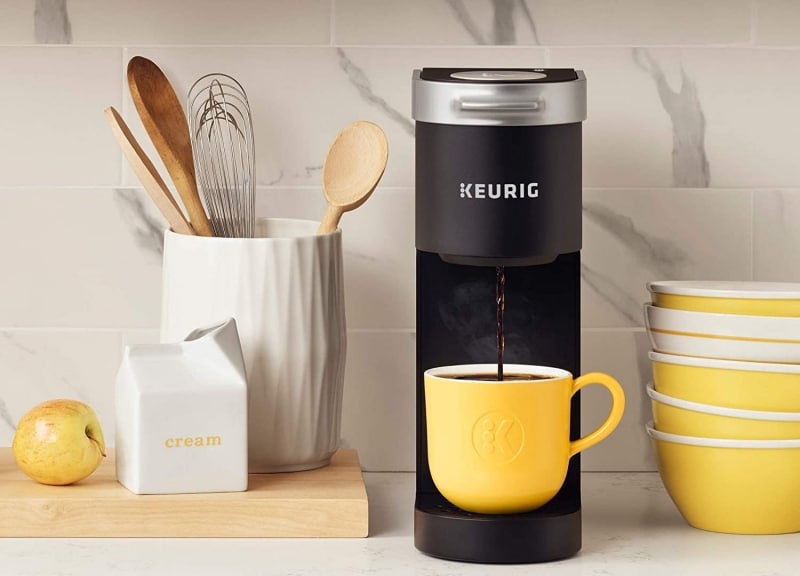 Keurig is the most distributed capsule coffee machine brand in America. The word Keurig means 'excellence' in Dutch. It is an American coffee brand, accounting for 11% of coffee beans in America. This company is best known for the Keurig Mountain company. 
K-cup pod is one of the finest products from this coffee company. So, Keurig customers can get a true 'home cafe' which is similar to the coffee they used to enjoy at their favorite cafe. 
Additionally, K-cup pods are available to many famous coffee shops including Starbucks. On top of that, this company has more than 400 types of coffee beverages and 60 different coffee brands. 
8. Folgers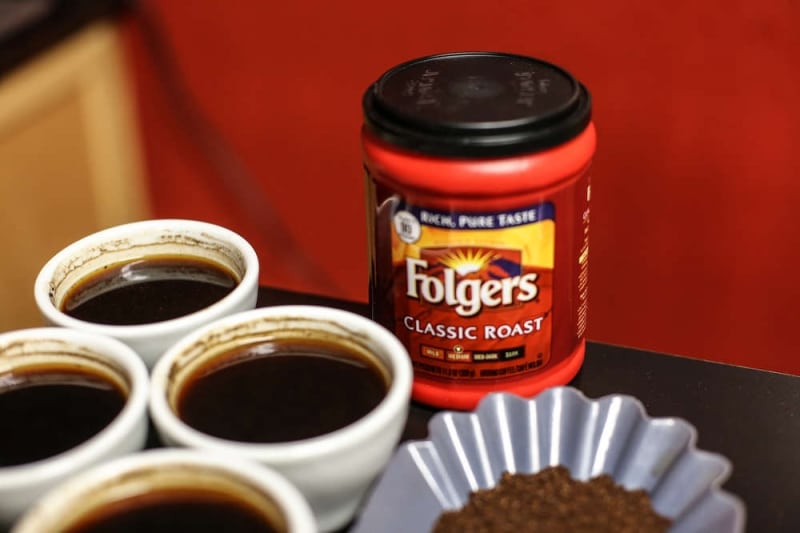 The company was founded in 1850, which is a very old coffee brand company. You can find it at many supermarket, grocery store, or website. Folgers Coffee is a long-lived brand with a history of 168 years and is the No. 1 product with a 27% market share in the US retail coffee market. 
In the United States, it also surpassed Starbucks, and became the top coffee preference. As its website states, it is characterized by using 100% Arabica beans to provide the taste of authentic Americano. They sell two types of beverages, original and decaffeinated as ground coffee and instant coffee.
7. Nescafe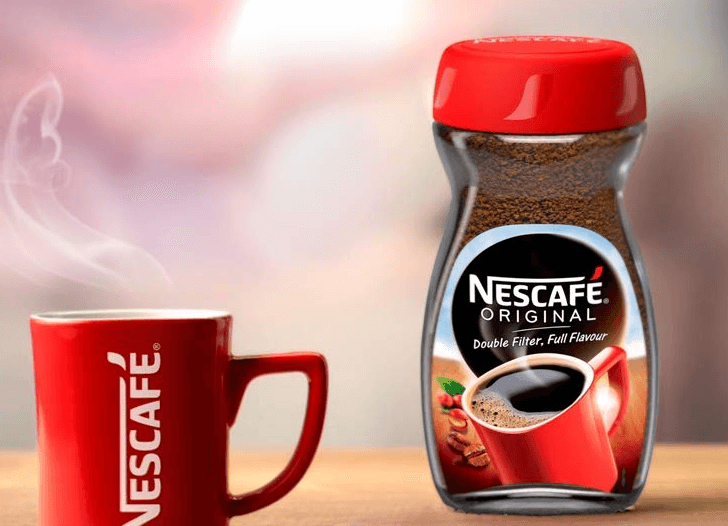 Nestlé is the superior Swiss food and beverage company. It is the most famous instant coffee brand in the world. Its hottest instant coffee brands is the love for so many coffee customers which is best known for its interesting advertisements, especially during the 1990s. 
There are several types of coffee products that you can get from Nestle, one of them is instant coffee. It has a long story that has been developed by Nestle in Switzerland in 1938. Since then, it has established itself as the world's most well-known instant coffee brand.
After acquiring Carnation in 1984, it is distributed alongside the brand called Tasters' Choice in the United States an other countries. In some countries such as Turkey and Greece, Nescafe has become a common noun referring to instant coffee itself. Another product from this company is can coffee. You can find this canned coffee Nescafe anywhere on the market.
6. Gloria Jeans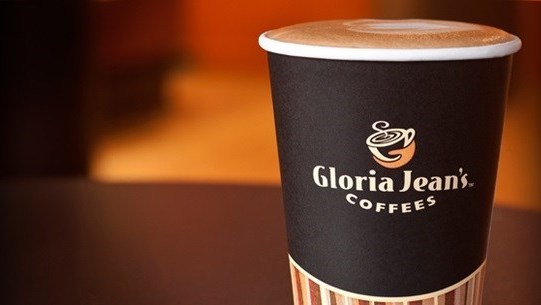 Gloria Jeans is a company that was founded in Chicago, US. The brand was originally founded in 1979 by an American named Gloria Jean in a small shop in Long Grove, Illinois, and landed in Australia in 1996. Since then, it has achieved tremendous success in the Australian market. For example, in 2005, it obtained the franchise rights from the US headquarters in the world except for the US and Puerto Rico.
Currently, it has more than 450 coffee shops in Australia, it stays under the ownership of Retail Food of Australia. This coffee company owns around 1000 cafes from 39 countries in the world, and it is famous for its premium quality taste. More than that, Gloria Jeans is a chain coffee shop. Therefore, no matter where you go, you can taste the same menu with the same quality.
5. Tim Hortons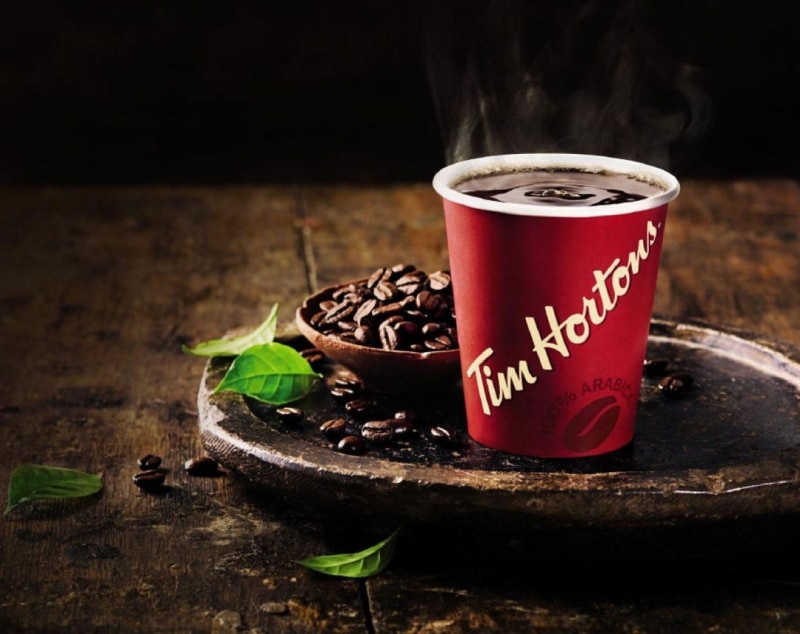 If McDonald's represents American culture, Tim Hortons has become a symbol of Canadian culture. Tim Hortons, a Canadian donut and coffee brand, is an all-time favorite and deserves to be called 'national coffee'. It has more than 3,000 stores across Canada, even at a small mountain village. Last year, it operated 4,846 stores in 14 countries around the world. Among the menu items, ice cappuccino and French vanilla are the top drinks. 
Tim Hortons has high sales both coffee and doughnuts. Moreover, it is a fast-food restaurant that is famous for its very fast service. Overall, it is a company that shows high satisfaction in Canada and the US. Recently, it plans to enter China. It has partnered with global private equity firm Carnesian Capital Group to open more than 1,500 stores across China over the next 10 years. 
4. McCafe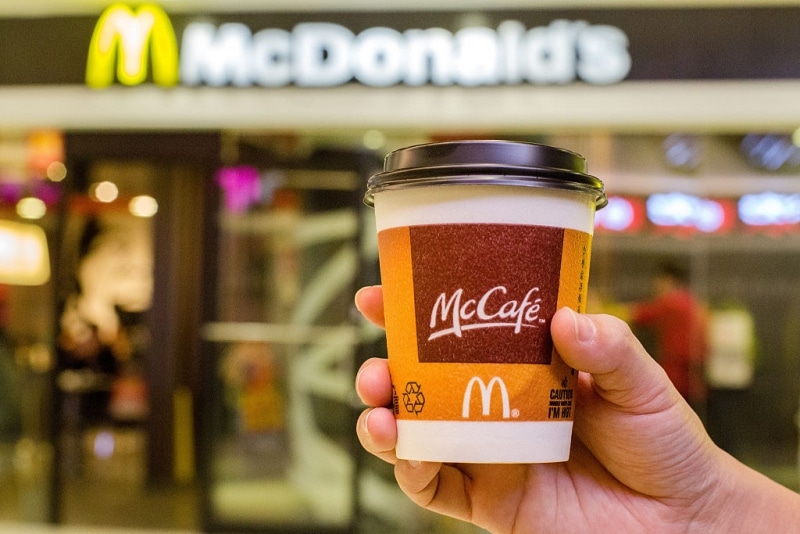 McCafe is under the Mcdonald's company, and it was founded in 1993. So, wherever you see Mcdonald's, you will also find McCafe. Following last year's 'Best Burger' project, which upgraded the entire hamburger cooking process, McDonald's gains its popularity by improving the taste and quality of its coffee brand, McCafe.
McCafe's popularity stems from McDonald's coffee project. Last year, McDonald's increased the amount of coffee bean input per cup by 14% on average when making espresso, raising the taste of all coffee menus to the next level. Espresso-based coffees like Americano, Caffe Latte, and Cappuccino are evaluated to have a stronger flavor and aroma. In the global market, McCafé has already ranked the third-largest coffee brand behind Starbucks and Costa Coffee
3. Dunkin Donuts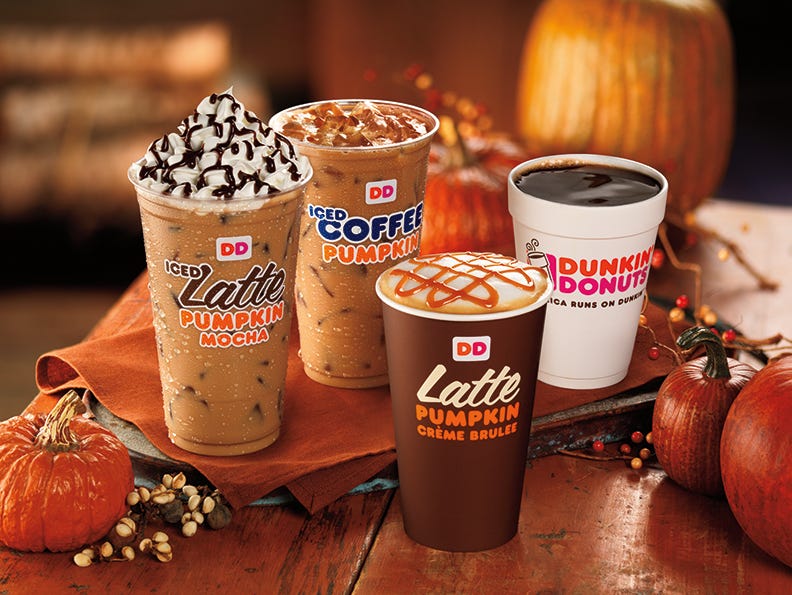 Dunkin Doughnuts is one of the top companies that is ranked for the top place in terms of coffee shops quantities. Of course, it is famous for its tasty doughnuts, but also very popular for its aromatic coffee. Dunkin has more than 70 years of history, and operates in 26 countries around the world, with 11300 shops.  
In the mainland of the United States, Dunkin Coffee does not use an espresso machine, but brews a large amount of coffee using a Dunkin exclusive automatic coffee pot and heats it with an electric heating plate. So no espresso.
Although brewed slowly, it sells quickly even after brewing a large amount. Although it is the largest coffee shop in the United States, Starbucks and McDonald's terribly caught up with it.
In the United States, espresso-based beverages has received great attention since the 2010s. Although not as versatile as the specialty coffee chains, espresso, americano, cappuccino, latte, and macchiato have become a standard menu. Meanwhile, Vanilla chai also changed to a method of heating milk using a steamer and then adding powder, rather than coming out of a machine like hot cocoa. The menu continues to expand, such as adding dark roasted or cold brew coffee. And in 2019, when the brand was changed to Dunkin, it began to offer coffee, not only donuts, as its main menu in earnest.
Dunkin introduced a drive pick-up service for customers who are accustomed to getting desserts such as coffee in the car and increasing their preference for non-face-to-face ordering and payment. This service is available in the drive pickup menu of the Happy Order application. When filling out the order form, enter vehicle information (color, vehicle number), set the estimated time of arrival, and then stop at the designated location for each store. Dunkin explains that it is possible to receive the product in the car without entering the store.
2. Costa Coffee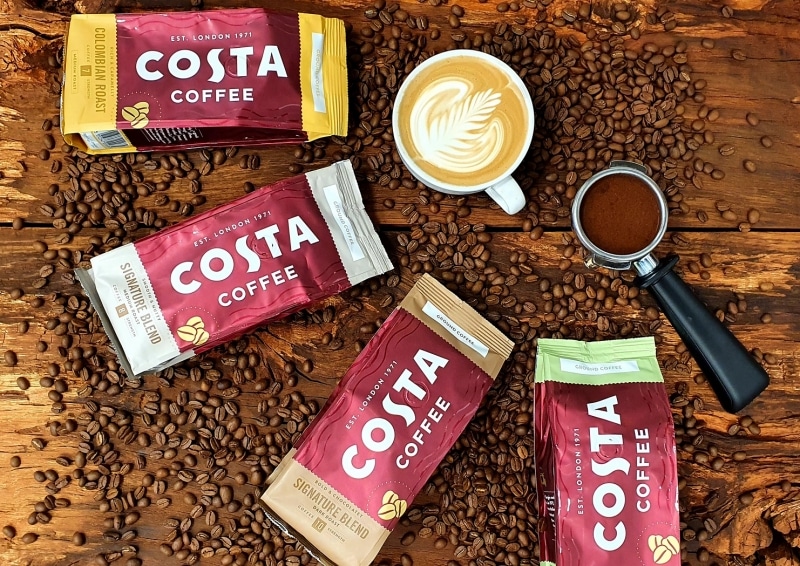 Costa Coffee is one of the biggest coffee brands in England and is a long-time rival of Starbucks. Compared to Starbucks, it is competitive in terms of low pricing. It is also the second-largest selling coffee shop. Costa Coffee provides more than just a coffee, it offers cold beverages, sandwiches, and many more menu options as well.
In Europe, there are more 'Costa Coffee' stores born in 1971 than Starbucks. It dominates the UK and the whole of Europe with thousands of stores in 32 countries around the world. For this reason, Coca-Cola entered the coffee market in 2018 and acquired Costa Coffee for £3.9 billion. In Europe, the existing Costa stores are maintained, and in the United States and Asia, the company plans to target the stronghold of Starbucks by using the Coca-Cola distribution network.
1. Starbucks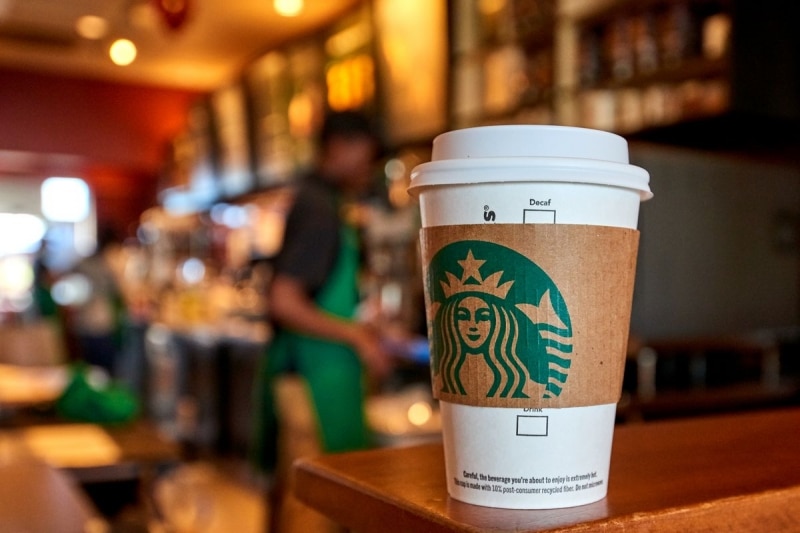 Without a doubt, Starbucks is the most well-known coffee chain. Not only because of its specialty coffee, but also tea, juice, and desserts. Starbucks accounts for 10.2% of America's coffee market and owns more than 50000 coffee shops around the world. Long story short, Starbucks is a very friendly brand to customers that sells more than millions of cups per day.
Review Top 10 Best Coffee Chains Around The World By BabbleTop