Coffee is one of the trendy beverages around the globe in the 21st century. Agree or not, but many coffee lovers have little motivation to own a coffee shop because of their love for this drink. It is considered as an increasing market for coffee entrepreneurs who want to make a name for themselves. To remain competitive and successful, a significant amount of effort and funds is required plus have knowledge about coffee. You need to draft business ideas meticulously before starting a coffee shop.
What Coffee Shop Business Plan Should You Make?
When it comes to starting a profitable business, there's no other than a substantial coffee shop business plan. It's complicated but beneficial after you prepare and write thoroughly. A business plan is like an alternating document so it must comprise adequate structure to provide you a strong foundation while still allowing for development.
You'll also need to figure out what sort of coffee shop to create, such as a regular coffee store, coffee food trucks, or another form of the coffee company. Along with that, you must also determine how much it will cost to get started.
As much as necessary as that, doing research and making relationships is also crucial at this point of the planning process. This is what most business owners do. If you wish to take the coffee business further, networking can help you achieve. For example, you hope to get an opportunity to expand to international markets.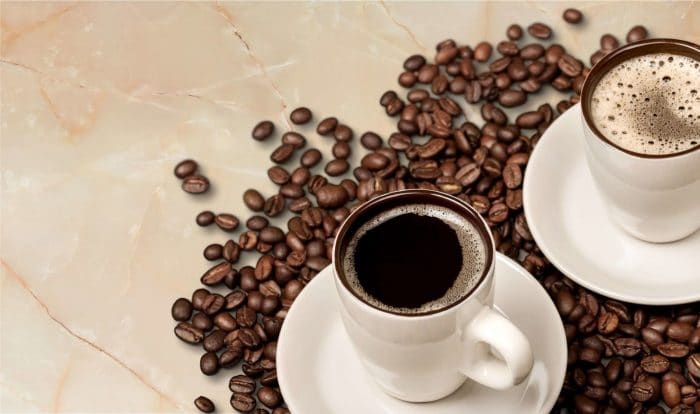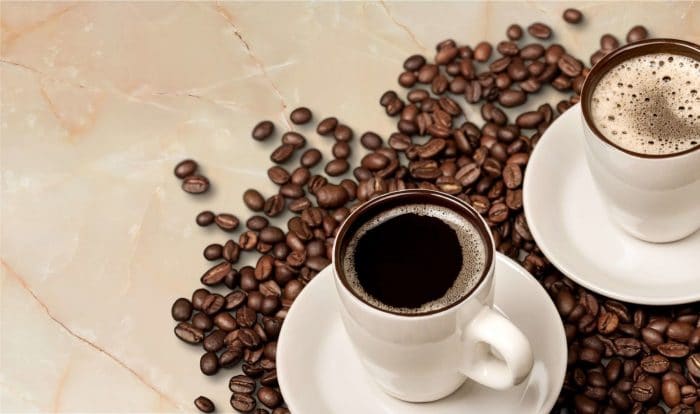 List of 12 Different Coffee Business Ideas
Below are different business ideas that contain crucial details on the coffee shop business plan, how much money you need to spend, and the estimated profit. We mention both low-cost and high-cost business ideas on how to start a coffee shop.
1. Start Coffee Shops with Existing Businesses
There are huge advantages if you piggyback on existing business. It's a win-win strategy to run a coffee shop involving a partnership with another established business. The first benefit that you can obtain is renting and operational costs. If you know how to negotiate with the business owner of the available location, you will be able to rent a low price and lessen some expenditures such as utility payments, security deposits, and building maintenance. Moreover, you will also gain a customer base that is already established. The collaboration with an existing business by serving coffee to their customers will perhaps grow both there and later your client base. No matter what, if you think this idea is useful, you should look at a few to-do things. Additionally, we will tell you about the amount of money that you would be supposed to spend for a startup, which includes coffee equipment, cart setup, and installation, utensils, legal and administrative costs.
In your area or city, visit stores that you plan to partner with
Observe the available space which allow you to start a coffee shop and fit your business concept
Consider traffic around the location whether it can sustain your coffee business
If you find a suitable place, approach – hold your head up high and be friendly to – the business owner to discuss about the idea of sharing or renting space
Form and write the proposal of your coffee shop business then submit to him or her whether it would be acceptable
In such an idea, it helps you not only the established customer base but also save some startup costs. The following examples are listed in order to provide you further choices on the existing business.
a. Coffee Shop Business with a Bookstore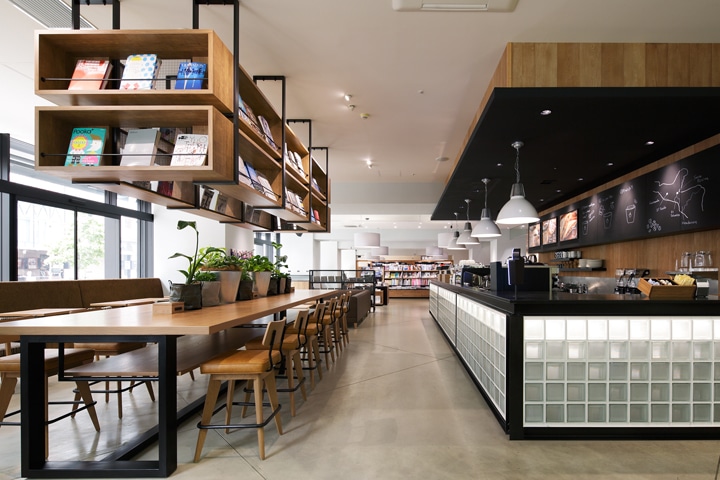 Independent bookshops are striving their bests to stay afloat because of the online availability. But there are still customers who enjoy reading on-store more. So don't worry, adding a coffee shop there may frequently provide the caffeine-fueled boost which is necessary for a bookstore. The existing bookshop owner will be appealed to the suggestion of renting a space for a coffee shop business because it eventually lures more customers. For estimated expenses of such a business startup, they range from 4,000 USD to 12,000 USD.
b. Coffee Business with a Hair Salon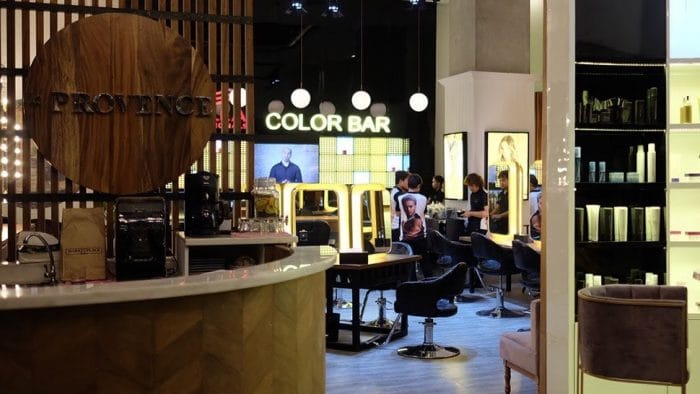 Most of the time, people read or stare at magazines or newspapers when they wait for their hair to be done. Why don't you change their boring situation into serving them coffee drinks? Hair salon customers actually need coffee while waiting. And maybe daily passers-by will be attracted too if they spot your coffee cart. But it's important to check with local zoning laws as well as health department regulations. The amount of money within 5,000 to 15,000 dollars is required for the startup costs.
c. Coffee Shop Business with a Shared Workspace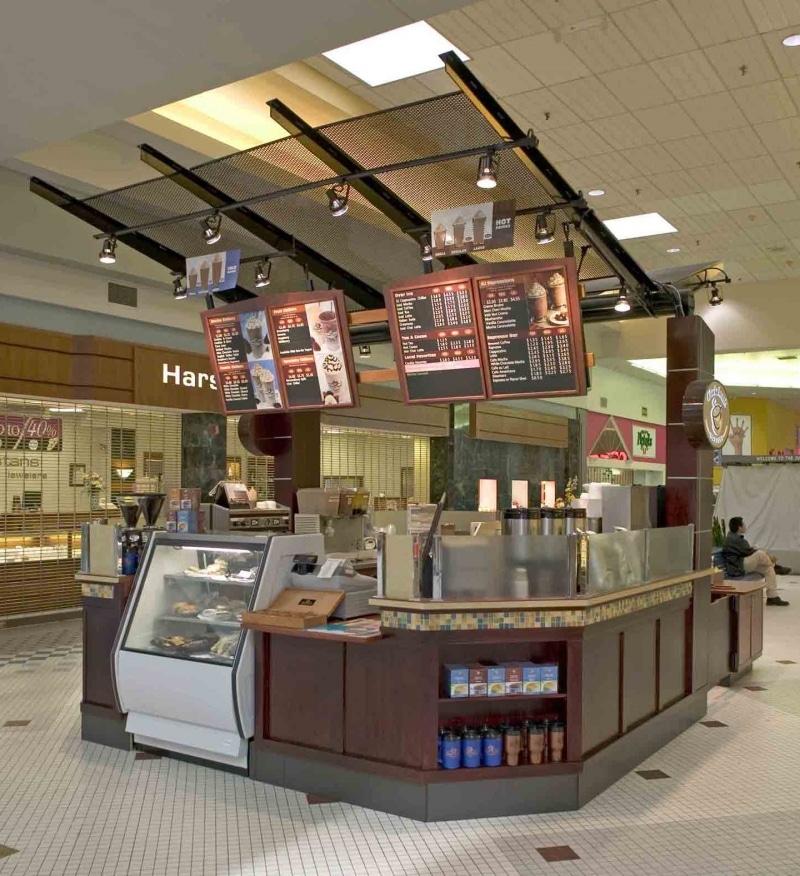 Running a coffee shop business within a mutual office is helpful and fruitful. There is an increase in group and independent workplaces in many cities and towns because they play an important part in the lives of numerous entrepreneurs. Similarly, there are a lot of people who do jobs there so they will contribute to revenue generation for your business regularly. You probably need to spend between $3,500 and $15,000 for this business startup.
2. Start a Single Coffee Shop
Readers who are now at millennial ages may be aware that doing big business has many challenges ahead once you embark on this field. Starting a coffee shop requires a massive investment of $1,000,000 as the startup costs, while the minimum amount is approximately $150,000. It's also necessary for you to put in some time looking for a suitable structure. For your coffee business to be successful, you'll need a decent location. Your store should be on the ground floor because it will provide your clients ample space to form a queue and a pleasant seating place. The coffee shop must be situated in the heart of the working area, particularly public buildings and corporations, where people frequently congregate. Some employees don't have time to make a cup of morning coffee before heading to work. This is what most coffee businesses benefit from because those individuals pick up their coffee on their way to work in the morning or at lunch. Moreover, if your coffee shop has elegant decoration and a comfortable atmosphere, customers will use it for social gatherings.
You can create extra categories for sale in the coffee shop such as side dishes. Aside from food, funny t-shirts and mug sets are also a pretty good option since coffee consumers could be conceivably interested in purchasing them. Many products sold in a coffee shop will enable you to make passive income.
Despite finding the perfect location and having a sales strategy, you'll need to make a lot of contact with suppliers and roasters. Furthermore, you'll be dealing with customer service issues, attempting to get orders out as quickly as possible, hiring staff, paying taxes, performing bookkeeping, obtaining company licenses, and a thousand other tasks that a small business owner must complete. Hence, when you have your own coffee shop, these main employees should be hired.
a. Employ Manager of a Coffee Shop
If you don't want to be the owner and the general manager at the same time, you'll need to carefully choose who you select for this crucial position. It's a good idea to choose someone with a managerial background and a track record of remaining calm in the face of client complaints.
b. Employ Barista
Brewing coffee can be learned by anyone but to know whether they manage to maintain a cheerful mindset while working is a bit difficult. Baristas are the face of your business, you must select them carefully to serve the coffee drinks. You can try to look for a barista who will be likable and loyal.
3. Sell Coffee Online
You can start a coffee business on the internet because this choice is the least costly. Consider your budget and ability whether it's possible for you to open a retail storefront that is much more pricey than the online one. Additionally, you can make use of your online store to attract worldwide customers.
There are many possible steps you can take. To get into the coffee industry, you can create an e-commerce site that is most used in your country to sell coffee beans, ground coffee, or even coffee makers. The low-cost alternative for a small startup is Shopify, in which this website is simple to set up an online coffee business and take payment although you're not a tech expert. From small to big investments, the startup costs are between $500 and $10,000, be it website, inventory, marketing, shopping cart, legal and administrative expenses.
4. Start a Coffee Kiosk Business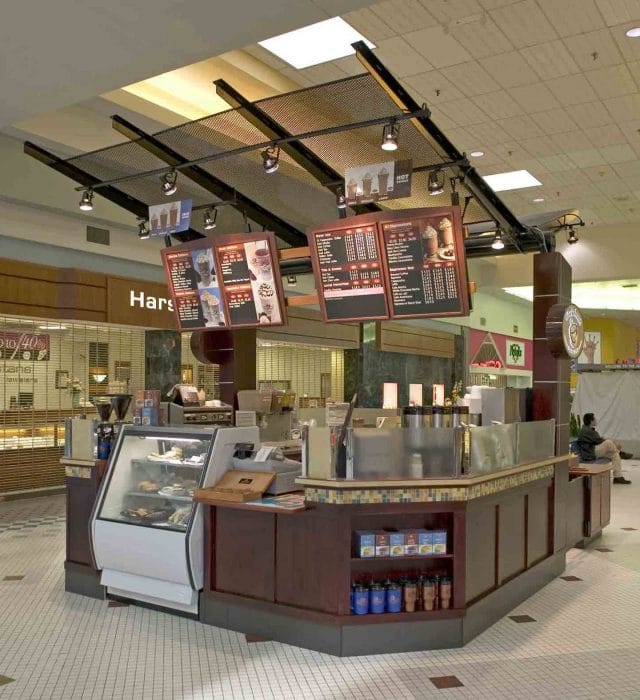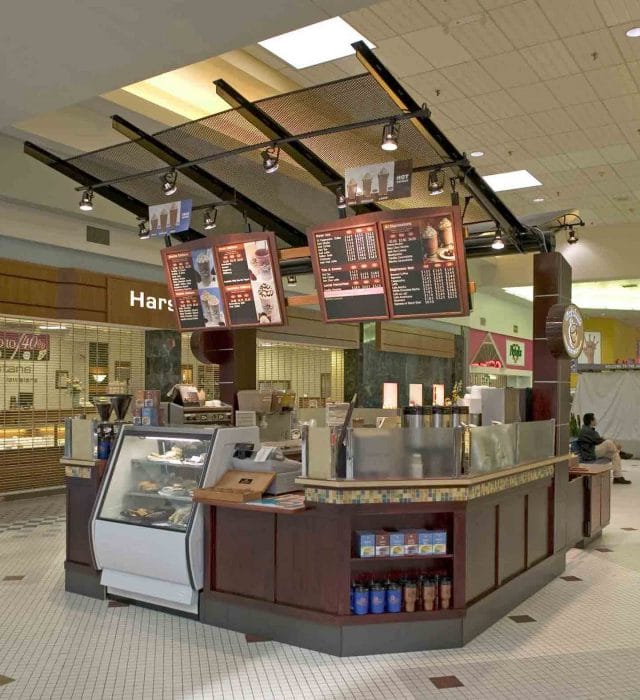 A coffee kiosk differs from a coffee cart in that it provides greater counter and refrigerator space due to the fact that it is a more permanent construction. With a kiosk, you may go beyond the conventional espresso bar format and offer other goods. You may launch your kiosk at $15,000 to $80,000 startup costs.
If, however, your revenue generation depends on foot traffic from a large retail store in a shopping mall, being immobile in a single site with a long-term lease might be a big hazard. Your coffee business may not flourish by virtue of various coffee shops located in the same area.
5. Start a Drive Thru Coffee Stand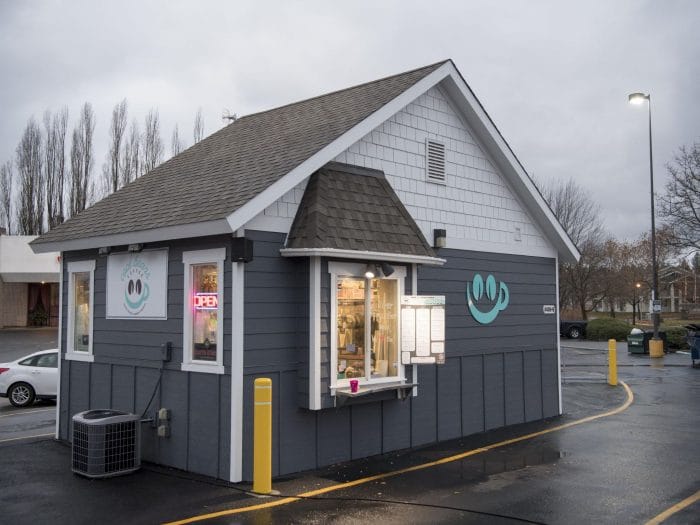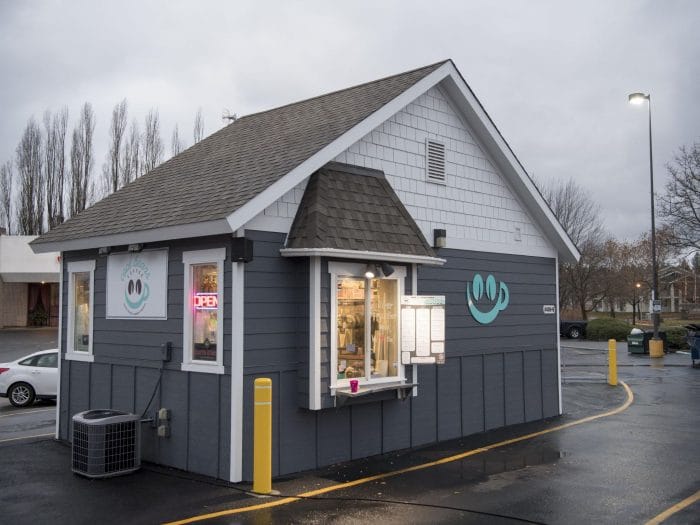 Some types of customers prioritize quick and convenient service. Espresso is one of the most favorites for daily coffee drinkers. You can be a connoisseur who makes espresso-based coffee drinks – read how to make the perfect espresso shot if you haven't known the way to do it yet – and serve your customers. It will make the ideal accompaniment for their breakfast. The additional great thing about starting a coffee shop like this is that you can support coffee producers and roasters for a long period.
Coffee shops such as a coffee bar or the full-fledged type are not as low-cost as this business idea. But you also need quite huge costs for a drive-thru coffee stand due to the possibility of a build-out, the monthly leasing payment, insurance, and a little equipment costs. So the estimated startup costs are $10,000 to $95,000. If you're able to find the proper location and meet the targeted consumers, it will be a profitable coffee business.
6. Run a Mobile Coffee Truck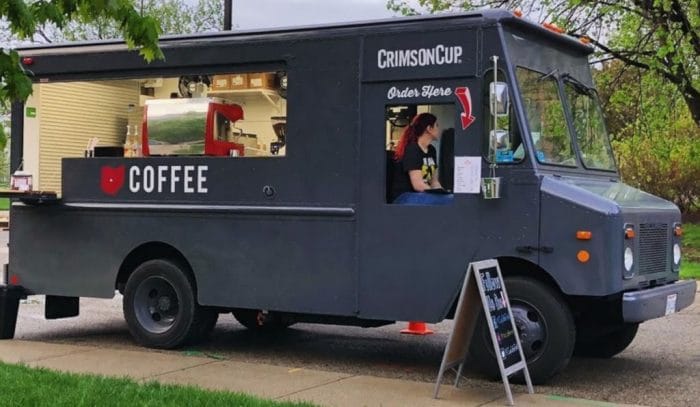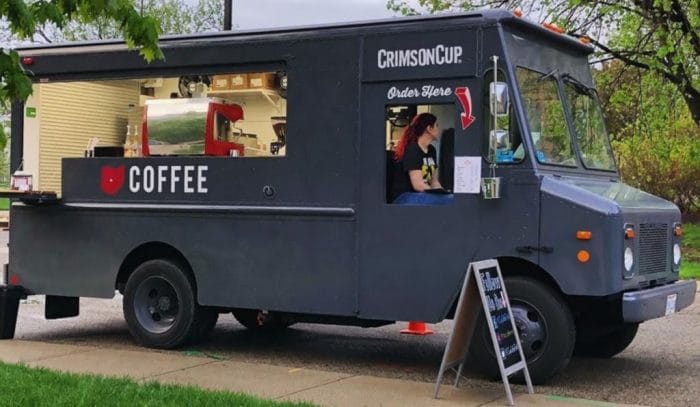 Another choice to start a coffee business is running a mobile cafe that caters to workplaces and any organizations operating every day. What you need that is available in an assortment of things is the truck. But is it necessary to buy a completely brand-new one? Well, you can either purchase a coffee truck that will be pricey or find and buy a used truck. In fact, a fully equipped truck (coffee equipment is installed), company insurance, and licenses coverage will be worth around $100,000 in most locations. So if this business model works well, your possible yearly profit will be not less than $20,000 and as much as $200,000. It's seen as a smart business idea because you can start on the weekends while still working full-time if necessary.
Nevertheless, not being confined to one area could be an advantage and disadvantage. Of course, you will be exposed to a variety of people. But finding the proper retail location is one of the biggest challenges you'll encounter as a coffee shop owner. Generally, cities' demographics vary throughout time.
We suggest you don't have to stick to a specific business plan. Selling coffee for special events is also an amusing method. In the mobile coffee industry, there has been a significant increase in interest and growth. Many businesses and events desire to provide coffee to their visitors or participants. At this point, a coffee truck is really practical. Actually, coffee service in the events can be the key to your annual revenues, even if it's at festivals, weddings, business events, birthday celebrations. This is, without a doubt, a fantastic low-cost coffee shop business opportunity for you. Having a coffee truck business might be a fun and reasonable profit center for you to develop your company around. It requires smaller costs than a traditional coffee business.
7. Sell Coffee at Farmers Market
With little money, you can sell coffee at any of the farmer's markets. The average startup costs might range from $4,000 to $10,000 including coffee cart, equipment installation, utensils. Since farmers' markets consist of many local visitors who need coffee, this one of the low-cost business ideas is a great option.
8. Start a Coffee Blog or Coffee Product Review Website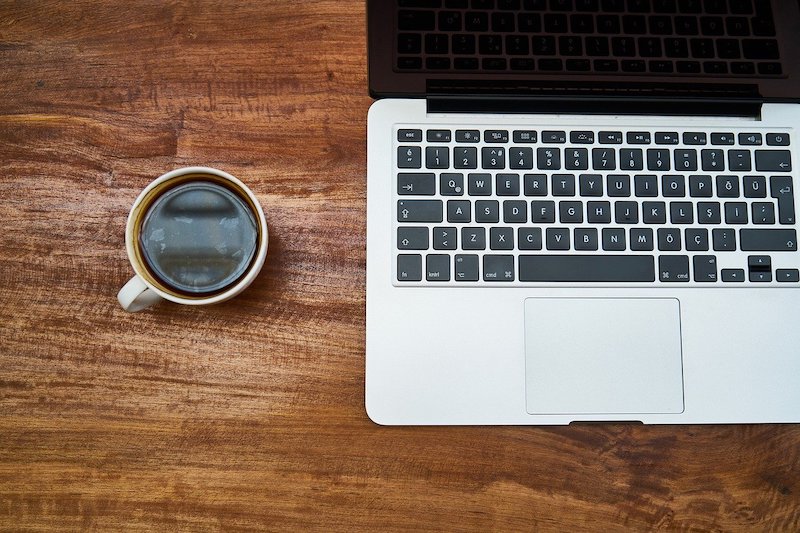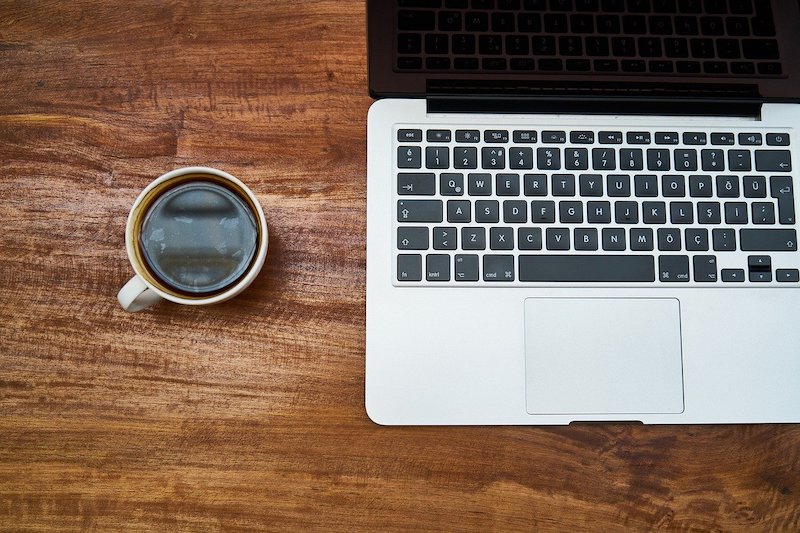 It's one of the most low-cost ideas for doing a coffee business. The estimated startup costs range from none to $1,000. You may discuss everything related to coffee on the website you establish by writing content, making videos. A domain name and hosting are required for the creation of a website. Make sure you choose a dependable service! The technical aspects should be reasonably priced, especially for individuals who are just getting started.
In essence, you need to spend time researching a variety of coffee-related topics. As a coffee lover, you've undoubtedly tried a variety of brands and experienced a wide spectrum of gourmet coffee. Why not share new methods to brew coffee, as well as other ways to use coffee rather than drinking it? Likewise, you might create a culinary blog that teaches people how to prepare various specialty coffee recipes at home like Keto coffee, cold brew coffee, alcoholic coffee, and so forth. You can just be an administrator in the coffee niche.
On the other hand, product reviews are the most influential approach for article writing. There is plentiful gear to review such as coffee blends, coffee grinders, roasters, coffee machines, and other items in the coffee industry. As long as you have a commitment, the coffee blog is rich with innovation so you'll never run out of topics to discuss.
There are several methods that website owners earn a profit on the internet. First of all, start receiving advertisements from Google AdSense when there's large sufficient followership. In other words, you would be paid for placing advertisements on your website. Secondly, you can get involved in affiliate marketing. When you sell other people's items on your website or social media account, you will be paid a commission. As an illustration, if someone buys a Canister through your website, for example, you get paid $10. Lastly, selling products if possible. You may offer coffee beans, filters, digital training items, or consultancy packages.
9. Start a Cat Cafe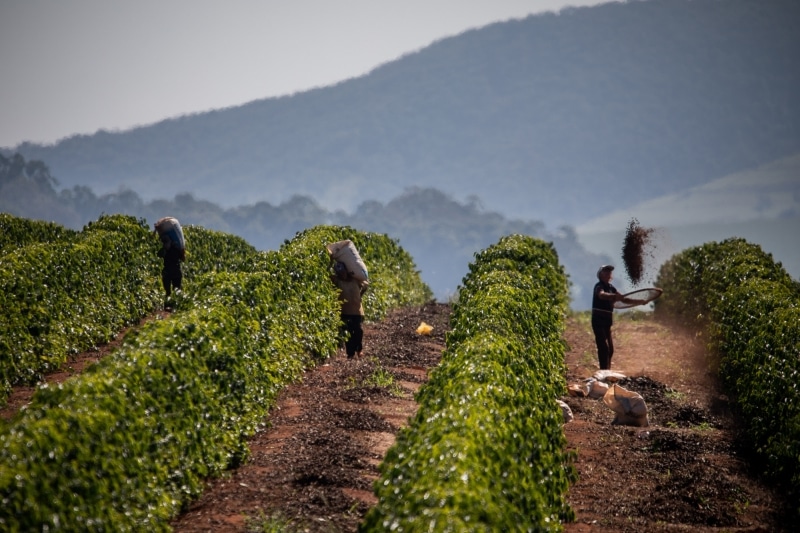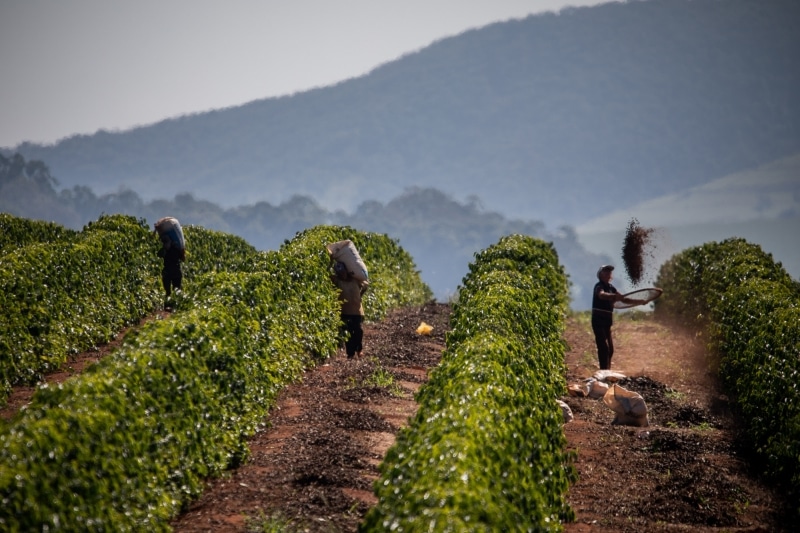 Pet lovers should be contained in the targeted consumers so bear in mind which type of coffee shop business you would love to run. Originally, such a cafe was spotted in Taiwan and has spread to other Asian and Western countries such as Japan, South Korea, and the United States. This type of coffee shop grows popular among both locals visitors and foreign tourists who appreciate the opportunity to connect with some furry companions while sipping their caffeinated beverages. While in the US, cat coffee shops feature a separate cat playpen where the cats are kept apart from the coffee bar.
The cost associated to start a coffee shop with this business idea is roughly $100,000 due to all the cat-care you'll need to give. But if you are also a pet lover, it's great to open a cat café to bring people who share common interests together.
10. Start a Coffee Farm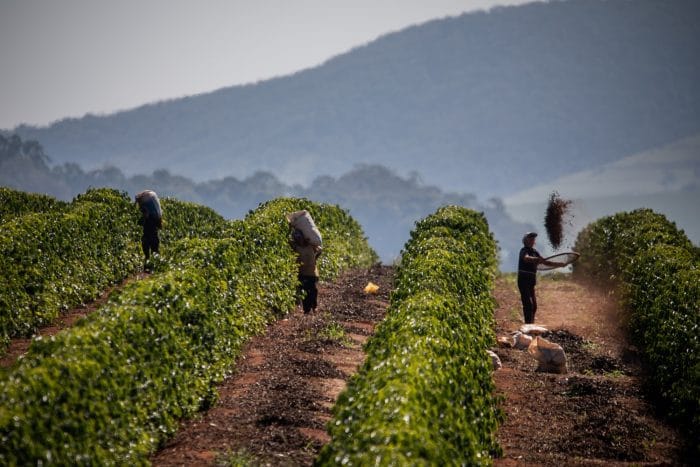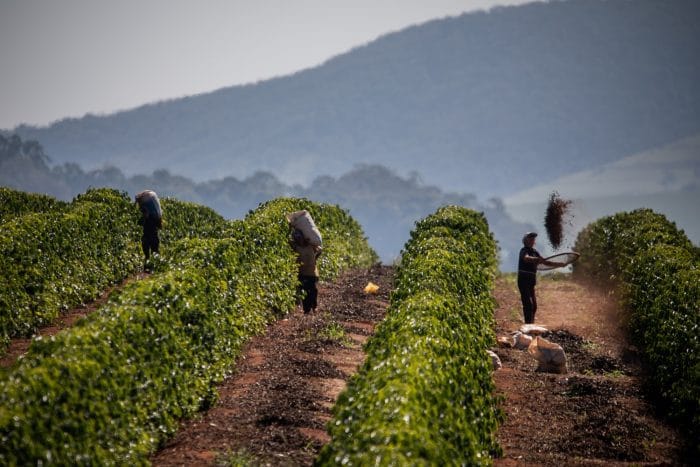 This business model is the least feasible alternative for most readers here. To be a coffee farmer, you'll need a lot of money to establish a coffee plantation since you'll need to buy or rent land and equipment. In addition, a coffee farm should be properly environmentally located, for example, in Brazil or Hawaii. The majority of farms in those countries, but specifically Brazil, have been in existence for several generations. If you have the desire to establish this business, you should conduct extensive studies and consult with a variety of specialists before making a purchase. Well-growth of coffee is determined by the location of your coffee farm so that you'll be able to gain a fantastic source of revenue.
11. Become a Coffee Roaster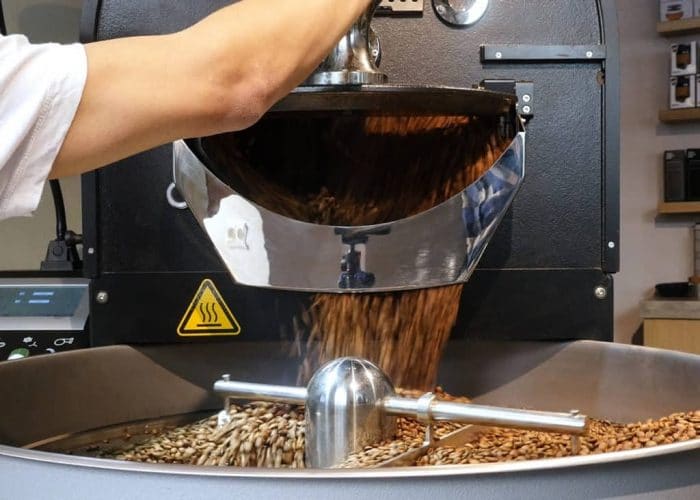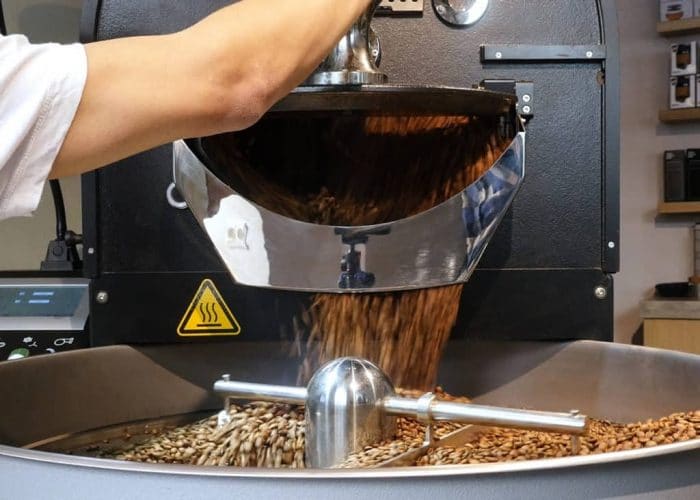 Coffee businesses don't have to direct attention at the thing that you have money and sell coffee drinks. You can work as a roaster if you're into top-notch roasted coffee. To be an excellent roaster, you'll need warehouse space as well as commercial espresso grinders. Possessing skills is satisfactory but the coffee roasting business is more likely to necessitate a commitment to get knowledge personally regarding the roasting process for hours on end. Not to mention you'll be in charge of looking for raw green beans and roasting them in the right way. In such circumstances, you have your own time and way to explore the unique beans and coffee tastes. Then if customers enjoy, a coffee shop owner who is a buyer of your roasted beans will need frequent supplies.
You could also attempt to make some recurring money by running a coffee subscription box online. Being a roaster and engaging in online business are killing two birds with one stone. Turning your caffeinated goods into a monthly subscription business is one of the popular approaches among coffee lovers. You might gain revenue of $1,000 per month, depending on the amount of price you set.
Nonetheless, this is another low-cost business option that requires a certain amount of cash to get started. All costs you need to become a coffee roaster are not beyond $40,000. Here's some quick math on how much it will cost to start a commercial roaster with the Department of Agriculture's approval. $15,000 is required for a commercial roaster whilst another $10,000 for the beans first stock. In addition, warehouse renting payment is between $1,000 and $2,000 monthly, plus $5,000 to $10,000 for its construction, permits, and inspections.
12. Start a Coffee Brand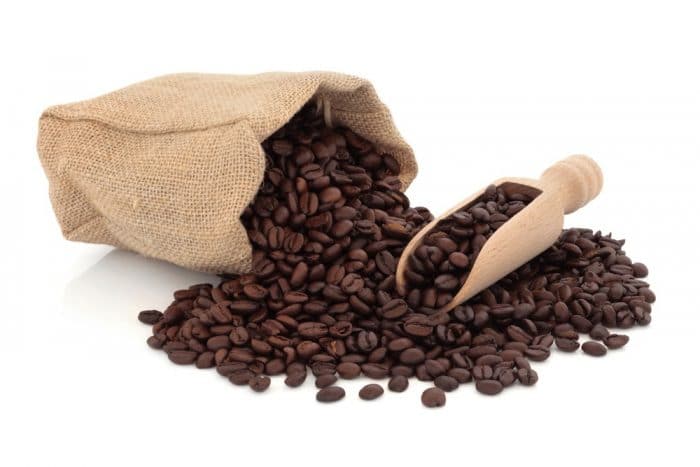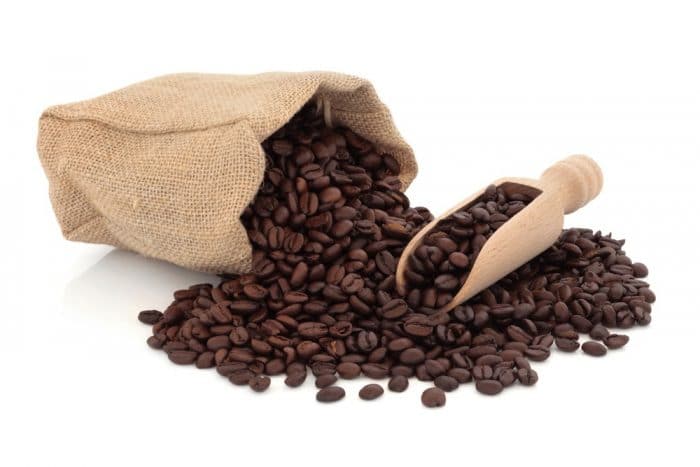 A few entrepreneurs have an inclination to open new coffee businesses with this concept rather than buying franchises. Making and selling your own brand of coffee beans may be considered a coffee brand. Alternatively, you might start a nationwide business like Caribou Coffee. It sounds like you have an extreme goal and need to invest millions of US dollars for the startup costs. Yet, the return on the money you invest can be deprived back from selling coffee, sweeteners, specialty creamers, and almost anything else inside the vertical with a brand. Both coffee shops and grocery stores are the two primary sources for making sales.
Dave Asprey, the founder of Bulletproof Coffee, is the finest example on how he established a dominant coffee brand. Dave began his business with a podcast and a blog in which he discussed how he utilized a special coffee formula that had several health advantages. The brand took years to develop through publishing and blogging, but it is now worth more than $50 million. Although achieving such outcomes would not be simple or practical for everyone, many coffee entrepreneurs will achieve some level of success by adopting this business model.
Should You Open a Coffee Shop Franchise?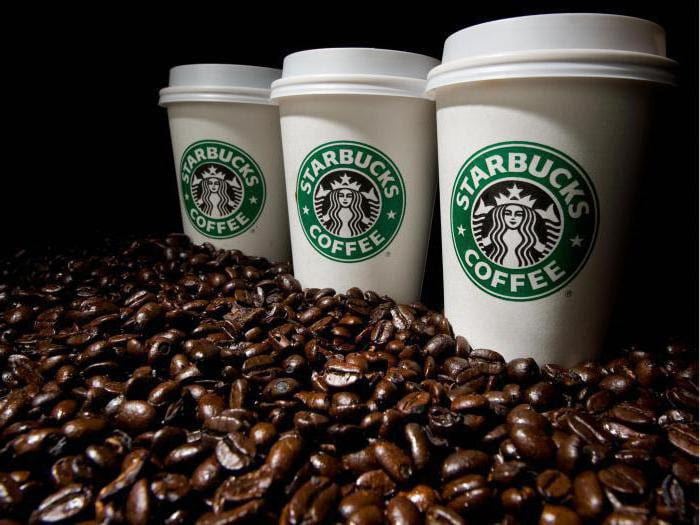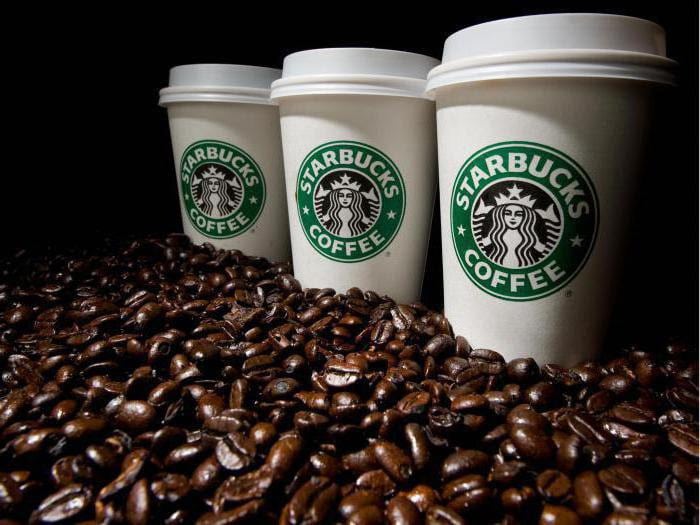 Most coffee business ideas above are dependent on your decision whether you sell your own coffee brand or roasted coffee beans that are bought from a supplier or franchise?
If you want to run a franchised firm, the first thing you'll need is a franchise fee, which can range from $10,000 to $50,000 or more depending on the franchise. On an ongoing basis, franchisees are generally required to pay a royalty or franchise fee. This is generally expressed as a proportion of total income. The typical royalty rate is between 5% and 6%, however, this might vary. Similarly, the royalty might be a fixed sum regardless of revenue.
Not only that, as a franchise, you'll probably have to pay marketing costs as well. Frequently, each franchise in an area or nation contributes to an advertising or marketing fund. This charge will be either a percentage or a fixed sum, most commonly anywhere from 1% to 4%. There's a further possible requirement which is for the franchisor's required products or services.
How to Get Funds for Your Coffee Shop or Coffee Business?
Apart from personal savings, you can borrow money from relatives and friends, apply for a business loan, seek investors, form a cooperative, and collaborate with someone.
The Bottom Line
If you've always wanted to open your own coffee shop, these business ideas might assist you in deciding the type of coffee shop to open. Besides money and effort, having a good strategy and network play an important role too. With all of the aforementioned business prospects, you should understand that certain concepts scale better than others. Although some business opportunities may require little money for investment, the profit can be greater.
It's crucial to know when you only create one retail coffee shop your sales prospects will be restricted. If your coffee business is also operated online, you have access to an almost infinite number of clients and can easily achieve greater sales statistics. With the condition that your coffee business is not an online business, you're recommended to learn digital marketing. You could start to add coffee delivery service in the business as well.
Opening a Cafe or Coffee Shop Business Idea By Business Ideas 365
References