The thermal coffee carafe is a well-contained hot and cold drink with 2 layers container. Some thermal carafes are made from plastic, glass, stainless steel, and/or stainless material out-layered with aluminum, plastic, or other substances that can be made and designed. Moreover, the thermal carafe has come up with different sizes, lengths, and performances and some other types of thermal carafe can be used as a portable bottle for you to tag along to your office, trip, camping, and so on.
Using a thermal carafe is another way of saving money, it can be used to brew coffee, tea, store hot and cold drinks as any of your preferred choice of drinks. A thermal carafe is designed as a portable pot with a lid that can maintain the temperature inside. Coffee is supremely good to be used with a carafe and there are the 10 Best thermal coffee carafes in 2023 that you take into consideration when it comes to deal with temperature consistency.
10. Pykal Thermal Coffee Carafe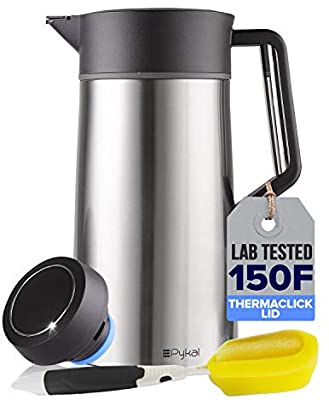 The Thermaclick lid is one of the designs engineered by German's technology that could hold up the longest temperature retention either to keep your coffee cold or hot, this model will never fail your drinks. And by its name, it also presents the click lid that helps retain heat longer and preserve the freshness of your drink. Moreover, with its 2.77 pounds weight, this model is designed with a dustproof spout cover that can protect your drink from insects and dust which could boost the hygiene of our body and this dust cover of this 2 litres carafe will only lift up when you are pouring your drink. Not only the dust cover that can protect your drink from spilling, but the non-slip rubber base also does its job to not, by any accident, slip-spill your coffee on any slippery surface. More importantly, this model of thermal coffee carafe uses double-wall stainless steel that certainly can ensure to prolong the temperature and it is also a rust-resistant model that is best to take into consideration.
This carafe also serves as a multi-purpose carafe that suits well with all the beverage needs, besides a coffee carafe, this also can be used as a milk carafe, juice dispenser, or even for wine as you wish. and you do not have to worry about cleaning off the dirt, this carafe is easy to clean but with the help of a brush that can make your carafe sparkling.
What we like
High capacity material
High retention for up to 24 hours for hot coffee and 48 hours for the cold coffee
One-year warranty
What we don't like
Require careful notice in order to keep hot
9. Cresimo Thermal Carafe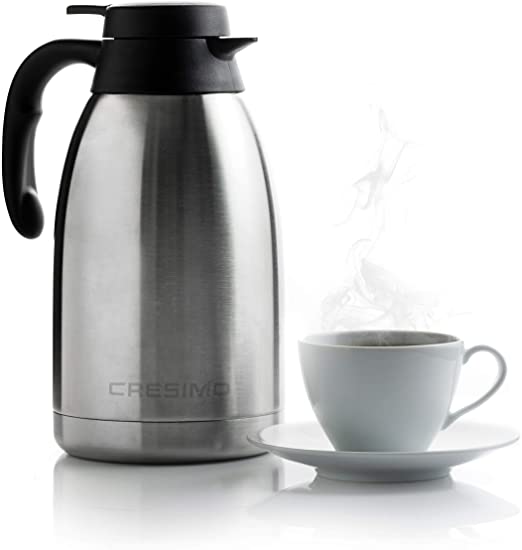 Cresimo 68 Oz thermal carafe has provided users with such an elegant double-walled stainless steel both interior and exterior built with durability in storing coffee and other drinks. It has come up with a technology lock-in temperature in keeping the freshness and flavor of your beverages and also it could hold long heat for 12 hours and cold retention for 24 hours. This model has provided such an easy and best choice for users to choose with its functions and performances has out-do others, this model is a single hand pouring which is easy for users to carry on with their work while pouring their favorite drinks, and it has a wide mouth opening which is easy to wash off the dirt and pouring drink faster.
This thermal carafe model is like another other thermal that is best used for office coffee serving, at home or for any events or parties. With this double-walled stainless-steel carafe, it is built with condensation resistant that does not wet the outside surface or the tables. This model is also portable that you can bring along to your camping, travelling or anywhere that you wish to have your own made coffee or other drinks.
What we like
The durability of its double-walled stainless steel interior and exterior designs
Portable and pourable with just one hand
One-year warranty
What we don't like
Leaking issue
Require careful notice in order to keep hot
8. Pykal 68oz Thermal Coffee Carafe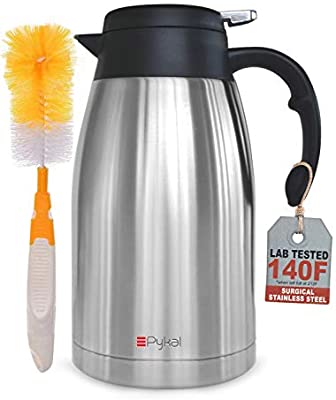 The thermal coffee carafe by Pykal designed with stainless steel and black handle and rotating lid which has the capacity of 68 ounces equivalent to 2 litres and it always has a safe tight lid that prevents any dust or dirt from invading your coffee or drinks. This model also comes with a rubber-base that helps in balancing on the slippery surface. And it is an easy-pouring carafe by pressing the button and if you are done pouring your drink, you just need to release the pressed button and you are all good to go and the lid will be back at its original position tightly.
This thermal only need a brush to clean off the dirt and this is also an easy wash-off material that does not leave out the rust. However, here is a little warning note that you should keep in mind in order to have a long-lasting thermal carafe, you should not put your carafe in the dishwasher, submerge it in the sink that allows water to go through and affect the inner and outer cylinders. Though, still, it is a smart choice for your coffee and beverages that you need.
What we like
Tight lock and a non-slippery base
High retention for up to 24 hours for hot coffee and 48 hours for the cold coffee
Elegant design and performances
What we don't like
Require to preheat the carafe for 10 mins
7. TOEARNIT Thermal Coffee Carafe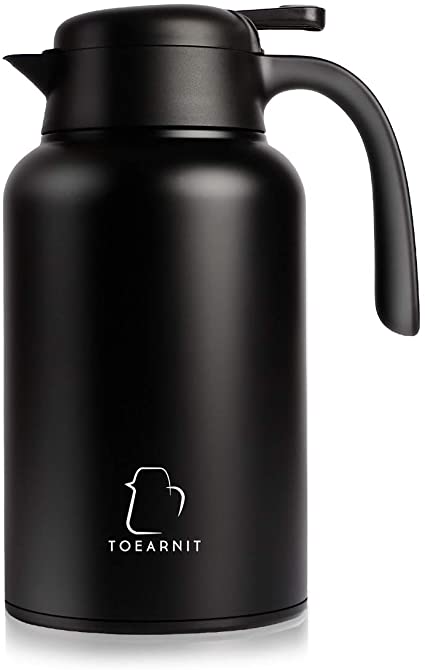 TOEARNIT Thermal Coffee Carafe, another best carafe recommended, is a stainless steel designed to secure, to keep the toleration of temperature for 24hr long without worrying of losing the flavour. This model also comes up with the press button technological capacity that allows users to generate the usage single-handed pouring without leaking, dripping or spilling out. Besides the elegant look of this thermal, the internal design is also covered with stainless steel that can keep the drink as cold and hot as you wish it to be and it does have a very tendentially of rubber-based from a slippery surface.
This model is a little different from other models at the point of its design that it comes with a satin fabric which has a glossy look by which would give your kitchen a fancy look. And like any other, never submerge your carafe in the sink because it will damage the insulation.
What we like
High capacity material
Single-handed pouring
press button technology
What we don't like
Hard to clean
The cover lid smells
6. Sumerflos Thermal Coffee Carafe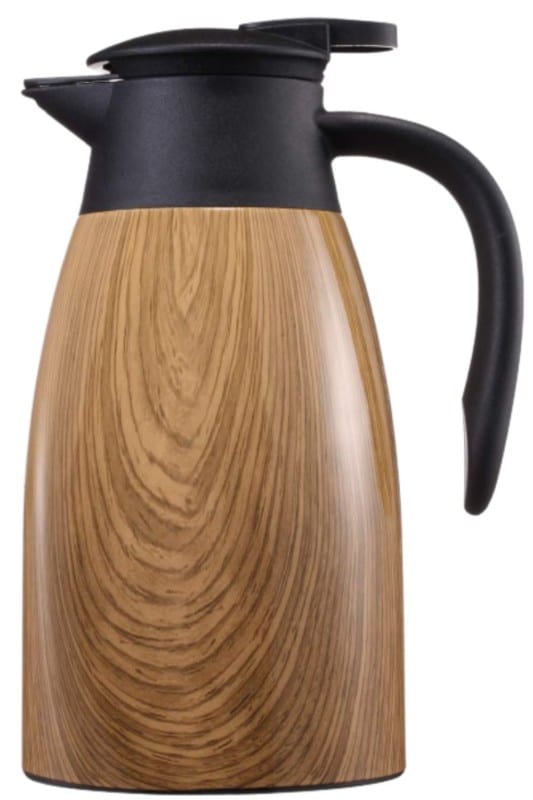 Sumerflos thermal coffee carafe is one of a kind of many other carafes that are designed with double standard steel with different styles of outer layers such as wood grain, marble and pink colour that add another level of classiness to your kitchen. It has a smart cover lid that is built in a silicone ring and it has leak-proof, and heat preservation, and it also has a dustproof cover on the spout to keep it clean and sanitary from any insects intervening. Sumerflos can store hot and cold coffee and other drinks up to 1.5 L/50 oz and it is perfectly suitable for your warehouse equipment and to tag along to your office, trip, camping and sort.
Besides your own usage, you can also gift your friends with this elegant, decent look carafe, this model is such art with its flawless designing styles. Withholding its high quality and long heat preservation, pouring 100% boiled water would not be a problem, also it has an anti-hot holder and a wide-opening design which allows you to pour your drink more easily without worrying about splashing the drops. And not to mention about its bottom that it is also made of a non-slippery base design that can be easy to place on any table or/and glossy surface.
What we like
High capacity material
High retention for up to 24 hours for hot coffee and 48 hours for the cold coffee
wide opening that can be easily filled, poured and cleaned
What we don't like
Might have some leaking issues if not properly cover
5. PYKAL 68Oz Thermal Coffee Carafe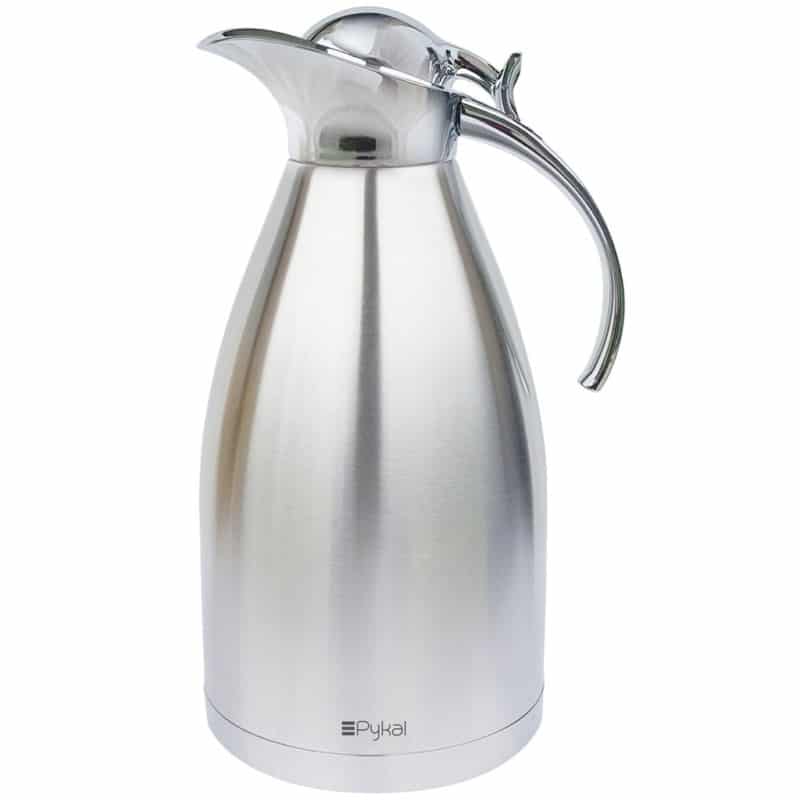 Thermal coffee carafe by Pykal is flawlessly designed with full stainless steel and a manual lid, and this model is the first carafe that made out of plastic-free, even its closing lid is also made out of metal-silicon style and it is operated by a press-down opening-closing mechanism that easily controls with just your thumb. And its metal-silicon closing lid is adjustable to its tightness. The double-walled stainless steel of this model can also maintain the temperature of your drink to stay fresh and keep its flavour still, yet it also provides a strong handling material made. The spout is wide enough for users to pour their coffee and/or other beverages more freely and easily wash off the dirt with their included brush.
Pykal will never disappoint you with their best standing carafe models as a great carafe for serving beverages, flawlessly designed with different styles and colours. It also offers users the best technology that gives the best performances of their thermal carafe items that suit well for family gathering events, offices and parties. The carafe can also be used for tea, milk, juice, wine and water pitchers as well. However, there are some points that we should not do like putting your carafe in the sink and or dishwasher. This model also has a high rating star as well.
What we like
High capacity material
High retention for up to 24 hours for hot coffee and 48 hours for the cold coffee
One-year warranty
Free cleaning brush included
What we don't like
Hard to pour
Require careful notice in order to keep hot
4. SDREAM 68 Oz Coffee Carafe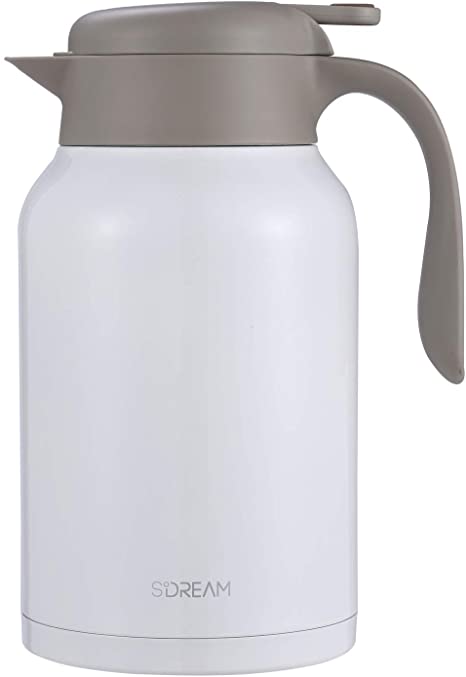 Sdream carafe comes with 5 options and it has well-developed temperature retention that can preserve its freshness and flavours for 12 hours with its double-walled insulation and its high quality and durability constructed. It has a free-spill spout that design with a leak-proof and air-tight lid without dripping any drops, yet comes with a large and dual silicon ring that will always lock in the correct place back to its position.
The lid of this carafe can be opened easily with two fingers and when closed you just need to place the cap on top and press it down then you are all good to go conveniently. This model has a wide mouth opening that you can also put ice cubes to add extra cooling and can easily fill hot drinks without hurting yourself and spill the drops. If you want to pour the drink just tilt the bottle slightly to the side then you are all served.
What we like
High quality and durability
Spill-free spout
Nice design
What we don't like
Does not keep hot even after preheating
3. Bellemain Thermal Coffee Carafe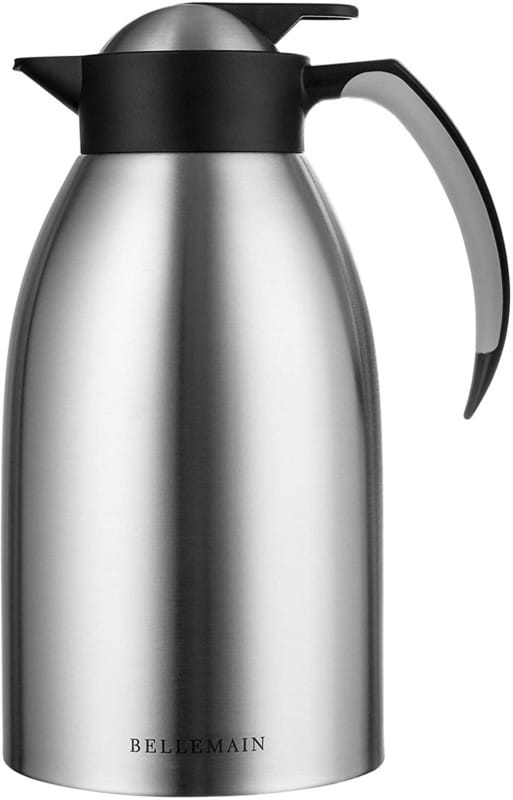 Bellemain is using an advanced technology that can hold up the hot temperature up to 20+hours and heat for 12+hours, in which you still can have your drink's freshness and flavour still after hours. The stainless-steel vacuum carafe gives the best performances that allow users to pour their drink with just a press on the button, and it is a single-handed pouring carafe that is designed specifically for tired hands with the soft-grip handle to easy control and holds.
We all hate spilling drops when we pour our drink, so this model gives us a wide-mouth opening design for us to easily fill our cups or fill up the carafe. Bellemain carafe is manufactured with styles and strengths with its double-wall made from 18/8 stainless steel that can stay around for years without having rust.
What we like
Perform its listed functions well
easy to pour with its wide opening, and its non-slippery base
Best price offered
What we don't like
Poor design
Require careful notice in order to keep hot/ does not hold the heat well
2. Lafeeca Thermal Coffee Carafe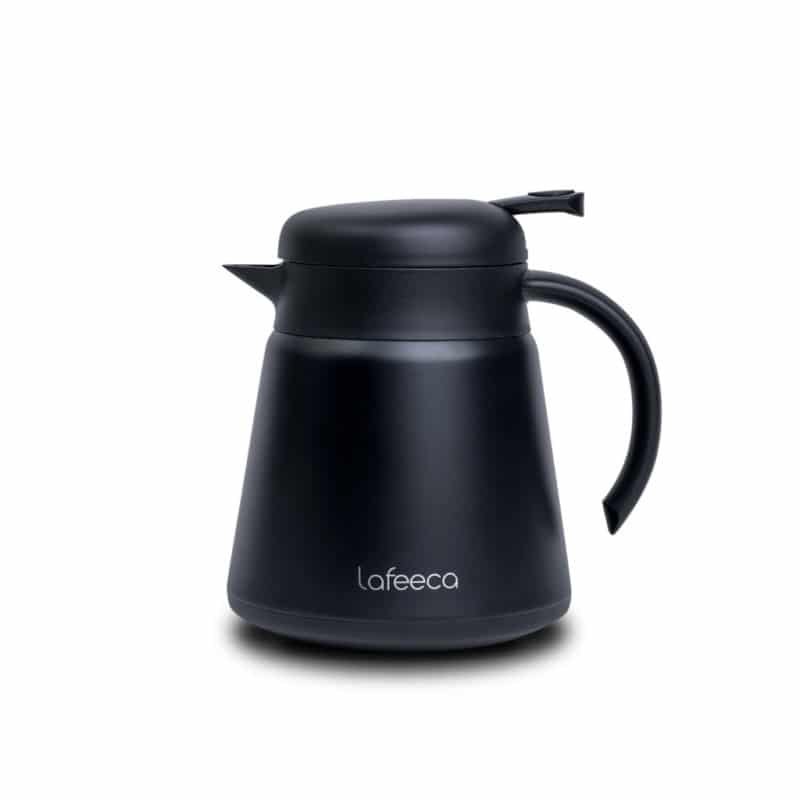 A different eye-catching little small teapot, coffee carafe that is made of stainless steel that has so many interesting performances such it is a double-walled installed that can maintain the coldness and heat for hours and still have its freshness and flavour as first made. This small portable carafe comes with an easy-pour design along with a cool-touch handle, and easy to control by pressing the button to pour drinks without having any spills and it also comes with a non-slip silicone base.
This small carafe is durable, portable, easy to clean and use. This thermal carafe is an ideal type of small pot that is easy to tag along and can be used for different types of drinks such as tea, coffee, hot chocolate, juices and more. Having one of these in your office or kitchen is a fancy choice to make with different colours offered.
What we like
High capacity material
High retention for up to 24 hours for hot coffee and 48 hours for the cold coffee
wide opening, easy to pour, fill and clean
What we don't like
Leaking and Dripping issue
1. GiNT Thermal Coffee Carafe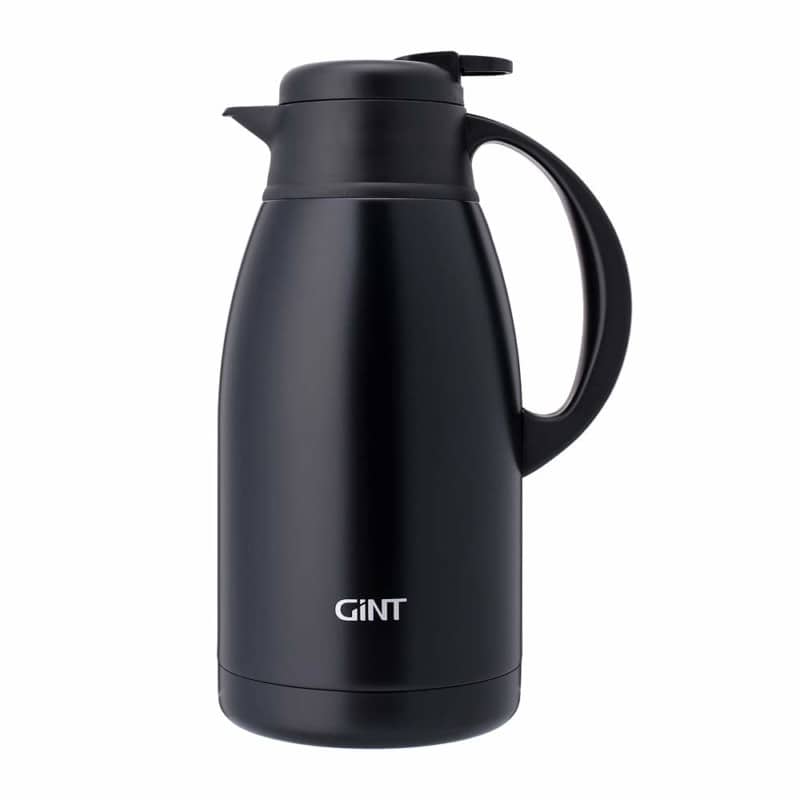 Gint, a 1.9L stainless steel thermal coffee carafe also built with double-walled vacuum insulation that allows users to have their hot beverages up to 12 hours and cold drinks up to 24 hours which is amazing and cool for drinks to stay as it is for hours. It is designed with a leak-proof lid and airtight construction that will always lock in its correct place, and it comes with a large size dual silicon ring. It has a wide opening that is easy for users to pour, drink and fill their carafe without spilling the drops and it is also easy to clean off the dirt. With this model, it is a perfect present to gift your friends who love coffee or tea, and it is also suitable for the office and house.
What we like
High capacity material
High retention for up to 24 hours for hot coffee and 48 hours for the cold coffee
Nice design
Buying Guides in Choosing the Best Thermal Coffee Carafes to Keep Your Coffee Hot or Cold as You Wish
We all drink coffee and some people might do more than 2 cups a day, so why not look for a thermal coffee carafe that you can make your own coffee and drink it as much as you want by that you can also save some cash well. Making your own coffee, you can either keep it as hot and cold as you want. Though, there are some guides that you should follow in order to choose the best coffee carafe for yourself or friends who love coffee.
The Technology and Material
Some thermal is a plastic made so it does not preserve temperature well, so you better look for the one that is double standard stainless steel that can keep the heat for at least 10 hours and cold for at least 20 hours, there are brands have advance technology and their carafe can preserve the temperature well and also has a mechanism for a single-handed pouring that is easy for users to pour their drinks while having their other hand working on something else. Also, those brands like Pykal, Sumerflos, Thermaclick and above mentioned have developed their carafe with an airtight lip, large spout and non-slip base.
An Airtight Lip, Large Spout and Non-Slip Base Features
To have the best thermal carafe, you should also find the one that has an airtight lid that will always lock to its place and position to prevent any spills. And you also should look for a leak-proof spout that can prevent any insect or dust to invade your drinks. Also, if you do not want your carafe to fall on anything, better find a non-slippery base or a silicone base that can help in balancing your carafe on any glass-surface or any slippery surfaces.
Wondering why your coffee taste becomes bitter? or strange taste?
Well, that is because the coffee sediment is built up in your thermal coffee carafe. You may find it difficult to wash the sediment out or clean it properly. Hmm… now spend a few minutes to watch the video instructions below on how to clean the coffee sediment inside your thermal coffee carafe.
How to Clean Inside a Stainless Steel Coffee Pot | Clean with Confidence
Frequently Asked Questions (FAQs)
Can it really keep the hot and cold temperature for hours long?
The answer is a simple YES. The reason that the above-mentioned carafe can preserve their temperature for hours long is because of its double-walled stainless steel that acts as the main component in keeping the temperature stay at its best for hours without losing its freshness and flavors.
How long-lasting is the non-slippery base?
The important part of the thermal carafe is also about the non-slippery base because whether the drink can be slipped or not is depending on its base. That is why all of these carafes are designed with a non-slippery base that helps to balance the carafe on slippery surfaces, and the rubber base is perfectly glued so that even washing off with water is not a problem.
Conclusion
There are so many options for you to choose the best and coolest design carafe but the ones that have a developed technology are rare, meaning that carafe that can truly keep their temperature well are hard to find but the ones mentioned above are all well functioned and have various performances that users should take into consideration and have a look. As said, the best carafe should focus on the points mentioned above so you will not miss any function that the best carafe should have.