We can find coffee associated with many labels that vary between single-origin and blend. Consumers gain coffee experience differently in terms of taste from these labels. So you might now be eager to seek the meaning of single-origin coffee. Not just the label that makes you curious, but also how single-origin coffees develop and have such a name. The page you're reading will clear your doubts and provide the right coffee review and guides to help you pick smoothly and assuredly.
Everything You Need to Know About Single-Origin Coffees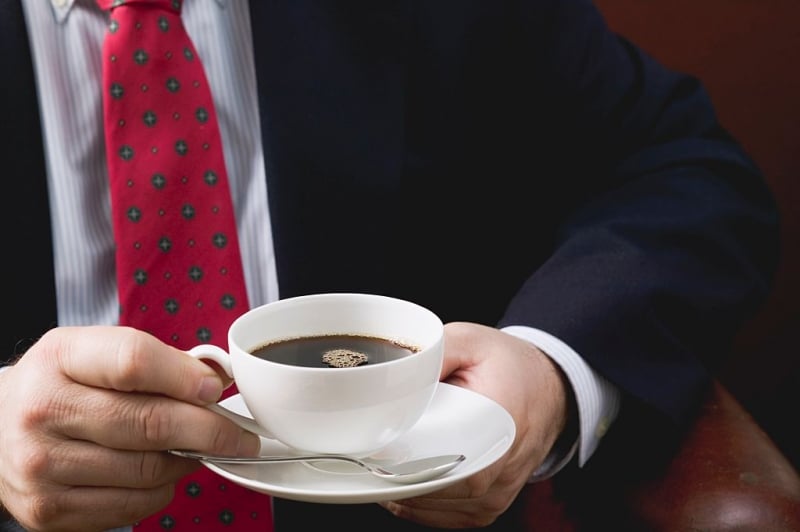 What Single-Origin Coffee Means?
The definition is larger than the phrase people use. Single-origin refers to coffee beans that are sourced from a local single producer or crop in one country. With details of a specific country, you can differ single-origin coffees on the packaging like Colombian, or Indonesian. Single-origin is also the coffee crop that is derived from a single farm, single estate, mill, or cooperative of the same country. As you may not know, it's common to see beans come from the same cooperative and not one farm. This stems from some small farms being unable to provide sufficient quantities of coffee.
If you notice single estate coffee labels, there's also a listing of the estate name, paddock, lot (micro-lot or nano-lot) in a specific farm where the coffee was developed. In addition to micro-lot, single-origin beans that are picked by hand from there invariably are known as specialty coffee. For a particular farm, single-origin coffee can be a one-of-a-kind product due to differences in growing conditions, growers' personal preferences, and processing methods.
Nevertheless, coffee roasters feel that "single-origin" is a bit of a misnomer that misstates the individuality of many coffees produced from one region. Some possible phrases including day lots, single variety lots, single farm, can all be expressed as the names of those coffees. Actually, single-origin was first used to distinguish a coffee from a roaster's house blend but did not indicate that of higher quality. Regardless of these several significations, single-origin is great coffee that comprises three noticeable features.
Single-Origin Coffee Unique Characteristics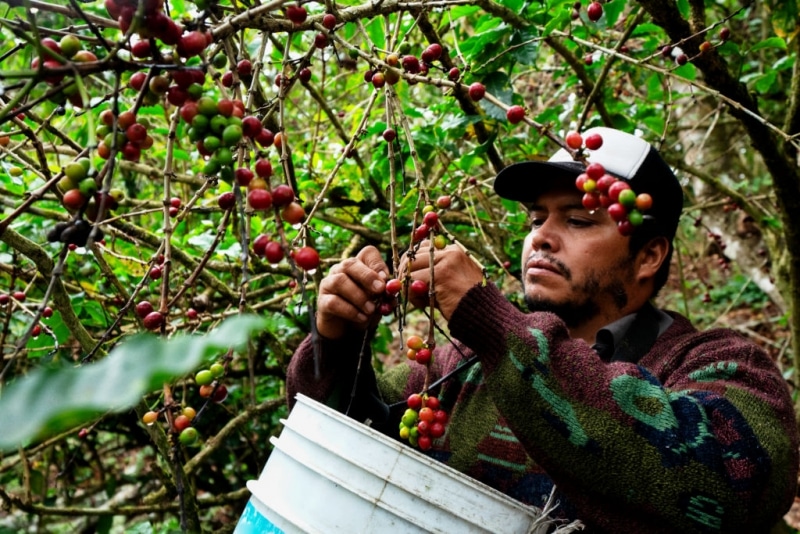 Coffee producers are exceedingly hard to get by single origins because of geographical constraints. To obtain the original and purest flavor that features floral and citrus tasting notes, the harvest time can be a few months or it sometimes might be almost a full year. However, single-origin beans are seasonal so can be produced in meager quantities, especially if those are sourced from a specific farm.
Single-origin coffee enables consumers to trace a certain country, producer, farm as well as the lot where the beans were grown. While consuming the coffee, they can be reminded of this worthy detail and they surely appreciate and have a deeper understanding towards farmers and employees. It's a great way to do this kind of promotion for sustainability and fair trade because it's been overlooked historically and presently in the coffee industry. Thus, the third wave of coffee starting from 1999 along with coffee shops raised awareness of coffee farms' importance and sought to establish a relationship between the origins of coffee and the customer.
Some consumers demand specialty coffee after direct trade between farmers and many roasters. While specialty roasters discover the new single-origin, they update farmers on coffee market trends regarding consumers' requirements for the highest quality coffee during their direct trade. Farmers commenced enhancing their practices on single origins by experimenting on the selection of cultivars and varieties, their growing period control, the harvesting times and approaches, the milling as well as processing methods. That is it for single-origin coffee insights so without further ado, it's time to start looking at the guides below.
List of Best Single-Origin Coffee Buying Guides in 2023
10. Two Volcanoes Coffee Gourmet Guatemala Single Origin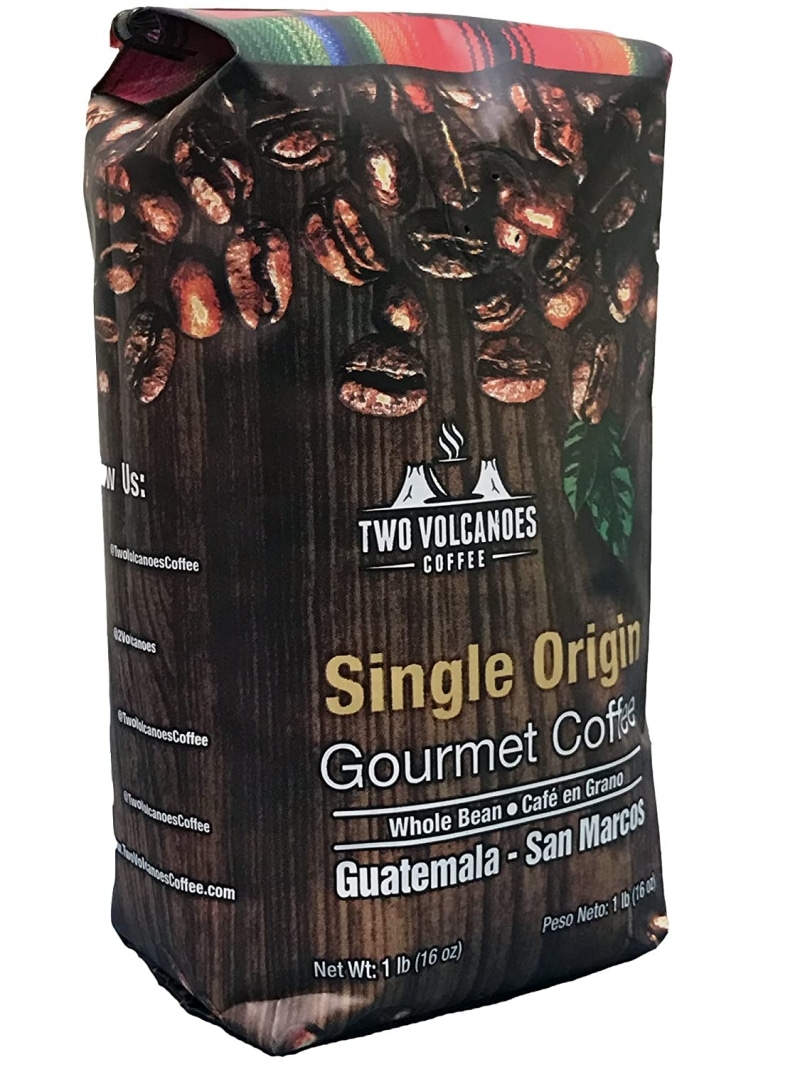 As the name presented, these fully Arabica beans are grown underneath two of Guatemala's Volcanoes where rich minerals improve the taste and aroma. This single-origin coffee is free of mycotoxins and mold because the beans are wet-processed in which producers shed cherry and pulp.
This coffee offers earthy, slight chocolatey notes and low acidity, you know it's the taste of the bean. The fresh flavor from making in the pour-over, drip, and french press methods enable you to enjoy it tremendously. But if you open the bag and surprisingly see the beans are dry like many other customers do, don't worry the coffee is not over-roasted.
What we like
Fresh because it's packed in a bag with valves
High-quality beans
Smooth taste and not bitter
Perfect to drink in hot or as cold brew
Nice customer service
What we don't like
A few customers receive old batches and coffee is stale
9. Lifeboost Coffee Single Origin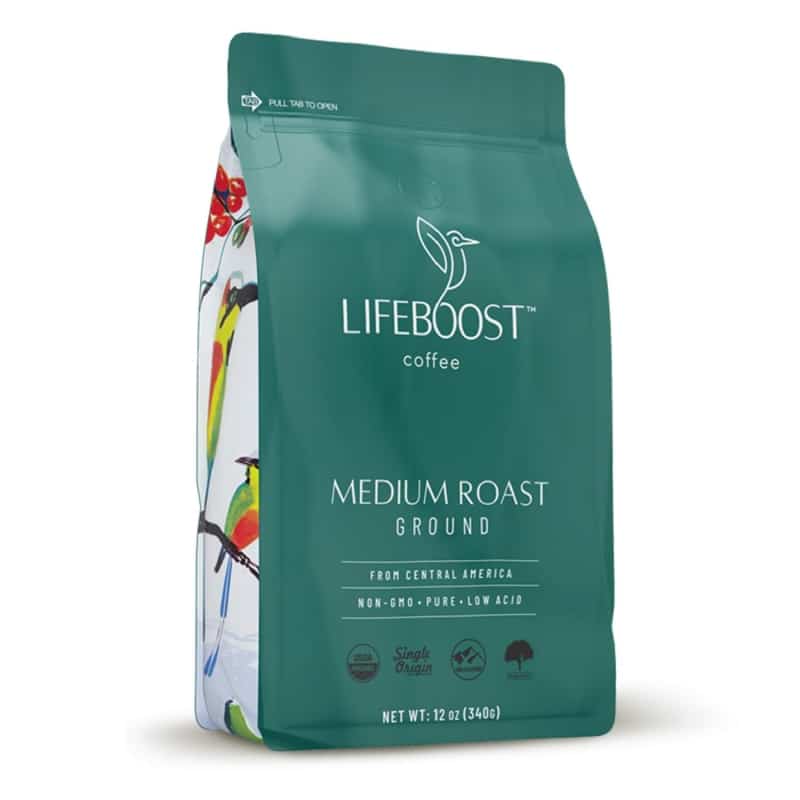 Grown above an elevation of Nicaragua Central American mountains, Lifeboost is a mildly acidic coffee that can be your healthy drink for the whole day. The beans are kept in purity and washed in hygienic condition so that you can get a delicate flavor profile with every cup. This single origin is available pre-ground for fast and convenient making.
You can prepare coffee in your favorite brewing methods, for example, single serve, machine drip or cold brew. If you ask about its flavor, it's not harsh or bitter at all. A few people complained they got an upset stomach after drinking other coffees, but this single origin is stomach-friendly to them. Thus, it's a decent-quality single-origin that you should try for once.
What we like
Smooth and delicious
No harsh taste
Drink without suffering upset stomach
Non-GMO Third Party tested and Organic certified
8. Colombian Coffee Java Planet Organic Coffee Roasters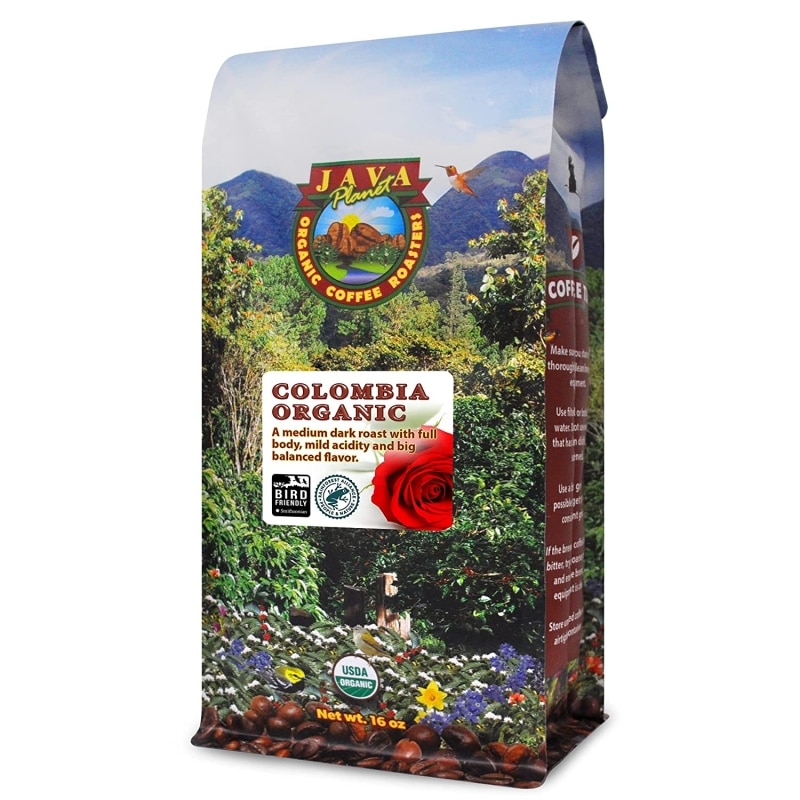 Many coffee connoisseurs would prefer to buy the whole bean because they want to grind with pour-overs, French press, or drips by themselves. So Java Planet, the family-owned business, provides small-batch roasted organic beans along with full-bodied flavor as a result of the roasting process. Furthermore, they grow coffee beans at high altitudes without using chemicals.
Growing in such a harmless environment, you will only absorb beneficial antioxidants contained in coffee when you consume it. If you buy this single-origin coffee, you won't only feel safe to drink but also contribute to safeguarding fair pricing, the rights of workers and the environment as a whole. Perhaps just try the 1 pound pack first! If it has a bitter-tasting, you can try to grind it coarse.
What we like
Low acidity
Fresh roasted coffee
Taste and smell great
Reasonable price
What we don't like
Some customers used to receive the coffee that past sell-by-date
7. Wink Coffee Blonde Roast Single Origin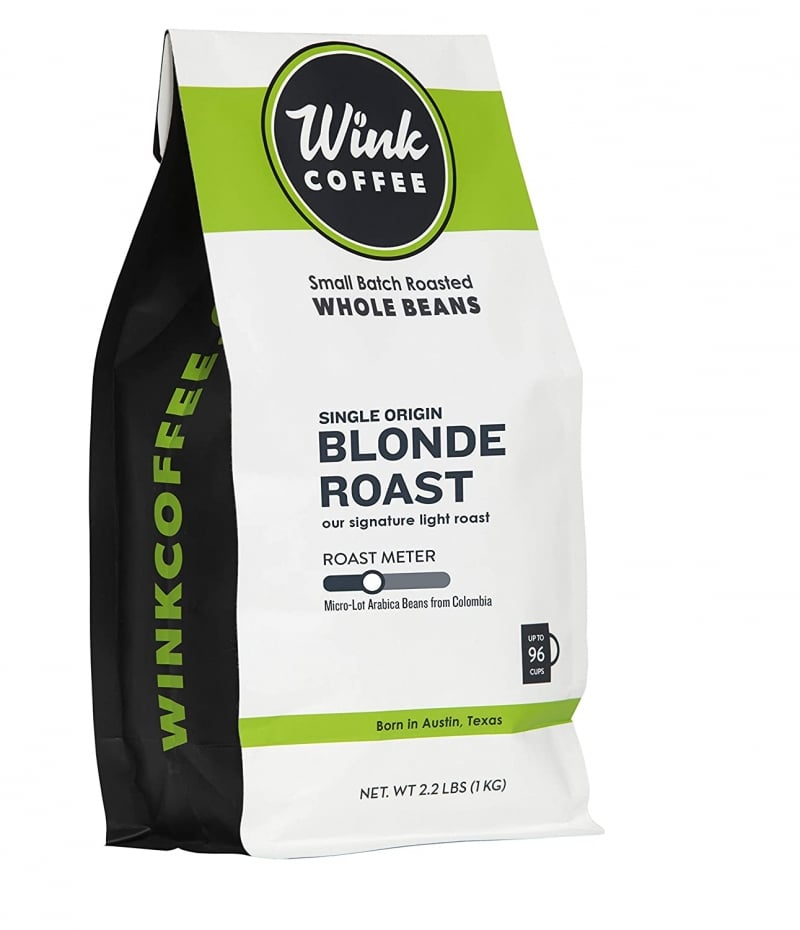 This Arabica Colombian coffee is grown in the Andes and roasted in Austin. As the beans are roasted in a 2.2 lb small batch and packed tightly, you can always get the freshest coffee. The light roast single origin offers chocolatey and nutty flavor profiles. A lot of buyers love how silky smooth this coffee is.
Besides, it's compatible with many brewers including automatic drip and espresso makers, moka pot, Aeropress, pour-over. Sure enough, this coffee brings chock-full Arabica coffee beans that even non-coffee fans enjoy because they can drink it with a bitter-free taste.
What we like
Flavorful and smooth
Not too bitter and oily at all
Stomach-friendly
Mild acidity
Great price
What we don't like
Might not be the choice for those who look for dry beans
6. Gevalia Guatemalan Single Origin Coffee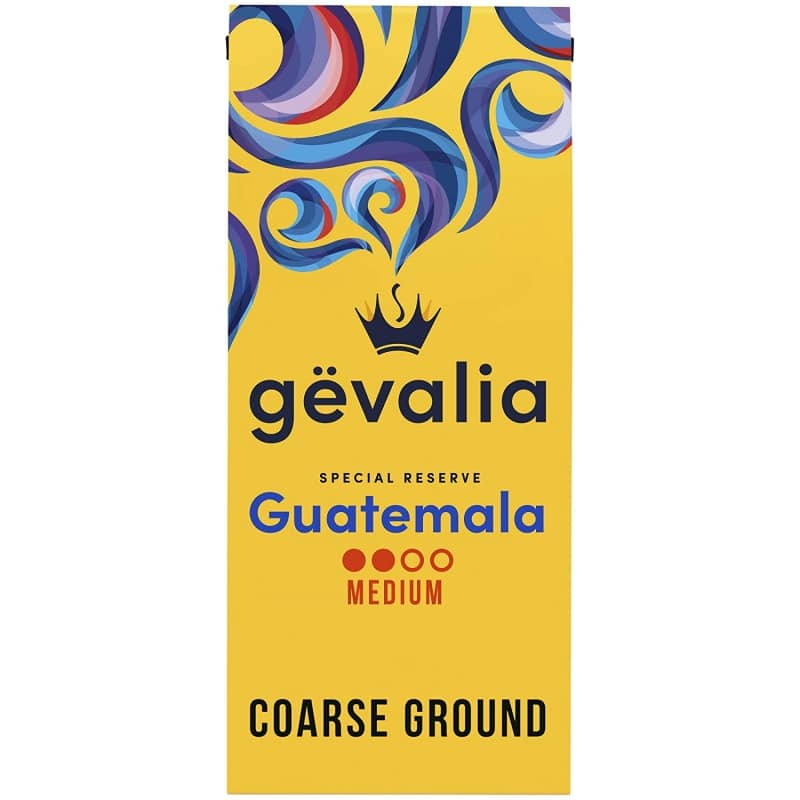 Many buyers savor single origin coffee from specialty cafés that they used to visit but they sometimes find it more convenient to make drinks by themselves. When they discover this Gevalia medium roast, coffee shops are no longer their go-to place for single-origin coffees because they can try several coffee preparations as they want.
Cold-brew snobs praise the flavor and quality of this coffee provided to them. While those who own French press brewer can never get enough of it as well. A sip of this coffee will leave you bold but no bitter aftertaste. With a 10 oz bag, it's full of 100% Arabica and fresh beans all the time. This single-origin coffee is securely locked in a bag with a tin tie closure. Choose Gevalia, if you like coffees grown in Guatemala.
What we like
Flavorful coarse ground
Free of bitterness
Consistent roast
Affordable price
What we don't like
Only usable in French Press and automatic drip coffee machines
5. Cooper's Cask Coffee Single Origin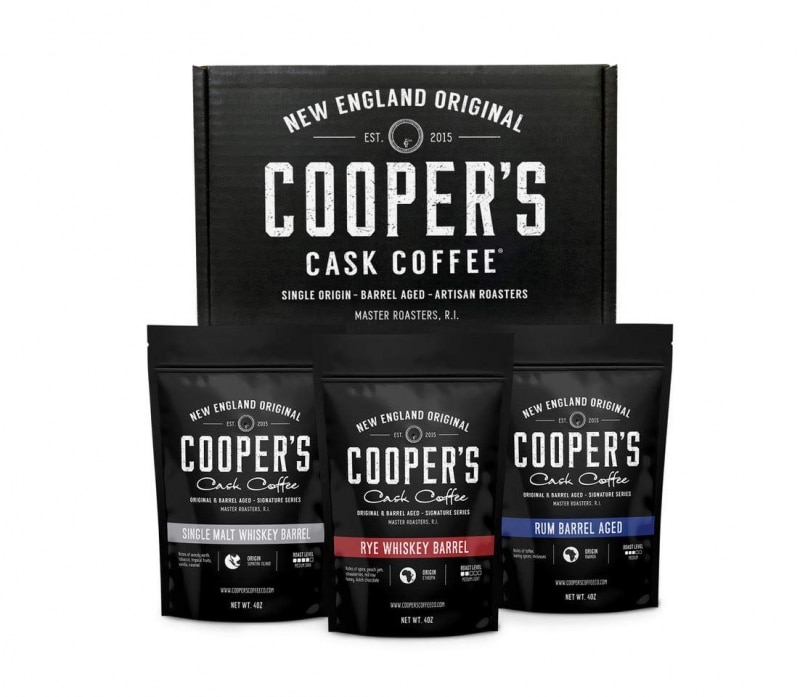 Sometimes you look for many coffees that are sourced from different origins and have nuances of tastes but it's complex to buy them at once. Fortunately, Cooper's Cask makes them all available in a collection. These beans age for around 2 months and can prolong unique flavor profiles including mildly sweet (for Malt Whiskey) and spicy (for Rye Whiskey and Thomas Tew RUM). What's most special about them is they're soaked in barrels.
If you're worried that coffee beans are blends, this brand provides high-quality single origins that are handmade by coffee roasters. Boozy beverages enthusiasts might enjoy these coffee beans a lot but don't get me wrong, producers tell that these contain zero alcohol. But if you aren't happy with the product, contact the seller for a replacement or refund.
What we like
Great tasting for liquor lovers
Fresh
Can be nice gifts
Amazing customer service
What we don't like
Not recommended for those who are not fans of booze
4. Volcanica Coffee Antigua Guatemala Single Origin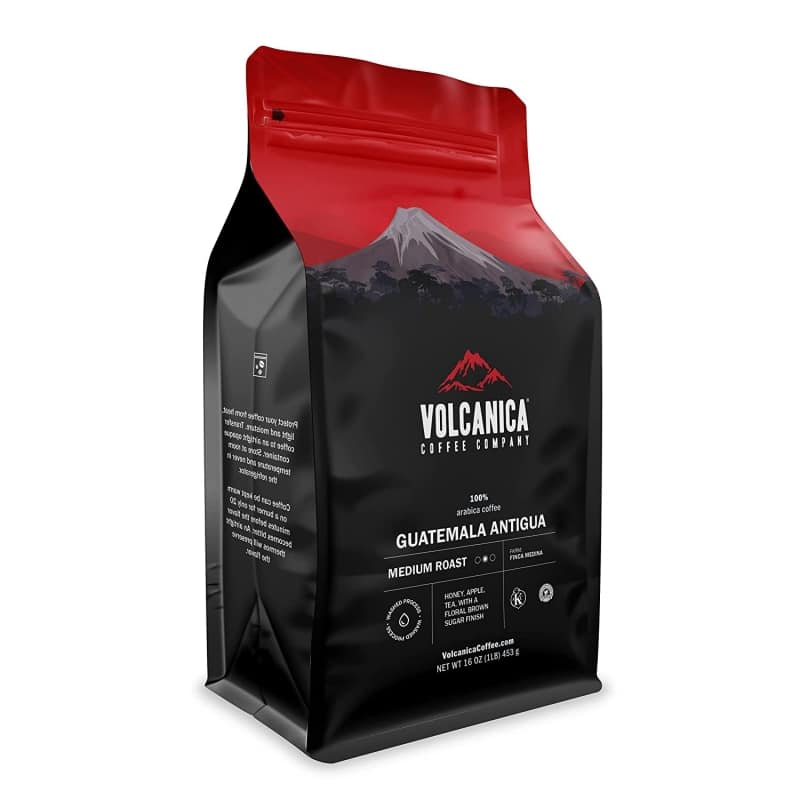 Introducing more coffee beans from Guatemala that any coffee drinker will never stop ordering. As the logo shows Carribeans volcanoes, the crop is located and grown there in the high altitudes. This single origin has a bit of sweetness with bold taste. When grinding the coffee, you would love its exquisite smell because the beans are nutrient-rich and fresh.
If you make it in a French press, you'll get cacao, chocolate, and a caramel finish. You're also able to feel some mild smoky-spicy undertones. This single origin has been the only choice of many consumers because it's a great caffeine kick. For some reason, the coffee might not meet the taste you want so you should try to experiment with the right water and coffee ratio that works best for you.
What we like
Smooth and full-bodied
Zero bitterness
Has citrus tasting notes
Fast shipping service
What we don't like
Not strong flavor for some buyers
3. Fresh Roasted Coffee LLC Ethiopian Sidamo Single Origin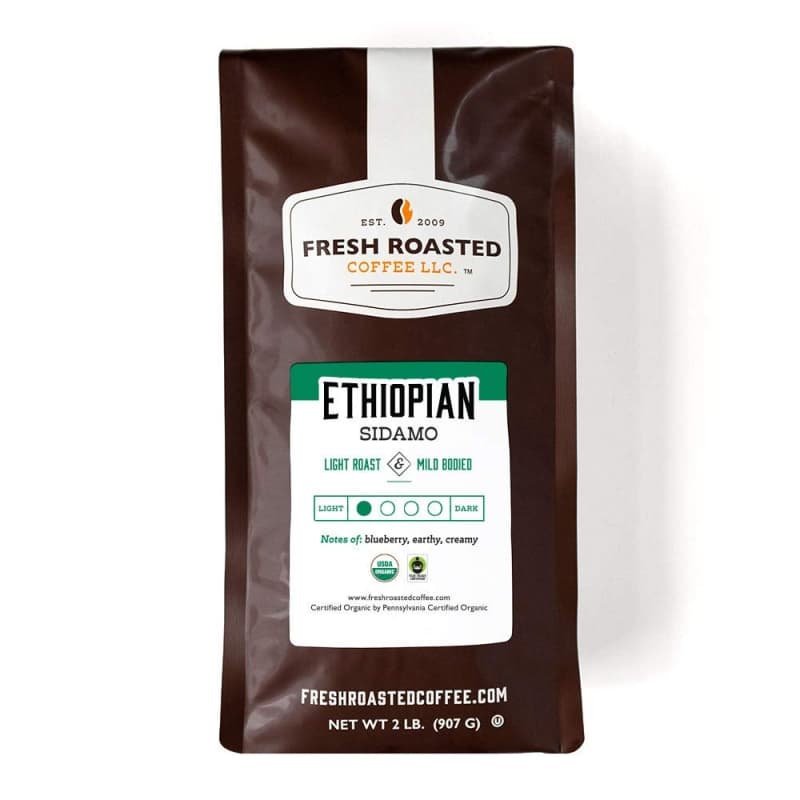 The single-origin coffee is sourced from Ethiopia and roasted in environmentally friendly conditions to cut down on carbon footprint. It's also USDA organic and fair-trade certified as farmers produce coffee and dry on raised beds, so processing methods are natural.
The coffee is fresh, superb quality and does contain subtle blueberry and floral notes. Besides, it works well with pour-over, Moka pot. The smell and flavor of this single-origin coffee offered from brewing are excellent. It is also delicious to make it in the cold brew but may last an amazing taste for 2 days only.
What we like
Smooth, not bitter
Subtle acidity
Fresh coffee
Can be wonderful present
What we don't like
Some customers didn't get the hint of fruitiness they want
2. K-Cup Pods Peet's Coffee Single Origin Brazil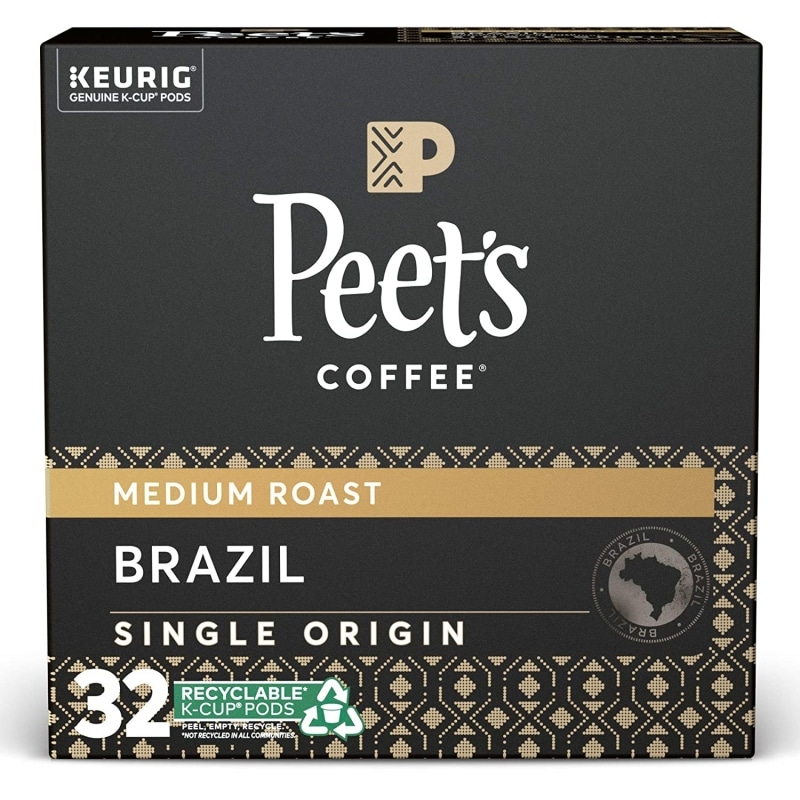 Little effort and fast coffee preparation are always there for you when K-Cup Pods exist. This single-origin coffee comes in a box with 32 pods. It makes the morning routine easier for the owner of the K-Cup brewing machine. A lot of consumers enjoy drinking these almost everyday, do you know why?
We all know that Brazil is one of the world's biggest coffee producers. This coffee has a smooth and full-bodied taste as a result of complete, ripe cherries from Minas Gerais that were sweetened in the Brazilian sun. And that sun-dried offers hazelnut notes. If you're finding such a sweet undertone, the Brazilian K-Cup single-origin will be your decent cup of joe.
What we like
Full-bodied and rich flavor
100% Arabica single origin beans
Low in acidity
Recyclable pods
What we don't like
Only compatible with Keurig machine
1. Peet's Coffee Colombia Single Origin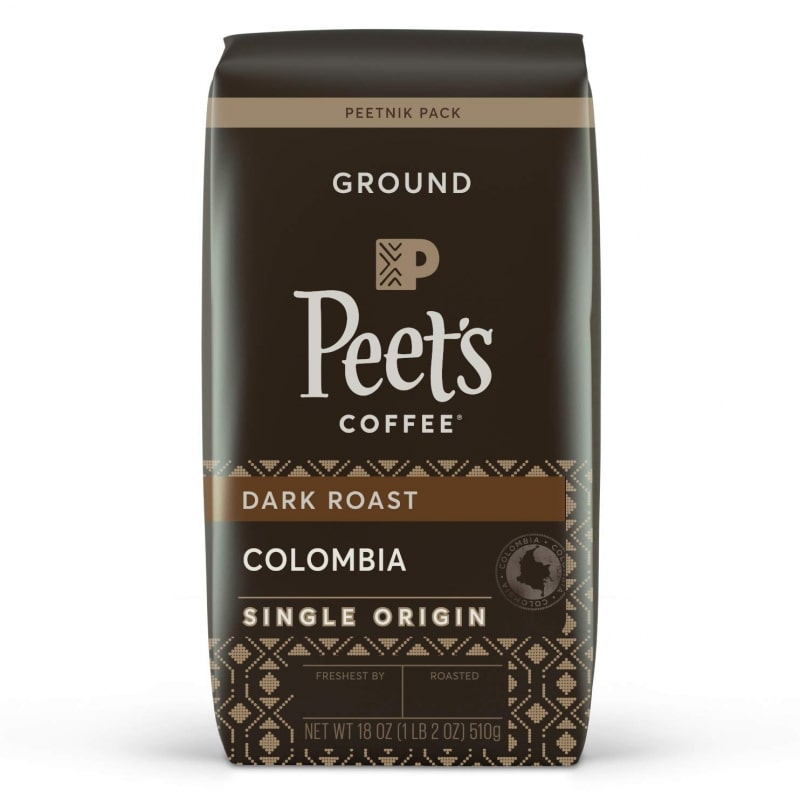 Another Colombian coffee to try is Peet's Coffee in which only exceptional beans are picked. Born at the top of the remote San Agustín, Huila, this single-origin coffee offers shiny, fruity, and sweet tastes. The soil in that location enhances these medium body beans so the coffee will be tasty. There's no charred flavor in this single origin so don't worry if you think it could have.
Coffee roasters hand-roast in small batches to maintain fresh quality. But you should use a coffee canister to keep the freshness of the single-origin coffee longer, specifically ground. This is a small suggestion from satisfied customers. Moreover, this coffee is compatible with coffee makers like French press, drip, and even K-Cup method.
What we like
Full of Arabica coffee
No burnt taste
Bright and sweet
Mild acidity
Fair price
What we don't like
Some buyers experienced getting coffee that past fresh date
Buying Guides To Choose The Best Single-Origin Coffee in 2023
Flavors
You might have specific preferences on tasting notes. Some single origins are a little sweeter than other coffees. While some coffee beans have a unique character which they're soaked in barrels to deliver certain flavors. Besides, most single origins recommended above only have subtle but no medium acidity. But seasonal changes vary the flavor from one coffee to another. If you're one of the coffee connoisseurs, you might prefer this kind of riveting experience. Purchasing single-origin will let you partake of the coffee's distinct flavor from other different regions.
Compatibility
It's important to look at this element carefully. Some brands of single-origin coffee only work well with suggested coffee makers. Most items in the list can use a French press to make coffee so it's a perfect match if you have it. The French press also ideally gives you better coffee with a full-bodied taste.
Freshness Date
Make sure to confirm with sellers about the roasted date. To know whether the single-origin coffee isn't new, you can notice that it has less aroma and the flavor is stale and not as good as it should be. Thus, it's necessary to ask for a replacement or money back.
Frequently Asked Questions (FAQs)
Is Single Origin Coffee Better?
Yes, for many coffee connoisseurs! Single-origin beans give you pure flavor which may cause you to detect certain aspects you don't care for. It's more special to drink it since the work of roasting the beans is handcraft.
How is Single Origin Coffee Quality Measured?
There are three major industry assessment systems. The Cup of Excellence evaluates the quality and management in the production of specialized and rare lots. Conversely, the Coffee Quality Institute Q system judges the coffee varieties at both producer and farm levels. It categorizes which varieties are in fine Arabica, fine Robusta and coffee blends. Yet, Coffee Review provides coffee buying guides and reviews of roast profiles. The common jobs these platforms do are to guide and suggest customers choose higher-quality coffee.
These systems objectively measure the quality of single-origin coffee through the use of a 100-point review system and blind cupping. But sometimes the criteria within those systems are marginally dissimilar so they follow descriptive categorization that coffee professionals use for scorecards tasting. Lastly, coffee roasters and producers use such ratings to advertise their products.
Why Do Coffee Roasters Create Blends If There are Single Origins?
It's not an odd question. Not everyone can enjoy an unadulterated coffee experience. Some customers would like to taste coffee that has less distinctive acidity and floral notes such as coffee blends. There are two benefits of coffee blends. First, unlike inconsistent single origin, blends are created to have a constant flavor profile of coffee. Mostly, blends tend to be roasted till dark color to be maintained year over year. Second, in coffee shops, coffee blends are default espresso in which baristas pair it with sugar and milk and these attract a wider audience.
Conclusion
Single origins are generally grown and produced for caffeine snobs who enjoy exploring coffee from all around the world and prefer learning about the differences in tasting notes across different regions. You should try at least one single-origin coffee I recommended above. Perhaps you can visit coffee shops nearby because recently some of them even market and have exclusive access to single-origin coffees.
References
Check out: What's Special About Single Origin Coffee? By JayArr Coffee