Out of many aesthetic trends that have come and go throughout the year, marble is the one that never seems to be out of date. Due to its long-term durability, stability, and luxurious look.
A coffee table is indeed a necessity in your living room whether it is for storage, such as books, remote controls, or your favorite snacks, and drinks during a movie night. By having a coffee table in your living room you can use it for a quick study session or even rest your foot on top of it can be a centerpiece that brings life to your living room as well.
This unique design, it can complement your living room interior design and bring all the furniture together to create a very cohesive look for your living room, which is why a coffee table is a necessity for your home.
Marble is indeed a strong material, but it is heavy and expensive, therefore if you love the look but cannot seem to afford one. No worries! We are here to give you a list of highly recommended marble coffee tables, which is a mademan marble material instead of rock. It will give you the fancy look without having a hard time assembling or breaking your bank!
For your own convenience and for you to receive the best online shopping experiences, we have written an article on "Enchanting Home Decor With The Best Marble Coffee Tables in 2022". This article will help you to make the most out of your time and money in finding the perfect marble coffee table that suits your taste and be the perfect fit for your lovely home.
List of The Best Marble Coffee Tables in 2022
10. WOHOMO coffee table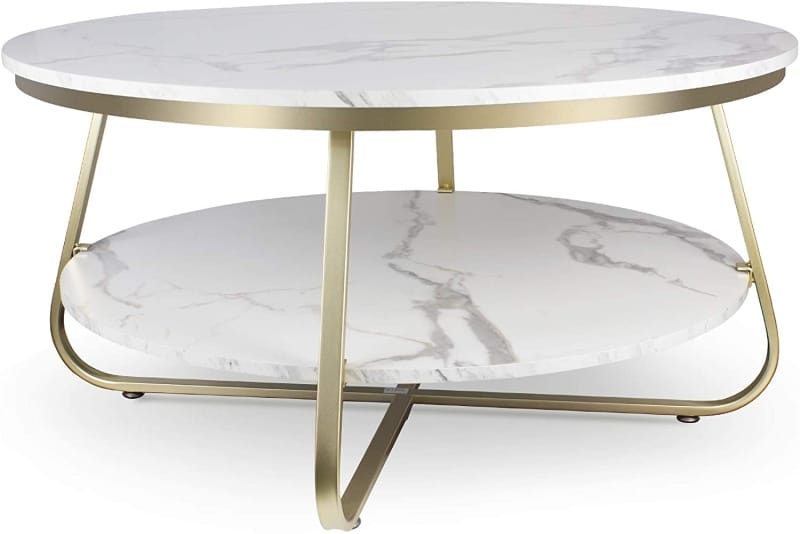 If you want a marble coffee table that is strong and sturdy but cannot afford to get real marble, take a look at this Elephance Round Coffee Table. A very spacious coffee table that can provide plenty of storage for everything that you will ever need in your living room.
The top of the table is made of particleboard that is waterproof, scratchproof, and water-resistant, which makes it very easy to clean. It is covered in marble painting to give you the fancy look. The bottom part is made of out solid metal frame that ensures stability, so you will never have to worry about it being wobbly.
There is no need to worry about the table not being strong enough, it can hold up to 264lbs. There are two layers of the tables where you can store your daily necessary items on the underside while serving a cup of tea or working on your laptop on the top.
9. Modern Nesting Coffee Table Sets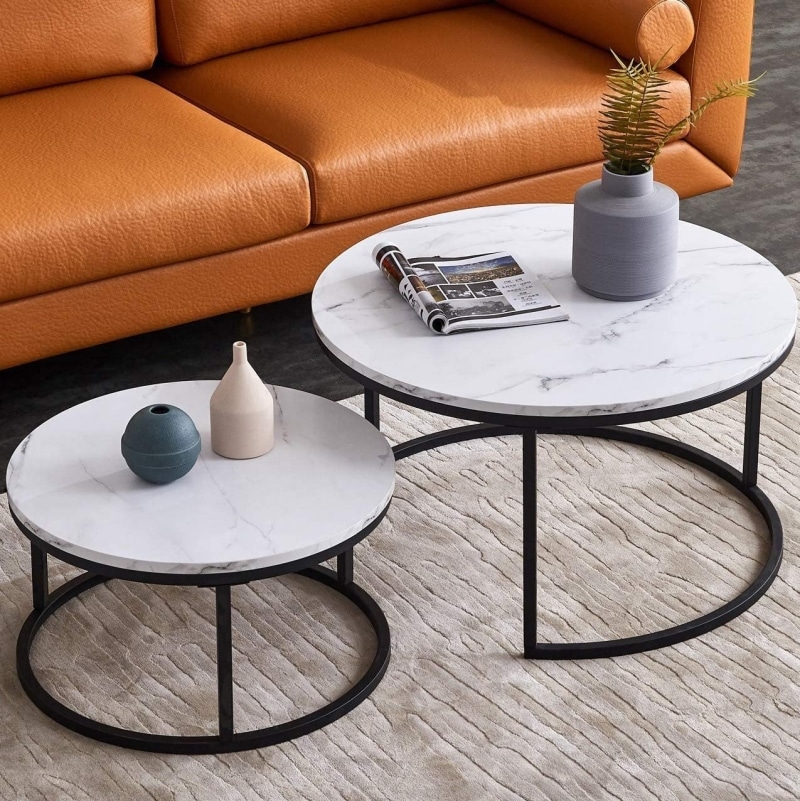 Spice up your living room with this coffee table that comes in a set of two! Check out Modern Nesting Coffee Table, it is perfect for families that need to do different things but still want to be in the same space.
The top surface is made out of the premium quality wood board with a glossy finish, and marble design, making the table super smooth, and comfortable to the touch. On top of that, it is very easy to clean, plus water and dustproof. The frame that supported the table is made of a metal frame that will assure stability.
It is a perfect size, It fits everywhere and can be adjusted to any position. More importantly, when not used the smaller table fits in perfectly under the bigger one. You can slide the smaller table under the bigger one to save up on space!
8. DKLGG Faux Coffee Living Room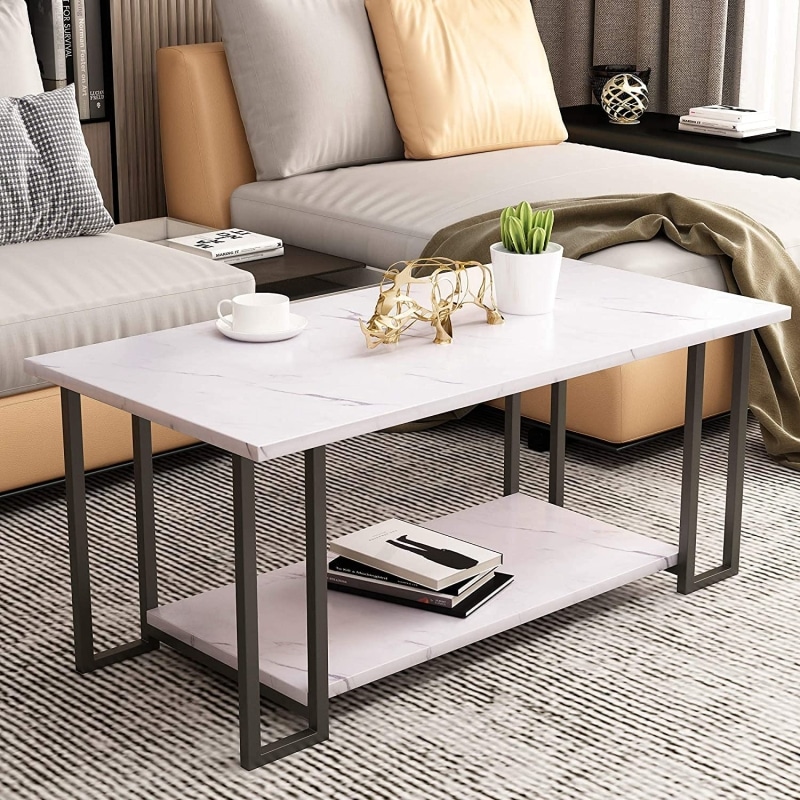 Two-tier Marble Coffee Tables with beautiful marble swirls, DKLGG Faux Coffee Living Room. An aesthetically pleasing coffee table that is elegant, simple, and durable. These two-tier tables provide you space to store objects on the bottom and put on decoration on the top.
The tabletop is smooth to the touch and is super easy to maintain, it is waterproof, and wear-resistant which makes it easy to clean. The open shelf design adds an extra space for you to store any items of your choice.
This marble coffee table is made out of faux marble, man-made marble material. This particular table is made out of high-quality MDF, and steel frame, with its metal frame the table is super stable. It can hold up to 150lbs.
7. Roomfitters White Marble Print Coffee Table with Gold Metal Legs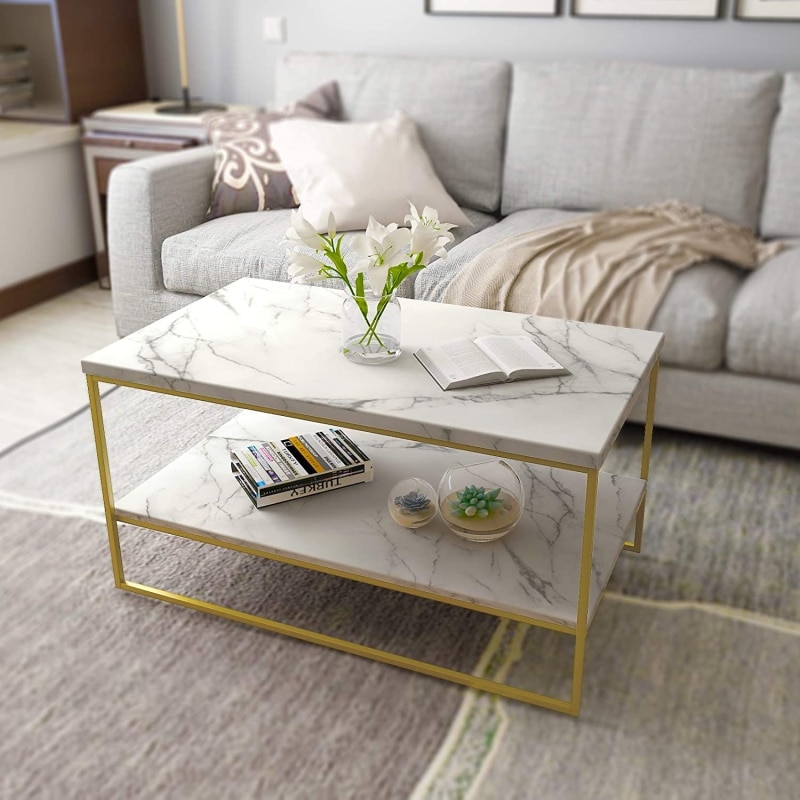 Square and elegant marble coffee table, if you are going for a minimalist style, look no further than, Roomfitters White Marble Print Coffee Table. Adding an elegant accent to your living room, with this simple and durable coffee table.
The white marble and gold legs give this table a very aesthetically pleasing look that will make your whole living room look expensive. This is a two-tier table design that gives you more storage for your living room on the bottom part and adds decoration or other necessities to the top part.
For affordability, this table top is made out of wood, and a steel frame. It was built with high-quality material that ensures stability and long-lasting effect. The marble print on top is water and dirt resistant, therefore feel free to clean it.
6. Nathan James Piper Faux White Marble Round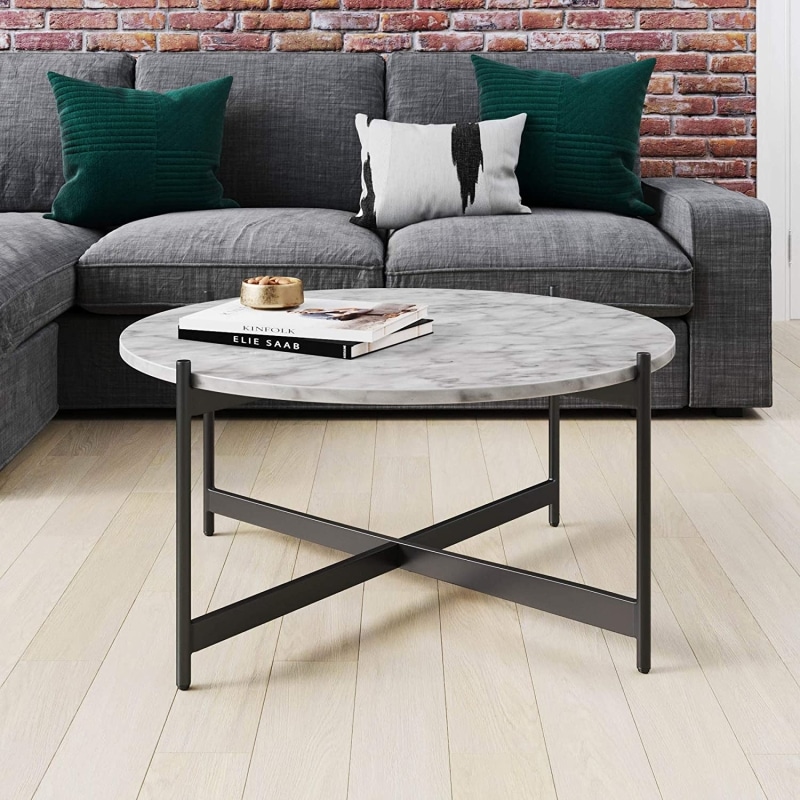 The round coffee table can easily be the centerpiece and compliment any living room is Nathan James Piper Faux White Marble Round Coffee Table. If you're looking for a classic black and white look, this coffee table is perfect for you.
This is a very solid table. You never have to ever fear breaking it. The table metal frame is connected crossly to offer an even more sturdy base for the table. It is built to last and can hold up to 99lbs.
The table legs are made of solid metal with black powder finished and it also comes with a floor protector, so you do not have to worry about scratching your house floor. The tabletop is faux marble that is made of wood and laminated with a marble print, which makes it very easy to clean.
5. Walker Edison Modern Round Nesting Coffee Table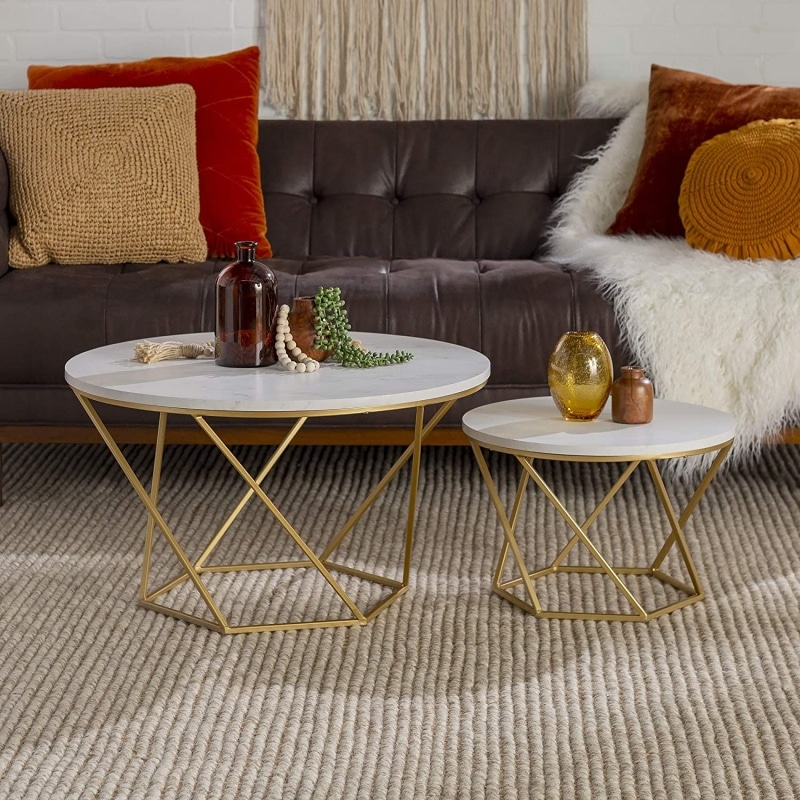 Get two tables with one purchase with Walker Edison Modern Round Nesting Coffee Table. Spice up your home by adding this modern element to your living room. The table sets have one large and one smaller nesting table with a unique geometric design as its leg and marble top.
This coffee table gives off a very bold look with its white top, and gold legs. These two tables can be arranged however you would like them to be. You can have them next to each other in your living room, or drag the smaller one to the others, you can even use it as a footrest if you would like.
The frame is made out of sturdy metal that is then painted gold. It also has a floor protector to avoid scratching your floor. The table is faux marble made from wood and laminated by marble print. As for the dimension of this product, the large one is 16" H x 28" L x 28" W, and the smaller one is 12" H x 18" L x 18" W. It is not too big or too small, just the perfect size for your living room.
4. Walker Edison Mid Century Modern Marble Gold Rectangle Coffee Table Living Room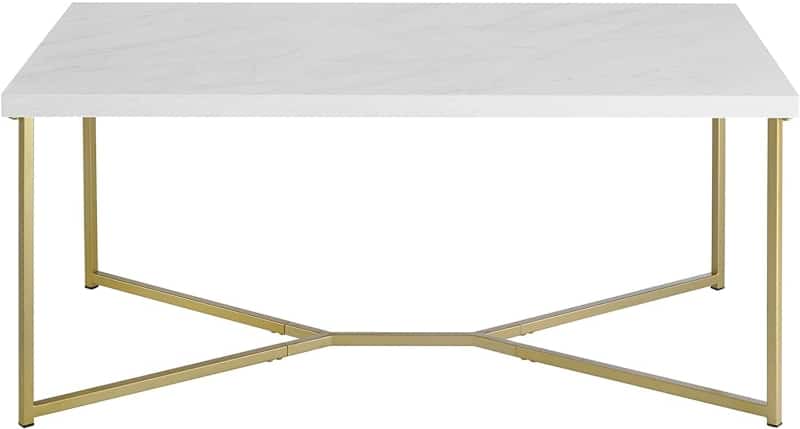 Your living room will not look complete without a coffee table, Walker Edison Modern Marble Gold Rectangle Coffee Table, is the best choice if you're looking for a spacious rectangle coffee table.
The modern design of this coffee table made it fit so well in any home or apartment. The white marble top and gold legs look very fancy sitting in the middle of your living room. The cross design at the bottom ensures there is no wobbling to the table even when holding very heavy objects. The table can support up to 75 lbs without a problem.
This tabletop is composed of MDF wood with a steel frame. It was constructed with high-quality materials to assure its stability and long-term effectiveness. The marble printed on top is water and dirt-resistant, so you may clean it as needed. The product's dimension is 18" H x 42" L x 22" W, which is spacious enough for a coffee table.
3. Signature Design by Ashley-Maysville Faux Marble Coffee Table Set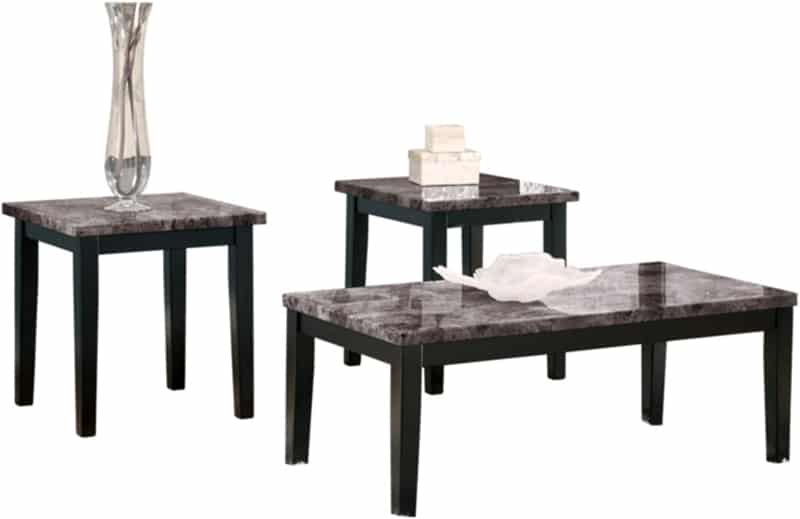 A trendy compliment to your living room, this contemporary table set from Signature Design by Ashley. These set the tone for cozy comfort and high-quality design. It comes with three pieces including one coffee table, and two end tables.
You can get three tables in one purchase, it is almost like a steal. This is the perfect set you can arrange however you please. The tables look nicely put together with their unique gray color top and black legs, a refreshing take from the typical white and black marble.
As for the dimension of these tables, the two smaller end tables are slightly taller than the coffee table. They are 22.25" W x 23.75"D x 24"H, while the coffee table is 48"W x 23.75"D x 19.25"H. The tables are made of veneers, wood, and engineered wood. The top is made of faux marble with a durable polyurethane finish. It is very durable.
These tables are super easy to assemble, all you have to do is screw the legs onto the tabletop. All the instructions, tools, and hardware are included. It took only 15minutes then you can enjoy your brand new table.
2. Best Choice Products 36in Faux Marble Modern Round Table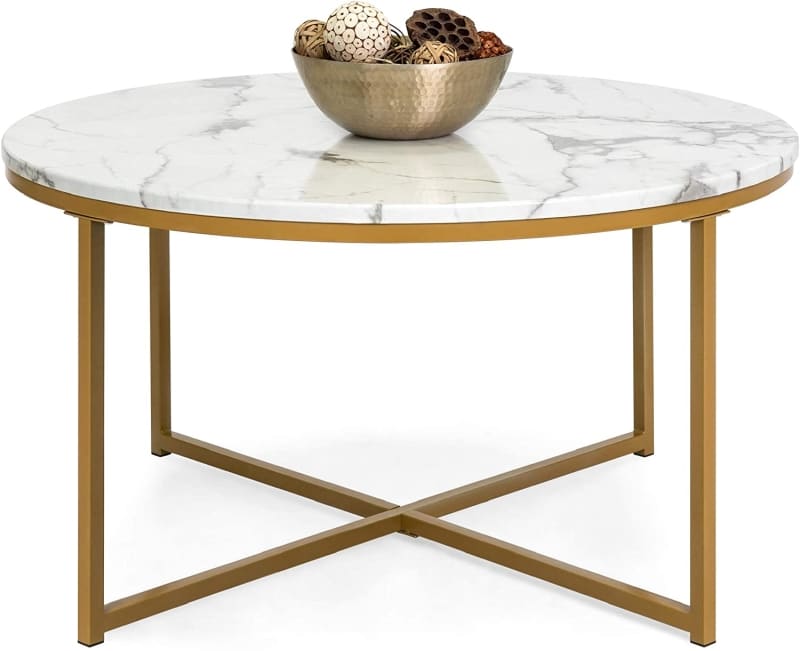 A classic look of gold and white, pure and luxurious home furniture. This is the Best Choice Product 36in Faux Marble Round Table. It looks simple yet elegant, perfect for your living room both for functionality and decoration. Use this to enhance your interior design by placing magazines, snacks, drinks, or any decorative piece.
This table is not for look only, because the crossed leg design ensures maximum stability to the table. The frame is very sturdy and can hold up to 100lbs. There is no need to worry if your drinks spill over as the top surface is smooth and easy to clean.
This round table is made out of a laminate faux marble table, and the frame is made out of metal. As for the dimension, it is 35.6"(Dia) x 19"(H). It took very little time to assemble despite its look, around 15 minute is enough to assemble the leg, attach it to the top, and then flip it over. It also comes with floor protectors on the leg. Your floor would be clean with no scratch from this table.
1. Walker Edison Cora Modern Round Faux Marble Coffee Table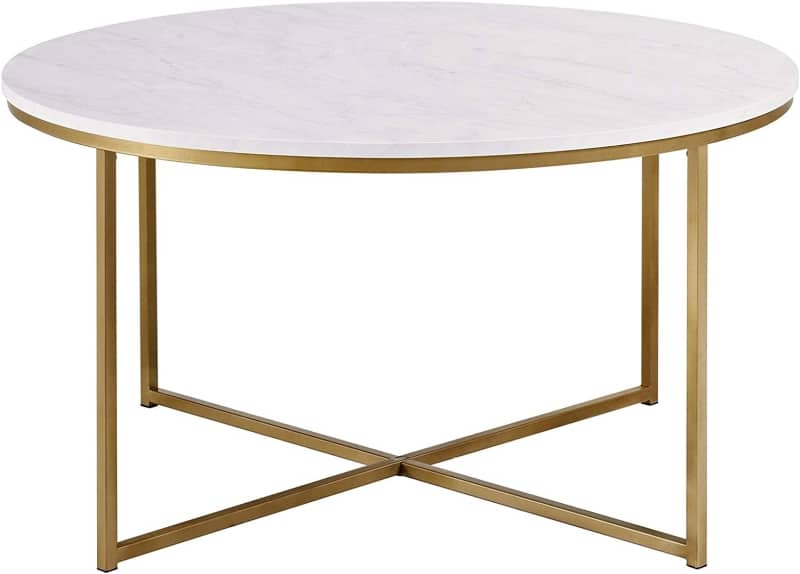 Last, on the list, our final recommendation is another table from Walker Edison, it is the Walker Edison Cora Modern Round Coffee Table. A simple yet classic round table with a gold frame and white marble, that will add fanciness to your home.
This classic table has a crisscross base to give you the durability that you are seeking. The top surface can support up to 100lbs. This table compliments any living room, thanks to its simple yet elegant design. Any artistic piece would look good and stand out on top of the table.
The frame is made of strong metal and then gold-painted. It also contains rubber caps as the floor protectors to keep your floor from getting scratched. The top of the table is made out of warp-resistant MDF and durable laminate. The size of this table is 19"H x 36"D x 36"L. It provides plenty of surfaces.