Among all the beverages, coffee has undeniably become the world's most trendy drink. According to research, at least 400 billion cups are purchased by coffee lovers each year. In the United States, more than 450 million cups of coffee are consumed every day. About half of the people in the United States over the age of 18 (that's 107 million) drink coffee on a daily basis.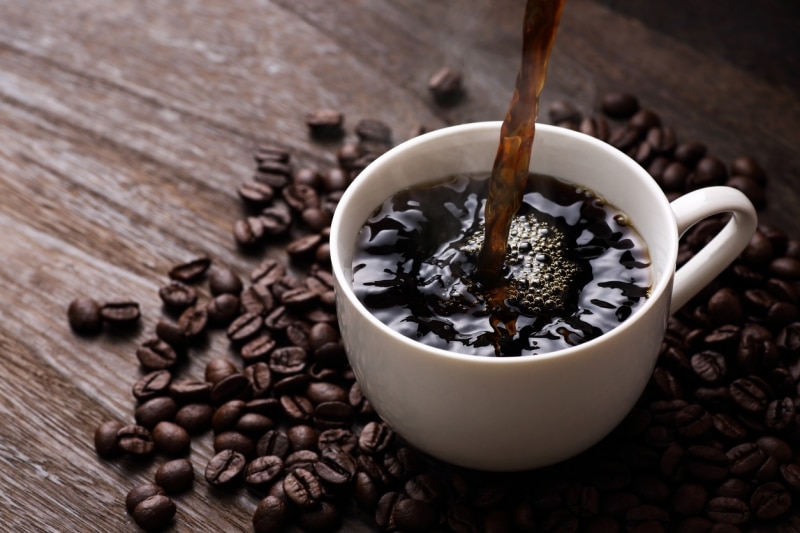 This means coffee drinkers consume three and a half cups each day. Statistically, this seems like the popularity of coffee is not a joke and indeed it is not.
Obviously, coffee is overwhelmingly popular for one bright and greatest reason: it has caffeine that keeps people awake and energetic for the whole day. Its taste also makes people addicted because it has a rich flavor. However, while looking at the brighter side of the coffee, let's also look at its dark sides in which one of them is the amount of acid that coffee contains.
Do you know one surprising fact about coffee?
One fact for those who love coffee should know is that coffee is naturally acidic and can affect your health in many ways. Most coffee types are acidic, with an average ph scale of 4.85 to 5.10 which means some of them also contain low acid blends as well.
Does it mean you should stop drinking coffee which has already become a part of your life and help to boost your productivity? 
Of course not, we have better ways that can help you drinking coffee without harming your health through various flavor notes. We have come up with the best solutions for you which are the top 10 best Low-Acid Coffee Brands in 2023.
List of Best Low-Acid Coffee Brands in 2023
10. Mommee Coffee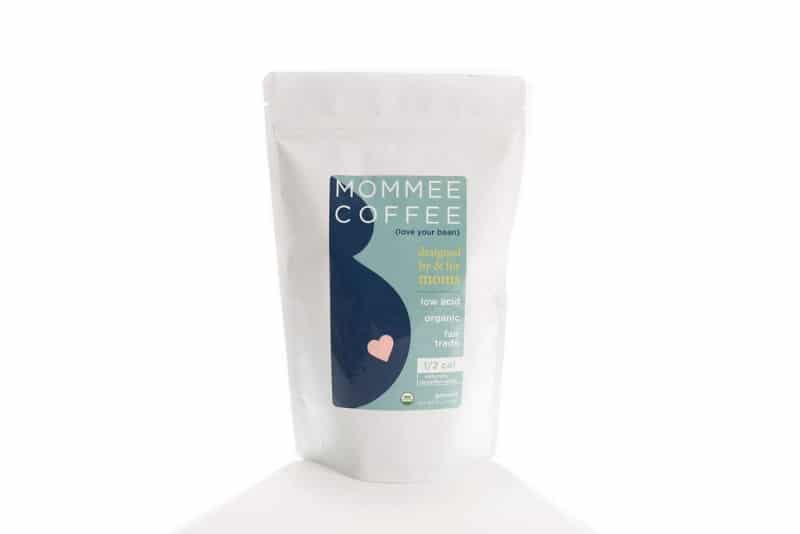 Let us introduce you to one of the top 10 coffee with low acid that you should consider buying. This is from the Mommee Coffee brand which makes tasty and healthy coffee. If you only need a little boost of energy or caffeine for your day, this one is the best pick for you since it is a low acid decaf coffee that obtains a half-caff flavor and it is also half caffeinated. So, you do not have to absorb a lot of unnecessary caffeine if you do not want to.
Is this exclusively designed for pregnant women?
Yes, it indeed is. Just like the brand name implies, if you are pregnant, you can still buy this Mommee coffee because they are specially designed for pregnant women with the health consideration for the babies. Moreover, there is no need to worry even if your stomach is sensitive because it is the coffee brand that is low in acid that decreases stomach acid. At the same time, the caffeine beans that this brand uses go through the organic process which means there are no chemicals involved during the process of roasting the beans. Last but not least, if you still have some doubts about whether pregnant women can really drink decaf coffee, you will clear your doubt with this detailed article.
What we like
Perfectly made for pregnant women
Organic coffee
Ideal for those who only need a few flavors
Reduce acid without compromising the original coffee flavor
What we don't like
Smell like a burnt coffee sometimes
9. HealthWise Low Acid Coffee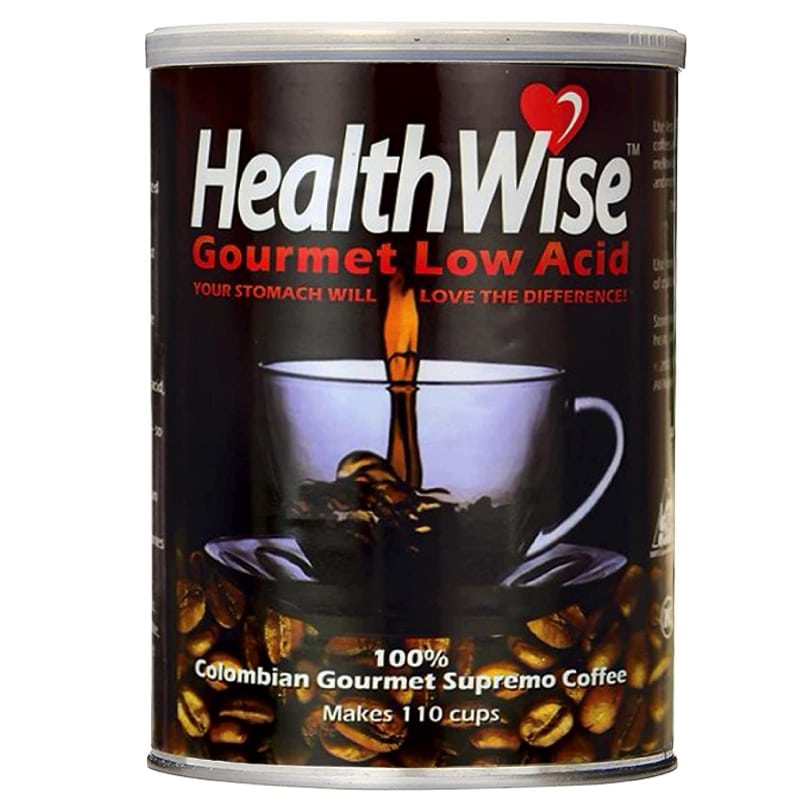 The next best natural coffee product comes from the HealthWise brand that produces authentic coffee flavors. If you ever worry about how their beans from this brand are produced, do not be concerned. Definitely, they use high-quality Colombian Supremo Arabica beans and they are roasted at a medium level.
Furthermore, throughout the whole process of roasting, it also protects crucial minerals, vitamins, and other nutritions. The roasting process also decreases the bitterness and harshness, unlike other roasting methods which never really take this into consideration. In addition to producing a low level of acid coffee, it also protects you from heartburn.
What we like
Produce original coffee taste
Highest grade Colombian Supremo Arabica beans
Goes through an exclusive roasting process that cut down the bitterness
Decrease stomach acid and heartburn
What we don't like
Does not have a strong taste of coffee (for those who prefer strong coffee)
8. Tieman's Fusion Coffee, Low Acid Coffee Beans (100% Arabica)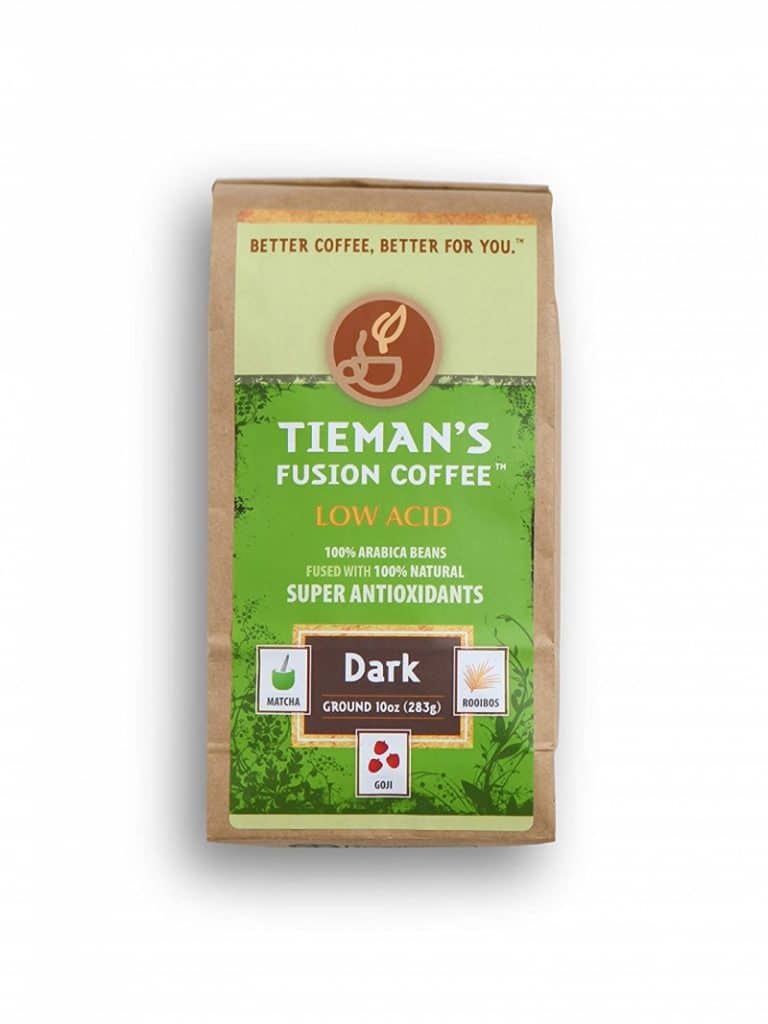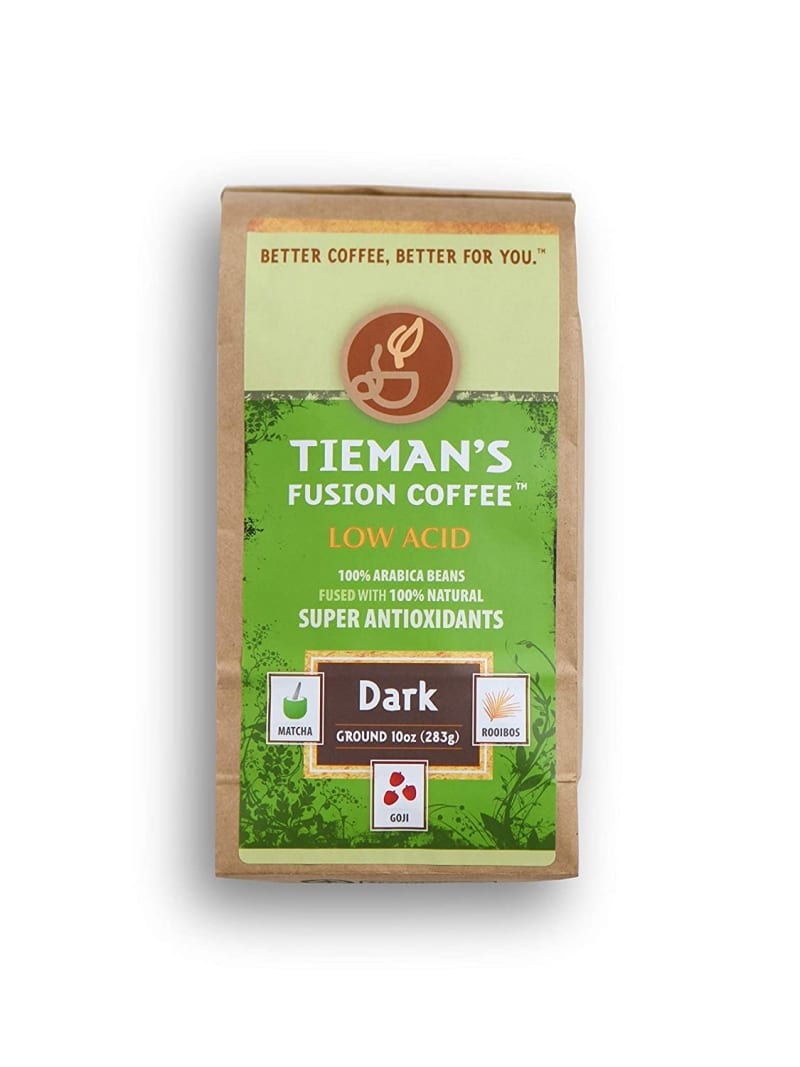 If you love dark roasts, this one is the top selection for you since it has dark roast ground. However, this brand does not only have one color but three colors for you to pick such as decaf, dark roasts, and medium roast.
Tieman's Fusion coffee is quite unique in the sense that it is fused with Matcha green tea to sustain your body energy. It also blends with rooibos red tea to protect your stomach and especially it is combined with what we call Goji Berry powders to fight against inflammatory disease.
Regarding the low acid coffee beans, this brand uses the most authentic Arabica premium beans from Central and South America which is very trustworthy for your health benefits. Last but not least, it comes with various styles of packaging for your convenient pick.
What we like
Combined with good quality powders for health advantages
Uses 100% Arabica beans from Central and South America
Has Different kinds of packaging
Highly recommended for dark roast drinkers
7. Healthwise Coffee K-Cups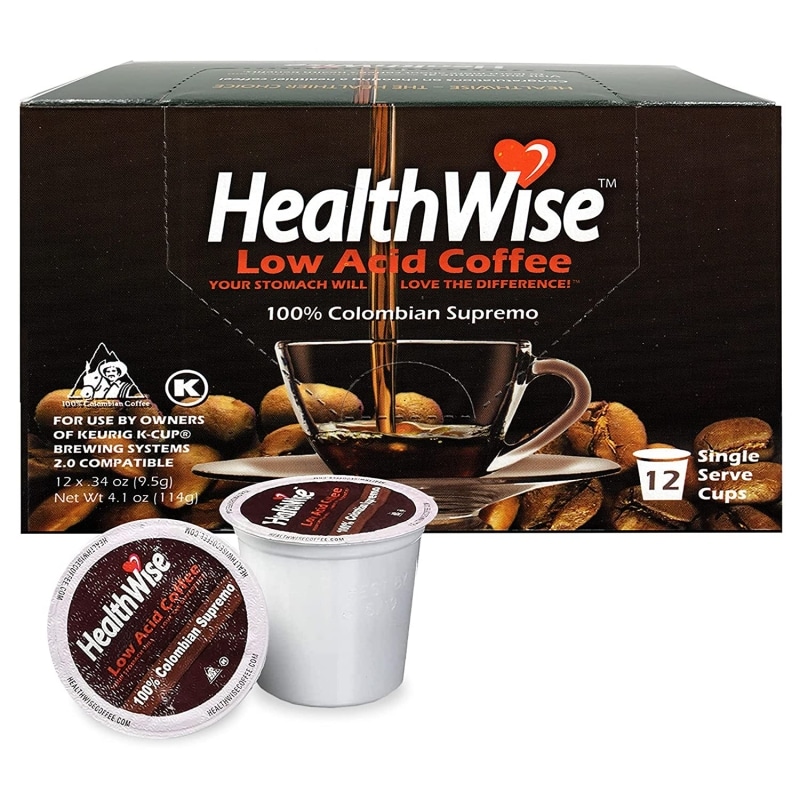 Here comes another low acidic coffee that makes you feel energetic and does not irritate your stomach at all. Just like the other coffee, the Healthwise brand puts your health first before anything else. Therefore, they have this process called the TechnoRoasting process in which they try their best to reduce the acid level while at the same time, ensuring the coffee still retains the full flavor.
For your extra convenience when sipping the coffee, the coffee comes in the form of a cup in which you can hold comfortably. Compared with other coffee types, this brand also brings you four types of delicious flavor notes for you to choose such as Chocolate Coconut, Hazelnut, French Vanilla, and classic Colombian Supremo. These flavors are all available in decaf content.
What we like
Uses TechnoRoasting process to reduce the acid level and maintain the full flavor
Available in four tasteful flavors in decaf content
Offer cups for you to hold comfortably
Organic low acid coffee for sensitive stomach
What we don't like
Comes in a small quantity
6. Java Planet Organic Coffee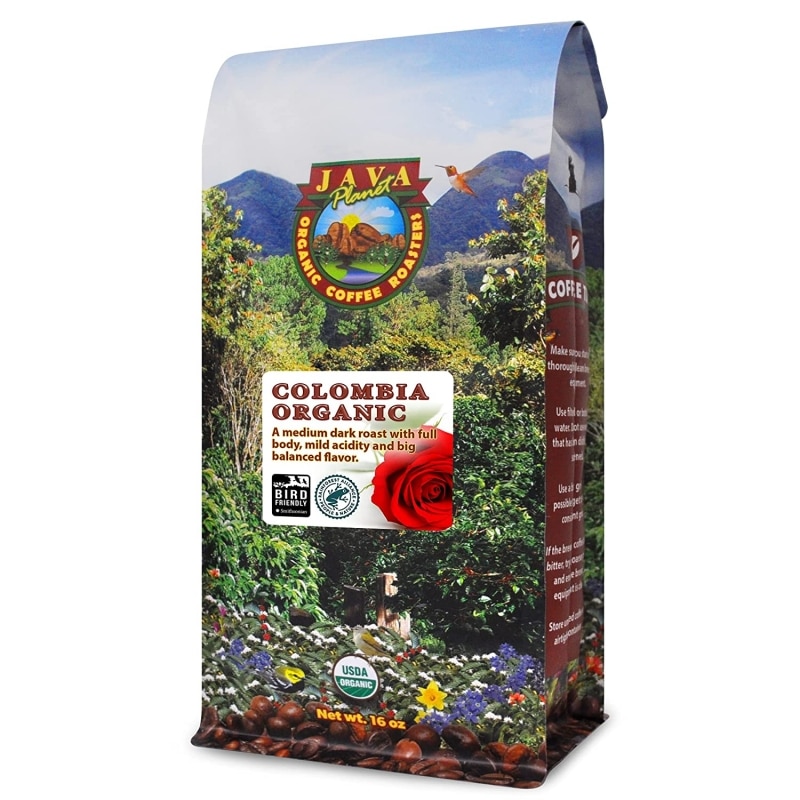 This top six coffee is from Java Planet Coffee Roasters. Once you taste this coffee, you will feel like you just grab a cup of coffee in Colombia. For your information, Colombia is known as the second-largest coffee producer after Brazil. The coffee brands that are produced by Colombia are famous for their sweet aroma and mild taste. This one is the best-selling low acid bean owing to its amazing flavor and low level of acid.
Additionally, these low acid beans are grown organically without using any chemicals and in the atmosphere that takes workers' rights, wildlife, and the environment into serious consideration. Also, it comes in a whole bean form in which you can grind your coffee in any way you desire.
Anyway, for those who prefer authentic coffee flavor but also want to taste that full flavor that comes from the roasting process, this one is a perfect choice. It is because its roasting level is a medium-dark roast.
What we like
Original and full flavored coffee without a harsh or burnt taste
Sustain both your health and environment
Comes in a whole bean form for you to grind
Available in various packages
What we don't like
A Little bit of sourness coming afterward
5. Lifeboost Coffee Dark Roast Ground Coffee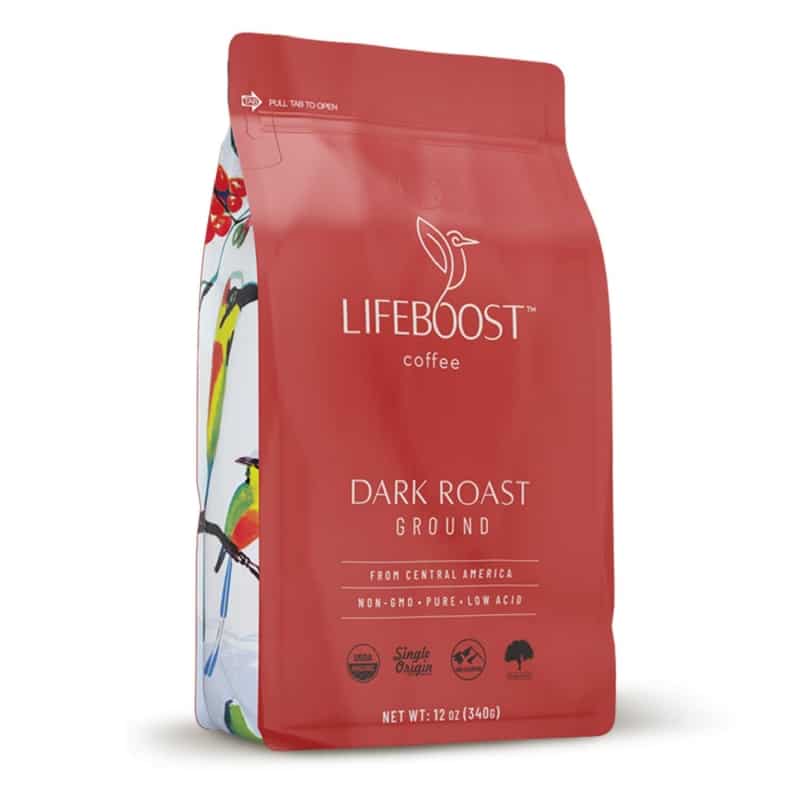 This is probably the best ground coffee you have ever found by Lifeboost. Just like the other coffee brands, life boost coffee is also low in acid but still manages to maintain a tasteful flavor.
Thanks to the pure shade-grown, this coffee bean is grown naturally in the mountains of Central America. There is a special farm where they ensure every coffee bean is manually selected to produce purity. Moreover, this one will safeguard your stomach and teeth from all kinds of discomfort and harsh side effects. For the roasting level, it is dark roasted with a caffeine content of 89-92MG.
What we like
Ground low acidity coffee
Pure shade grown bean coffee produces a clean taste
1 month of returning money policy (if you do not like the coffee)
Available in two forms (ground and whole bean)
No bitter taste
Easy on stomach coffee
What we don't like
The price is high for some families to consume it daily
4. Lucy Jo's Coffee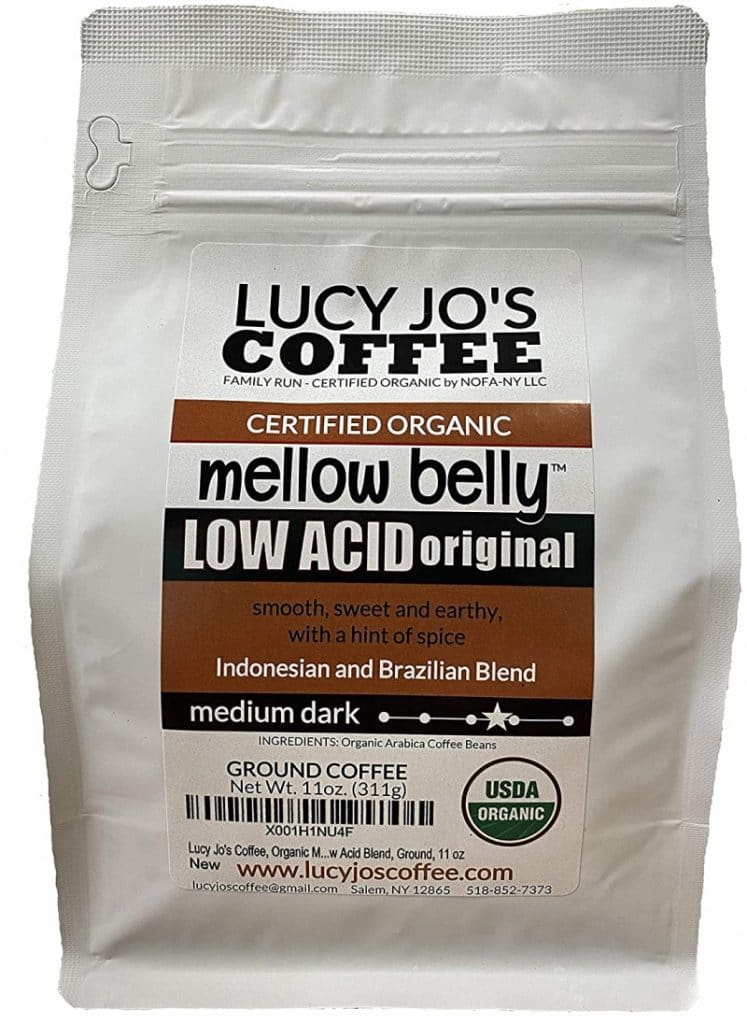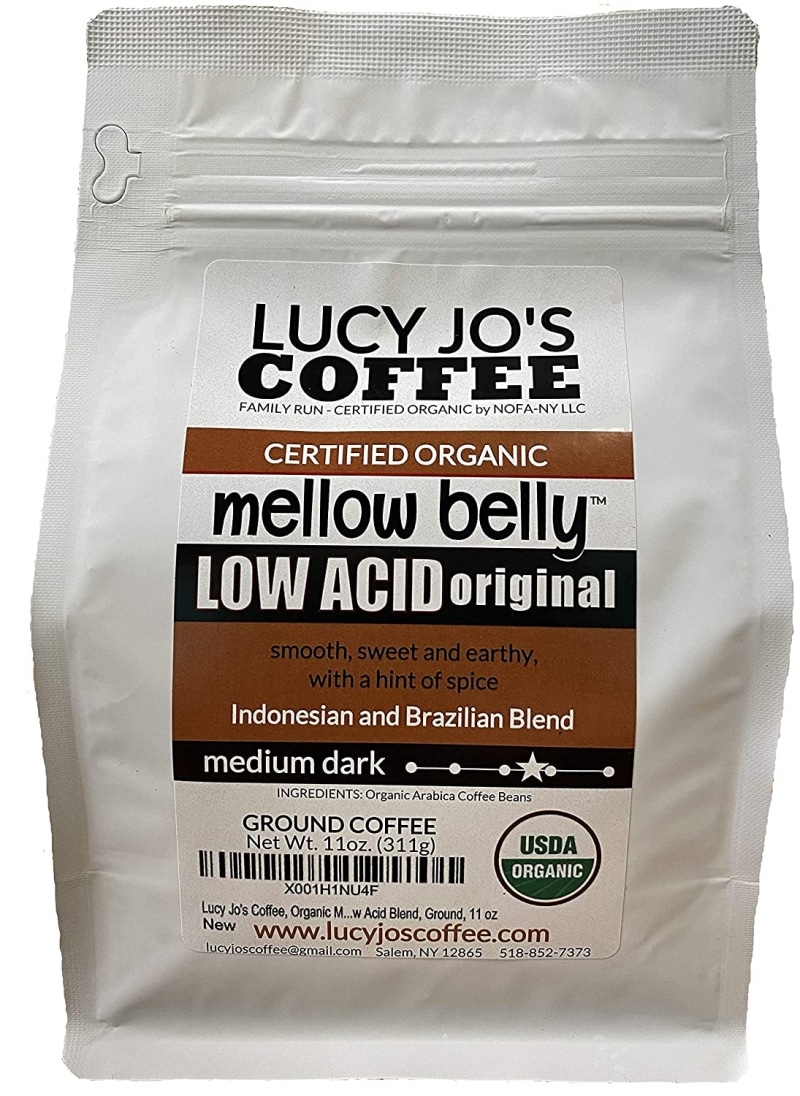 We are sure that this regular coffee would make normal drinkers enjoy it. Here comes Lucy Jo's coffee. The main reasons are that this coffee smells so good and it simply tastes like delicious dark chocolate or brown sugar. For Lucy Jo's brand, they use organic beans that are from Indonesia and Brazil. As you know, Brazil is the largest coffee producer in the world as it owns a large plantation area with a beneficial climate to grow the two main types of beans such as the Arabica and Robusta beans. 
Besides this, it has a combination of smooth, sweet, and spice flavors that blend together well. Additionally, it has something in common with the other low acid organic coffee because it is also a low acid medium roast coffee that reduces acid reflux if you consume acidic foods before it.
Furthermore, in order to produce the best flavor, it is roasted by hand in small batches at the family-run facility. No more thinking, please grab this best coffee immediately and make a morning cup for yourself!
What we like
It is a reduced acid coffee that will go easy on your sensitive stomach.
The blend of sweet, smooth, and spice flavors
Manually roasted in small batches form
Authentic beans from Indonesia and Brazil
What we don't like
The taste is quite weak for strong coffee taste lovers
3. Tyler's No Acid Organic Ground Coffee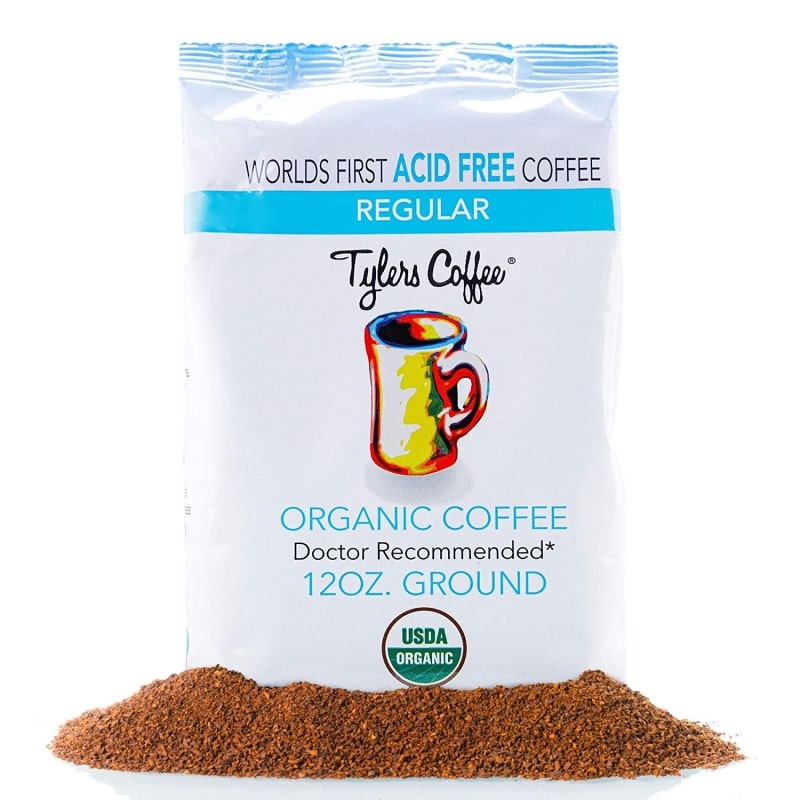 The top 3 acid-free coffee is brought by Tyler's organic ground coffee. Tyler's coffee is also a low acid coffee in which there is a balance of ph scale so it will absolutely reduce acid reflux that causes health issues and especially indigestion.
Indeed, you will not be disappointed with its ground and regular flavor because the coffee beans go through a special process that tries to enhance the aroma as well as the taste. Tyler's ground coffee is medium roasted. Now you can sip your cup of coffee without any bitter aftertaste.
After purchasing, if you do not like this coffee, the company will make sure to return your money for the easy espresso which means you can just taste it for free.
What we like
Neutral Ph scale that totally eliminates acid reflux
There is no bitterness and aroma of freshness.
Healthy ground coffee
100% money refund
Have both ground and whole coffee types
2. Don Pablo Colombian Supremo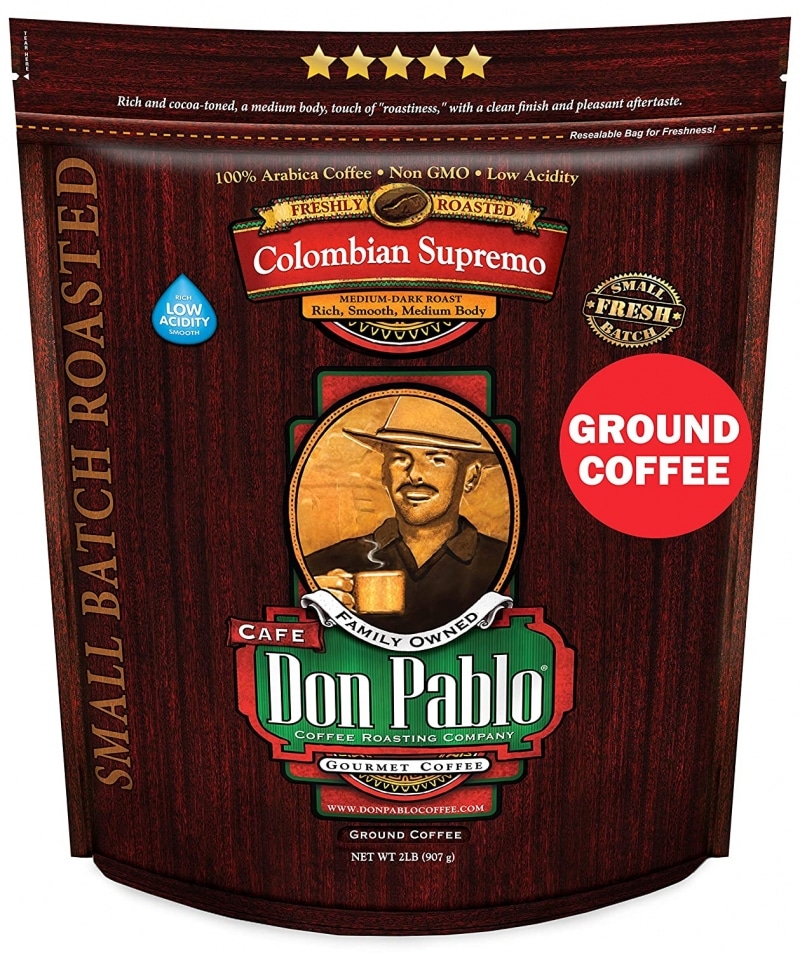 Here comes the top 2 ground coffee from Don Pablo which is also low acid coffee. Among all the low acid coffees, the taste of this ground coffee is extremely rich, sweet, and mild. It is a medium roasted coffee with a low amount of acid.
This medium roast coffee is exclusively roasted since the producers want to make sure they get the greatest freshness. That is why this ground coffee comes in small batches only. Furthermore, this brand also offers you a refundable option if you do not love drinking their coffee.
What we like
Available in ground coffee form
Freshness is guaranteed because they only roast in small batches
Refundable option
Mixed savory flavors that you definitely love
Less acidic for those who have stomach issues
What we don't like
Not really for black coffee drinkers as they are lighter roasts
1. Puroast Low Acid Ground Coffee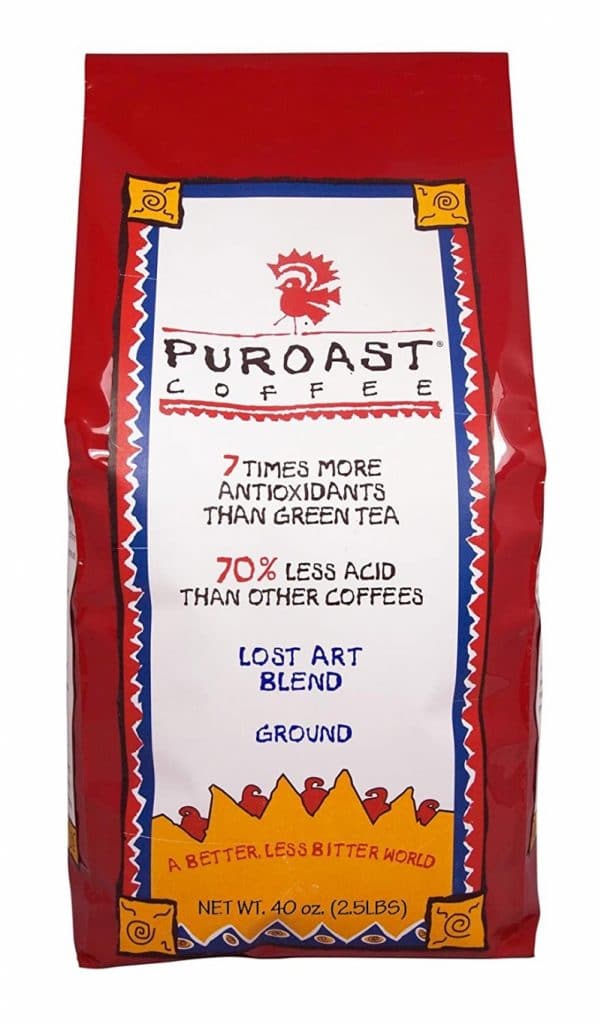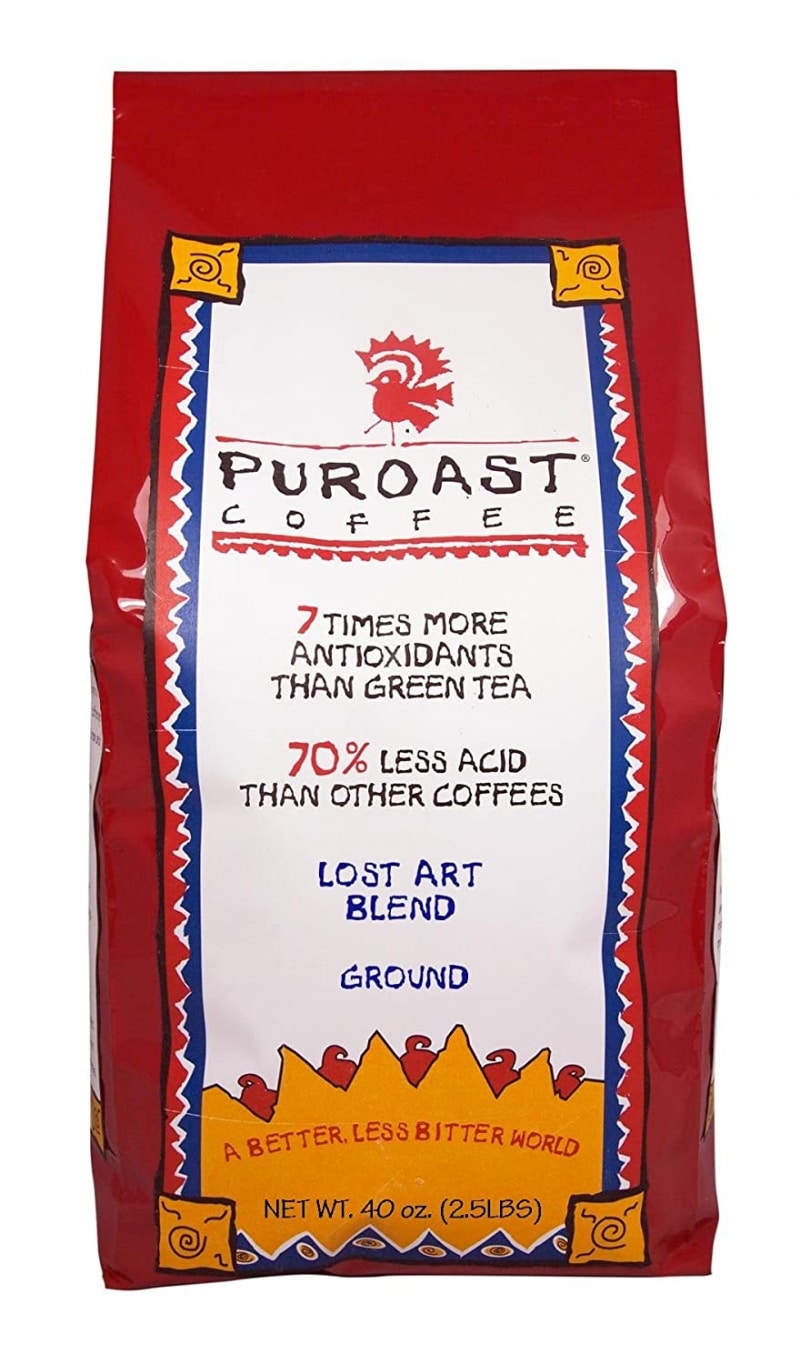 Finally, we have arrived at the top 1 low acid coffee that is the best option for all coffee lovers. What sets Puroast less acidic coffee apart from other famous low acid coffee brands is that it is known for its 70% low acid organic.
In addition, this ground coffee has 7 times more antioxidants than green tea which is a healthy boost to your overall health. Puroast also creates a unique roasting method that permits coffee to develop naturally without needing direct heat so that it gets rid of the bitterness and helps you to experience better taste.
Owing to its undeniably great process, any coffee lover suffers from heartburn and stomach issues. No more stress if you want to enjoy your coffee again. Now, you can brew it in any way including cold brew coffee if you desire with the 100% pure, smooth and amazing coffee flavor.
Not to mention, The Puroast brand has created many flavors for you to choose such as House Blend, Vanilla, Hazelnut, Dark Roast, Bourbon Pecan, and Lost Art Blend.
What are you waiting for? Let's grab this best coffee offered in town to make you consume your coffee deliciously and enjoyably without the harmful effects on your health.
What we like
70% low acid than other leading low acidity coffees
Provides 7 times more antioxidants than green tea which is good for health
Offers many different flavors
Unique roasting method to eliminate bitterness
Smooth and best flavor
What we don't like
Might have possible side effects (huge dose of antioxidants)
Buying Guides to Choosing Best Low Acid Coffee Brands in 2023
Types of coffee bean
In order to be able to buy the lowest acid coffee brand possible is to do some research on the types of coffee beans. The main reason is that some caffeine beans are acidic when you blend them with other ingredients.
For example, Robusta tends to be preferred in a few blends because of their flavor but they have a lot of acid in their content. On the other hand, the well-known Arabica coffee beans are almost always low in acid in their nature. They are a low acid blend.
The origin where coffee beans are grown
Another key indicator that you should not overlook and consider before buying low acid coffee is the places where they grow the beans. Normally, they do not state clearly on the coffee packages where they actually grow their beans. Therefore, you need to find out more on the internet about the origin where different types of beans are grown.
For beans that grow at a lower temperature, they tend to create a better scent and more acid especially when they go through the roasting process. In contrast, beans that are grown in Brazil or Hawaii are naturally lower in acid because they are planted in lower areas than those at higher elevations.
Know what kind of roasting method they use
It is crucial for coffee lovers especially those who want to enjoy their coffee with as low acid as possible since it is harmful to your health.
Evidently, the importance of roasting temperature and how you can roast your coffee correctly and properly cannot be overlooked. Those are the two key reasons that also affect the acidity level in your coffee. This implies that over or under-roasting coffee beans can cause acidic coffee, which leads to risky health effects including teeth and especially stomach problems. It can affect the taste of the coffee.
That is why it is necessary to look for low acid coffees that are produced by good roasters. Some low acid caffeine uses special techniques for roasting beans in a way that they can reduce the level of acid as well as try to maintain the full flavor. As a result, you can enjoy drinking healthy coffee with the flavor you desire.
Frequently Asked Questions (FAQs)
How to make coffee even less acidic?
If you are seeking alternatives to make your coffee even less acidic than it already is, there are many ways to make that happen. The simplest technique you can try is adding milk.
As a matter of fact, milk has a lot of calcium which can balance the level of acid reflux in the coffee. Those who drink coffee prefer milk more or less in their coffee as it creates a smooth flavor in their cup of coffee. On an important note, milk is usually used with dark-roast coffee because of the naturally low acidic dark-roast coffee type.
What kind of coffee is the least acidic in nature?
In general, the sort of coffee that possesses the least acidic of all kinds of coffee is dark-roasted coffee. Mainly, its dark color heavily influences the coffee's acidity.
Do low acid coffees affect the coffee taste?
It depends on the coffee brands too. Some brands that sell coffee with a low level of acid try to maintain the original taste of coffee while some brands are not capable of doing so. The fact is more or less, too little acidity in coffee can create a dull, sour, or even strange taste.
Conclusion
We are sure that after you have gone through our top 10 Low-Acid Coffee, there are a few among others that catch your attention. You can be rest-assured with our top 10 Great Low-Acid Coffee with their high-quality taste and healthy products.
Hopefully, the brief detailed information above can help you to attentively and successfully seek the best low acid coffee brand that suits your taste and especially if you have health problems. These brands all prioritize your health and taste before anything else. You do not have to worry about buying the inadvertent low-acid coffee that will increase your acidity but also create a bland and bad taste.
To the majority, coffee is the greatest pleasure for them but some cannot really enjoy its coffee to the fullest because of their health issues. With the existence of many producers that are producing low-acid coffee that want to help the coffee consumers to still be able to enjoy the coffee despite their incapability to tolerate acidity. It is absolutely a fair trade between those who have health issues and those who do not since now everyone can freely enjoy their coffee comfortably without concern. We promise that you will be offered amazing flavors and aromas with no harmful side effects to your health as a whole.
References
Check out: How to Reduce the Acidity of Coffee By JayArr Coffee