If you are a coffee lover and looking for the best coffee brand with health benefits and delicious coffee, you are on the right page. There are many coffee brands out there in the market, but let me show you the best brand is Lifeboost coffee. 
Lifeboost coffee is more focused on the flavored coffee varieties, the quality standard of USDA certified organic beans that are grown completely organic in a natural environment.
Not only do they care about their customers' satisfaction, but they also look out for the farming business sustainability for farmers as well. So, stick around, we'll be showing you the best Lifeboost coffee line in 2023 to keep you up with the best trendy flavored coffees.  
List of The Best Lifeboost Coffee in 2023
Lifeboost Midnight roast coffee is one of the healthiest and darkest roast coffee you can have. It is known for its organic beans which are sourced from a single-origin with the highest quality you will ever touch upon.
The coffee plants are grown in the mountain shade. The coffee beans are all organic and grown in a friendly environment. Lifeboost coffee beans are hand-picked, washed with spring water, and sun-dried to remove all the harmful moisture. 
The Lifeboost coffees guarantee that the Midnight roast coffee is purely a natural coffee roasted and packed with standard quality certified from USDA organic and fair trade. Their coffee beans have been tested for mycotoxins, pesticides, and other harmful toxins.
The reason that this is ranked as the best coffee in line is that not only does it have healthy options for a sensitive stomach, but it also has a bold flavor, smooth and great taste. Lifeboost simplified its packaging design to focus more on the quality of its coffee's true flavor and taste with a fair price for its customers.   
We strongly support the coffee Lifeboost midnight roast for its standard quality and taste. We would recommend it to all coffee lovers, especially dark roast drinkers. To those who have a sensitive stomach and want to drink black coffee, this is one of the healthiest and lowest acid coffee you can have.   
What we like:
The coffee bag design with clarity
The coffee contains more nutrients and zero artificial flavors and chemical
It fits best for weak stomach
What we don't like:
It would be great if it has a little of flavor notes
Lifeboost Espresso coffee beans are harvested from the premium beans selection and have been separately hand-picked professionally. To have the tastiest cup of espresso coffee, the beans have been through lots of standard procedures. The beans have to be fermented for 26hours, spring water washed, and sun-dried until they have a nice humidity which will help the beans to enhance their taste.
The coffee is usually described as a well-rounded and balanced cup with rich and bold coffee. This espresso dark roasted coffee has flavor notes of chocolate and caramel with a slight fruitiness, but some are slightly sweet. 
This Lifeboost espresso coffee has standardized the beans from growing to roasting process to ensure the beans and taste qualities. To meet the USDA certification, their coffee beans are naturally organic and grow environmentally friendly. 
We would love to recommend this espresso coffee because it doesn't only offer the best quality of the beans and roasting procedure, it also has a great balancing taste of coffee and a nice aroma.  
What we like:
The complex profile of its flavor notes
It offers a standard quality beans
The coffee has a nice smooth texture
What we don't like:
It leaves a strong aftertaste
Cold-brew coffee
Organically grown coffee beans
Low acidity
Shade-grown and sun-dried high in the mountain of Central America
Tested for mycotoxins
View Price on Lifeboostcoffee
Biotic cold brew is one among other organic coffees of Lifeboost that has been tested several times, yet they are seeking to add more nutrients to the drinks. The new products added a probiotic that is designed to remove mycotoxins from the internal parts. 
The added ingredient also helps to boost up the immune system and to support the digestive system as well. But what is a probiotic? Is that a chemical ingredient? Probiotics are a combination of live bacteria and yeast that are naturally good for your body, especially your digestion. 
Even this coffee has an added compound but it gives no harm to your body based on the studies conducted and tests. This Biotic cold brew coffee uses low acid coffee beans that are mountain shade grown from a single farm.
Lifeboost Biotic cold brew is very trendy and well-recommended by doctors, health and fitness professionals. That's why we would like to recommend this product to all coffee drinkers, especially those who love cold brew. Quality guaranteed. 
What we like:
It provides an antioxidant that helps the digestive system
Simple packaging, easy to keep
It works best for sensitive stomach
What we don't like:
It has a weird aftertaste and doesn't have flavor notes
Decaf Coffee
Fairtrade coffee
Grown in a mountain shade and washed with spring water
100% arabica beans
Grow in a high altitude
View Price on Lifeboostcoffee
Lifeboost dark decaf coffee is one of the best decafs in the coffee industry. The coffee is known best for its organic mountain shade-grown and washed with spring water. They use pure Arabica beans which have a smooth and clear taste and aroma of coffee. 
The dark roast coffee comes with great deals of coffee quality and health benefits. It contains zero chemicals, pesticides, and has been tested for mycotoxins likewise. Having this item at home is a great choice you can make.
It has a strong and bold flavor. The beans were hand-picked and roasted professionally with perfect humidity that allowed the beans to transition to reach a complete taste development.
Among all the decaf coffees, we wouldn't hesitate to give a shout-out to this dark decaf coffee of Lifeboost as it has the quality and taste. If you want an easy brewing and delicious cup of coffee, better not skip Lifeboost coffee. 
What we like:
It is an low acid coffee
No artificial ingredients or flavor added, it has a fair balanced of caffeine and sweetness
What we don't like:
It doesn't have the flavor notes
Lifeboost dark roast coffee pods are compostable coffee pods where the beans are shade-grown and sundried on mountains of Central America. These coffee pods are produced organically with USDA certification. 
It has zero chemicals, added flavors. These coffee pods are compatible with Keurig and Keurig 2.0, they are so convenient to use for different types of brewing. Everyone loves coffee, not just any coffee but Lifeboost coffee. 
It has been taken care of professionally from planting to the roasting process. It is commonly used for a sensitive stomach because it is a low acid coffee, and it helps the digestive system as well. 
The coffees are recommended by doctors and fitness professionals, as they have already tried. As said, this will not harm your health. Not only does it have great quality, but the taste is also amazing. It gives a fair balance of caffeine in the pods. 
If you are looking for an affordable low acid coffee with good flavor, this is the one. Dark roast coffee pods are convenient for drinking and brewing.
What we like:
Nice packaging for the box and coffee pods
The good compatibility of brewing machine
The flavored coffee is strong and bold but not too bitter
What we don't like:
It doesn't have fruity notes
Hand-picked and roasted professionally
French Vanilla flavor
Medium Roasted coffee
Pure Arabica beans
Natural oil extracts
View Price on Lifeboostcoffee
Another great Lifeboost coffee is the French vanilla coffee with medium roasted level. The coffees are made up of all-natural coffee and flavors. The ground coffees are packed in small batches to ensure the freshness of the pre-ground coffee. 
It has been tested by 3rd parties for mycotoxins. The coffee is best for its quality and taste. The coffee beans are grown in a friendly environment, the picking and roasting processes are done professionally.
For french vanilla coffee, they use natural oil extracts to mix up the smoothness of the coffee with a fair balance of sweetness and caffeine.
The French vanilla coffee is very trendy because it has a delicious flavor and is not too bitter for flavored coffee. We would recommend this coffee for those who want a low caffeinated coffee with nice flavoring.
What we like:
The freshness of the pre-ground coffee
No sugar and artificial ingredients added
The richness of Arabica coffee beans
What we don't like:
It kind of leaves a weird aftertaste after all
Handpicked, Spring water washed, Sun Dried
Hazelnut Flavor
Tested for chemical compounds
Medium roasted
Fairly Traded
View Price on Lifeboostcoffee
The coffee beans of Hazelnuts medium roasted coffee are hand-picked and roasted professionally by local farmers. They are grown in a friendly environment up in the mountain shade and the beans are washed with natural spring water.
Each process is done carefully to ensure the freshness of the beans and the flavor of the coffee. All the ingredients are purely organic. The coffee comes with the Hazelnut flavor mixed with low acid coffee. 
Having this coffee at home will give you the best cup and is so convenient for your busy schedule or rush morning. And if you love hazelnuts, you should give this coffee a try.
What we like:
Affordable price for this medium roast coffee
The coffee still has its freshness
Easy to brew with any brewing machines
What we don't like:
The coffee is great but couldn't really feel the taste of hazelnuts
Caramel Macchiato coffee is a medium roast coffee that contains zero grams of sugar. This is a specialty coffee that has a rich flavor of coffee and the sweetness of caramel. The coffee is very suitable for any event and occasion. 
It is convenient for both at home and office use. The caramel mixed in will give out the smooth creamy flavor added to the coffee. You don't have to worry about an expired coffee or an awful taste of coffee because Lifeboost coffee is packed in small batches to ensure the fresh quality and taste of the coffee. 
We would like to recommend this coffee based on the standard quality and taste that Lifeboost coffee has always offered to its customers. Plus, you can easily find coffee in any shop. Having a cup of this coffee surely reaches your satisfaction. 
What we like:
The rich flavoring and freshness of the coffee
Compatible with any brewing machines
What we don't like:
It is a little pricey for just a 12 ounces coffee
Buying Guides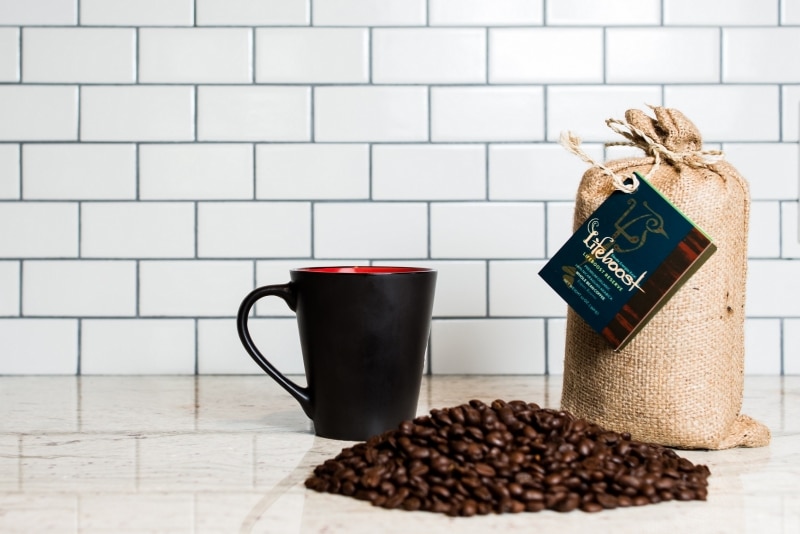 Lifeboost Drinking Coffees: the Pros and Cons
Lifeboost drinking coffee is known best for both the taste and quality of their coffee. Yet, there are pros and cons that you can go through before purchasing.
Pros
Lifeboost Coffee offers their customers a variety of delicious flavors and tastes. Their coffee also provides a huge health benefit you could count on from low acidity, best for a weak stomach, and contains zero mycotoxins and pesticides. 
The bonus to the pros is that their coffee beans are grown completely organic in a friendly environment.
Either whole bean or ground coffee, all work best for cold brew coffee. And lastly, their decaf coffee has a minimum amount of caffeine for coffee lovers who have a caffeine sensitivity.  
Cons
Sometimes, the outlook design of packaging can also be an advantage to attract customers, but Lifeboost they have a very simple packaging design. The last cons of Lifeboost coffee are the price tag. Their coffees are seemingly a bit expensive compared to other brands. To some, they do care about the price tag.  
Organic Coffee: a single-origin Coffee
If you want to have the best tasting coffee brand, better look for the organic ones, the ones that contain zero artificial flavor and ingredients. Not only do you need to look for organically grown but also a single-origin coffee. 
The single-origin coffee is complementary to the quality of the beans. Because every batch of coffee bean is harvested from the same farm and the same process is taken care of carefully to guarantee the quality of each bean. 
Frequently Asked Questions (FAQs)
Is Lifeboost Coffee the healthiest coffee drinking among other brands?
Well, we would say that Lifeboost coffee is a healthy coffee drink that you can rely on. Especially their coffees are organically planted in a natural environment and contain no chemical content. 
Moreover, their whole bean coffee or ground coffee has low acidity. Their coffees are made to support the healthy lifestyle of their customers.
Is Lifeboost dark roasted coffee better than other roast types?
The answer is not really. Because the taste quality of the bean is not wholly dependent on the roasting process. The roast type is just to classify the amount of caffeine and flavor you will get in each roast.
Final Thoughts 
Under review, Lifeboost is one of the best in the coffee industry that can carry out your satisfaction. As described, there are choices of roast, beans and flavors you choose. Lifeboost's coffee main objective is to bring out organic coffee to the market committed to offering the healthiest coffees to the people. Their coffee beans are purely organic and are taken care of professionally. 
Reference:
Check out: Lifeboost Coffee – The Healthiest Coffee Possible By Lifeboost Coffee