Talking about coffee, there are three types of coffee drinkers out there. The one that only likes black coffee or espresso, the latte or sweet drink lover, and the 'can go with any coffee' type.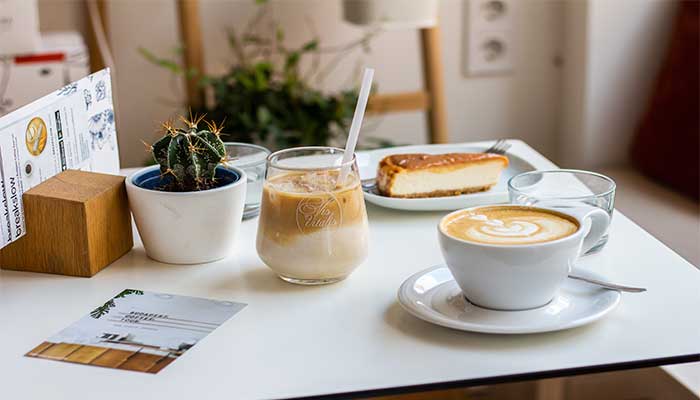 Coffee drinkers have their own preferences, and latte seems to be the most preferred one in the coffee shops. We can say that latte is the hottest selling among other beverages. Latte is an easy-to-make drink. If you are looking forward to trying to make this at home, please stick around.
However, it sounds simple but how can you make it at home? And what other flavors can we add to reduce or balance the amount of caffeine? Let's find out.
What is a Latte?
Latte, the classic drink in the coffee world. To coffee lovers, a latte is an art. Taking a sip of this drink, the first thing they would notice is the smooth creamy milk and rich flavor.
It is a good combination when it comes together with robusta espresso that makes a delicious drink. A latte is simple brewed coffee shaped by espresso and steamed milk. The word 'latte' originated from the Italian word which means 'coffee and milk'.
How to make a latte at home?
However, if you want to make a latte at home with your espresso machine, you surely can. A homemade latte is simple and fast forward with a few ingredients needed. The latte recipe is just milk and coffee. The coffee should be an espresso or a strongly brewed coffee, whichever you prefer.
The milk is steamed in order to make foam. Making lattes at home is way so easy and healthy too. To make your delicious and healthy latte, firstly you need to choose your favorite ground coffee. You can choose any flavors you want. After that start making a strong brewed coffee or brew espresso whichever at your own convenience.
Then, use a mason jar to mix it together nicely. And, that is an easy recipe for a homemade. But if you want to meet the exact standard of the latte recipe like in the coffee shops, here is ⅓ espresso ⅔ steamed milk and a thin layer of microfoam.
As for coffee, you can use strong coffee or espresso, what about milk? There are also choices for milk, you can choose any you want, whole milk, almond milk, soy milk, oat milk, and/or coconut milk.
You can also make iced lattes or hot lattes as you like. The latte recipe is still the same. But if you want an iced latte, just pour in your brewed coffee and cold milk. I repeat, cold milk not hot or steamed milk, you don't need to froth your milk, much faster.
For a hot latte, yes you need to make frothy milk and then pour it in with an espresso. Mostly in the coffee shop lattes are made with beautiful latte art using steamed milk.
Does Latte Have Caffeine?
Yes, all types of coffee drinks have caffeine, the matter is on the amount of caffeine in each drink. Yet, espresso has less caffeinated content compared to other drinks. One shot of espresso only comes with about 63 mg of caffeine.
But if you are thinking of cutting down caffeine, you may consider using a shot of decaf espresso and a shot of regular espresso.
Are Lattes Healthy?
Having coffee drinks has its own pros and cons, but if you moderately know-how then you are good to go. Having too much coffee could affect your heart condition. But if you drink it moderately it could help in boosting your energy during the day and help your productivity to grow as well.
Difference Between Latte and Cappuccino
Lots of people are still confused between latte and cappuccino. There are several differences between the two drinks.
For cappuccino, it has less steamed milk compared to a latte, which makes cappuccino taste a bit stronger. Cappuccino has equal measurements of espresso, steamed milk, and milk foam. Usually, cappuccino drinkers don't add sugar, that is why it tastes bitter and stronger.
After knowing the differences between the two coffee drinks, you choose your ideal one.
Latte Flavors and Recipes Suggestions for Homemade Lattes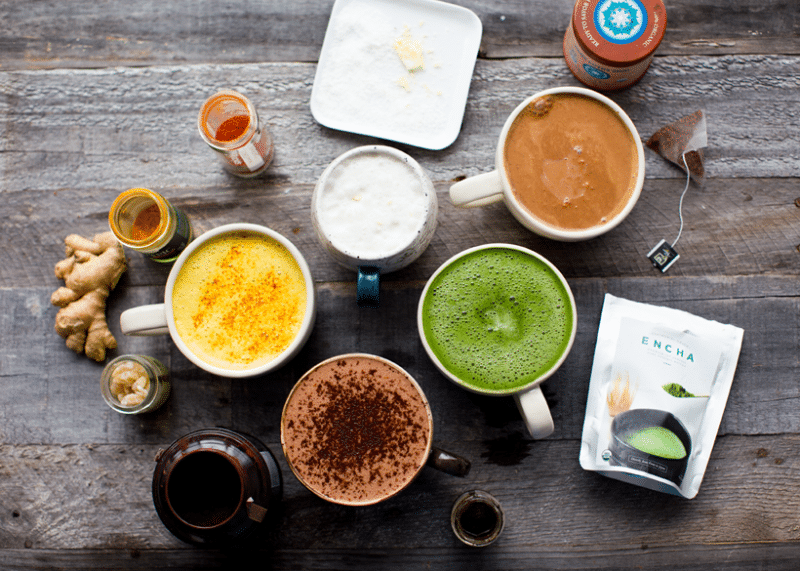 Drinking coffee is fine and healthy, but if you want healthier coffee drinks made with your espresso machine for a latte at home, you can add in a few latte flavors. There are other ingredients that you can make delicious drinks with coffee in a healthy recipe.
Plus, these drinks do not contain many calories, instead, you will absorb more vitamins and proteins which can help in boosting your brain functioning and/or immune system.
Here are Some Flavoring and Recipes Suggestions for Your Homemade Lattes:
Flavored Coffee Syrup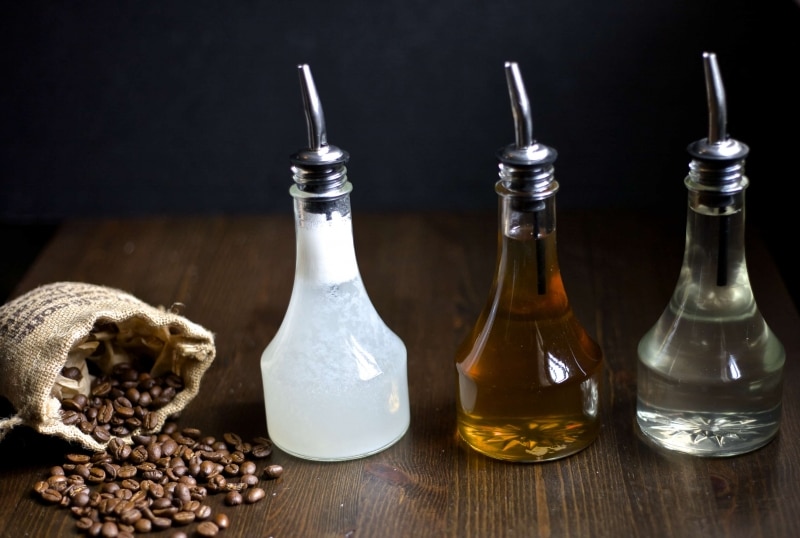 There are several simple flavored syrups you can add to your latte. Those are chocolate syrup, maple syrup, cinnamon brown coffee sugar syrup, caramel sauce, vanilla extract to make a vanilla latte, and other classic syrup you can name.
These flavored syrups are used to sweeten your latte, iced latte, or/and a hot latte. Some people don't add granulated sugars in their cold brew coffee because they think it doesn't dissolve properly. They want liquid sweeteners which easily blend in iced coffee.
The maple syrup: the natural sweetener is a healthy and delicious way to sweeten your coffee. You can make it as hot or cold as you wish.
The simple syrup: is known as the classic syrup in Starbucks. The simple syrup is a mixture of water and sugar measured equally to sweeten your coffee. And yes, it is this simple.
Brown sugar syrup: the best alternative to simple syrup. Brown sugar tends to have a richer and deeper flavor.
Chocolate syrup: is made to turn it into a mocha latte. A great combination of espresso and chocolate.
These are some sweetener-flavored latte syrups you can add to your coffee. And below are the listed latte recipes for your homemade latte. It comes with a good-tasting recipe card.
Latte Recipes for Homemade Lattes
Latte Macchiato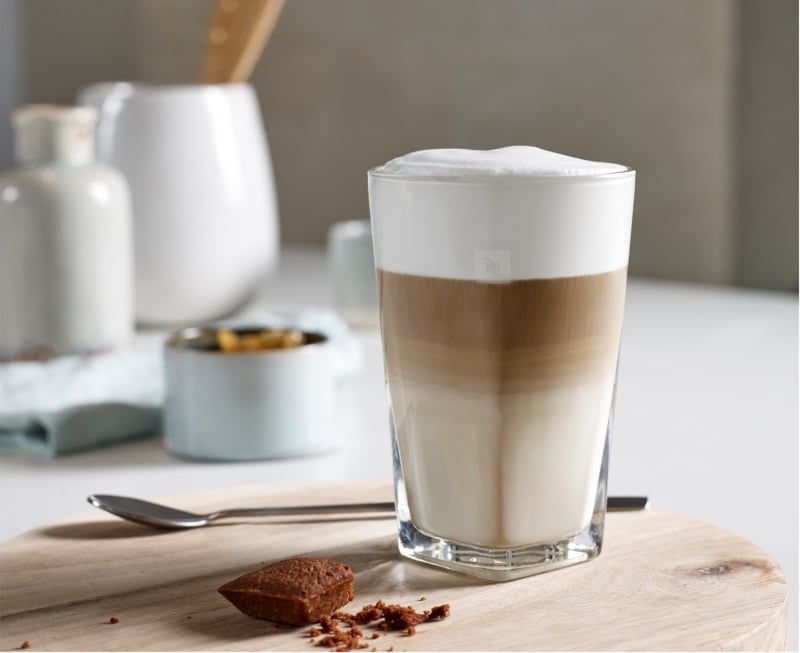 The latte macchiato is known as the cousin of latte and macchiato whereas the two ingredients are blended in. The making process of latte macchiato is a reverse of latte making. The ingredients needed in making the drinks are ½ cup of milk, and a shot of espresso. If you want additional flavor, you can always add your preferred flavored syrup.
When we make a latte, we normally pour in espresso first into a glass or mug and then pour in the steamed milk. But for latte macchiato, just reverse the process of making latte then you will have latte macchiato.
The milk needs to be steamed to a consistent microfoam then poured into a cup. After that, you just need a half-shot espresso on top of the steamed milk. The latte macchiato has less caffeine compared to the latte. So it is a weaker coffee than espresso alone.
Pumpkin spice latte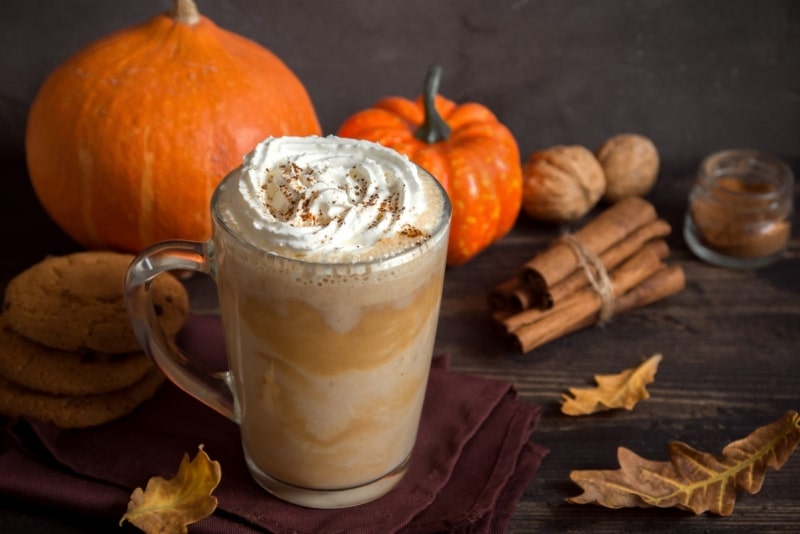 Pumpkin spice latte is one of the healthiest coffee drinks which cannot be skipped on this topic. Pumpkin is rich in calcium, magnesium and also contains vitamins E, C, and B as well.
So, in the making of this drink, you can use any of your favorite coffee, you need coconut milk, pumpkin puree, maple syrup, vanilla extract, and some spices such as cinnamon sticks and ginger.
And here is the fun part, take a small saucepan and put all the ingredients in and whirl to mix nicely in medium heat, and stir until it's bubbling. Then slowly add your choice of coffee while continuing stirring.
Besides, you will get a hot pumpkin spice latte, or you can also make an iced version by just adding all the ingredients to an air-tight jar and stirring for a good texture and then add ice and shake it for about 30 seconds till all combined in a nice texture.
Optionally, you can also add a topping like a coconut whipped cream or cinnamon if you want. This drink contains 125 calories, 2.7g protein, 6.1g fat, 0mg cholesterol, and 50mg calcium. Easy, healthy, and tasty pumpkin spice latte at home.
Whipped Banana Latte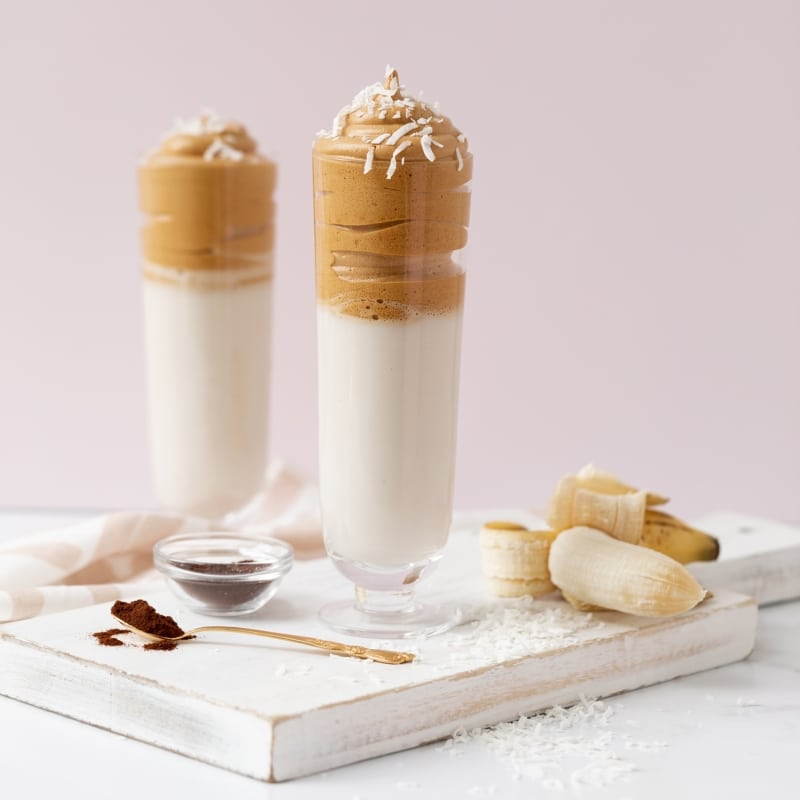 Want a healthy latte drink? A cup of whipped banana latte is the perfect drink in the morning. Tons of protein in a cup. The ingredients are simple, you just need a cold strongly brewed coffee, half cream, 2 medium ripe bananas, ice cubes, ¼ sugar and 2 tablespoons of chocolate syrup.
After having all the needed ingredients, blend it well for about 15 seconds or if you prefer a little smoother, you may proceed a few more seconds and then pour it in any of your preferred glasses. This cup of drink contains 149 calories, 4g fat, 18mg cholesterol, 24 mg sodium and 2g proteins.
This might sound a bit much, but trust me, banana is one of the healthy fruits and rich in flavors and proteins.
Turmeric Latte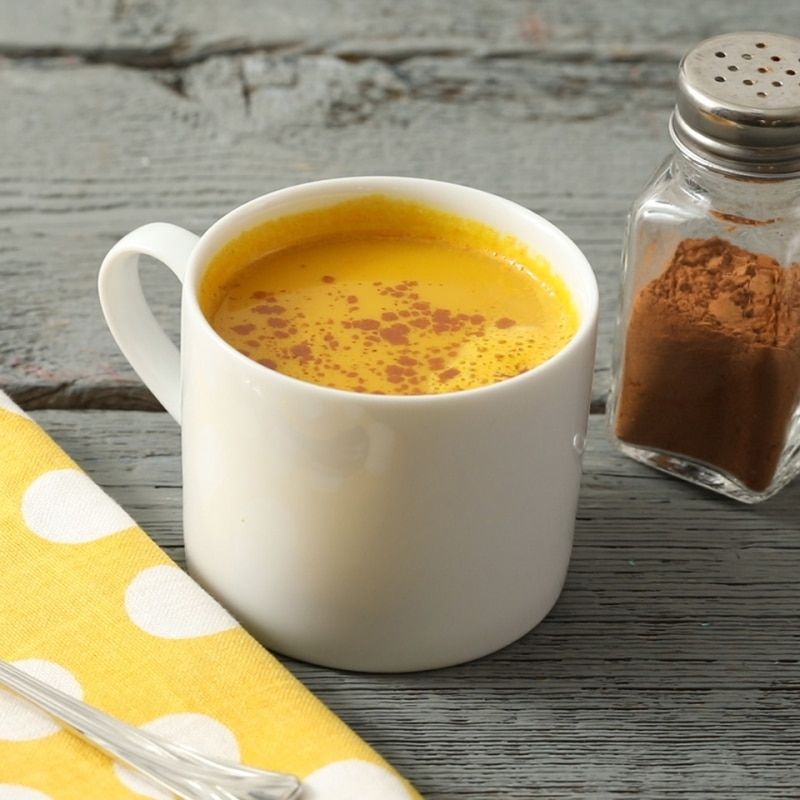 "Turmeric in coffee, seriously?" Turmeric is one of the beneficial spices, not only you can put in foods, but also in coffee too. Moreover, turmeric is mostly used for medicinal purposes like preventing heart disease, an anti-inflammatory and it is also good for your skin.
To make this turmeric latte at home is simple and easy. The ingredients you need are 2 cups of almond milk, 1 tsp ground turmeric, 1/3 tsp ground ginger, 1/3 tsp ground cinnamon, 1 tsp vanilla bean paste, 1-1/2 tsp good-quality coffee, 2 tsp coconut sugar.
To proceed, first, you need to put all the ingredients into a small saucepan and turn on medium-high heat, and whirl-stir to avoid the burn, and make sure to get a thick foam.
Cook it to only hot enough, not boiling because it can ruin the taste of your drink. When all is done, you may pour it into a cup and then you can add on top with a turmeric sprinkle if you like.
Iced Vanilla Latte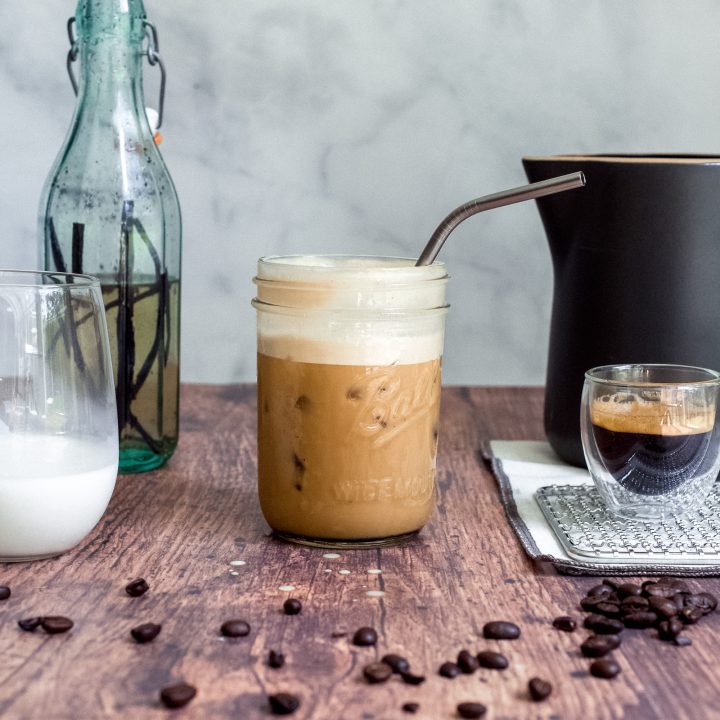 Iced Vanilla Latte is an easy-to-make-at-home drink with a few simple ingredients and steps. The ingredients needed are vanilla syrup, sugar, heavy cream, milk, cold brew, and ice.
You can also top the drink with your preferred flavored whipped cream. There are only four steps to follow, first make vanilla syrup. To make vanilla syrup, you need to cook vanilla extract with sugar and water until well blended.
Make whipped cream by whisking the heavy cream and vanilla syrup until thickening. Get vanilla syrup, milk, and coffee together nicely. And then get your vanilla latte into a cup of ice and add your finished whipped cream on top. Finally, you can enjoy your homemade drinks.
Iced Mocha Latte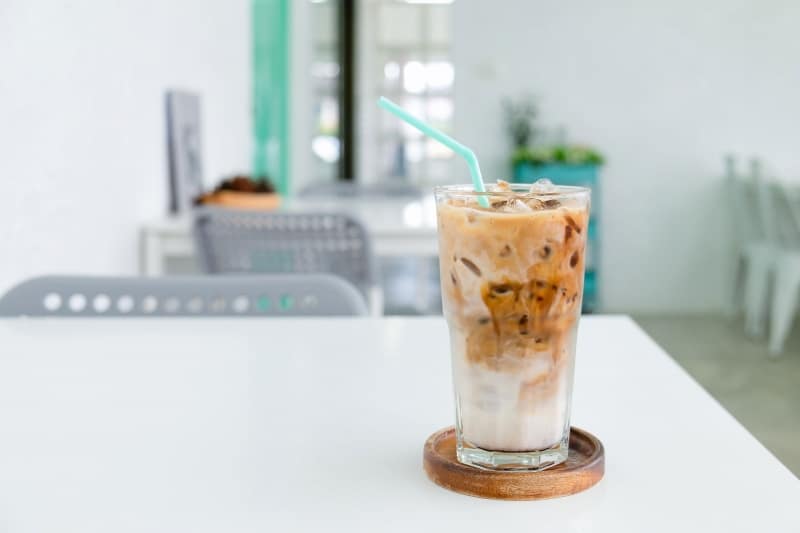 One of the easiest flavored latte recipes to make at home. You only need four exact ingredients to make this cup of drink, chocolate syrup, milk, coffee, and ice. For coffee, you can use cold brew, strong brewed coffee, or coffee using your espresso machine. iced mocha tends to have a high caffeinated content resulting from the type of coffee used, and sweetness from the chocolate.
Making this drink might take less than 2 minutes of your time. You only need to shake your coffee and the chocolate syrup in a jar or cocktail shaker or any airtight container. After that pour mocha and milk in a cup then add ice. Pretty simple, right?
Iced Brown Sugar Latte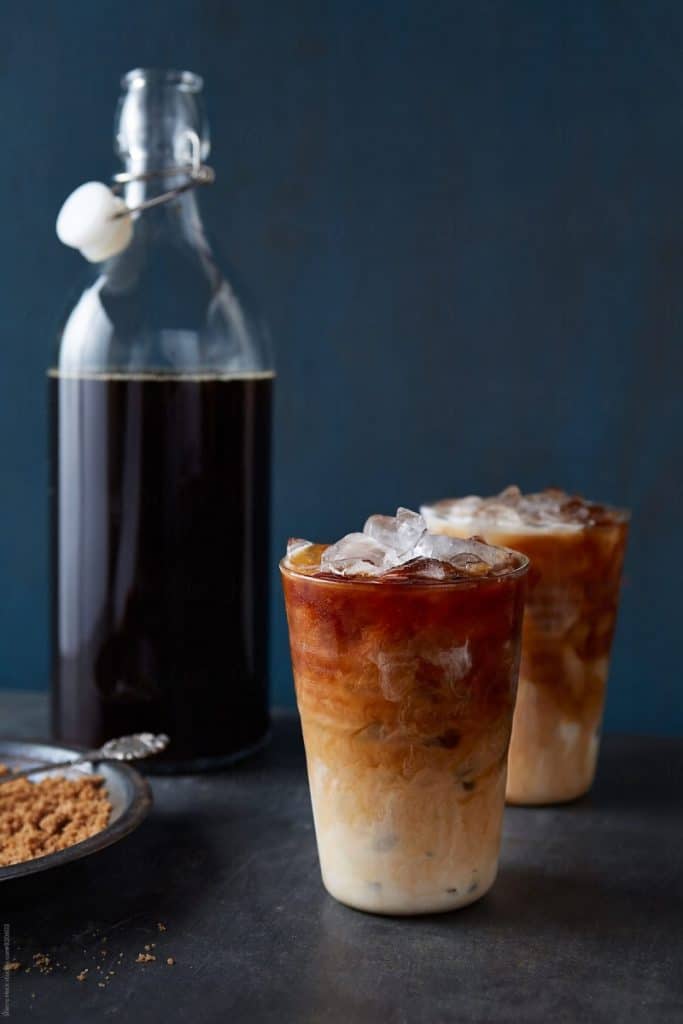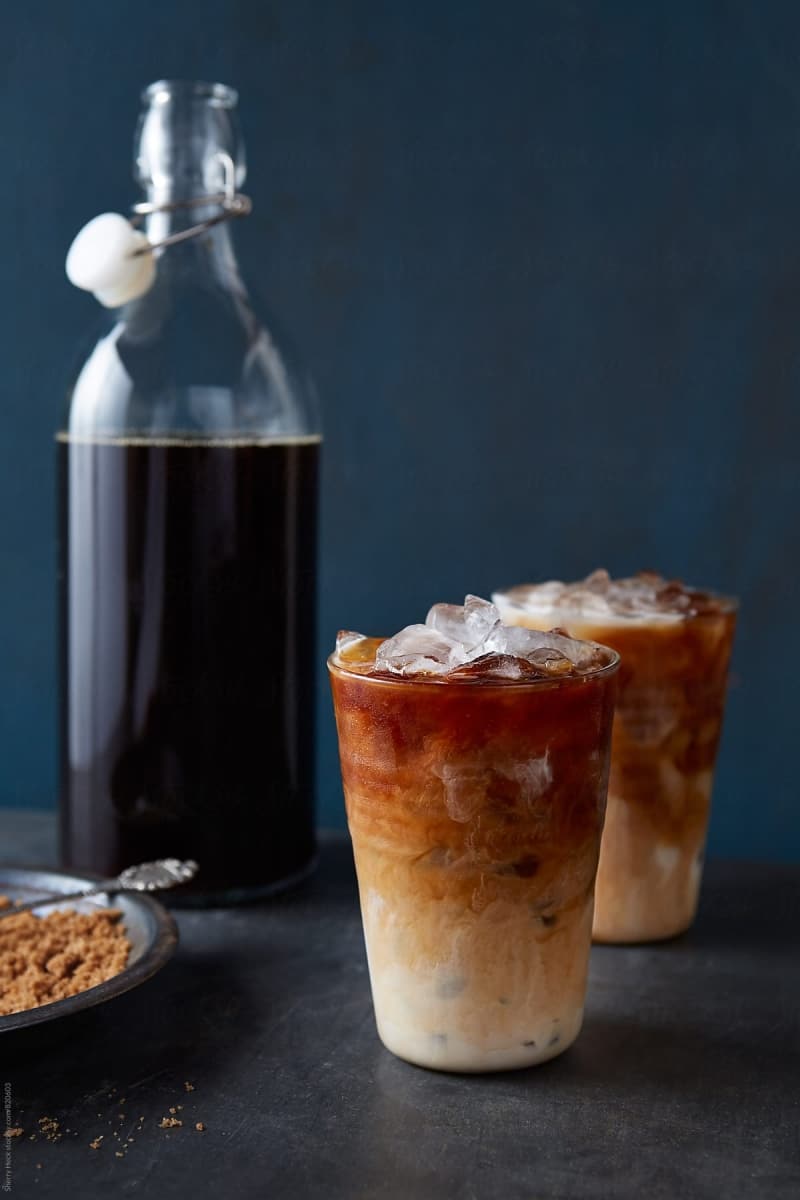 A delicious brown sugar iced coffee easily made at home. Iced brown sugar latte uses cold brew, brown sugar syrup, milk, and coffee. It has a sweet, creamy taste. First, you need strong coffee or cold brow or coffee using your espresso machine. Heat up the brown sugar and water on medium heat.
Pour in a brown sugar simple syrup into a mug, add ice and then pour in your finished milk and the last step add your coffee. And that's how you make iced brown sugar latte at home, simple and easy. Also, don't forget to stir before taking your first sip.
Chai Latte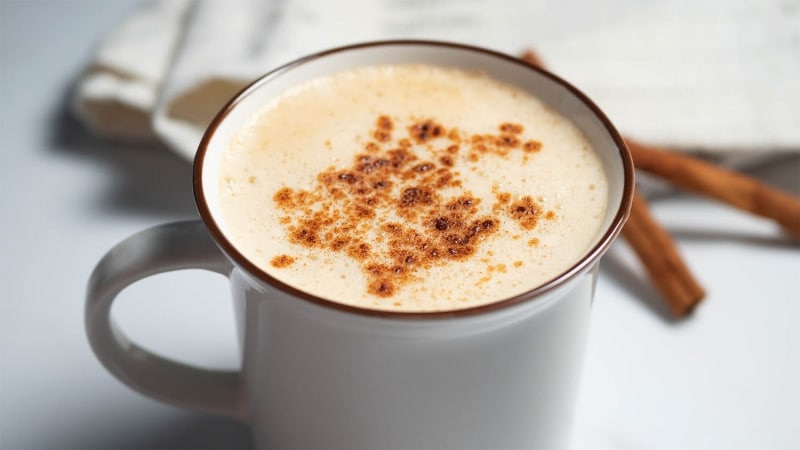 Chai latte works best with heavy cream. Moreover, Chai is a spiced tea drink made by brewing black tea with some Indian spices. Chai latte doesn't sound easy to make, but if you wish for a good delicious cup, keep reading.
To make a perfect cup, you need to use basic black tea, Assam tea full-bodied with a strong flavor. Choosing Assam tea because with its strong flavor, it can support spices. Use whole spices, it has a richer flavor than grounds, and lastly use whipped cream. These are not ingredients but tips for you to basically know-how.
So, for the ingredients in making chai latte, we need Assam black tea, vanilla extracts, brown sugar, any type of milk, heavy cream, sugar, and filtered water. And for spices, you need to include a few cinnamon sticks, cardamom pods, a few whole cloves, star anise, black peppercorns, ground nutmeg, and ginger.
To proceed with the making, first chop star anise, clove cardamom pods into small pieces, so it will relieve all the flavors. Put all the ingredients into a saucepan, except vanilla extracts.
Then, pour in filtered water in a heat-low mode for water to simmer the flavor of tea and spices. After finishing simmering the water, drain the tea and spices and then add in vanilla extracts. And that's how you make chai concentration.
In the second step, heat your milk to little bubblings then turn it off, be careful not to burn the milk.
The third step, make whipped cream using a handheld milk frother. Whipped cream might take a bit of time, but easy. Whisk heavy cream and sugar all together till it has a smooth texture.
Finally, step, pour in your chai concentration into a mug, add hot milk and then leave the top with whipped cream, then you can enjoy your coffee. Chai latte takes lots of patience and time to make into a delicious cup, but it will be worth your try.
Matcha Latte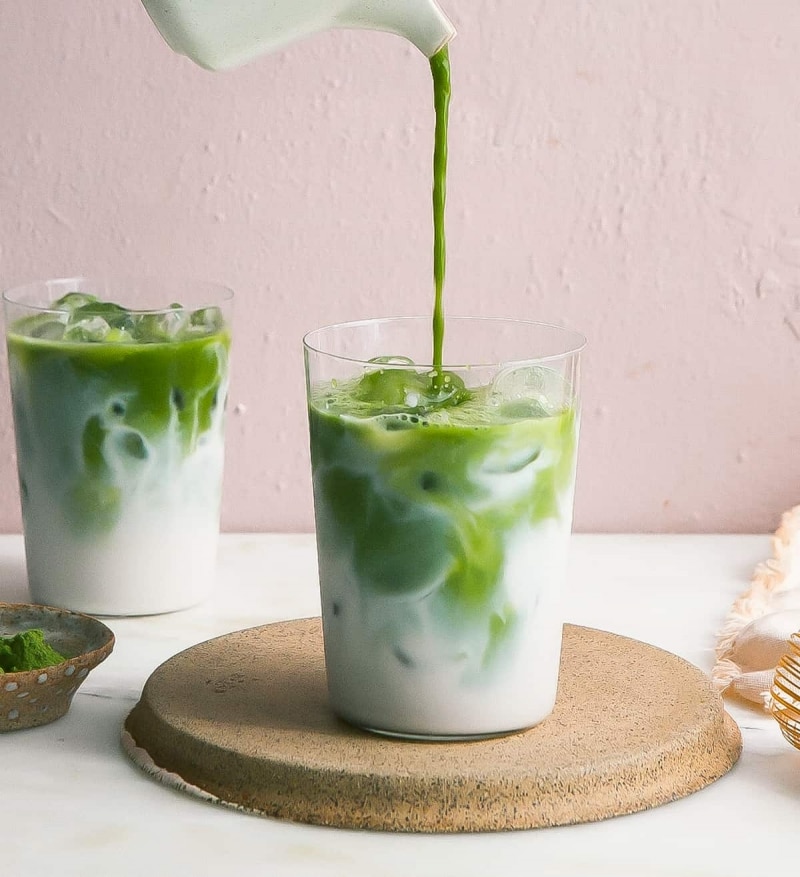 Who doesn't love matcha? Matcha green tea is heavenly the best. To make this matcha latte, there are only four simple ingredients you need, matcha green tea, water, sweetener (either sugar or honey), and milk. You will surely love this drink, it has a good balance of sweetness and bitterness of matcha into a delicious drink.
First, you need to heat water to simmer, so we can use it on matcha. Mix milk and sweetener together to make sweetened milk. Put matcha powder into a bowl and then pour in simmered water and whisk it nicely.
Finally, pour in your finished frothed milk in a cup and then add your whisked matcha in. Note that to choose the best matcha powder, you need to choose the ones with brighter green. A delicious matcha latte, most importantly depending on the quality of the matcha powder.
Final Thoughts
To sum up, if you ever think of making lattes at home and want healthy flavored latte recipes, try these above-suggested recipes. There are varieties of latte flavors, so a good coffee brings a happy mood.
Moreover, if you are a huge fan of Starbucks but want to make your own drink, no worries about being your own barista when you have these healthy recipes in hand. The flavored coffee syrups and recipes are giving no harm to health, but only energize and boost up your healthy lifestyle with moderate consumption of coffee.
Reference:
Here's How You Make Your Coffee in 4 Ways (Cappuccino, Mocha, Chai Espresso, Cookie & Cream) By Food Fusion By Food Fusion