As a coffee person, have you ever heard of Irish Coffee? If not, then it is time to learn about these amazing drinks. Irish Coffee is a classic coffee mixed drink. It is a perfect combination of Irish whiskey, hot coffee, whipped cream, and sugar.
It's cozy, tasty, and very simple to make at home by yourself. The Irish Coffee was found in winter by Joe Sheridan, chef at Fayne's Port in Ireland in 1943. If you're interested in making one at home, then now it is time to invest in a set of Irish Coffee Glass.
Purchasing coffee mugs is an addiction, however, there is still no such thing as too many coffee mugs for the coffee addict. You cannot just pour your coffee into any cup. You need a mug that is suitable for the weather, environment, drinks, and occasion.
Most importantly, you will definitely need a cup that isn't too hot to touch when it is being used with a hot liquid and that doesn't leave any stain or weird smell after cleaning. Believe it or not? Your coffee tastes better when you drink it from the right mugs. Here is the best collection that you currently can get your hands on now.
List of The Best Irish Coffee Glass Collection in 2023
10. LavoHome Thick Wall Glass Footed Irish Coffee Mugs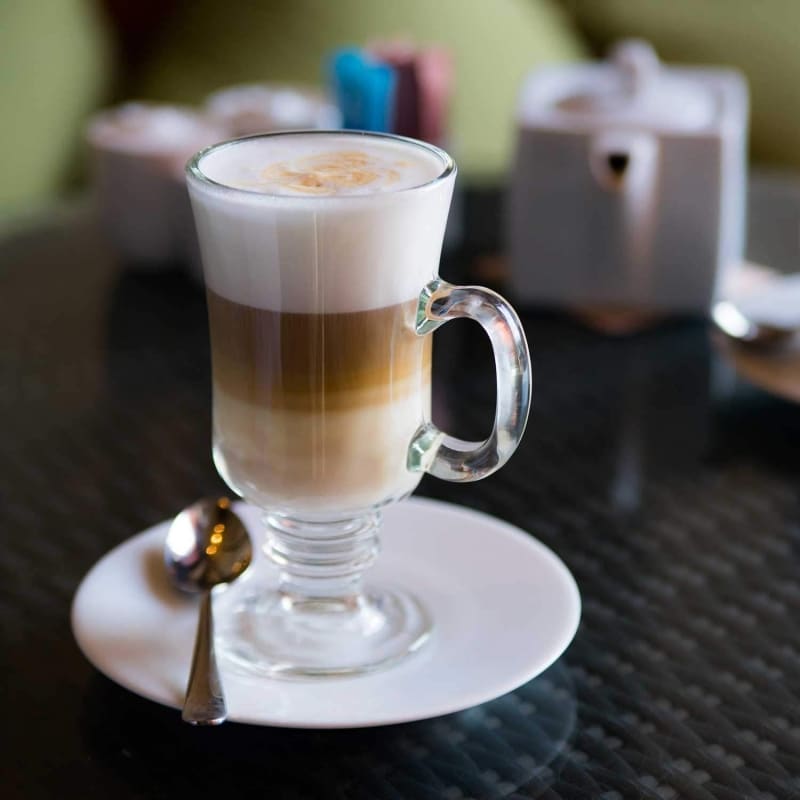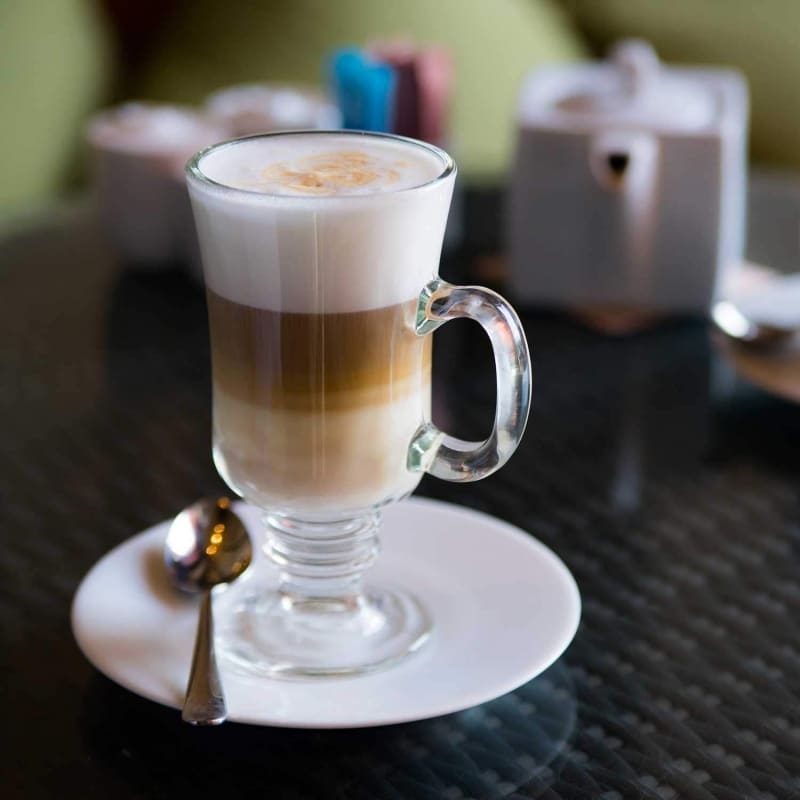 The set of four Thick Wall Glass Footed Irish Coffee Mugs from LavoHome is the best set to purchase if you're searching for Irish Coffee Mugs for everyday use. This popular mug has nice footed construction hence it doesn't fall or slip easily and is very durable and stable. Plus, it has a maximum capacity of 8.25 ounces which makes it a perfect size for a single serving of any kind of beverage of your choice.
9. Belleek Pottery Galway Crystal Irish Coffee Glass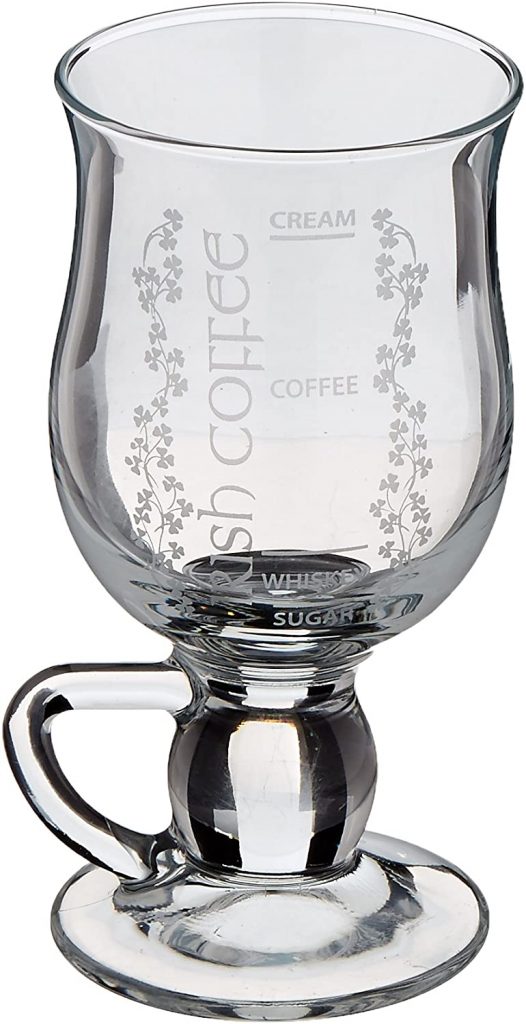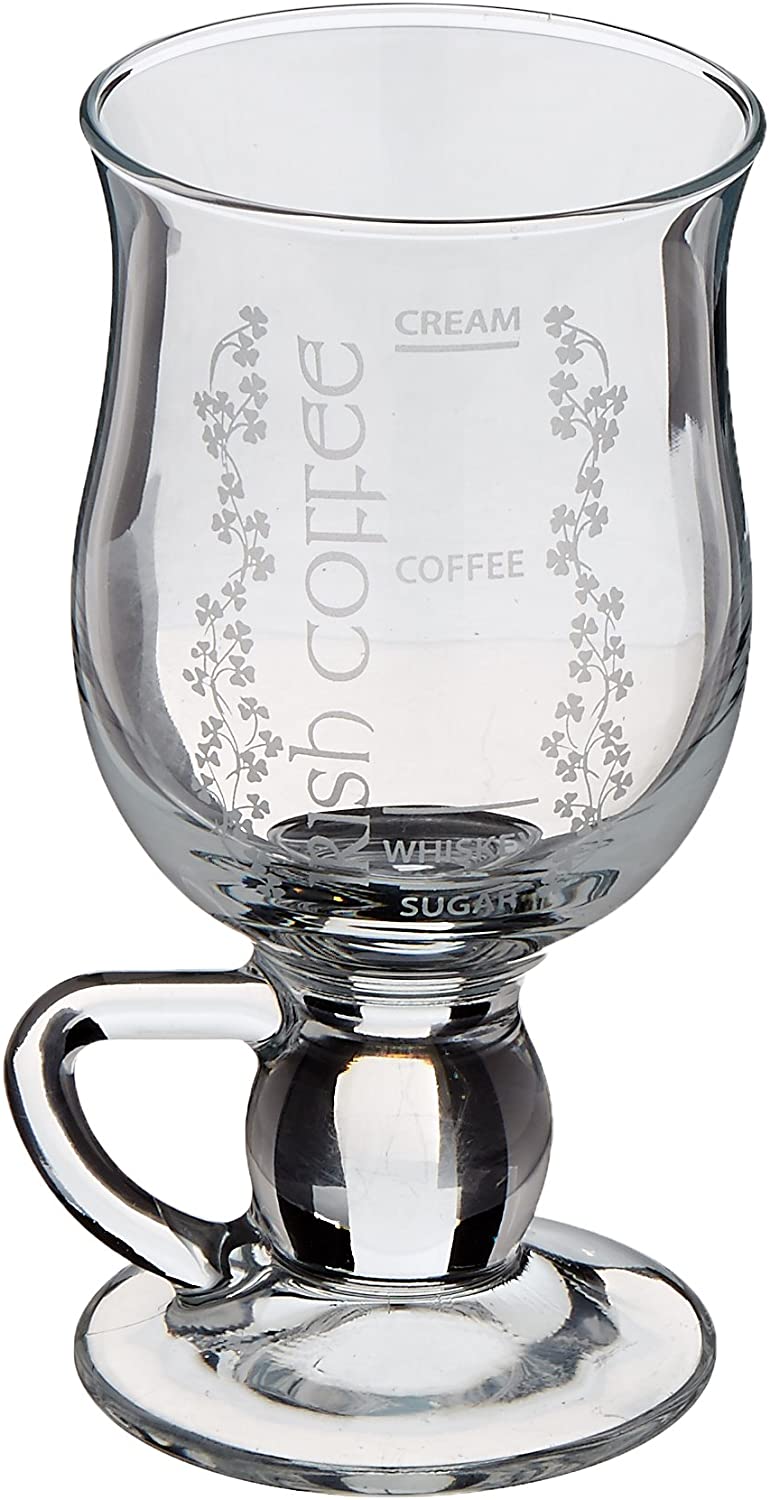 Sharing is caring. Share the love to your relatives or friends who are as dedicated to Irish Coffee as you by gifting them a set of coffee glasses. Then the set of two, Belleek Pottery Galway Crystal Irish Coffee Glass will definitely be the best choice you have ever made. These mugs have a pretty small green cloverleaf printed on the glass and a tiny handle at the bottom. They're beautifully designed and crafted in Europe. Plus, you're allowed to use this mug for any type of drink.
8. Georgian Irish Coffee Glass with Signature Party Picks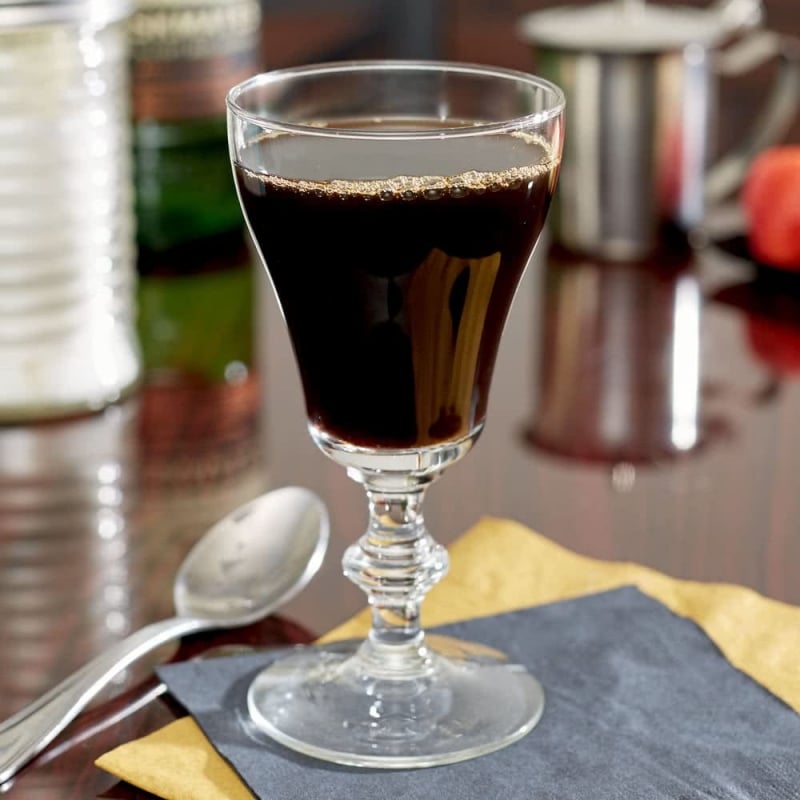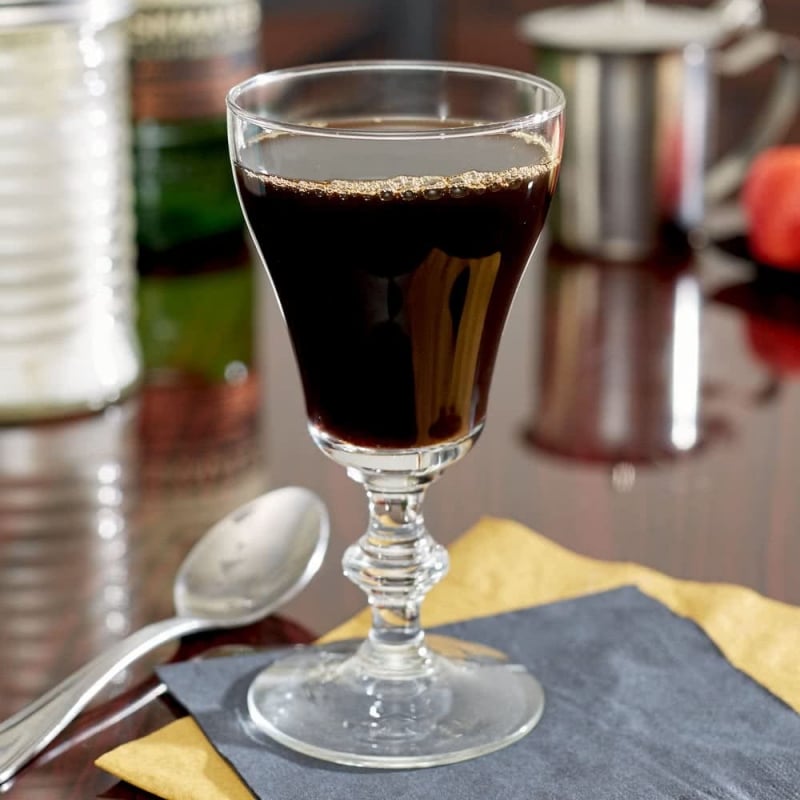 If you love the traditional appearance of Irish glass, then check out the Godiger Dublin Irish Coffee Mugs from Happy Hour Supplies. They come in a set of four with the maximum capacity of 6 fluid ounces in each of them. Each of them giving you an impressive appearance for not only Irish Coffees, but also other dessert beverages. Also, the product is made of thick crystal clear glass to give the ideal transparency and virtuosity.
7. LavoHome Irish Coffee Glass Coffee Mugs Footed Regal Shape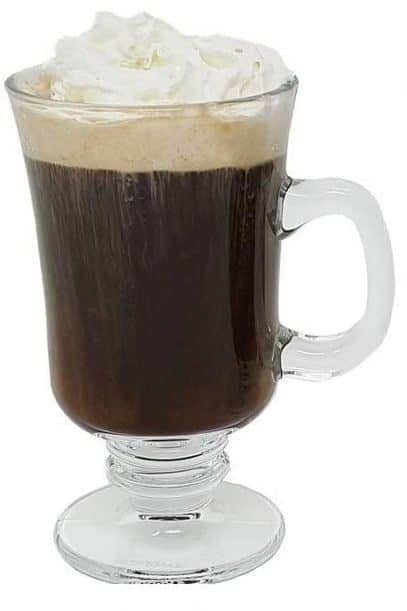 LavoHome Irish Coffee Glass Coffee Mugs With Footed Regal Shape is a fantastic deal if you're longing for a high-quality mug that can be used for the long term. They are made of extremely durable thick glass to ensure the best durability quality for the customers. Since this coffee cup has a good leg structure, so it will not fall off easily. They come in an asset of four and are suitable to use for any type of drink of your choice. In addition, you can even use it to serve your favorite dessert and ice cream, and more.
6. Volarium Irish Glass Coffee Mugs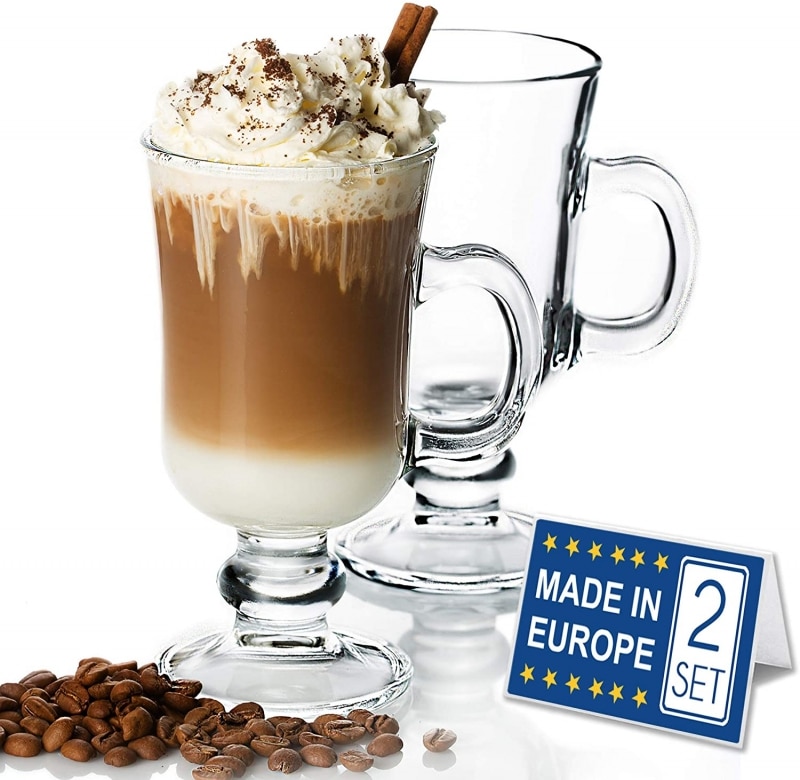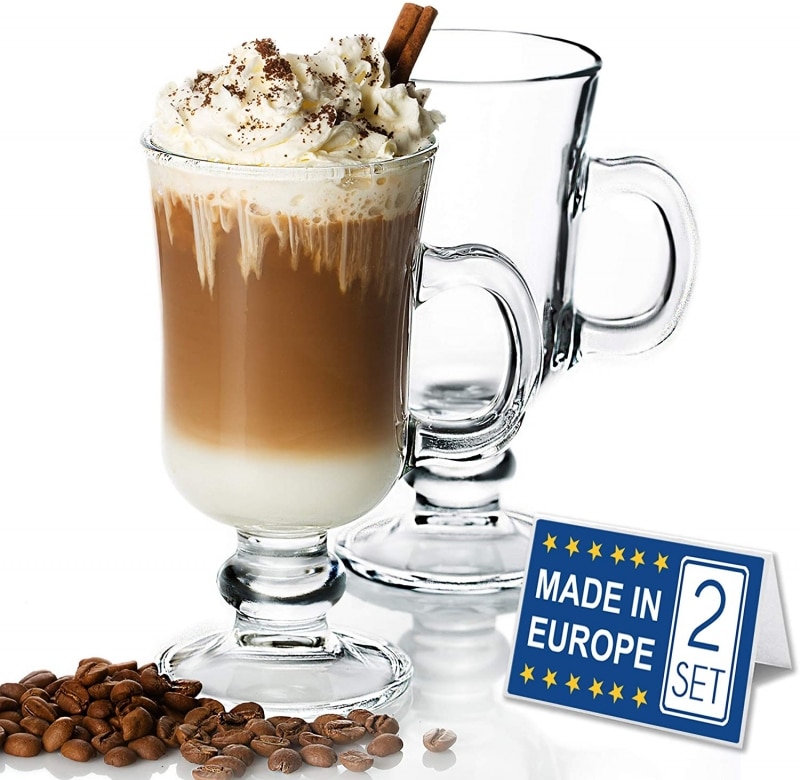 Volarium Irish Glass Coffee Mugs is also a great pair of cups for everyday use. They're fit to use in every cold or hot beverage. Plus, each glass can carry 200 milliliters. This glass is one of the great high-quality Irish glasses that you could ever find in the market. They feature a reinforced rim, sturdy design, and perfectly balanced amounts. The glass is also very sturdy and has the ability to withstand a very hot liquid. What is more, these Irish glass coffee mugs are designed with graceful silhouettes and sturdy stems which are also suitable for any private or business drink set. It has enough room for some toppings, like whipped cream or marshmallows.
5. Godiger Dublin Irish Coffee Mugs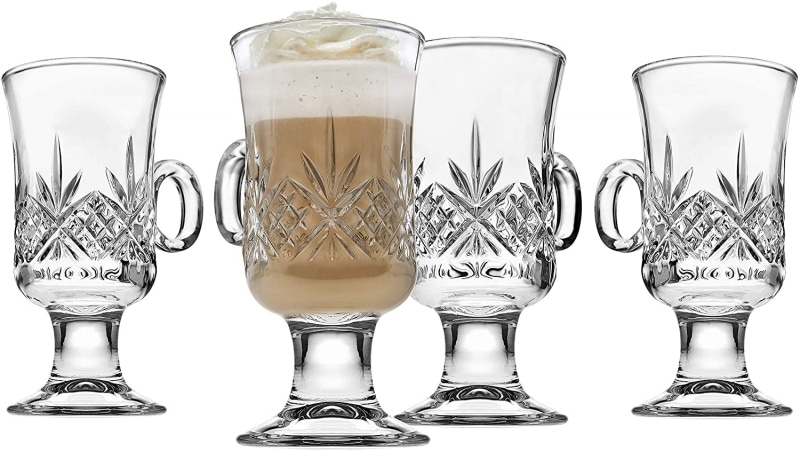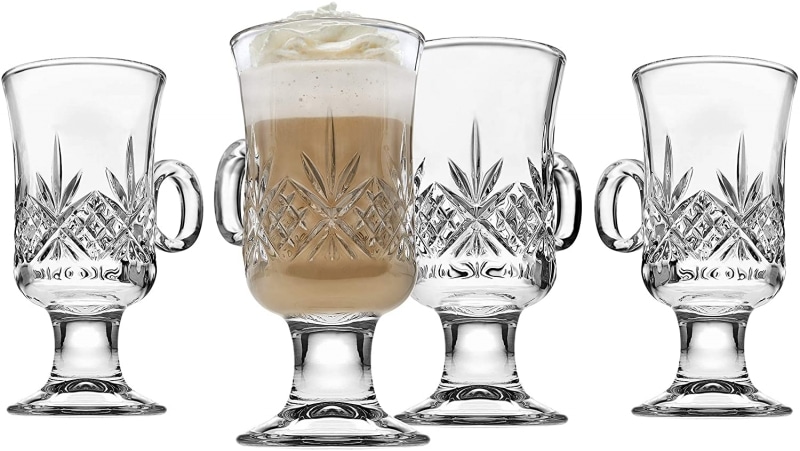 If it is the time of the year that you need to find a set of Irish coffee mugs to make it extra special for your breakfast on Christmas Day, then Godiger Dublin Irish Coffee Mugs has a perfect set for you. This mug has an elegant snowflake design cut into the glass.
More than their good looks, they're pretty thick and durable so they're most likely to survive a simple drop from a table or slipping out of hands in the sink. Since they are heavy glasses, you don't have to worry about cracking from pouring hot water straight from the kettle. Additionally, they're perfect for entertaining and look more expensive than they cost.
4. Kook Glass Coffee Mugs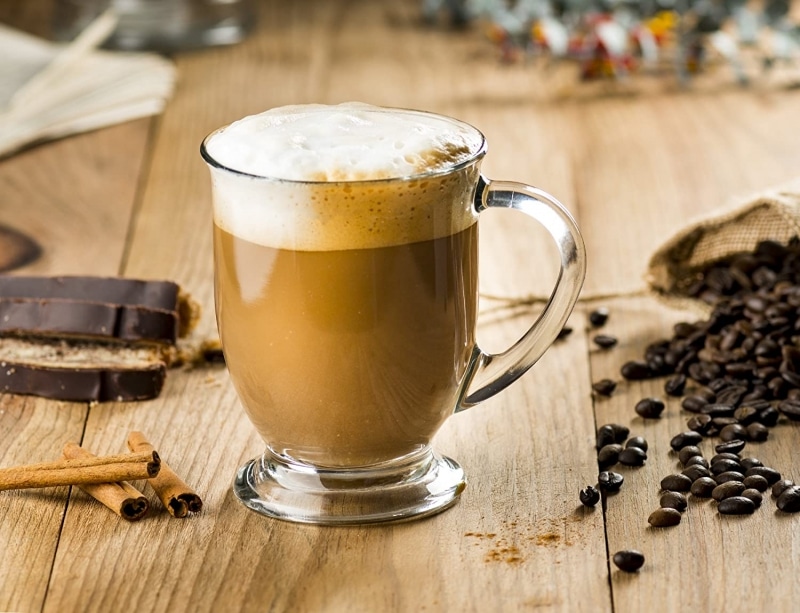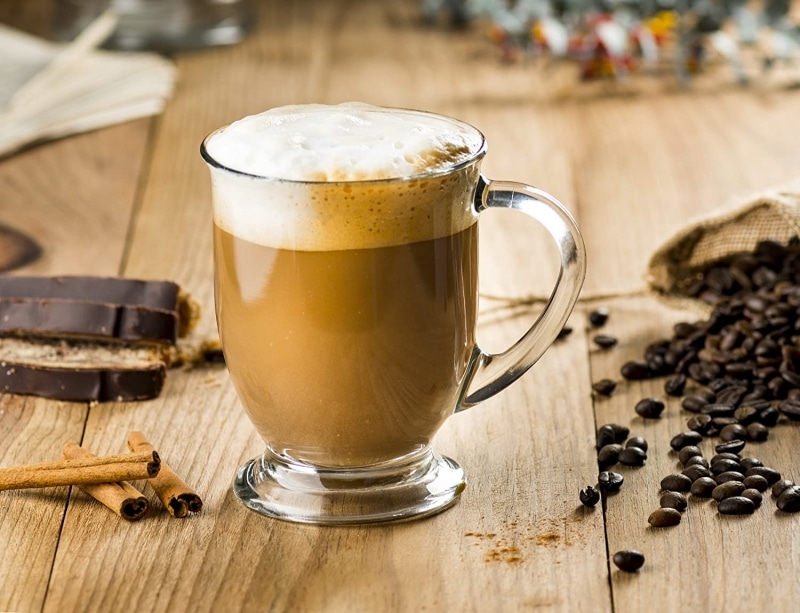 To show your passion and love for Irish Coffee, then Kook Glass Coffee Mugs has the perfect set for you. While other Irish Glass can hold only 10 to 12 ounces, this glass can do it more with its extra special capacity of 15 ounces each which make it the perfect everyday mug for enjoying large lattes, tea, juice, cappuccino, smoothies or steaming coffee. They are made with a thick handle and stable footed bases. The glass also has slightly curved edges for easy gripping and even easier sipping. Despite their large appearance, they're super lightweight. Furthermore, these Irish glasses are also safe to clean in a dishwasher and safe to use in the microwave and freezer too.
3. Libbey Irish Coffee Mug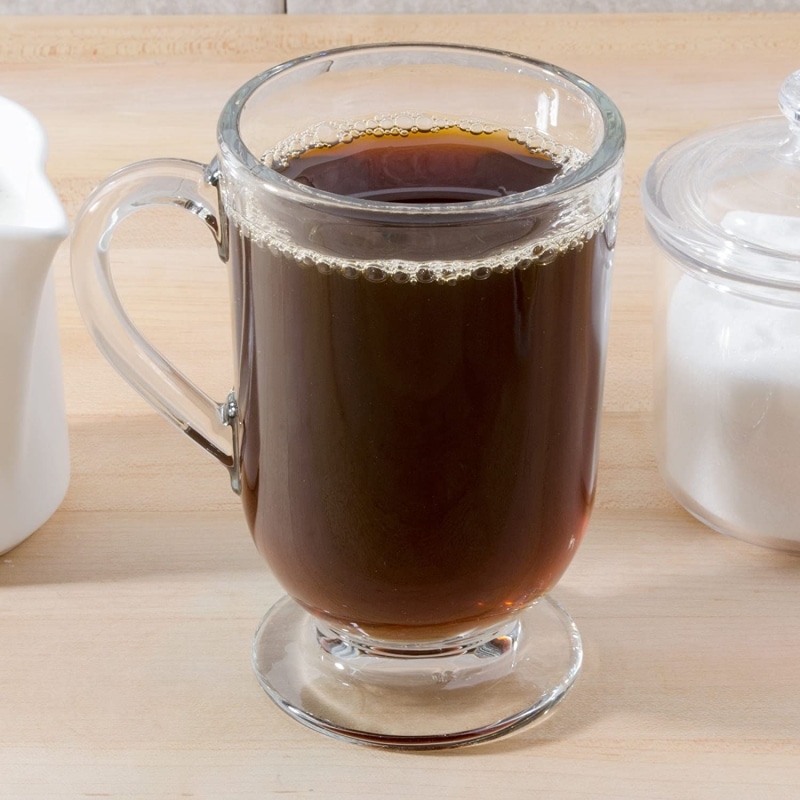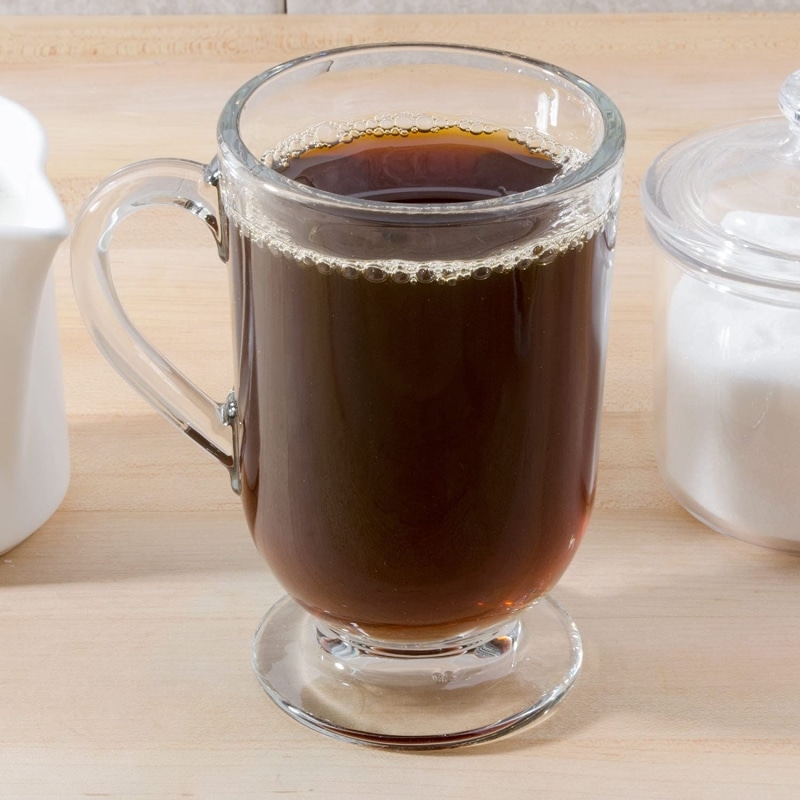 Libbey Irish Coffee Mug is the best option for your Irish coffee mug needs. They come in a set of four. Each of them weighs 3.65 pounds and has the capacity of 10.4 ounces which is not too big, not too small, and is a very good size. This item is made from glass and has a sturdy design. Also, you can use this mug for any type of coffee. Additionally, these mugs are very durable and are safe to microwave or to clean them in your dishwasher.
2. Bormoili Rocco Glass Coffee Mug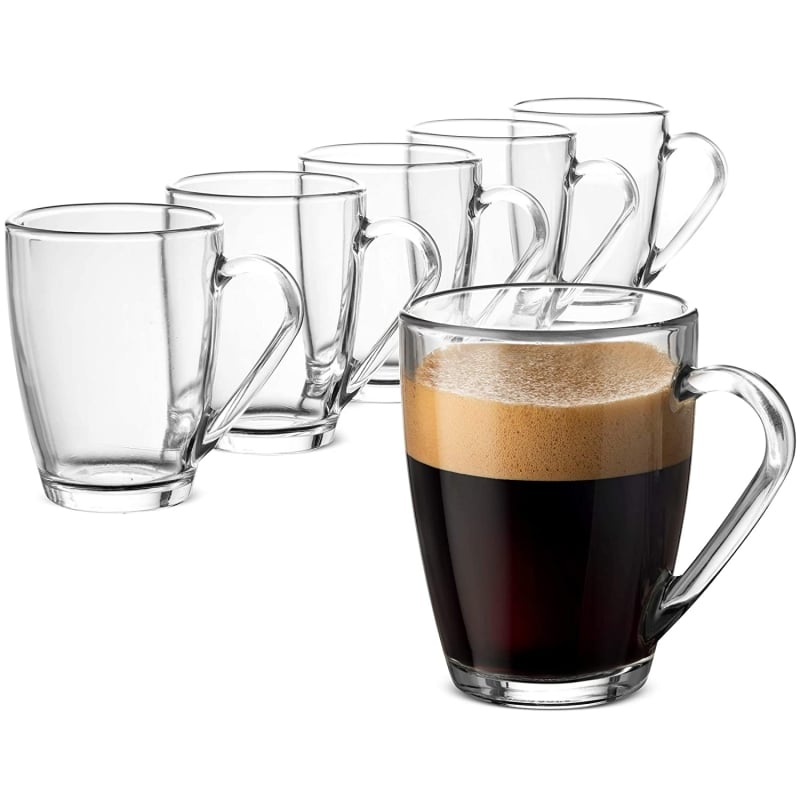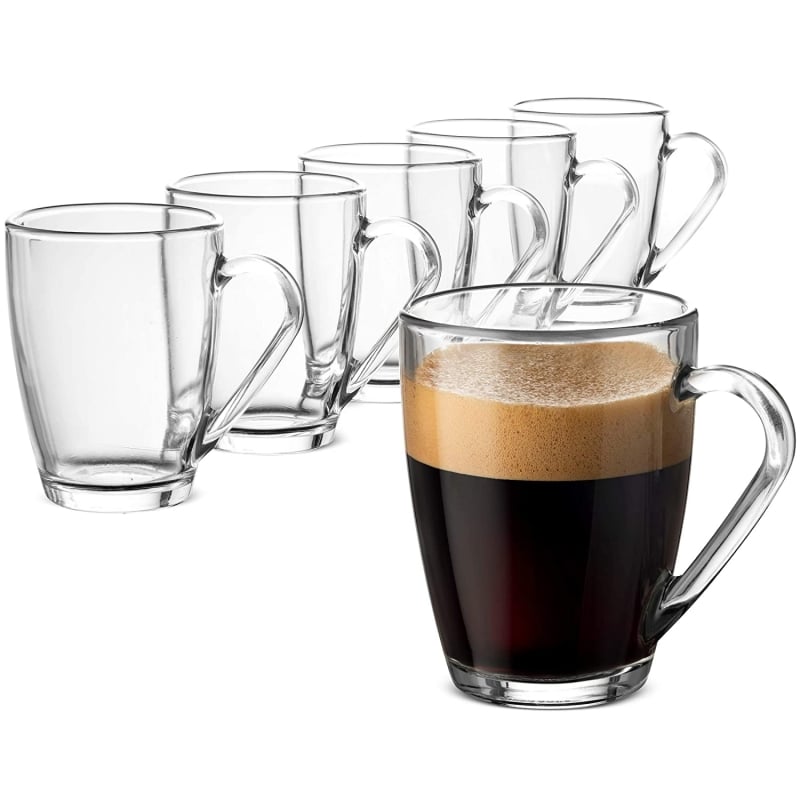 If you prefer a full set of coffee mugs that are suitable for both hot and cold drinks such as cappuccinos, latte, Americano, tea, juice, and so on, then you might want to consider getting Bormoili Rocco Glass Coffee Mug. They're cold touch handles which means even when the drink is reheating in the cup, the practical handle always stays cold. Each cup is carefully crafted in Spain by professional glassmakers using the best sand and materials. Plus, they're also great for formal dining or casual daily use. Apart from this, this set of mugs from Bormoili Rocco also make an ideal gift for coffee drinking enthusiasts for weddings, birthday parties, housewarming parties, and other special occasions.
1. Anchor Hocking Irish Coffee Mugs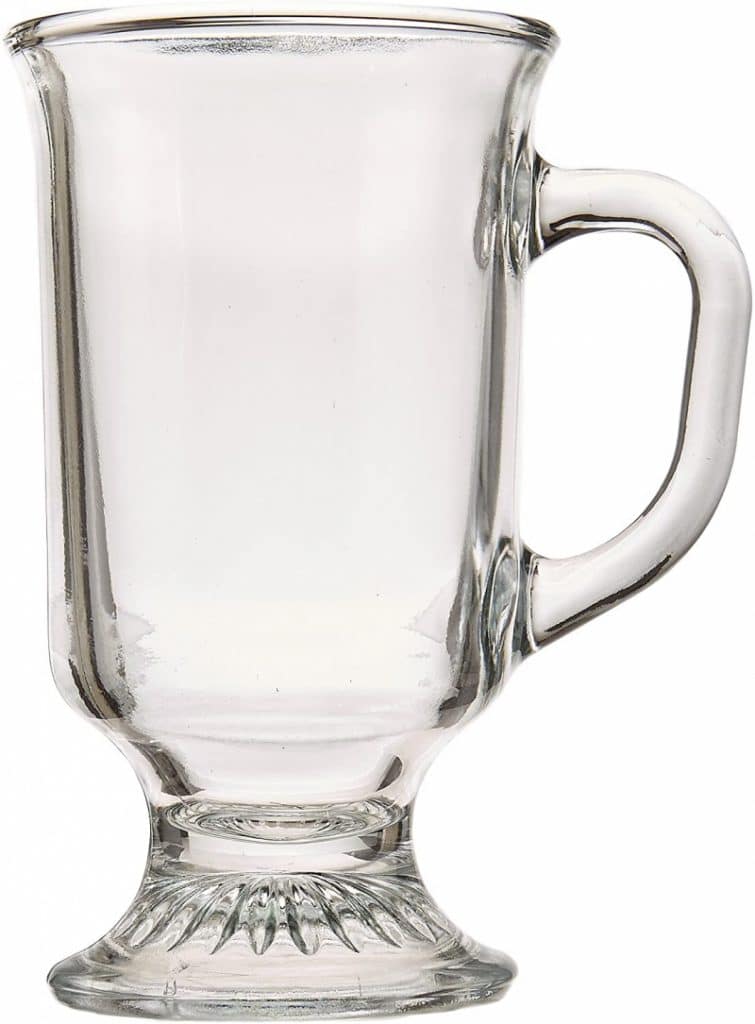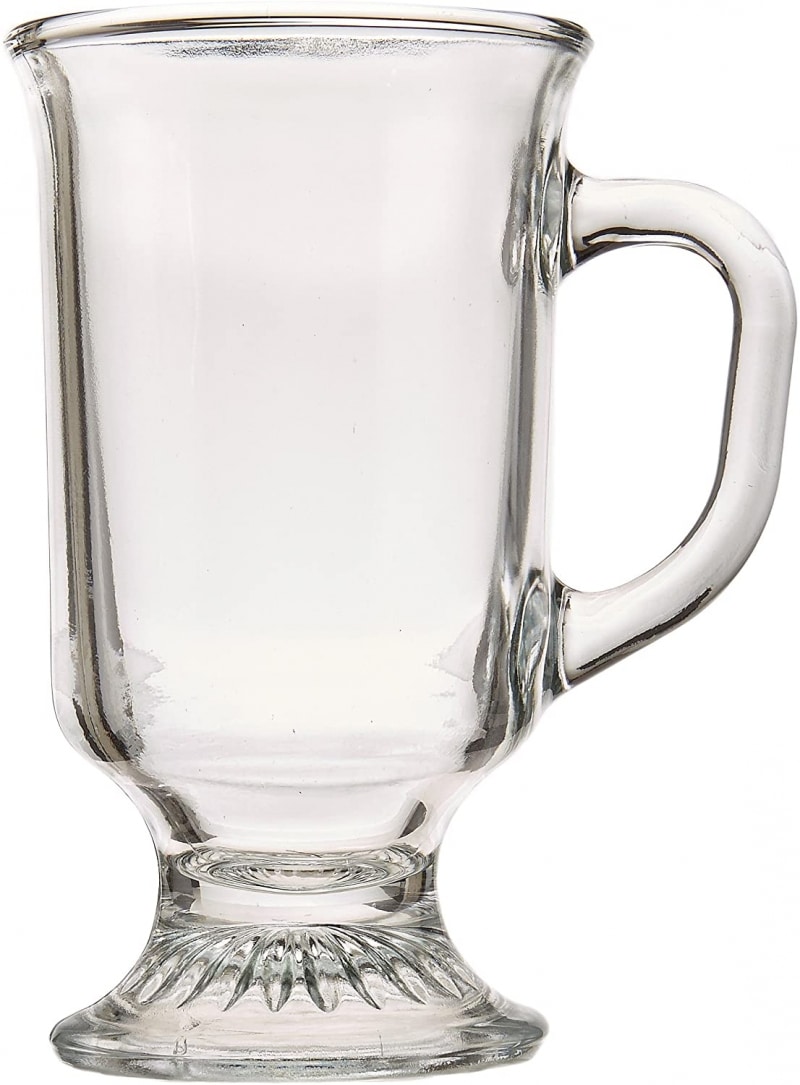 We love that this Irish glass than Anchor Hocking Irish Coffee Mugs come in a set of 12 which is very pleasant for a big family. They look very traditional yet remain cool in hand. Each glass has a capacity of 8 fluid ounces. Furthermore, the handle construction always provides a comfortable grip. They're also very easy to clean. All you need to do is to hand wash the mugs with soap and warm water or the faster way, you can just put it in your dishwasher. More than this, these mugs are safe to microwave if you need to quickly warm up your coffee.