Make your pops exactly as you'd make coffee; they're entirely customizable. I like my iced coffee strong, with just a trace of cream and sugar. Because the cold dulls the flavor of iced coffee, we believe a strong brew makes the best-iced coffee. Set aside some of your morning coffee, add a little cream and a pinch of sugar, and you're ready to fill your molds. So what about enjoying iced coffee popsicles at home with your beloved people?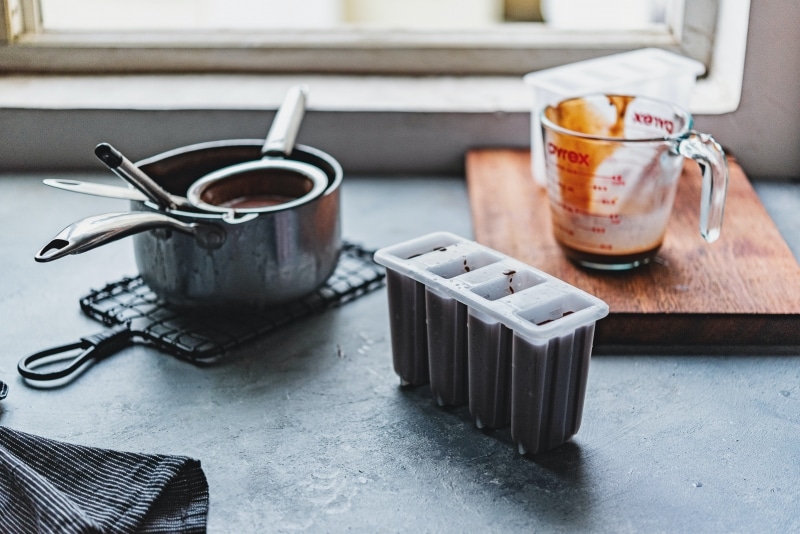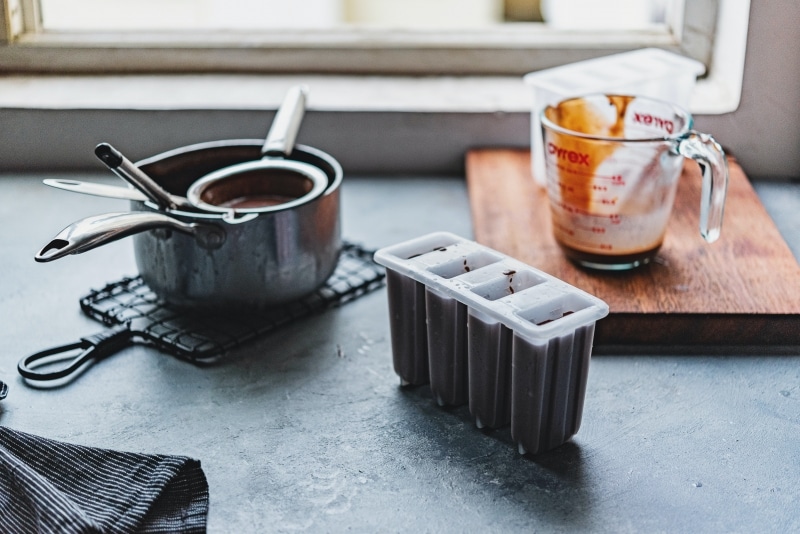 They're frozen coffee with a stronger coffee flavor and a cube of ice, granita-like texture. They're quite refreshing for hardcore coffee drinkers. During the summer, the ice in coffee melts easily, causing the coffee to taste bad. When the afternoon slump hits, you'll need something to carry you through the rest of the day.
Why is Everyone Like Popsicles?
It's summertime, where we all get hot and sweaty. Iced coffee can't beat this kind of weather because the ice will ruin the coffee but we got another solution for you: to make your coffee into popsicles. We got many popsicle recipes for you.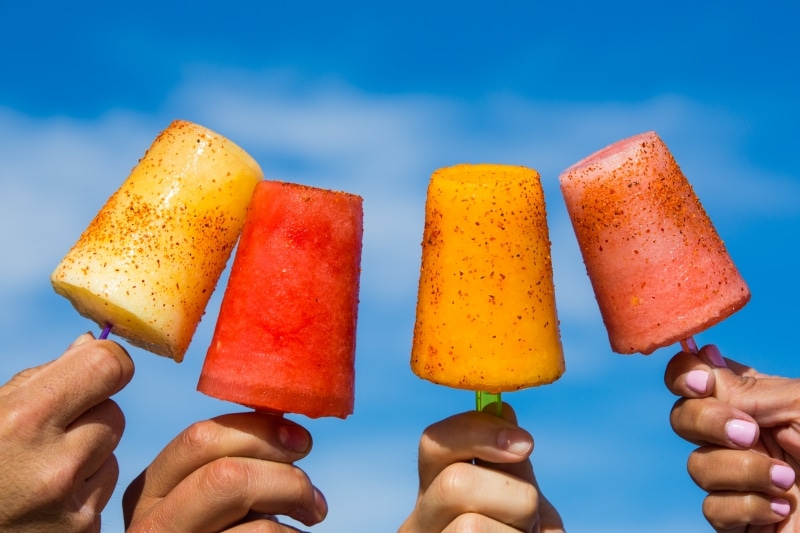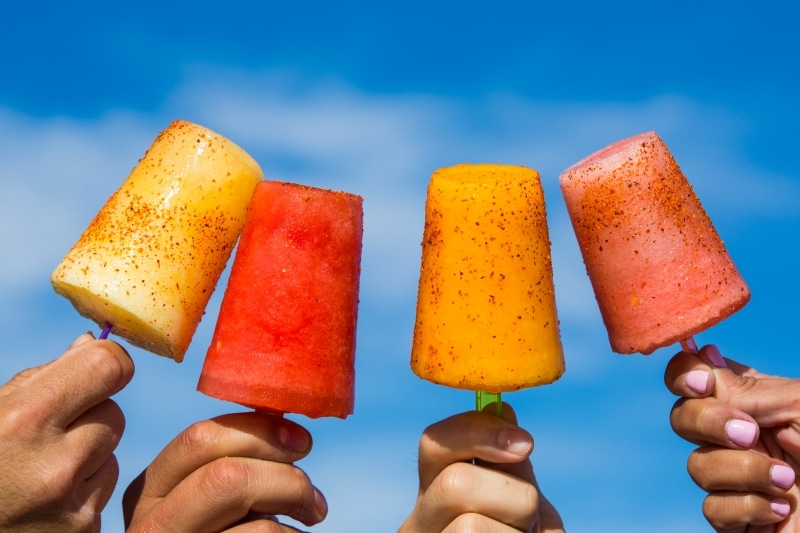 Top 6 of Best Iced Coffee Popsicles Recipes on the internet
1. Cold Brew Coffee Popsicles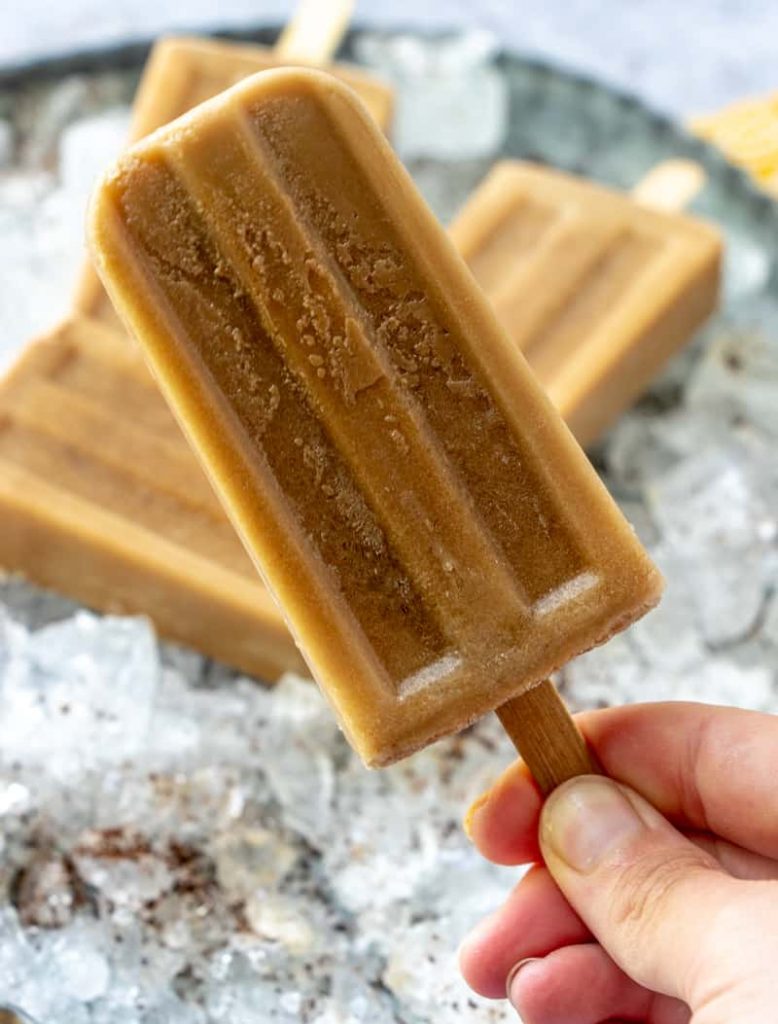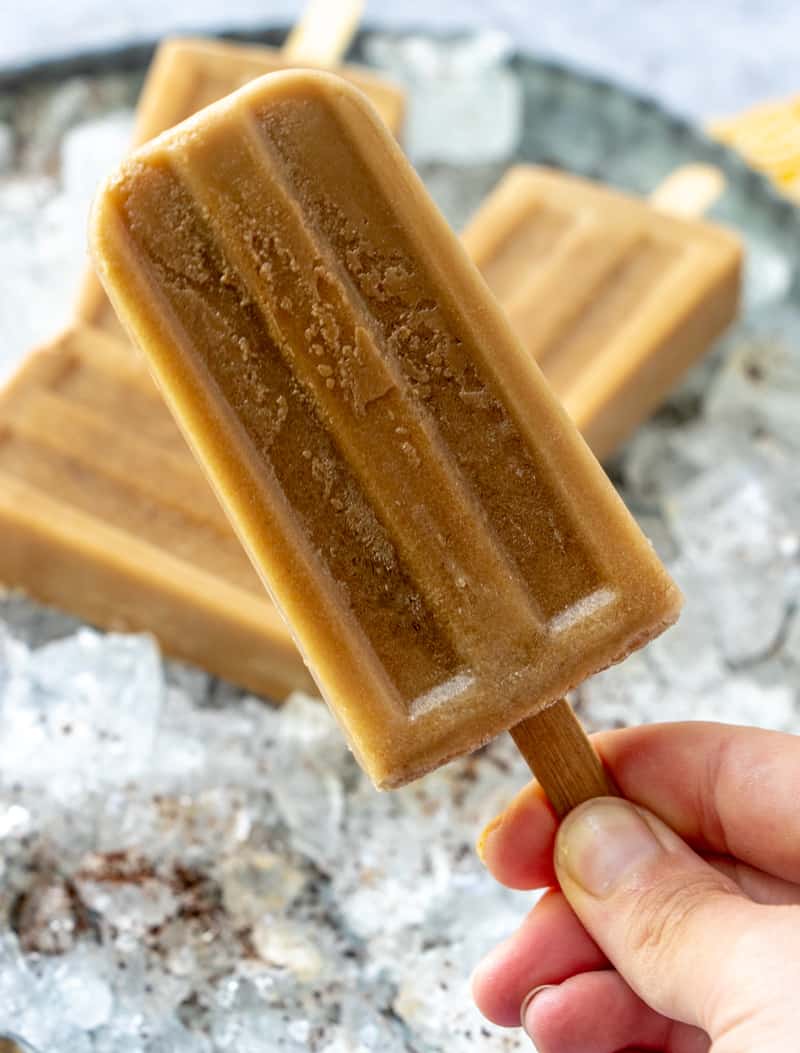 Delicious iced creamy Cold Brew Coffee Popsicles include only two ingredients and are really easy to make. These vanilla spiked popsicles are a delectable treat to cool down in the summer and are a terrific pick-me-up during the hot summer days. (source: Tornadough Alli )
Ingredients
3 cups of Cold brew coffee
½ cup of your favourite creamer
How to make it
Use a good iced coffee brand or regular brewed coffee that has been somewhat cooled
Use your preferred creamer, or any creamer at all.
To loosen the popsicles from the mold, run the base (not the top) under warm water for 30-60 seconds.
If you don't insert the popsicle sticks as straight as possible, the lid will not come off and you'll have to cut them.
Tin foil helps keep the sticks in place in the mold so they don't slide sideways.
2. Creamy Iced Coffee Popsicles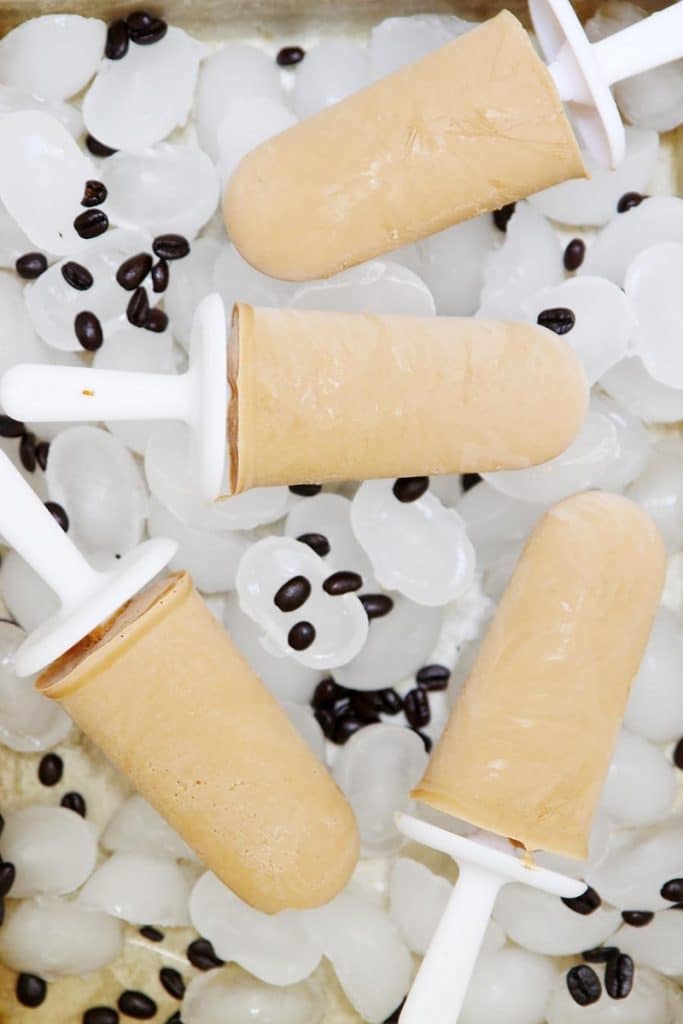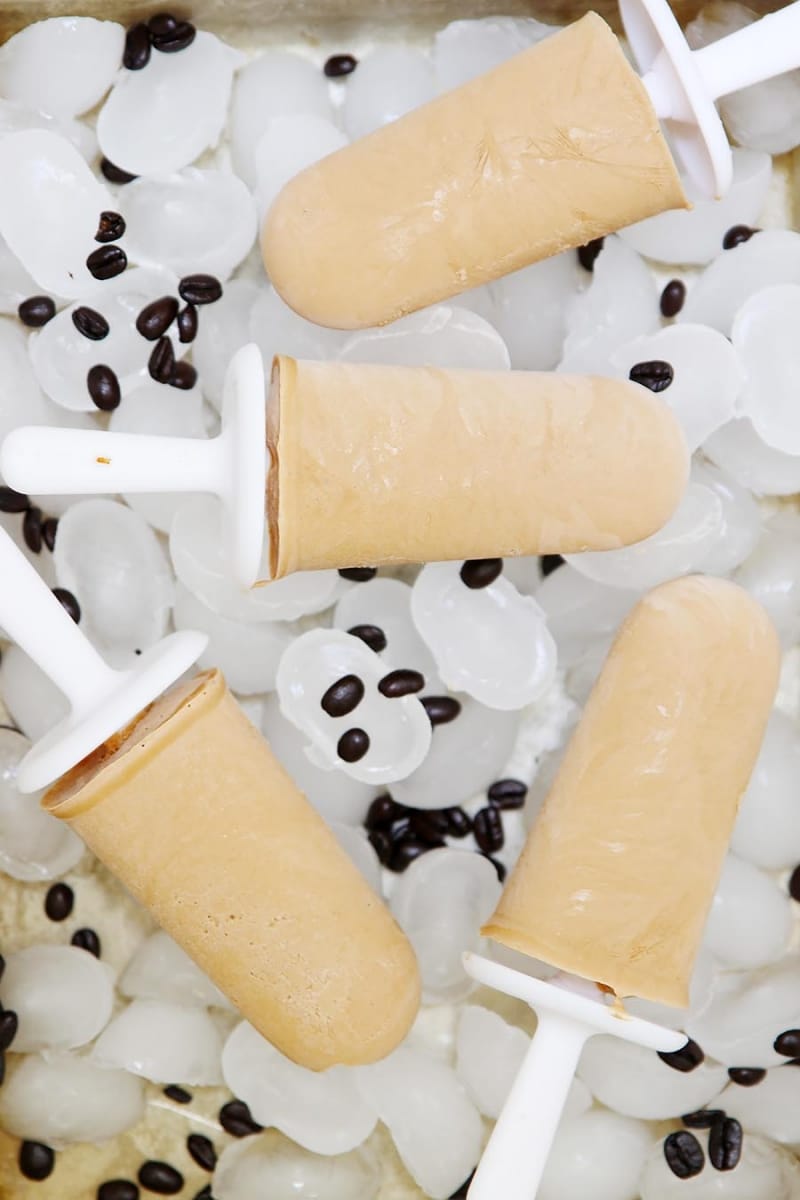 These coffee popsicles are simply delectable and make the ideal summer treat or afternoon snack. They'd also be a lovely dessert to bring to a family garden picnic. If you want to make them kid-friendly, you could use decaf coffee! The use of whole-fat coconut milk is what makes these popsicles so creamy and delicious. (source: Modern Glam)
Ingredients
1 cup of coffee
3 cups of coconut milk
How to make it
Use any coffee (freshly brewed coffee is recommended )
Use coconut milk and mix with coffee
Put the mixture in popsicle molds
Then put in freezer for 3 or 4 hours and you will get you iced coffee popsicle
3. Boozy Caramel Coffee Popsicles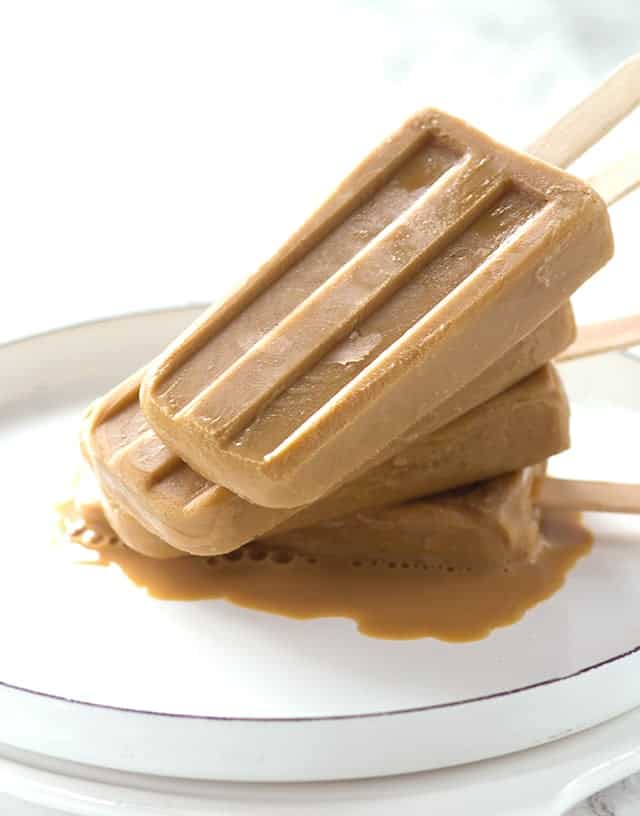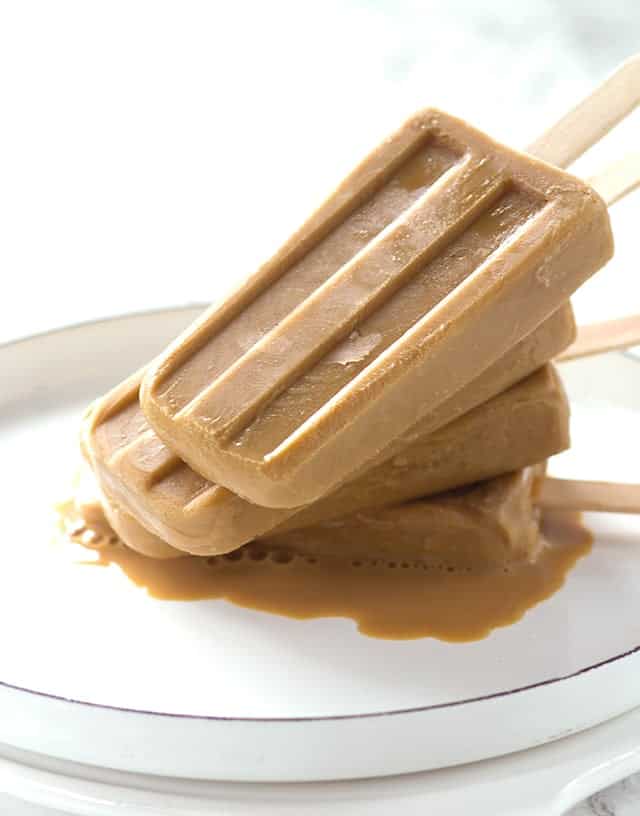 Coffee popsicles are the ideal grown-up summer treat. Whisking together and pouring into an ice pop mold takes less than 5 minutes. They include coffee liqueur and caramel to spice up the flavors. Everything else is in the International Delight Iced Coffee. We chose the Caramel Macchiato flavor, but you could also use mocha or vanilla. (source: Cookie Dough and Oven Mitt)
Ingredients
2 ¼ cups International Delight Iced Coffee
2 T. coffee liqueur
½ cup caramel sweetened condensed milk
How to make it
Pour the iced coffee, caramel sweetened condensed milk, and liqueur into a large mixing bowl or a 4 cup measuring cup with a spout.
Whisk until everything is combined.
Fill the ice pop mold halfway with the mixture.
Place the lid on top. Apply water to the wooden popsicle sticks before inserting them into the mold. This will ensure that the popsicle sticks are securely embedded in the coffee mixture.
Freeze for at least one hour, or until firm.
For about 30 seconds, pour warm water into the bottom of the popsicle mold. Take the popsicles out of the mold.
Place the popsicle molds and freeze.
4. Cherry Chocolate Chip Coffee Popsicles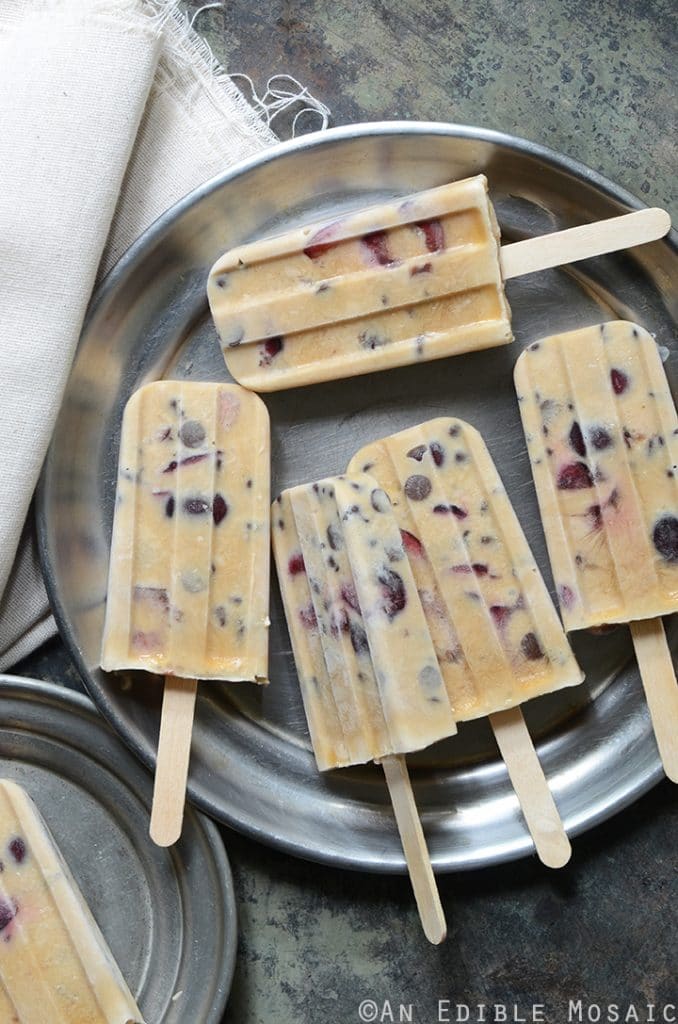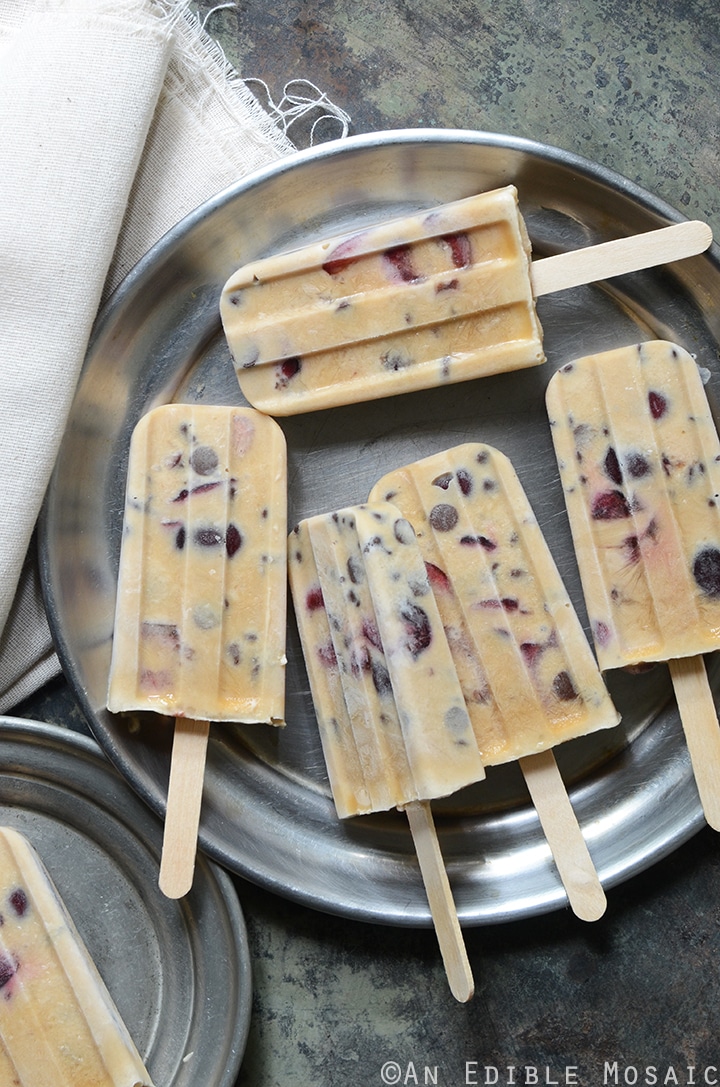 Is it paleo? Fresh sweet cherries and dark chocolate are combined in a creamy coffee-based popsicle in this recipe for Cherry Chocolate Chip Coffee Popsicles. For a creamy texture, use coconut cream. The predominant flavors, in addition to cherries, are chocolate and coffee. To be sure, there's a lot going on in terms of flavor, but it all works.
Plus, these pops are simply stunning! If those exquisite sparkles of red cherries and chocolate chunks don't seduce you, don't try to resist. (source: An Edible Mosaic)
Ingredients
3/4 cup coconut cream or the thick waxy bit at the top of a full-fat can of coconut milk
6 tablespoons strong unsweetened coffee
cooled 2 tablespoons of pure maple syrup
1/2 teaspoon of pure vanilla extract
1 pinch sea salt
3/4 cup pitted and halved whole sweet red cherries
a quarter cup tiny semisweet chocolate chips
How to make it
In a blender or food processor, combine the coconut cream, coffee, maple syrup, vanilla extract, and salt.
In a medium mixing bowl, combine the coconut cream mixture and the cherries and chocolate chips. Refrigerate the mixture until it begins to thicken, stirring occasionally.
When the mixture has thickened, pour it into popsicle molds, being careful not to fill the molds over the fill line because liquid expands as it freezes.
Tap the mold gently on a hard surface to help any air bubbles escape before inserting the sticks.
Transfer to the freezer and freeze for 3 to 4 hours, depending on the size of your popsicles and the temperature of your freezer.
5. Iced Coffee Yoghurt Popsicles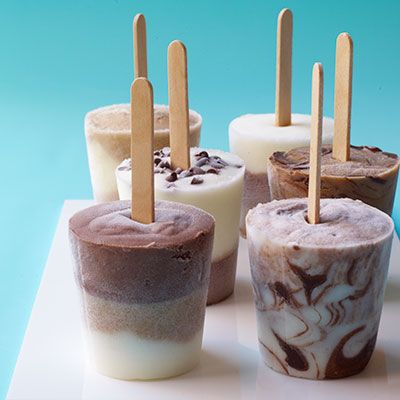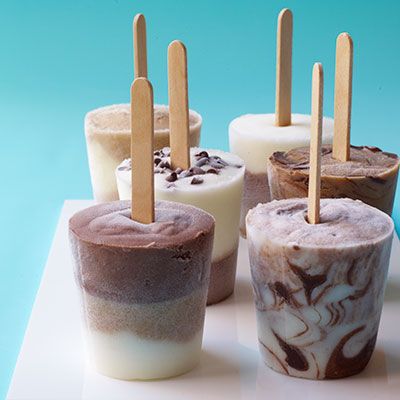 Iced Yogurt Coffee Pops are two-ingredient creamy frozen sweets that combine Caribou Premium Iced coffee with Greek yogurt for a protein boost.
When the kids are home for the summer, they keep me on my toes all day. The joy never stops, from park outings to the zoo to swimming to let's do arts and crafts or 'we should really bake something'. This Iced coffee popsicle is simple and delicious! Simply combine vanilla Greek yogurt and your favorite iced coffee, pour into small paper cups with a stick, and place in the freezer. (source: Alida's Kitchen)
Ingredients
¾ cup Iced Coffee
1¼ cup of vanilla Greek yogurt (or regular vanilla yogurt)
How to make it
In a mixing bowl, combine the brewed coffee and yogurt. Distribute the mixture evenly among the cups. In the center of each cup, place a wooden stick. Freeze the platter for at least 2 hours.
To serve, simply remove the paper cup from the pop and enjoy!
6. Irish Coffee Popsicles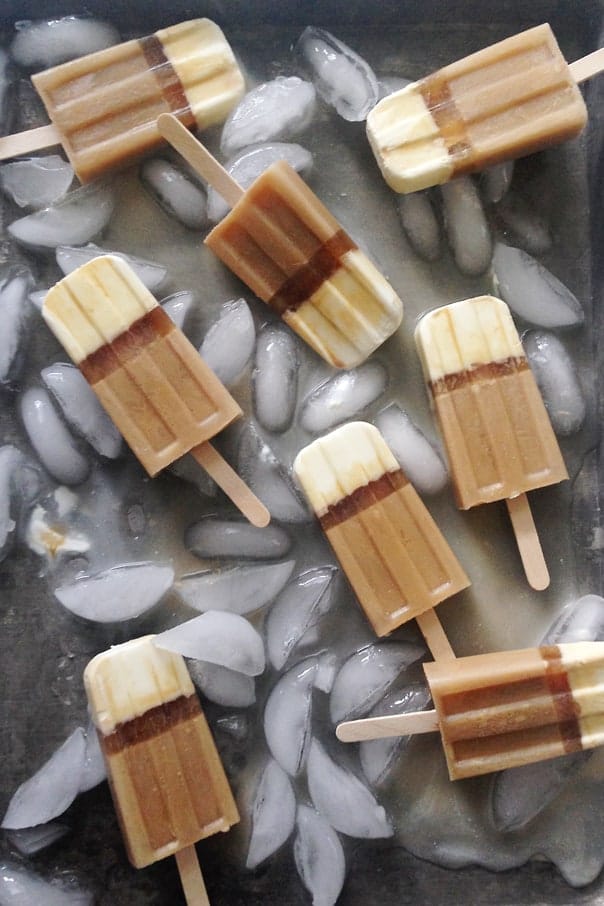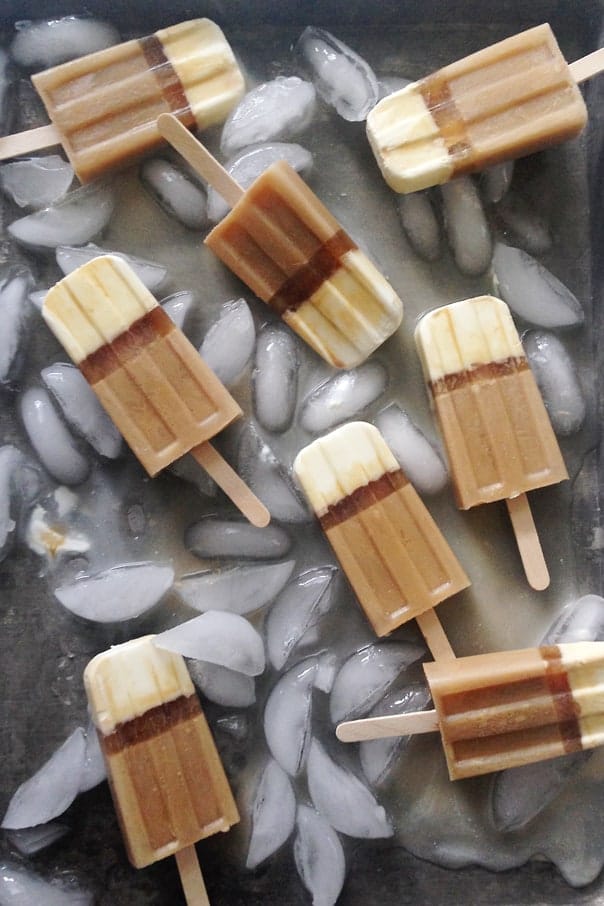 Irish Coffee Popsicles are a tiered frozen coffee delight that's creamy and boozy in equal proportions! Perfect for celebrating the arrival of summer! There are three layers in these Irish Coffee Popsicles: a soft vanilla bean cream layer, a smooth dark coffee layer, and a creamy coffee layer. (source: Feast and West)
Ingredients
1 cup heavy cream, milk or half-and-half
1/4 cup sugar
1 vanilla bean for the coffee layers
2 cups brewed, cold coffee
1 cup sugar
1 cup heavy cream, milk or half-and-half
How to make it
In a large mixing bowl, combine cream and sugar until sugar is dissolved.
Allow the vanilla bean to infuse in the cream for 2 to 4 hours.
Take out the bean.
Divide the vanilla cream mixture evenly between 10 popsicle molds. Freeze for 2 to 4 hours, or until firm.
In a large mixing basin, combine brewed coffee and sugar and stir until sugar completely dissolved. Take the molds out of the freezer.
Pour a thin layer of coffee over the cream layer in the molds. Popsicle sticks should be added. Freeze for 2–4 hours.
Meanwhile, to the coffee mixture, add your choice of milk, cream, or half-and-half.
Refrigerate until the third layer is ready to be poured.
Frequently Asked Questions (FAQs)
Can you freeze cold brew?
Absolutely yes, cold brew can freeze. If you don't mix with cream, you will get cold brew popsicles which are dark caffeine.
How do you make popsicles creamy, not icy?
That depends on the amount of cream you put if you balance it well. Not too much cream but not too little cream. When it freezes, it will have a perfect creamy texture.
Can you freeze iced coffee with milk?
You can but it will ruin the texture, especially the milk. It's not creamy, it's a liquid texture so I don't recommend freeze iced coffee with milk
Final Thought
Iced Coffee Popsicles are easy to make, just like normal popsicles. It's just this time you include brewed coffee and cream and they become the best mixture. They are easy to make too so you don't need to worry much about the ingredients.
References
Check out: How To Make Homemade Iced Coffee Popsicles By inthekitchenwithelisa