Espresso is the heart of many coffee lovers' favorite beverages. Whether you drink a flat white, long black, almond milk latte with 2 sugars or no milk, espresso would never disappoint you. After making an espresso, about 12% of the coffee solids will be dissolved from your coffee grounds. Not surprisingly, compared with 2% of regular coffee, there is such a significant difference in intensity.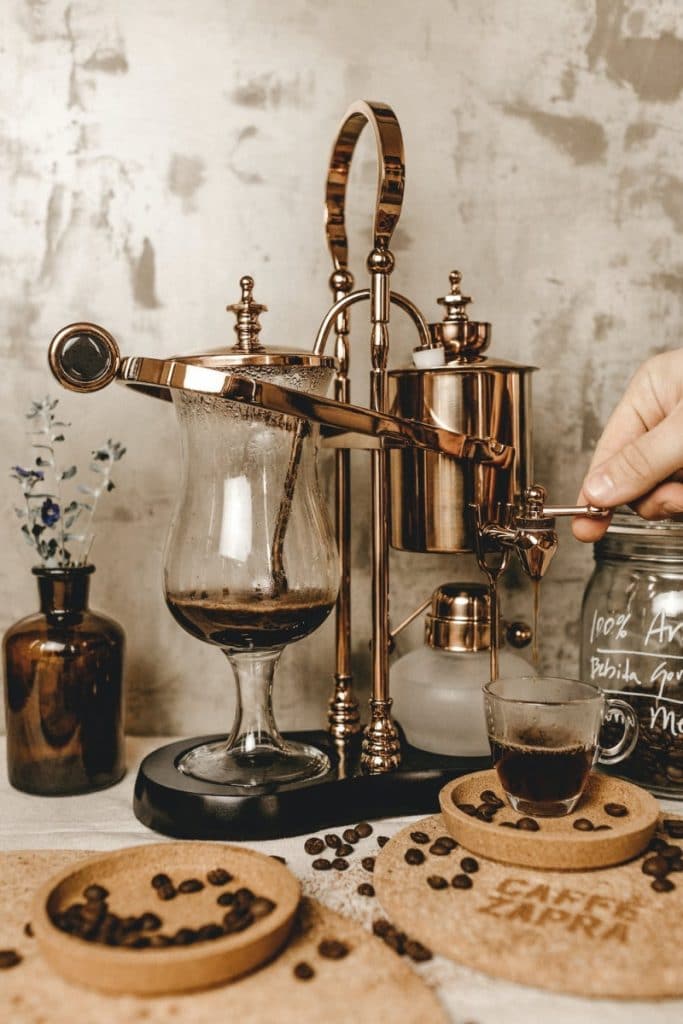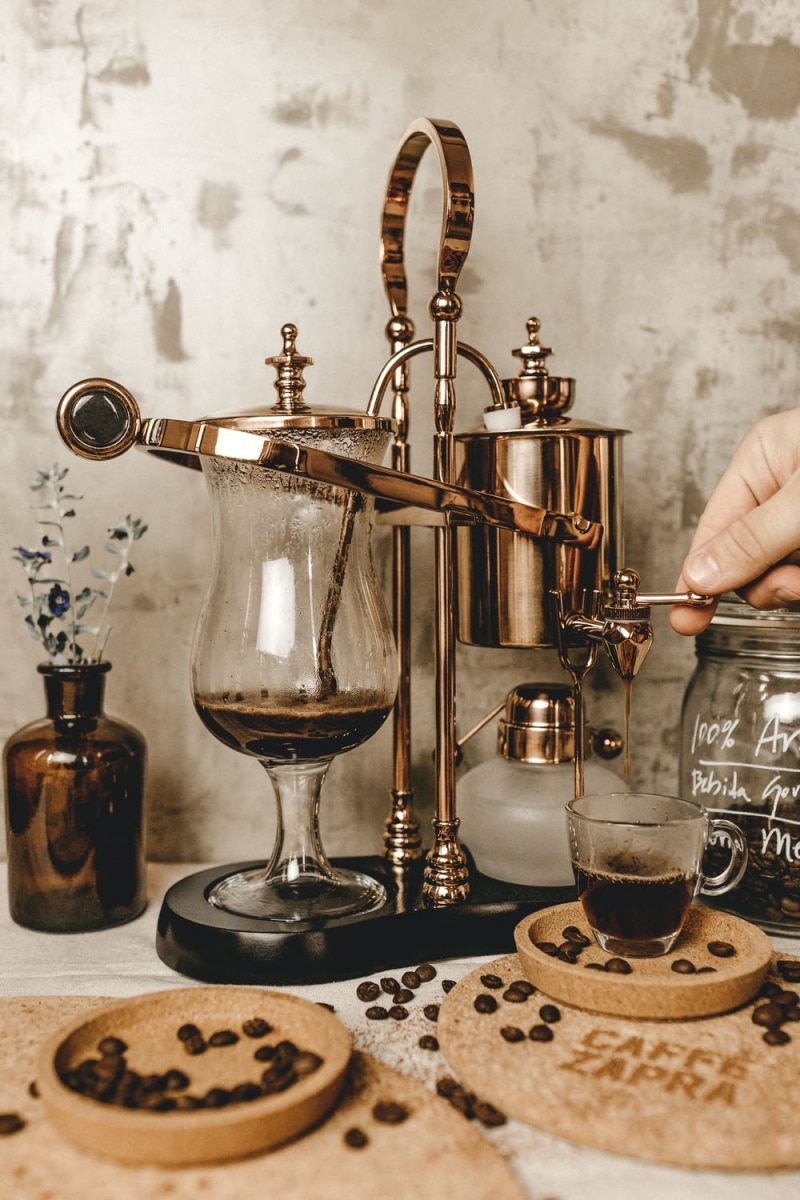 Using the right beans to make a cup of coffee is very essential. Espresso beans are different whether it is medium or dark roasts. As a general rule, dark roast whole beans are more traditional.
So what do espresso beans refer to exactly?
"Espresso beans" are the coffee beans that are used for brewing the espresso. To create a certain flavor, people have to select and roast the beans carefully, and espresso is just a method to prepare a coffee.
Some people would mention that espresso is just a thing in a mug at the end of the brewing method. In other words, to make a cup of espresso, all you need is just an espresso machine and roasted beans.
In fact, all coffee beans can be used for espresso preparation while "espresso beans" or "espresso blend" can be used for brewing a pot of coffee.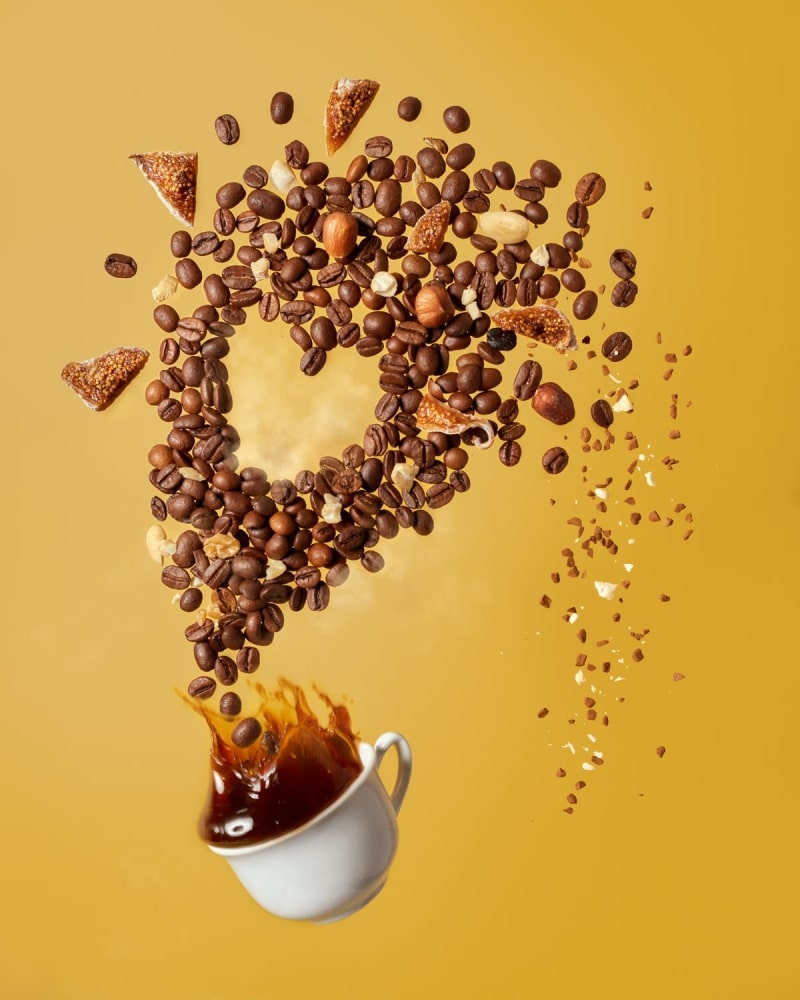 However, espresso blends sometimes taste terrible. Traditionally, espresso blends are roasted super dark which leads to ash or unpleasant flavor. This is because of the decades, people have assumed espresso is just like this; the hard bitterness is the costly caffeine. On the other hand, espresso does not have to be this way! You don't have to settle it with the bitter taste.
You can make espresso with rich, subtle, and complex flavors. You can enjoy the floral and fruity aromas, pine notes, fascinating spice, and pleasant citrus acidity from espresso. Because so much of the essence of the coffee grinds make it into the final brew, the beans you use must be compatible with the brewing method. When it comes to espresso coffee, not all caffeine beans are equal.
One of the most essential parts to brew a good espresso shot is the right beans. If you choose the wrong one, the espresso would be acidic and watery. And in case, you forget about dense cream if the beans are stable. That is why it is very hard to select the best espresso bean.
We have studied many espresso beans, and we just selected only the favorite ones based on the customers' espresso beans reviews. So, we are here to show you the right direction in choosing the best espresso beans to meet your requirement and preference taste in the next following.
List of The Best Espresso Beans in 2023 
If you are a coffee aficionado, choosing the best quality bean is absolutely important. In this article, we will take your hand and walk you through everything about the best espresso beans in order to choose your ideal beans to become a legit home barista. So let's take a look at the best espresso coffee beans with a little more depth as below.
10. Wink Coffee Single Origin Blonde Espresso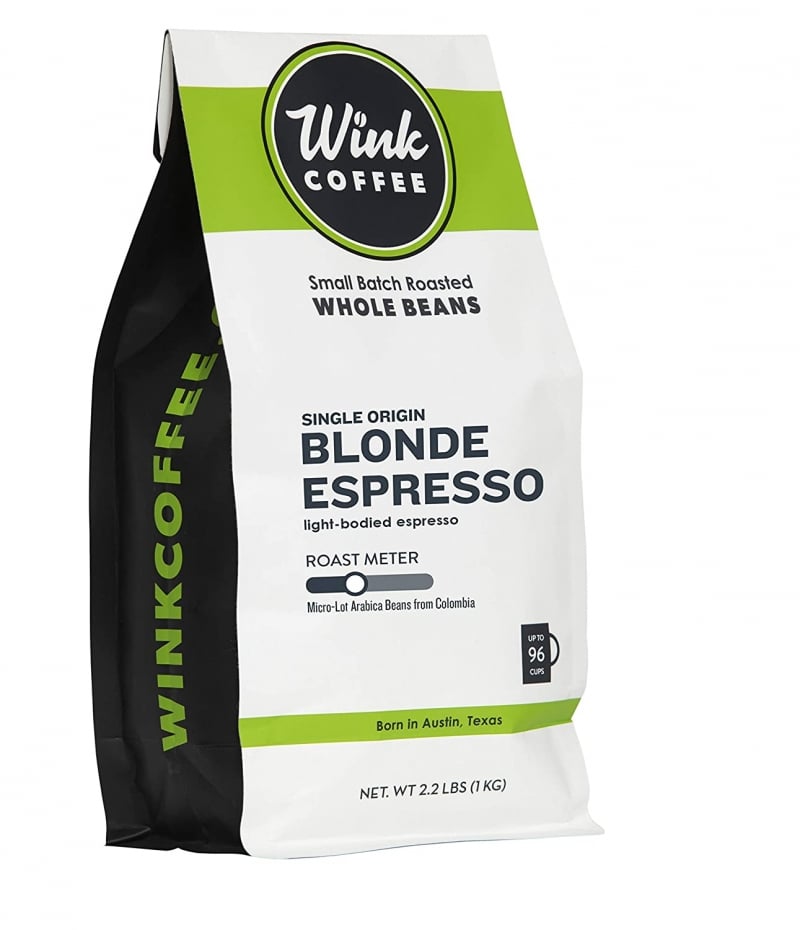 If you are looking for a decent coffin bump, then the Wink Coffee is exactly right for you. This blond roast espresso would give you a sweet, orange zest with vibrant notes that come along with brown sugar, to give people a complex flavor.
Sole is a large 2.2lb bag, this whole bean coffee espresso is specifically designed for making it more convenient for users in consuming. It has an airtight zipper, so after opening it, you can close it tightly and easily.
These whole beans are sourced from Colombian Andes, and these single-origin beans are sustainably grown with a one-hundred percent top-quality Arabica coffee. These light roast caffeinated beans are perfect for all coffee brewers including espresso maker, French press, drip coffee maker, Aeropress, Moka pot, and pour-over.
What We Like
Very fresh
Great flavor
100% Arabica coffee
Airtight zipper
Not too bitter
Good price
What We Don't Like
No roast date on the package
9. Death Wish Dark Roast Coffee, Dark Chocolate Notes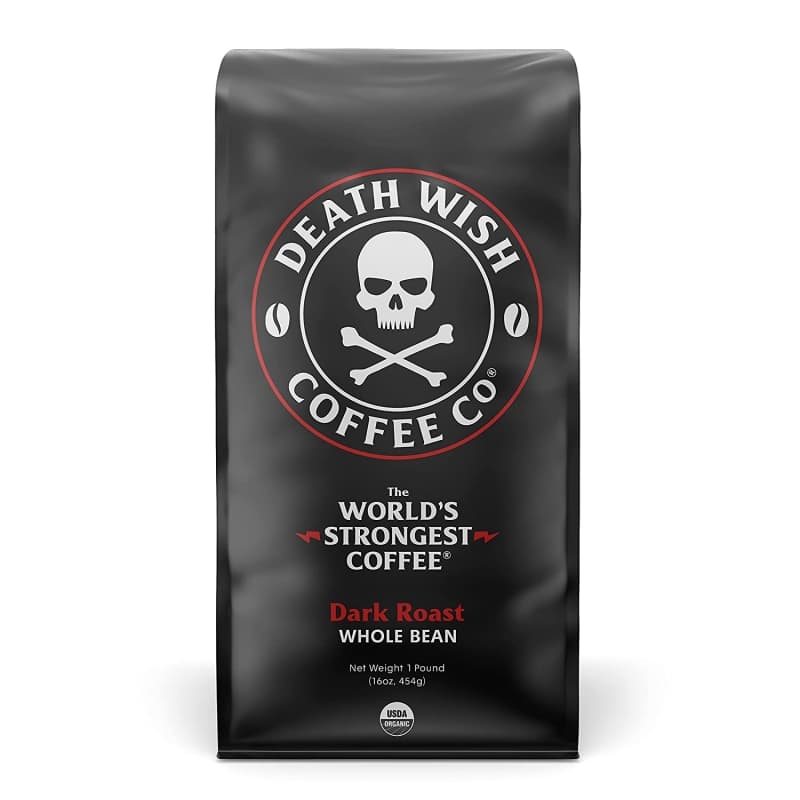 Death Wish Coffee is World's strongest coffee! With double caffeine, it can kick start your day seriously. The dark roast blend boosts your energy for your rough morning as well as all-nighters. With the USDA-certified organic and fair trade, Death Wish is a natural coffee you would be proud to support.
All of the best coffee beans for espresso are carefully selected. To give you the dark roast, they deliver Arabica and Robusta whole beans from around the globe, so you can fall in love with the bold taste. Immerse yourself in a subtle and smooth, you will enjoy the day with the bitter cherry and chocolate notes from the fair trade arabica beans.
What We Like
Bold and balanced
Smooth dark chocolate flavor
Notes of stone fruit
Lack too much bitterness
USDA certified organic and Fair trade
What We Don't Like
Too strong for inexperienced with dark roasts
No roasted on date
8. A Whole Bean Coffee From Stumptown Coffee Roaster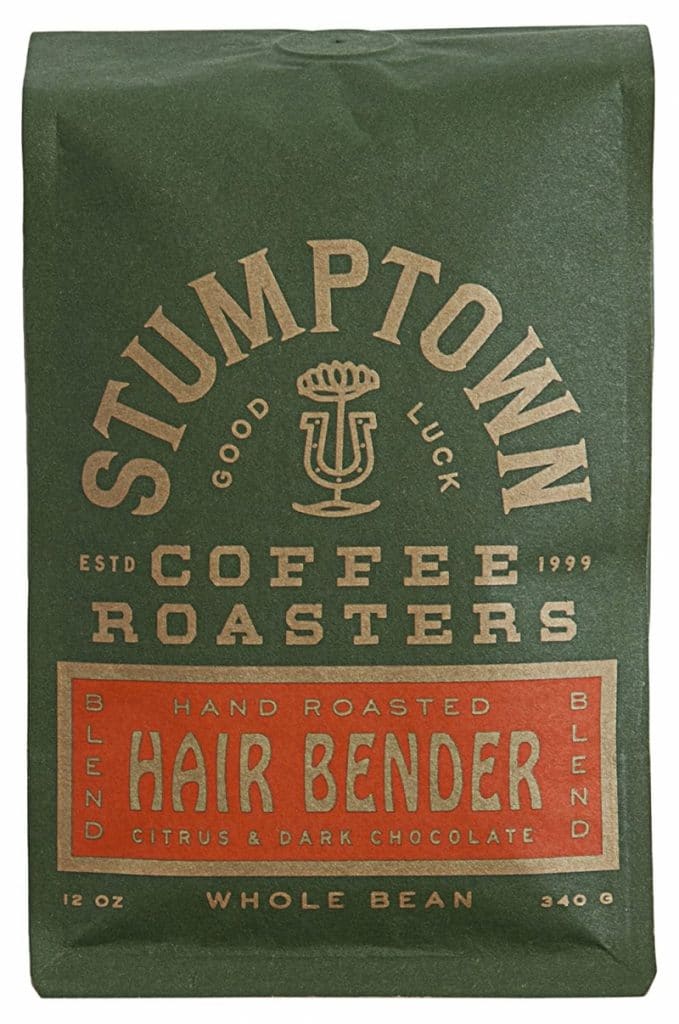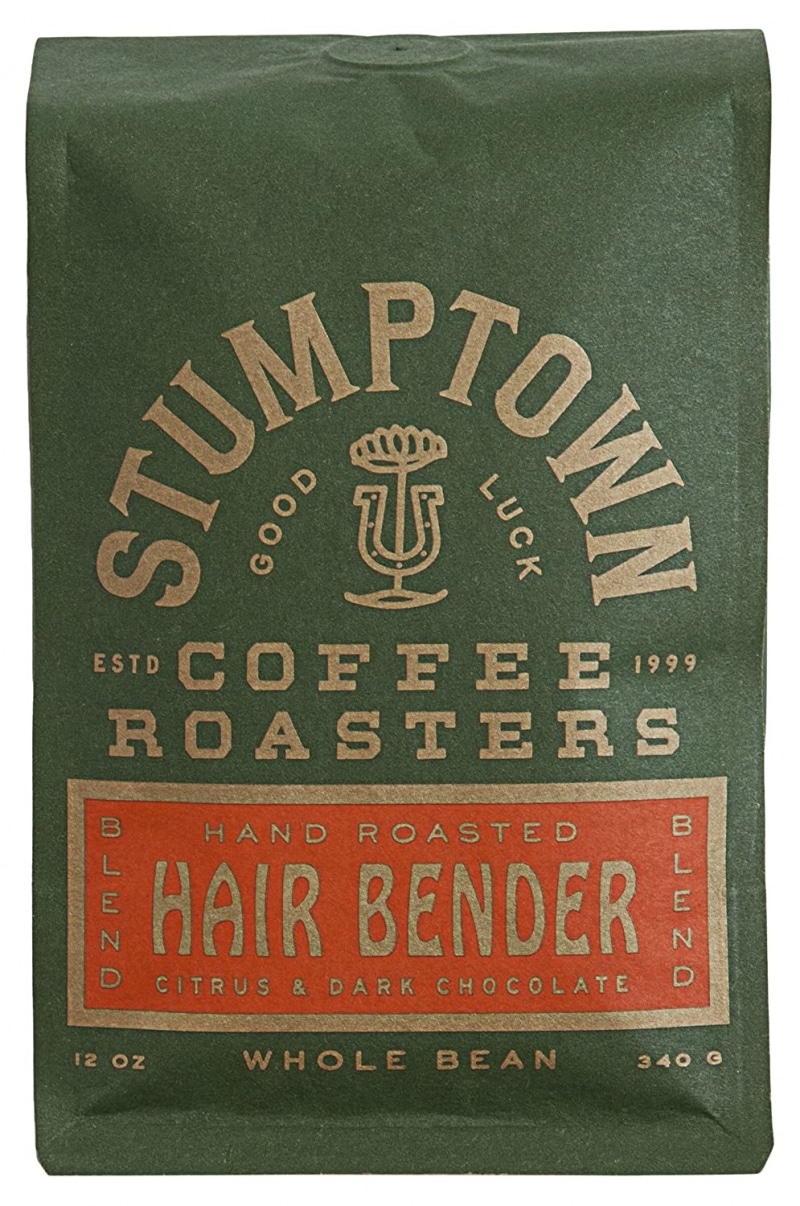 Stumptown coffee roaster's pick-me-up hair blender is one of the most complex flavors and got many fans on this list. With a cup of Hair blend, it would give you complexity with clarity. Sourced from Indonesia with a classic flavor of Africa and Latin America, it has a blanched and rich texture.
Pay close attention, you might enjoy the flavor of dark chocolate tasting notes from this whole bean Stumptown, too. Thanks to the awesome process, it is not only your morning pick me up coffee, at the same time, but it can also be your day-maker. Similar to Wink coffee, it is 100% Arabica coffee. It gives the full potential of each bean to give you a citrus taste.
What We Like
Very Smooth
Full in flavor
Not bitter at all
Positive interaction with communities and environment
7. Pete's Espresso Blend Wb From San Francisco Bay Coffee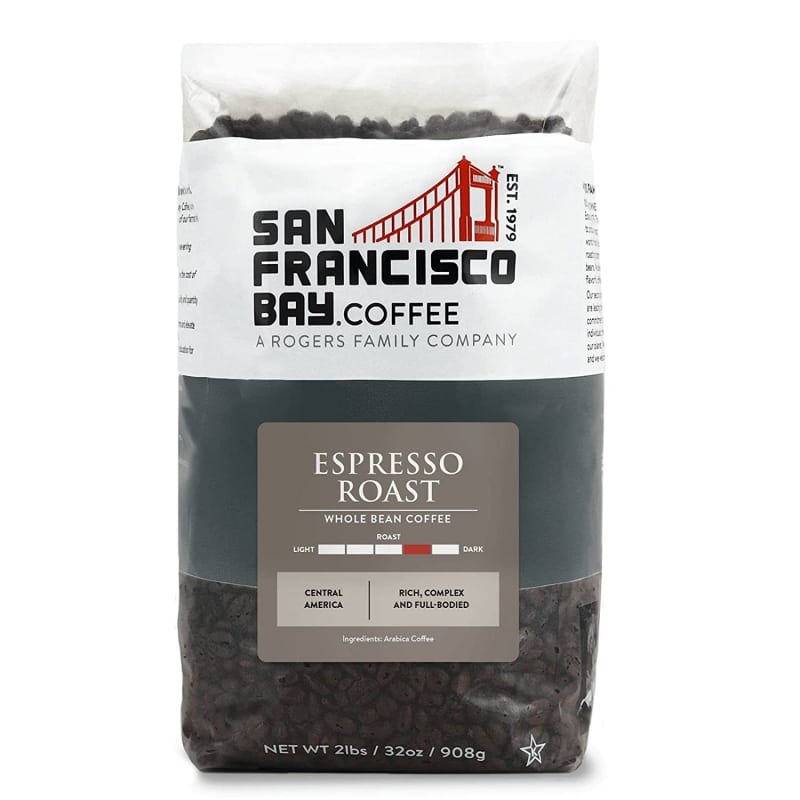 Are you looking for medium-dark roast espresso beans? If the answer is yes, this Pete's espresso blend is an excellent choice for you. This product is more than regular coffee beans; it will give you the note of vanilla and chocolate bean, also, it has a hint of orange. With a smooth creamy finish, it's the perfect beverage for espresso drinkers.
A hidden gem on Amazon. Now, you would enjoy having a morning coffee when you make a cup of San Francisco Bay Coffee. Because of a wide selection of 100% Arabica coffee whole beans as well as ground coffee, the medium-dark roast whole bean coffee would give you a single-serve coffee pod. Plus, it is Kosher and sustainability grown, so your satisfaction is guaranteed.
Take a look at every bean in this package, they are amazing, and there is no secret why. SF Bays only accept the highest quality coffee beans. Unlike k cups, these espresso roasts are ground and packaged fresh.
The 100% Arabica beans give you a robust cup for every taste. No matter if you are into drip coffee maker, ground espresso, pour-over coffee, coarsely ground French Press, Pete's Espresso, medium-dark roast, never gives you disappointment.
What We Like
Better taste than Starbucks
Excellent coffee (full & rich in flavor)
Very dark appearance
Reasonable price
6. Starbuck Dark Roast Beans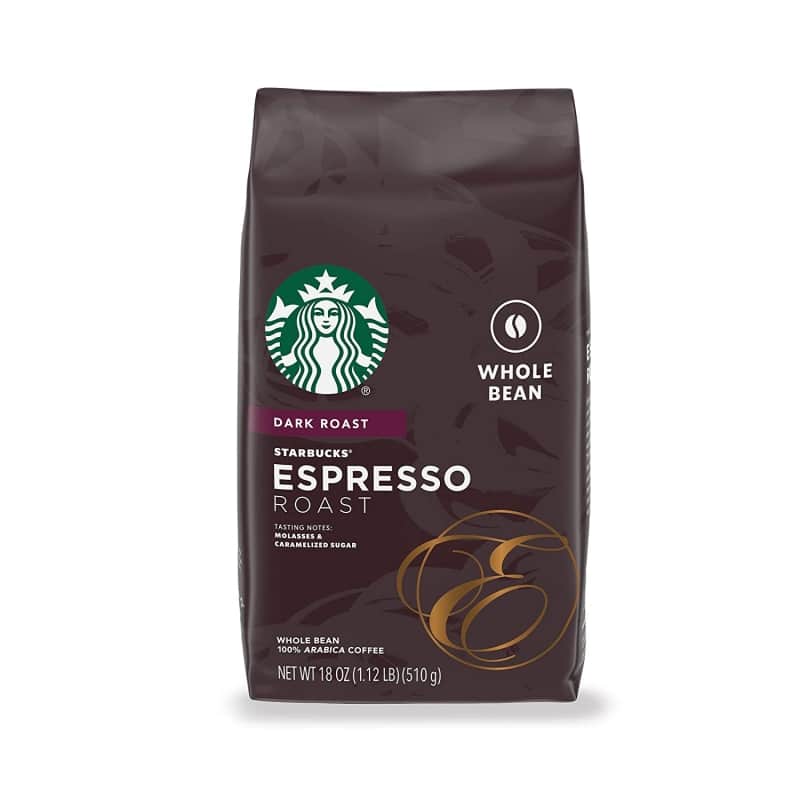 If you are in the market for ethical sourcing, check out the Starbuck espresso whole bean coffee. With the 18 ounces of each bag, you can enjoy the Starbuck dark roast coffee without going out. It is caramelly sweet and intense as to be suitable with the steamed milk.
Dark roast has a robust, fuller body to give you a bold taste. The espresso whole bean coffee is sourced from many regions including Asia-Pacific and Latin America, so coffee lovers would give the result in a unique taste combination.
When crafting coffee, Starbucks chooses only 100% Arabica beans, and each coffee bean requires a unique balance of time and temperature to reach the individual peak. As a result, these espresso coffee beans give you an awesome aroma, flavor, body, and acidity.
Dark roasted beans are more than normal beans. You can make a cup of Starbucks coffee to start your new day, boost your energy or reward yourself after a long, tiring day. Whether it is a lazy weekend morning or having a great moment with your beloved friends; at whatever moment, enjoy it.
Do you have the top 10 Starbucks drinks you can make at home? Check out the top 10 take-away home recipes to make your favorite Starbucks coffee.
What We Like
Delicious strong coffee
Very dark, strong, and rich coffee
Smell fresh
Great price
5. Dark Roast Whole Bean Coffee For Espresso From Peet's Coffee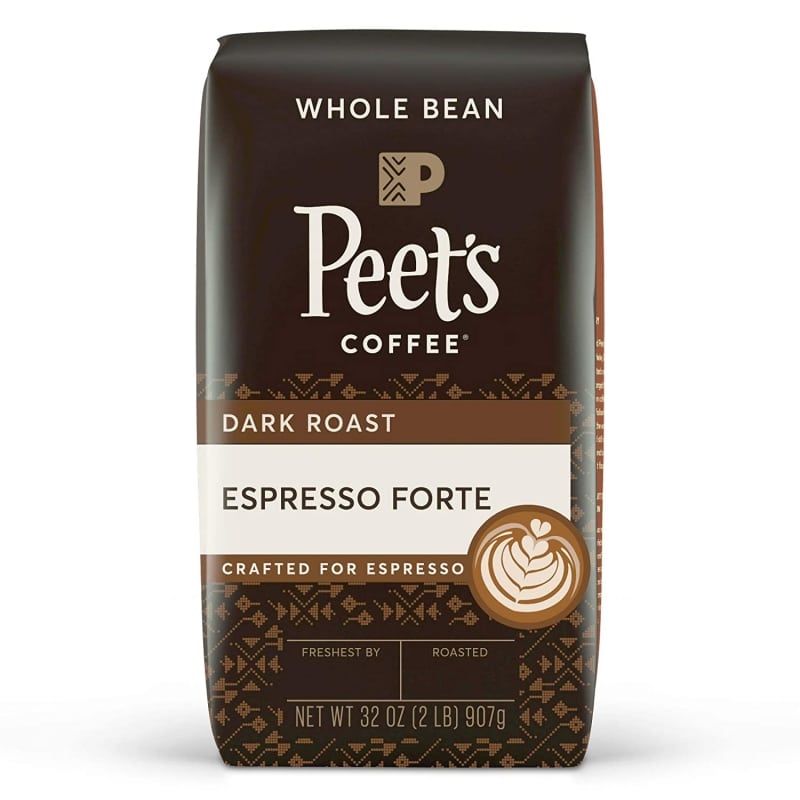 If you want to enjoy a dark roast with hazelnut flavor, Peet's coffee is an ideal choice to make your excellent espresso. This dark roast whole bean coffee espresso blend not only contains 100% arabica beans, simultaneously, but it also has a smooth crema and tang (strong taste).
Being one of the best coffee beans, the espresso forte flavor from Peet's coffee source is the world's highest quality beans. Additionally, they do a hand-roast in small batches to achieve the rich flavor as the signature. With the strictest standard for freshness, they also uphold it.
What We Like
Rich in flavor
Smooth
Good aroma
Reasonable price
What We Don't Like
Be careful with the best before date
4. Eight O'Clock Italian Roast Espresso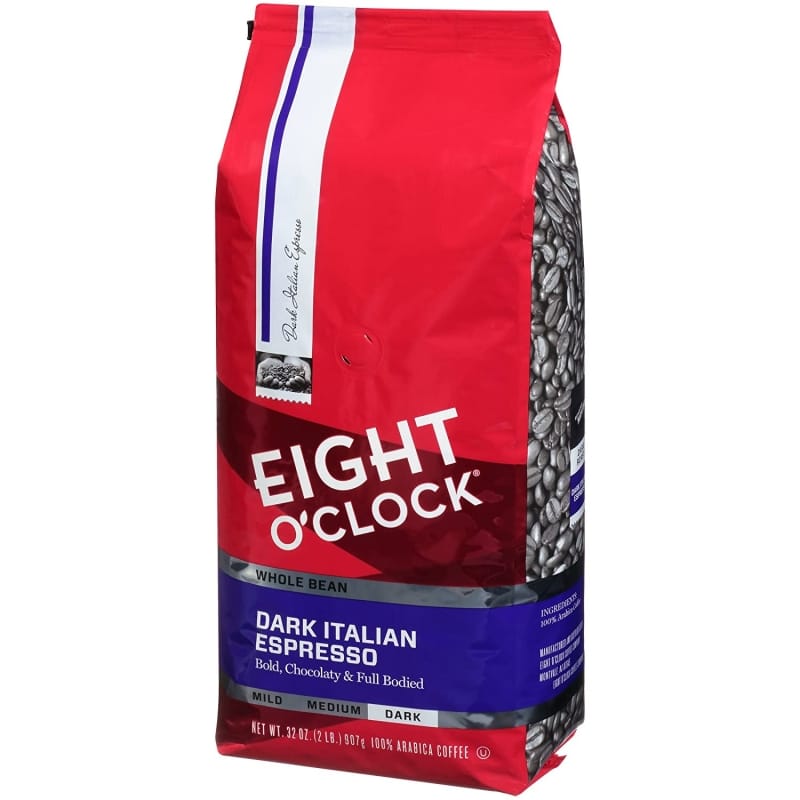 For those who are willing to invest in a true espresso experience, Eight O'Clock Coffee is worth a try. It has had a great taste since 1859, and it has a premium taste plus quality with 100% Arabica beans to fit well with your espresso machine.
There is no hidden secret that this brand can stand out for 150 years. All of the roastings are done in the USA in order to give you a Winey note with a rich flavor. Also, you will also enjoy an elegant aroma from this full-bodied finish with your portable espresso maker when you're on the trip. Pay close attention to the bold flavors, the bean direct Italian roast espresso has subtle flavors of caramel and chocolate in bold.
This whole bean coffee is also Kosher certified. With a strong commitment to the environment, Eight O'Clock cooperates with many different coffee organizations in order to support the coffee community with the purpose of improving the quality of life for people who are involved in the coffee supply chain.
What We Like
Very refreshing
No burnt taste
Smooth and mild
Cheapie but goodie
3. Lavazza Super Crema Medium Roast espresso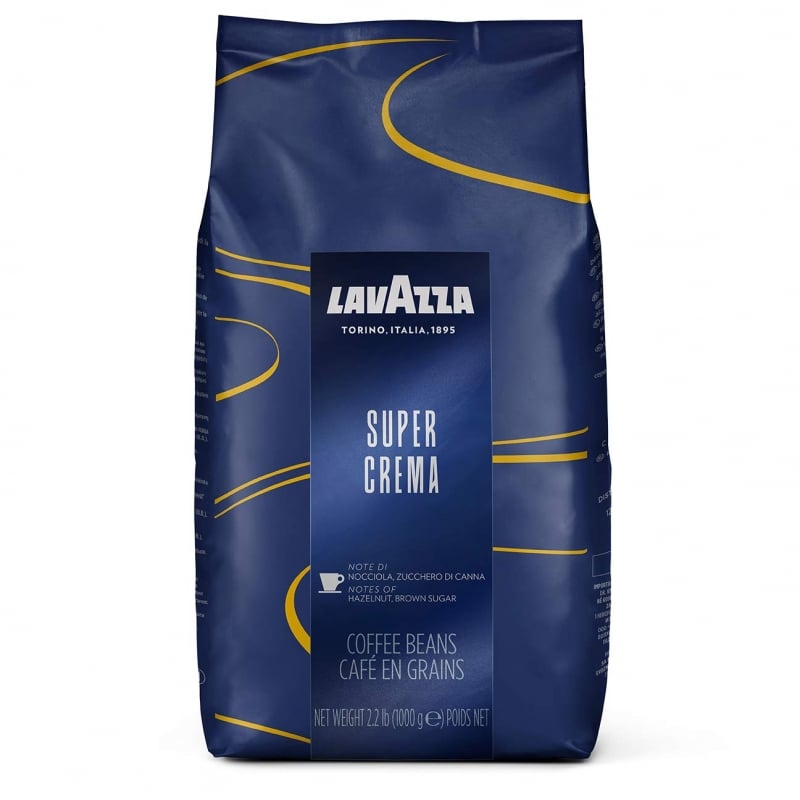 One of the most popular espresso roasts on the market, the Lavazza Super Crema does not sacrifice quality. The medium roast beans are sourced from India, Indonesia, Brazil, and Columbia. Since these beans are blended and roasted in Italy, it is unsurprising that the coffee bean directly can make a pretty awesome brew.
The coffee bean direct Italian roast espresso is mild and creamy with the notes of honey and almonds, plus a little fruitiness. Because of the presence of Robusta beans, the coffee bean direct Italian roast has a higher acidity if compared to other regular beans. Besides, the Lavazza Super Crema has a lower caffeine content as well since it is made from Arabica and Robusta beans. Further detail, it has 80% arabica beans while the other 20% are robusta.
In addition to Robusta, it can provide you with excellent crema. On top of that, these beans are nitrogen packed so that you can have a longer shelf life to pre-opening it.
What We Like
Wonderful espresso roast
Rich deep flavor
Thick crema
Not overpriced
2. Lavazza Espresso Barista Gran Crema, The Medium Roast
If you are looking for a medium roast, but with a round and long-lasting flavor, the whole bean coffee from Lavazza espresso roast barista Gran Crema would be your excellent choice. Similar to the previous Lavazza, Italy is where they blended and roasted in, and this product is composed of Arabica and Robusta.
With a 35.2 ounce bag, you can enjoy the rich body from this medium roast. What is more, it comes with a spicy and chocolatey aroma as well as lingering crema. In addition to aromatic notes, you can taste the honey flavor notes and roasted coffee from this bag. It is Non-GMO. Lavazza blends choose the quality standards to roast expertly. So, coffee drinkers can enjoy the aromatic blend once you prepare it with your espresso machine.
What We Like
Deep crema color
Very smooth
No bitter taste
Full and bold flavor
Great aroma
Amazing blend and roast
What We Don't Like
Not recommended if you like dark roasts
1. Starbucks Dark Roast ground coffee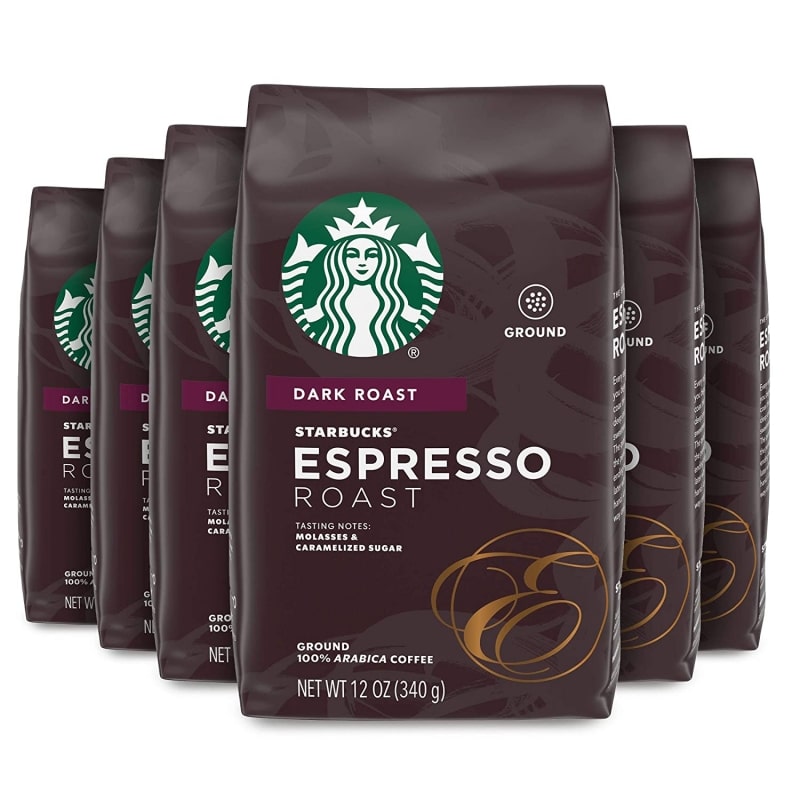 Another unique option is Starbucks Espresso Roast Ground. It is caramelly sweet, intense which is ideal with steamed milk. The dark roast whole bean coffee also gives you a fuller body with robustness, and you will have a good time with the bold taste.
For the finest taste, store the ground coffee in a dark and cool place. On top of that, you can use cold, filtered water to get the desired outcome. Now, you don't have to leave home to enjoy the Starbucks coffee you like anymore. Just stay home, and savor it!
What We Like
Great coffee
Very smooth
Less acid
Bold flavor
So delicious
Great price
What We Don't Like
Not recommended for people who prefer lighter roasts
Buying Guide To Choosing The Best Espresso Beans On A Budget In 2023
Even though it seems straightforward to share with you some products of the best espresso beans, there are a few things you need to know when purchasing them.
Flavor
First up, make sure you know the flavor you want. It is an obvious key to choose the bean to meet your preferences. If you like your espresso subtle, a lighter roast is a good choice. But if you don't want a dominant flavor, a medium or medium to dark roast is recommended. Besides, if you want to tolerate a little bitterness to get a sensated taste, you can roll it with a dark roast.
Roasting Date
Have you ever bought the beans at the supermarket, but couldn't find the roasted date on the bag? You might have seen the expiration date, but in fact, coffee does not have an expiration date.
It is a perishable food that can be changed due to the chemical reaction of moisture, oxygen, and heat. With this process, it goes stale as it ages. When it is fresh, you can extract the aromatic oil, sugar as well as soluble from it. And it would be awesome if you consume the beans for espresso no later than 3 weeks after the roasting date.
At supermarkets, generally, they have no roasting date on the bag because it sometimes has been roasted for weeks before it is bagged, shipped, or landed on the shelf. Anyway, if the best espresso beans have been roasted over 3 weeks, it would affect the flavors.
Single Origin Coffee Versus A Blend
Single origin coffee beans refer to the beans that come from a single estate, so it has its distinctive taste which might not be over complex or balanced. A blend, on the other hand, is a mix of several single origins. It has a more complex profile since the roaster has been designed to produce a certain sensory experience. Usually, blends are heavier and work better with milk.

Roast Level
Light Roast: Light roasts are bright, lively, and citrus-edged. These beans rarely work well with milk and tend to be acidic. Generally speaking, the light roasts or blonde roasts are not suitable for espresso.
Medium Roast: Even though medium roasts are not very high in caffeine, they are still quite strong. They often contain the berry flavor with the territory of almond and brown sugar tasting notes. Most of the time, more complex espressos are in the medium or partially medium roast.
Dark Roast: They are more full-bodied and richer. With the classic idea of espresso, the dark roasts would give you a full, dark, and smoky espresso that comes along with a chocolate finish.
Origin
The flavor of the beans is heavily based on some factors surrounding their origin. Things like shade, altitude, rainfall, soil chemistry can have a serious impact on the espresso taste in your mug.
Hawaiian beans or sometimes we call them Kona coffee beans are very well known for their unique flair. Thanks to the plentiful sunlight and heavy rainfall, the Kona coffee is rich with a slightly sweet taste. Also, Kona coffee has resulted in floral notes and occasional biting aftertaste coffee.
Indonesian beans are usually recognized as their specific coffee names like Sumatra and Java because of their deeper body. So with the Indonesia beans, you will not be disappointed to give it a go.
Ethiopian coffee beans are lighter, floral brew, heady and wine-like palates. These are Ethiopian caffeine beans you should give a try in your lifetime.
Colombian beans are mostly supported by small family farms. These Colombian beans are well-balanced and mild. They would give you an occasional nuttiness with prominent caramel flavors.
Brazilian coffee beans have a considerably wider range of taste characteristics than Colombian beans due to the differences in altitude. The classic "Brazilian" flavor, on the other hand, is identified as slightly spiced or nutty with a heavy body. You will not regret experiencing Brazilian coffee this year.
Kenyan beans are quite savory and have a bit of tart sweetness. These resulted from more sunlight exposure when growing Kenyan beans if compared to other regional coffees.
When people mention espresso blends, most of the time, their beans are either Indonesian beans or Brazilian beans (sometimes both). Anyway, Colombian beans are also counted in a good few.
Arabica Versus Robusta
There are dozens of different bean coffees, but the most popular ones are Arabica and Robusta beans.
Coffee connoisseurs know that Arabica beans are grown in a higher elevation. At the same time, they are mostly grown in Latin America. These beans are soft and give you a sweet taste.
Robusta blends, on the other hand, have lower acidity and are stronger than Arabica beans. They can be only found in the Eastern Hemisphere.
Many grocery stores have many Robusta bean coffees because these coffee plants are easy to grow. In contrast, Arabica beans are used in many popular coffee shops or brands, including Starbuck coffees. They usually pride themselves that they are using 100% Arabica beans. Even though Arabica bean coffees are a common favorite for high brand shops, it doesn't mean that it is suitable for everyone. These two beans are best depending on personal tastes. But many people prefer Arabica because the beans contain less bitter flavor and less caffeine.
Whole Versus Pre-ground
You would notice that all of the listed products are whole beans, but they are also available in the pre-ground options. So, what is the difference between these two?
The main difference is freshness. You may try to find out the roasting date on your beans bag, but if they are pre-found, they will not maintain the same freshness. Regardless of whether you make a cup of coffee, espresso, balanced and or others, we still recommend you to choose whole beans and invest in a high-quality grinder to grind the beans quickly before using them. Furthermore, the most super-automatic espresso machine, semi or fully automatic espresso machines come along with a grinder, so you don't have to worry about making an extra investment.
Grinding your own caffeine beans for espresso allow you to get the most out of the flavor. Especially, if your machine is not the top line one, fresh grounds can compensate to give you a great cup of espresso. You can grind the beans in small batches so that you don't have to grind them every single time. In this scenario, you should keep the coffee grounds in an airtight container to maintain their, freshness as much as possible.
Storage
Better avoiding the sale of beans from large or open containers. Air is one of the key elements to degrade your bean coffee. If you ignore this advice, you will end up with a tainted, weaker espresso rather than the espresso shot you are hoping for. Check out these tips to store your roasted caffeine beans in the right way according to the experts.
Frequently Asked Questions (FAQs)
Here are the questions you should check for when shopping for the best espresso bean.
Are bean coffee and espresso beans the same?
The bean for espresso needs a longer time to be roasted. Sometimes, they are roasted at a higher temperature than other beans. For more detail, check out Espresso Vs Coffee Explanation – They Are Not The Same!
Is it fine to use regular coffee beans in an espresso machine?
Yes, technically speaking, you can use regular bean coffee in an espresso machine. However, the taste you get will be sour, tart and funky. Therefore, we would recommend you to use medium-dark roast beans to have a better espresso experience with the rich crema.
What is the best roast style for espresso?
We would like to recommend darker coffee espresso roast if you want to make espresso because they can give you the most consistent taste. Also, there are 2 reasons for this:
Darker roast beans are more forgiving. Normally, the lighter beans change a lot as they age, on the other hand, the darker roast beans would be less noticeable which makes you feel more reliable in using them day-to-day.
Darker beans match better with milk. The deeper notes, for example, caramel, chocolate, and nuts, mostly go well with milk (cappuccinos, lattes, etc). Plus, it also comes together very well when we add fruity flavor.
Which espresso beans does Starbuck use?
Generally, it is a medium roast. But darker espresso beans are also available.
What makes a good espresso coffee bean?
Usually, good coffee beans for espresso are made from medium-dark roast. This kind of bean contains more water-soluble. They are often oily which is perfect if you have fun with crema topping dripping out of your coffee maker.
How can I get the best flavor for espresso?
The only way is just tasting and experimenting. You can try different beans from various origins, acidity, roast, Arabica, or Robusta content. By doing so, you should buy small quantities of the bean to give a try until you meet your favorites.
Final thoughts
If you have worked your way through this far, you are at the perfect place to get the most suitable beans for espresso machines. For budget-oriented espresso coffee lovers, these top 10 best espresso beans are the best bang for your buck while you don't have to sacrifice the rich flavor and body of amazing espresso.
Enjoy your coffee! Let us know your favorite espresso beans.
References
Check out: Pulling the Perfect Espresso Shot By Starbucks Coffee