Do you know your mugs can change the taste of your coffee?
There are people who claim that coffee tastes sweeter in a clear glass mug and a white mug makes our coffee taste stronger. If you are a coffee lover, you must have heard of double wall glass mugs or maybe you already have it in your kitchen.
However, if you haven't had one yet, you should definitely consider adding them to your collection because why not? The reason why double-walled glass is so famous among coffee addicts. It is because first it can withstand thermal shock from a very hot liquid plus is good for chemical resistance. It is easy to clean and safe to be microwaved.
Moreover, since it is a double-wall glass, it also means that there is insulation in there to keep the temperature of our drinks last longer than the normal glass can do. More than this, if you're in love with Iced Americano or any cold beverages, this glass is going to be life-changing for you as you won't be able to have any sweat on your hand or water running down your table anymore.
Here are 10 of the best double wall glass coffee mugs that you can find on Amazon.
List of The Best Double Wall Glass Mugs For Coffee in 2023
10. Kitchables Stackable Glassware Double Wall Thermal Insulated Cups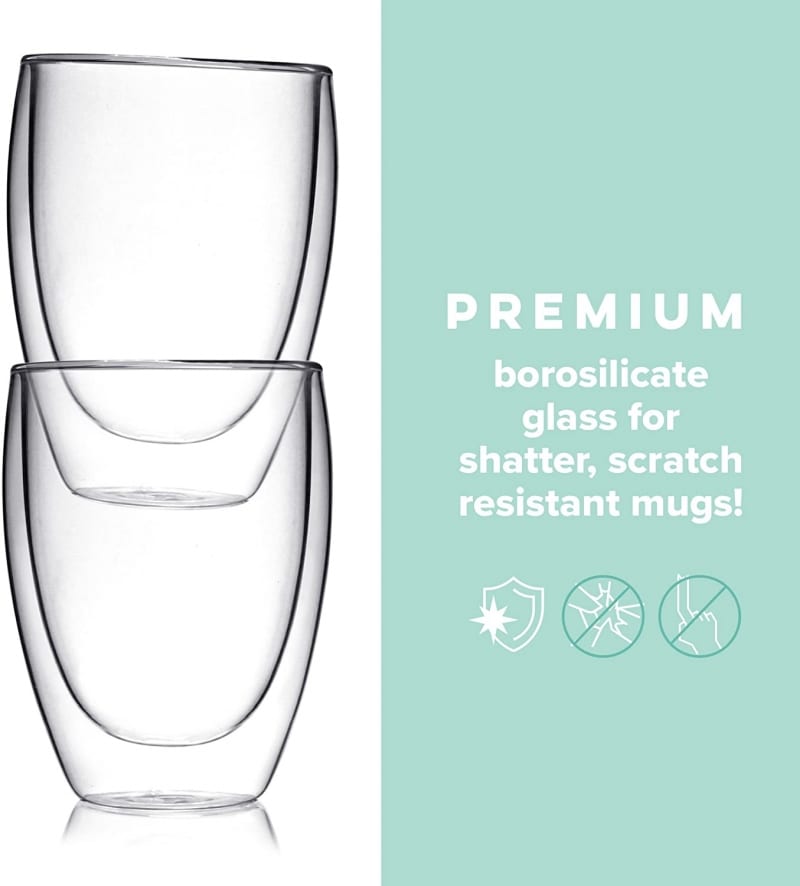 If you are brief on space in your home, you'll be so happy to purchase these amazing mugs from Kitchables as they are designed to be stackable so they won't take up too much space in your cabinet. They come in pairs and can be used for any type of drink both cold and hot. Most importantly, Kitchables Stackable Glassware Double Wall Thermal Insulated Cups are safe to microwave and you can clean them in your dishwasher.
9. DESIGN MASTER-Premium Double Wall Insulated Glass with Handle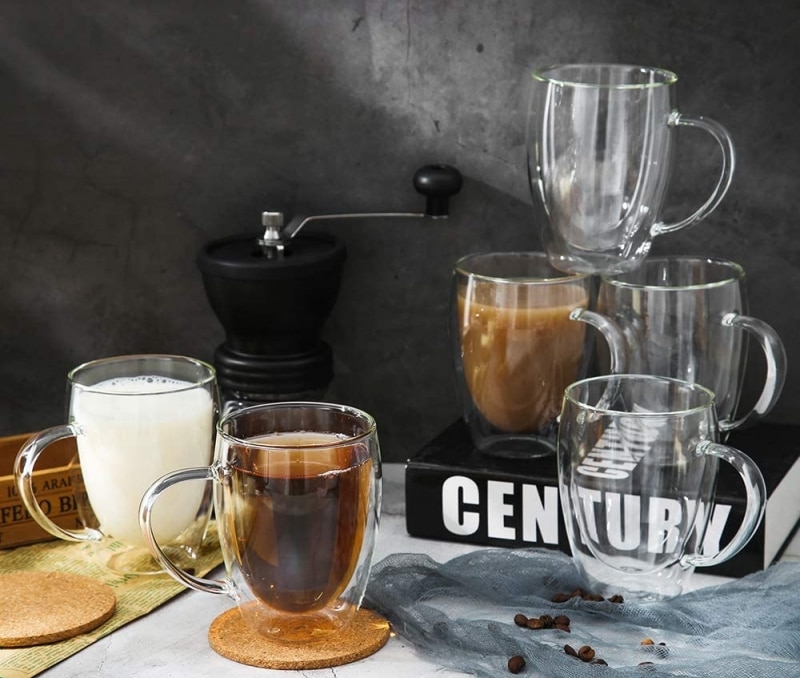 Premium Double Wall Insulated Glass with handle from D.M "DESIGN MASTER" is a set of six glasses that has the capacity of 350ml and each of them weighs 2.89 pounds.
DESIGN MASTER – Premium Double Wall Insulated Glass with Handle is a little heavier than any other double-walled coffee glass on this list, however, this still can't stop this amazing glass from being loved by many coffee lovers. They were elegantly designed, smooth, crystal clear, and perfect for everyday casual dining and all occasions.
The two layers wall glass design maintains the temperature of your beverages, whether it is hot or cold for a long period of time. Also, this mug can fit in your coffee makers or espresso machine very nicely. Additionally, these cups' quality matches the quality standard of the hotel and service industry. 
Check out: Best Space-Saving Coffee Mug Holders in 2023
8. Kitchables Doubled Walled Glass Cappuccino Cups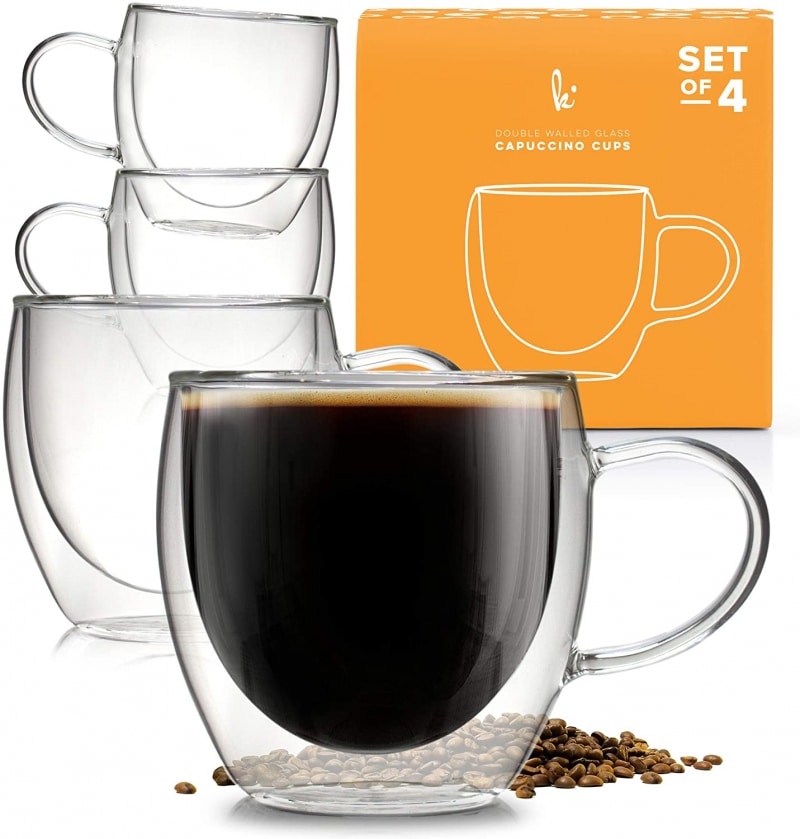 Kitchables Double Walled Glass Cappuccino Cups come in a set of four and each has enough capacity to hold 8 ounces of tea, coffee, hot chocolate, lemonade, and more other beverages that you can think of. Furthermore, all four of them have a heat transfer-resistance handle, so you can comfortably hold it without any issue. Most importantly, the Kitchables clear coffee mugs are made with borosilicate double wall glass and are shatterproof.
Besides steaming hot drinks, you can also use them to enjoy cold beverages. More than this, this set of four cups from Kitchables is also an excellent gift for all occasions. Plus, with their durability and quality, they will make a memorable gift that anyone will cherish.
7. Kitchables Double Walled Thermal Insulated Glass with Handle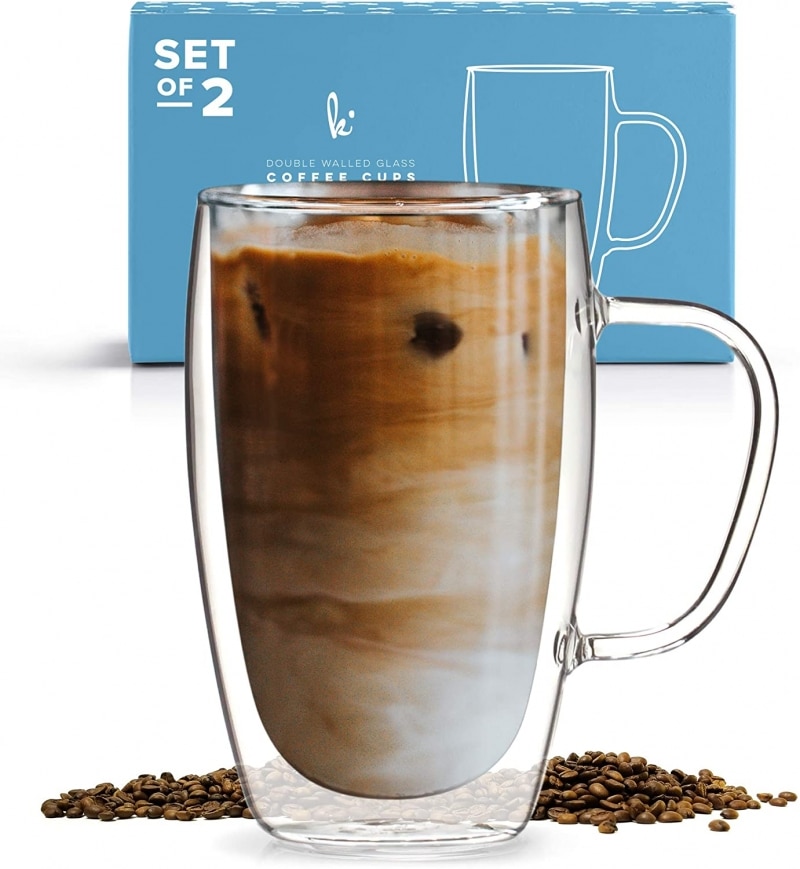 Another decent choice is Kitchables Double Walled Thermal Insulated Glass with Handle. It contains two glasses of coffee mugs and weighs about 1 pound with the capacity of 15 fluid ounces. Plus, both of the glasses are smooth on all edges and are a little bit tall.
Also, since the cup warmer has a heat transfer resisting handle, you can hold it completely safe and it will not burn your hand, no matter how hot your beverage is. This type of glass is very durable and safe to put in the microwave or a dishwasher.
6. JoyJolt Declan Irish Double Wall Insulated Glass Coffee Cups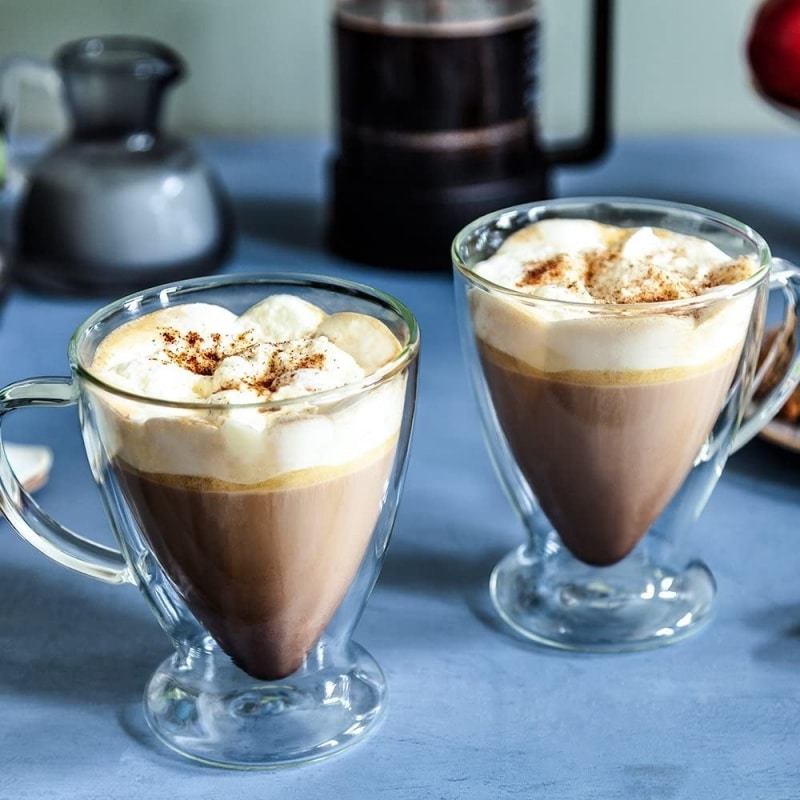 If you are looking for a beautiful double wall insulated glass coffee cup, JoyJolt Declan Irish Double Wall Insulated Glass Coffee Cups is a perfect match for you. It is a 15-ounce double-wall mug that is designed in the theme of a wedding given an elegant look in your hand.
These glasses are made of heat and buildup safe borosilicate glass. Which is more grounded and stronger than normal glass that gives a smooth completion and a completely clear look. Our glass espresso cups keep your drinks hot while keeping your hands cool.
Moreover, these coffee mugs ship in a beautiful colored printed box with foam which is excellent for presents. Again, its appearances make it ideal for any cafe, restaurant, and your own home. The cups can be used for juice, tea, Latte, Macchiato cups, Lungo cups, smoothies,s and Espresso cups.
5. Stoiva Double Wall Insulated Coffee Mug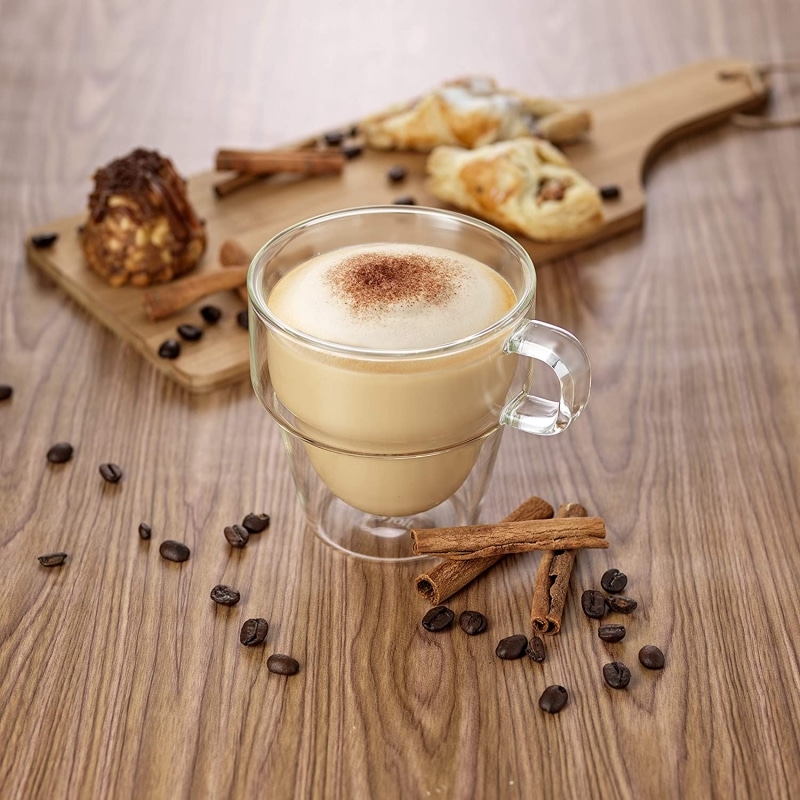 If you are looking for a mug that allows you to easily stack them in your storage, this Stoiva Double Wall Insulated Coffee Mug is a great option. It has a large thick handle that is trouble-free to hold. Also, these mugs are purposely designed to fit in your coffee or espresso maker. It has a large capacity of 11.36 ounces (300ml).
Aside from it being useful for your daily uses, this glass is also implausibly stylish. The sleek double wall style gives your coffee and drinks a tremendous look and makes your cappuccino seem suspended in the air. It is a premium quality mug made of the highest quality lead-free borosilicate glass which is remarkably sturdy and very suitable for everyday use. This mug is simple to clean and leaves no remains or stains from your last drinks.
4. BTaT Bodum Bistro
For a simple and quality double-walled mug or if you're searching to purchase a set of glasses for your family or as a gift, this set of BTaT Bodum Bistro is a great consideration. They are a set of four with a 16 fluid ounce capacity and can hold 500ml. This glass can handle the dishwasher, microwave, and oven with ease.
Further, they don't chip or scratch easily, hence they will maintain their good appearance for years to come. Putting a few pieces of marshmallow or the swirl of whipped cream on hot chocolate, absolutely will look very pleasant from every point of view.
3. Cute Mug Glass Double Wall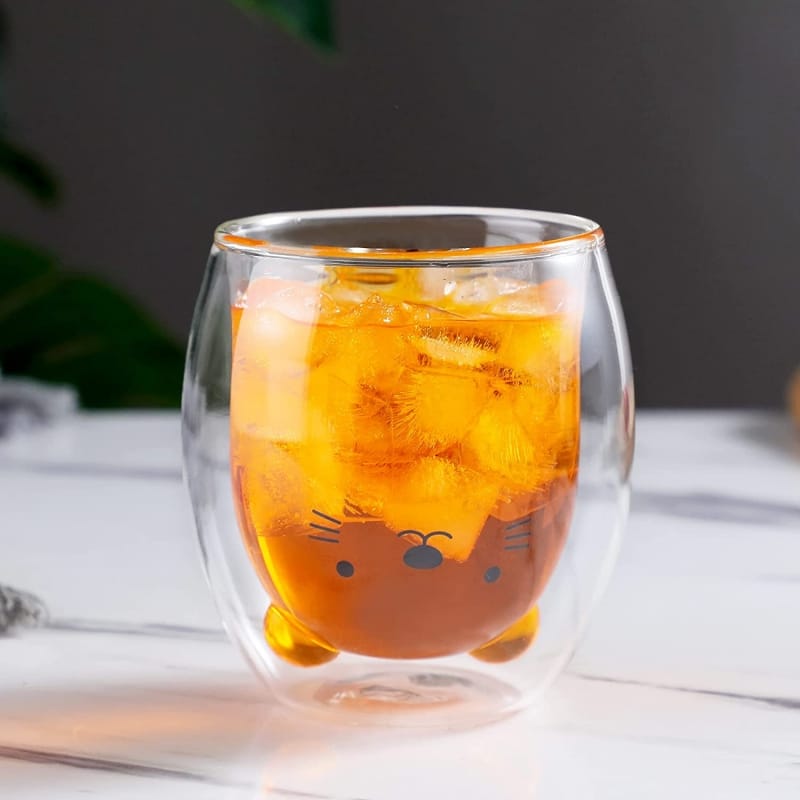 Nothing can beat this Cute Mug Glass Double Wall with the adorable bear or cat design on the first layer glass of the mug plus its perfect size. This product is created from heat and condensation-resistant borosilicate glass which makes it more durable and ultimate than ordinary glass, with a smooth surface and crystal clear appearance. The glass can hold around 230-250ml. It is often used for cappuccino cups, macchiato latte, and a multitude of drinks.
2. Bodum Bistro Double Wall Insulated Coffee Mugs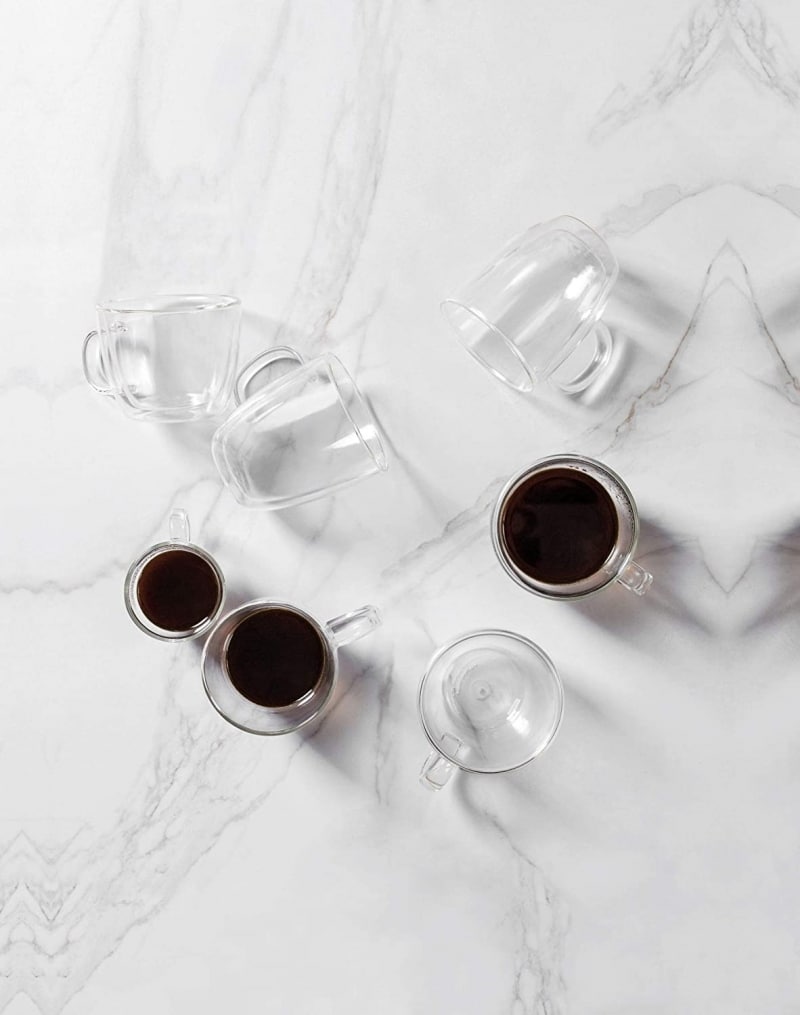 The Bodum Bistro is one of the best double wall coffee mugs that you can find on the market. It was known for its attractive design that brings an expensive feeling. BODUM's patented double-layer glass has two layers of borosilicate glass with air in between. The air will form an efficient thermal insulation layer so that your drinks can maintain a higher or lower temperature than a one-layer glass.
Bodum Bistro Double Wall Insulated Coffee Mugs has a capacity of 15 fluid ounces and it comes in 2. Furthermore, the Bodum Bistro is perfect for serving ice cream and soups. This glass is also a great gift that you can get for your friend or your parents. Most importantly, they are very sturdy and can be put in the dishwasher or microwave without any problems.
1. Bodum Pavina Glass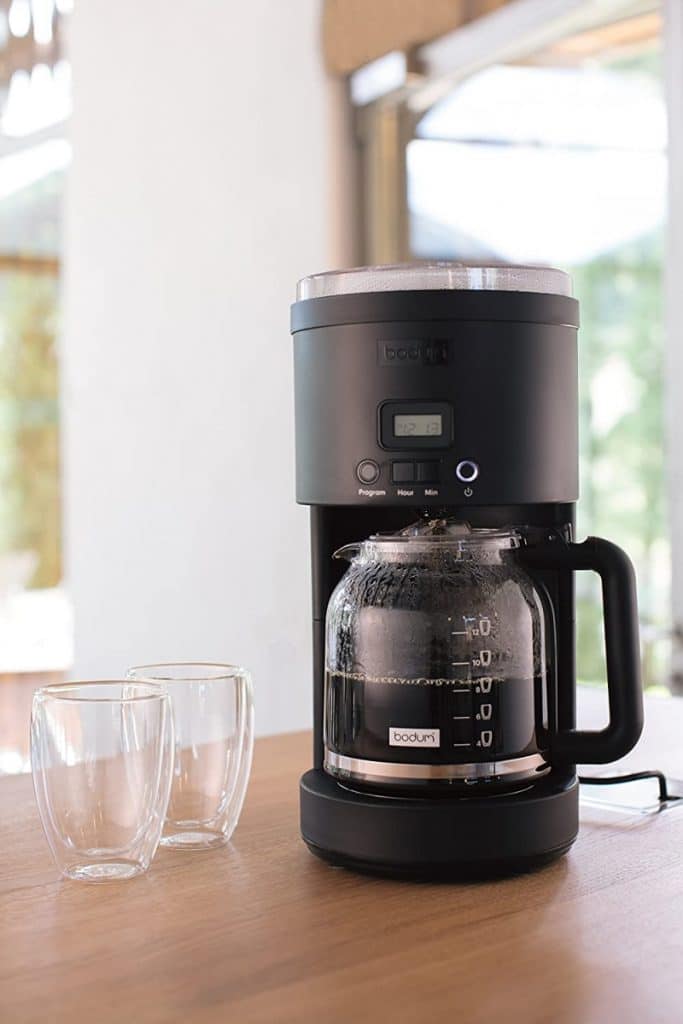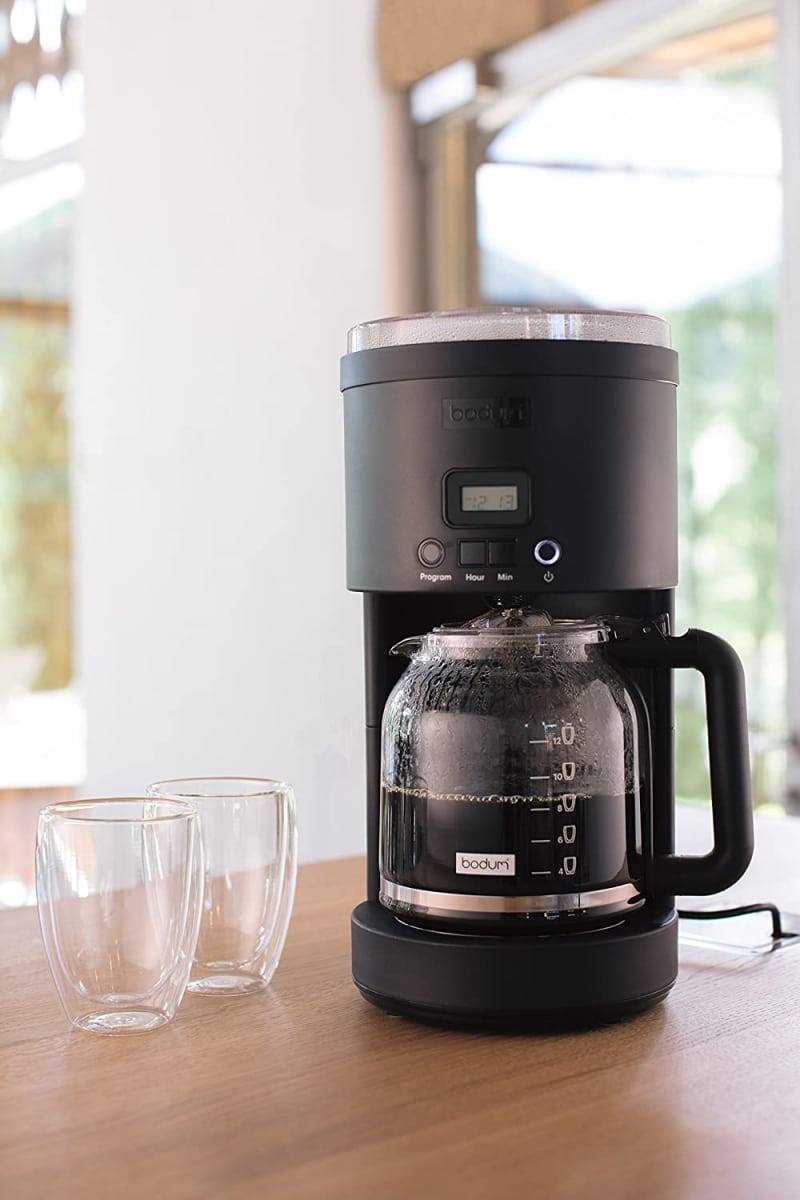 The Bodum Pavina Glass insulated double-walled glass mug is a basic clear glass with a set of two. It weighs 341 grams. This item has a capacity of 12 fluid ounces which is perfect for espresso or any other hot and cold beverages.
The glass is made of mouth-blown and borosilicate glass which is a glass that we use in laboratory glassware. Also, the silicone valve on the bottom of the glass allows pressure changes. This mug is dishwasher, microwave safe, and oven safe with a temperature of up to 350°F/176°c.