To host a special event such as birthday, wedding, party, renunion or others on any occasion, drink or beverage is one of the most important parts of all. And, what serves the drink is of course also important but nothing beats disposable cups. Or, maybe you just need coffee to wake up in the morning but using glass is tiring to clean, or can't be late to work because of coffee. That's when disposable coffee cups become really handy for to-go coffee, in your car, or in the office.
Disposable cups might be easy to find on the internet but when you have too many choices it becomes hard to choose. Despite that, ease your concern because we are here to introduce you to the chosen ones so that you can just choose from the best of the best disposable coffee cups.
Without further due, we are excited to show you the best disposable coffee cups in 2023, get your note ready because there are many products that you need to save.
10. Disposable Double Wall Coffee Cups With Lids
Impress your guests with these trendy paper coffee cups! Whether it's a party or to-go coffee, this pack of Disposable Double Wall Coffee Cups With Lids is an ideal choice. This is a set of 90 paper cups with plastic lids. Made with thick paper, these paper cups are designed with a sleek dark blue color just like the ocean. The cup is double wall, so it is heat resistant. Since they come with fitted lids and sleeves, they can protect your hand from the heat and save your drinks from spills or any unwanted things entering. The maximum capacity is 16 ounces, the disposable coffee cups are food-safe and durable to use for both hot and cold drinks. Although it is a disposable coffee cup, it can be reused multiple times before it totally breaks down.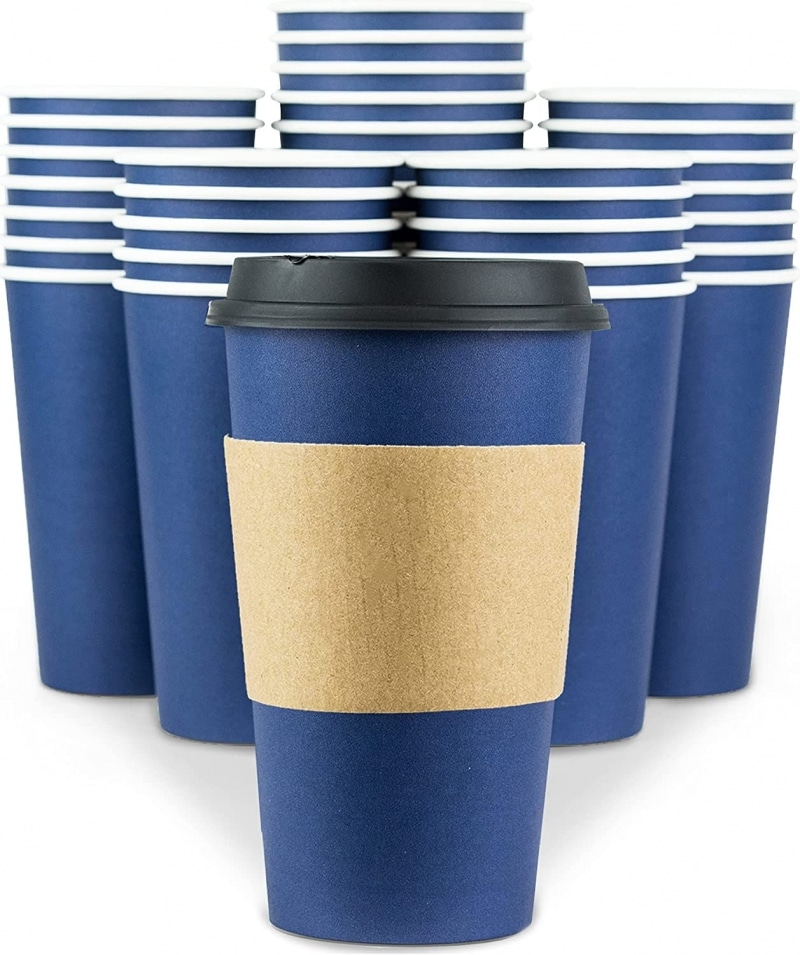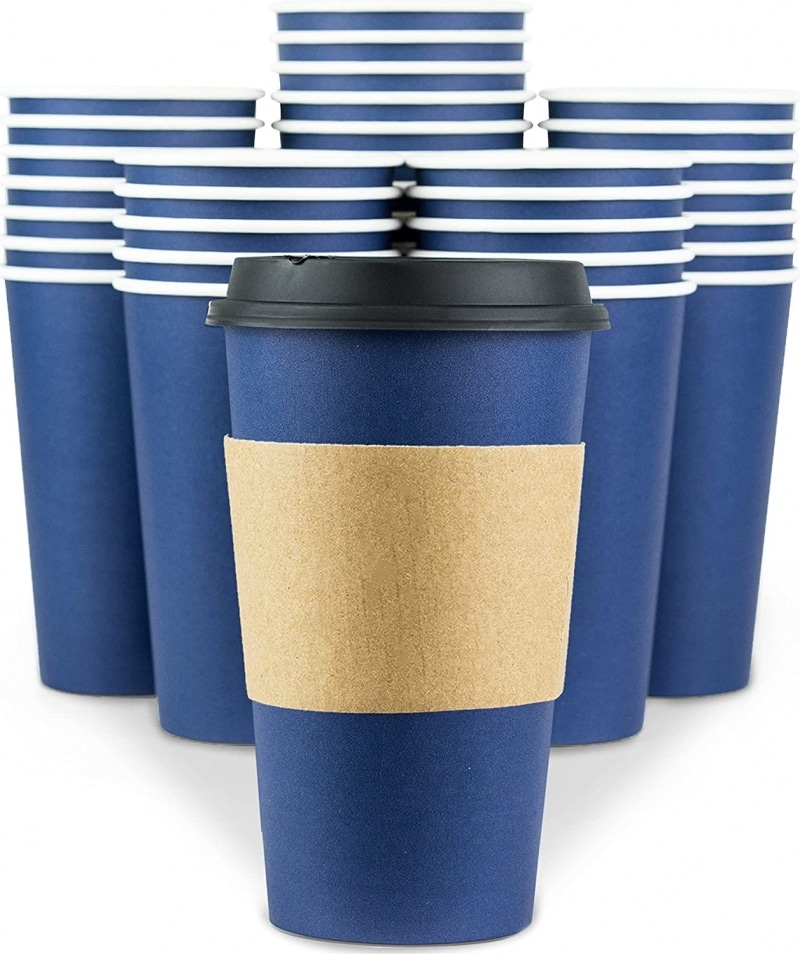 9. Luckypack Paper Coffee Cups
This is a pack of quality plus quantity. This Luckypack Hot Disposable Paper Coffee Cups pack has 100 paper cups with attached sleeves. The product is recyclable which is better for the environment as well. The sleeves that come with these paper hot cups are insulated, corrugated sleeves with ripple walls are thick enough to hold hot drinks with no problem at all. Moreover, you don't need to buy separate sleeves and put them on paper cups. This is a pack of 12 oz hot paper cups with white and brown color, well, simple yet unique, these cups are perfect to use in the office for a coffee break during working hours. Available right now on amazon.com.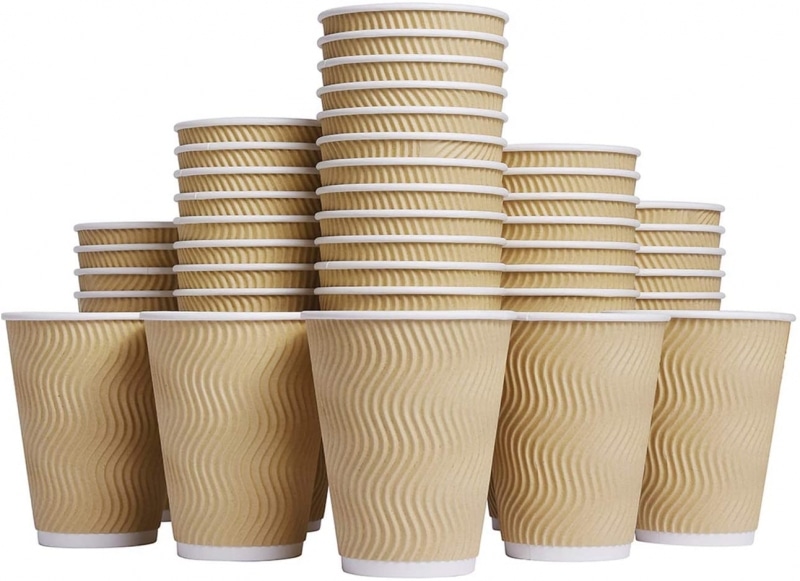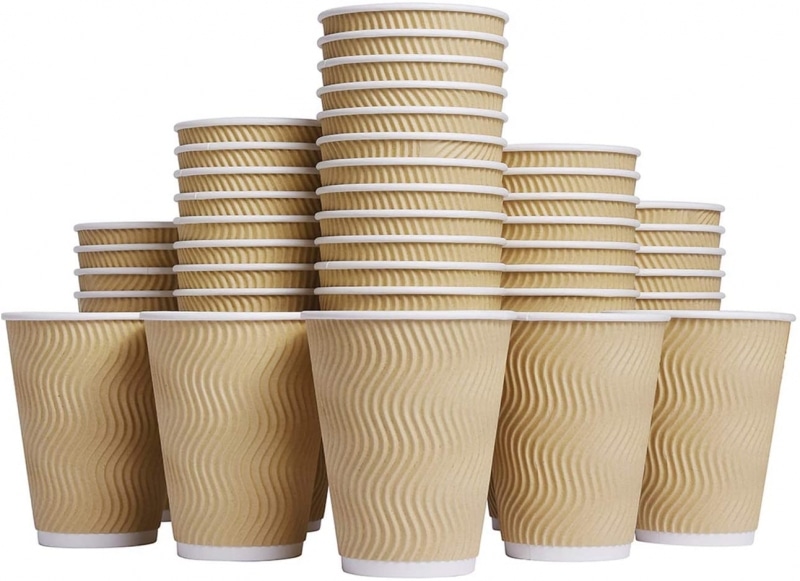 8. JUMBO Disposable Paper Hot Cups
JUMBO VALUE SET of 130 Coffee Disposable Paper Hot Cups is the best deal to shop on amazon.com inc! In this package, you got premium quality products and on top of that, the price is affordable. This is a huge set of 130 paper coffee cups, 130 patented plastic lids, 130 essential straws, and 130 cardboard sleeves. All items are made with high-quality material to ensure convenient use for the customers. A capacity of 12 oz, these cups are perfect for an event like a party or even at home. As a bonus, with this set, you also get a permanent marker to scribble on the cups for fun or maybe mark your cups with your name so you won't confuse. Literally, nothing can go wrong with this purchase.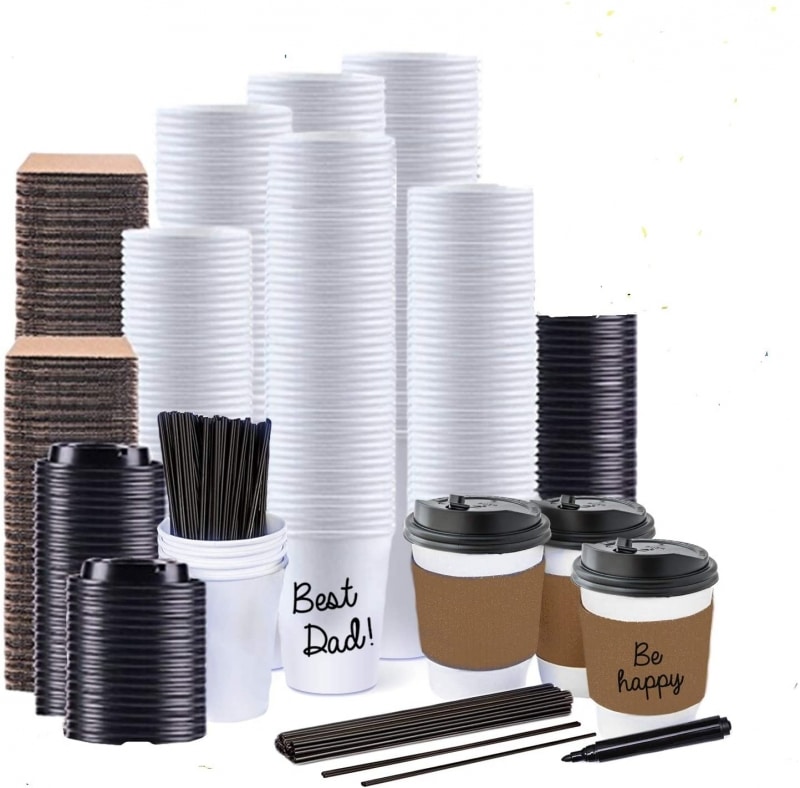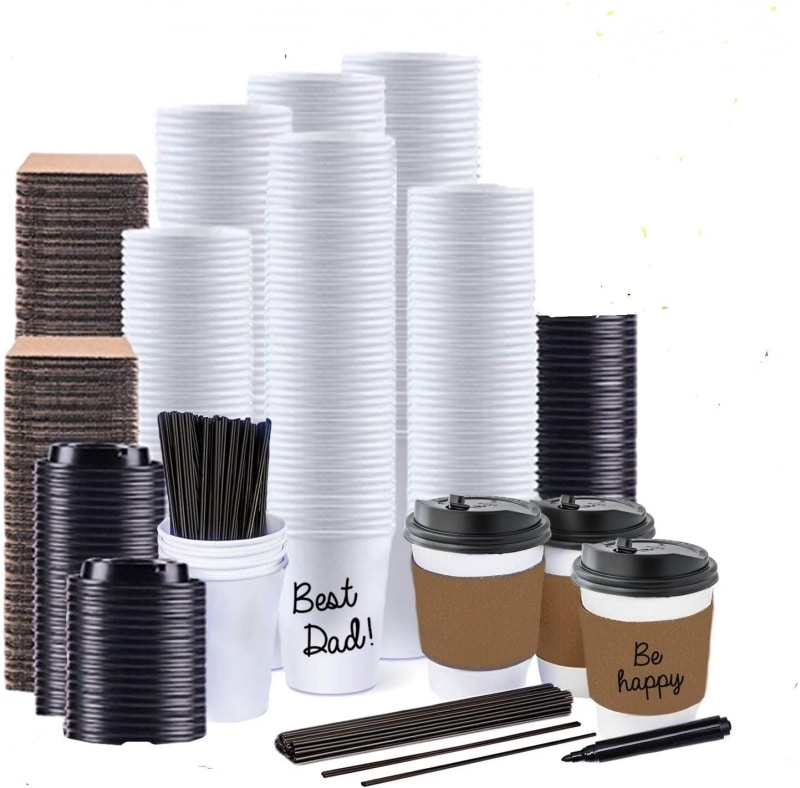 7. 110 Pack Disposable Coffee Cups with Lids
No need to search further for disposable coffee cups, Pack Disposable Coffee Cups with Lids is here to save your time. This is a pack of 110 sets of paper coffee cups, plastic lids, sleeves, and straws. The paper coffee cups are cherry red of premium paper that holds 16 oz of your beverage. The tight lid will fit perfectly on the top of this paper cup to prevent leaks or spills accidentally. With the classic cardboard sleeves for a comfortable grip and long straws for a safe sip, this is the best combo ever. The cups have superior insulation and guarantee no leak by the company. A cup of coffee in your car couldn't be easier!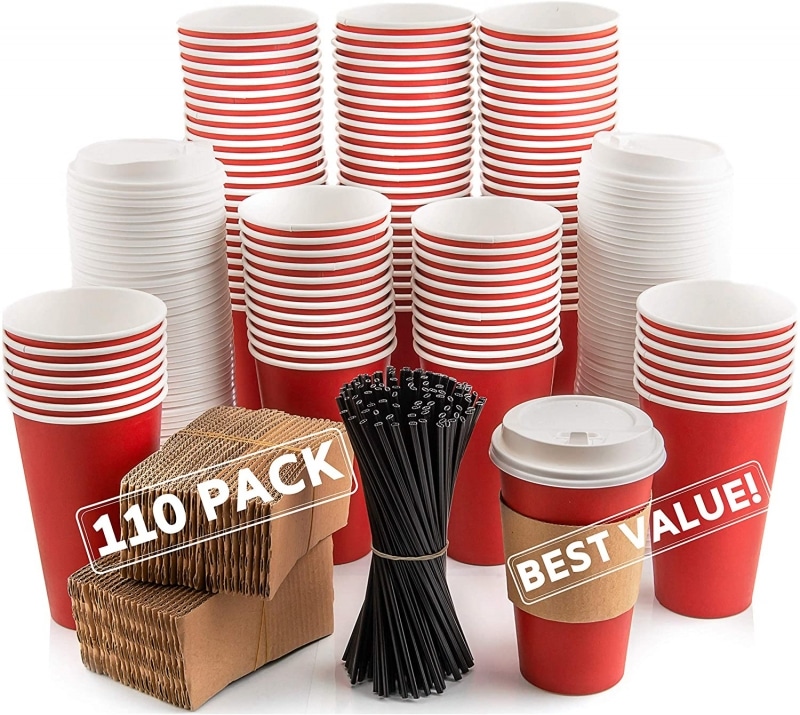 6. Glowcast Store Premium Disposable Cups With Lids
Impress your guests with these stylish cups, Glowcast Store Premium Disposable Coffee Cups With Lids. These are 12 oz hot paper coffee cups with plastic lids in one package (90 sets). The main point of this sleek design is the bright mint and white color, perfect for minimalist and elegant style. Designed with thick paper, the paper cup is sturdy and durable to use for long hours whether with hot or cold beverages. Superior insulation and leak-resistant with its tightly fitted lids. This is one of the top products that received good reviews, so make sure to get yours now on amazon.com before it runs out of stock.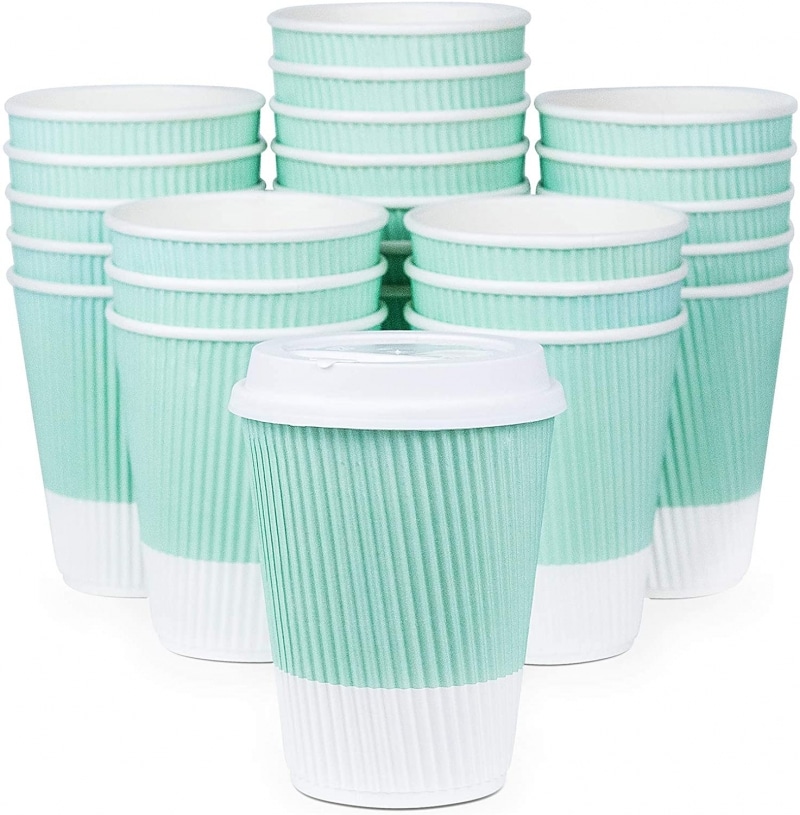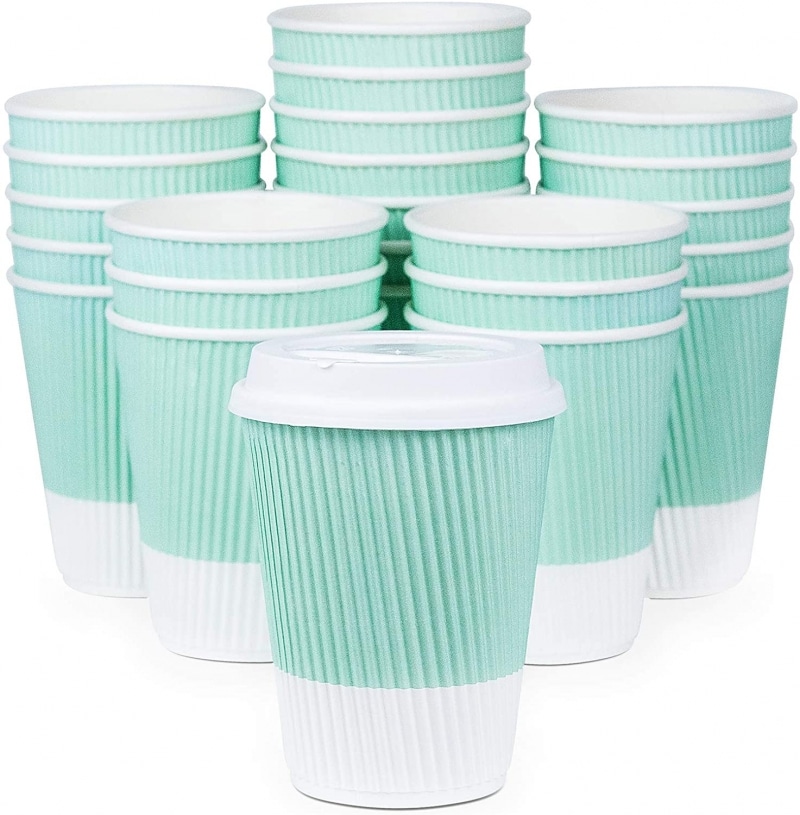 5. Special Green Grass Design Cup
Get a new togo coffee experience with this Special Green Grass Design, Disposable Hot Paper Cup. You get 50 paper cups and each has an 8 oz capacity in this set (no lid). These cups are made from high-grade paper with the green grass design as the exterior. In addition, just like its design, it is very eco-friendly, 100% biodegradable, and compostable. For when you need to use a lot of disposable coffee cups, this should be the best option to serve your party while also helping the environment.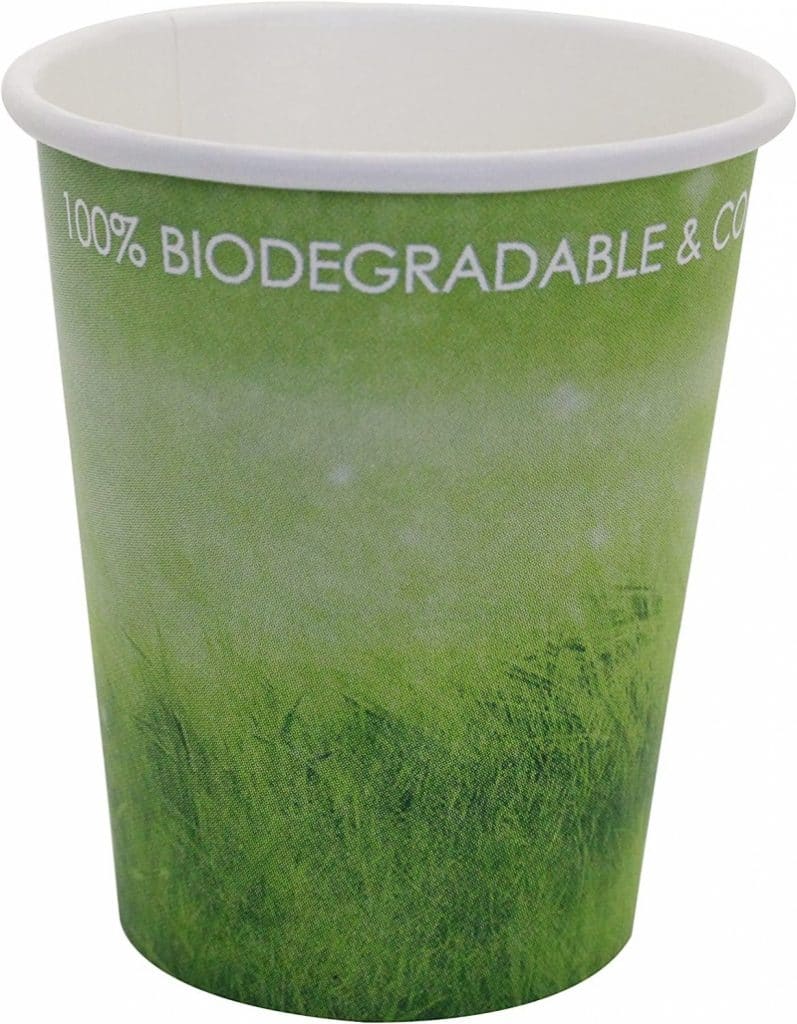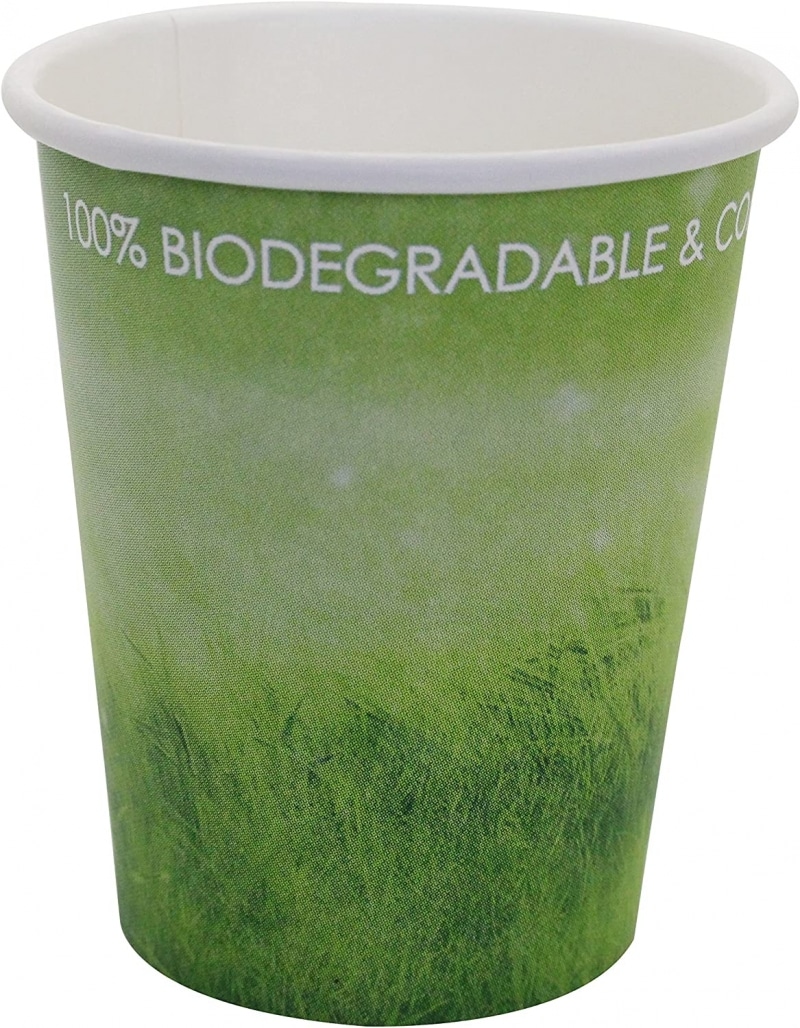 4. Glowcoast Disposable Coffee Cups With Lids
Drink coffee while also showing off your coffee hot cups with these Glowcoast Disposable Coffee Cups With Lids. This is 80 count cups with plastic lids in a pack. The lovely pastel pink color is just bright, perfect for morning coffee or hot tea during your break on weekend. Made of top-grade insulation and wavy texture paper to protect your hand from burning. You can also save your money by reusing these cups since they are all sturdy and durable so make use out of them. All on amazon.com, search for more information, and enjoy purchasing great stuff.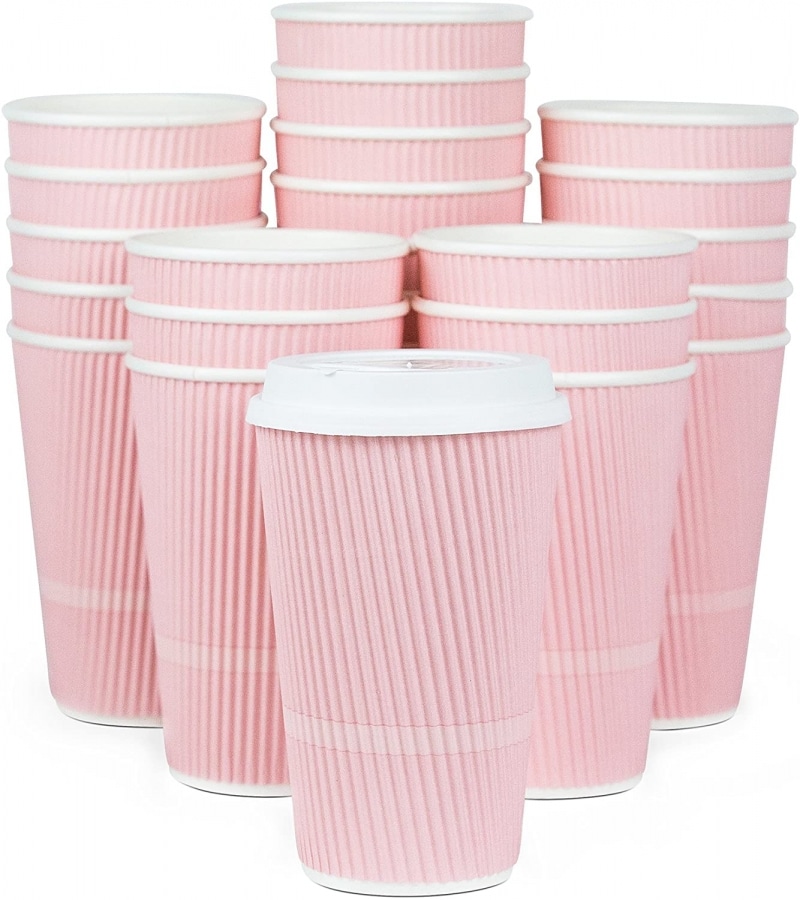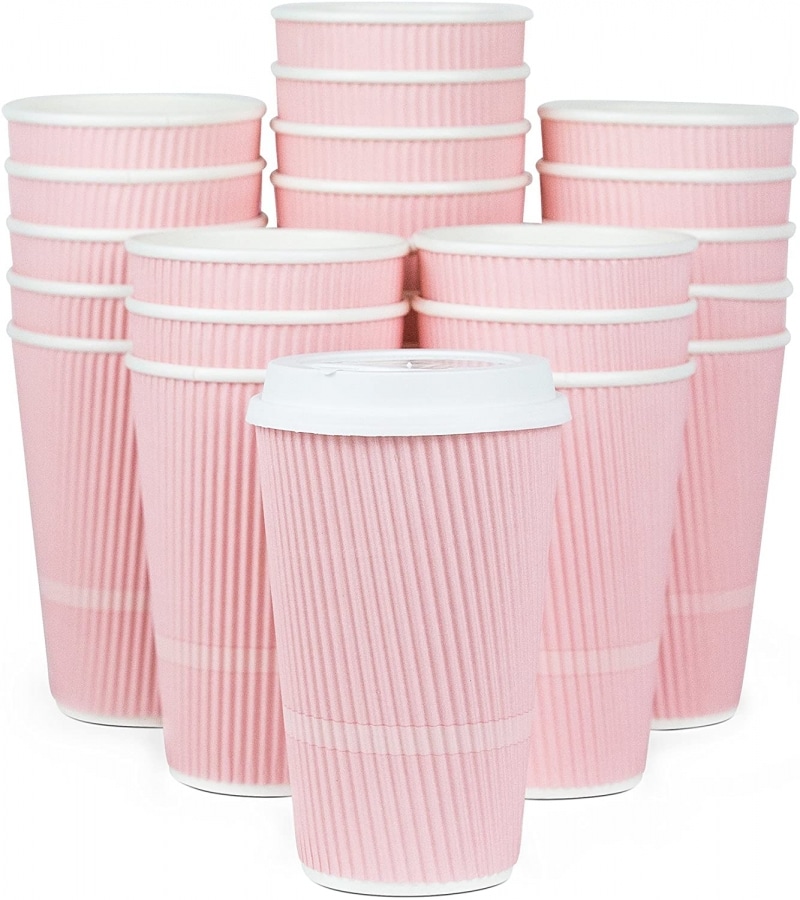 3. Insulated Ripple Paper Coffee Cups With Lids
Insulated Ripple Paper Hot Coffee Cups With Lids is one of the best disposable coffee cups that we would love to introduce to our dear readers. This company is here to offer disposable cups with the best material and reasonable price (50 counts, 16 ounces). The advantage of insulated ripple paper cups is that they are thick and you don't need an extra sleeve to grip your cups comfortably without worrying about the heat. The cute brown color and ripple style are perfect for everyday use. Premium material and design, hot chocolate, hot tea, hot coffee, or iced cold coffee, these cups work best with whatever.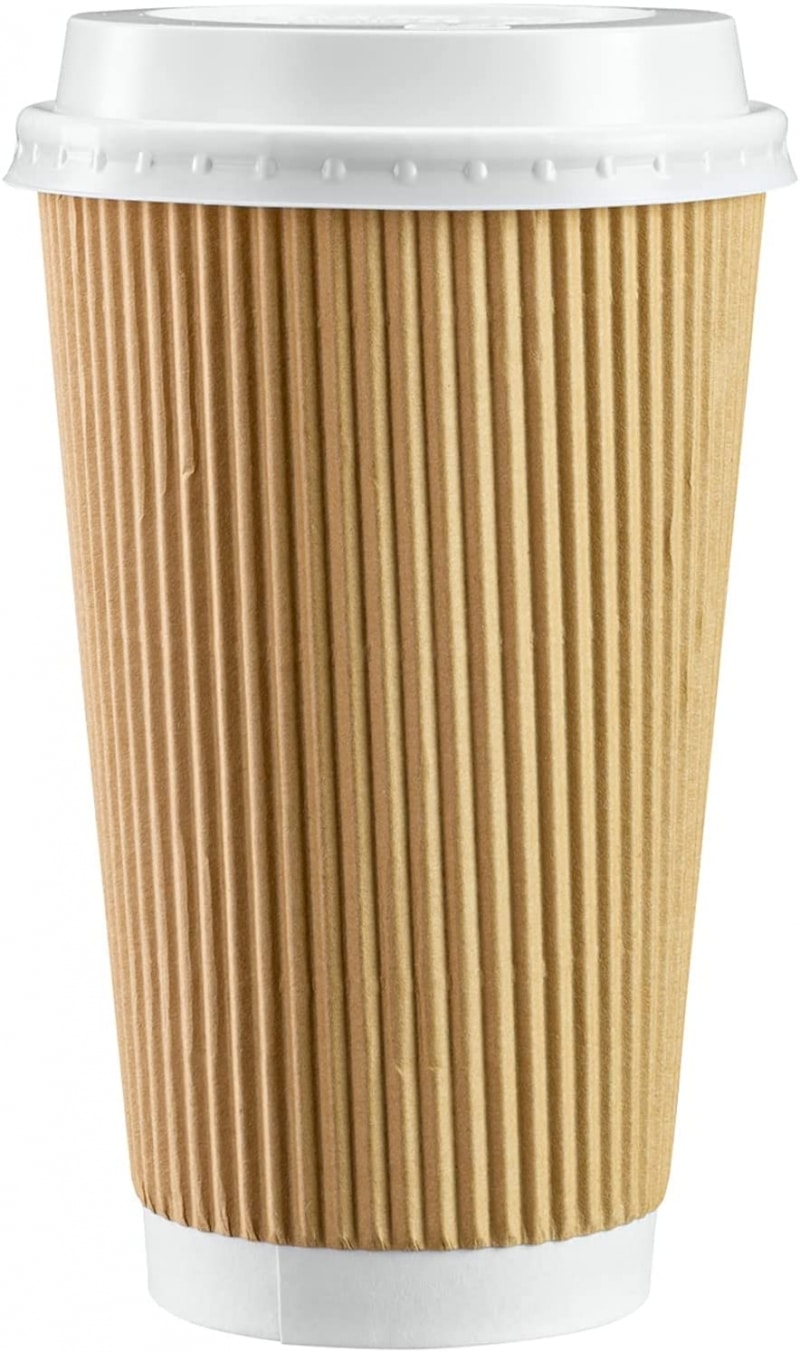 2. HARVEST PACK Superior Insulation Ripple Double-Walled Paper Cup
HARVEST PACK Insulated Ripple Double-Walled Paper Cup with Lid are high-quality cups. This comes with 85 sets of 16-ounce disposable hot paper cups and plastic lids. The corrugated design also means you don't need a holder and the wrap to protect your hands from the heat is part of the cup and doesn't come off. The exterior of the brown geometric pattern makes the cup look elegant and high class. Each customer has different opinions about this disposable coffee cup but one thing they have in common is that they would love to repurchase this product. Serve with quality at a great price.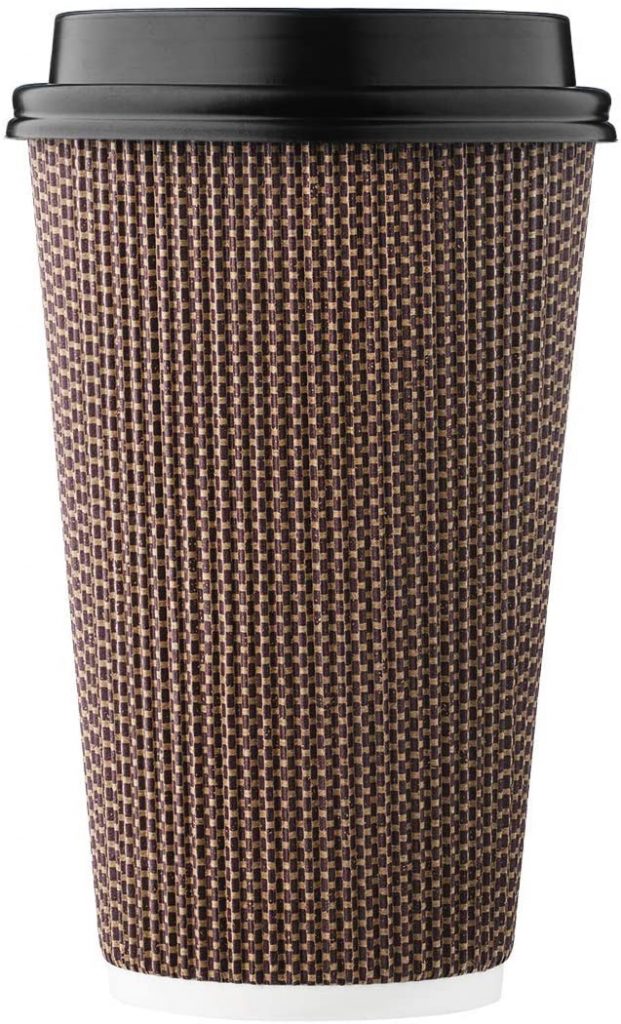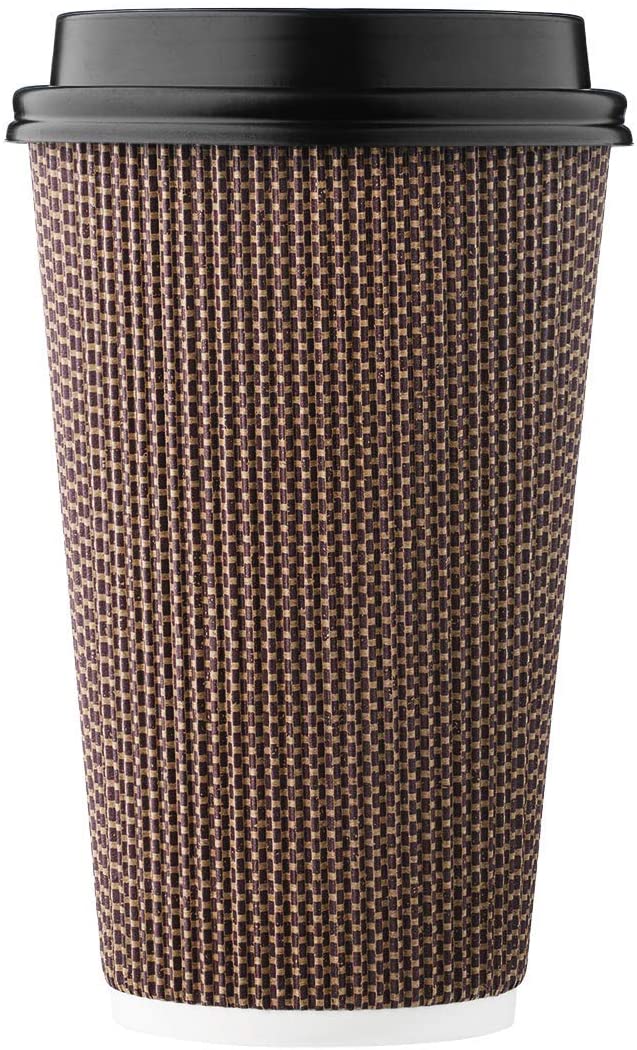 1. Dixie to Go Disposable Hot Beverage Cups with Lids
It is sad to say that this is our last recommendation, Dixie to Go Disposable Hot Beverage Paper Coffee Cups with Lids. As the last best disposable cups on the list, this cups package gives you a lot of benefits. The package includes 12 oz 156 cups with lids (26 count packs and each pack has 6 cups). There are 5 different designs in this set. Each design is unique in its own way and whichever is worth the price. Leak-resistant, work best whether for your to-go coffee or just coffee and chill at home. These cups are made with 80% renewable plant-based material and Polystyrene foam-free to ensure customer's safety using these cups with either hot or cold drinks while also reducing cutting trees.