Coffee nowadays has become one of the most popular beverages around the globe; it has huge fans. Many people love coffee; however, they need to limit their coffee consumption because of their own preferences or other health reasons.
With these groups of people, decaf coffee is a perfect alternative. As for decaf coffee, it is similar to regular coffee, except its caffeine has been removed from it.
If you are interested in the difference between these two, read more about What Makes Regular And Decaf Coffee Different?
What Does Decaf Mean, Anyway? How Is It Made?
In fact, decaf is the shortcut to decaffeinated coffee.
Regarding decaf coffee, it is from coffee beans that have removed their caffeine at least 97%. There are many methods to remove it. Most of the time, they are organic solvents, water, or carbon dioxide.
Normally, people can flush out the caffeine by using water to make it chemical-free completely. Moreover, with the second method, the extraction happens when people wash the coffee beans to reach this result so that they can remove the solvent. Besides, people can remove the caffeine by using a charcoal filter or carbon dioxide which is known as a swiss water process.
Before they are roasted and ground, ensure the decaf beans are decaffeinated. Apart from the caffeine content, the decaf's nutritional value should be almost the same as other coffee. On the other hand, the smell and taste may become a little milder; also the color may change as well based on the method you used. By doing so, the decaf coffee would make it more pleasing for those who are sensitive to the smell and bitter taste.
How Much Caffeine Is In Decaf?
Remember, decaf is not totally caffeine-free. Actually, it has a different amount of coffee, and usually, in each cup, it has about 3 mg. Regarding decaf, there is a study about 180 mL or 6 ounces cup of coffee that contained the amount of caffeine between 0 to 7 mg.
In contrast, if we compare an average cup of other coffee, most of the time, the caffeine there has 70 – 140 mg, depending on cup size, preparation method, and coffee type.
Therefore, the amount of caffeine in decaf is very small even though it is not completely caffeine-free.
What Are The Key Benefits Of Having Decaf Coffee?
Lower The Risk Of Type 2 Diabetes, Premature Death, And Liver Function
Drinking coffee can lower the risk of type 2 diabetes. Do you know that each cup can reduce up to seven percent?
With the suggestion, elements other than caffeine have a responsibility to these protective results. Based on the observational study, drinking decaf coffee can lower the level of liver enzymes which is a protective result.
In addition, it can reduce the risk of premature death, and death from heart disease or stroke.
Aging And Neurodegenerative Diseases
Coffee decaf has a positive effect on age-related mental decline. According to human cell studies, it illustrates that the ability to decaffeinate coffee can protect the neurons in the human brain. Also, it can prevent the development of neurodegenerative diseases such as Parkinson's and Alzheimer's.
One study mentions that with this result, it could be because of the chlorogenic acid inside the coffee rather than coffee. Conversely, caffeine has the ability to reduce the risk of neurodegeneration and dementia.
Cut Down The Risk Of Rectal Cancer & Heartburn Symptoms
Most people would experience the side effect of drinking regular coffee which is acid reflux or heartburn. But decaf, can relieve this uncomfortable effect. It has been illustrated to cause less acid reflux if compared to your normal coffee.
Coffee drinkers can enjoy 2 or more cups of decaf coffee each day so that it can help you to lower the risk of developing rectal cancer by 48%.
Who Should Drink Decaf Coffee Over Regular Coffee?
Some people who drink coffee cannot have fun over a cup, while other individuals feel fine with more. Anyway, having excess caffeine can increase blood pressure. Not only that it would cause you to have a lack of sleep, as result, but it will also lead to the risk of stroke and heart disease. Besides, it can overwhelm the central nervous system, cause anxiety, restlessness, heart arrhythmia, digestive problems, or sometimes, trouble sleeping for some sensitive people.
Thus, many coffee drinkers who are sensitive to caffeine can limit their daily coffee conception or switch it to tea or decaf coffee.
Furthermore, people who have certain medical conditions mostly have caffeine-restricted diets. Additionally, they are the ones who take prescription medication so it has the ability to interact with caffeine.
Interestingly, both pregnant women or breastfeeding women are suggested to limit their caffeine intake, and it is safe for them to drink decaf. Plus, individuals who have been diagnosed with anxiety, trouble sleeping, adolescents, and children are also advised to do so.
Below are the Best Decaf Coffee Brands in 2023 that most people prefer around the globe.
12. Starbucks Decaf Pike Place Roast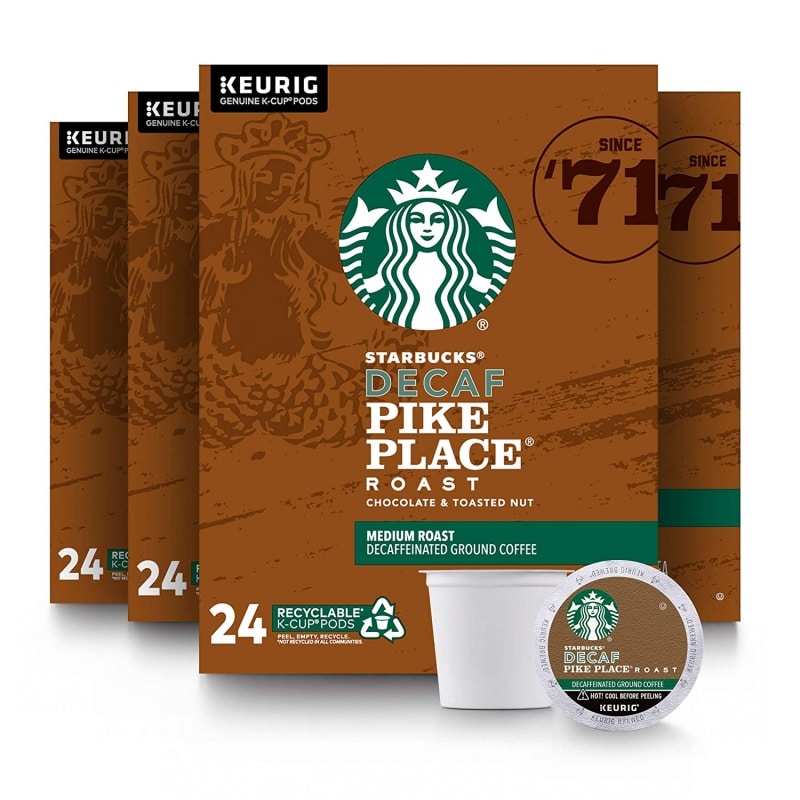 The coffee you love, without caffeine! Let us introduce you to the Starbuck Decaf coffee that has a wonderful balance of cocoa and nuts. Together, it gives us a sweet taste from the roast. As for the packaging, we have a strong commitment to being part of sustainable practice by using the K-Cup pods recyclable.
Besides, it is designed for you to use with Keurig Single Cup Brewing System so that you would love it from your home or office to start your new day. At the same time, you can add a touch of cream, syrup or milk, or other various choices of customization to your favorite Starbucks beverage. With the smooth plus balanced, this medium roast coffee is the perfect choice for any coffee break!
What we like
Low level of caffeine
Wonderful taste
Convenient to use
11. One Hundred Decaffeinated Coffee Pods For Breakfast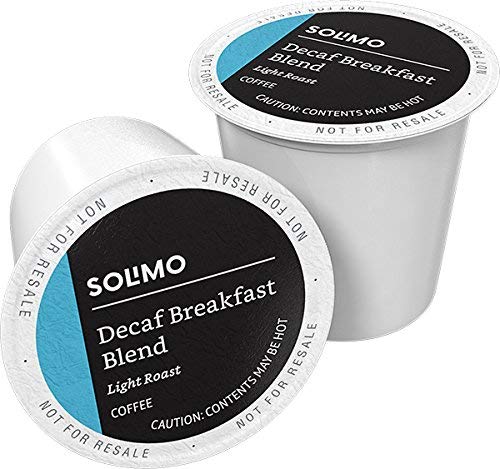 If you are a busy person or K-cup brewer, then this Solimo Coffee Pods would be an excellent choice for you. With just a minute, it would be ready to give you a warm mug with a great brew! Regarding the roast level, it is the decaf light roast.
These Solimo decaf light breakfast k-cup pods are made with a blend of 100% Arabica beans. The coffee is decaffeinated and comes with a selected decaf blend from Africa and Latin American. You would enjoy its nutty aroma that comes aligned with acidity and medium body which is perfect.
What we like
Freshness
Nice smooth taste (similar to Dunkin Donuts but more smooth)
Budget-friendly
10. The Original Decaf From Eight O'clock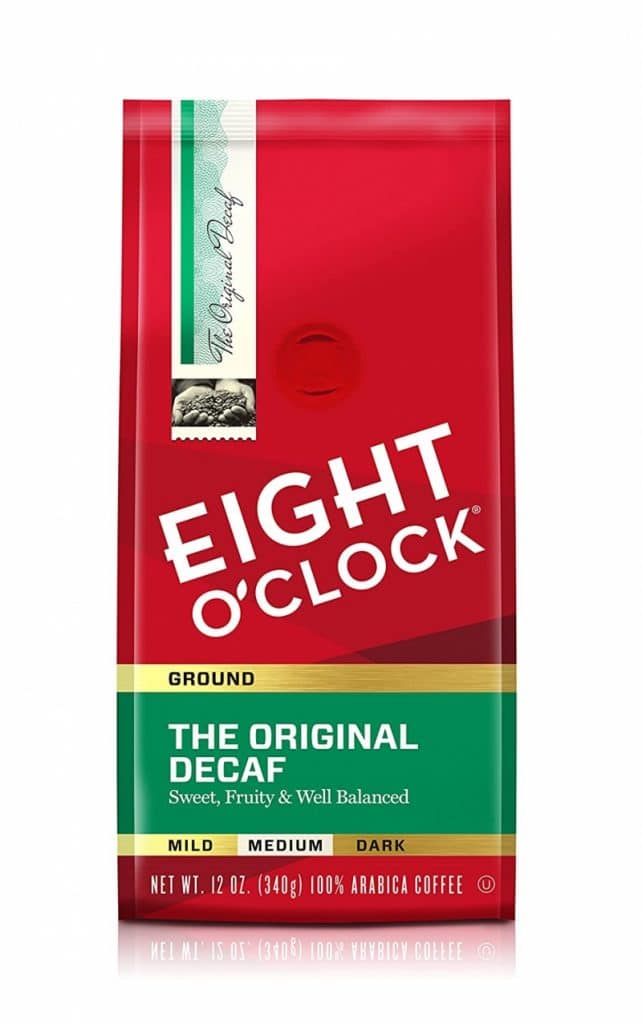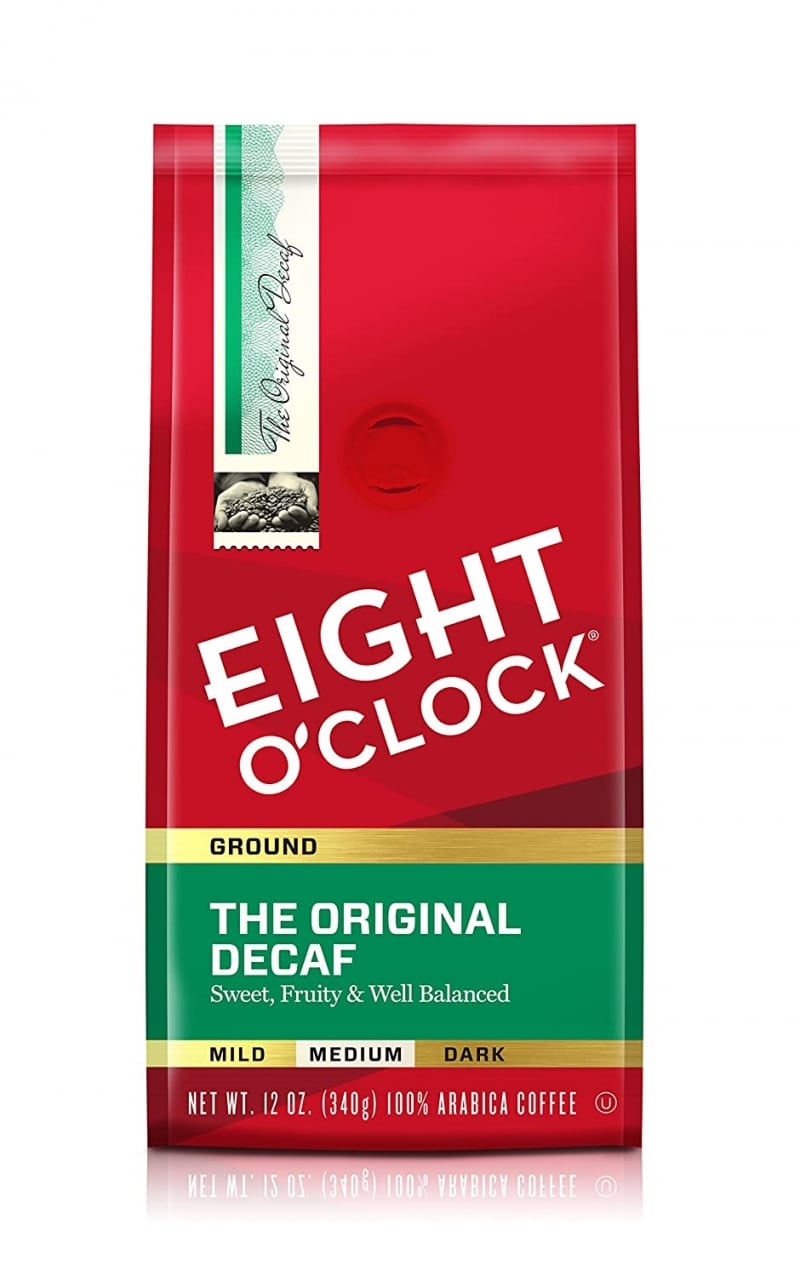 With the Eight O'clock, it has 150 years of experience. Throughout the years, we have been updating our product to the next level, but the classic flavor inside the bags remains untouched. The roasted coffee is done properly under the expert supervision of master roasters.
All of the ground coffee, as well as the whole bean coffee, are crafted carefully by using 100% Arabica whole beans. Hence, it would give you a great taste with maximum quality. It gives you fruity tasting notes with a sweet taste while you enjoy a well-balanced finish. This is what you are looking for in your cup of coffee.
What we like
Airtight storage
Full-bodied flavor
Smooth taste
Strong coffee
No acidic
What we don't like
The price sometimes fluctuate
9. Decaf Colombian Keurig K-Cup Brewer, Medium Roast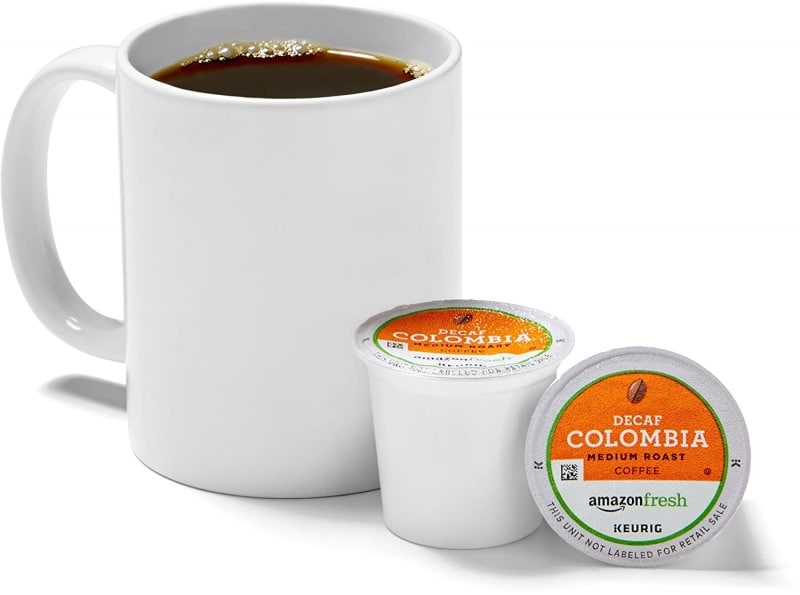 Being one of Amazon's choices would give you confidence in purchasing. The Amazon Fresh decaf comes with a medium roast taste, and it is balanced to give you a smooth finish. Also, it has 80 single-serving pods which are compatible enough with Keurig brewing machines.
Additionally, the Colombian decaf is made from one-hundredth percent of Arabic coffee. All of the processes including roasting and packaging are made in the U.S.A. It is giftable for coffee lovers on special days like birthdays. Interestingly, if we are not satisfied, we will refund you within a year of purchase.
What we like
Great coffee
No bitter taste
Great medium flavor notes with a good balance
Low acid level
Smooth and delicious
Simple budget-friendly
What we don't like
Hard to organize in the coffee cabinet
8. Medium Roast Coffee With Newman's Own Organics Decaf Coffee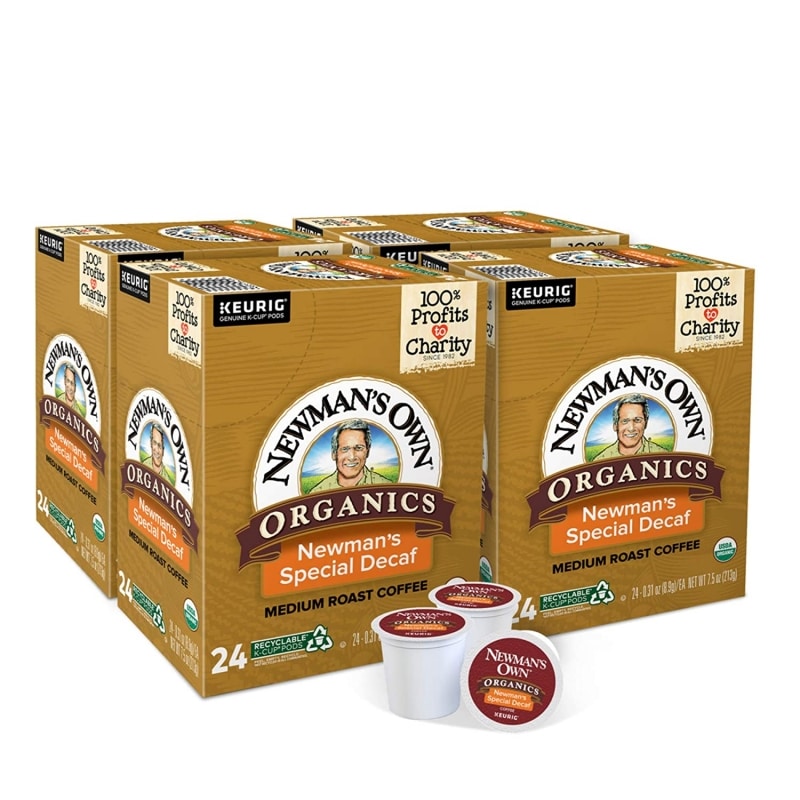 Good deeds from good coffee! With Newman's Organic, it is strong but smooth, and it is bold. In addition, you would enjoy this medium roast for decaffeinated coffee. More than that, it is compatible enough with Keurig K-cup pod coffee makers.
With the taste, it is inspired by darker-roasted Indonesian (robust and rich) and medium roasted from Central American coffees. Moreover, you can add sugar and cream to suit your flavor conveniently. With this brand, it was created in 1982, and it is a fair trade certified organic decaf coffee that gives a different life to coffee farmers around the globe. All of the 100% profit would be donated to the charity.
What we like
Organic coffee
Smooth flavor
Non-chemical taste
Profits go to charity
What we don't like
Not bitter (if you like medium dark roast coffee)
7. Medium Roast From Mccafe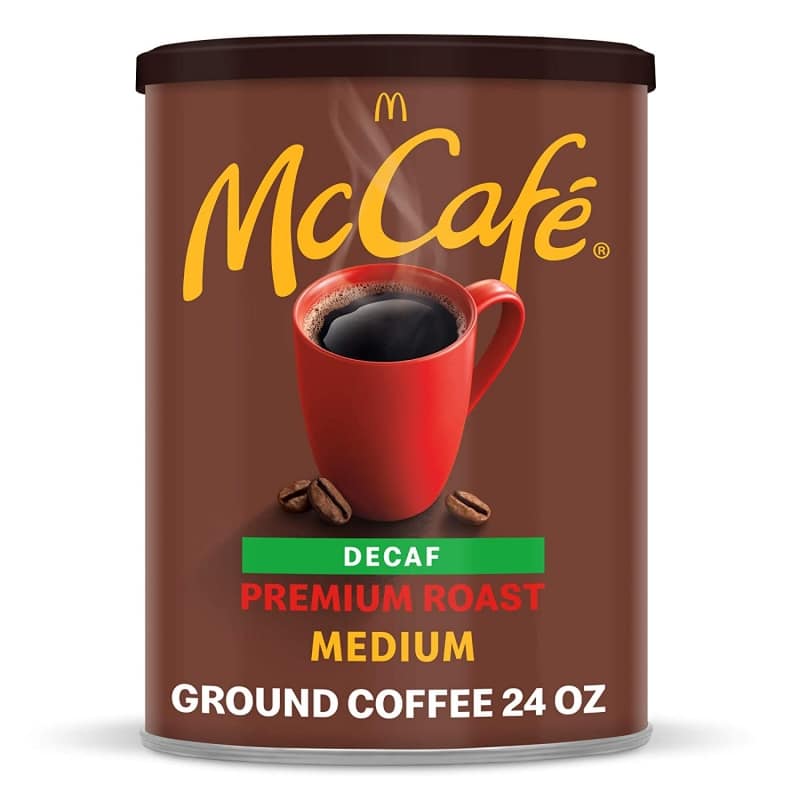 Brighten your day with McCafe! A simple but delicious coffee to keep going. Coffee lovers would fall in love with this rich aroma coffee that comes along with a smooth body. At the same time, it gets the certification from Orthodox Union Kosher (U).
To bring out the best taste, McCafe begins with 100 % high-quality Arabica beans. After that, it is roasted expertly in a temperature-controlled environment all the time. As a result, you would be satisfied with this delicious cup from your comfortable home every morning with a convenient brewing.
What we like
Smooth
Roasty
Flavorful
Not acidic
Support coffee farmers
Climate pledge friendly
What we don't like
Slightly stronger than other Premium Roast
6. Peet's Coffee, Best Decaf Coffee, Dark Roast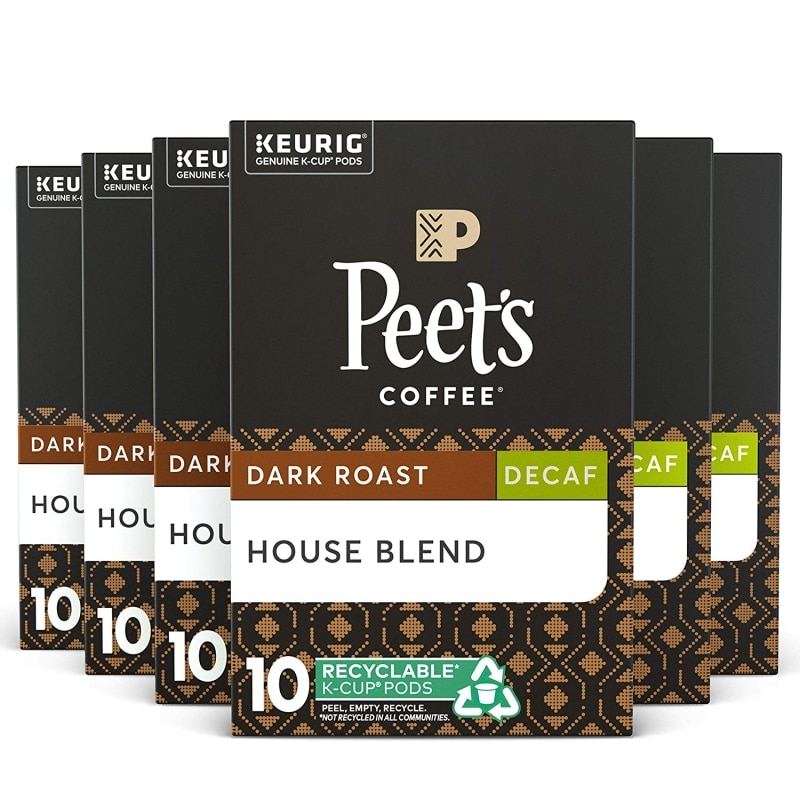 A bad day with coffee is better than a good day without it. With Peet's Coffee, let us introduce you to the perfect signature that has a high-grown strictly to generate the finest quality. With the deeply roasted flavor, it is lively and sweet. It is similar to Latin Blend, dark roast.
With its recyclable K-Cup Pods, they are compatible with any Keurig K-Cup brewers. Additionally, it is a quality guarantee for 100% Arabica Coffee that was certified Kosher. Also, it is hand-roasted in small batches to give you a standard of freshness in the coffee.
What we like
Great taste, aroma, and body
Bold
Full body
No bitter
Low acid
What we don't like
It will spoil when you are traveling or out of the town since you can't find anything like it
5. 100% Arabica Decaffeinated Coffee From Maud's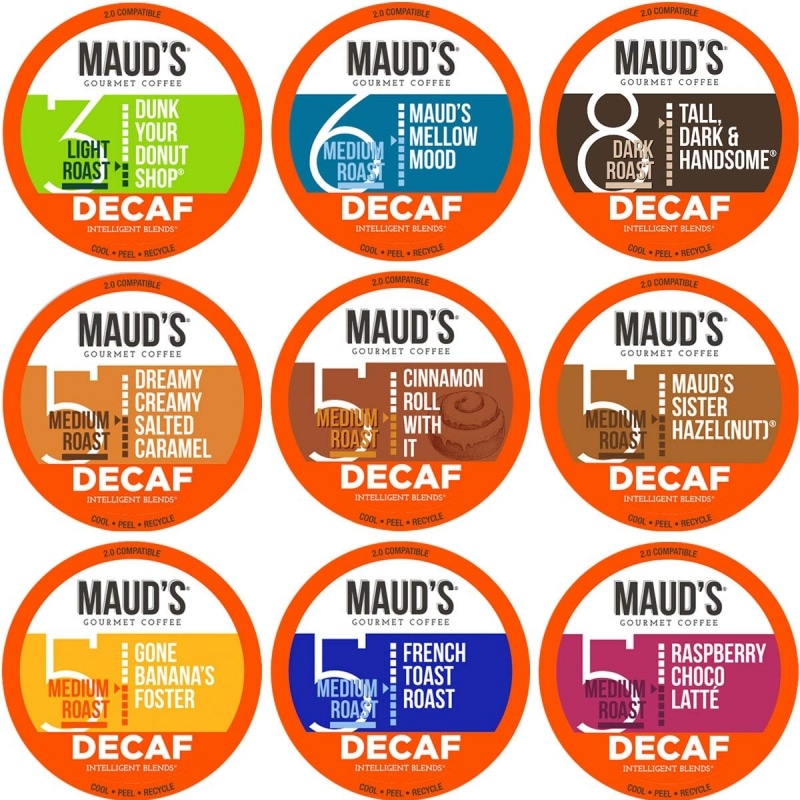 Enjoy the special package that contains an assortment of 9 decaf coffee tastes. It is blended from the Gourmet Decaf coffee collection. This collection has a delicious mix of famous decaf flavors, decaf blends, organic coffee blends, and specialty decaf roasts. So you can have fun with a great cup at a time!
This brand uses only high-quality 100% Arabic coffee which is organic, and it is fair trade beans from premier coffee growing farmers around the globe. Besides, it is designed as a single serving and Keurig K-Cup compatible brewers, and even a 2.0 machine is also accounted for. Anyway, Maud's coffee is not affiliated with Keuig Inc. or Green Mountain Coffee Roasters Inc.
What we like
Recyclable pods
100% solar energy
California roasted
Great dark roast flavor
Excellent customer service
Fair price
What we don't like
Wish it could be used with all of the pods
Take time to brew
4. Green Mountain Coffee Roaster, Light Roast Coffee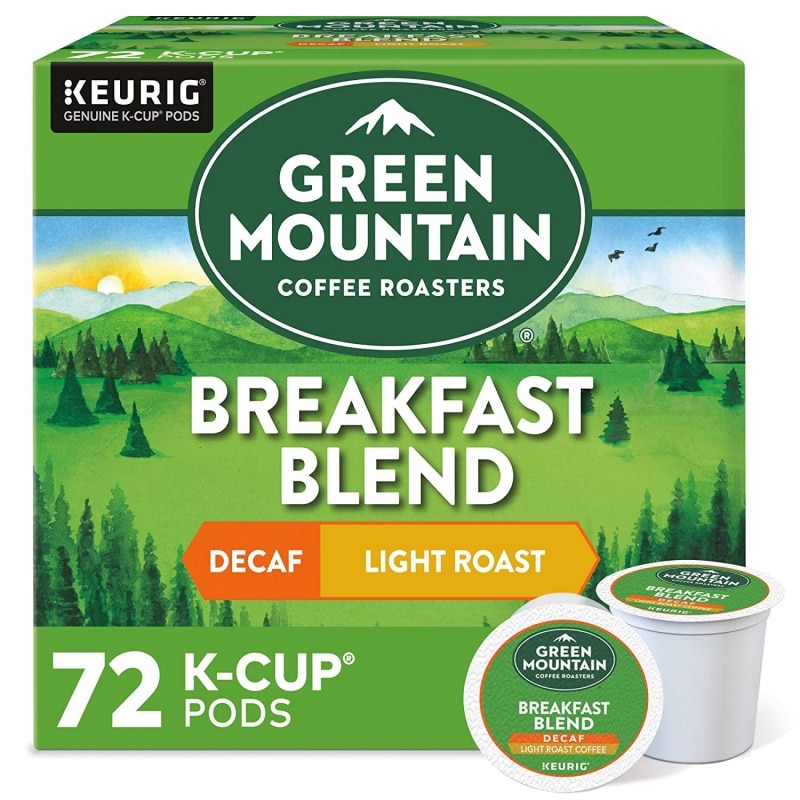 With the story of the brand, it started in the mountains. It is the place where they develop the adventurous commitment and spirit to improve the land for coffee in order to give the world a richer and better coffee. The taste itself is clean and brightens to give you a balanced sweetness.
It would be a nice breakfast blend since it comes with a light roast. Not only that, you would have a great time with the nutty flavor simultaneously, especially it is a skilled mouthfeel. This decaffeinated coffee is not far different from previous ones, it is also 100% Arabic beans and certified Orthodox Union Kosher.
What we like
Excellent choice for the heart-health issue
Great light roast coffee
Value for money
Taste like a real coffee
Light, smooth, and no bitter
What we don't like
Not recommended for people who need strong coffee
3. San Francisco Bay With Decaf Fresh Roast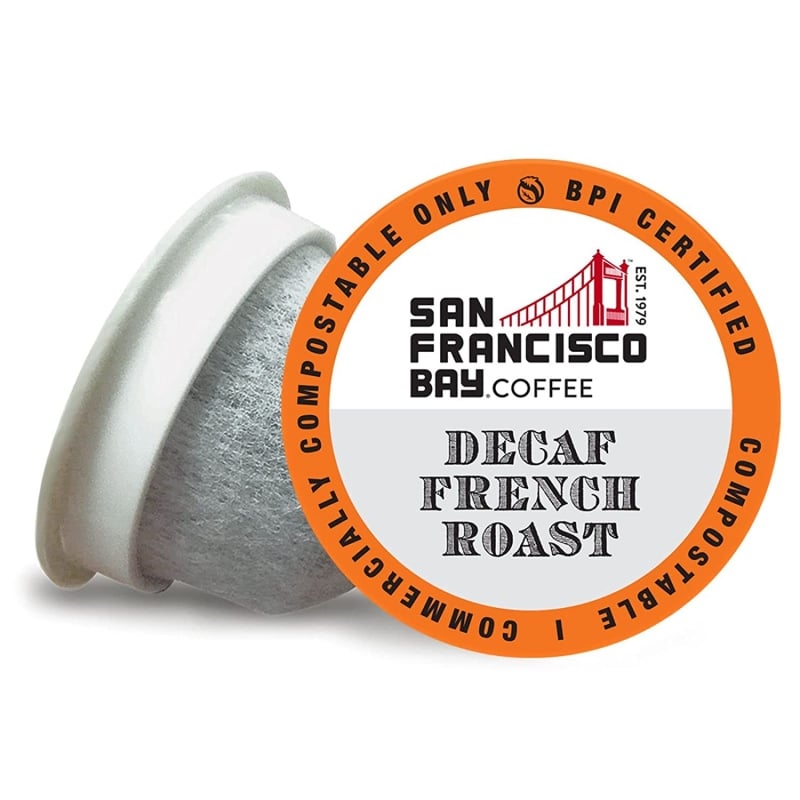 If you are a strong coffee lover, this San Francisco Bay would be the right choice for you! It is a decaf fresh roast that blends the Swiss Water decaffeinated beans from South America and Central America. At the same time, this dark roast is bold and full of coffee. And you will love it!
It is designed to give you compatibility with K cup style single-serve brewers such as Keurig 2.0. Also, the one-way coffee valve and an outer bag of one-cup pods are eco-friendly. Their materials are made from plant-based. Sometimes, the packaging may vary, but the amount of coffee, ingredients, and roast have not changed, and still give you the same quality coffee.
What we like
Sustainability coffee
Not plastic cups for the pods (earth-friendly)
Tasty coffee
Right price
What we don't like
Feel not good with the price setting
2. McCafe Premium Roast Decaf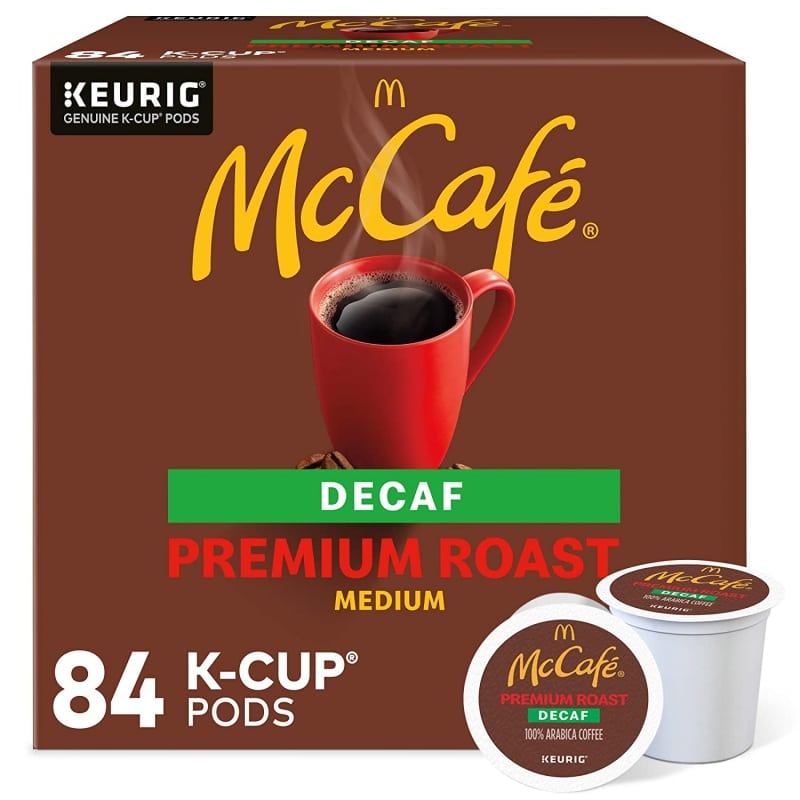 To get in a good mood, you should sponsor yourself a good coffee like McCafe! It is similar to the one that we introduced for McCafe that is rich in aroma and smooth body. It has an especially clean finish. Anyway, this one comes along with genuine K-Cup pods that are compatible with all Keurig K-Cups coffee makers.
Coffee lovers would like the taste of this brand since the coffee is made from premium Arabica beans and it is roasted carefully and expertly. Furthermore, McCafe uses 100% of the success of coffee to encourage a healthier planet. Also, they try to improve the quality of farmer life in communities.
What we like
Good coffee at a good price
Nice light
No bitter
Slightly monkey flavor
What we don't like
Inconsistent for the packaging
1. The Original Donut Shop Decaf, Medium Roast Coffee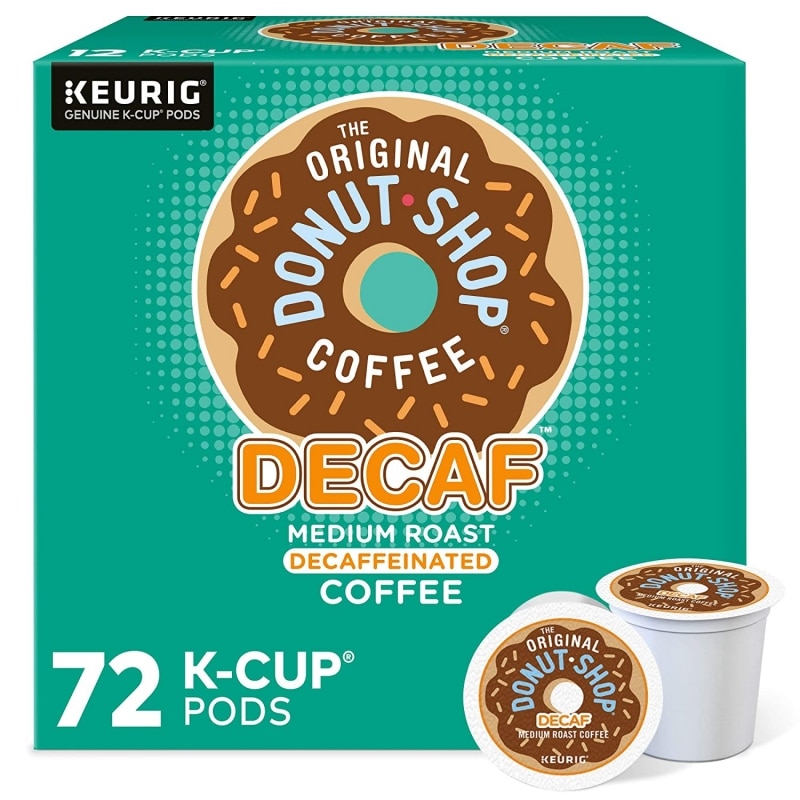 Coffee would make your life better. With the Original Donut Shop, it's just right! Not too bitter and not too harsh! Regarding the medium roast here, the original donut shop coffee has an extra bold that has more coffee than normal K-cup pods. But still, it is a decaffeinated coffee, it is very friendly for people who are caffeine conscious.
Every K-Cup pod is made with 100% Arabica ground coffee. There are no artificial ingredients. Interestingly, the best decaf is also certified Orthodox Union Kosher (U). More than that, it is designed to work with Keurig brewers to meet your needs.
What we like
No acid taste
Wonderful aroma
Easy to take it with you to work or travel
Great flavor and smooth (no bitter)
What to look for when Choosing a Decaf Coffee?
While decaffeinated coffee beans have to sacrifice the flavor, you can check on the packaging to guide you to the coffee with the least amount of caffeine flavor loss.
Swiss Water Processed For Decaffeinating Coffee
With the swiss water method, it is the certifiably organic way for removing caffeine. Moreover, it also makes them taste better as well.
Lighter Roasts
Lighter roasts are a great option. Whereas the darker coasts are also mixed with a water decaf process to give you the least amount of flavors, but still, it is prevalent in coffee. So it is better to choose a lighter one to enjoy unique sweet tastes.
Frequently Asked Question – Best Decaf Coffees 2023
Does decaf coffee taste different from regular coffee?
No, decaf does not give you a huge different taste. It is hard to find the disguise of the different flavors between regular and decaf coffee. Unless it is because of the different roasted methods. Or sometimes due to the different coffee bean from the regular one you use.
Surprisingly, if you use the same beans for decaf and normal coffee that comes from that same region with the same process, then it would give you a hard time disgusting these two tastes.
Does decaf give you energy?
The truth is, caffeine gives you more alert and energy which is found in coffee. Whereas decaf has no caffeine, so it barely gives you energy. Some people would like to get close to the energy their coffee gives off, so they go for an unhealthy quantity of decaf.
For instance, a ristretto would give you a lot of energy for the next hours since it has 60 to 80 mg of caffeine. If we take a look at decaf, it has a very small amount of caffeine which is 0.6 mg of ristretto.
Is decaf safe?
Caffeine-free coffee is safe for daily consumption and can be part of your healthy diet. So you have doubts that whether the decaffeination process is secure or not, well the answer for this healthy coffee is YES!
Takeaway
Coffee has become one of the healthiest beverages on our green planet since it has antioxidants that can reduce the risk of some serious diseases. However, not everyone can drink coffee because some people may have problems with caffeine. As a result, decaf coffee is an excellent choice for these individuals to enjoy coffee without having the negative effect of too much caffeine. Also, with the mentioned best decaf coffee beans can bring most of the same health benefits as other coffee while it does not contain the side effects.
Reference
Check out: Coffee Addicts Try To Guess Regular Vs. Decaf Coffee By BuzzFeedVideo