Are you looking for an idea on how to express your appreciation to your loved ones? By just saying "I love you!" might not be enough, action is what matters the most. Giving gifts is another love language that is better than words. If you have this kind of concern, nothing is better than showing your love by giving gifts. And, if you don't know what gift you should give, a couple coffee mug is perfect in this situation.
Of course, a couple of coffee mugs can also be used not just for your lover but also as a gift to newlywed couples or wedding gifts or anniversary gifts; for instance, to your family, parents, or friends. Let the new bride and groom get their coffee done as a couple.
After going through a lot of research to look for the best mugs to recommend to the readers. We have selected a few couple mugs which are rich in beauty and quality to help you with your purchase. No more beating around the bush, these are the Best Couple Coffee Mug For Your Bucket Gift List in 2023.
List of The Best Couple Coffee Mug For Your Bucket Gift List in 2023.
10. Triple Gifffted Mr. and Mrs. Coffee Mugs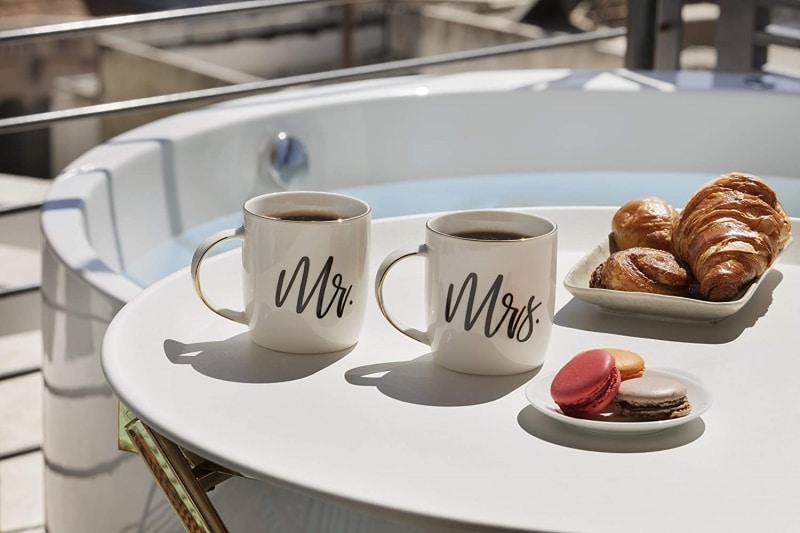 Show your love towards your wife or husband through these sparkling mugs to strengthen your bond with each other. Triple Gifffted Mr. and Mrs. Coffee Mugs are painted white both inside and outside with the word "Mr." on one mug and "Mrs." on the other one.
They are coated with glossy paint that makes the mugs shine brightly with morning sunshine. The golden edges on the mouth of mugs and the handles point out the elegant look of the mugs that will brighten up any interior of your home sweet home.
You should also know that these mugs are made with ceramic, it is safe to use with a dishwasher but not a microwave. So, to keep them durable for a long period and for your safety, using them in the microwave is not recommended. 
Check out: Best Space-Saving Coffee Mug Holders in 2023
9. KEDRIAN Mr. and Mrs. Mug Set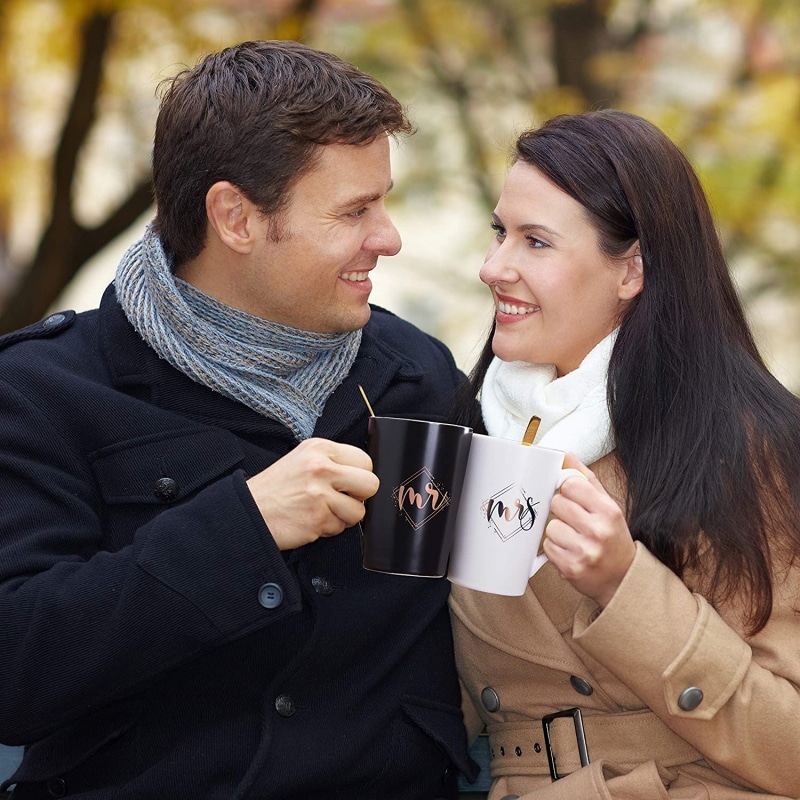 To congratulate the new Mister and Missus, KEDRIAN Mr. and Mrs.Mug Set will help you choose the best gift for them. Just like yin and yang that complete each other, these black and white mugs are destined to be together. Each of them comes with a lid and a golden spoon.
Both are made of ceramic (the mugs and the lids to close the mugs' mouth), one of them is white with a Mrs graceful design of platinum color; similarly, the other one is black and the design is for the Mister. Apart from that, these are dishwasher safe and microwave safe. Moreover, you don't need to worry about how to wrap these as a gift.
Since they got gorgeous packaging that already looks like a present so you can give them just the way they are. The packaging is secure enough to prevent the mug from receiving damage during shipping and delivery.
8. One Great Fisherman, Best Catch Of His Life Couples Mug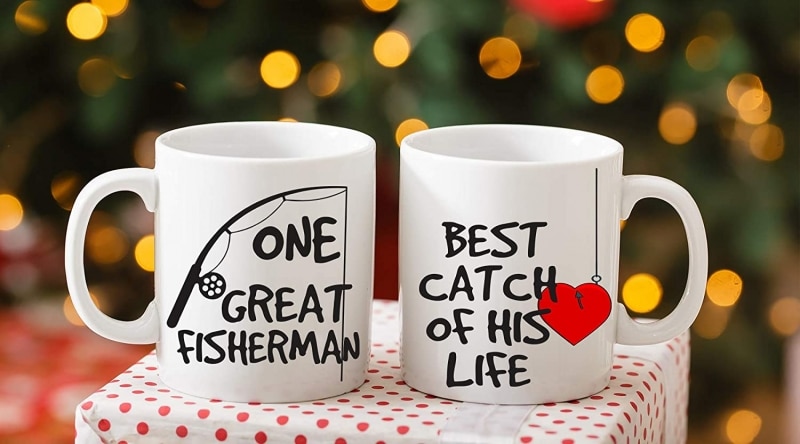 Shout out to couple delivery lovers, these are perfect for you. One Great Fisherman, Best Catch Of His Life Couples Mug are something to indicate gratitude and love to the best person that comes to your life.
Beautiful romantic quotes are being printed onto the mugs; "One great fisherman and the best catch of his life!", an artistic fishing hook that caught the beating heart are the best combos of all; the designs of a masterpiece.
The mugs are printed using premium paint that will last for many years after being used. Average in size classic shape of the mugs and the handles are just right and safe for daily convenient use. Be the right person who caught your destiny.
7. Mrs.Always Right & Mr.Right – Mug Set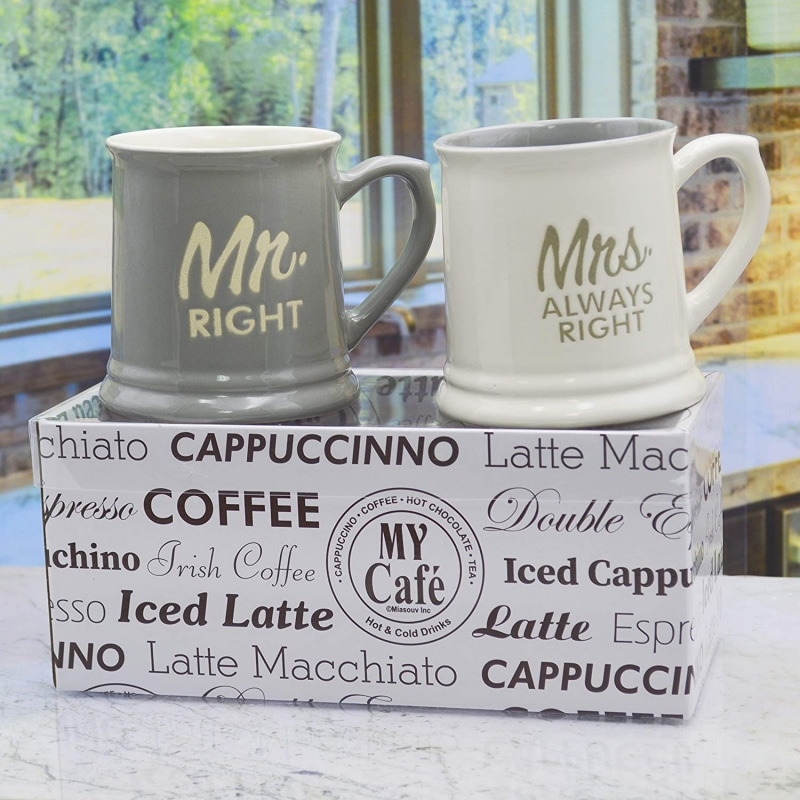 Treat your babe right! There are always ups and downs in a relationship. There are times when you don't know how to say sorry. When that happens, these Mrs.Always Right & Mr.Right – Mug Set will be able to cool things down and let you get united with your partner. Let them win!
Resolve things by getting this mug set for you and your special person. Your lover won't be able to hold their smile once they see these cute couple coffee mugs. Mr. Right and Mrs.
Always Right, it's funny how this is so true, many couples can relate! In addition, the design is perfect for minimalists who prefer simple yet aesthetic items. That's the feeling you get from these gray and white mugs.
6. Mia ♥ Mio – Coffee Mugs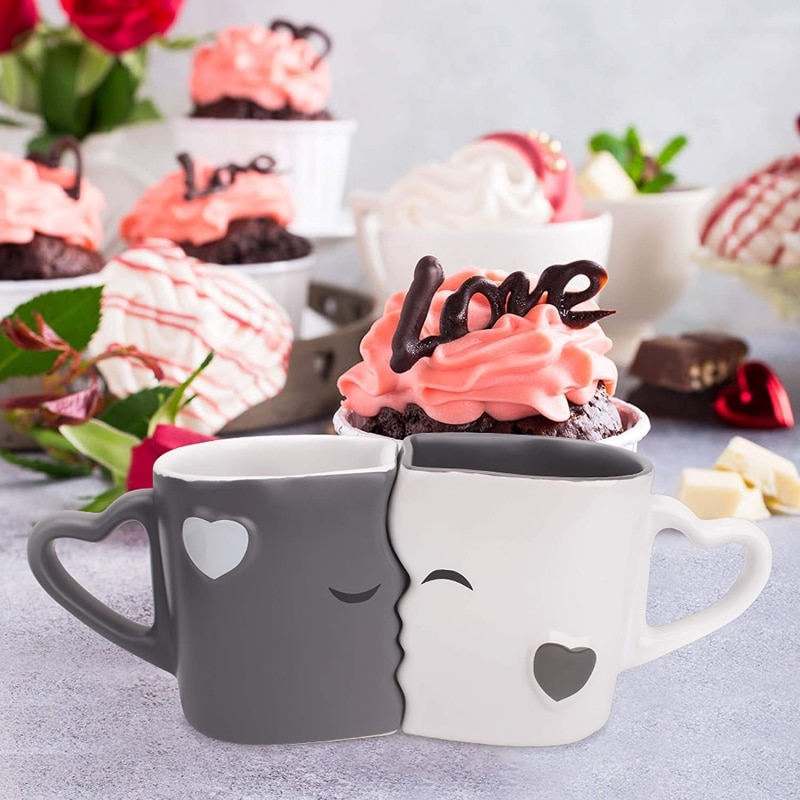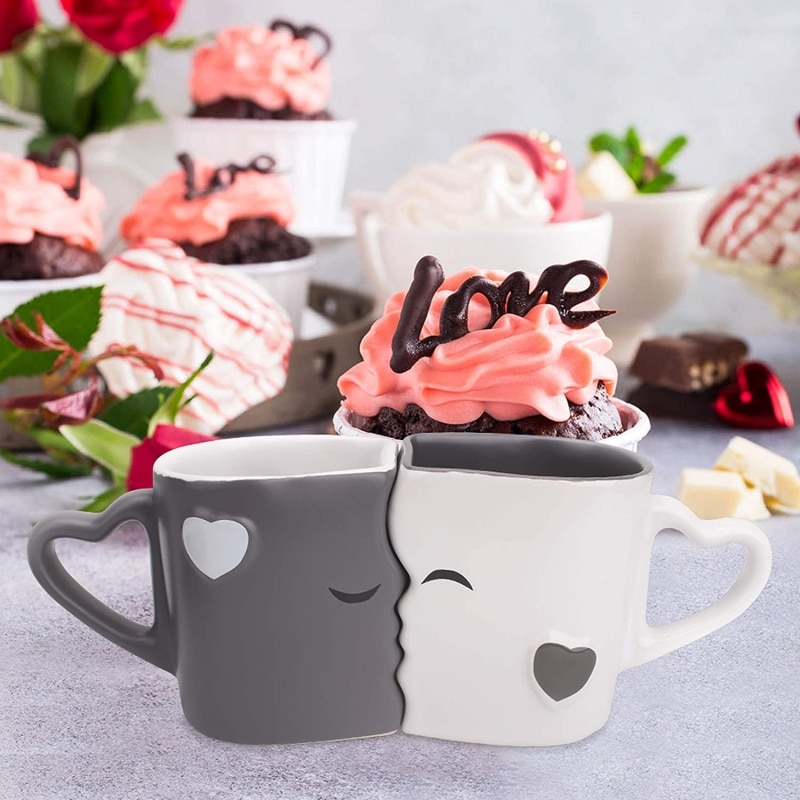 Have you ever seen kissing coffee mugs? Mia ♥ Mio – Coffee Mugs is here to show you that unique items do exist. Made with high-quality ceramic, these couple coffee mugs are well built to be durable and sturdy for long-term use. The design is totally one of a kind, the coffee mugs are shaped as a kissing face.
The first mug has a white interior and gray exterior with a small 3D heart sculpted near the coffee mug's handle and the handle looks like a heart, the second mug is the opposite in color. The thick bottom got these mugs sturdy and comfortable to use in your home.
Every little detail results in a safe and decorous mug that is suitable for any occasion such as birthday, anniversary, wedding, or Valentine. These mugs come with a secure and pretty gift box with a see-through heart window. From design, quality to packaging, even great customer service, there's no doubt to put this on your list. Now, you have options.
5. Bosmarlin Couples Wifey and Hubby Coffee Mug Set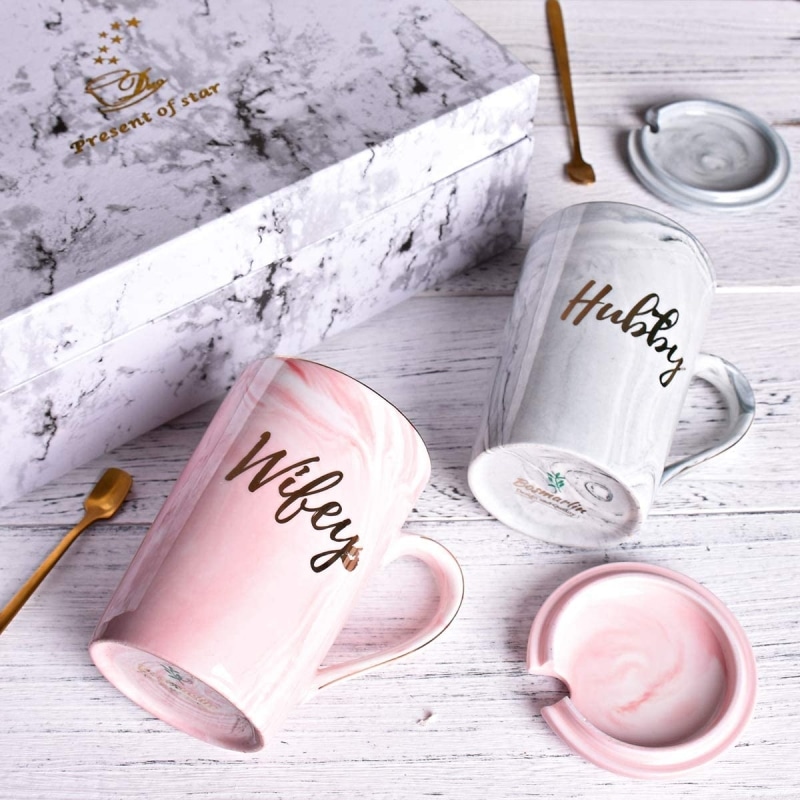 Coffee is sweeter when you drink with the right person! There's no need to add so much sugar to your morning coffee. Start your day with a cup of coffee using these Bosmarlin Couples Wifey and Hubby Coffee Mug Set.
This whole set includes 2 couple mugs, 2 lids to protect your drinks safe from insects, 2 spoons to stir the coffee, a pair of socks as a bonus, and a gift card to add some love. White and pink marble ceramic wifey and hubby couple coffee mugs with a golden rim that points out custom designs, an ideal option that you shouldn't miss.
The interesting quotes on the socks are hilarious, "If you can read this, bring me a cup of coffee." Morning coffee with your spouse is how you show your love. Rookie couples are shaking! Best deal ever!
4. Triple Gifffted I Like His Beard Coffee Mugs For Couples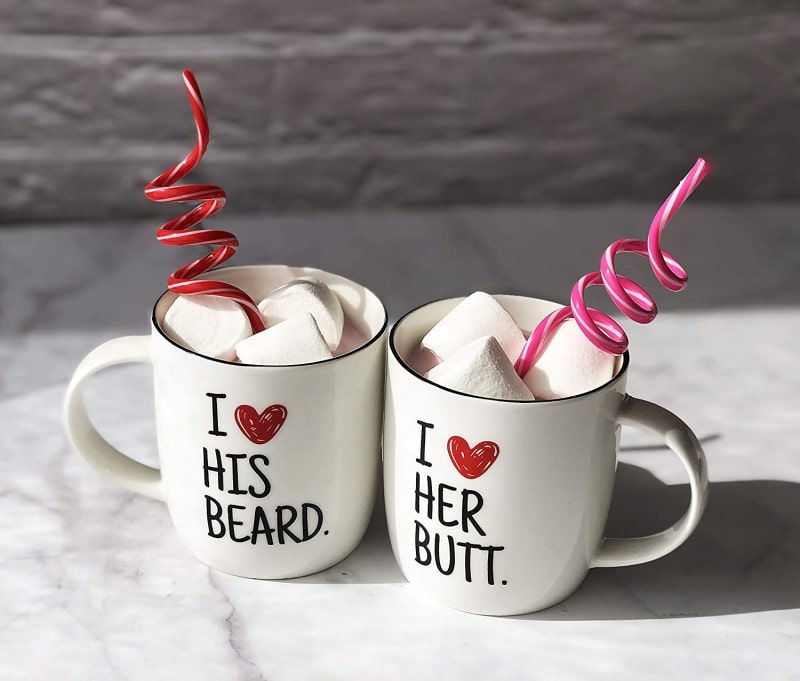 If you are looking for some cringy yet sweet like honey kind of gift, no need to search anywhere far, save your time, and let Triple Gifffted I Like His Beard Coffee Mugs be the help.
With a size that can store up to 380 milliliters, it has the finest designs of these white ceramic mugs sets that are just great for kinky couples. A guy with a cute beard and a girl with a cute butt is made for each other. It is just a couple of things and a couple of mugs.
If your friends fit into this category, these mugs are their wedding gifts, Bachelor Or Bachelorette Party Gifts, precious, safe, and intriguing for their special day. What a cute mug for a new family!
3. Triple Gifffted Mr Right and Mrs Always Right Coffee Mugs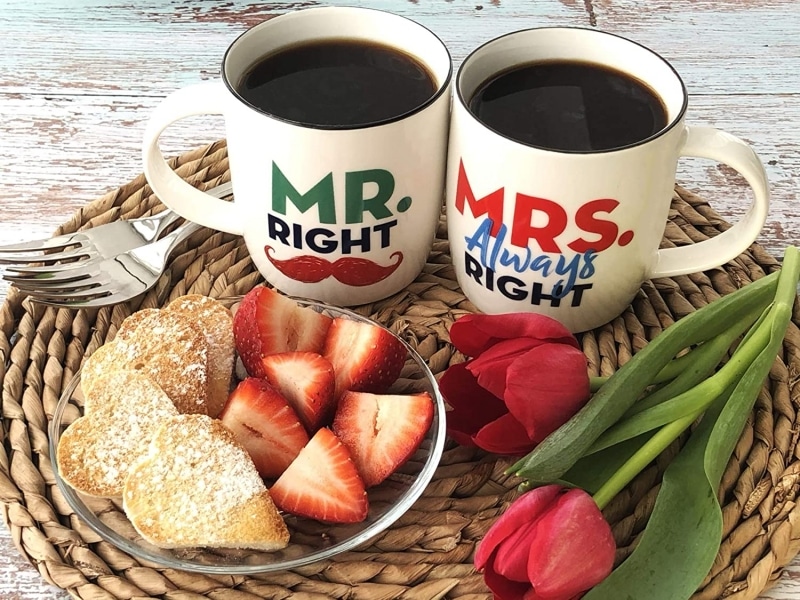 Morning coffee experience is different with these couple mugs. Top tier designs and quality, Triple Gifffted Mr Right and Mrs Always Right Coffee Mugs. The design of Mr. Right and Mrs. Always right couple mugs that are similar to the previous product but the details are different.
Like they said, same same but different. The stylish and colorful font (red, blue, green) makes the mugs look and feel just like Christmas. A well-made item with a capacity of 380 ML, ideal size for everyday use or to gift someone and it is safe to use with a dishwasher.
This couple coffee mug is the must-have item that connects you with your dearest partner. Thanks to the conventional shape of these mugs, washing them can't be easier. Red hearts on these mugs are the symbol of LOVE!
2. Wifey and Hubby Coffee Mug Set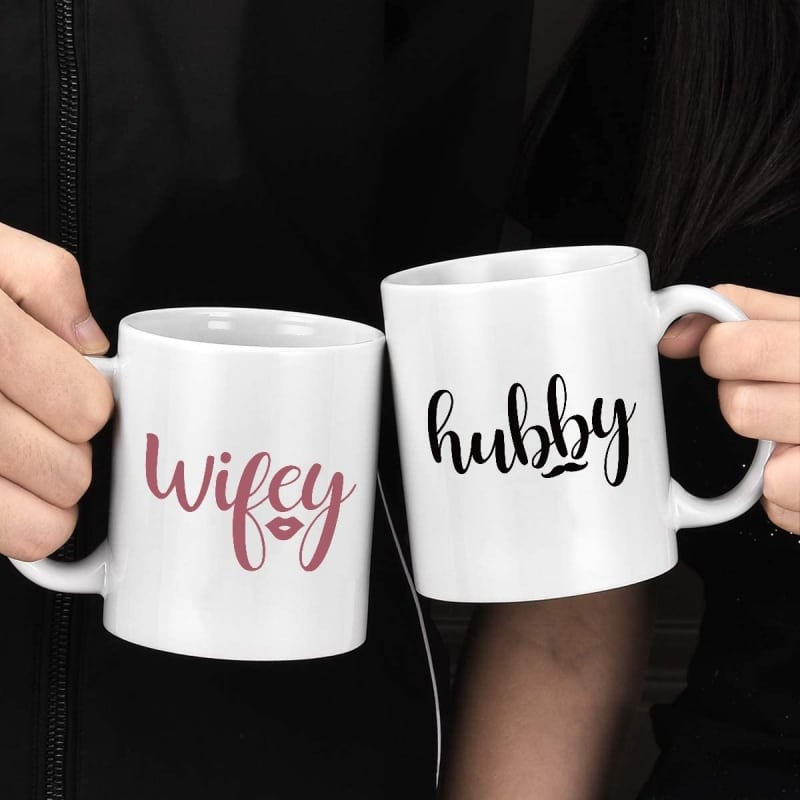 Surprise your loved one with these couple of coffee mug gifts! Wifey and Hubby Coffee Mug Set is something that makes your lover's heart flutter. It doesn't have to be an occasion to get a gift as a couple, a random day with a random gifts makes every day special.
First, the wifey mug has a pink font and the hubby mug has a black font. Both are made from white ceramic, durable and safe even the paints. They can be used in the microwave and dishwasher and be perfectly fine. These novelty mugs represent your love as a couple starting a new family.
This sort of design of this coffee mug has nothing complicated, it is very common but the custom text depicts how meaningful minimal stuff is. These mugs are pretty thick which makes them sturdy and durable including the handle. It may look simple but this top couple coffee mug is hard to find.
1. Mama Bear Coffee Mug
Having a hard time looking for the best couple coffee mug? This Mama Bear Coffee Mug is here to help. It doesn't come as a set but this sophisticated design and quality are hard to ignore. This ceramic coffee mug is being burnt at high temperatures to secure the best quality for the consumer.
This coffee mug is bigger than other regular mugs, this one has the capacity of 1.1 pounds. With this big coffee mug, there's no need to refill. Coated with glossy dark green featuring a big bear paw with the words "Mama Bear" inside and there's also a quote at the back inside the mug that says "Nobody Messes with my Cubs!"
The look would make the best gift for your mom or for someone who recently gave birth to a baby as a rookie mom. Surely, the mug might get every mom teary.