Welcome fellow coffee drinkers. Today, we are looking into an interesting topic about coffee and smoothies. If you are like me, upon hearing this for the first time, I could not believe my ears. I wonder is there such a thing as a coffee smoothie? Well, ladies and gentlemen, if there is a will there is a way. And in this world of possibilities, anything and everything is possible.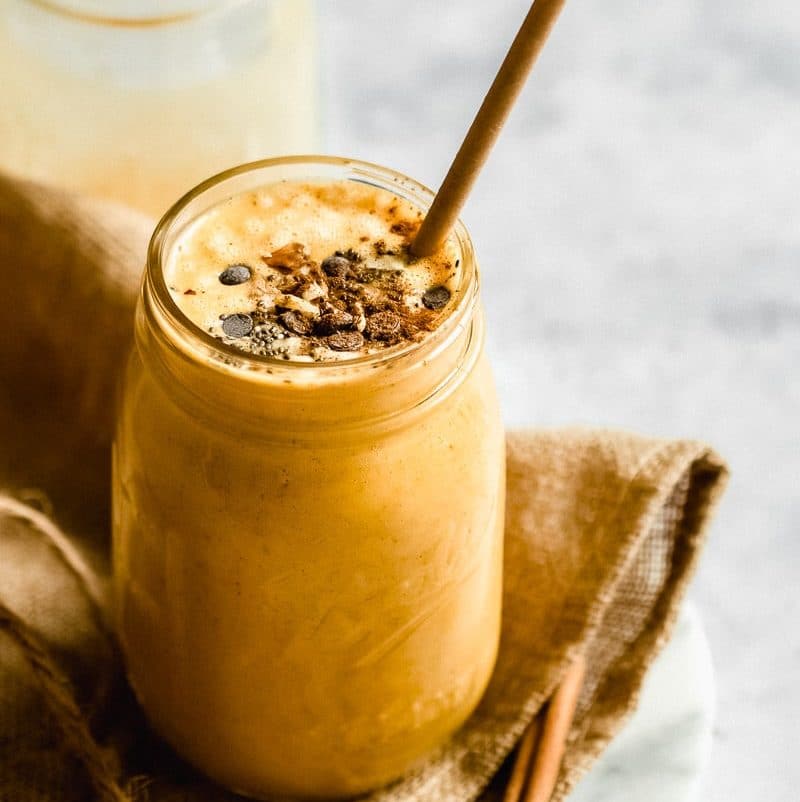 Actually, coffee smoothies occur and are being mentioned many times. People have come up with their recipes and it is recognized as one of the best things to drink in the morning as well.
Today, we are not just introducing any recipe of coffee smoothies but a healthy one. Therefore, you can practice this healthy coffee smoothie recipe at home and drink it to see the results. Not only are they delicious and tasty but they are healthy as well. You will soon find out that these recipes are easy, tasty, and healthy for your body.
Finally, we are introducing 5 recipes for you with bonuses. They tend to be basic recipes however, once you master all of them, you can be creative and add in your own flavor or recipes of choice into your smoothie.
1. Regular Banana Coffee Smoothie Recipe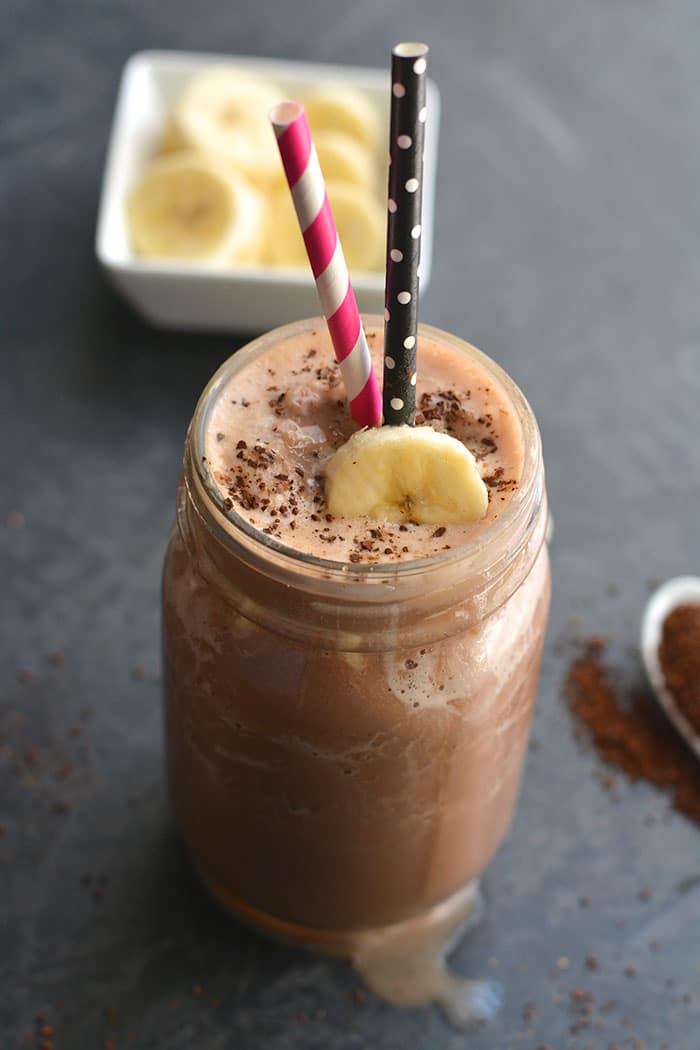 I want to start off with the regular and normal everyday coffee smoothie. Since some of our audience is looking for an easy coffee smoothie recipe, to begin with, this is a great choice to kickstart our lesson.
So, the ingredients to a regular coffee smoothie would be as follow:
Milk: any milk of your choice (¾ cups)
Banana: half a banana
Nut Butter: almond butter, peanut butter, or cashew butter will do the charm (1 tbsp)
Vanilla extract: will increase the sweetness flavour of your smoothie (½ tbsp)
Coffee: you can use either ground or brewed coffee. And make sure to chill them in the fridge
Freeze some ice cubes
Instructions:
It is fairly easy to make this beverage
Blend all of the ingredients into the blender all together
Make sure it is the right consistency that you like. Not too thick or thin.
If it is thin add more ice or ingredient
If it is thick add more coffee or mlk
And once it's done. It is ready to be served.
Note:
This is the basic recipe for a beginner coffee smoothie. But you can always mix it and be creative with your drink. Once you get hold of the basic recipes, I think you will do better. But for now, I will give you a head start.
As for the coffee (also applies to other recipes), you can choose any brand of your likings. And you can use any coffee. It will do just fine, for example, cold brew, instant coffee, or pour in. They all will serve the function of coffee. And still, give you the shot of caffeine that you need.
Moreover, you can alter your milk choice as well. As mentioned above, you can choose between almond milk, unsweetened almond milk, or coconut milk. This is up to you actually. You can choose whatever as long as it suits your taste. It might take a while to find which milk is the best for you but eventually, after experimenting you will get the one that is the most compatible. And it also applies to the vanilla extract or the sweetening factors.
But why banana? Because they are nutritious fruits. By adding frozen bananas or bananas in general, you will receive vitamin C, B, and A. They are fat-free, high in potassium, and carbohydrates. They are the perfect natural sugar and will give a perfect texture after blending your smoothie.
2. Protein Coffee Smoothie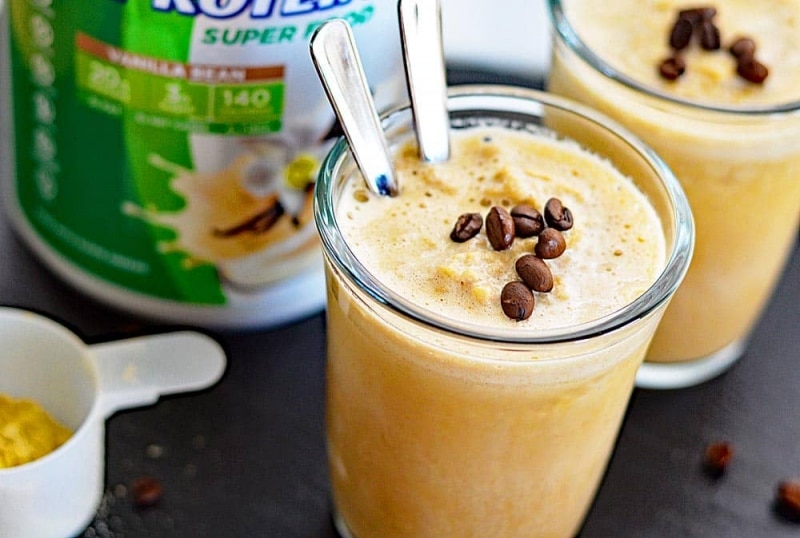 Ingredients:
1 cup of Brew coffee (you can choose to make with cold brew coffee)
1 large banana
2 tbsp of smooth peanut butter
1 scoop of chocolate protein powder (or any powder of your choice)/1 scoop of cocoa powder
1 cup of almond milk (or any milk of your choice: soy, regular, or coconut milk)
Instructions:
Brew a cup of coffee that you like
Chill or cool it down before blending it
You can choose to freeze it in the ice cubes ahead of time
After putting the coffee, you can add banana
Put peanut butter or you can replace it with anything sweet such as pure maple syrup
Add your protein powder
Add your milk
Blend until it is suitable for your tasting or until it's smooth
If it is too thick add more liquid; if it is too thin add more banana or protein powder
Notes:
This is a great and healthy recipe for those who love to work out and do not have the time to afford to drink coffee but still want to have coffee still. I would recommend this recipe for you because it saves you time and it is delicious.
I do understand that sometimes people like to multitask. We want to get things done faster than expected. This is one way that you can execute your plan. Adding coffee and protein powder together is totally safe. As a result, you created a mixture of a cup that you can enjoy both coffee and boost your energy as well.
As for the protein powder, it is definitely optional for you to put any brand that you like. If you like vanilla protein powder, then go ahead and put it in.
And why do you see bananas again? Banana is actually a good protein booster. You are going to see it everywhere in smoothies. Not only is it going to help to make your liquid thicker, but it will also boost and give your protein on your workout day as well.
Another tip is to freeze your coffee. It is optional entirely however by adding frozen liquid will make your smoothie richer and thicker. And the same thing goes with bananas. You can absolutely use frozen bananas to thicken your density.
3. Cinnamon Coffee Smoothies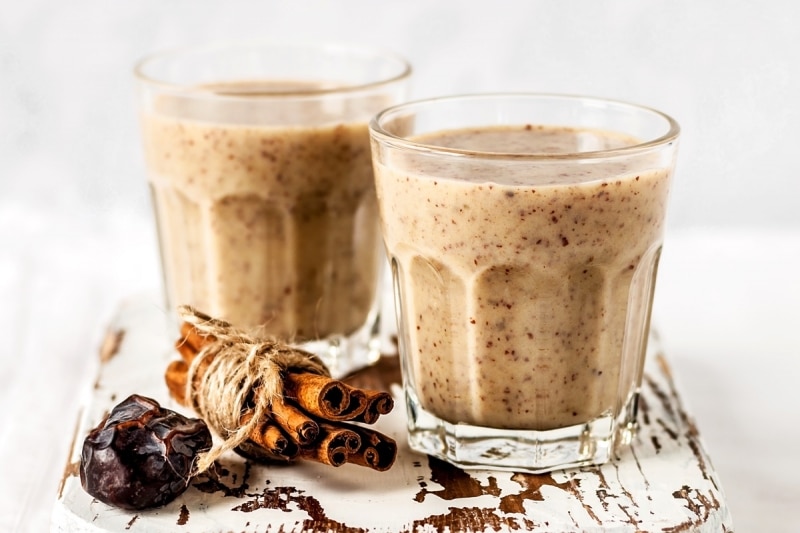 Ingredients:
1 Frozen Banana
1 tbsp of almond butter: or any other healthy fats such as nut butter
2-4 tbsp of coffee: you can choose to alter your coffee choice. But make sure that it must be cold like chilled coffee or frozen coffee cubes. You can also use the leftover coffee to chill in the freezer as well
¾ cup of almond milk, coconut milk, regular milk, oat milk, or soy milk
1 tbsp of vanilla protein powder: I think the vanilla protein powder is added to provide power for your morning routine as well as to make it smell good. But I do believe you can choose to add protein powder of your own or powdered peanut butter to replace the vanilla flavour.
1 teaspoon of cinnamon: THIS IS THE MAIN CHARACTER OF THIS COFFEE SMOOTHIE RECIPE
4 ice cubes (or more) of course
Instructions:
First of all, this coffee smoothie recipe requires you to blend the frozen banana with your choice of butter
Go ahead and add your coffee. If you have instant coffee, please do so. Coffee is a choice not a requirement
Blend those three together smoothly and add milk slowly and keep track of the density
Add the protein powder
Finally add cinnamon and ice cubes
Blend until smooth!
Notes:
When I heard the word Cinnamon, it reminded me of summer or spring, or holidays. Apart from that I also imagine the image of events or occasions that bring joy. For coffee lovers, cinnamon sounds delicious for their cup of Joe. It sounds absolutely delicious when used for healthy smoothie recipes.
Cinnamon gives a great impression for coffee and coffee smoothies as well. This recipe is applicable to all. It gives you the freedom of choice to choose your ingredients and create a healthy coffee smoothie recipe. It is a flavor combination cup of coffee.
This coffee smoothie is suitable for every adult. You can either make it as a breakfast drink or a holiday drink. It is completely easy to make and really you can go crazy with it. You can add whipped cream on top of your smoothie to maximize the holiday spirit.
And cinnamon is totally compatible with coffee. Either with cold brew coffee or instant coffee or espresso, cinnamon is a great choice that would go with the coffee and represent a great sense of holiday.
4. Healthy Coffee Smoothie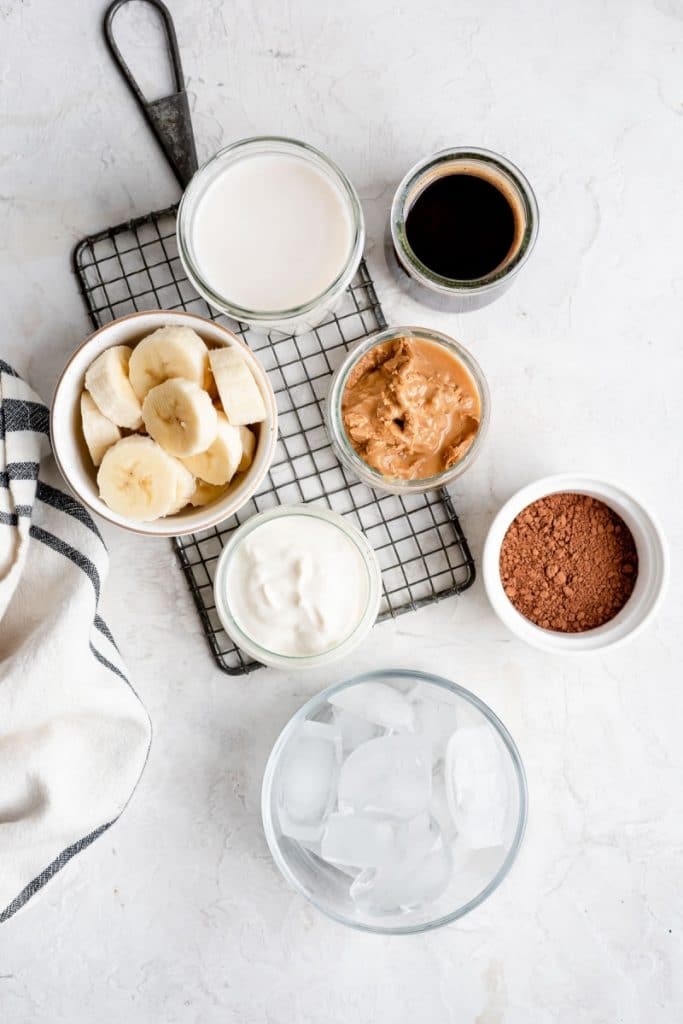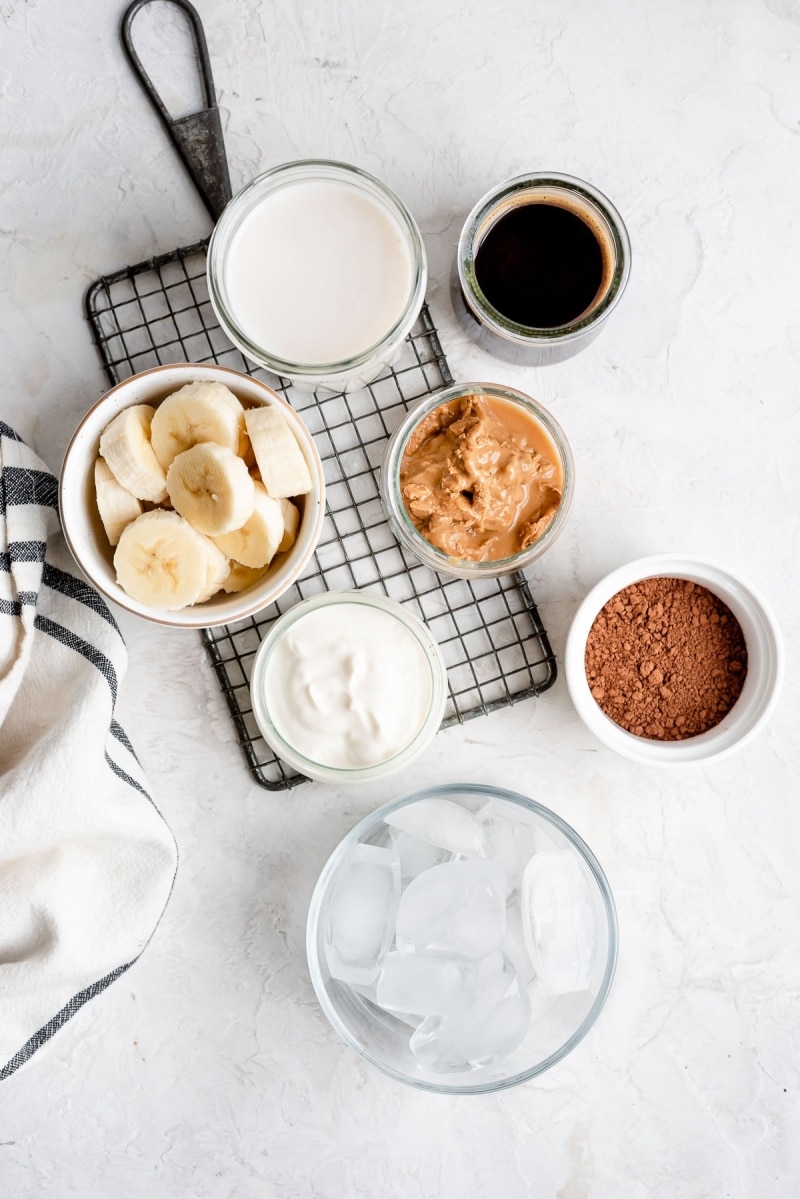 Ingredients:
¾ cup of unsweetened milk. You need almond milk or any milk of your choice. But I recommend for unsweetened kind
½ of banana! You are going to see this in every smoothie, trust me
1 tbsp of nut butter: other butter such as peanut butter, cashew butter, or other healthy fats do work the same
½ tsp of vanilla extract to make it a little bit more sweeter. If you do not like vanilla, it is optional to replace it with regular sugar or maple syrup
¼ cup of coffee: you choose your coffee, ladies and gentlemen! If you prefer ground coffee beans, brewed coffee, instant coffee, or iced coffee of any sort, just pour it in! Your smoothie, your coffee, your choice
ICE! A smoothie without ice is not a smoothie at all
Instructions:
Add all of the ingredients into the blenders
Blend until it is smooth or reaches your ideal expectation
Likewise, add more ice if it is thin. And add more liquid ingredients if it is too thick.
If you want to make a smoothie freezer pack, add ground coffee at the bottom of your container. And then go ahead and place banana, sweetened ingredients, and peanut butter in that freezer container. Press the air away from the container and seal it properly into the freezer. At the end, you would only have to add milk of your choice and iced coffee or any cold brewed coffee to the frozen ingredients. Finally, blend it away!
Notes:
It is ideally said that this recipe needs a prep time of 5 mins to make. Basically, it will take a total of 5 mins to make a delicious cup of coffee smoothie. Isn't it crazy?! You can try and make this healthy coffee smoothie recipe during busy mornings and serve immediately.
Firstly, I want to address the fact that coffee is added in the first place. Obviously, coffee is great for boosting your day. It gives you the energy to start your morning and be productive.
Secondly, this particular coffee smoothie recipe is a healthy choice of breakfast for you because all of the ingredients listed above are friendly. None of the aforementioned ingredients above are cruel. They are vegan, gluten-free, and low in calories.
Thirdly, I suggested using unsweetened milk or almond milk because it is nutritious. It is a great idea to mix with a coffee flavor smoothie. It has a great source of vitamins such as vitamin E, D, and calcium as well. Moreover, if you are lactose intolerant, almond milk or other alternatives are better than cow milk.
Finally, as for this recipe, I also suggest using ground coffee as well. There are innumerable top-notch brands of ground coffee in the world. You can find some that suit your taste preference. On the other hand, some of you might disagree and prefer to do differently which is totally up to you. However, coffee grounds are specifically suggested due to their nutrition. Although they give out a weird texture and taste, it contains antioxidants for your body and skin. Moreover, coffee grounds consisted of more flavor and caffeine compared to other choices of coffee.
5. Oat Milk Coffee Recipe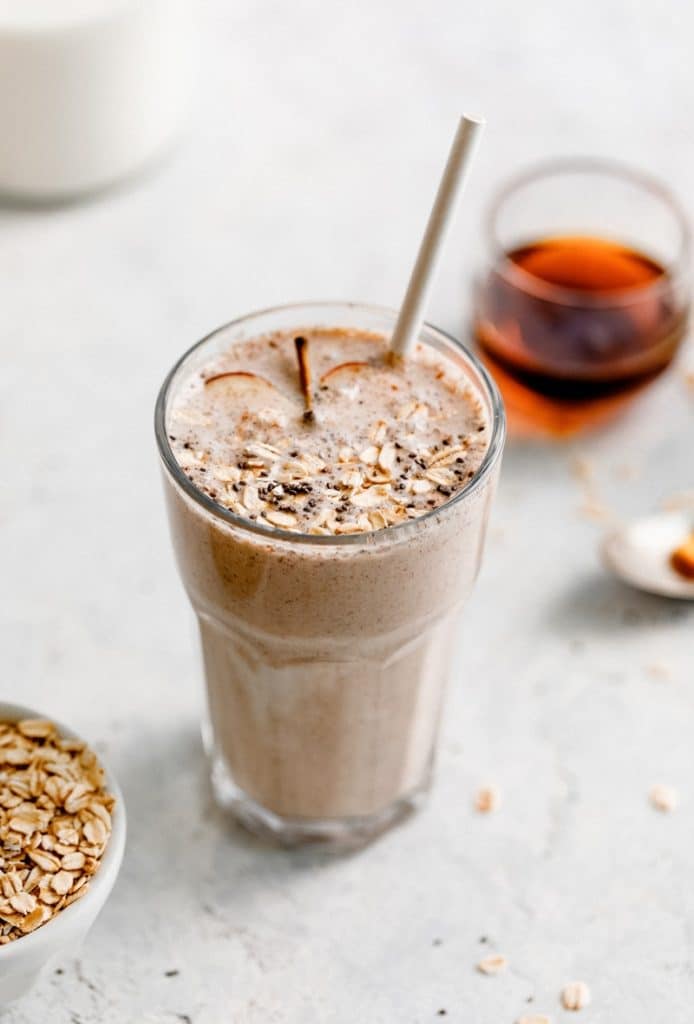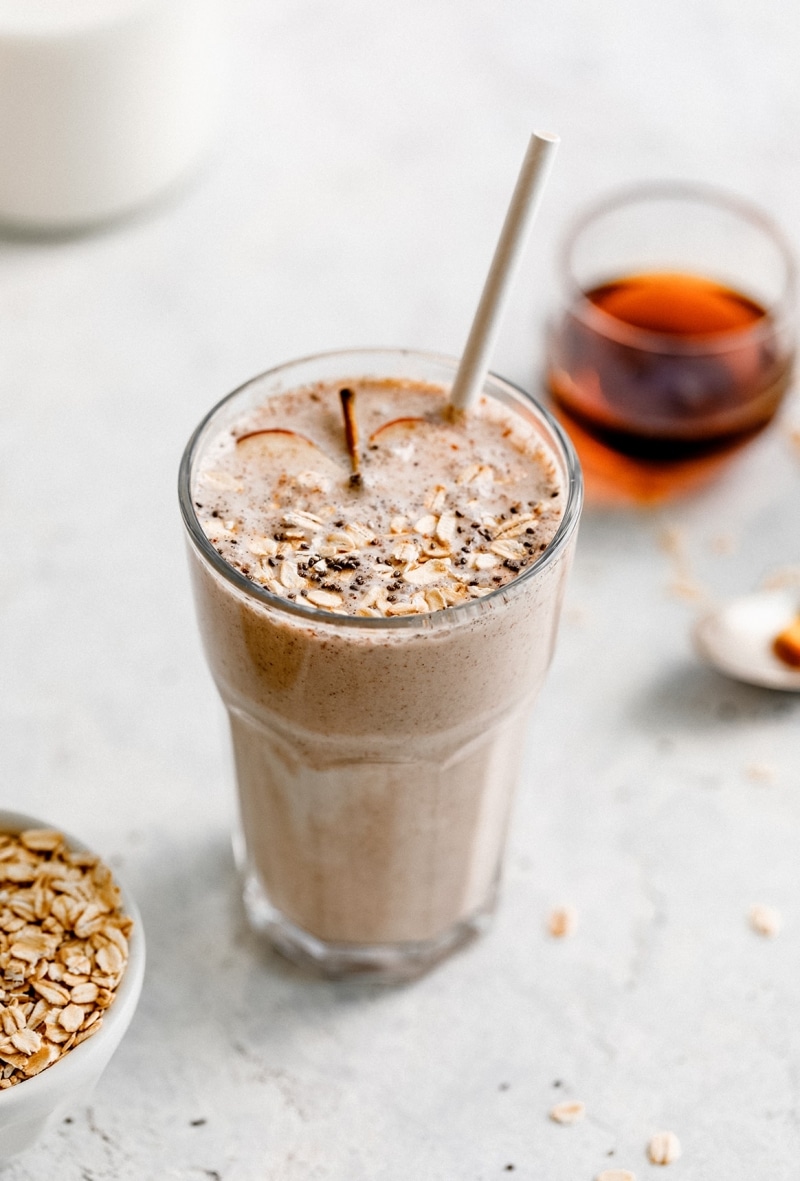 Ingredients:
½ cup of strong chilled coffee
1 banana (frozen and sliced)
¼ cup of oats that have been rolled (instant oats are applicable)
½ cup of milk (as always, milk of your choice)
A spoon of nut butter (it is optional for this step and you can choose your healthy butter)
Instructions:
Combine all of the ingredients together in the mixture
Blend until everything is smooth like in the previous recipe
Be watchful over the consistency of your smoothie
If it is thick or thin, do as recommended in the early instructions
After blended please serve immediately
We will tell you how to store it for a long time in a bit *wink*
Notes:
Oat milk is actually extremely healthy. You normally see it as one of the main dishes for breakfast. It is healthy and, on top of that, it contains numerous vitamins and nutritions to sustain your body.
With smoothies, oats will do so much better for you and your health. Oats are vegan. It means that they are plant-based food. So, you are not just consuming coffee and pure caffeine alone. Instead, you are drinking a glass of coffee with health in it.
This recipe also allows you to play and be creative as well. It does not set a boundary to where you should stop or go. Therefore, you can add protein powder to the combination. Otherwise, you can add greek yogurt to be more vegan. As a result, you got yourself a good cup of coffee, health, and protein!
Furthermore, the nut butter in this receipt is optional. It means that it is optional for you to keep it, change to other healthy butter, or do not use the nut butter in general. If you like syrup or other sorts of but, feel free to explore and follow your heart.
Instant oats allow you to create a thick and filling cup of coffee smoothie. It will help to maximize the consistency as well as your health. With oats, you are able to make a good cup of coffee smoothie.
6. Bonuses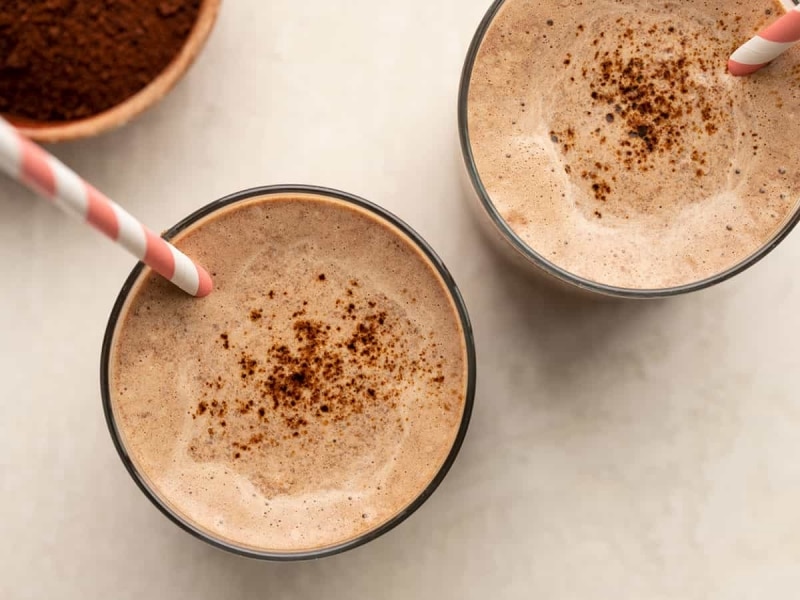 Adding cocoa powder is actually a good choice for beginner coffee drinkers out there. Many, including me, started to drink coffee with the help of cocoa powder and chocolaty types of drinks mixed with coffee.
And if you are aware of how amazing cocoa powder is, especially with chocolate smoothies. I am sure you are going to like it in coffee smoothie recipes as well.
It is fairly easy to make this recipe. Just a head start, the result will be amazing because you are going to get a hint of chocolate in your coffee. It is similar to mocha except that you are mixing with other healthy ingredients.
The ingredients to make this particular smoothie would be the same as the above-mentioned. Some people add a few more things such as cauliflower or Nutella. But that is optional according to you. However, you want to stay with the main ingredients like banana, coffee, ice, and milk. It will be fine as well. Make sure you have to chill your coffee. After that, you can go ahead and pour in some cocoa powder to spice things up a little bit
This would be the perfect drink for anyone who loves to drink coffee and chocolate. If you are new to coffee and the caffeine world, chocolate can help you to familiarize yourself with it.
How To Store The Smoothies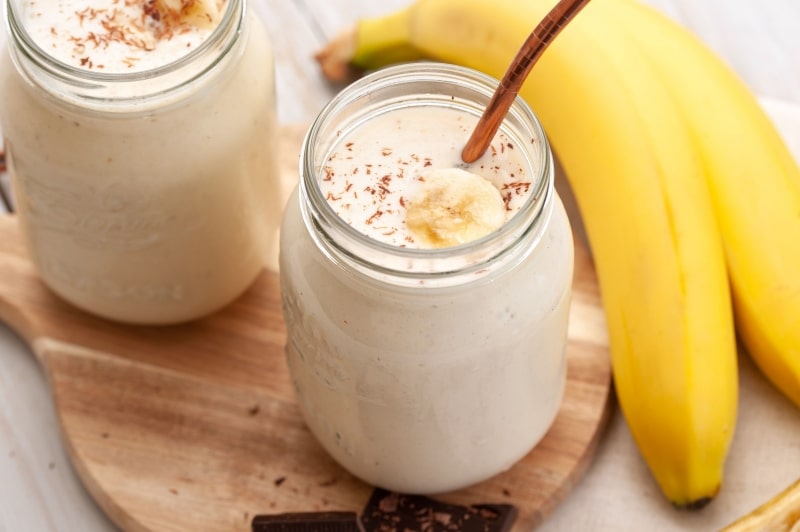 Now after making the smoothies, you might want to keep them for the next day or the day after. Sometimes, you want to keep it just for the afternoon once you get back from work. So, you can have some refreshment before continuing to do something else.
In an earlier paragraph, I have briefly suggested one way of storing your ingredients or prepping your ingredients before making the smoothies. Storing it requires you to keep your ingredients in sealed packages or jars such as sustainable reusable cups or mason containers/jars. But you don't have to blend them all yet. The best thing to do is to freeze it and keep it in the fridge. When you are hungry add some milk and blend all of the yummy ingredients together.
For now, in this paragraph, I am going to tell you the ways that you can actually store your smoothies after blending. It is quite similar to how you prepare your prep ingredients. You will need to have an air-tight container with a secure lid.
Pour your smoothie into that container and secure the air out. Make sure that it is shut and closed tightly. This way you can keep your coffee smoothie for up to 3 days. Plus, you can freeze it into a popsicle. Remember how we used to make iced coffee popsicles? This is the same idea. All you have to do is buy a mole and pour your popsicle into that mole and freeze it. And you can have your popsicle anytime that you want.
Conclusion
Do you like it? I hope you do enjoy the recipes that were listed above. These recipes are very popular for coffee smoothies. Each cup of coffee smoothie must be enjoyed, chilled, soft, and addicting. This is why I picked some of the most entertaining and interesting recipes out there. But I should not overlook the regular coffee smoothie recipes. This is a must. Nothing can go wrong with a classic. Once you master the mainstream recipes, you can explore and discover more things.
Additionally, there is a workout recipe as well. It involves protein powder which you can incorporate into your coffee smoothie. Some people would love to have a cup of coffee as well as a protein powder in it so that they can feel alert and boosted for their workout session.
Out of all the recipes, there is a special recipe that includes cinnamon. The smell of cinnamon reminds everyone of the holiday season. And adding it as an ingredient for our magical coffee smoothie recipe would be a fantastic taste.
And a final reminder, do not forget bananas, chilled coffee, and milk. These are the main ingredients of coffee smoothies. Bananas play an important role. Not only does it contain protein but it also enhances the consistency of your smoothie. While coffee must always be cold. Lastly, you can choose your own choice of milk but it must be there to help create a great smoothie.
Finally, this is the end of our article. I hope you enjoy reading and finding out the coffee smoothie recipes that are mentioned above. Some of the recipes are regular, while some are adventurous. Please leave a comment on how your coffee smoothie turns out to be!
References
Check out: Banana coffee smoothie recipe. Energy booster. By FoodTube on Youtube