Innovative architectural places can be found in Boston, a city where you can spot many cafes. Foreign tourists need to check out these coffee shops when you land in Boston someday. As both modern or traditional-kind roasters are available, travelers who love to get local coffee, you can visit several coffeehouses as much as possible.
For local Bostonians who look for a wonderful way to begin the day, an afternoon light snack, you can grab a drink from some coffee shops below. Those cafes are either near your workplace or your house and will be ready to serve you all the time. Even though you're unable or lazy to go out, some chains accept online orders as well. Make sure to go to see it!
1. Barismo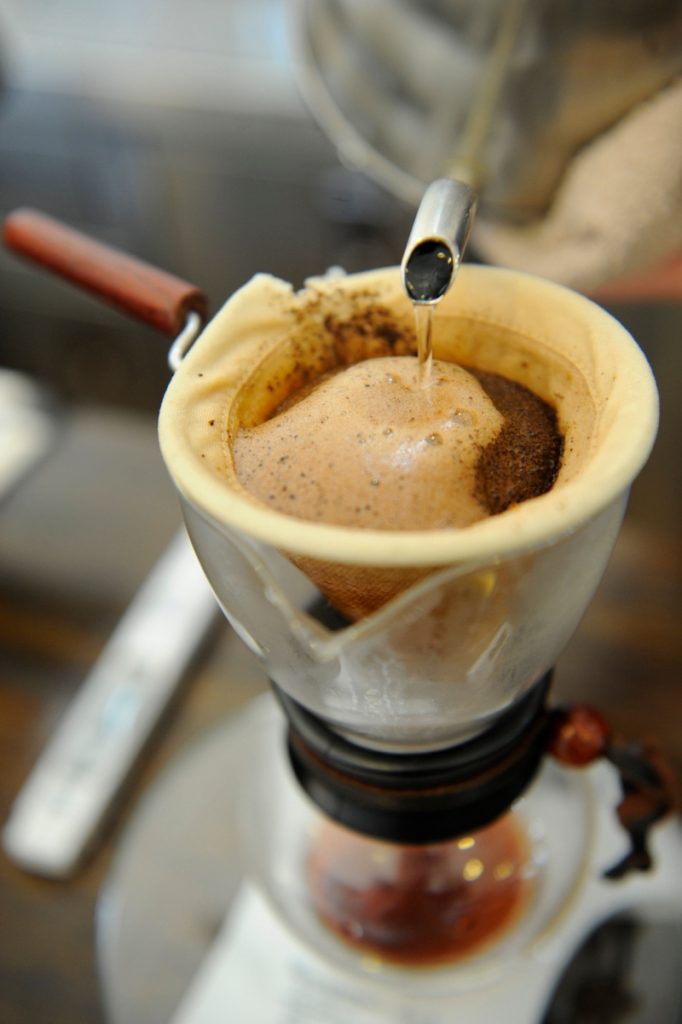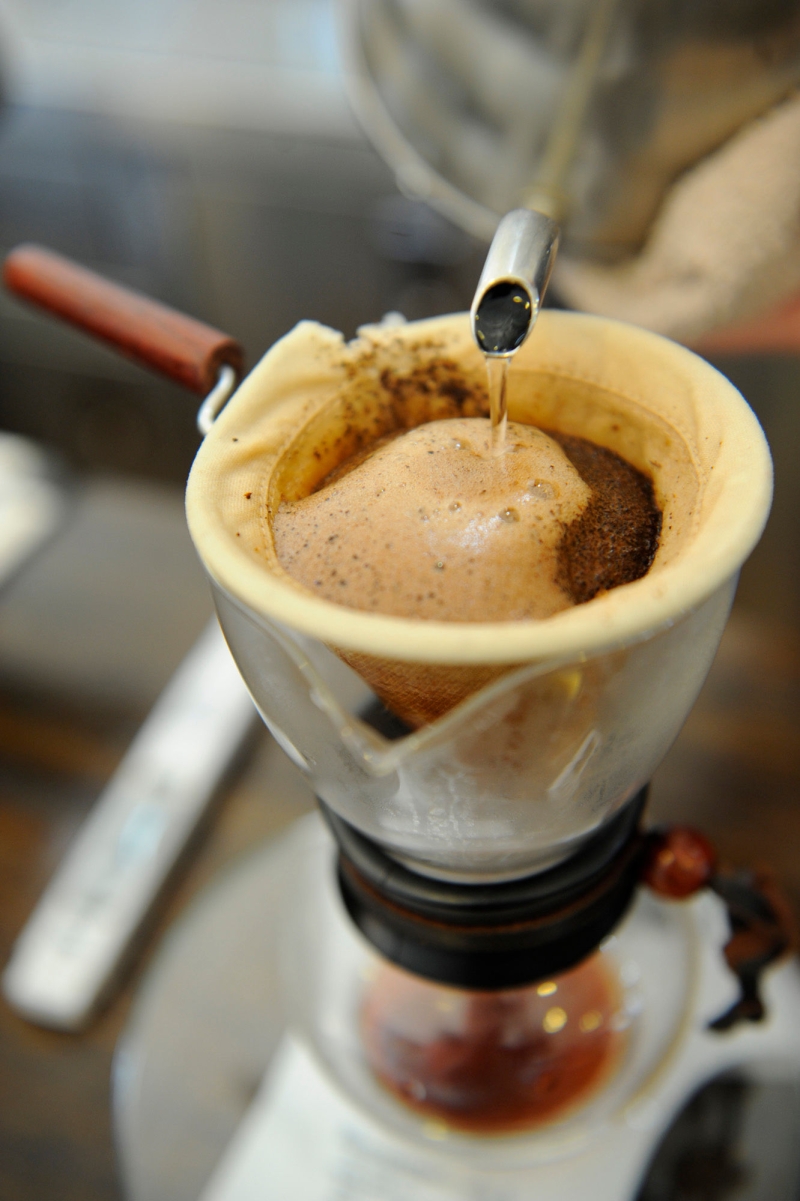 If you wanna meet Woburn-roasted coffee that exists in central Cambridge, you need to head to Barismo 364 Broadway in Cambridge. This brand of coffee shop was originally named Dwelltime where baristas meticulously make a cup of coffee in many methods. They're friendly, professional and always willing to share their knowledge.
In Barismo, they brew coffee with Siphon coffee makers and make a cold brew as well. One thing you may want to know, free wifi isn't available in this place.
Another two locations of this brand store in East Arlington and Woburn are accessible by those whose houses are located nearby, mostly suitable for commuters. Here's Barismo official website: http://www.barismo.com/
2. Darwin's Ltd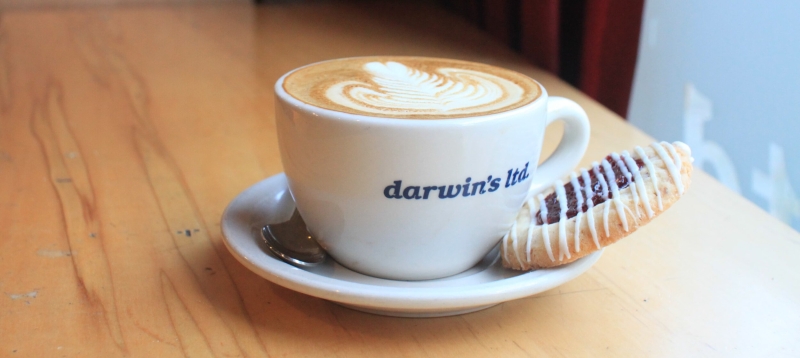 Say hello to Darwin's Ltd which has four cafes in Cambridge, including this one on Cambridge Street. With such a classic name, Darwin's has been around for nearly a quarter-century. It serves not only coffee but also pastriesm soups, and sandwiches.
Baristas make the coffee with the coffee house's unique conical brewing technology, which resembles pour-over brews in less time. Coffee cocktails, beer, and wine are available at the Massachusetts Avenue location. Here's Darwin's official website: https://www.darwinsltd.com/
3. Curio Coffee and Wine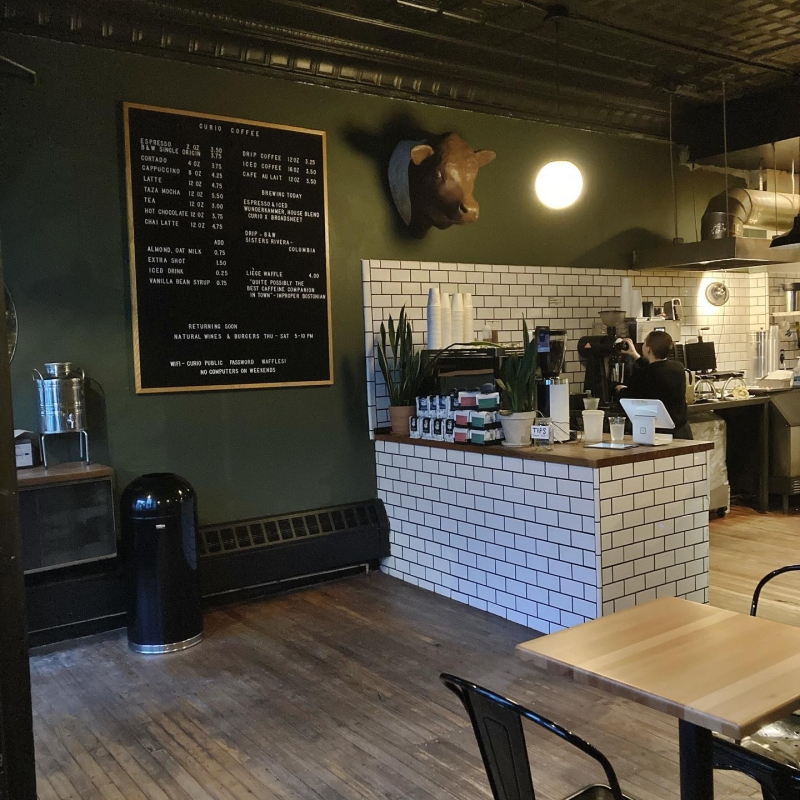 For a whole day, local aficionados can come in twice to grab waffles and espresso beverages in the morning and have natural wine at night. Curio is a coffee shop in the day and some nights in a week, it transforms into a wine bar. Just a short distance from Lechmere Station, you can reach this lovely coffee bar.
As the picture shown about those coffee bean packs on the counter, the barista only brews small batches. The iced coffee is crafted so well with the Bulletin Blend from Broadsheet Coffee Roasters, a Cambridge-based company.
Snack, which refer to waffles, follow the recipe from Liège, a city in Belgium. Even the griddle used to make the waffles also imported from that country. You can check Curio coffee website here: https://www.facebook.com/curiocoffee/
4. Gracenote Coffe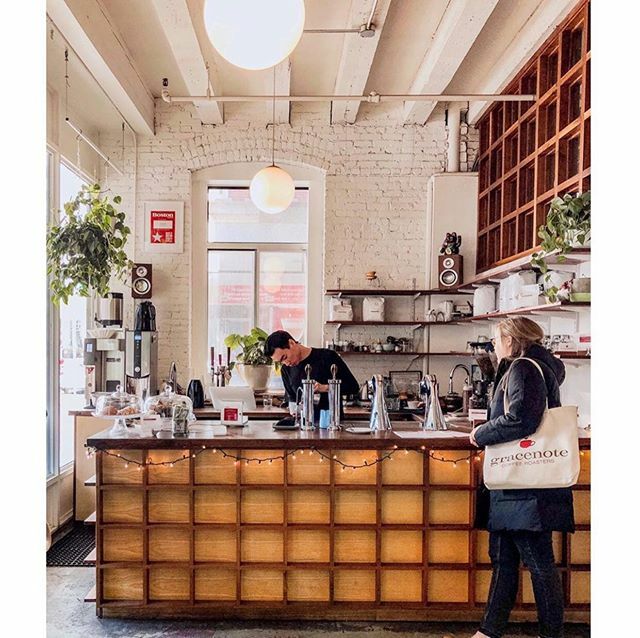 Offering two flavors for espresso drinks, there are no other coffee shops on Lincoln street besides Gracenote. This brand preserves its great coffee as it has Gracenote coffee roasters in Berlin, Massachusetts. You can choose to get Alpha, which is the presentation of a traditional espresso profile of Gracenote, as well as the single-origin coffee that changes every day.
You might be interested in getting to know about single origin coffees.
You can also order a latte, tea, or cold brew coffee, etc. This coffee shop is a 200-square-foot venue and has no seats because it's cramped. Yet, inside the coffee house, there is glassy brewing equipment, whereas baristas show great hospitality and share knowledge about the beautiful roasts that prepare the drip coffee of the day.
Gracenote does not only use its own roasted beans to brew coffee but also supply them to local coffee shops in Boston. Here's Gracenote official website: https://www.gracenotecoffee.com/about
5. Render Coffee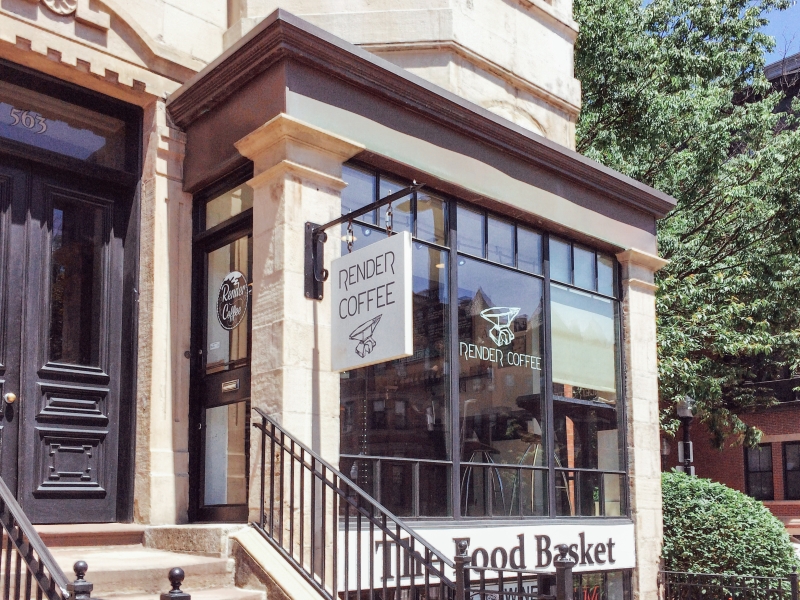 Spotting on the second-floor of a building located on Columbus Avenue at South End Boston, Render Coffee serves malted cold brew which is the signature in the house. For any coffee lover, this place is like a respite to take a sip of frothy coffee drinks and enjoy the view through the window.
As mentioned earlier that Gracenote Coffee distributes its roasted bean to some Boston coffee shops, and Render Coffee is one of the consumers. Render also sources beans from Tandem Coffee in Maine. It has another location on 121 Devonshire street, Financial District in Boston. Here's Render Coffee official website: https://www.rendercoffeebar.com/
6. Kohi Coffee Company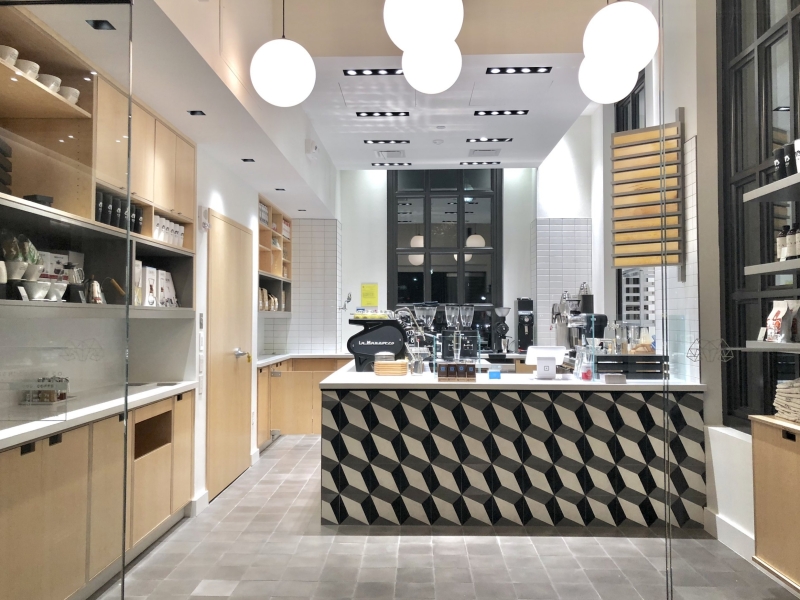 With four locations in Massachusetts, Kohi Coffee Company has fascinating latte art design and elegant interior that are worth a try and look. The one place that is located around Boston area is inside an office building in the spectacular 125 Summer Street.
It's a little independent coffee house proudly providing craft coffee and baked goods. It also has a little walk-up window outside for busy people who want a quick caffeine fix. Here's Kohi Coffee official website: https://www.kohicoffee.com/
7. Pavement Coffeehouse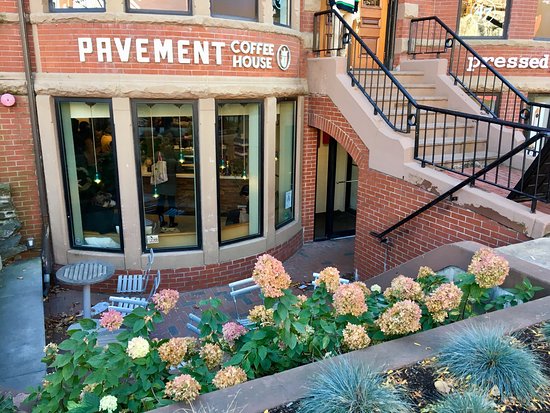 Pavement has always been serious about coffee because it was one of the first and best coffee shops in Boston-area that offer pour-over and cold-brew. Pavement Coffeehouse has total of eight outlets in the States. To conserve excellent coffee, Pavement Coffeehouse local chain began to roast beans on its own since 2018.
You can purchase Rathskeller Espresso blend and other seasonal roasts in this local shop. The crafted bagels by Pavement, delicious pastries and other food are served to accommodate with coffee drinks. Here's Pavement Coffeehouse official website: https://pavementcoffeehouse.com/
8. Thinking Cup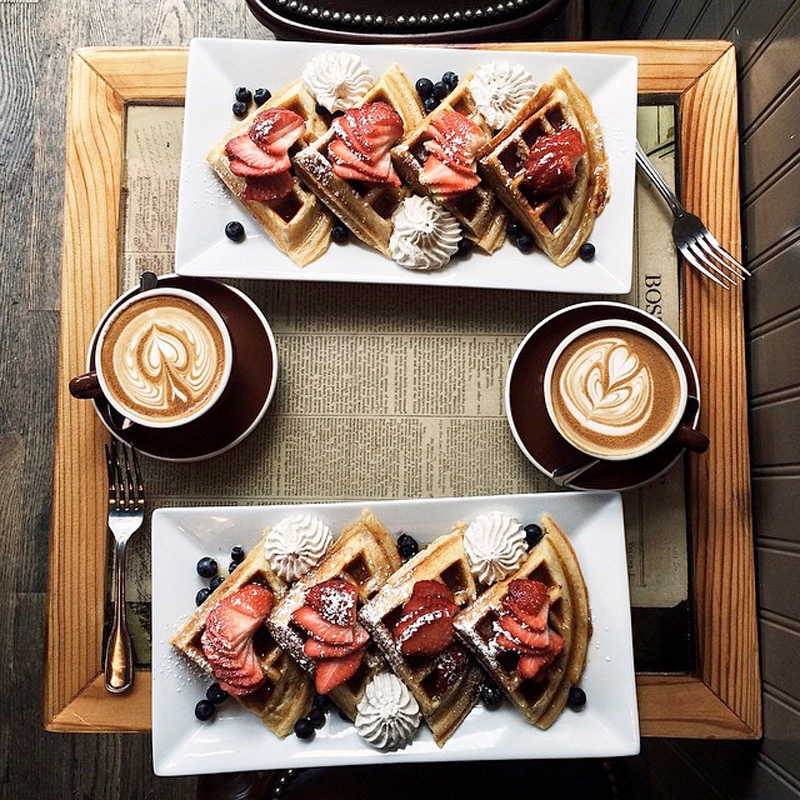 If you've been a fan of Stumptown coffee but wanna try it at a coffee shop, there are two places in Boston. Thinking Cup is the only coffee house in Boston serving Stumptown Coffee. By selling breakfast sandwiches and pastries, Thinking Cup is surely the best morning and afternoon pick-me-up.
Beside the location on Newbury Street in Back Bay, other two branches are Tremont street and on Hanover Street in the North End. Here's Thinking Cup official website: http://www.thinkingcup.com/
9. Revival Cafe + Kitchen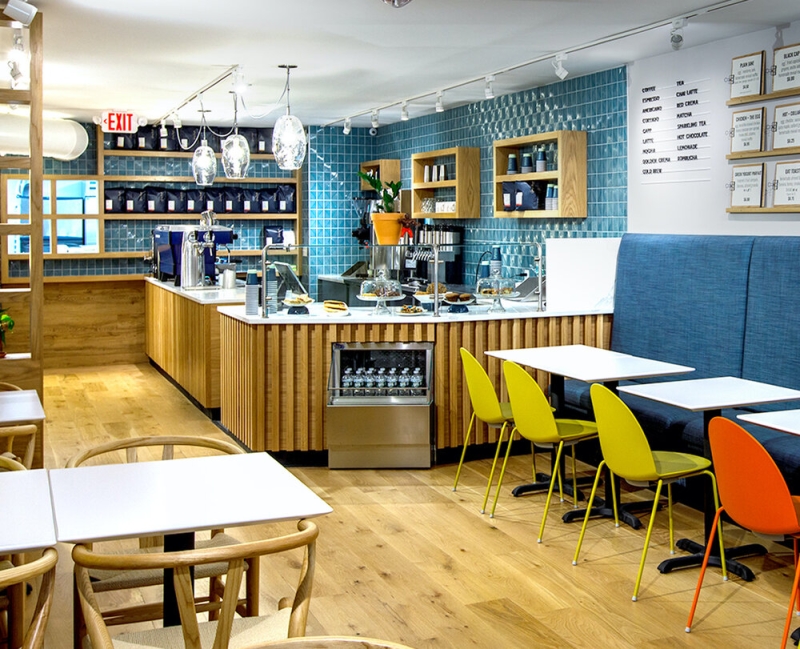 Revival has one location on Newbury Street in Boston, where it serves a variety of coffee and espresso drinks. Have you tried a two-shot of espresso with cinnamon and honey? You can order golden crème. Moreover, a pumpkin spice latte must be interesting to taste too. Other foods an egg sandwich with feta, Jimmy Pesto, sunflower seed pesto, and pickled onions are available. Here's Revival Cafe and Kitchen official website: https://www.revivalcafeandkitchen.com/
10. George Howell Coffee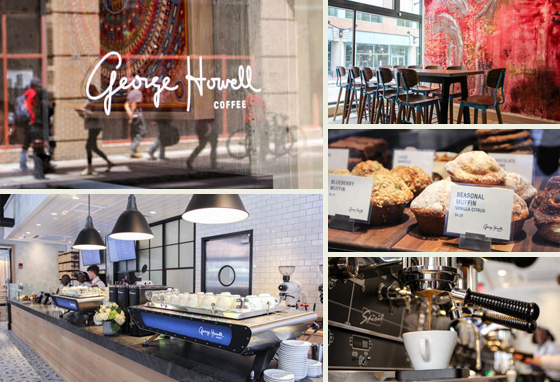 By using single origin beans as the source for making caffeinated drinks, George Howell Coffee has been roasted in house daily to ensure great coffee for consumers.
This coffee house is a European-style espresso bar offering a variety of coffee beverages, coffee flights.
This brand shop has two espresso machine, a big marble bar, a retail section selling brewing equipment and beans, coffee education classes, and a menu of luxury delights.
You can find George Howell Coffee at the Boston Public Market and at a flagship coffee shop inside the Godfrey Hotel. At this coffee shop, it serves beer and wine as well.
If you can't make it to this shop, George Howell also supplies beans to a number of local coffee house and restaurants, so you'll be able to locate the beans elsewhere around Boston area. Here's George Howell Coffee official website: https://www.georgehowellcoffee.com/
11. Flat Black Coffee Company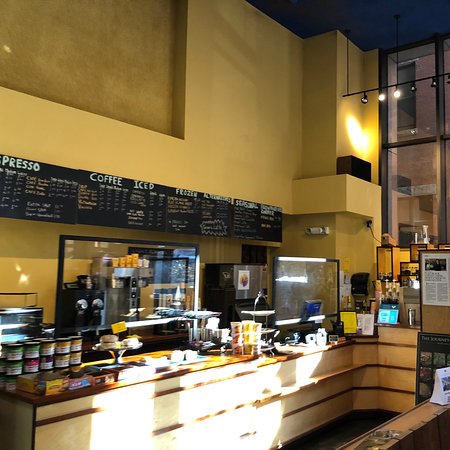 Flat Black has been the roaster and supplier in Boston since 2003, with coffee shops exist in Dorchester's Lower Mills and downtown Boston.
Flat Black specializes in single-origin beans, to make coffee and also offers a large assortment of teas. Each coffee house contains a little amount of seats as well as baked pastries. Here's Flat Black Coffee official website: https://flatblackcoffee.com/
12. Nine Bar Espresso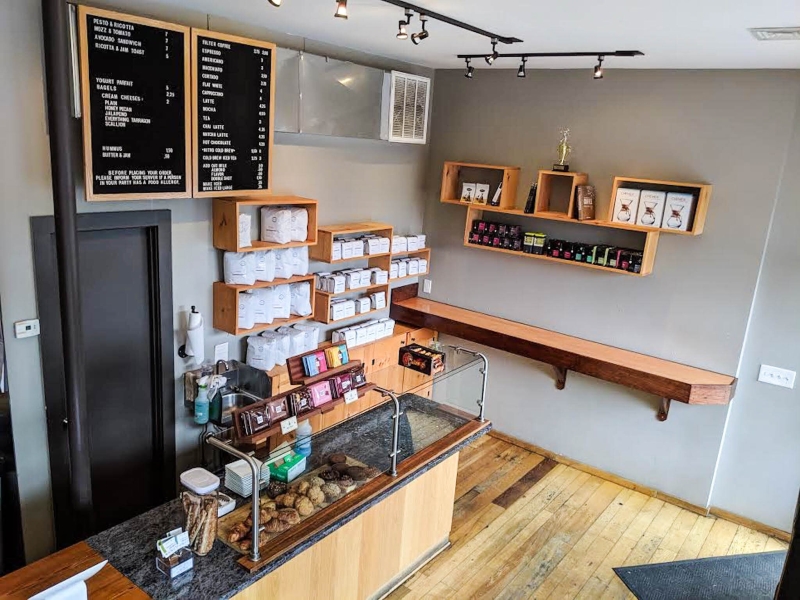 Locally roasted Gracenote coffee and specialized loose-leaf teas are served at Nine Bar Espresso. It's heaven for espresso and tea lover because Nine Bar can make gorgeous designs on cappuccinos and green matcha beverages.
This coffee house is conveniently situated across the street from Davis Square MBTA station so customers can quickly grab drinks and go to work. This shop's another location is close to Downtown Crossing. You can check Curio coffee website here: https://www.facebook.com/ninebarespresso/
13. Café Fixe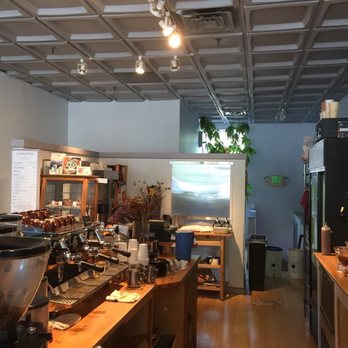 There is enough coffee, and tea to go around. Baristas in Café Fixe brew coffee in little batches and use pour over method for making espresso.
Barrington coffee is served in Café Fixed, which also offers a variety of pastries and other delicacies to go with it. This coffee shop does not offer wifi and has a $10 minimum for credit card purchases. Here's Café Fixe official website: http://www.cafefixe.com/
14. Night Shift Brewing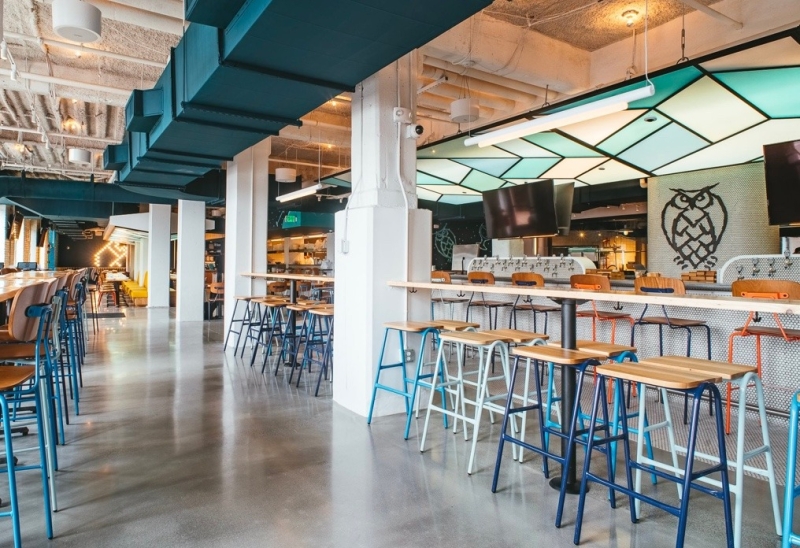 When Night Shift expanded into the coffee sector as part of its downtown Boston growth, it did that with the same level of quality control that it applies to its beer.
A bit story of this coffee bar is that a former barista from George Howell Coffee and U.S. Brewers Cup champion in 2018, Mr. Rose Woodard supervises baristas prepare coffee that its seasonally selected beans are roasted in small batches at Night Shift's Chelsea headquarters.
This modest, neon light coffee bar shares the location at the brewery adjacent to North Station. Night Shift Brewing is open until 10 o'clock on weekends, which is a bonus for night owls who don't drink alcohol. Here's Night Shift Brewing official website: https://nightshiftbrewing.com/
15. Winter Hill Brewing Company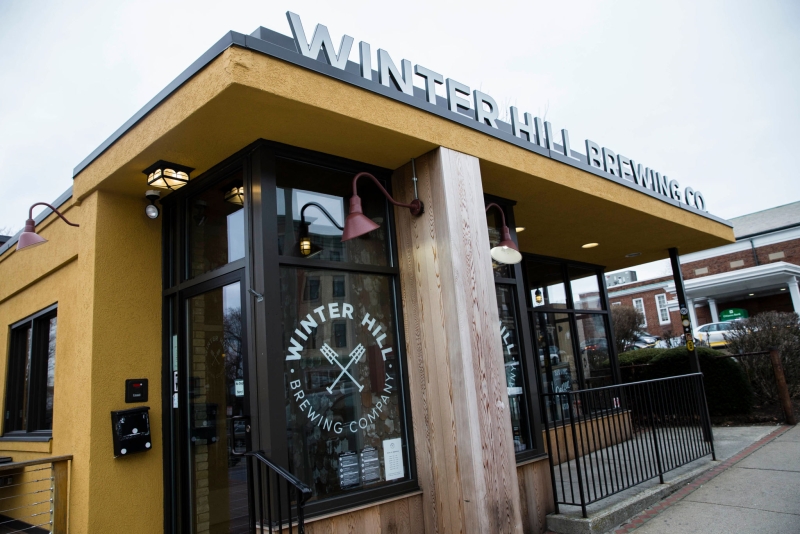 Located on 328 Broadway, Somerville in Boston, the founders of this coffee house won over Starbucks.
At one point in time, the landlord picked their proposal over a Starbucks, the founders were working on a beer business plan. It now becomes a coffee shop during the day and a brewery at night.
With a big vision of seeing the neighborhood lacked a community-focused coffee shop, so they added one to their five-barrel brewhouse. It's a full espresso bar that has free wifi and abundant seats to satisfy all the needs of customers.
Furthermore, a Counter Culture Coffee program is available which opens daily in the morning at 8 o'clock, and at 9 o'clock on weekends. Here's Winter Hill Brewing official website: https://winterhillbrewing.com/
16. 1369 Coffee House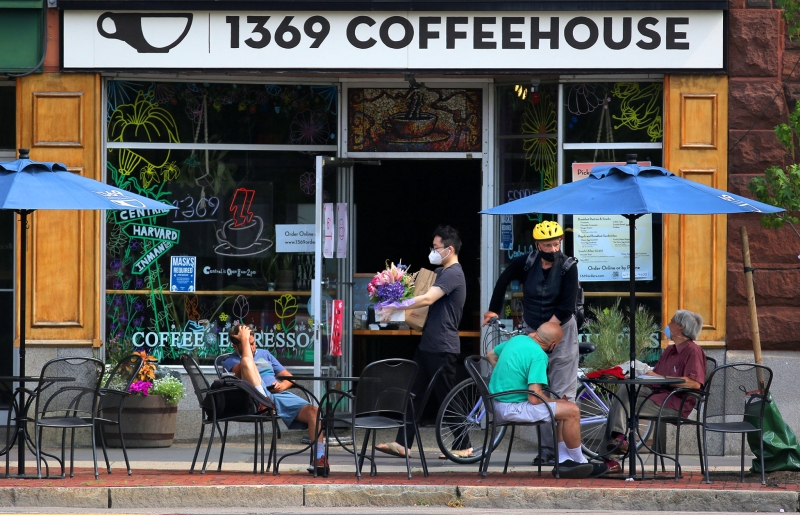 Aside from a location in Inman Square, where it's hard to get a seat, you can head to another branch in Central Square on 1369 Cambridge Street. Putting the name as 1369 Coffee House, it gives a grand quality among Cambridge's various coffeehouses in many aspects.
The location simultaneously exposes great coffee to Cantabrigians and has a superb coffeehouse environment. You can have some specialty drinks like homemade chai and the frozen mocha slide.
Imagine savoring a latte while reading a chapter book or sipping your third cup while working on a laptop seemed acceptable. Make sure to check the place out now! Here's 1369 Coffee House official website: https://www.1369coffeehouse.com/
17. Broadsheet Coffee Roasters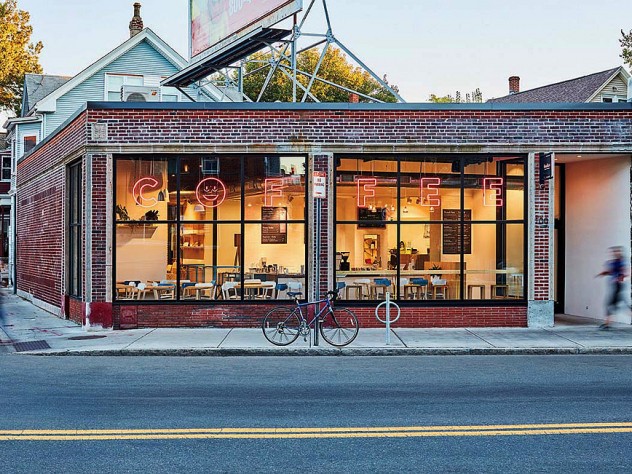 Broadsheet Coffee Roasters, proudly claiming the title of Cambridge's first speciality coffee roastery, is located behind Harvard Square. It started to operate since 2017.
This coffee shop offers up ethically sourced coffees from a rotating range of sweet and nuanced beans roasted in house two times every week.
There are also take-out packets of whole beans for do-it-yourself drips, as well as online instructions to teach you how to brew at home. Right now, do you need a little boost?
Get one of their 32-ounce bulk jugs of coffee. Please visit this cafe! Here's official website of Broadsheet Coffee Roasters: https://www.broadsheetcoffee.com/
18. Caffè Ducali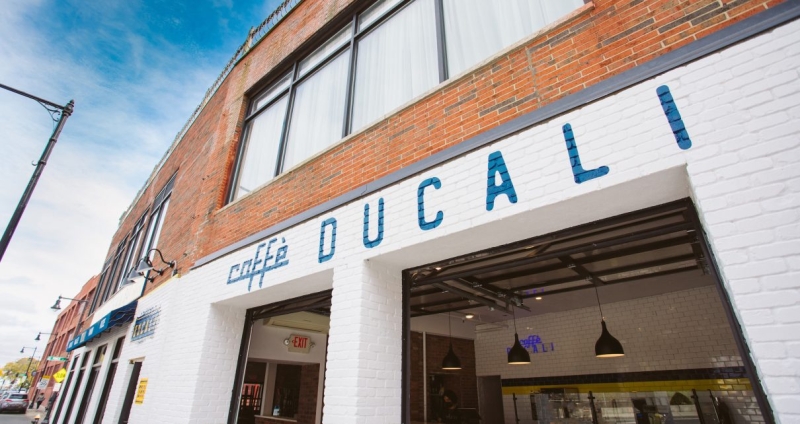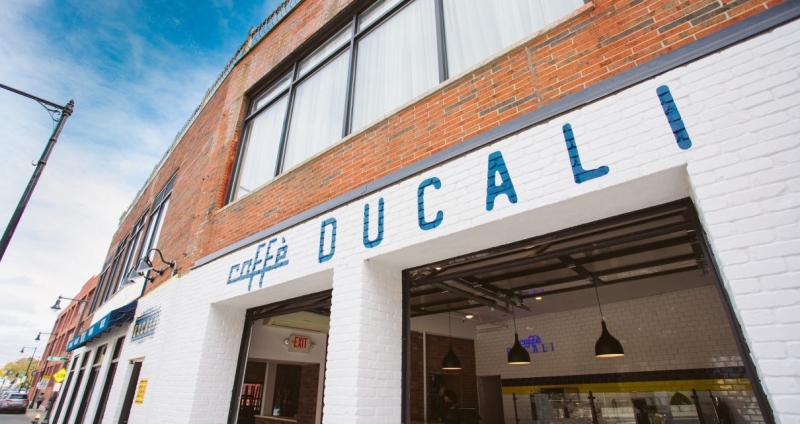 While there are many espresso coffee shops in the North End, Caffè Ducali stands out as a spin-off operation of the well-known North End pizza Ducali.
This neighborhood coffee house isn't called "Boston's Italian Espresso Bar" for nothing, whether you're enjoying a matcha latte with foam art or just a plain old cup of coffee.
There are also a few pastries, breakfast sandwiches, and lunchtime slices from the nearby pizza. Here's official website of Caffè Ducali: https://duca.li/
19. 3 Little Figs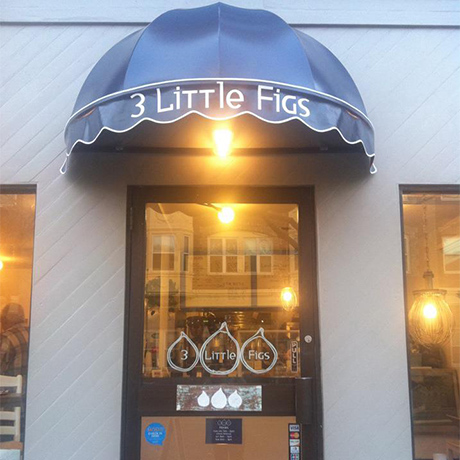 3 Little Fig in Somerville's Spring Hill neighborhood is ideal for an outing in the morning, especially in the weekend.
This coffee shop sells not only espresso, cold brew that are made by pour over technique or French press method but also serve tea.
The food menu such as baked goods and sandwiches are available. A chai latte is a good combination with a spinach pie. Instead, how about a chia pitaya bowl or an avocado shake?
Talking about the pie, Katie Rooney, cofounder and baker, is recognized for her wonderful scones, muffins, breads, and delicacies like a family recipe for spinach pie.
Food is great but coffee program is quietly one of the best in the region, with baristas brewing Tandem Coffee from Portland, Maine, as well as rotating guest roasters from all around the country.
So the most appealing aspect of 3 Little Fig is its dedication to high-level barista work.
All of the espresso drinks are crafted with freshly picked beans from New England roasters and farm-sourced dairy.
The outside sitting choices will be perfect for those who like to get freshair. Next door is 3 Little Figs' sibling restaurant, Health Club.
Here's 3 Little Fig official website: https://www.3littlefigs.com/
20. Tatte Bakery & Cafes
Tatte Bakery & Cafes, which began as a single brick-and-mortar bakery in Brookline, has expanded to 18 locations around Boston and Washington, D.C.
Whether it's substituting a non-dairy alternative for milk or boosting the volume with caramel syrup, lattes and coffee are made to order.
Each lovely coffee shop provides wonderful pastries, plates, bowls, soups, tartine, and sandwiches, not to be surpassed by the superb beverage choices.
There's also a large gluten-free menu. Here's official website of Tatte Bakery & Cafes: https://tattebakery.com/
21. Pepita Coffee
Pepita serves drip coffee, cold brew, espresso, coffee flights, iced spicy chocolate, and a coconut-cinnamon coquito slushie.
If you visit at the correct moment, you may have both Pepita coffee and Lamplighter beer. Pepita actually has breakfast tacos, avocado tostada, and varied pastries menu inspired by Austin, Texas, for example, the jalapeno cornbread and pumpkin rum coffee cake.
Here's Pepita Coffee official website: https://lamplighterbrewing.com/pepita/
22. Tamper
Tamper in Medford, is in the north of the city, has some delectable coffee and cookie pairings.
There are brewed coffees and espresso-based drinks available, as well as tea, lemonade, and a limited range of beer and wine. You can also get breakfast sandwiches, French toast and omelets.
Here's Tamper official website: https://www.tampercafe.com/
23. Jaho Roaster & Wine Bar
Jaho has deep roots in Massachusetts, having been founded on the North Shore. Its chain of specialty coffee roasters can be found all over the city.
Moreover, it has a flagship site in Salem, as well as locations in the South End, Downtown Crossing, and Back Bay. Here's Jaho official website: https://www.jaho.com/
24. Ogawa Coffee
This popular Japanese roasting company's lone overseas branch serves up superb coffee, matcha, and more in a hip atmosphere.
This coffee house is the ideal vantage point from which to see the baristas work their magic with foam. You can request a customized latte art creation with your order. Here's Ogawa Coffee official website: https://www.ogawacoffeeusa.com/
Conclusion
We don't rank these 24 best coffee shops in Boston in order.
The number on the top doesn't represent the most superior shop. With many coffee shops available, they all have a unique method of making coffee and serving different food for you. If you're curious to try a range of coffee in Boston, make sure to check out the shops above.
References
Check out: Best of Boston: Coffee By christinaerne