Getting a cup of coffee is always the one thing that you must do on a daily basis. Although it is not for everyone, at least for every coffee lover. After getting out of your bed in the morning, the first thing on your mind is you need to have your coffee to wake your spirit up before starting your day. Organizing everything in your kitchen is also important too, thus get a coffee organizer will be the best choice!
There is a certain time of the day where your relatives or friends are addicted to coffee just like you travel from a long distance to throw a surprise visit at your house. And of course, you can't just serve them some sort of water, soda, milk, beer, or juice. You run into your kitchen, open your cabinet, grab a mug and you just realize that you have run out of coffee. How about sugar? They are nowhere to be found too.
At that time, you really wish that your house was well organized like a coffee shop so that you can easily spot when any of your coffee paraphernalia is about to run out of stock and you don't have to waste your time finding them every time you are making your coffee.
Well, maybe it is time to invest in a coffee organizer to keep your stuff organized. Before you do that, you have to do some research about the products that you're about to spend your money on so that you don't have to be sad about buying products that are overpriced and of low quality.
List Of The Best Coffee Organizers To Store Your Condiments in 2023
10. Mind Reader Coffee Upright Condiment Organizer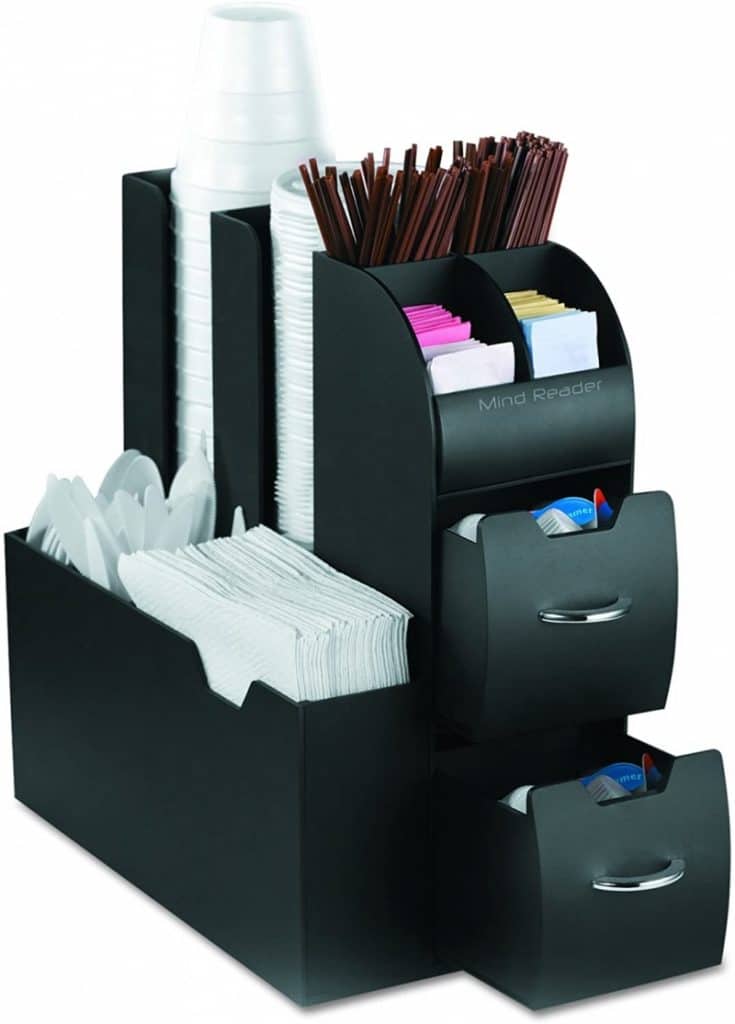 For sure, you are not only drinking your coffee at your house, but you are also drinking this beverage at your workplace too. Hence, this Mind Reader Coffee Upright Condiment Organizer is perfect for coffee and snack organizer in your office breakroom. This item has ten compartments that can fit a lot of stuff such as straw, k-cups, creamers, tissues, sugar packets, and tea bags.
They are made from plastic and come in a size of 12 inches in height, 12 inches in depth, and 6 inches wide. Thus, this Mind Reader organizer has only one color which is black. More than this, they are also very sturdy and durable. They have rubber grippers at the bottom which prevent it from slipping away. Besides its role as a coffee organizer, it can be used in your office, lobby, study room or waiting room to store your paper clips, pens, tacks, staplers, glue, and other office supplies too.
9. mDesign Plastic Kitchen Pantry, Cabinet, Countertop Organizer Storage Station with 3 Drawers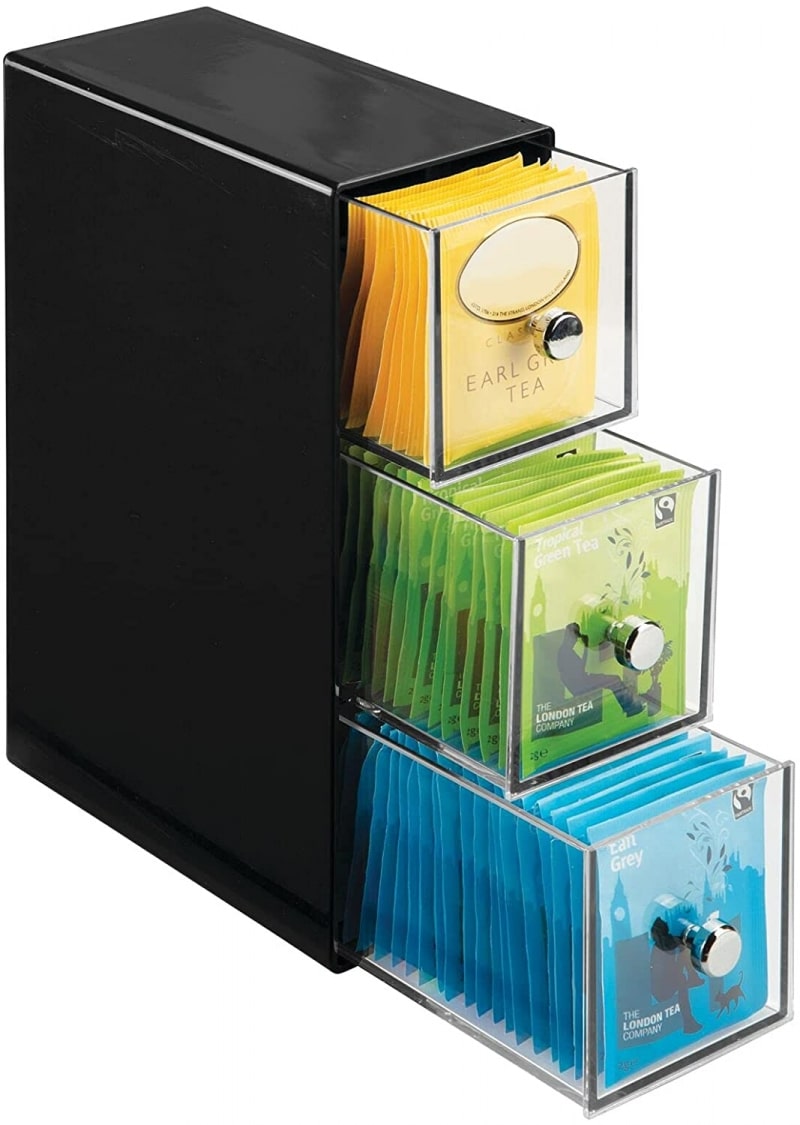 If you're looking for an organizer that doesn't take too much space for your creamers, tea packets, sweeteners, coffee packets, and more, then mDesign Plastic Kitchen Pantry, Cabinet, Countertop Organizer Storage Station with 3 Drawers will be the best purchases you've ever made. The reason is that the item allows you to use them both vertically and horizontally.
All you need to do is flip the drawers and it is done. What's more, they're made out of strong BPA and Chlorine-free splinter-proof plastic plus a rust-resistant mental grip on each drawer which means that this item is durable and perfect for long-term use. Measuring 7×3.5×10 inches allows you to save up more space for other purposes.
8. Nifty Coffee Pod Drawer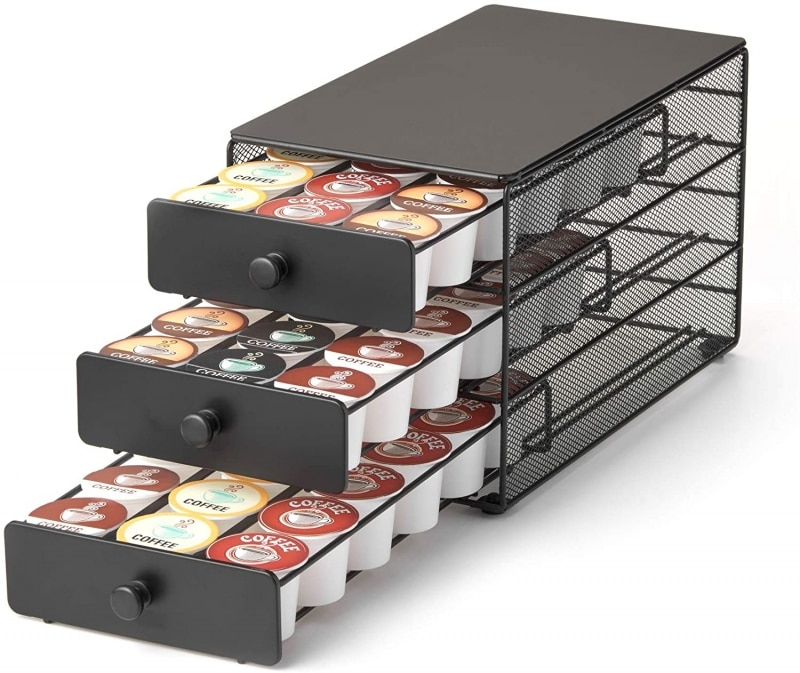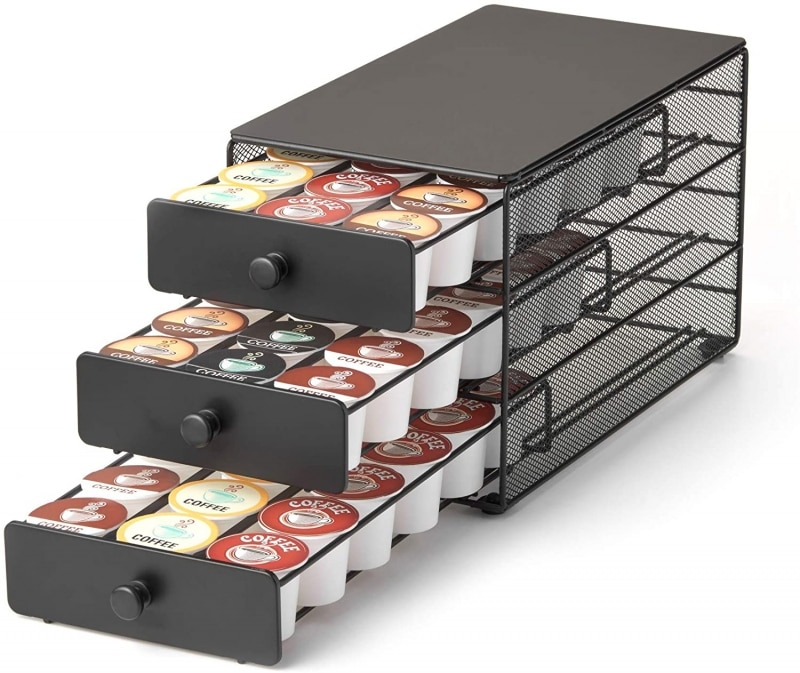 All of us make mistakes. We are just too busy dealing with what's going on in our everyday life that sometimes we don't even realize that we don't have any k-cups left in the house. For serious coffee drinkers, we take this problem very personally. To prevent this from happening again in the future, having one of the Nifty Coffee Pod Drawers in our house will definitely be life-changing for us. It has a depth of 12.75 inches, a width of 7 inches, and height of 7.5 inches.
This 3 drawer organizer can hold up to 18 pods in each drawer which means up to 54 pods in total. Based on its modern black satin finish looks, they're great to use in both your office and kitchen to organize all essential stuff as you need. Besides keeping your items in place and their classy looks, they're also very tough and not difficult to clean.
7. AmazonBasics Coffee Pod Storage Drawer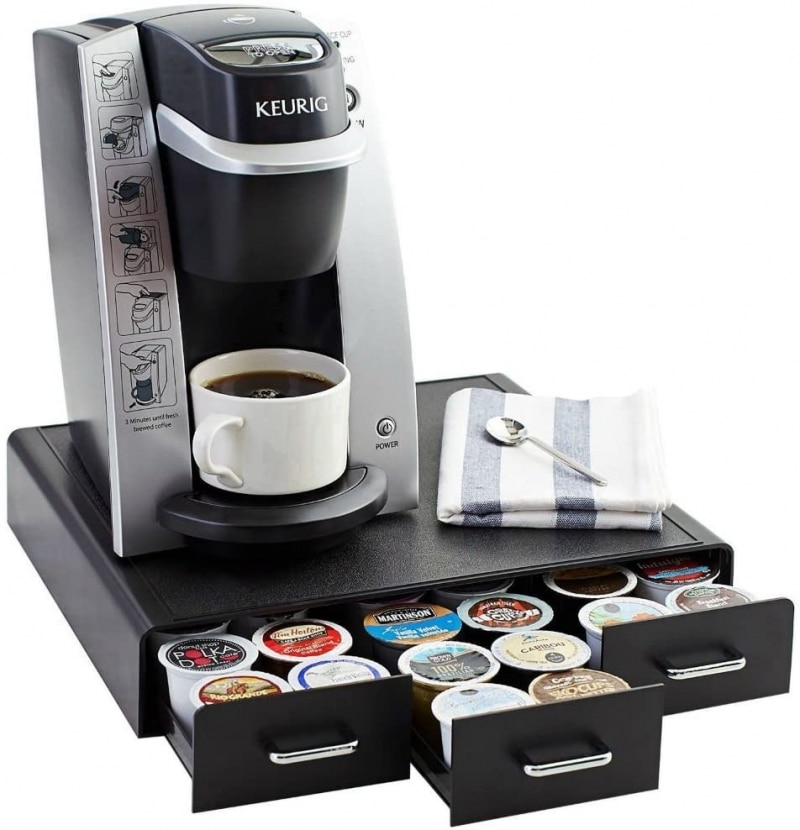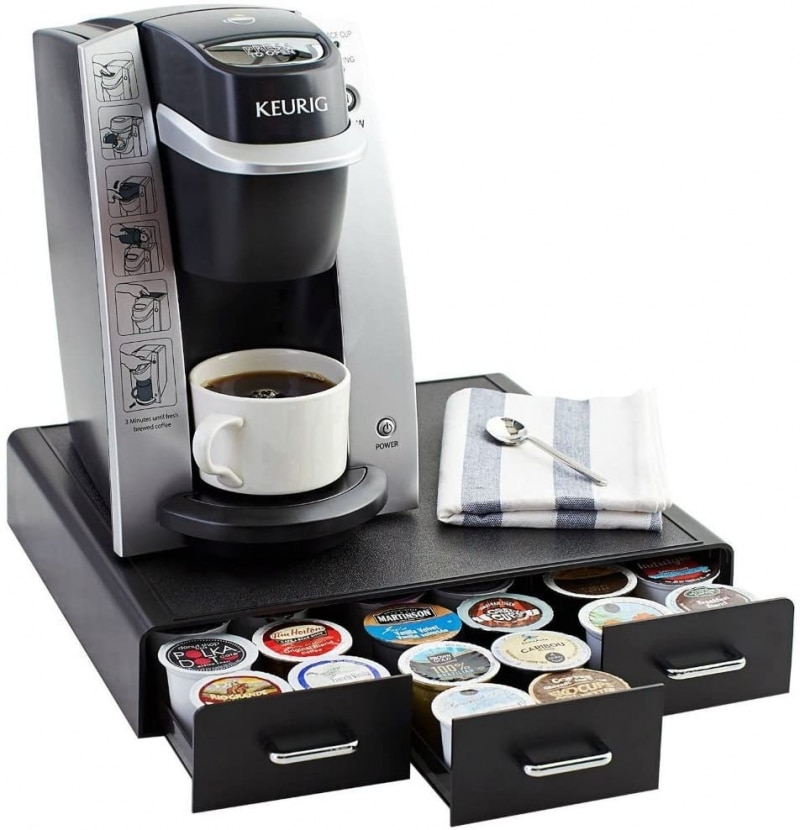 The AmazonBasics Coffee Pod Storage Drawer is also one of the best options to consider when buying an organizer. It has the size of 13.5 inches in length, 12.9 inches in width and 2.5 inches in height. The handle of each drawer has a mirror finish look which is a plus. Further, the product weighs about 2.3 pounds and has the ability to store 36 K-cups at most.
The product will be packed in a box to prevent them from any possible damage while shipping or delivering. More than this, they also have a non-slip pat on bottom to prevent your table top from scratching. As you can see in the picture, you surely can tell that this product is very sturdy and durable and that it can bear the pressure of a coffee machine.
6. EVERIE Crystal Tempered Glass Top Organizer Drawer Holder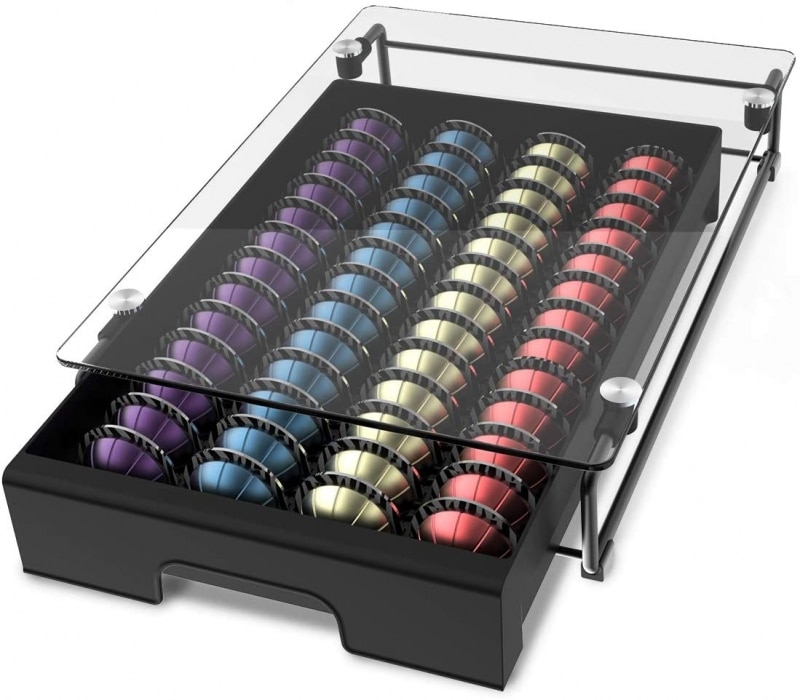 EVERIE Crystal Tempered Glass Top Organizer Drawer Holder presents a modern stylish design of tempered glass top that helps you to see through capsules easily plus the firm metal frame and its thick glass can fully support a coffee machine on the top and still remain looking elegant. This item has the size of 12 in width, 16.5 in-depth and 3.5 in height. It can hold up to 40 VertuoLine pods in big and 52 of VertuoLine pods in small. Not only that it can save a lot of space, but it is also very durable and perfect for long-lasting use.
5. Everie Coffee Pod Storage Carousel Holder Organizer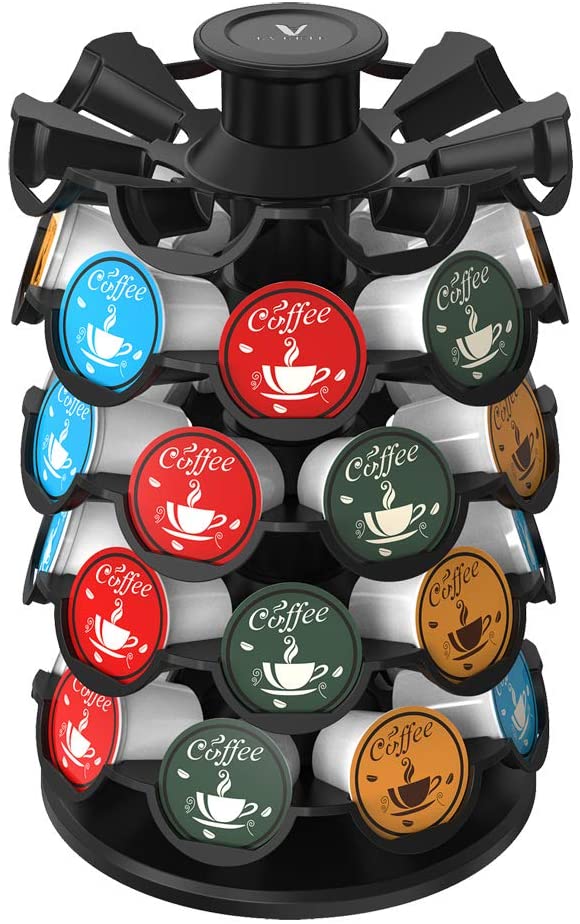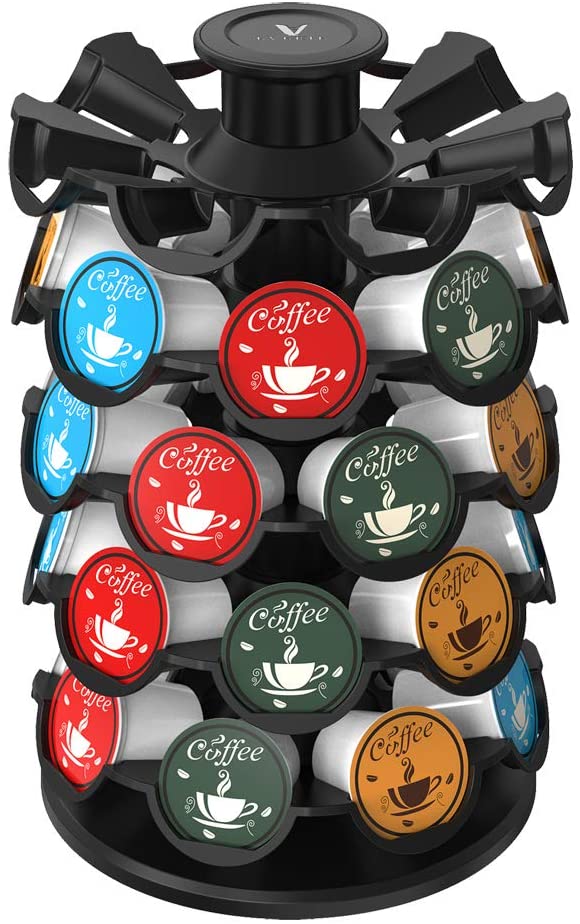 Everie Coffee Pod Storage Carousel Holder Organizer is the best investment to consider when you need a pods organizer to keep your coffee area clean and safe. This product can fit up to 40 pods. Pod holder edge in each and every one slot is taller than the pods to keep the pods stay put in one place or prevent them from falling out while spinning.
In addition, it has a smooth whirling which allows you to revolve the knop on top easily and silently. They're available in the size of 8 in length, 8 in width and 12.4 in height which is perfect to use in the kitchen.
4. Mind Reader Breakroom Condiment Organizer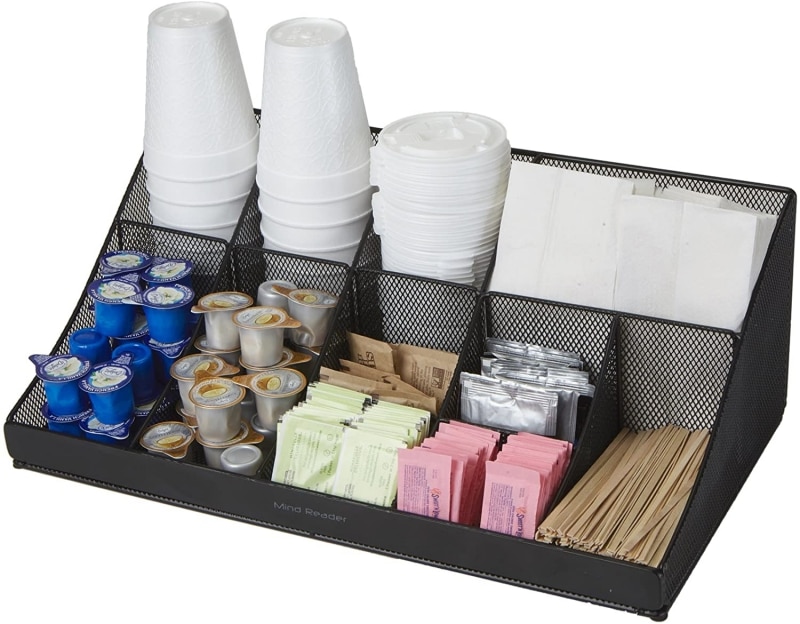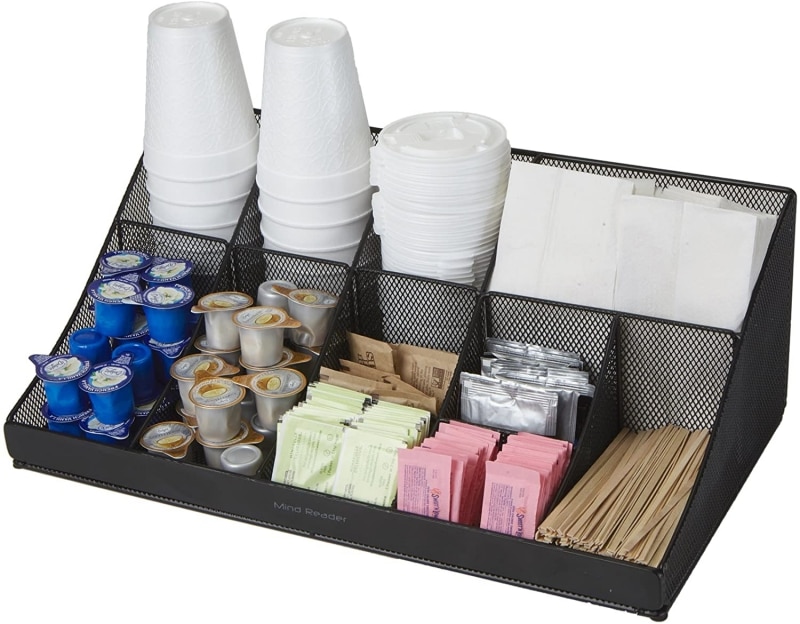 Considered as one of the best coffee organizers for coffee lovers, The Mind Reader Breakroom Condiment Organizer is perfect for anyone who has a lot of stuff. Clearly, its design provides users to store all their supplies individually and neatly. It has a size of 10.4 lengths, 18.75 widths,s, and 9.88 height. Moreover, this product is made from plastic and has black metal mesh looks. Also, they're sturdy and light which is easy to move from place to place without any worry.
3. Mind Reader 11 Compartment Coffee Condiment Organizer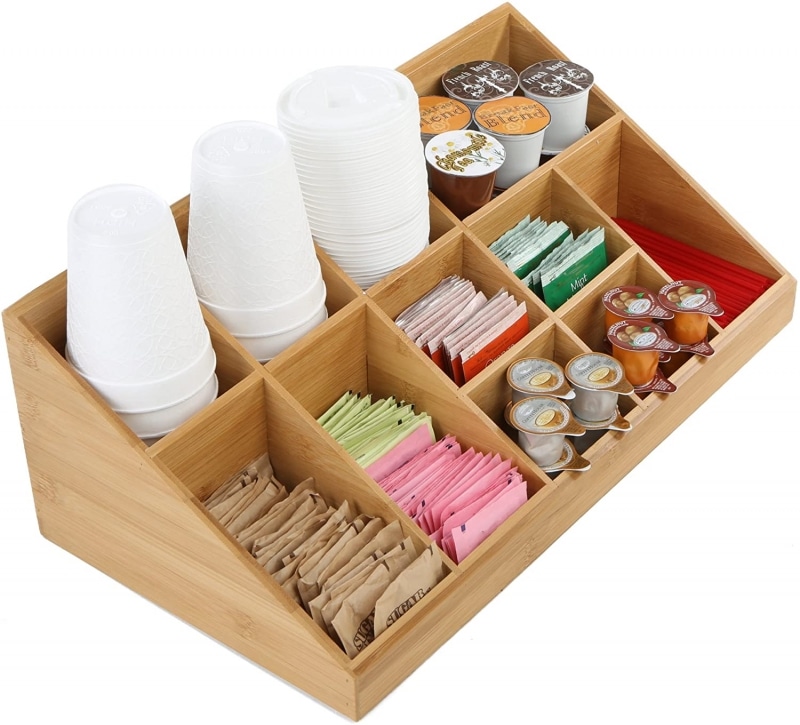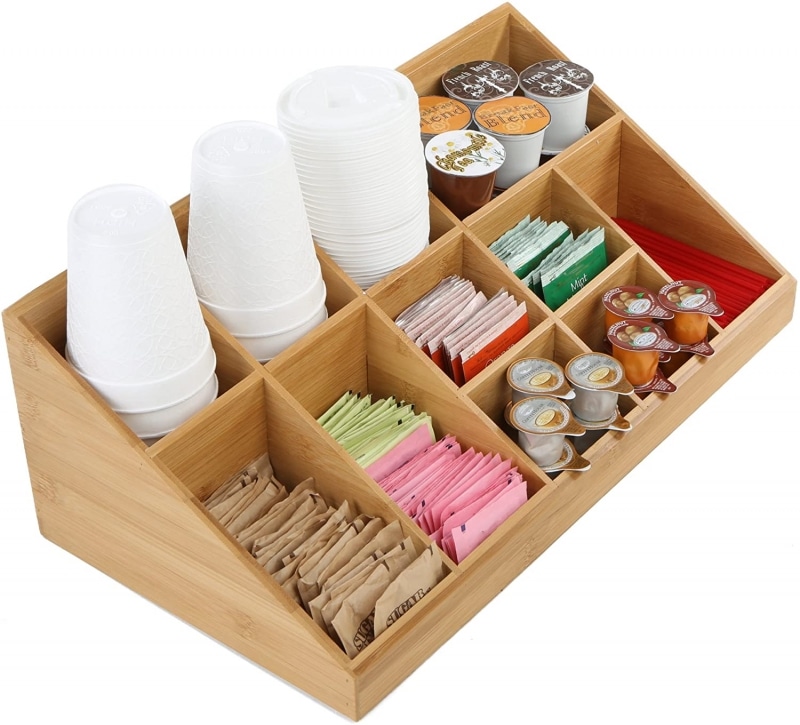 Unlike other coffee organizers that are mostly available in one color which is black, Mind Reader 11 Compartment Coffee Condiment Organizer has a very unique style that is made from bamboo, which is perfect for people who are looking for a natural wooden color to fit their aesthetic vibe. It provides 11 compartments that are perfect for holding cups, creamers, sugars, coffee, tea, cup lids, coffee sticks, straws, and so on.
Besides that, you can also purchase this product to store your supplies at the office, hospital, and home. It comes with a width of 18.19, length of 9.5, and height of 6.5. This surprisingly big coffee holder is actually very light. So you can move it from one to another place safely and easily.
They are also commonly used among students and teachers in dorm rooms at food and snacks areas. Furthermore, it's not difficult to clean. All you have to do is wipe it with hot water and a cleaning product.
2. Coffee Vertuo Pod Holder Carousel Stand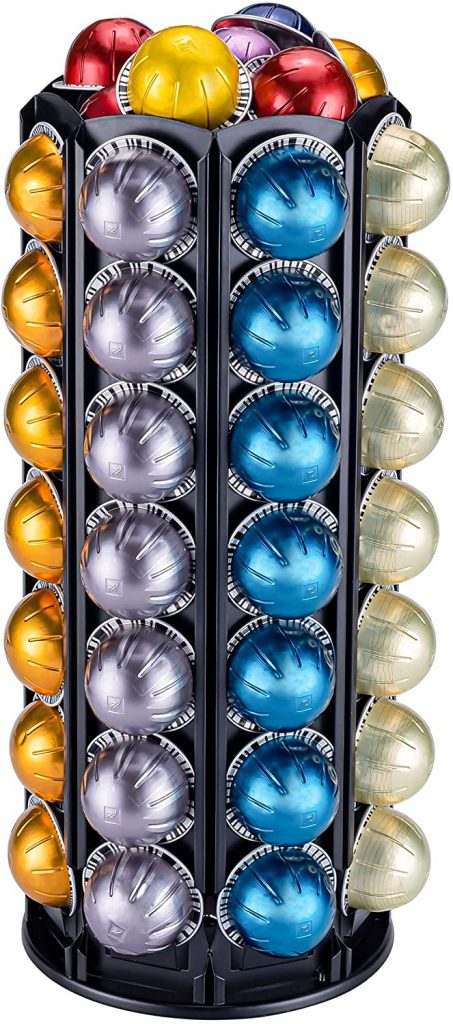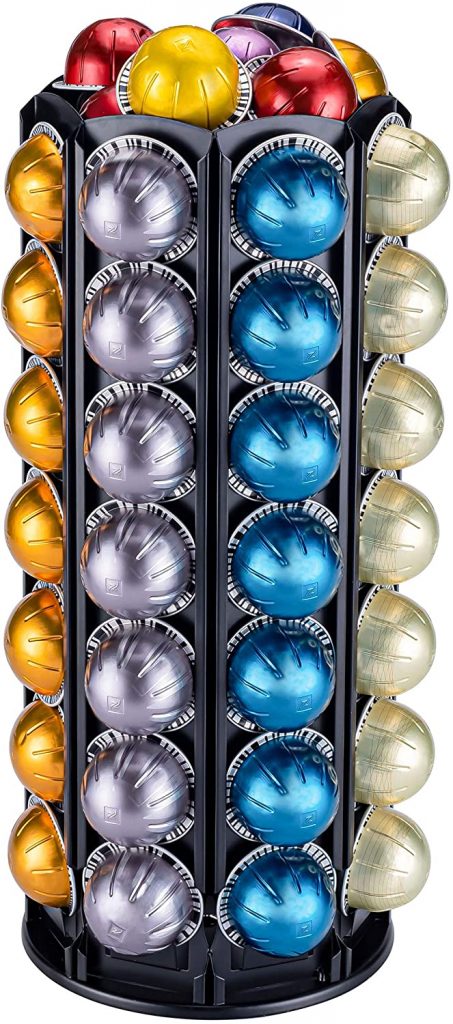 Despite its small body, this coffee pod holder has a total of 8 rows and every one row can hold 7 coffee pods. Plus, the additional space on the top allows you to store more than 10 coffee pods. Since this Coffee Vertuo Pod Holder Carousel Stand is 360-degree rotation-free so it is easy to get a Nespresso capsule from every part of the item.
These coffee pod holders have a non-slip mat on the bottom to avoid them from falling while you're spinning them. Again, they might look like they're made of plastic, however, they're actually made from a metal coating with a powder black finish which is very durable and rust-resistant. Hence, you can enjoy using them for years without any worry.
1. K-Cup Coffee Pod Holder Organizer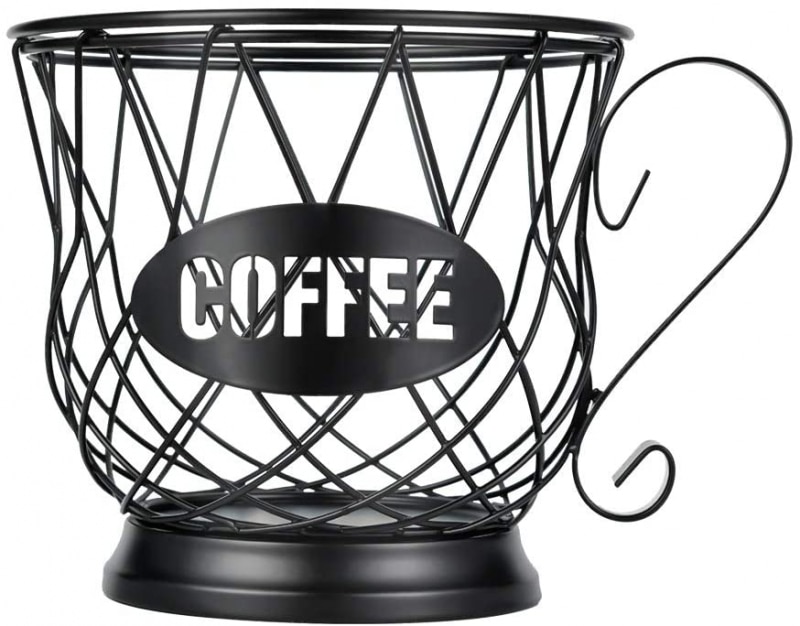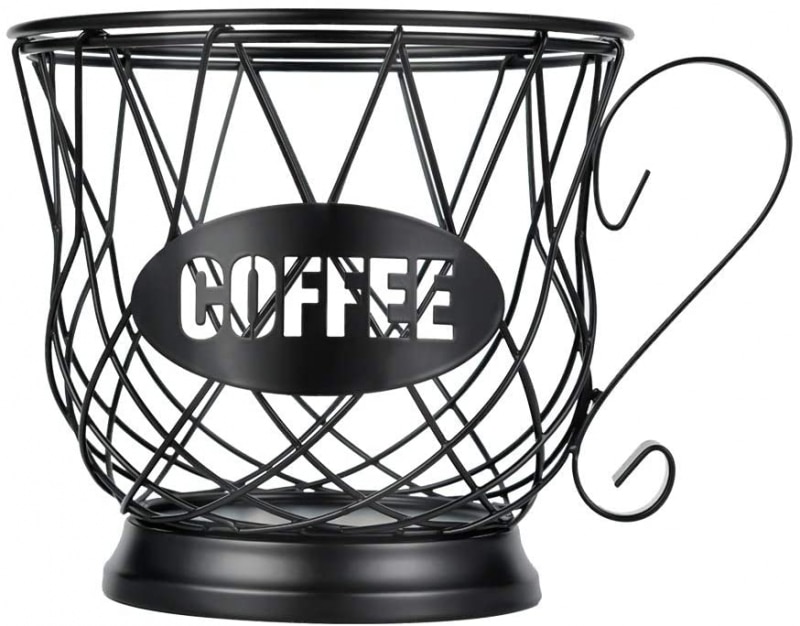 This coffee item is a highly approved pick for a reason. The Cup Coffee Pod Holder Organizer is one of the most space-saving coffee organizers that can carry many k cups or coffee pods (40 k cups, 60 coffee pods). It has a unique appearance that was designed into the shape of a coffee mug.
You also don't have to spend your time arranging your coffee pods every time that you need to store them. In addition, these organizers are made of high-quality steel covering in black which allows them to have the ability to resist rush, are durable, sturdy, and can be used for a long period. Moreover, if you're looking for a housewarming gift, you also can't go wrong with this beautiful coffee bar accessory.