Beautiful mugs make the best coffee! Out of many kinds of coffee mugs out there, for people who love art, nothing beats coffee mugs that have artistic designs. So, if you are interested in art, you are on the right page.
Not only do these coffee mugs hold your morning coffee, but they can also inspire and entertain you with their gorgeous art on the mugs. Having morning coffee with these mugs is such a simple thing that can make you happy so why not?
This article will contain many unique coffee mugs that are independently selected by our team to match the preference of the readers who love arts. There are all kinds of arts from ancient time to modern time with many artists all around the world included.
Each and every mug is different in terms of design, shape, or appearance but one thing that they have in common is the quality. In order to help you choose the best coffee mugs that suit your taste, we have gathered the best coffee mugs for people who appreciate arts to recommend to our dear readers.
With some more details below, you'll easily find the one you love while also having a good time reading this article.
List of The Best Coffee Mugs For People Who Appreciate Arts
10. Van Gogh Disappearing Ear Coffee Mug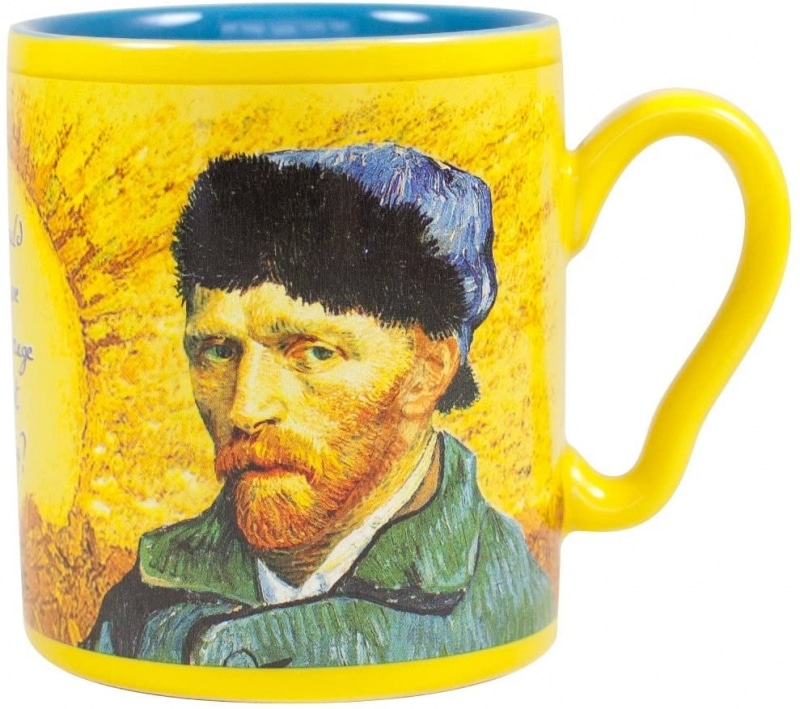 Do you know that Van Gogh cut off one of his ears because of his temper? Well, Van Gogh Disappearing Ear Coffee Mug with yellow color is bright like sunshine but the portrait on the cup has a dark meaning. Despite that, this is really an interesting coffee mug.
This is a heat-changing mug with the picture of Van Gogh self-portrait. When you pour hot coffee or hot tea into the mug, Van Gogh's ear on the mug disappears just like magic. When the temperature of the mug goes down the ear will appear back again. Isn't that cool?
Yellow exterior, blue interior, completely two different tones color but they just click together making the mug glows, perfect for a cup of coffee in the morning to cheer you up. This is one of the best ceramic coffee mugs that has a capacity of 10 ounces. It is microwave safe but not dishwasher safe, so we highly recommend hand wash only.
9. Brief History of Art Coffee Mug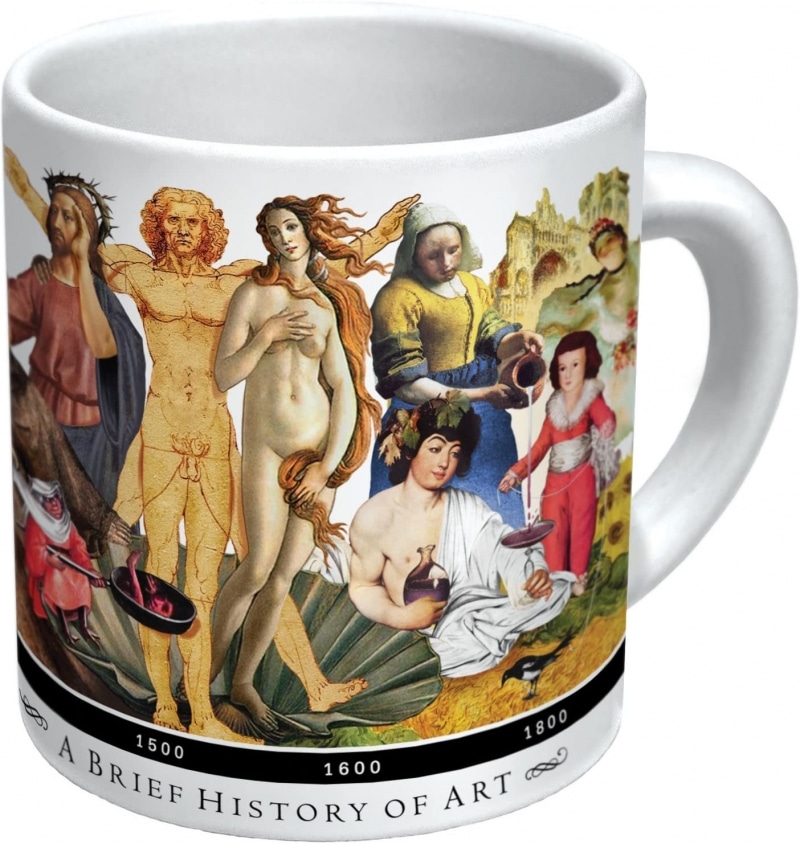 Brief History of Art Coffee Mug contains the journey of art since Da Vinci until Koons. All legendary arts gather here 360 degrees around this round coffee mug, no need to have a dilemma choosing only one.
The evolution of art from Lascaux to Piccaso is on your cup of coffee with white background. This whole coffee cup is a piece of art itself. Made of high-quality ceramic, it can hold up to 16 oz (large coffee mug), thick, sturdy, and durable, perfect for everyday use whether with hot or cold drinks.
It even comes with a cool gift box, and therefore works really great as a gift for your friends and family who love arts. This will be your next favorite mug. This is something that can't be replaced. 
Check out: Best Space-Saving Coffee Mug Holders in 2023
8. Frida Kahlo Art Coffee Mug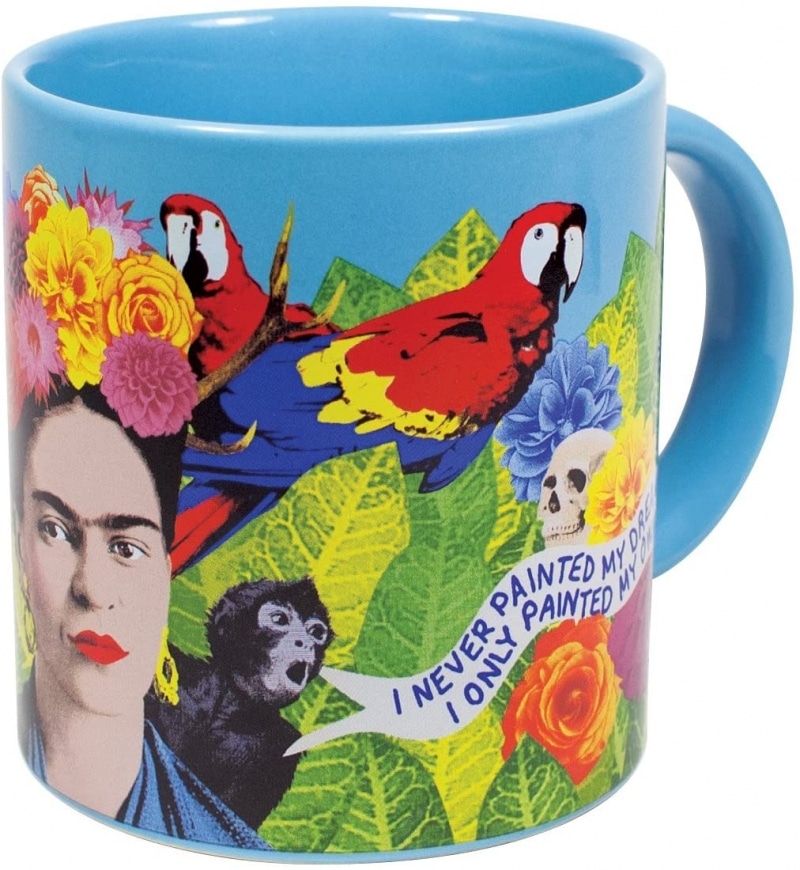 Here comes another artistic coffee mug that you would love to own at least one, especially for those who love Frida Kahlo: Frida Kahlo Art Coffee Mug. It can't be helped that everyone just has to fall in love with her brilliant artwork.
This is a blue sky blue coffee cup (12 ounces) that has the picture of a very inspiring painter with the painting of nature, colorful flowers, and realistic animals. There's a famous quote written in Spanish and English on the mug that says "I never painted my dreams. I only painted my own reality." Frida's admirers really need to take a step forward and get this mug.
Nothing makes a coffee lover happier than to drink their favorite coffee from their favorite coffee mug. It even comes with a colorful gift box. If you know anyone who loves Frida Kahlo and her art, make sure to get this for them and put a smile on their face.
7. Larrabee Ceramics Coffee Mug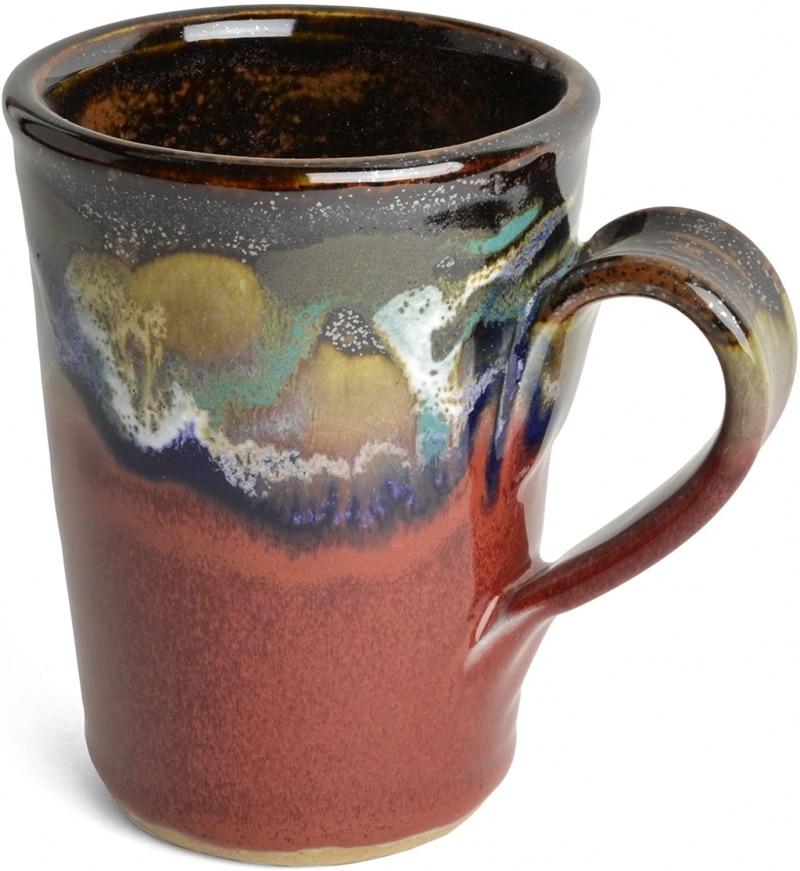 The art of glaze is one of the most unique things in the whole world. It is really rare or almost never that two mugs can look exactly the same and that is how unique this Larrabee Ceramics Coffee Mug is.
To begin with, this mug is a handmade mug that was made by making pottery. The difference in the texture makes each mug have a different glaze and color. The mug was made by professionals that shape each and every one of them with care making them as durable and beautiful as they are.
With the capacity of 12-ounce, the mug is suitable for both hot and cold drinks. These coffee mugs are safe to use in the microwave and dishwasher. This is the best mug to use at home or in the office, you won't get confused between yours or others.
6. 3dRose The Earth Without Art is just eh Mug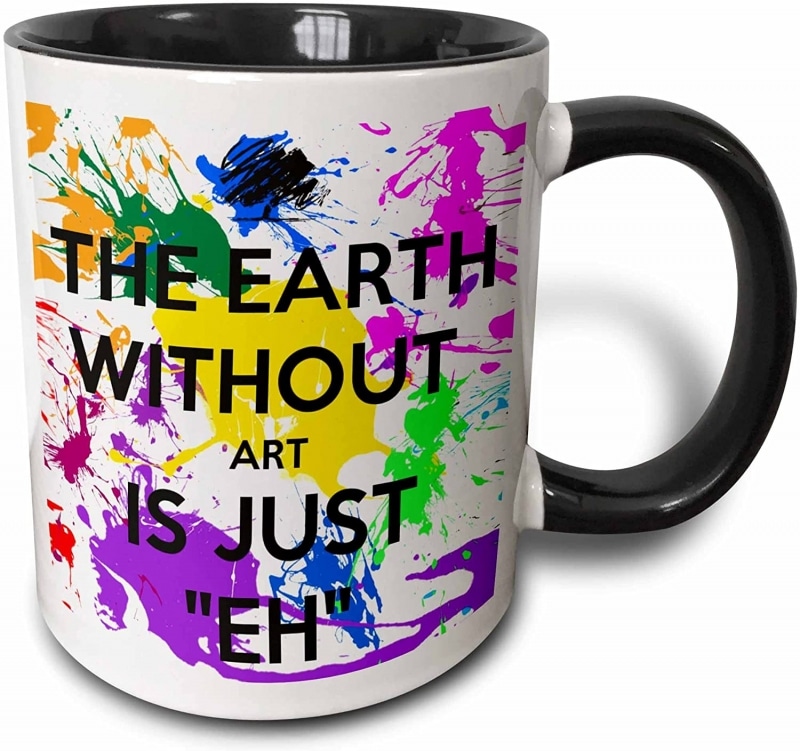 3dRose The Earth Without Art is just eh Mug, what it says on the mug is true both verbally and logically. This is a really fun coffee cup for people who appreciate art. We can't live without arts, it is the best thing that has ever been invented.
The handle and inside the cup are black, but the outside is white with the picture of splashed paint and a fun quote. The whole design looks modern and trendy. It can hold up to 11 oz, best for espresso, hot latte, or hot choco; thick enough to protect your hand from the heat.
Made with the best ceramic with a high gloss finish, this colorful mug will definitely cheer you up whenever you feel down. It is microwave safe but not really dishwasher safe. The company recommends that users hand wash in order to preserve the image for a long time. One of the best mugs with beautiful graphics while also being practical.
5. Karma Gifts Black and White Boho Mug
Enjoy every sip of coffee with this Karma Gifts Black and White Boho Mug. You're gonna love drinking your coffee out of this gorgeous coffee mug. It is made of ceramic, it holds up to 16 oz of hot or cold drink.
The design of these coffee cups looks like it was drawn out of a fairy tale. The most intriguing thing is the picture of a mermaid swimming in the sea looking lively and lovely with black and white color. Moreover, there are calming quotes inside the mouth of the coffee cups, and this one says "Live the life you imagine."
These coffee mugs are printed with unique designs that depict inspirational arts. There are many more beautiful glass mugs in this black and white mugs set that you would love so make sure to check them out more for similar products like this on Amazon.com. A great gift idea for your friends who love coffee or tea.
4. Bob Ross Heat Changing Mug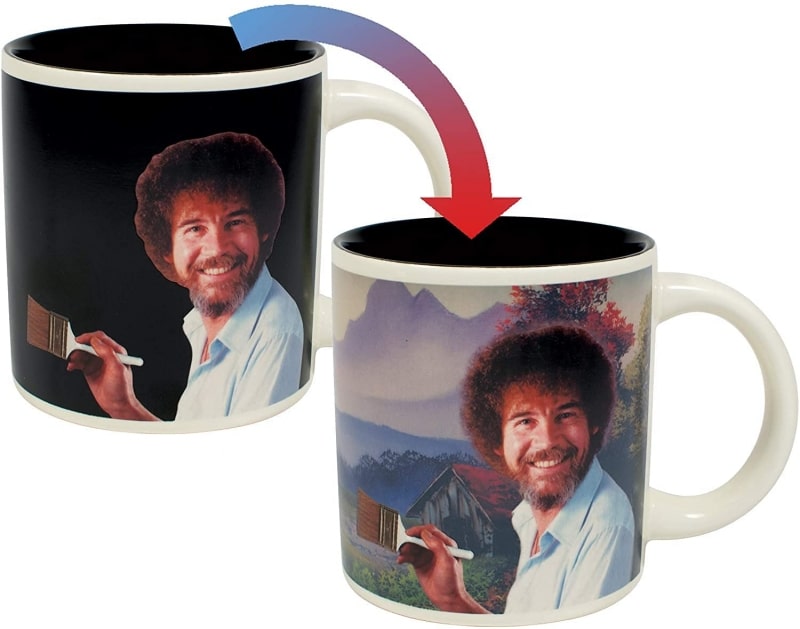 Bob Ross Heat Changing Mug is something that you want to show off to your guests when they come over! Heat changing mug will always impress people with a surprise. This 12-ounce mug is one of the best seller items on Amazon.
This ceramic mug changes when the heat is applied. It comes as a black mug with the image of Bob Ross holding a paintbrush while smiling at you, but once you pour hot coffee or tea into it, the spectacular landscape appears to inspire you. It looks like Bob Ross is painting. Besides, it has a black interior which is really aesthetic, and a thick handle for your convenience while holding a hot drink.
The mug is oven safe but not dishwasher safe. Do not soak the mug in water to preserve the longevity of the picture on the mug. This is a really cool and fun coffee cup that would make the best gift for yourself or your loved ones as well.
3. It's Hard to Get a Handle on Modern Art – Porcelain Tea Cup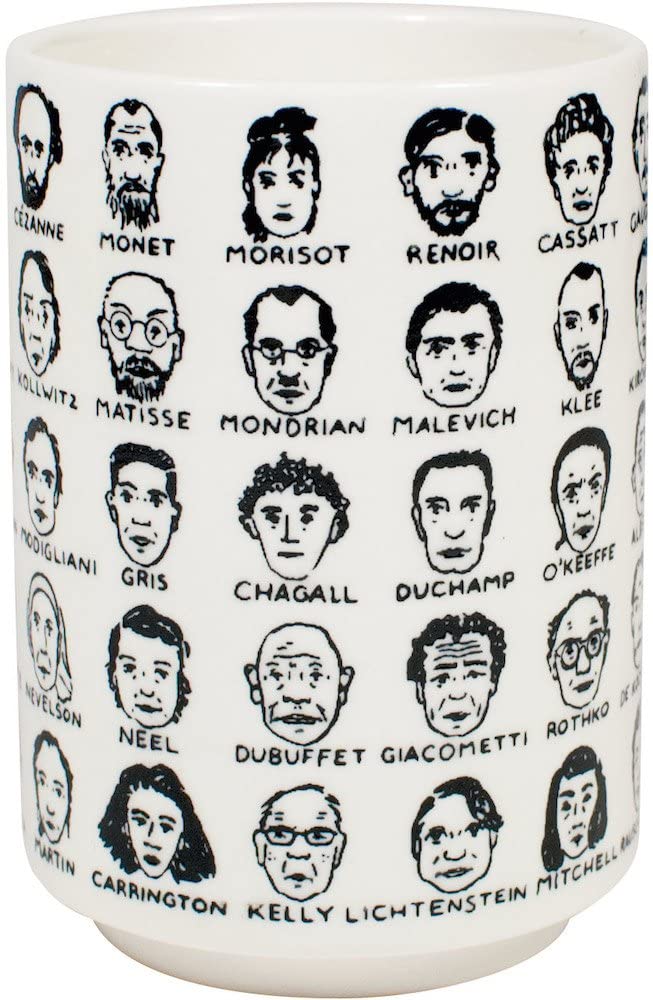 The design that adapt from a Yunomi (traditional Japanese tea cup), It's Hard to Get a Handle on Modern Art – Porcelain Tea Cup, is a one of a kind cup that deserves a lot of hype. The mug is surrounded by stunning portraits of 65 artists from all around the world throughout the history of art.
This is a porcelain mug that has no handle but has pictures of many artists with their names written below all around. This black and white cup is a small cup that holds up to 9 ounces, best for espresso shots or hot tea.
Since it already comes with colorful packaging, you don't need gift wrap if you want to buy this as a gift for your friends or family. This is the best gift for those who love arts, they might as well know all the artists on the mug or maybe could get to know them while having their morning coffee. Can't find any flaw!
2. Chilltreads Stainless Steel Mug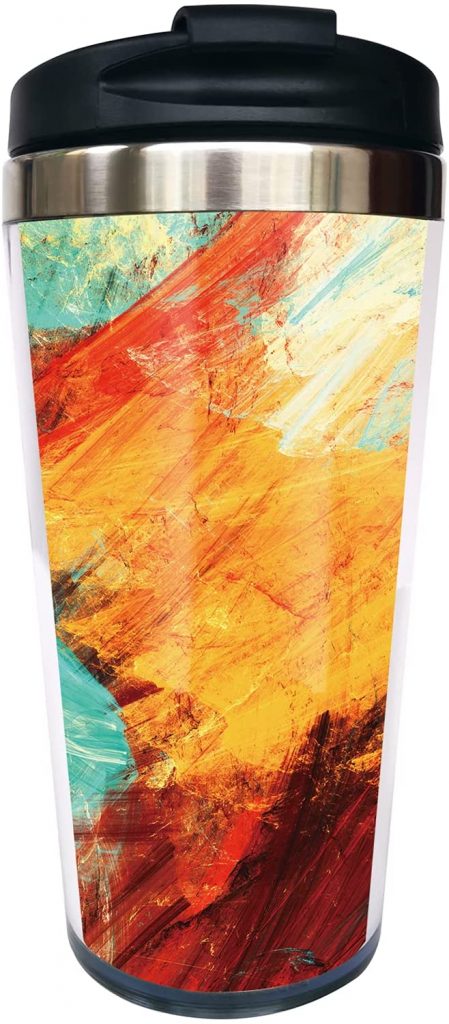 Chilltreads Stainless Steel Mug is a travel coffee mug with double walled vacuum insulated that keeps your drinks temperature remain the same for long hours. This is the best mug to take with you anywhere whether you stay at home, go to work, or travelling.
Made of top-grade stainless steel, it is BPA-free and leak-resistant. It can keep your coffee hot for long hours. The design of the flip lid is leakproof and convenient to sip your hot or cold drink from. Moreover, the opening is really big and therefore, it is really easy to clean after using. The exterior of the artistic look makes the whole mug look elegant and unique, perfect for daily use.
This mug has the capacity of about 15-ounce, yet really light, easy to hold and carry around. This high-quality product can be used by both men and women. Of course, it would make a perfect gift for any occasion: birthday, thanksgiving, or party.
1. YouPeng Coffee Mugs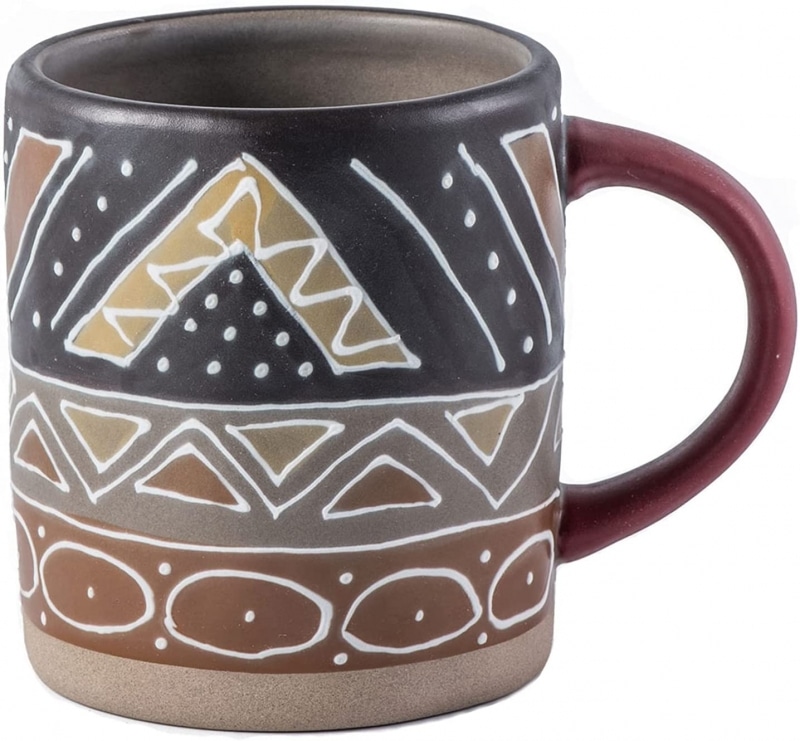 Here comes our last recommendation of the best coffee mugs for people who appreciate art. It is just as good as it sounds, YouPeng Coffee Mug is a flawless mug that you would never regret purchasing. This is a large coffee mugs type which can hold about 16-ounce.
Most importantly, this is a handmade product. When you buy this mug, you are supporting the potter out there who is making and painting these porcelain coffee mugs. These coffee mugs are pretty thick and have a unique shape, yet perfect for coffee or tea. The design of ancient Mayan style gives off the aesthetically historical vibe, a mug that makes you feel relaxed while using.
It is safe to use with any beverages, coffee, tea, soup, milk, latte, espresso, cereal. The mug is really durable since it is thick, including the handle. Additionally, it is oven safe, and dishwasher safe. The company of these mugs even has a warranty for quality guarantee. It is really worth the price!