When you got pretty mugs for coffee, just keeping them in your cabinet is such a waste. Cool mugs need to be organized well so that their beauty can be shown. You've got to show them off in your kitchen, of course. Therefore, a magnificent coffee mug rack is a must-have item in your home to upgrade your kitchen decoration.
Apart from that, using these coffee mug racks allow you to free up space from your cabinet. As you can see, coffee mug racks offer a lot of advantages. That's why here we are coming up with a list of top items for you to choose from. Not to keep you waiting any longer, these are the Best Coffee Mug Racks To Enhance Your Kitchen's Organization in 2023.
12. HOMEISJOY Premium Coffee Cup Holder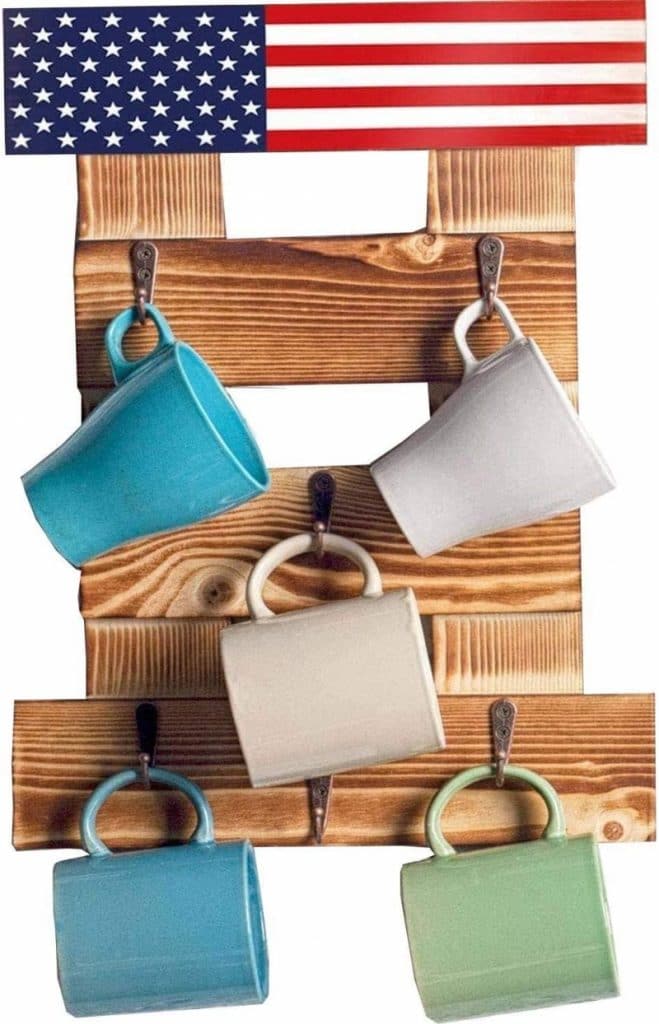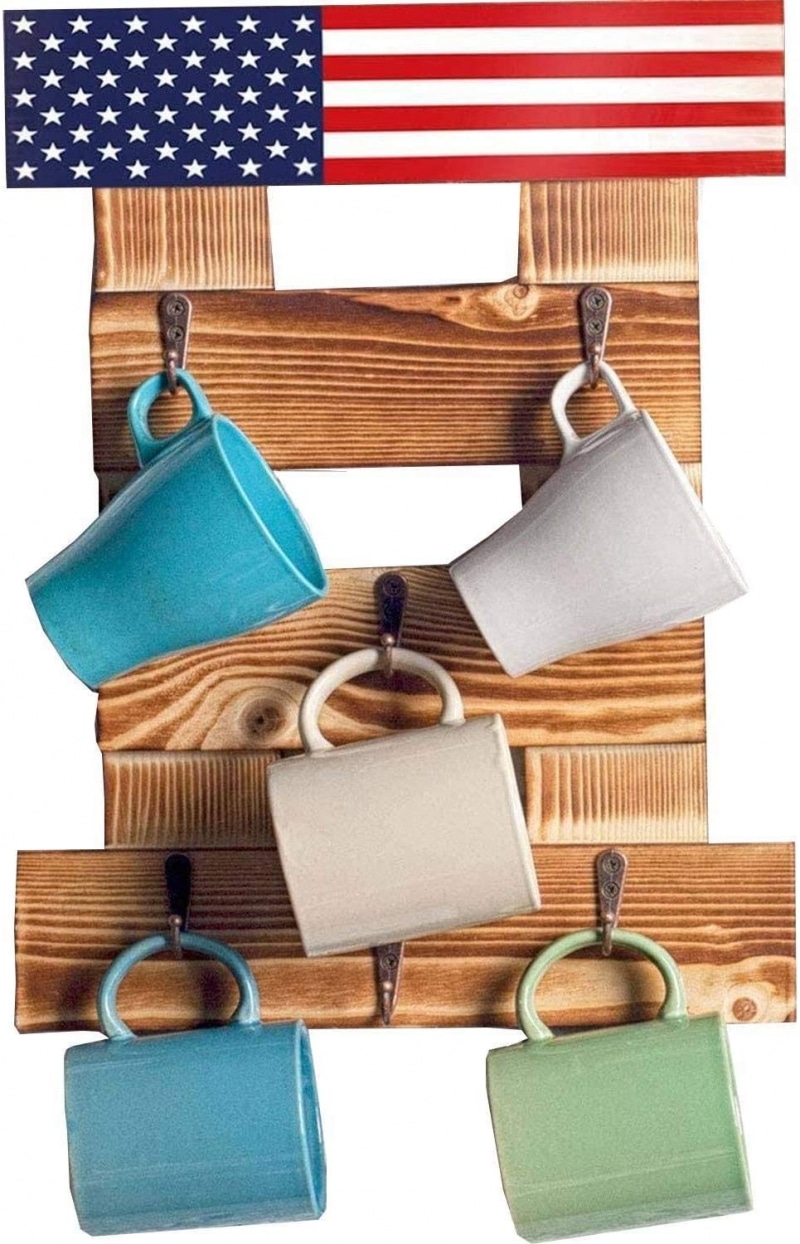 Show off your favorite coffee mugs with HOMEISJOY Premium Coffee Cup Holder. The vintage look from Rosewood gives you the unique vibe of home decoration. It has the color of rustic burning with the US flag on the to point out a classic yet elegant design.
This wall-mounted rack can hold 6 cups at the same time to save your cabinet space and display your mugs. It has approximate dimensions 16.5 H x 12.5 W x 2 D inches which are big enough to hang almost all sizes of different coffee mugs. Your kitchen can't be complete without one of these coffee cup holders.
11. MyGift Solid Wood Mug Storage Rack
Of all sorts of things to place in your kitchen, you must not forget coffee accessories. To us, coffee lovers, we know how important these things are. And, one of them is this MyGift Solid Wood Mug Storage Rack.
A wall-mounted wooden rack is designed to save space while being decorative at the same time. Its 4 metal hooks are all sturdy to hold heavy cups with no problem. The burnt wood color is a color that blends well with all wall colors.
"But First..Coffee" is painted with gorgeous font including a picture of a cup of coffee. This wonderful design is just ready to serve you some warm coffee every day.
10. ANNYHOME Metal Coffee Mug Holder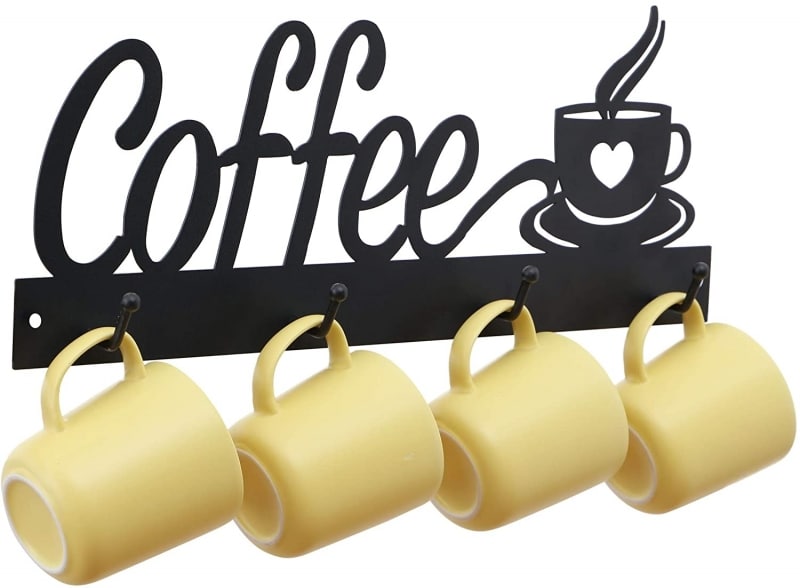 If you are looking for something more stylish to store your coffee mugs in your own coffee bar, this ANNYHOME Metal Coffee Mug Holder is the best option. Featuring the metal that was sculpted into letters "Coffee" and end with a cup of hor coffee.
The design totally stands out wherever you place it. Colored black, there are 4 hooks under the coffee cup silhouette and the text, sturdy and secure to hold the cups. Made with durable material that can resist cracking or rusting.
For your information, this has the dimension of 16.92 x 2.26 x 6.98 inches, not too big or too small, it is just the right size. Easy to install with no assemble at all. What are you waiting for?
9. Greenstell Coffee Mug Holder with Chalkboard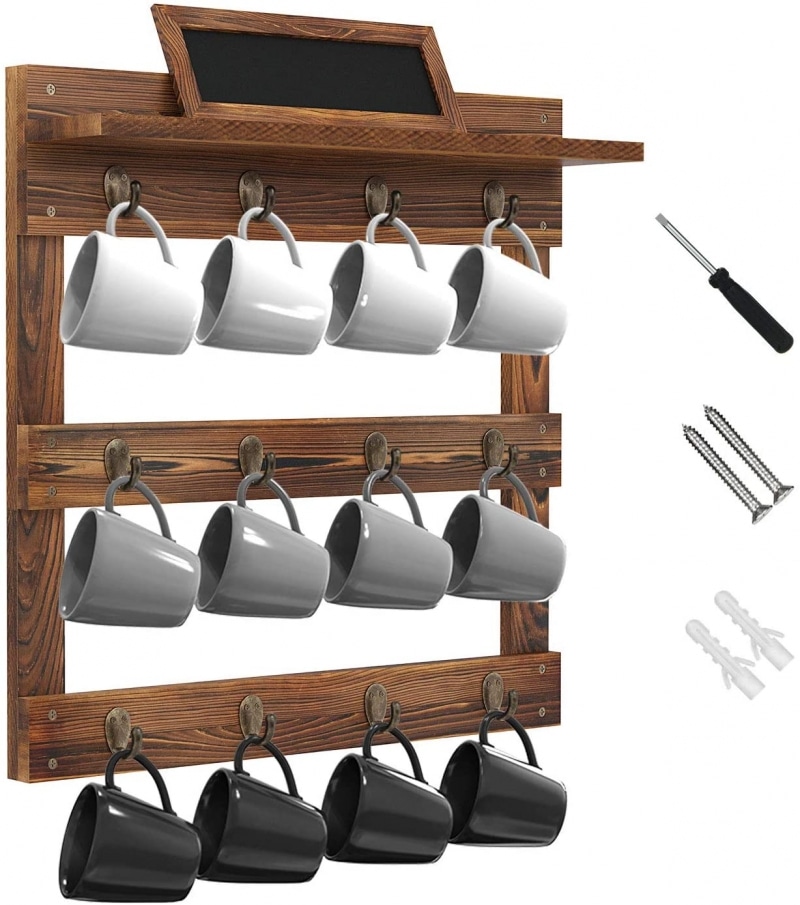 Talking about the capacity, this Greenstell Coffee Mug Holder with Chalkboard allows you to store 12 mugs! Made with premium pine wood, and metal hooks to keep your mugs safe and organized.
This is also a wall-mounted coffee rack. This space efficiency item is durable and long lasted. Despite how it looks, it is light weighted and easy to install. This coffee rack also comes with its screws to hang it into the wall.
Additionally, the design is like the one they use in the coffee shops. There is a chalkboard on the top of the racks so that you can customize what you want to write and you can change it every day depending on your mood. Write whatever you want or maybe leave a note for others to see.
8. EMAISON Coffee Mug Holder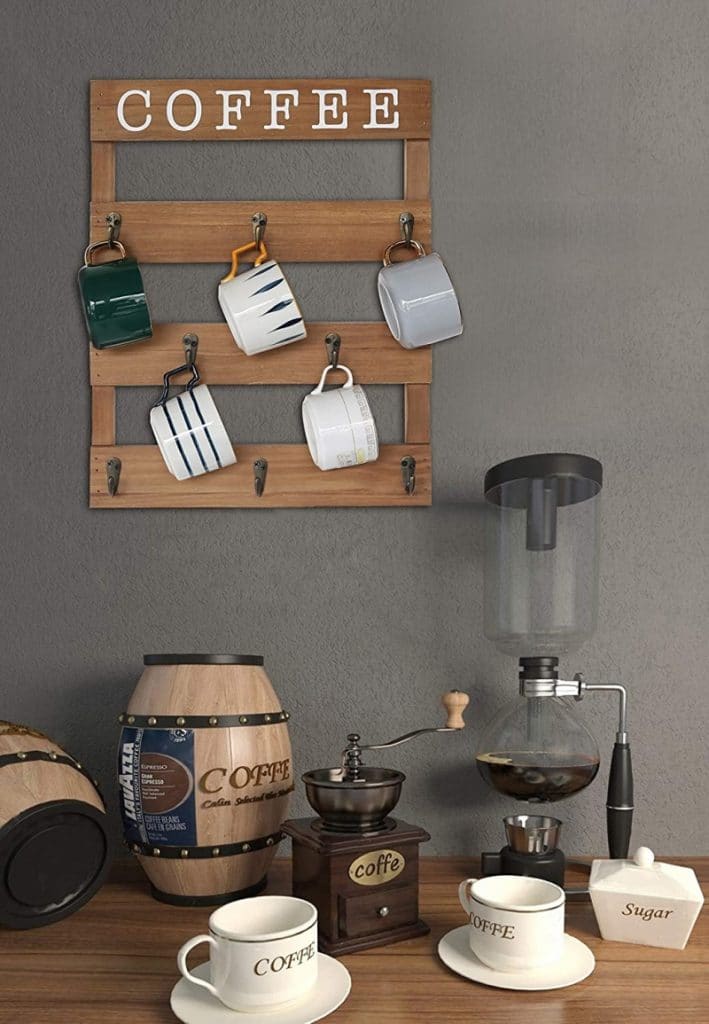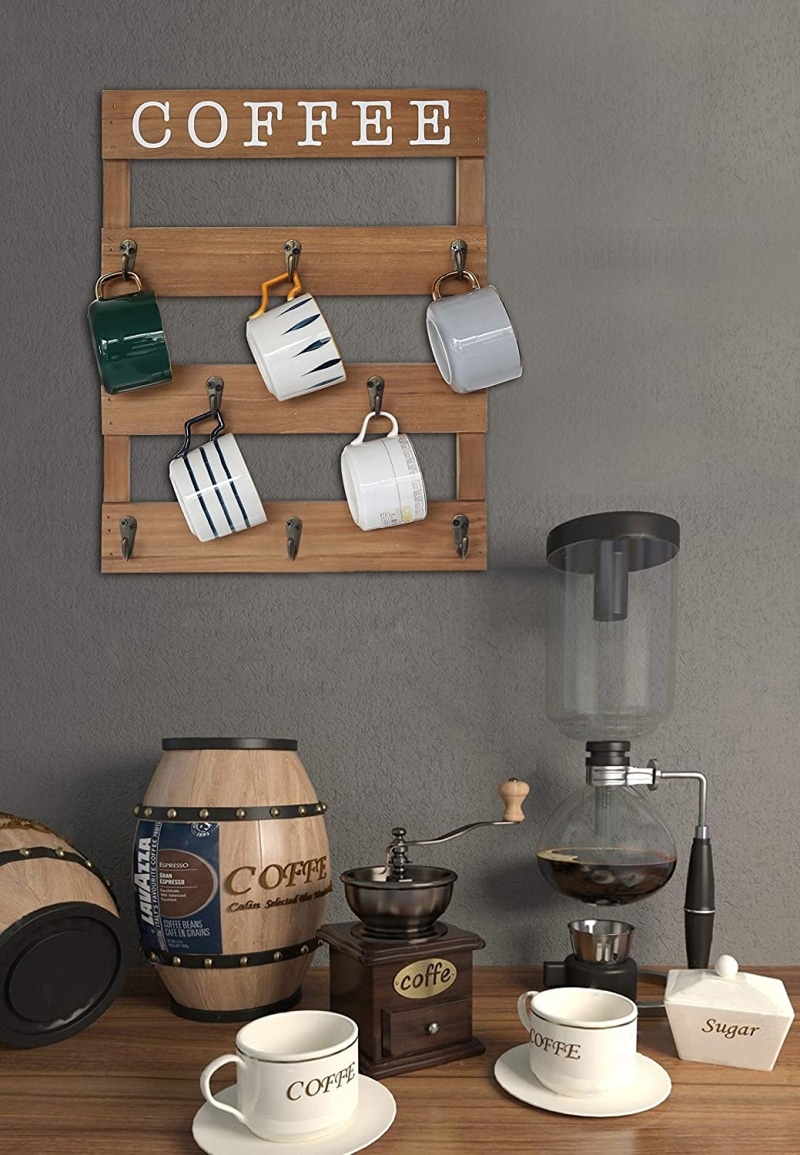 EMAISON Coffee Mug Holder is here to brighten up your coffee bar! This wall-mounted coffee rack is designed to free up some space in your cabinet and for good organization of your coffee cups.
The 8 metal hooks are arranged into 3 rows in zig and zag lines; therefore, when your hang your mugs it will look spacious, less stuffy. This design prevents the mugs from receiving damages from an accidental collision that could happen anytime.
The hooks are tightly screwed to the racks to guarantee the safety of your daily usage. The rack coated with the brown color of pine wood portrays a vintage look and heart-warming feelings. This would make a perfect gift for a house-warming party.
Check out: Best Space-Saving Coffee Mug Holders in 2023
7. Barnyard Designs 'Life Begins After Coffee' Hanging Mug Holder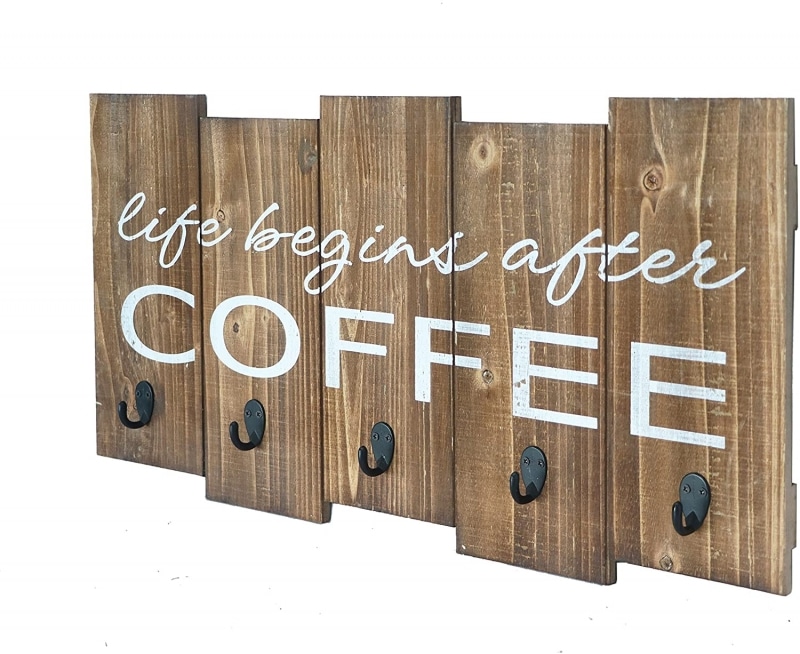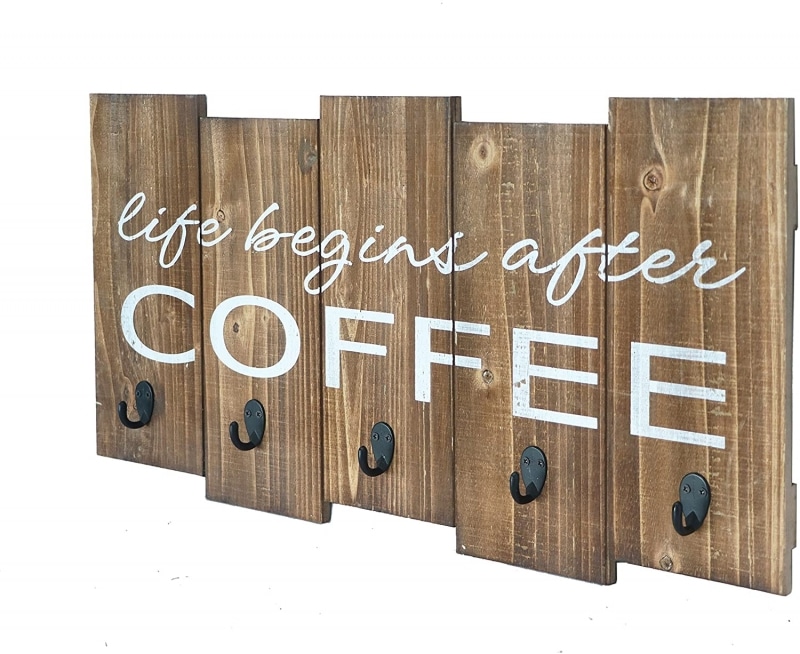 Get a new decorative experience with Barnyard Designs 'Life Begins After Coffee' Hanging Mug Holder. The simplicity of the design is what makes it even more charming and appealing to make your decoration pop.
Five pieces of wood are assembled in a non-straight line making this uniquely creative and decorous with white lettering that reads, 'Life Begins After Coffee', which is so relatable for coffee lovers who can't start the day without a cup of coffee in the morning.
There are 5 black hooks attach to this 25″ x 13" x 2" coffee mug rack. It comes with Pre-installed hanging hooks for consumer convenience when installing the rack.
6. 12 Hooks Coffee Cup Holder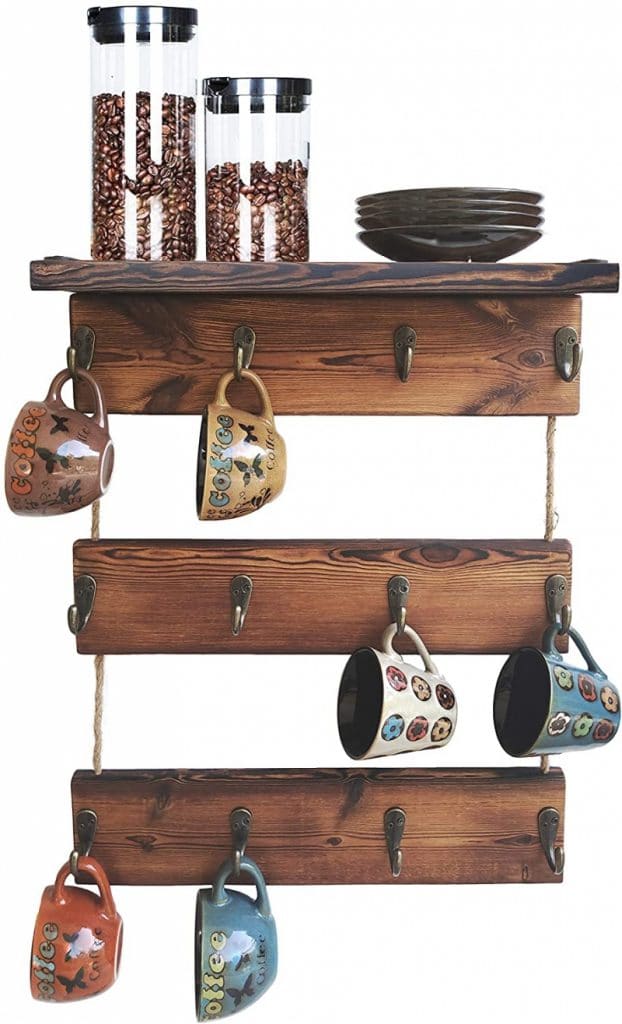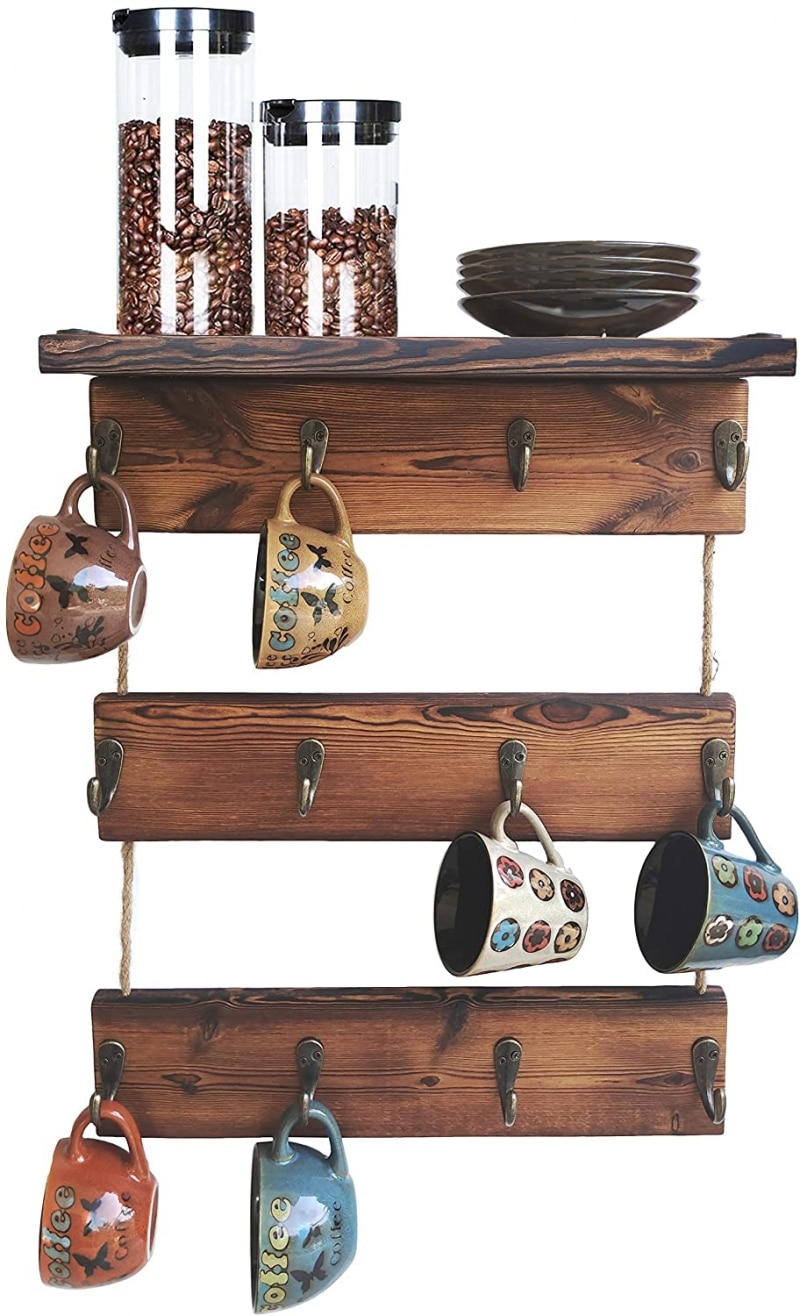 Of course, you can't leave your coffee station empty, fill the space with 12 Hooks Coffee Cup Holder. This is the best deal ever. Owning this mug holder is like winning a lottery. You got 3 main benefits from it.
First, it can be a mug holder, obviously. Made from high-quality wood, the rack can hold 12 mugs effortlessly. Second, it comes with a shelf on the top. You can put your coffee jar or anything since it is multifunctional. And most importantly, this is a top-tier design that wins everyone's heart. There are 3 rows of hooks on wood pieces that are linked by durable rope.
With this sophisticated design, it can be used in a restaurant, coffee shop, or in your home. Decoration couldn't be easier with this practical coffee rack.
5. Sorbus Mug Rack Cup Holder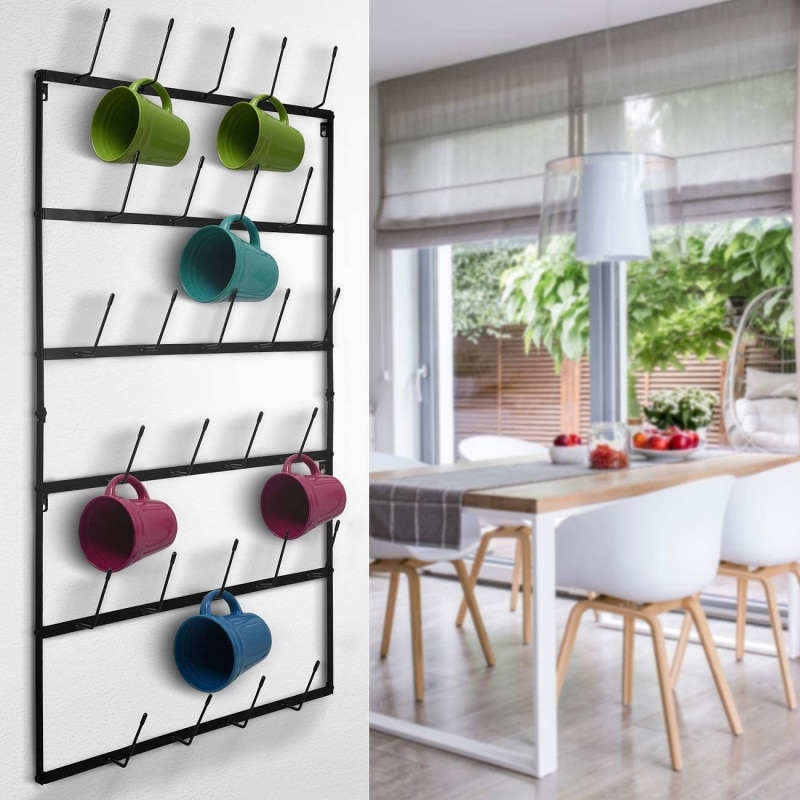 Stop stressing about not knowing what kind of coffee mug rack you should get to light up your house's kitchen or your new shop, and let Sorbus Mug Rack Cup Holder solve your problem.
This is a large size Mug rack that can store up to 27 mugs at the same time. Coffee mug collectors, get your note ready to save this one. Made with Alloy steel and powder coated, it has 6 tier display organizer (3 rows with 5 hooks each; 3 rows with 4 hooks) for your favorite mugs.
Four keyholes are included for convenient and safe installation to the wall. The design is classic that would fit any interiors since the color is also black. The dimension is approximately 20.75″ L x 4.75" W x 35″ H perfect for those who have a lot of mugs to show off. You know, you can't just keep them all in your cabinet.
4. Coffee Wall Mug Rack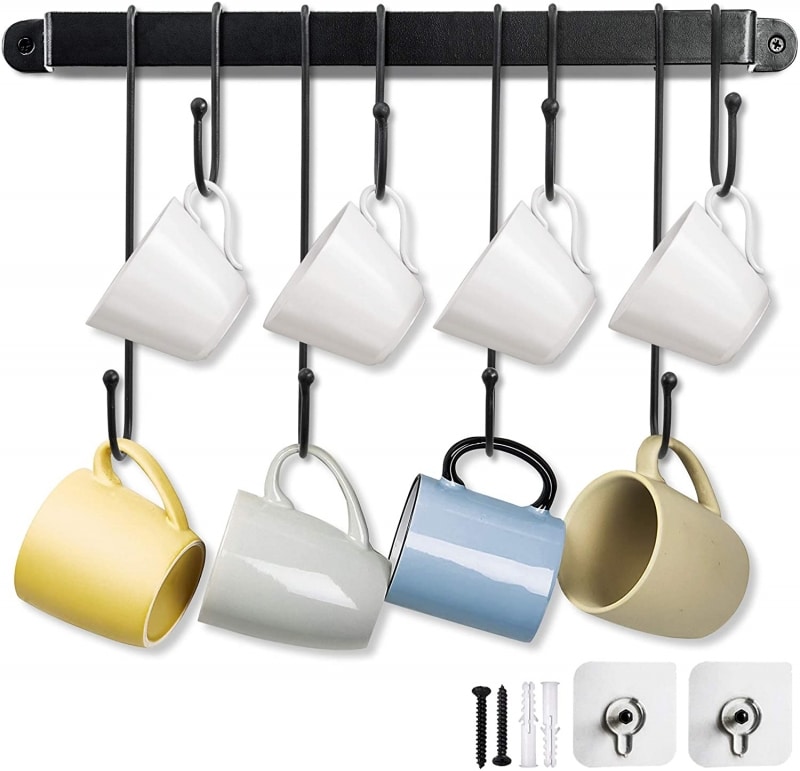 A kitchen accessory that you would love to repurchase is this Coffee Wall Mug Rack. The main characteristic of this mug rack is its adjustable and removable hooks.
Apparently, some of you might have trouble organizing and placing your mugs due to the difference in sizes of each mug. Hence, this company created such a genius design for your comfort.
This black iron mug rack got 17 inches in size and 4 long hooks and 4 short hooks (all removable and adjustable). It also comes with hardware accessories like screws for easy installation. Intrigued and creative design to enhance your kitchen decoration.
3. MyGift Set of 3 Black Metal Wall-Mounted Coffee Mug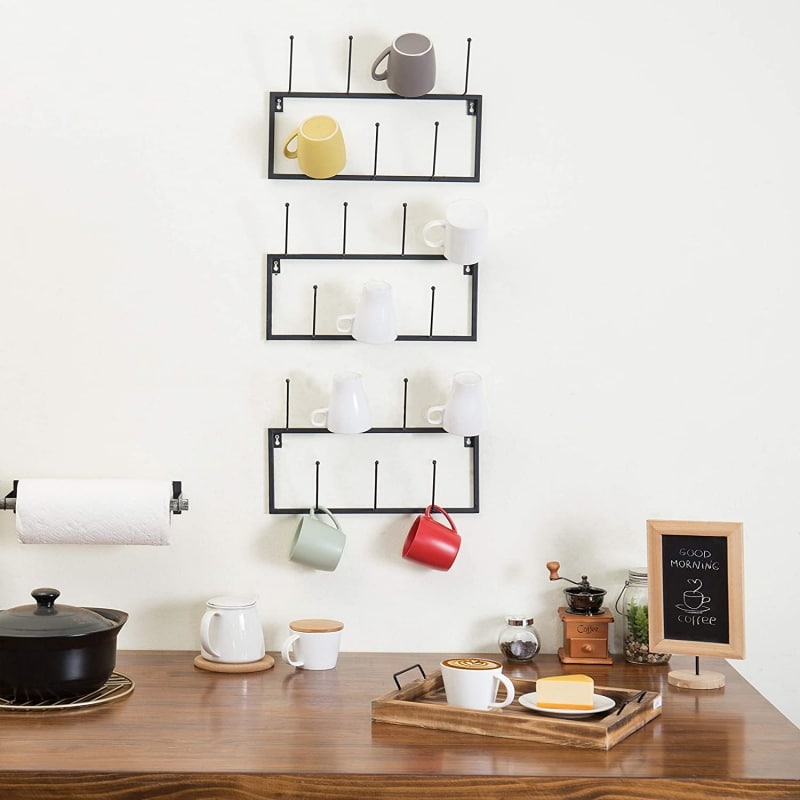 Customize your design with your own creativity with this coffee mug rack set, MyGift Set of 3 Black Metal Wall-Mounted Coffee Mug. If you want to build something for your coffee bar but can't find anything you love. Why don't you get this mug rack and arrange them according to your preferences?
This set includes 3 mug racks that are made from metal in the color of black. Furthermore, each rack got 7 hooks so a total of 21 cups can be stored with these 3 racks.
Approximately, the dimensions are 15.8 L x 3.3 W x 10.4 H (in inches). Perfect in size, quantity, and quality for modern decoration. Casually, make eye-catching looks that stand out among other accessories.
2. Fox Run Expanding Beechwood Coffee Mug Wall Rack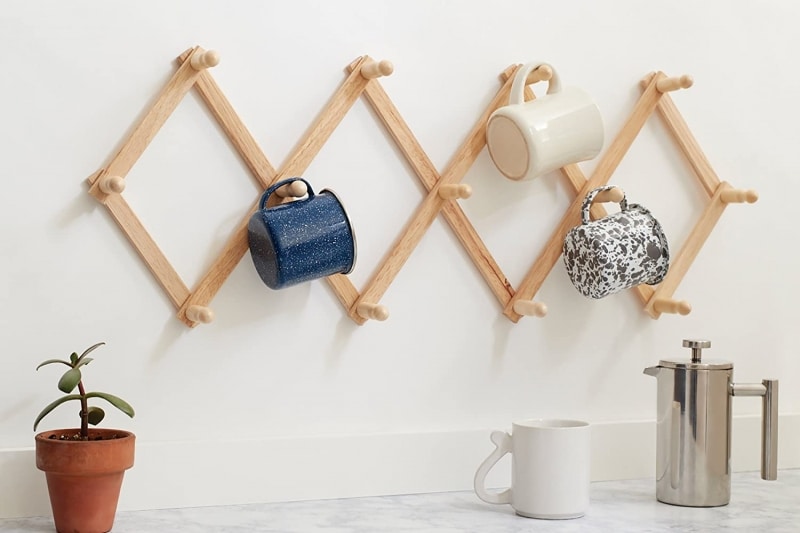 Fox Run Expanding Beechwood Coffee Mug Wall Rack is a multifunctional rack that can be used not only for coffee mugs but also for hats, bags, scarves, and other accessories. This is a beneficial item that you won't regret owning.
Made with Beechwood, it is expandable and adjustable. You can stretch it to the size and distance that you want before you install it on your wall. There are 13 pegs attach to the rack at each angle, and they are long enough to hold your mugs safely.
The light brown color gives off the minimalist vibe that simply grabs your attention as an interior decoration. It is perfect and pretty versatile, highly recommend it to everyone!
1. Metal Coffee Mug Rack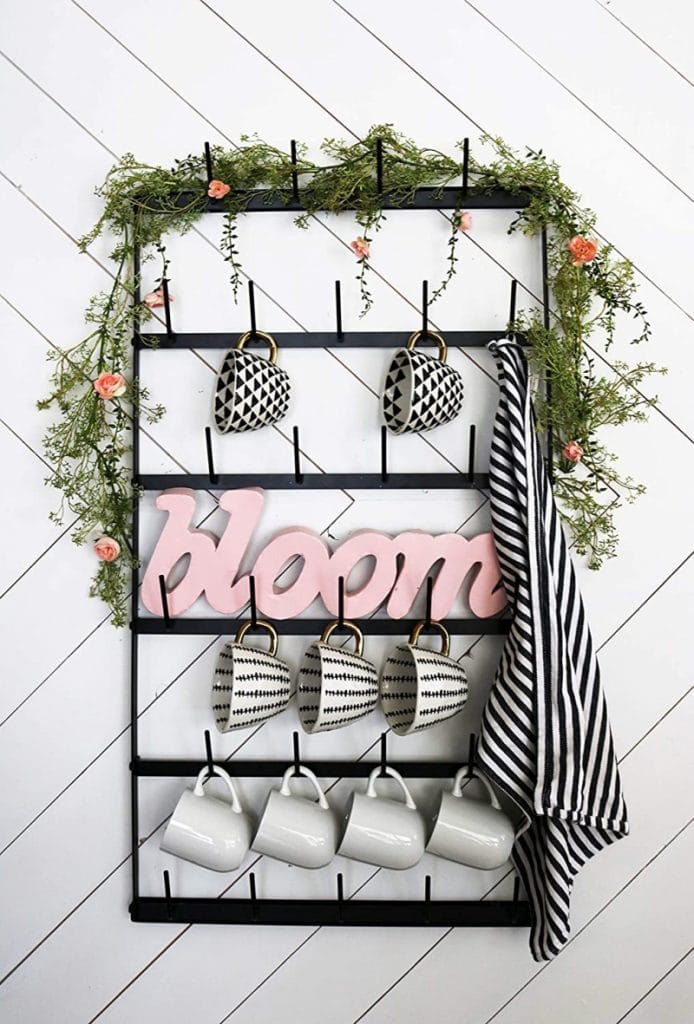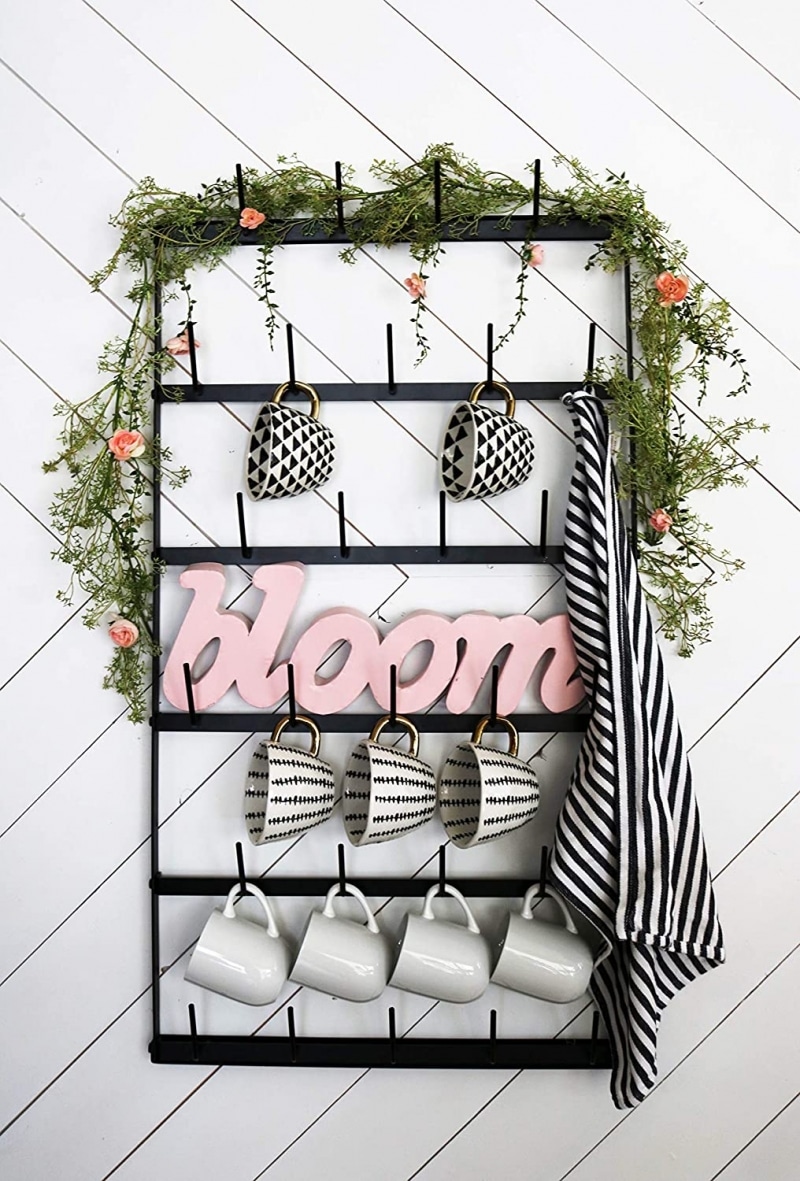 Our very last item to introduce to our reader, Metal Coffee Mug Rack, one of the large coffee mug racks that have a high capability to hold a large number of mugs. This mug rack is here to save you a lot of space in your cabinet.
The material that is being used to make this rack is high-quality metal. Color in black, an ideal color that is popular among most users. It also comes with removable rubber caps on each hook to avoid any damage that can be caused to your precious coffee mugs.
Additionally, there are 6 rows in this one rack and 3 rows include 5 hooks, the other 3 rows got 4 hooks. It can hold a total number of 27 mugs. If you got many mugs to show off, this kind of mug rack will keep everything well organized while increasing the attractiveness of your kitchen!