In recent years, coffee has exploded with overwhelming popularity not in only one country but around the globe. With the rise of coffee's popularity, a lot of interesting coffee shops have also revealed themselves as well.
Just like in other countries and cities, New Orleans which is a unique city located in the Louisiana state of America also has its own fascinating coffee shops with the unique coffee taste you find unforgettable once you have experienced it.
Therefore, today we will take you to the 11 Best Coffee shops in New Orleans and you will see and find out the uncovered reasons why they are known as the Best Coffee in New Orleans with the best reviews.
What is the kind of coffee New Orleans known for?
New Orleans is well-known for its addicting and strong caffeinated drinks. This is the main reason why more or less the best coffee shops in New Orleans embrace a strong but addicting taste of coffee that will be an unforgettable flavor to you.
Additionally, dark roasted coffee has been popular in New Orleans coffee shops. It is especially popular in the city as part of the typical New Orleans café au lait or cafe au lait.
What does New Orleans Coffee taste like?
It is a cold brew but comes with a warmth unlike any other cup of coffee in other countries or cities. It tastes like roasted campfires and hazelnuts. Once you sip it, there is no way back, you will keep craving the taste that you tasted for the first time.
Definitely, the unique recipe of New Orleans coffee is the chicory. It is known as the root of a beautiful blue flower. Once it is roasted and ground, it is folded into coffee grounds and brewed to add to your coffee cup the hazelnut quality that gives your cup a much more delightful and deep flavor.
Surprisingly, chicory is blended well with any light or heavy milk and cream. It definitely gives both the traditional and modern rich taste of the kind of coffee that you find very enchanting to keep trying again and again.
What is the alternative type of coffee in New Orleans aside from regular coffee?
It is known as the Chicory coffee. It comes from the origin of chicory plant. It is a part of the sunflower family. It only became popular in New Orleans where there was a Civil War which caused the shortage of coffee due to the port stoppage.
Since it was the second-largest coffee port during that time, New Orleans coffee lovers were looking for the coffee alternative desperately.
Following the previous coffee making of French, New Orleans started to take chicory to try out in the making process in order to succeed in the mission of supplying coffee.
Because of the various usage of chicory in coffee, caffeine drinkers could mix it in with their cafe as a supplement or just find other simple ways to drink to their likings.
These days, chicory is the best caffeine-free option to coffee and is still used to mix in a wide range of hot drinks within New Orleans.
11. Cafe Du Monde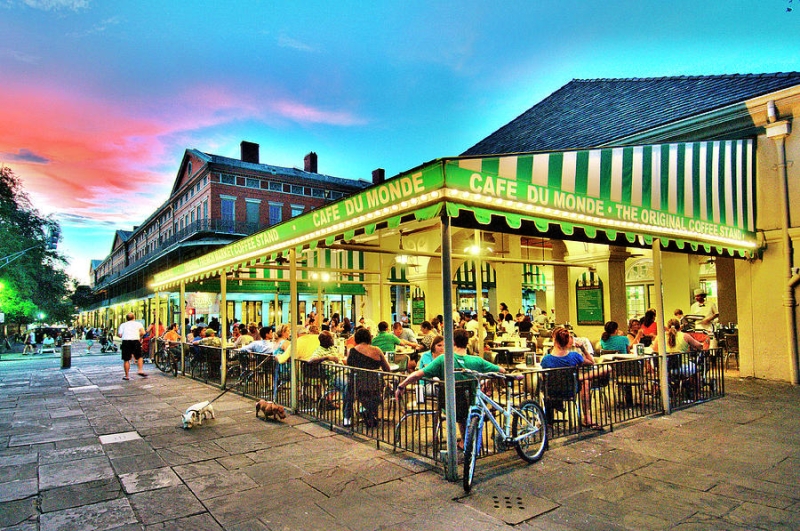 Let us introduce you to one of the world's most famous coffee shops in New Orleans. It is on the corner of Jacket square in the New Orleans French Quarter.
This Cafe Du Monde has opened in 1862. If you are a visitor, it is a must to go to this New Orleans coffee shop because it gives you the vibe of New Orleans la.
You can relax and enjoy the outdoor sight since this cafe is spacious in terms of space both inside and outside.
Looking for coffee signatures to order?
We have the lists for you. They are Chicory Coffee and Cafe Au Lait. The special thing about Chicory coffee that you probably do not notice is that it is very healthy.
It helps with digestion since the chicory itself contains inulin fiber which helps pass your food easily through your digestive system.
This coffee shop also serves pastries as well. The main attraction of the pastry that goes well with the coffee is the Café Beignet.
Moreover, Cafe Du Monde is usually crowded during breakfast hours. Still, it is a must-visit cafe, especially for new visitors to New Orleans.
10. Cafe Bon Ami
Among the good coffee shops in New Orleans, Cafe Bon Ami is the newest in town. It is in the warehouse district. Despite being a newcomer, it has won the approval of the visitors for its cool design, warm environment, and service.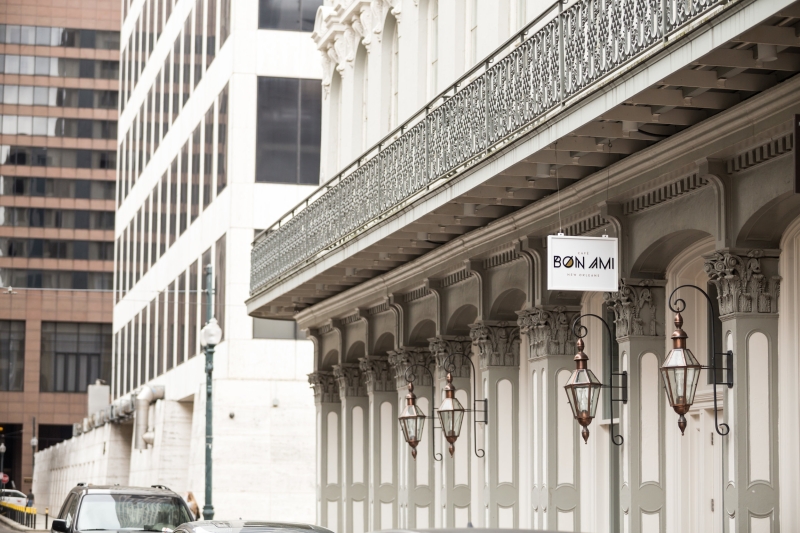 As you can see from the picture, the building of this cafe is naturally equipped with an art deco design.
The history of this building is especially interesting for those who are into the arts. Actually, it was originally a house of cotton merchants in 1858. It is also where Edgar Degas created his famous painting "A Cotton Office in New Orleans".
Figuring out where you can have quiet personal working space for yourself with fast wifi or a private meeting with your colleagues? The best coffee Cafe Bon Ami might be the first cafe that comes to your mind. It is one of the coolest coffee shops in New Orleans.
9. The Stacks Art & Design Bookstore and Cafe
Are you a coffee, art, and book lover? Then, the Stacks Art & Design Bookstore and cafe is the perfect choice for you among the coffee shops in New Orleans.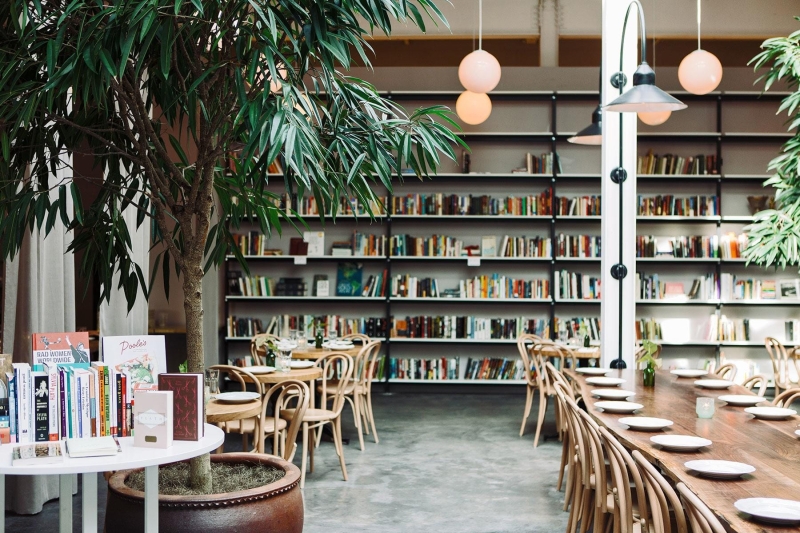 This coffee shop is also known as the book cafe since it does not only sell coffee but is also filled with giant bookshelves and local art.
So, you can find any books you want to read while sipping your coffee. We are sure both coffee and book lovers are amazed by this cafe.
Moreover, the Stacks Art & Design Bookstore and cafe has an exclusive and eye-catching location that works closely with local artists.
It is the only independent art and design bookstore that is located within the Contemporary Arts Center in the New Orleans Warehouse District.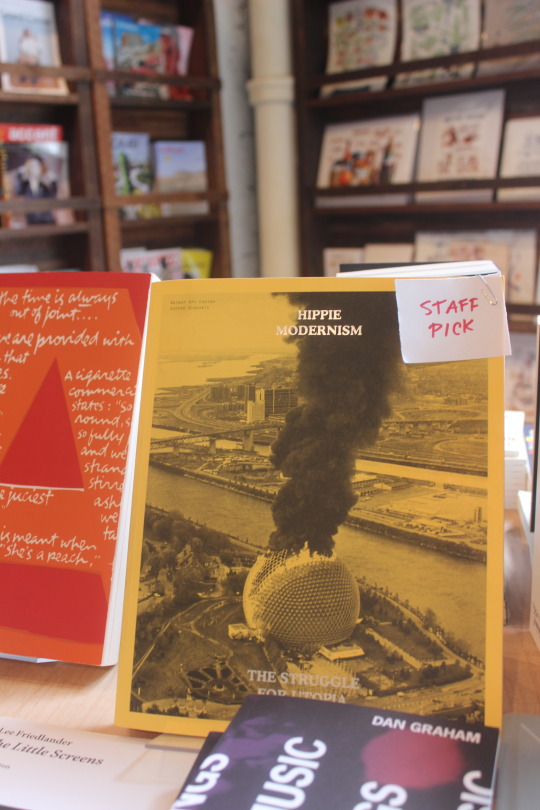 This coffee shop has opened in 2014 and this is one of the Orleans coffee shops which is devoted totally from a wide range of current books to arts as well as international magazines. Plus, it only stocks the trending book and weekly arts.
So, never be concerned about out-of-date books.
8. French Truck Coffee
Another cafe shop that has taken New Orleans by storm is French Truck Coffee shop which has multiple locations within the city and was built in 2012.
The first location is the magazine street location. This cafe shop is on magazine street with a quaint yellow structure.
This is a place where you can quickly grab your coffee drinks. On the other hand, if you want to have a catch-up with your friends at the table, the other desirable branch of French Truck Coffee is on Dryades Street.
Feeling hot and want to cool off the heat? One of the recommended signature drinks of French Truck Coffee is the best-iced coffee. Asides from this, all kinds of coffee prices are acceptable with good flavor that will not disappoint you.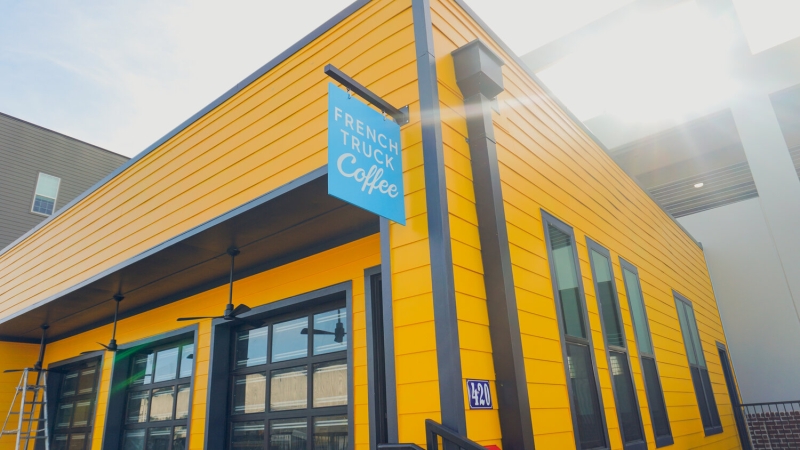 Not to mention the barista's latte art that allows coffee lovers who love snapping photos of their caffeine beverage and posting them on social media platforms satisfied. It does sound amazing, doesn't it?
7. Mammoth Espresso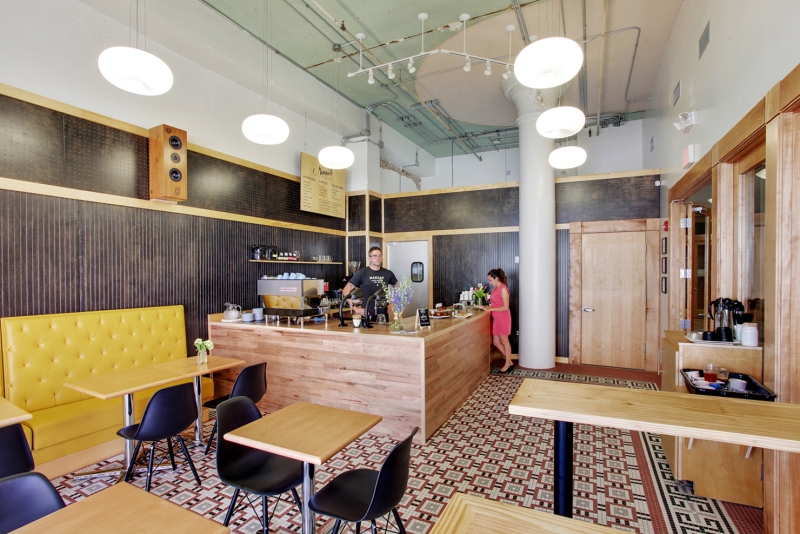 One of the best Orleans coffee shops is the Mammoth Espresso which is in the soul of the warehouse district. Just like the name implies, the Mammoth Espresso provides you with espresso drinks at the shiny seats.
Besides espresso, they also serve breakfast tacos as well as special tasty treats based on the day or season there. Therefore, you will get to taste a variety of selected treats depending on the day you come to visit the coffee shop.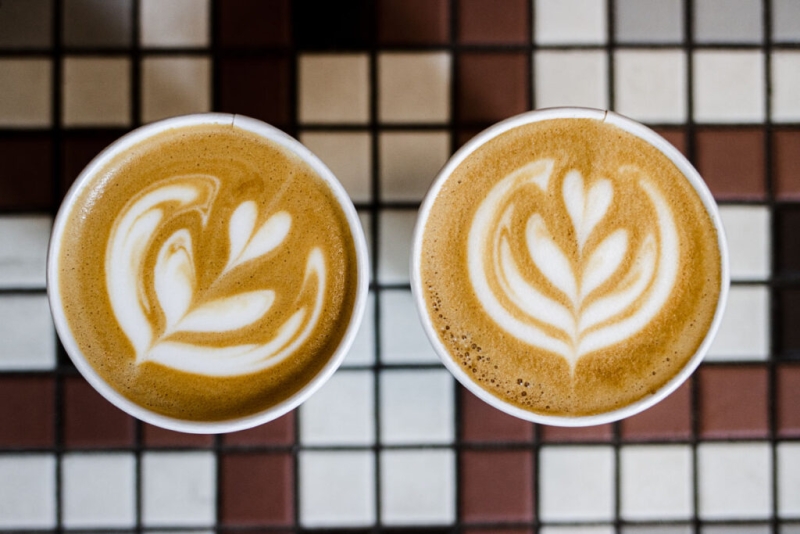 Looking for specialty coffee at Mammoth Espresso? For signature coffee, The "Golden Latte" is strongly recommended since it is a popular pick of this shop.
Mammoth Espresso is not only specialized in coffee drinks but also tea as well. So, if you are a tea lover, coming to visit this coffee shop should be on your must-to-do list.
Asides from being one of the specialty coffee shops, they have also put up an interesting tea menu selection for you.
The specialty teas of Mammoth Espresso are, Butterfly Pea Flower, Lemonade with Topo Chico, and the Grand Duke Alexei. The taste of the tea and its great coffee will make you want to visit again.
6. Mojo Coffee House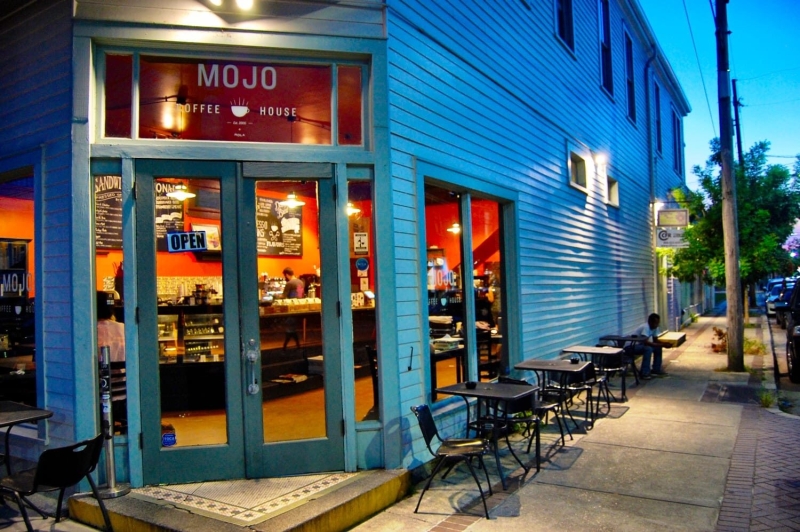 Let's go and find the next neighborhood coffee shop and one of the local vendors in New Orleans which offers you the local vibe. Although you might be new to town, you will feel as comfortable as you have been here before.
Just like the French Truck Coffee, the Mojo Coffee House also has multiple locations as well. The first built location is on the South and North of magazine street. While the other location of the Mojo Coffee House is in the lower garden district.
Between the two locations, the lower garden district is more community-friendly since the atmosphere allows a lot of people to come to meet up with their friends.
The Mojo Coffee House can give everything that coffee lovers look for including the best coffee, delicious serving pastries (both gluten-free and vegan), free wifi, and a spacious workplace.
This is not all as it also has a health-considering food menu for you such as salads and acai bowls if you do not favor junk foods.
5. Cherry Coffee Roasters
One of the coffee shops in New Orleans you must also check out is Cherry Coffee Roasters. Owing to the unique decoration of the brick wall, revealing pipes and the combination of built-wood material counters make you feel like you are in a local cafe shop.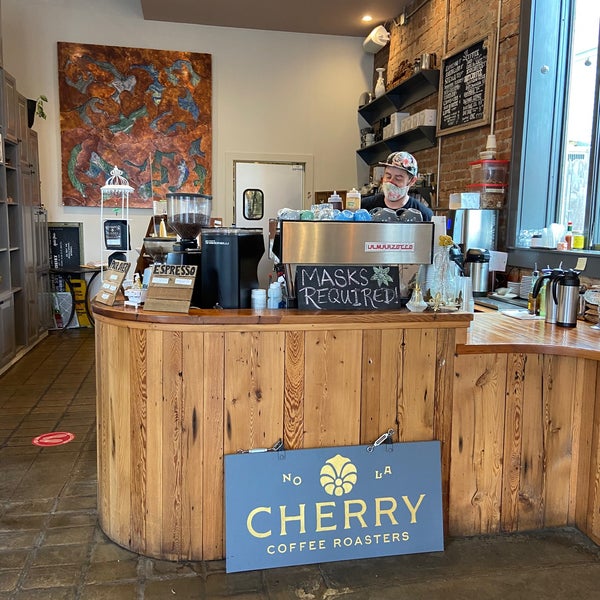 For Cheery Coffee Roasters, you can find this coffee shop in the garden district.
What can you expect from Cherry Coffee Roasters?
There will always be a crowd who comes for breakfast, especially on weekends. This means they serve excellent breakfast and lunch.
The suggested food on their menu is mostly tropical foods such as quinoa breakfast salad, salmon toast, and more. The reason is that they want to avoid coming up with just the usual food menu.
For coffee making, they use locally roasted beans, roast their own beans, and have their own method of processing coffee. When you taste this New Orleans coffee, it will definitely be different from the other coffee shops in New Orleans.
You can simply spend 4$ but you can drink some of the world-class coffee. This is why it is known as one of the best Orleans coffee shops.
4. Spitfire Coffee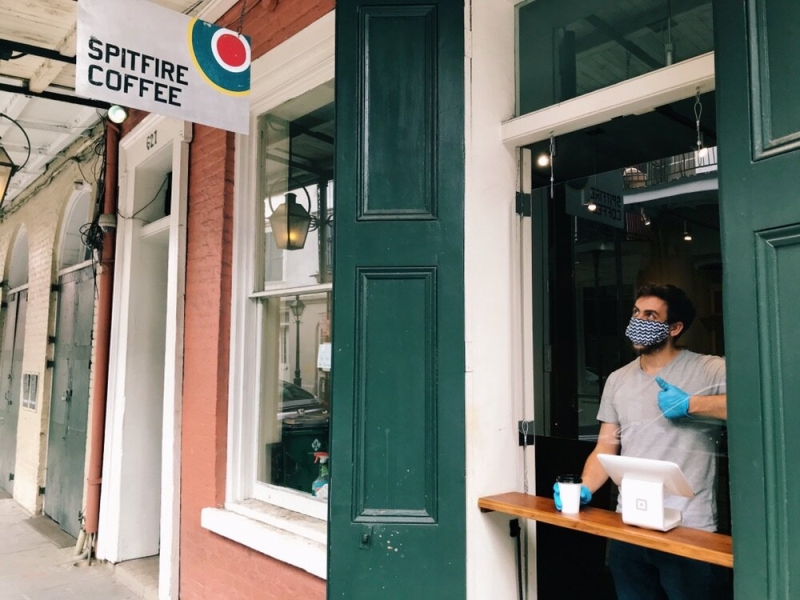 Despite its small size, this cafe has built quite a huge reputation for itself among all the Orleans cafe shops. You can find Spitfire Coffee in the French Quarter.
Without further ado, let's dig into the specialty coffee of this caffeine drink in New Orleans. If you are a strong caffeine drinker, Spitfire Coffee is the right New Orleans coffee shop for you.
With its high-quality coffee beans, Spitfire Coffee's strong lattes and smooth pour-overs are the most appealing. Again, if you desire strong and dark coffee, cold brew and iced americano are the musts to try.
3. Lovage at the ACE Hotel
Among all the previously mentioned New Orleans Coffee Shops, this one probably provides a large layout environment. It is also located in the warehouse district.
This is because it is linked to the ACE hotel, so you can bring your coffee to another level which is the cool hotel lounge area.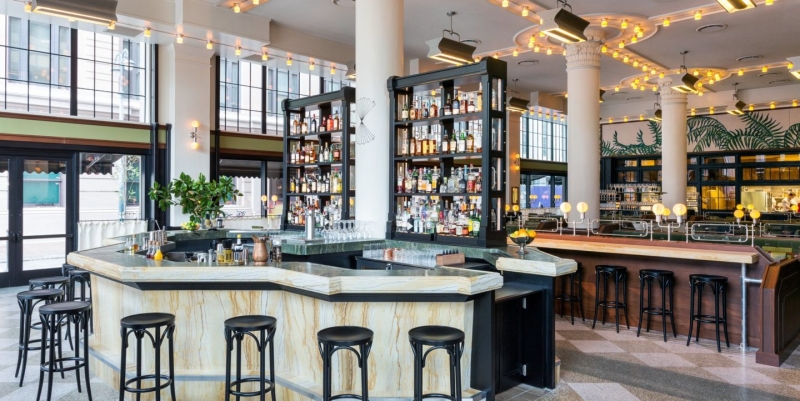 For Lovage, it is a famous spot for remote or freelance workers since there is a bunch of table space both in the coffee shop itself and the lounge area.
For that reason, it makes the workers feel comfortable as though they work in a friendly environment while enjoying their coffee drinks. The cold brew here is also a signature drink.
Furthermore, the beautiful tiny sweet treats and yummy pastries will attract your attention as it arrives freshly on a daily basis.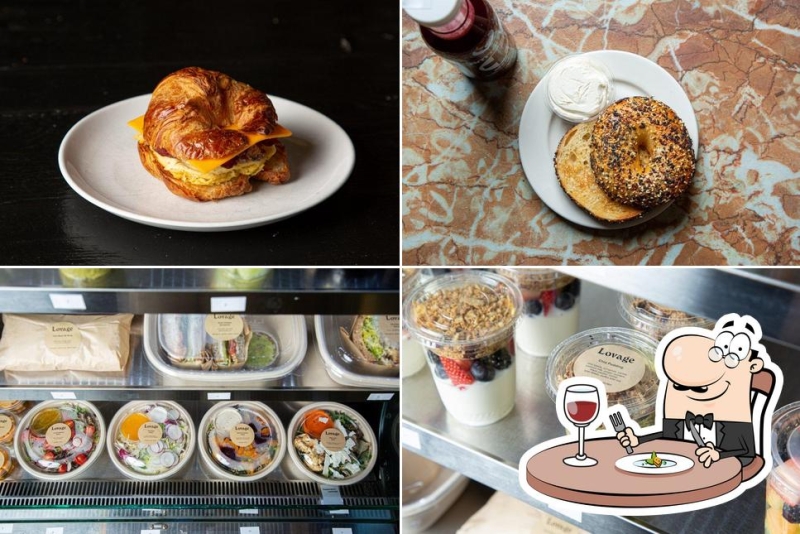 You can also come in the morning to enjoy their filled menu, including breakfast burritos, breakfast tacos, sandwiches, and salads. In the evening, you can spend a fun time with your family and friends with the available cocktails, beer, and wine.
2. Backatown Coffee Parlour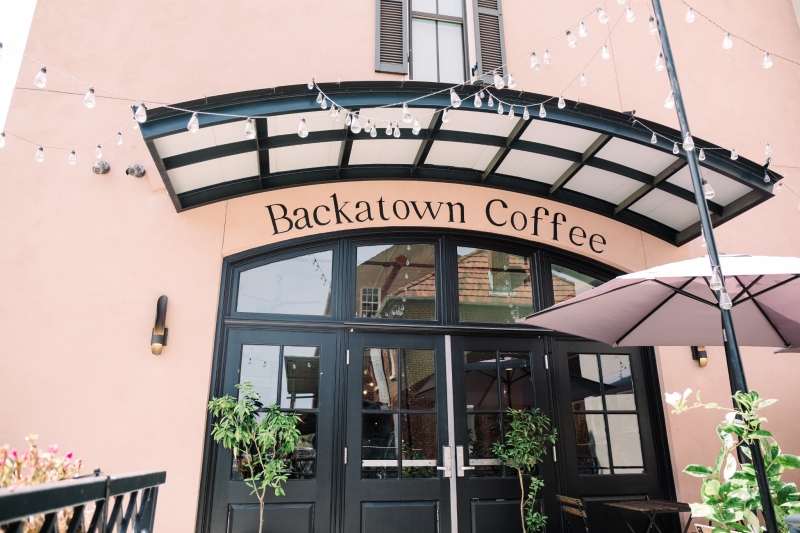 Backatown Coffee Parlour is a local boutique cafe shop which is on Basin Street within the Old Storyville. It is one of the New Orleans coffee shops that embrace the mid-century decor along with art deco design with the crafted menu.
Backatown Coffee Parlour opened in late 2017 and has been a part of Basin Street ever since. Because of its community hang-out vibe, it makes both diverse and local guests feel very welcomed on any given day.
What is more special is the monthly event called Art Fusion hosted by this New Orleans coffee shop. The cafe shop owner works closely with the local artists and other local caterers to display their art exhibition and cuisine.
For coffee best picks, Café Au Lait, chicory coffee, and iced coffee recipes are the best choices. As a visitor, you can also taste a number of tasteful breakfast and lunch bites, vegan and vegetarian-friendly foods and drinks, and an exclusive loose leaf tea.
1. Coffee Science
As the New Orleans coffee culture has evolved throughout the years, Tom Oliver who is the owner of Coffee Science wants to take his coffee shop to another level.
It is named as Coffee Science for the reason that he believes in the stability and repeatability of the process of making coffee. The coffee shop is located in the mid-city within the broad street.
Although the focus of Coffee Science is on coffee, it also serves a small menu of donuts and pastries, ready-made salads, and cold sandwiches.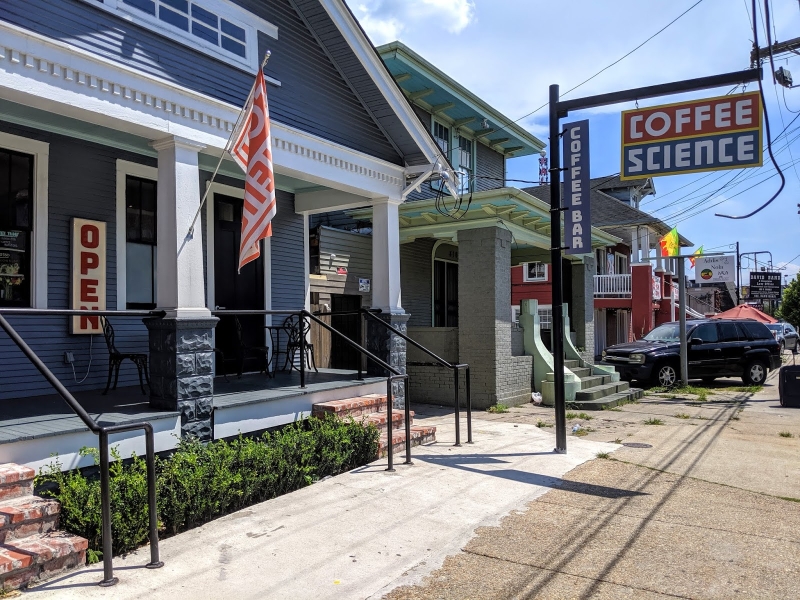 Last but not least, this New Orleans coffee shop uses beans that come from different locations, but local roasters in New Orleans also sell their beans retail, too.
Which one is your favorite?
If you are done going through the brief details above of each cafe in New Orleans, we are sure at least a few of them will definitely grab your attention and make you want to visit them once you are in New Orleans.
The 10 mentioned coffee shops above are categorized as the best coffee shops in New Orleans. They all have unique and tasty flavors of coffee. Also, it is a wonderful atmosphere for you to relax and chill with your loved ones.
Some coffee shops will have multiple locations which make it convenient for you to go to the nearest branch you can find. At the same time, they all provide the New Orleans vibe for you in order for you to have memorable moments and want to visit again next time.
We have come up with the top 10 best coffee shops in New Orleans hoping you can spend an amazing time there because we are sure these coffee shops will not disappoint you in any way.
References:
Check out: New Orleans Vacation Travel Guide | Expedia By Expedia