Las Vegas is a lively city with a lot of things to do and experience. There are many places to satisfy your needs and preferences. This includes exciting rides and games, popular shows and funfairs, museums, cinemas, world-class restaurants, opulent hotels – anything that will make you unforgettable. Therefore, why should searching for a cafe be any different, maybe the best coffee in Las Vegas?
Until recently, Las Vegas lacked a vibrant cafeteria moment comparable to that of the world's amazing coffee meccas such as Vienna, Melbourne, London, Rome, Hanoi, Singapore, and Seattle. All of that has changed recently, thanks to the proliferation of specialty coffee shops.
If you want to grab a coffee or some breakfast coffee, this vibrant city, Las Vegas, has a plethora of fantastic coffee shops to choose from. Continue reading to learn more about ideal coffee shops in Las Vegas and to make an informed decision about which ones to visit.
Congratulations! You persisted in reading. At present, you know my picks for the best cafés in this city. New coffee shops in Las Vegas are helping to foster the city's emerging coffee culture by providing high-quality coffee to locals and tourists alike, as well as by introducing Vegas to the communal pleasures of coffee drinking.
List of The Best Coffee Shops in Las Vegas
1. Vesta Coffee Roasters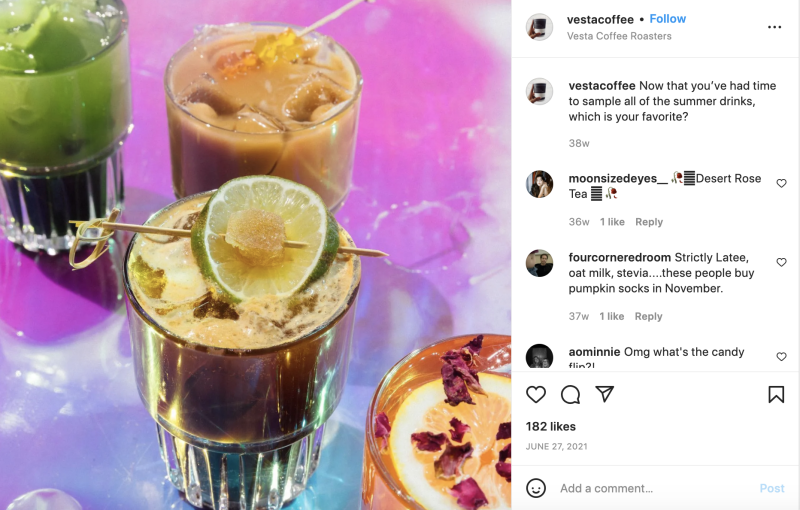 Despite the term "specialty coffee", Vesta coffee roasters are up to the challenge. The care and dedication they have for coffee are evident the moment you walk in. Clean and welcoming, the small shop makes you feel good even before customers take a sip. Several people bought many bags of coffee to take home because it is some of the most excellent they have ever had.
Pour-over coffee and the pour-over at Vesta are excellent. There is ample parking and seating, and the interior is bright and cheerful. If you have the opportunity, pay them a visit at 1114 S. Casino Center Blvd. #1.
2. Skimos Coffee Shop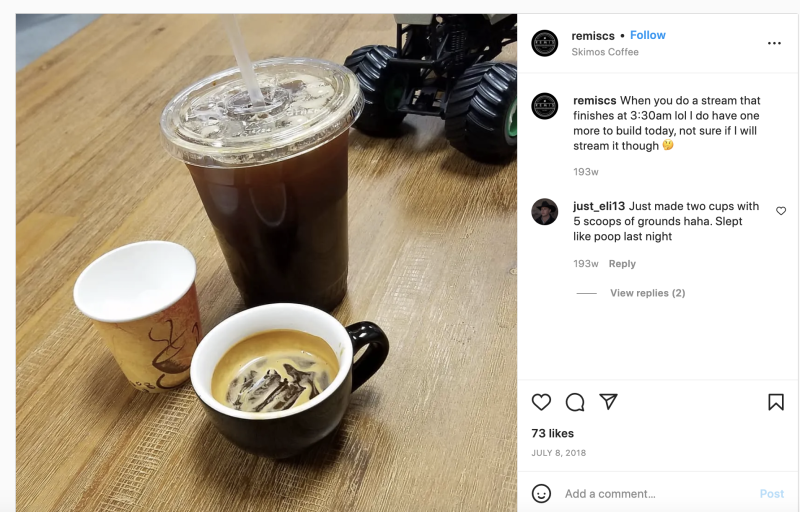 The baristas here are extremely talented at creating delicious lattes. Named as Basil Latte, it contains basil extract to give the coffee a wonderful taste, this cafeteria is a popular destination for tourists. You can find it in Henderson, this cafe is less than 20 minutes away from the city center of Las Vegas. More than that, the coffee shop provides good service to all of its customers and guests.
In addition, the shop serves avocado toast and this is considered to be one of the best in this lively city. Hemp seeds, sea salt, flax seeds, sesame seeds, and chili powder are mashup ingredients of the "avocado everything" toast. The location is at 1533 W. Sunset Rd., Suite 200, Henderson, NV 89014.
3. Sambalatte Boca Park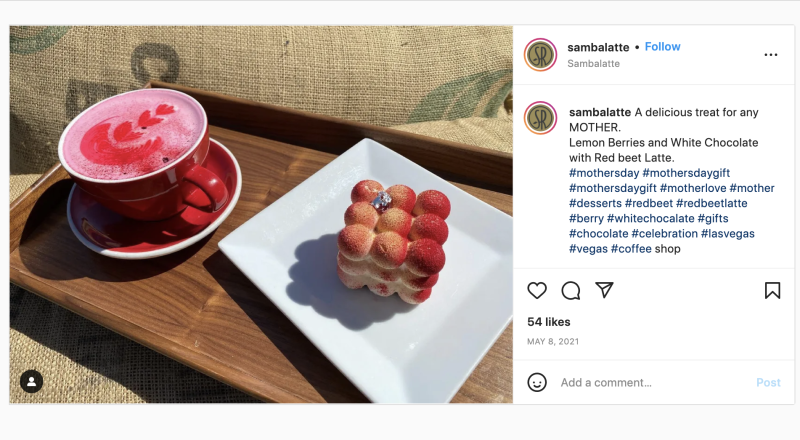 There is a nice coffee shop called Sambalatte Boca Park. It is at 750 S. Rampart Blvd. #9. It is a welcoming atmosphere here, and the staff is friendly and helpful. It is a great place to set up camp as well as have some work done within a few hours here. There is plenty of seating and light bites to keep you enjoying for a couple of hours or longer.
The baristas are friendly and skilled, and they go above and beyond to make sure your drink is perfect. For example, a red rock latte, which was coffee with honey added to it, and it was a real treat. Interestingly, they are pet-friendly, which is ideal if you have a four-legged companion with you.
4. Aware Coffee & Tea Lounge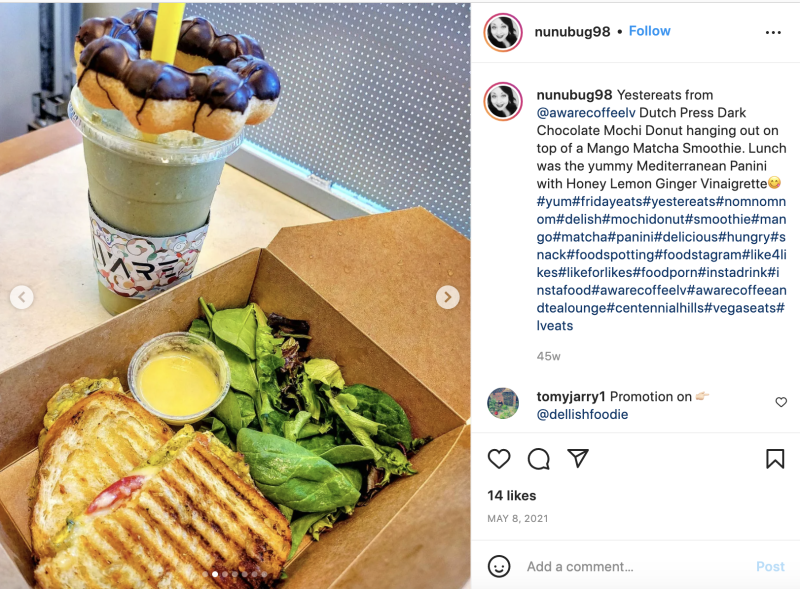 To meet your needs, the Aware Coffee & Tea Lounge offers a diverse selection of organic espressos, purees, homemade syrups, as well as tea. Their menus also include mochi donuts, smoothies and milk tea. Music is playing in the shop while you drink your coffee, so you will relax and enjoy your time there. Richie Liu owns the coffee bar, which is probably the most basic in the city. The shop owner was previously operating the Tea Time Café prior to actually establishing Aware Coffee & Tea Lounge – which is a blessing in disguise! The shop offers a variety of seasonal holiday beverages, including the Hibiscus Dream Latte for Valentine's Day. Hibiscus syrup, passion fruit syrup, coconut milk, as well as edible rose petals are used to make this drink.
5. The Madhouse Coffee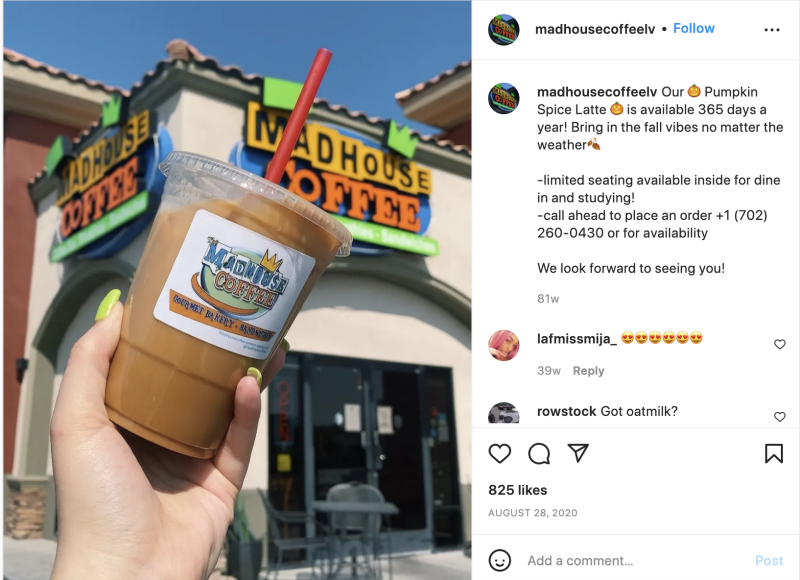 Madhouse coffee is an eccentric café that serves unusual beverages such as the "monkey mocha". There is a great vibe at Madhouse Coffee, and the drink drips beautifully. Also, their coffee is very good, and they fulfill typical cafe food like pastries, sandwiches and a lot of other things. Furthermore, there is a more limited menu that includes vegan snacks as well as sweets.
The Monkey Mocha there is very flavorful. It is peanut butter, banana, and chocolate chips. This beverage was excellent, and even their regular Intelligentsia coffee is also excellent. They can be found at 8470 W. Desert Inn Rd.
6. Java Vegas Coffee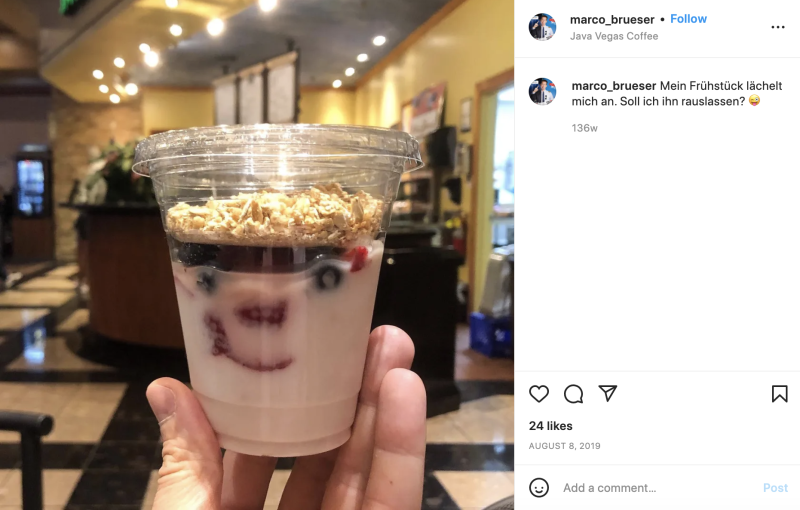 If you are looking for a great café with a varied breakfast menu, Java Vegas Coffee is an amazing place to go in Las Vegas. On their menu, they have delicious items such as sandwiches, oatmeal, plus croissants. Additionally, the coffee shop serves sweet treats, including blueberry and chocolate muffins, sweet yogurt, and doughnuts. Customers can order what you want when you are there. Located at 4500 W. Tropicana Ave., Las Vegas, NV 89103 and in the Orleans Hotel & Casino, Java Vegas Coffee is a favorite among locals.
The coffee shop is not a stand-alone store. It is designed to blend in with the decor of the hotel. It is a cozy, and small, site in the hotel in which you can satisfy your coffee cravings. Despite its size, this coffee shop is designed to make you feel more relaxed and at ease while sampling their amazing beverages and treats. You will not be shocked if the coffee in this tastes a lot like Starbucks because Java Vegas Café is a retailer for the coffee chain. Although the items sold here are somewhat pricey, they are well worth the money.
7. Baby Birds Café
Despite the fact that there are only a few lakes in Vegas, you can grab breakfast while viewing The Lake in Las Vegas. Baby Birds Café is responsible for all of this. This not only faces The Lakes, but it is also a lovely café. There are a variety of vegan treats and meals available at this location, including their flawless Taro latte, which is a drink you will remember for a long time and you would recommend to friends.
You can also give their vegan caramel flan dessert a try, which is considered to be one of the best in Las Vegas by many. Aside from that, they also serve jackfruit tuna toast and avocado toast, both of which are made with only the finest ingredients, and which are both excellent dishes to try. In Vegas, Baby Birds Café is a coffee shop customers can rely on.
8. Sunrise Coffee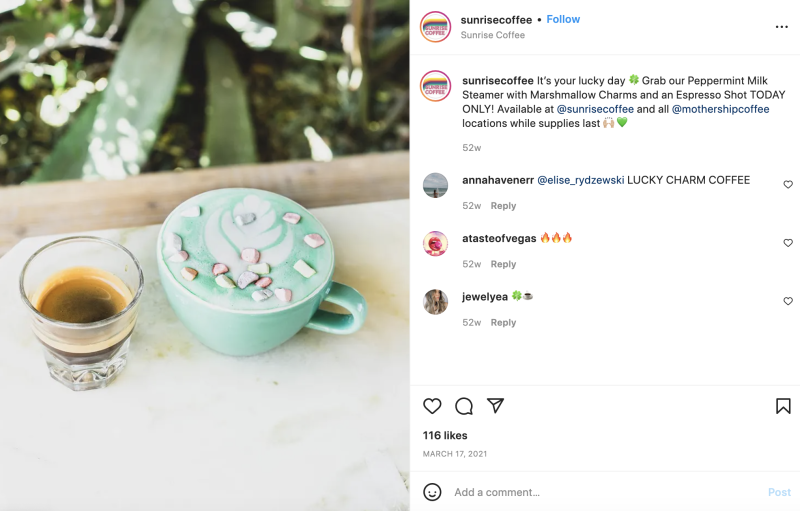 One of Las Vegas' first independent cafes is Sunrise Coffee, which has been open on Sunset Blvd since 2008. It was the owners' vision to open the business in the same year as Mothership Coffee Roasters (their sister shop) with the goal to bring the neighborhood cafeteria concept to this city, Las Vegas, and they were successful. Their efforts were extremely fruitful in this regard. It is no secret that Sunrise Coffee is a popular hangout for students and families, couples on dates, businesspeople, and other types.
It is single origin coffees, and it is also sourced from fair-trade and organic. Its pastries and bread are baked fresh every day in their bakery. Don't forget to taste their selection of vegan, vegetarian, as well as gluten-free food items, which are all prepared fresh on a daily basis. Breakfast, lunch, and dinner are all available at this Sunrise Coffee Shop, which also serves tasty drinks throughout the year.
There are holiday-themed drink menus available. During the previous winter, yummy pancake lattes, Tiramisu cold brews, and other items were available in this shop. Across the street from McCarran International Airport, there is a coffee shop. Besides that, they are a vegan-friendly store because, on their menu, they have fresh-made vegan, gluten-free items, and vegetarian. For those visiting Vegas and exploring a place to enjoy some delicious pastries while also sipping a superior coffee, this Sunrise Coffee is a great place to go. It should be on your shortlist of places to grab a cup of joe on The Strip, which is located at 3130 E. Sunset Rd., Las Vegas, NV 89120.
9. Mothership Coffee Roasters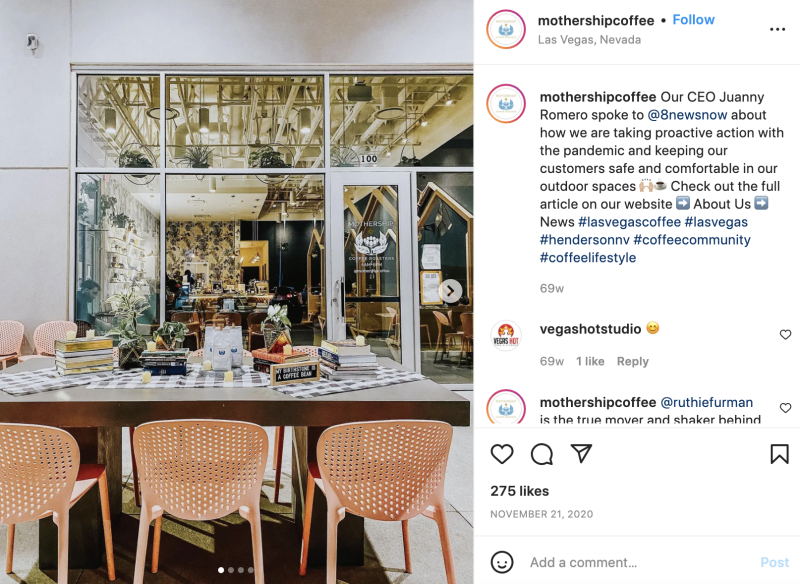 Mothership coffee has a modern, clean aesthetic that appeals to many customers. The coffee spot is welcoming and bright, and we immediately felt at ease as we sipped cappuccino, and you would definitely return. As long as it is not too busy, they will answer every question you have about their coffee.
Located at 2708 N Green Valley Pkwy Henderson, NV 89014, it has many seats for you. Hence, you will not have any trouble finding a spot to relax. Parking can be difficult, so you may have to walk a short distance, but we promise it will be worth it.
10. Dark Moon Coffee Roasters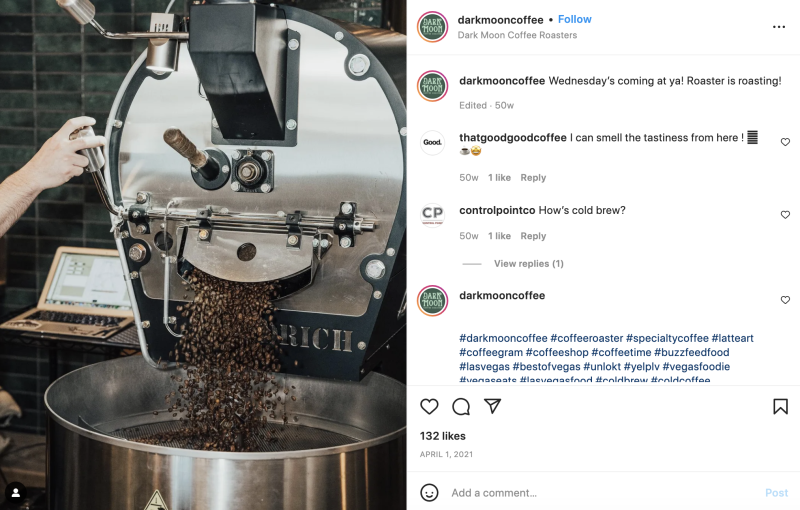 Located on 11041 S. Eastern Ave., Suite 115, Henderson, Nevada 89052, nearby Henderson residents can now experience every step of the coffee-making procedure thanks to the team of Mark and Kyle Porterfield at this coffee shop. It really is possible to make some of the best pour-over coffee you have ever tasted at Dark Moon because they have brilliantly filtered hot water on hand and tempered.
They are able to attain mind-blowing flavors by roasting their hand-selected coffee beans from most of the world's best coffee-growing regions, including Ethiopia and Colombia; it is truly a lot of fun to watch and learn them at work, perfecting their skill. If you'd rather learn how to roast your own coffee rather than just sip it, Dark Moon offers an excellent introduction to the process. How amazing is that?
11. Urth Caffe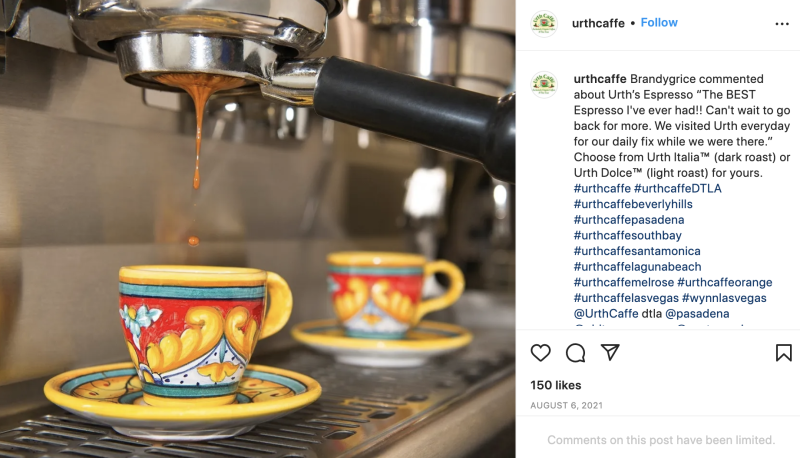 You can find Urth Caffe at the Wynn Las Vegas area as well, which is one of the people's favorite places to get coffee in LA. Located at 3131 Las Vegas Blvd NV 89109, there is no need to stay at the hotel to enjoy a cup of fresh coffee and a baked good from Wynn's famous bakery, even if you're just passing through.
In Wynn Plaza Shops, you will find Urth Caffé, which serves exclusively organic coffee, heirloom, and fresh organic ingredients that cover the spectrum of healthy living, from vegan to gluten-free to utterly decadent and everything in between. An olive tree is surrounded by a hand-tiled Malibu style that is in the middle of a skylit room.
12. PublicUS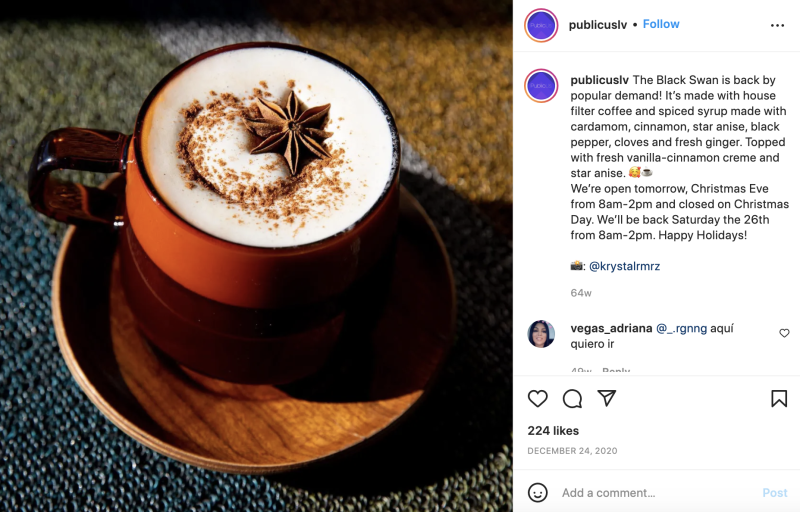 PublicUs is a Las Vegas coffee shop and cafeteria-style restaurant that serves unique coffee. Iced coffee drinks with mint and cream are available, as are an Iced London Fog and a Macadamia Almond Latte. The Black Swan (pictured above) is a spiced coffee drink made with cinnamon, cardamom, and topped with freshly made vanilla-cinnamon cream and star anise (pictured above). Furthermore, breakfast and lunch feature all of the typical delectable suspects, as well as a selection of bowls, which are available here such as Hummus Tabbouleh Bowl, Buttermilk Fried Chicken Bowl, and more. This coffee shop is located at 1126 E Fremont St, Las Vegas, NV 89101.
13. Caffeine Machine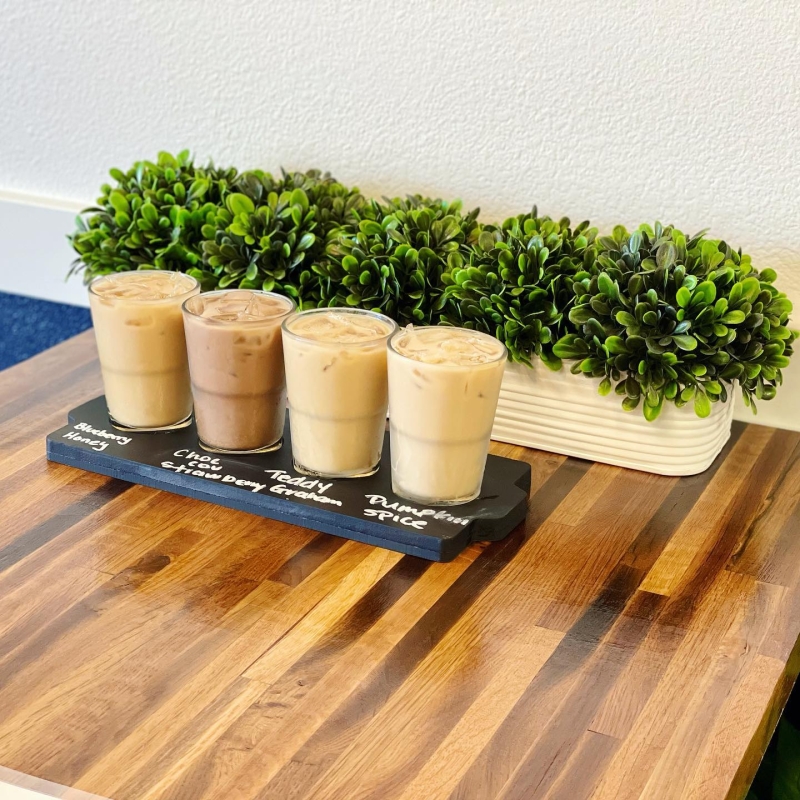 Caffeine Machine was started in 2020 and is owned and run by women who live in Las Vegas. The Caffeine Machine has changed the way everyone consumes their coffee. These delicate flavors come from all over the neighborhood. Every week, the shop has a different specialty drink. It also has coffee drinks, roasted espresso drinks as well as baked goods from local sources that have been pre-packed. As for location, it is at 4520 S Hualapai Way Ste 109 Las Vegas, NV 89147.
14. Makers & Finders Coffee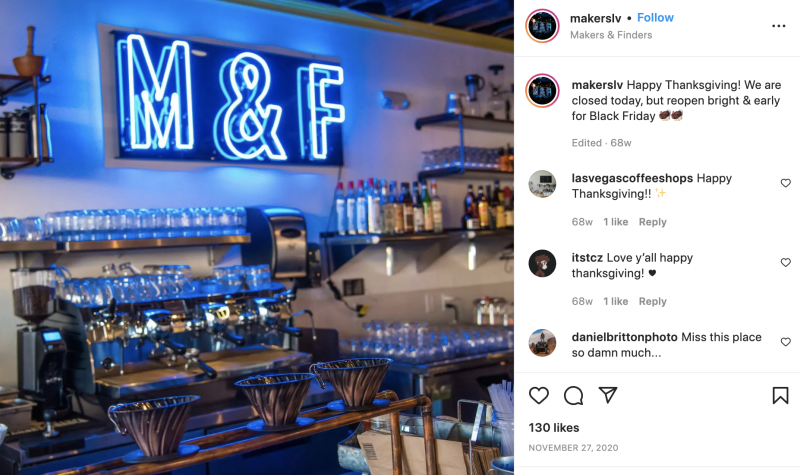 Makers & Finders Coffee has a distinct personality that sets it apart from the rest of the establishments on this list. They have some of the best specialty coffee in the world, but they also serve tasty South American food. Breakfast, lunch, and dinner are all available from a large selection of dishes on their extensive menu. This cafe is truly one of the best coffee shops in this vibrant city, Las Vegas.
Even though the coffee we have had is outstanding (a Kalita Wave pour-over), it was also expensive. When it comes to coffee, you will not be disappointed if you do not even mind spending a little extra money. There are a lot of great things to do at Makers & Finders, but the ideal approach to experience them is to have a meal and drink coffee. You will be able to taste truthful Colombian-inspired cuisine, as well as excellent coffee here. They can be found at 1120 S. Main St., Suite 110.
15. Founders Coffee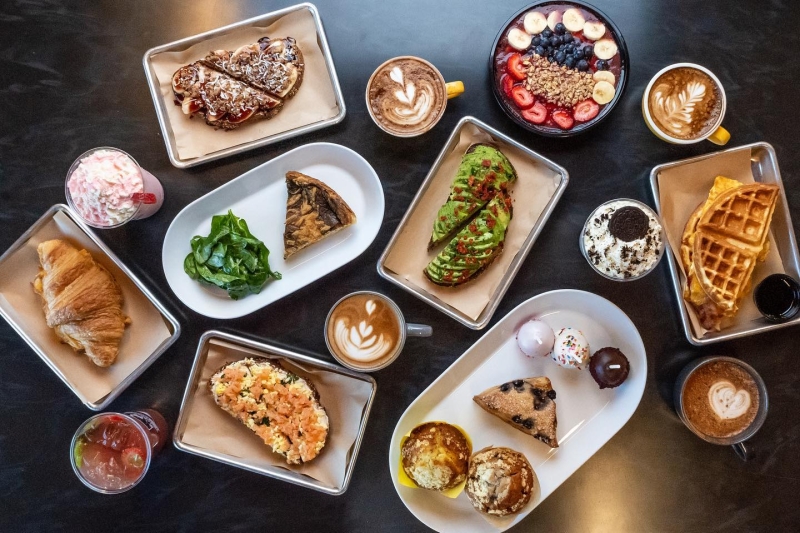 For those in the Las Vegas and Henderson areas, Founders Coffee has locations that serve all-day breakfast and brunch in addition to one of their signature drinks Founders Blend drip coffee. This is also available in nitro cold brew variations. They use only the finest ingredients and create a welcoming atmosphere. Every month, they introduce a new coffee feature which is called "The Giving Drink." In other words, each time you buy a drink, a small amount goes to a local charity! It is located at 3512 St Rose Pkwy Henderson, NV 89052. It is a nice coffee shop you should try in Las Vegas.
16. Golden Fog Coffee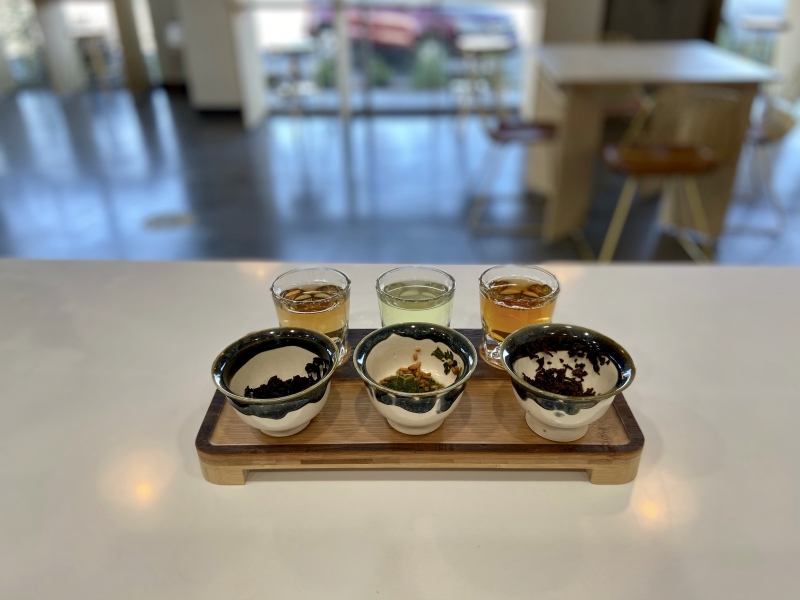 Golden Fog Coffee, set to open in October 2020 in the DTLV Arts District, is a specialty coffee bar. This coffee bar is on the ground floor of the shareDOWNTOWN apartment building, which is located in the walkable 18B Arts District neighborhood.
They are a 100% vegetarian cafe serving only Dark Moon Coffee, which is brewed on a Sanremo Café Racer. Additionally, they have partnered with Vintage Vegan Diner, Tacotarian, and Garden Grill to bring you a wide variety of vegan-friendly food options like croissants, bagels, granola, and cookies, as well as 20 loose leaf tea options.
Not only that, but their space also has a rotating mural and rotating art gallery wall by local artists that changes every three months. The shop opens daily from 8 am to 5 pm, and it is located at 1300 S. Casino Center Boulevard Unit 110, Las Vegas, NV 89104.
17. Gäbi Coffee & Bakery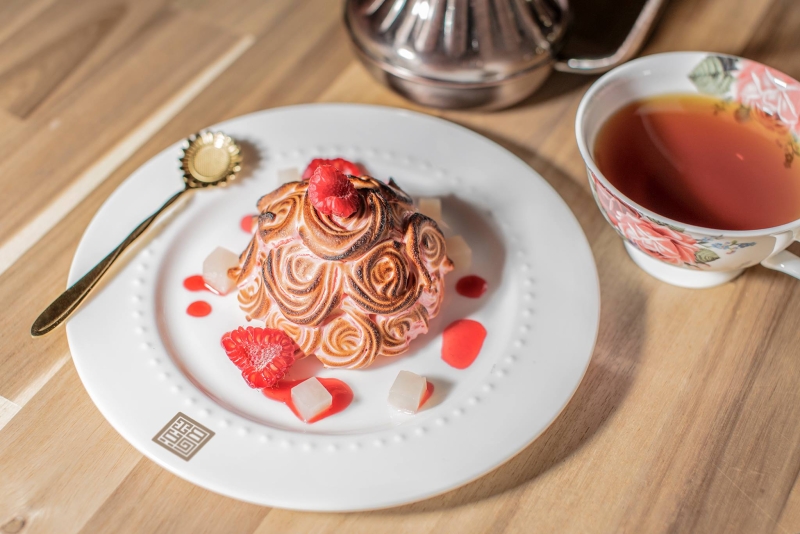 Gäbi Coffee & Bakery is hidden behind heavy wooden doors in an unassuming Chinatown parking lot. The desserts at the Korean coffee shop are among the city's most visually stunning, and they go perfectly with the pour-over, espresso, and specialty drinks like The Gabi. Similarly, The Gabi is a dry cappuccino that comes along with sprinkles of raw sugar and ground coffee. It is on 5808 Spring Mountain Rd #104 Las Vegas, NV 89146.
18. Bungalow Coffee Co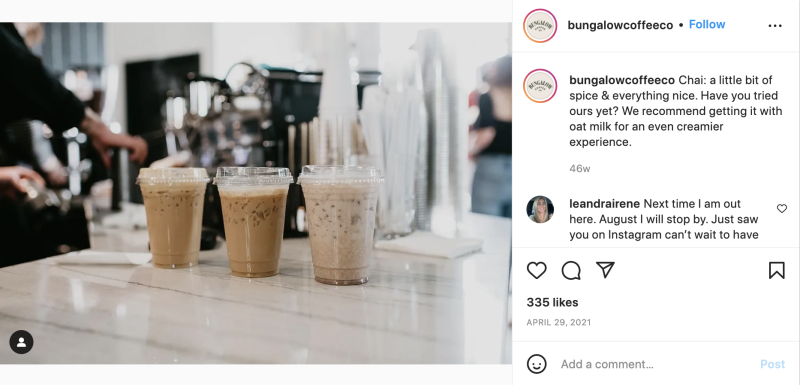 One of Bungalow's most popular drinks is the 12-ounce pour-over. This good coffee is made with beans sourced from Onyx Coffee Lab, the restaurant's in-house roaster, and served with a rotating selection of toppings. Additionally, there is a wide selection of paninis, breakfast sandwiches, pastries, and more to choose from. If you wonder where it is located, here is its location: 201 E Charleston Blvd Suite 180 Las Vegas, NV 89104.
19. Coffee Religion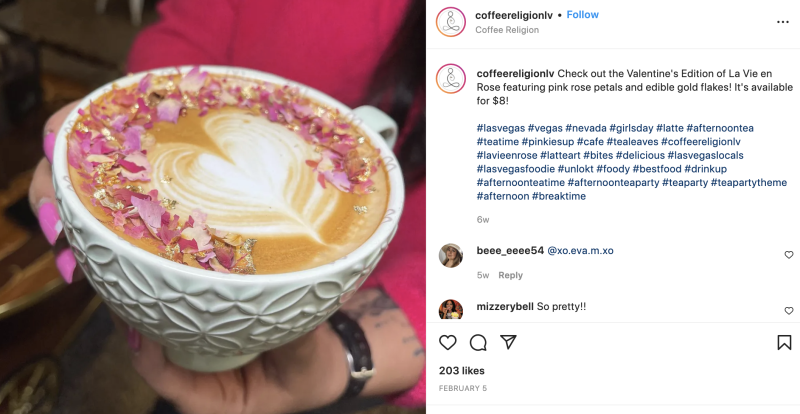 Coffee religion takes the same care in creating their coffee as they do in creating their environment. They are committed to providing superior coffee to their customers in an environment that promotes calm and relaxation. The decor is inspired by religions of the Eastern hemisphere, with a 10-foot-tall statue of the 2nd Buddha serving as the focal point.
The coffee is excellent, it is a little pricey. Although they offer some snacks, they do not provide anything substantial enough to be considered a full meal. In addition, a wide variety of teas and seasonal specialty drinks are available. Located at Suite 185, 5191 W. Charleston Blvd., you can enjoy a cup of coffee in a zen-like environment if you'd like.
20. TIABI Coffee & Waffle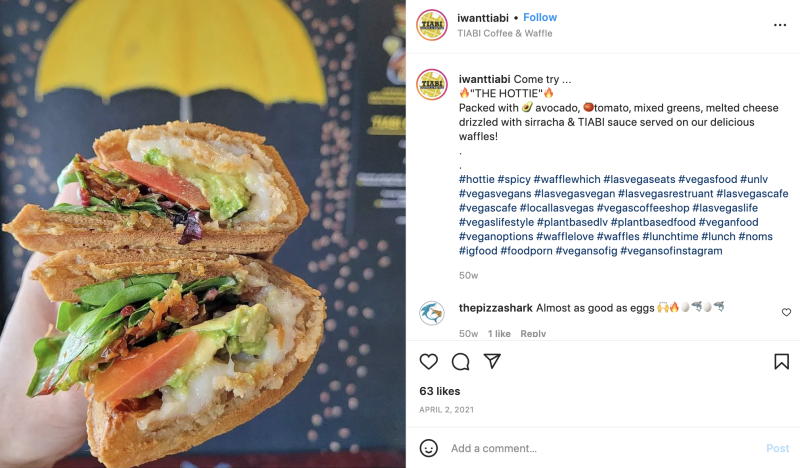 TIABI's coffee earned them a spot on our list, but you will understand if we start by gushing about their waffle sandwiches. Wafflewiches, which is what they call them, make us think of something we might make after a long night. But do not think that means they are not made with care. They are delectable and unique and would be worth a visit even without the coffee.
In addition to being delicious, there is no reason not to stop by TIABI Coffee and Waffle if you happen to be in Las Vegas. If you are in the vicinity of Las Vegas, do not miss this coffee shop. Wafflewiches are not only just for breakfast anymore; they are also great for lunch and dinner. You can find them at 3961 S. Maryland Parkway.
Conclusion
It was our pleasure to take you on a brief tour of some of the best coffee shops in Las Vegas! With all the excitement that Las Vegas has always had to offer, it is unlikely that you will have time to visit any of these fantastic coffee shops, but if you do, be sure to do so. The city of Las Vegas has some completely unique coffee shops, and you would not want to miss out on any of them. Whether you need a quick pick-me-up in the morning or a place to relax for a while, Las Vegas' coffee scene has something for you.
Check out: Best Coffee Shop in Las Vegas MUST TRY By Vegas Must Try