A coffee cart is one of the kitchenware that provides a lot of benefits. It is an item that will be a life-changer when it comes to organizing and storing coffee products.
However, that is not just it, a coffee cart can be used for many purposes like serving food or drink, storing utensils, or other household gadgets that roam around your countertop. By getting a coffee cart, you can free up some space while keeping things more tidy.
The other benefit is that it even works as a decoration to your kitchen. Since each design is unique and cool, it can totally lighten the whole mood of the kitchen. Making coffee and cooking with a coffee cart at home is what you need in your daily life.
That's why we are here writing this article to introduce you to the Best Coffee Carts For Your Space's Decoration in 2023. In order to help you purchase a worthy product without wasting your time or money, we have selected several products that are perfect in terms of quality and design. So, take your time reading some information that you need to know about each product, and make a good decision that suits your preference. Enjoy!
List of The Best Coffee Carts For Your Space's Decoration in 2023
10. Amazon Basics Rolling Cart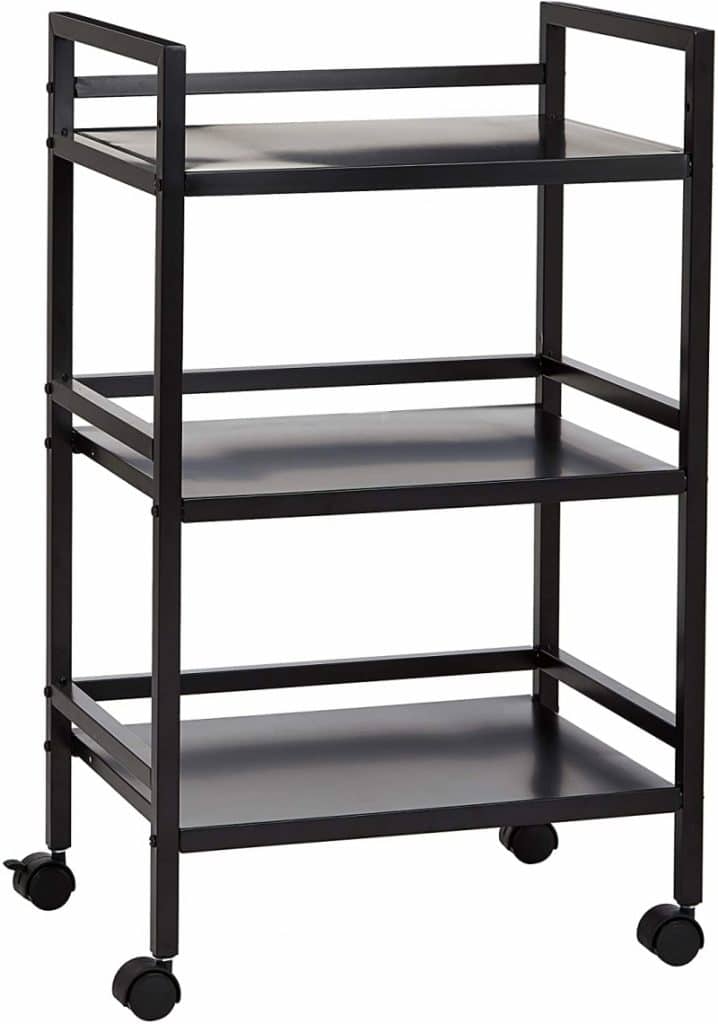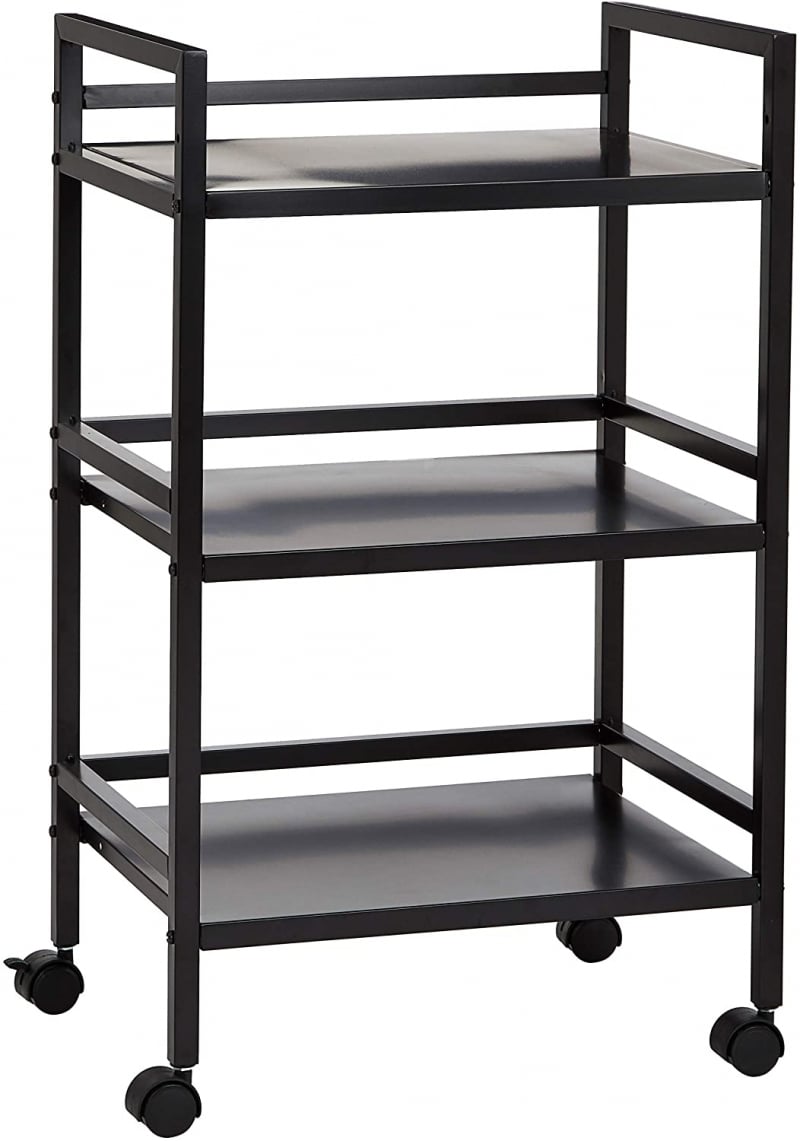 Keep everything in place and organized with this Amazon Basics Rolling Cart. This is a black cart with wheels and has three tiers, a multi-functional product with an affordable price that you shouldn't miss.
Made of metal and coated in black powder, this cart has a sleek and modern design which is really trendy nowadays. Constructed with sturdy material, this cart is perfect for long-term use. Since it has wheels, it allows you to move around freely from place to place with no problem.
Three sides of this cart have extra bars above the shelf to secure the material you put on from moving while the remaining one is opened so that you can take out and put things in easily. Moreover, it can be used in any location such as: in the kitchen for your coffee jars or mugs, in the bedroom for books, or in the bathroom for toiletries.
9. Hodedah Kitchen Island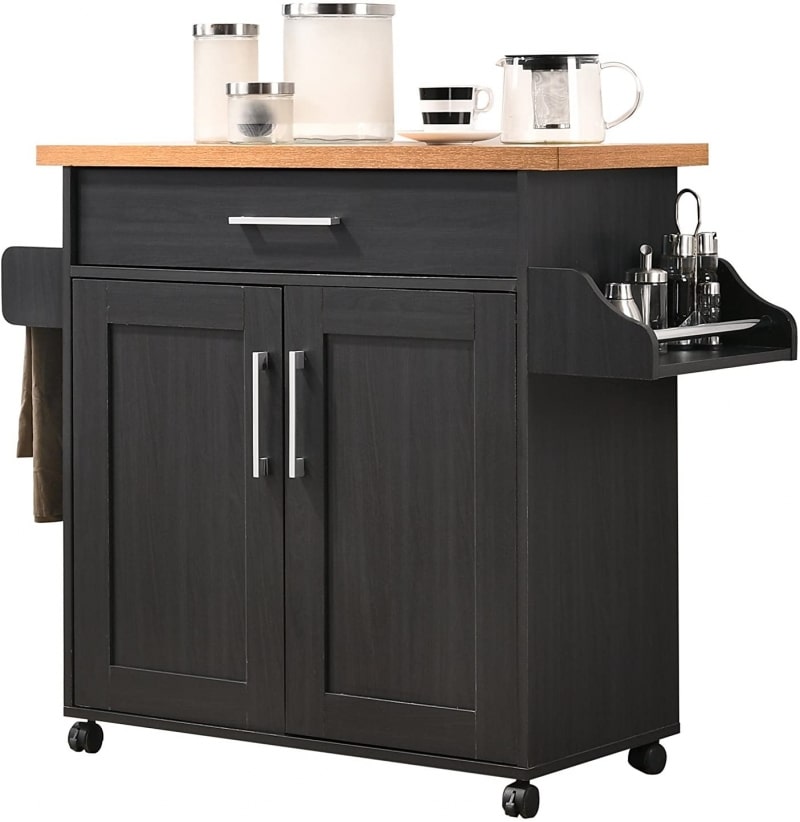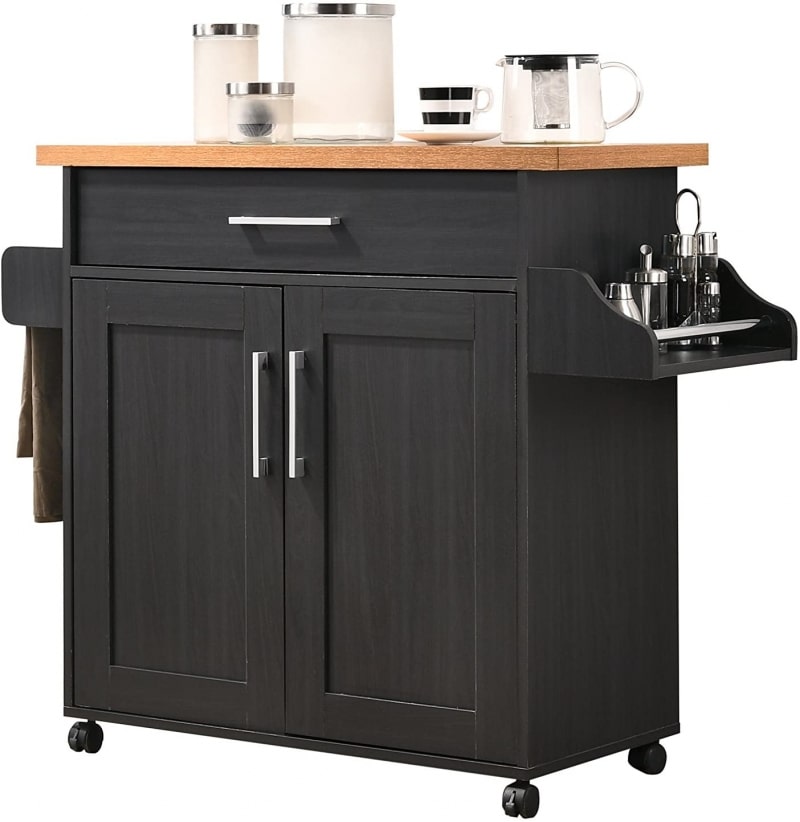 Light up your kitchen decoration with this Hodedah Kitchen Island cart! The stylish design of this cart needs to be pointed out. Not only is it decorative, but it is also practical. 
The top of this cart is for displaying small appliances like jars, coffee machines, or toasters, and below that is a drawer for extra utensils. Under the drawer is a cabinet for other appliances like pots or pans. There's also a rack on one side of the cart for extra space and a towel holder on the other side for more convenience.
Made of wood, colored in black and beech with the dimension of 35 H x 46.65 W x 15.5 D (inches), the cart is sturdy and durable. You can easily move this cart by using its wheels. When you find the right location for this cart, lock the wheel so that it won't move but don't forget to unlock the wheels when you need to move the cart! One of the best carts that everyone can't help but love!
8. HERJOY Metal Utility Cart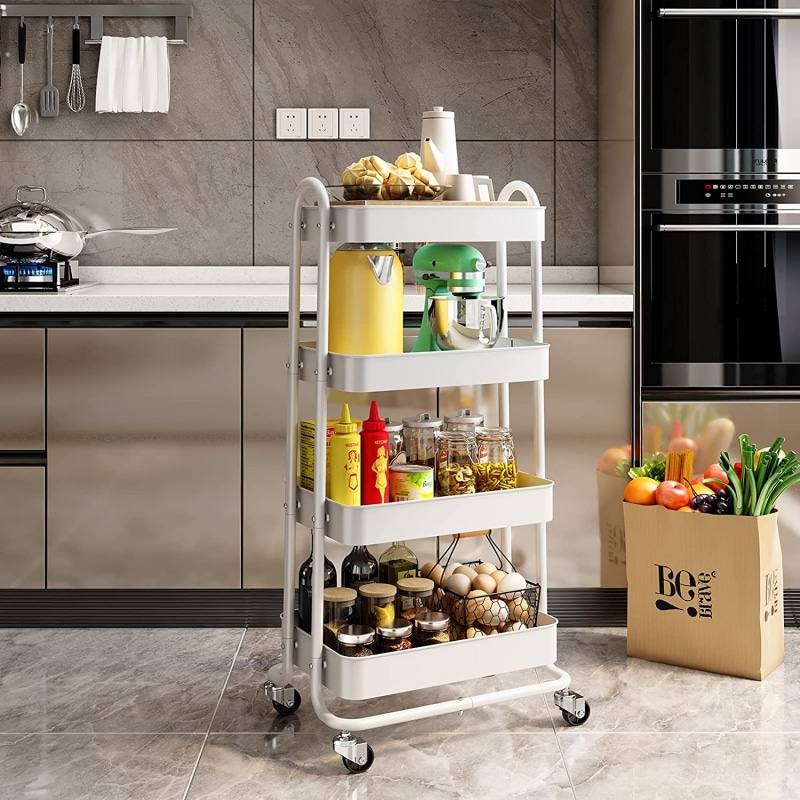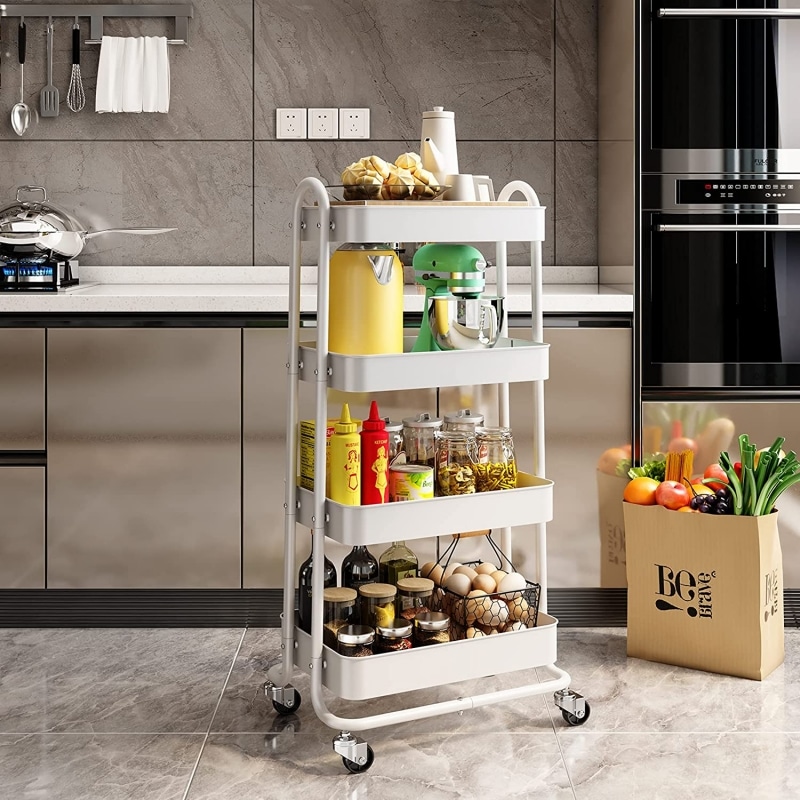 HERJOY Metal Utility Cart could be your next favorite coffee space! You can conveniently store all your coffee, tea, mugs here in one spot and later deliver them for your guests when they are coming over. Perfect as portable storage for your place.
Both the frame and the shelves are made of high-quality metal which makes it very sturdy and long lasted. The dimension of this cart is 40.55″ H x 17.91″ W x 13.58″ D that can hold the capacity up to 176 lbs weight, perfect to hold your coffee jars, coffee mugs, and other gadgets conveniently.
Easy to move around since it has wheels, the rubber wheels move 360 degrees smoothly, soundlessly as it also has two handles, transporting things like drinks or food using this cart is a piece of cake. Lastly, it is really easy to assemble, you just need to follow the instruction that they provided.
7. Mind Reader Coffee Cart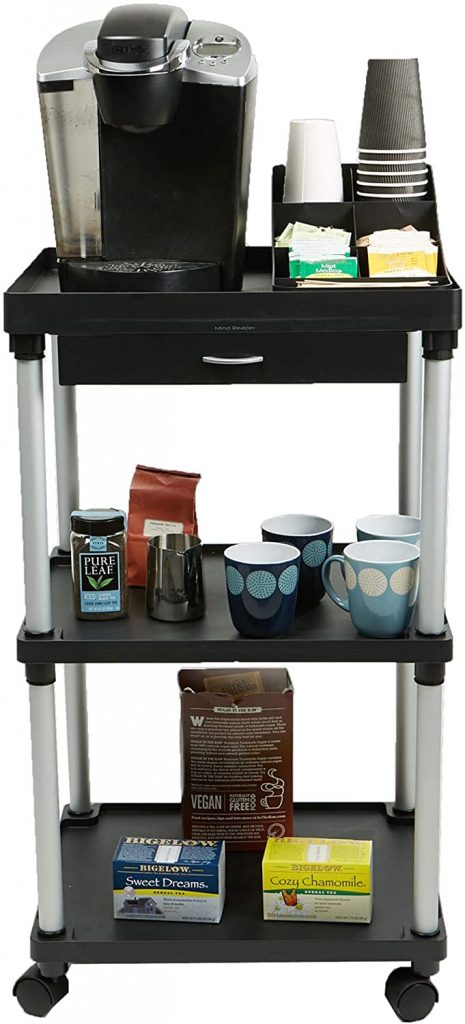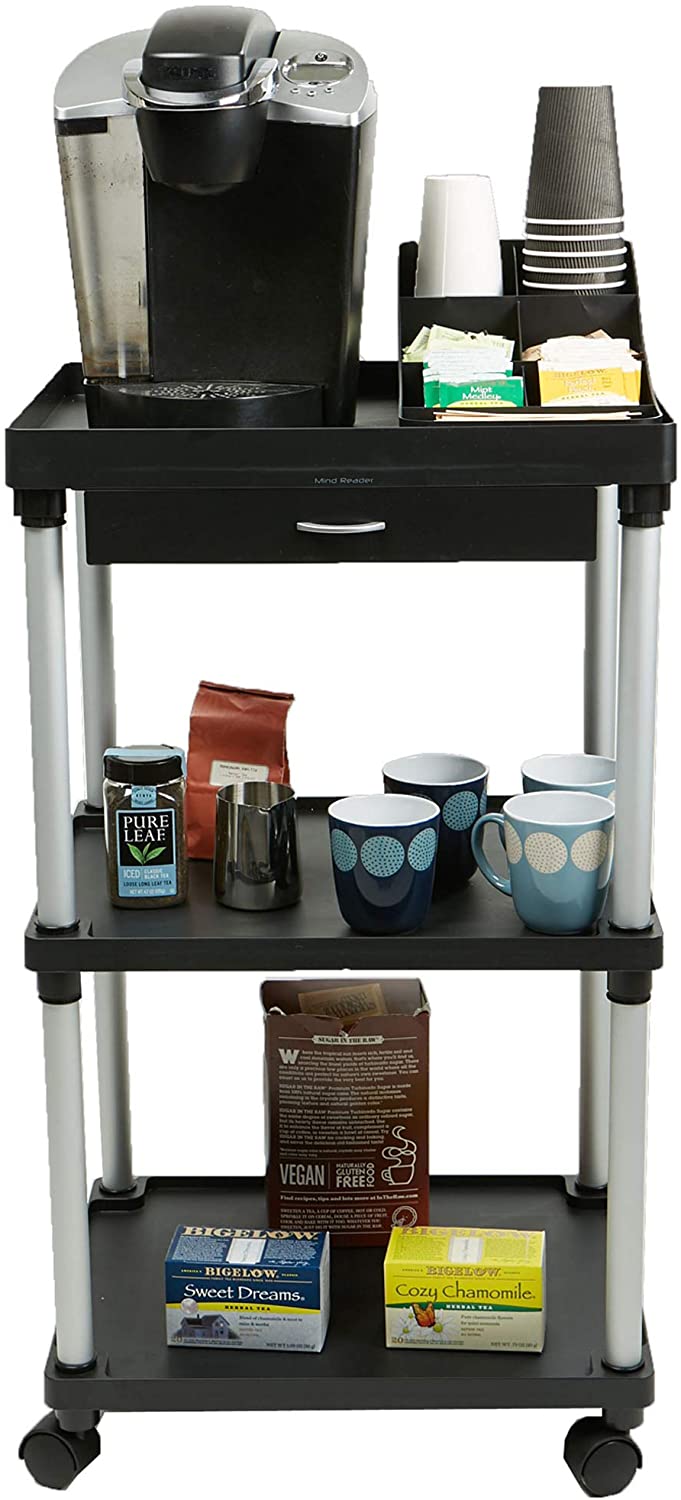 If you feel like your house is missing something, that must be this Mind Reader Coffee Cart. This is a multi-purpose cart that will keep your things more organized and tidy.
Made of plastic and metal, this cart is pretty light yet steady. It can be used as a coffee cart, printer cart, microwave cart, bathroom cart, and etc. There are three shelves for you to categorize your items more conveniently and also a drawer for extra storage.
The product's dimension is 20 x 15. 8 x 41 inches, it is not too big which is really space-saving. Apart from that, you don't need to worry if you need a cart to move around frequently since this cart comes with wheels. You can use this cart to move beverages for your guests in the living room, meeting room, or kitchen in no time.
6. YAHEETECH 3-Tier Cart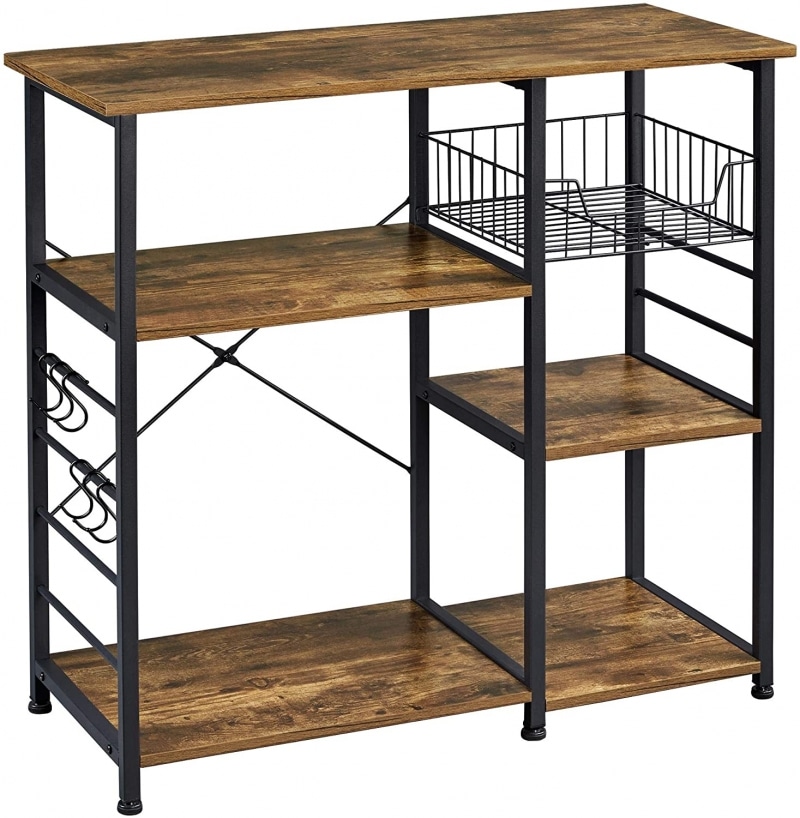 Fill the empty space in your apartment with this YAHEETECH 3-Tier Cart. Since this cart is really spacious, it is perfect for those who have many things to store or a big cart. 
The rustic brown cart is divided into two compartments, one of them has 2 shelves, the other one has 2 smaller storage shelves plus a wire basket, and of course, you can also put things on the top of the cart, suitable for a coffee machine or microwave. It also comes with ten pieces of an S-shaped hook for coffee mugs, ladles, whisks, and other kitchenware.
The frame is made of high-quality metal and the shelves are made of top-grade wood, looking authentic and elegant that will catch everyone's attention. Additionally, this one has not wheeled since it is not something you should use to move often but it does have an adjustable non-slip foot pad to keep the whole cart stable even when you use it on uneven ground.
Despite how it looks, it is really easy to assemble. The instructions are illustrated simply so just follow the instructions and you will be fine. Big benefits from this cart!
5. Soges 3-Tier Cart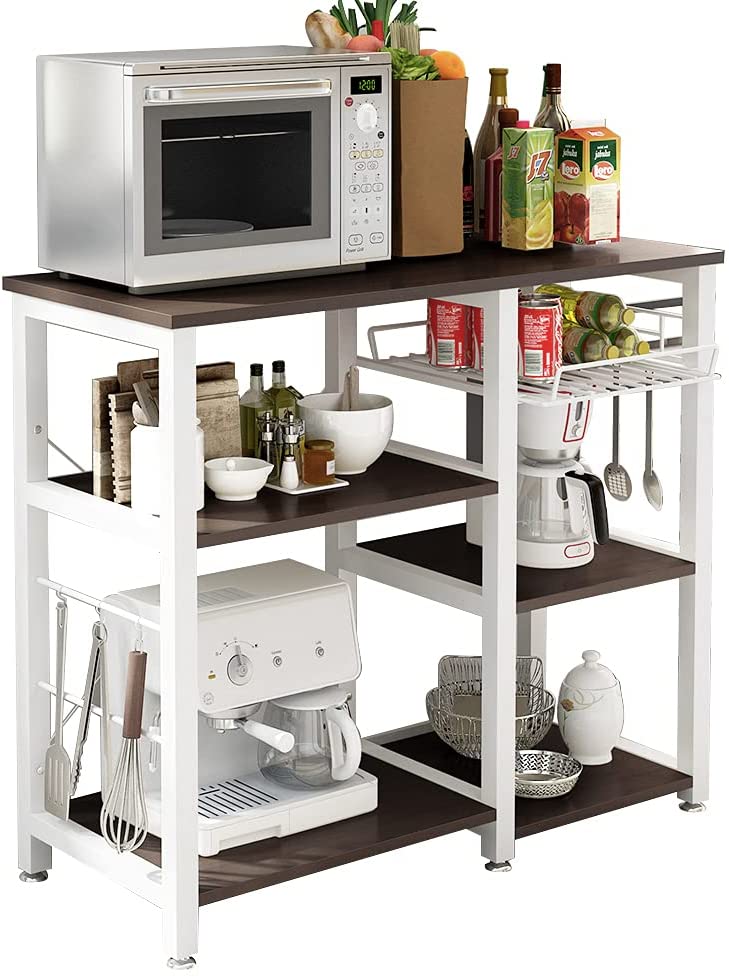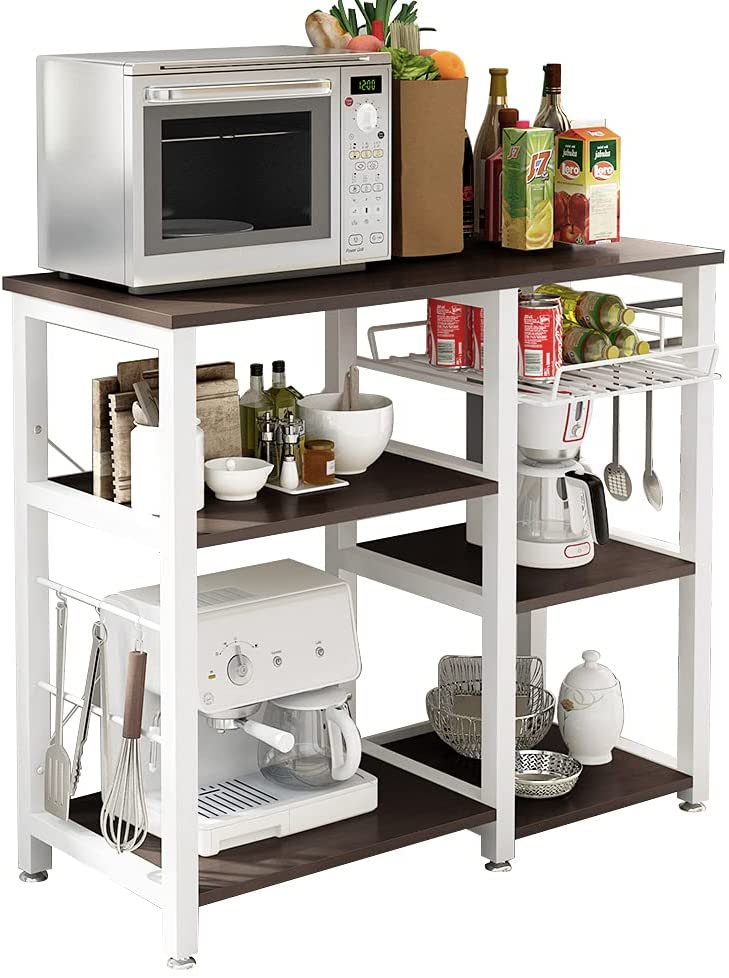 Free up some space for your kitchen cabinets and your countertop while keeping everything organized neatly by just getting this Soges 3-Tier Cart. This is a really well-made product that receives tons of positive comments from previous customers; they can't help but fall in love with such an amazing product. 
The metal frame and an extra basket are colored in white while the shelves are colored in dark brown with a glossy finish. The whole design is apparently attractive and eye-catching thanks to the bright color. If you look closer, the quality is just as great as it looks. The cart was built with high-quality material which made it sturdy and durable for long-term use.
The size of this cart is 35.4 x 15.7 x 32.7 inches which is about 90 x 40 x 83 in CM (L x W x H), not too big not too small, it works best with a small place to save more space. This cart is very heavy-duty, it holds heavy stuff with no problems. Easy to assemble, it takes only about 30 minutes to put everything together.
4. Tribesigns Rack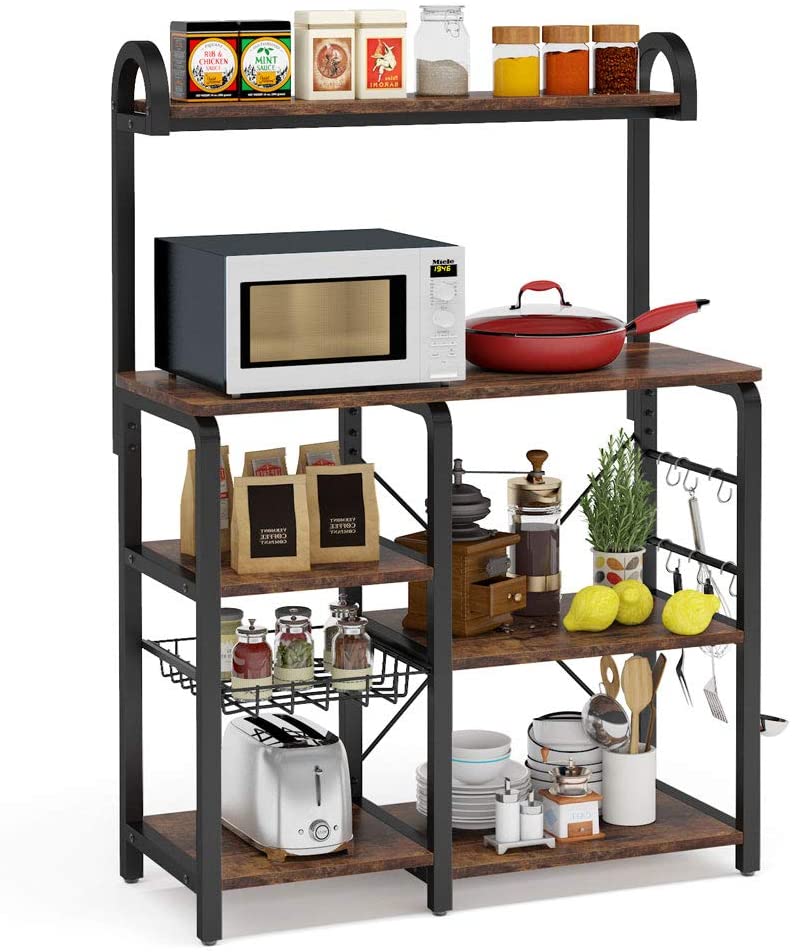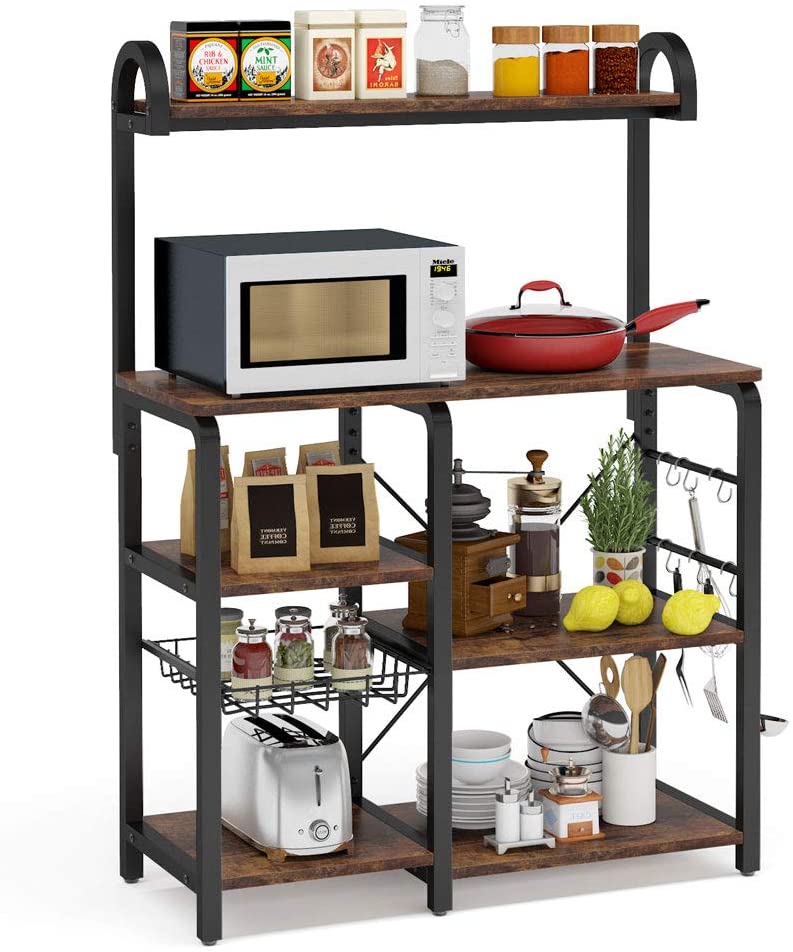 This Trivesigns Rack allows you to create your own coffee bar at home. You would love something like this to store everything you need for your morning coffee, breakfast, or brunch. This cart will keep everything in one place tidily. 
For your information, the top hutch can be used to display your favorite coffee cups. The long top panel will work best with a coffee maker and a toaster, while the other tiers can be used for coffee, sugar, cream jars, and other utensils as well as appliances. And, the cart includes a pull-out basket for extra storage. In addition, it comes with six S-shaped hooks for other tools like ladles, or pots.
The black metal frame is built with an X behind the shelves for extra stability and durability, with its rustic brown wooden shelves, the colors really go well with each other. Moreover, the feet of this cart are adjustable to some extent, you can adjust them differently depending on the ground. Morning coffee will be even more relaxing, you don't need to go back and forth for this and that since you now have this cute and useful rack to store everything.
3. Bestier Kitchen Baker's Rack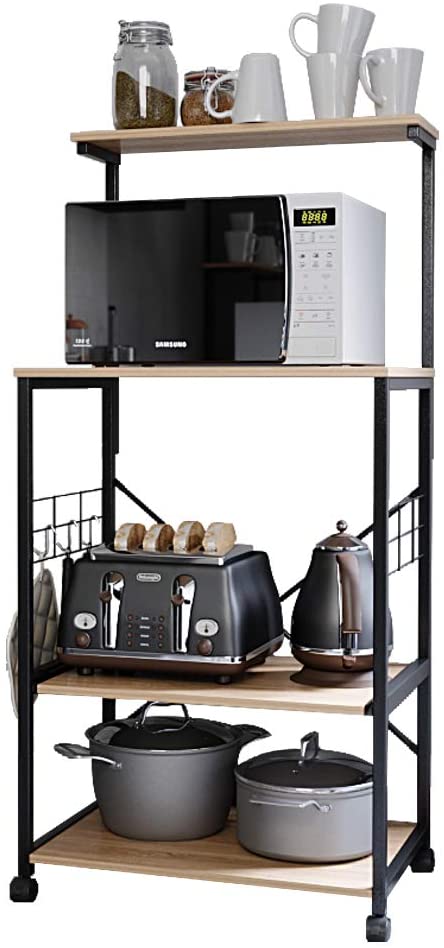 Your kitchen can't be complete without the presence of this exclusive Bestier Kitchen Baker's Rack. This is an awesome kitchen shelf that you never knew you needed. Make sure to get one because will be a game-changer as storage.
This is a rack with 3 shelves and a hutch. Each shelf is made of premium wood which is waterproof and smooth yet stable at the same time; more importantly, they are slider shelves so you can pull it out, take anything you need and simply push back in smoothly. The frame is made of high-quality solid metal that holds everything together.
One more special element of this cart is that it comes with both adjustable leg pads and wheels. Therefore, assemble it according to your preferences, it is your choice to choose. The whole product is for multi-purposes, feel free to use it for anything you like, as a coffee cart or for kitchen gadgets.
2. HOMCOM Rolling Kitchen Cart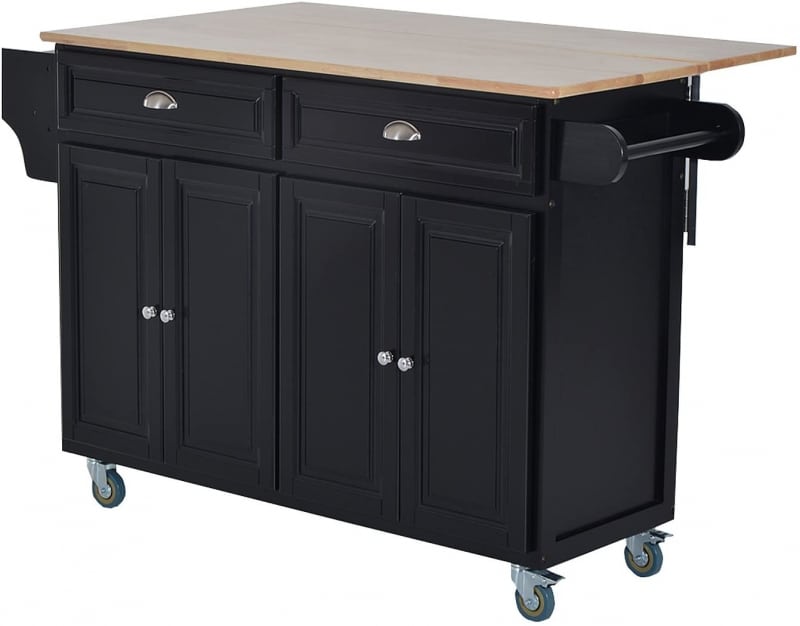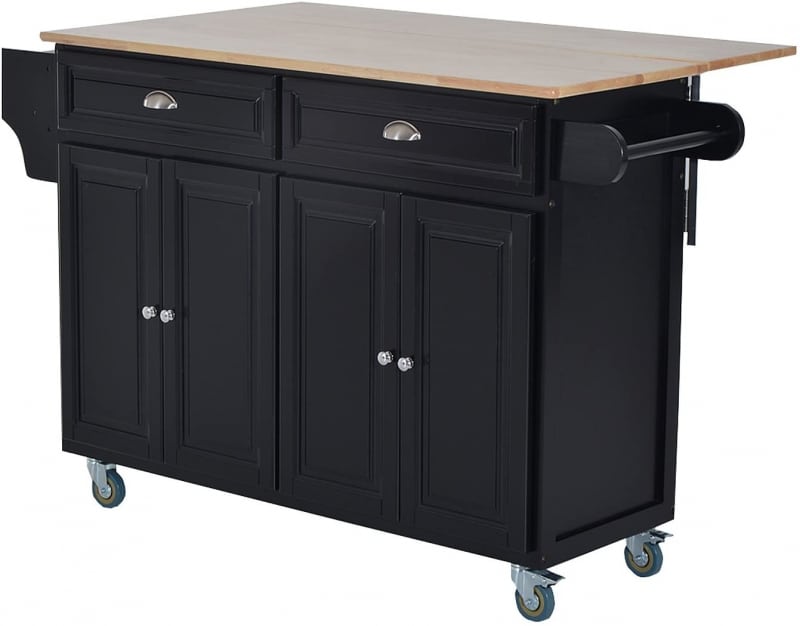 If you are looking for something to brighten up your mood every time you enter the kitchen because it just looks so good and organized, then no need to look further, this HOMCOM Rolling Kitchen Cart is perfect for you. 
The body of the cart is black while the top is beige, two tones colors that go really well with each other. The traditional design gives off that aesthetic vibe that will satisfy your daily life. Apart from that, it has 2 cabinets and 2 drawers, it basically can store almost as much kitchenware as you need. Also, there is a spice rack and a tower holder on each side of the cart, providing more convenience for the users to store things.
The rolling wheels allow you to easily move the whole cart around your kitchen or home and don't worry that it will roll when you don't want to because it has a lockable system to stop it from moving. Built from premium quality wood, the cart is durable, long-lasted, and even easy to clean. What are you waiting for? Get yours now on Amazon.com.
1. Mind Reader Charm Cart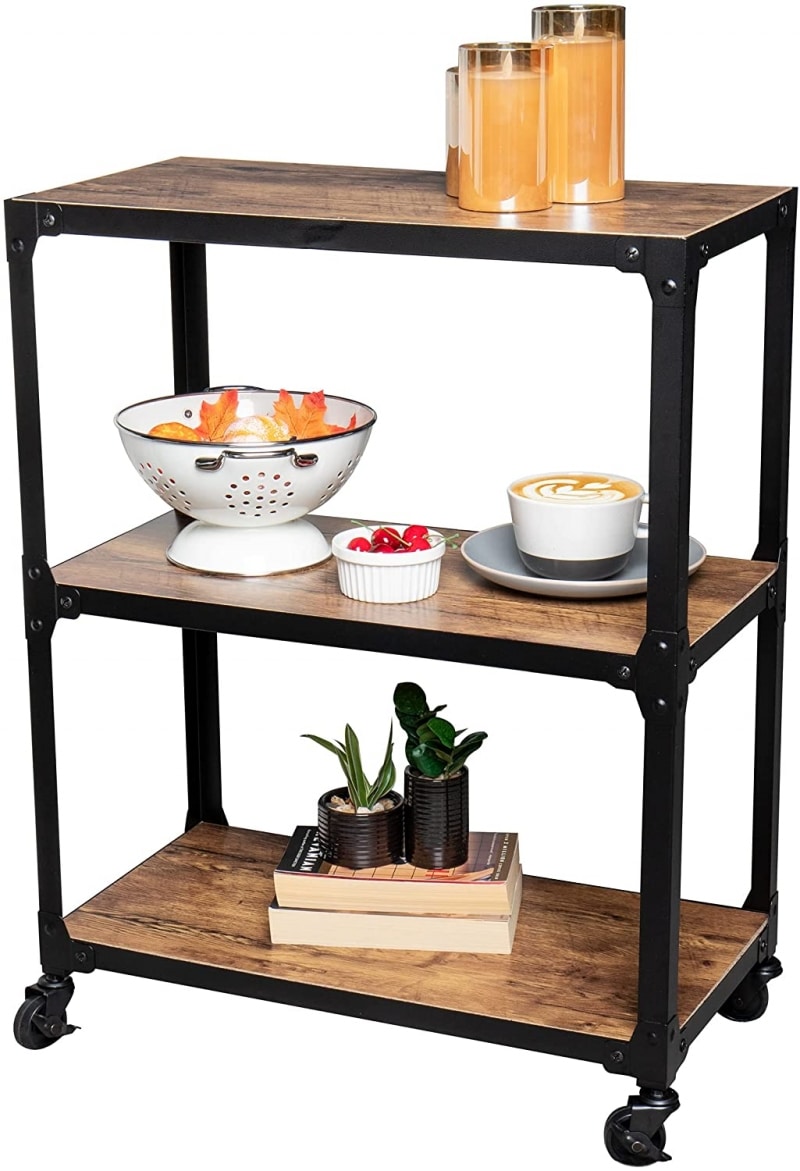 Last but not least, our final recommendation of the best coffee carts is this Mind Reader Charm Cart. With the presence of this cart, your kitchen's decoration will improve. A simple-looking cart that you won't regret purchasing.
This is a three-tier shelves cart that can be used for multi-purposes like serving coffee, tea food, or storing dinnerware, and many others. The four wheels that are attached to this cart let it run freely to wherever you need it, whether it is from your kitchen to the bedroom, backyard, or the party zone!
The materials to make this cart are all top-grade materials, and the price is really affordable. Don't let such an awesome product get away from your hand. Get yours now before it runs out of stock!