Greeting all coffee lovers out there who are working hard day by day, and nothing can cheer you up better than coffee. Are you all doing well? How many cups of coffee do you drink for a day? Is it tiring to get a cup of coffee from time to time?
So, instead of drinking coffee, why don't you try something similar? Coffee Candy!
Why coffee candy flavor? Because it tastes just like coffee, but it is easier to carry around. You no longer need to get out of your desk to get coffee. You don't need to worry about spilling your coffee on your desk or computer because, with coffee candies, coffee can be in your drawer. More than that, having coffee candy is like having a cup of your favorite coffee in your pocket.
From regular coffee to espresso to latte to cappuccino, these coffee candies have them all in a bite-size. With these conveniences, here we are introducing you to the Best Coffee Candy Flavors that you should try.
These products are individually selected by our team members who went through multiple researches to provide you with high-quality products that received compliments from experienced customers.
We hope you find this juicy article helpful and have fun reading it until the end. Without further delay, here are the best coffee candy flavors to try in 2023.
List of The Best Coffee Candy Flavors To Try in 2023
10. Xo Classics Coffee Candy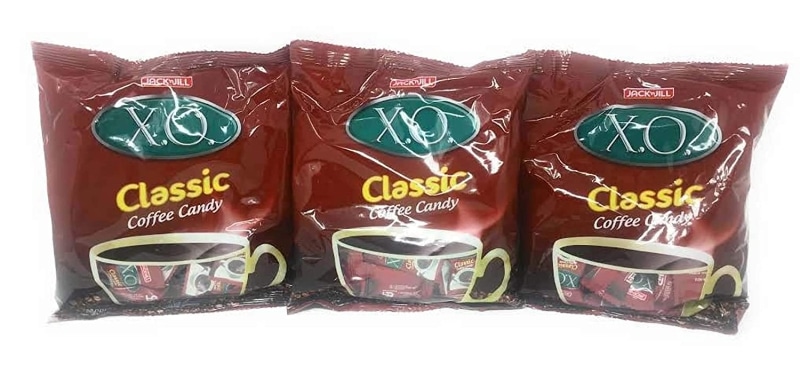 The first one on the list is Xo Classics Coffee Candy. It's from Jack n' Jill brand, and the taste is so good that you won't get enough of it. This is a set of 3 packs, there are 50 pieces in one pack and a single pack weighs about 0.57 kg.
Having these coffee candies is like having a cup of creamy coffee. It tastes and smells exactly like real coffee, but sweeter. This is a hard candy that melts slowly so that you can enjoy the refreshing feeling while you eat.
Each candy is individually wrapped in a cute package with its logo. You may not know that it is best to share with your co-workers during work without getting out of your seat. Moreover, they also have other flavors as well. Make sure to check them out through the link above. And, this is the best candies for a coffee lover of all time.
9. Werther's Original Caramel Coffee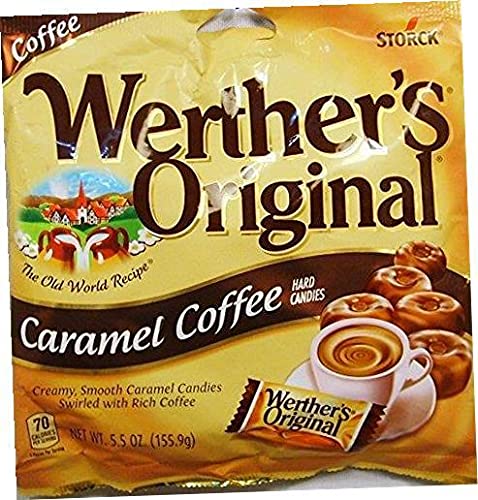 If you are looking for an energy boost in the afternoon for a break from work or study, give these Werther's Original Caramel Coffee a try. You're gonna love it. This is a hard candy with a caramel coffee flavor.
These are smooth candies with rich coffee that any coffee lover would love. Caramel and coffee make the best combination in this formula. They have a strong coffee flavor, but the sweetness from caramel balances the taste that goes perfectly well with each other. 
In addition, it comes as a set of 3 packs, and each pack has 70 candies. Each candy is wrapped in a yellow and brown wrapper with its name "Werther's Original". These coffee-flavored candies are pretty addictive, having one isn't enough! Highly recommended for a sweet tooth!
8. Bali's Best Coffee Candy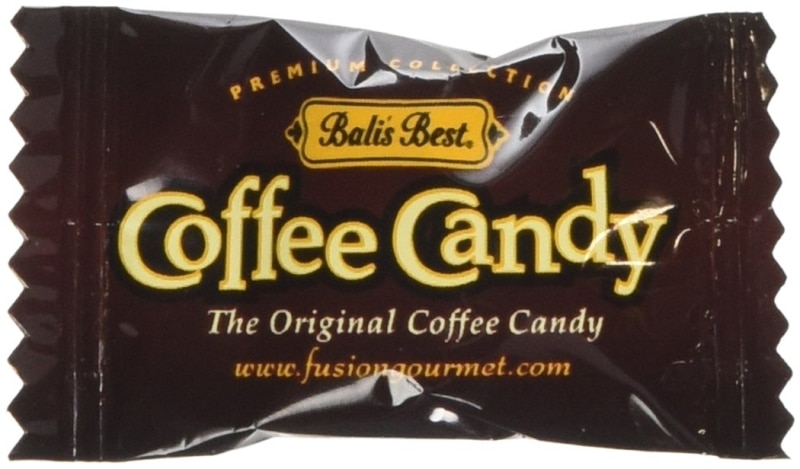 This candy brand received a lot of positive comments from currently using customers. Bali's Best Coffee Candy makes everyone satisfied with their purchase. With this pack, you get a bag that contains 2.2 lb (about 1 kg) of coffee candies. Come on ! This is a big bag that is totally worth your money!
This hard candy is rich in the flavor of coffee and sweetness, it doesn't have a soft center. It is not too sweet nor too bitter, just right. These coffee candies are wrapped in stunning wrappers of dark brown color, just like medium roasted coffee beans. A tasty product with cute packaging, get yours now!
Furthermore, it has a delightful taste that will wake you up during a boring meeting or in the office and its tastes just like heaven in your mouth. Since it comes in big bulk, you can also fill them in jars and give them to your friends, coworkers, lovers, or family members as a gift.
7. Colombina Coffee Delight Coffee Candies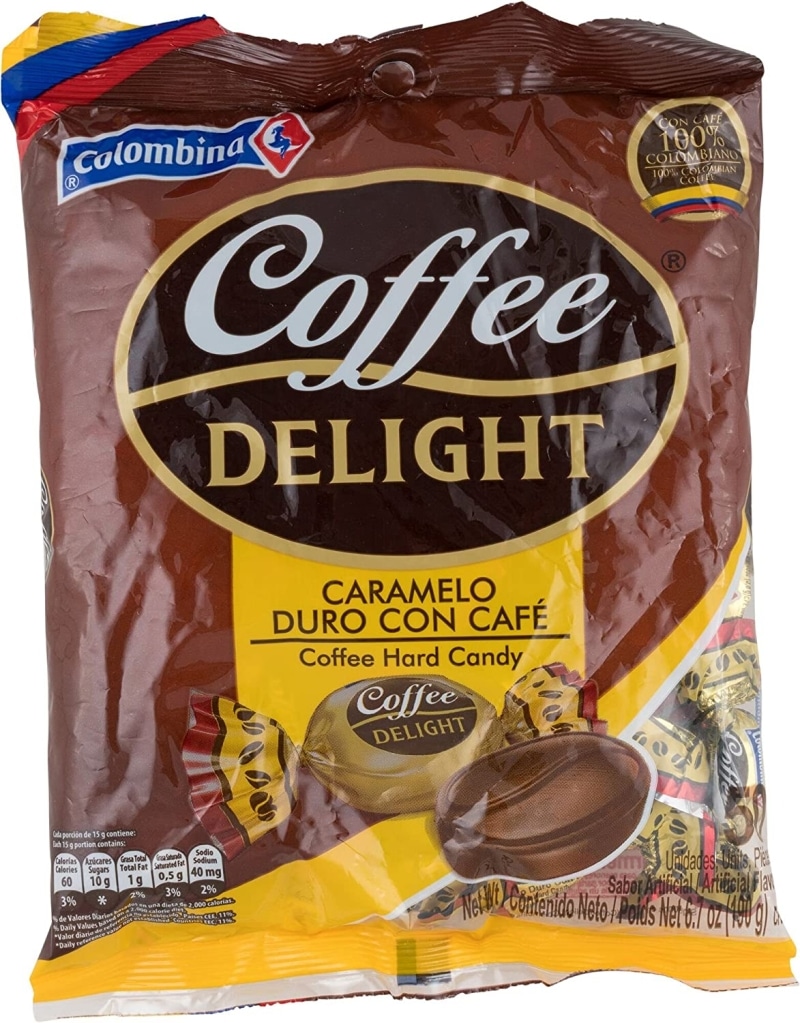 Sweeten your day with these Colombina Coffee Delight Coffee Candies. This coffee is made in Colombia using authentic premium Colombian coffee. This is a treat for your sweet tooth and recharges your energy on a rough day.
The original taste of coffee and caramel make them the best coffee candies of all time. It ain't too sweet, it tastes like a sip of espresso with some sugar. These coffee candies contain sugar, corn syrup, milk, vegetable oil, coffee, margarine, salt, and etc. Also, they are gluten-free for a better healthful diet. A small bit of heaven for your mouth!
It comes in a pack of 50 pieces and each piece is wrapped in a pillow wrapper that you can simply unwrap to take the candy out. This is something you need to snuggle some to put in your pocket before leaving home to work or study in the morning.
6. Bali's Best Coffee Candy (Original Coffee Candy)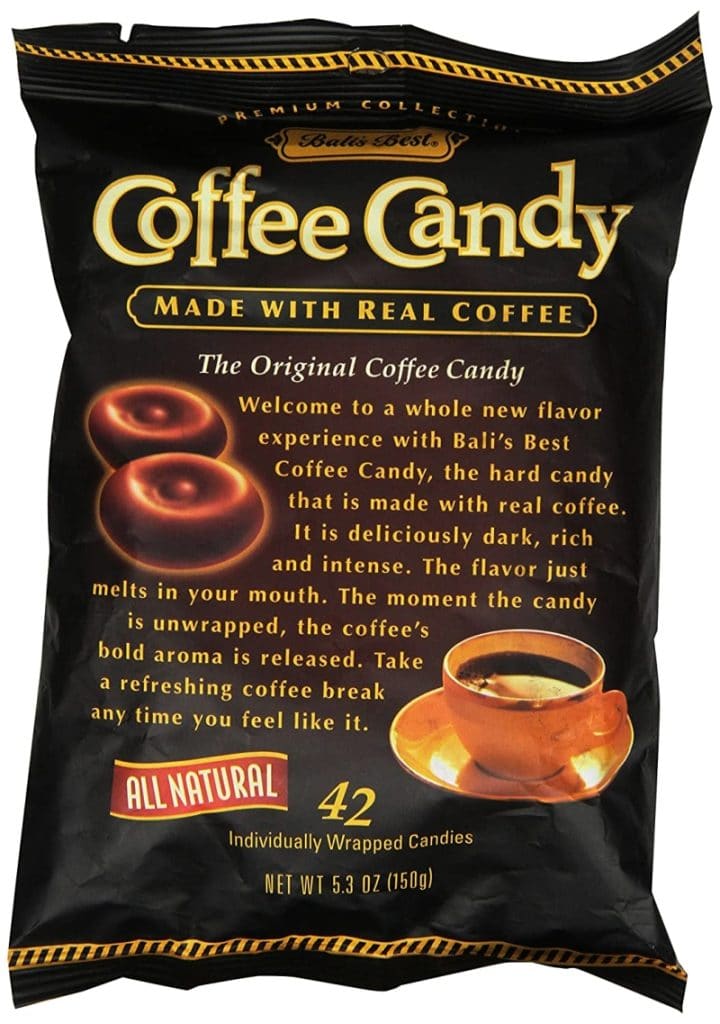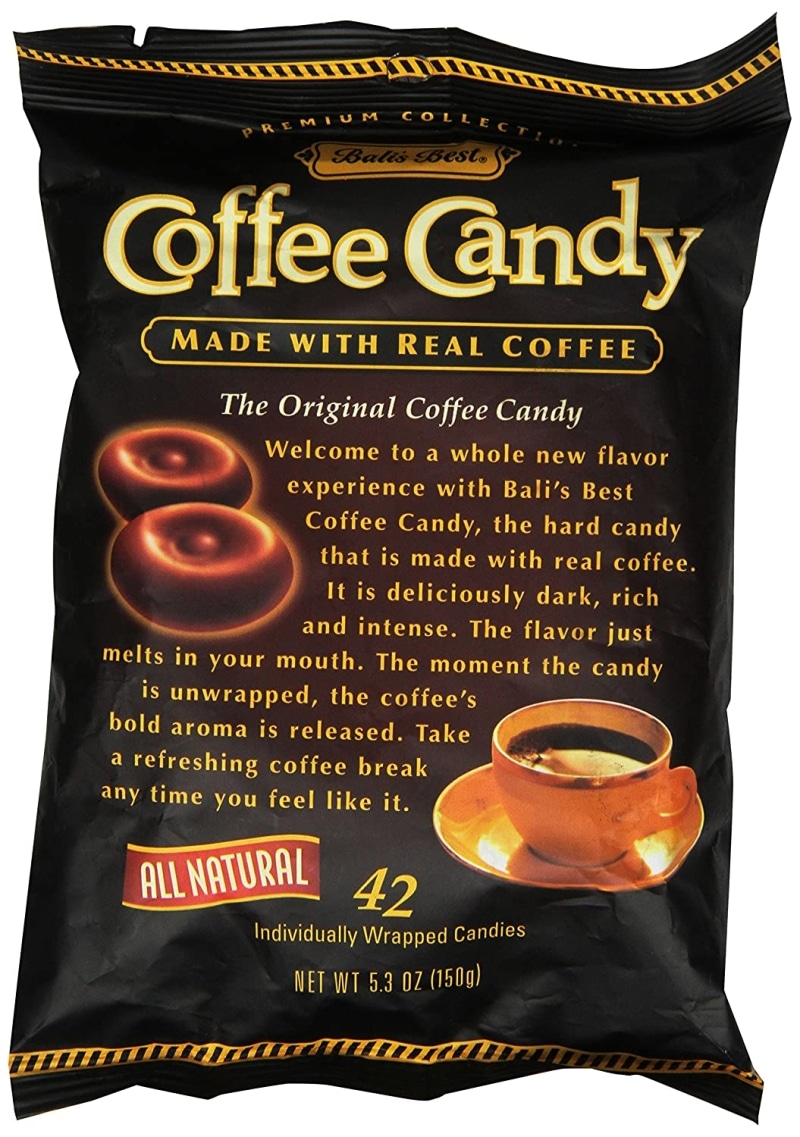 Another amazing product from Bali's Best, Bali's Best Coffee Candy (Original Coffee Candy). Unlike the previous one, these candies taste more intense. They are less sweet but delicious in their own way, perfect for those who prefer darker coffee.
Rich with coffee extract, the aroma of coffee spreads as soon as you unwrap the candies. Of course, another best thing about coffee other than its taste is the smell. These hard candies have a strong flavor of coffee with caffeine to make you feel awake and energetic.
This is a pack of coffee candies that you need in your office for better performance in work. So rich and yummy at an affordable price. Coffee lovers would definitely fall in love with this flavor. And, it comes in a pack of 42 individually wrapped candies. Share with your friends but save more for yourself!
5. Bali's Best Candy Jar, Espresso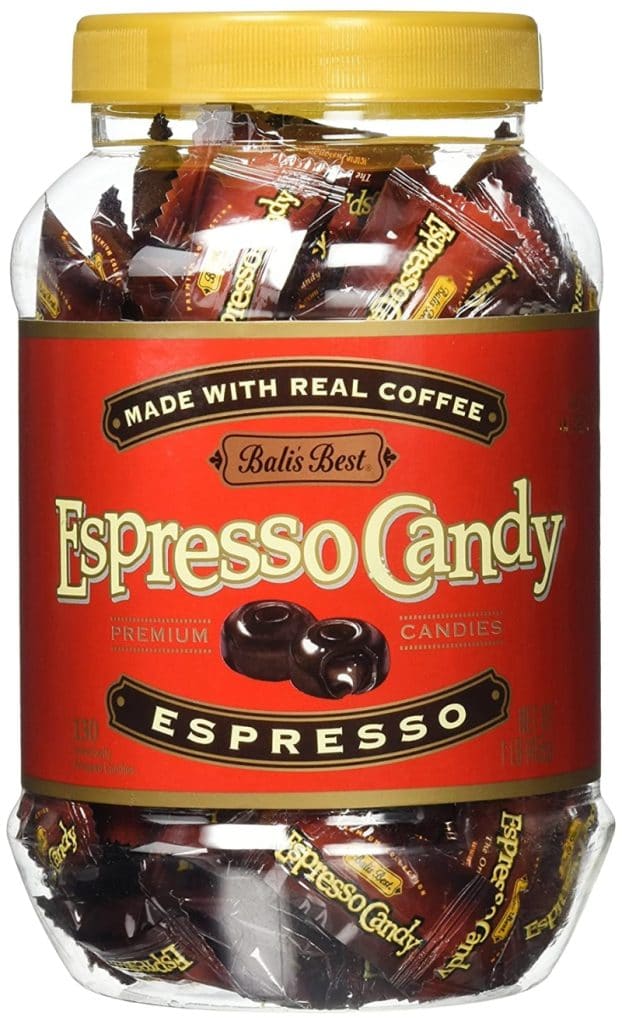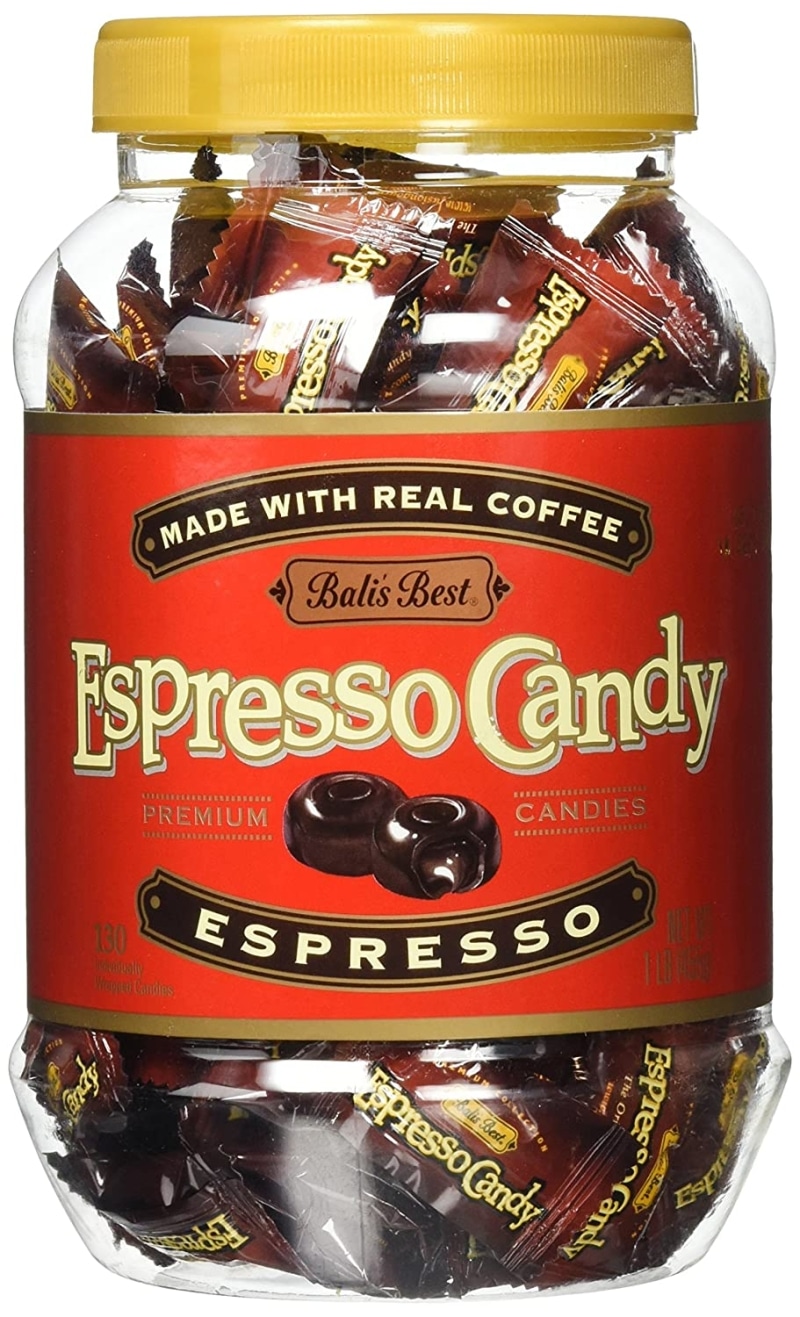 What is your favorite coffee, espresso, latte, or americano? If it's espresso, then this one is just right for you, Bali's Best Candy Jar, Espresso. One special thing about this is the jar, it comes in a jar of 130 pieces of candies which weighs about 1 pound.
The candies are hard on the outside, but the inside is filled with rich espresso. And, it is made with real Sumatran coffee. It doesn't contain much caffeine, no milk, just a kind of mild espresso. Smooth, creamy taste that you can enjoy slowly and wait until it reaches the center.
Cutely wrapped in a transparent jar, it can be a gift or put in the office. More than that, the sticky texture makes these so addictive, and this is like having espresso in your pocket. Moreover, it can be a perfect dessert or snack when your guests come over.
4. Nips Coffee Flavor Candy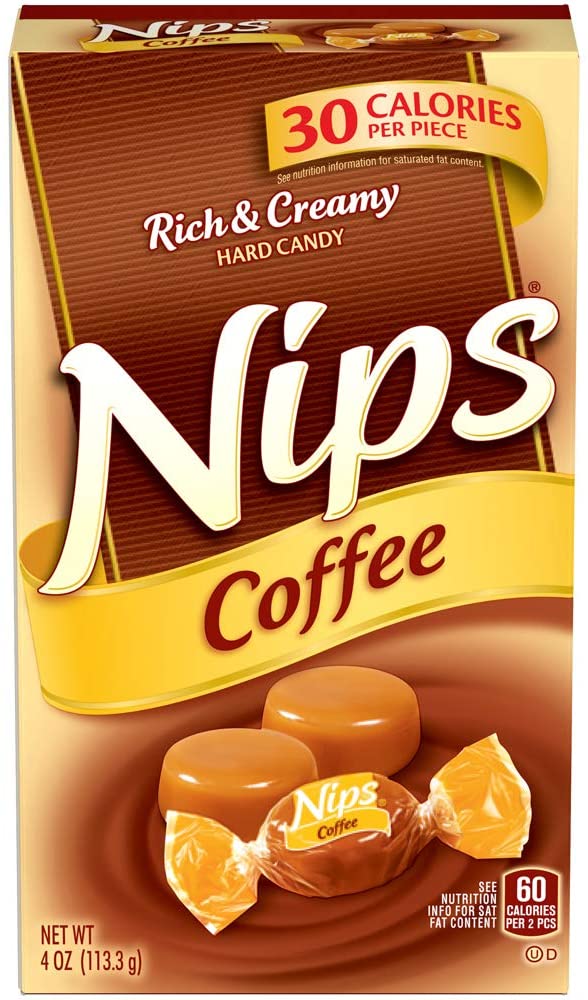 You must try this rich and creamy hard candy, Nips Coffee Flavor Candy. It contains 30 calories for each piece. So if you need to watch your diet, you can calculate an accurate amount of calories every day, the display calories on the package will surely help you.
This is a pack of 12 boxes and each box has 4 ounces of candies, you get 48 ounces in total for this pack. A great deal, isn't it? Nips coffee flavor candy is a milk-based chocolate mix with hard caramel and coffee created a sweet treat to satisfy the customers.
It tastes like a mini cappuccino in your mouth. Furthermore, it is around candy wrapped in a pillow wrap and gathered in a box. The smooth texture of these coffee candies is hard to find anywhere else. The best coffee flavor candies with the best price!
3. Bali's Best Assorted Coffee Candy Jar for Coffee Lover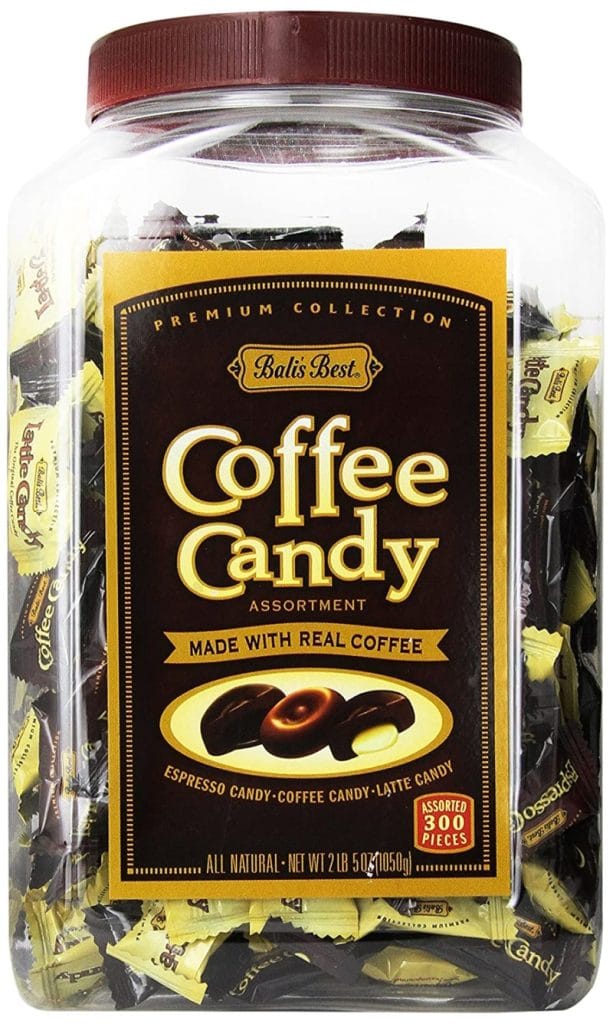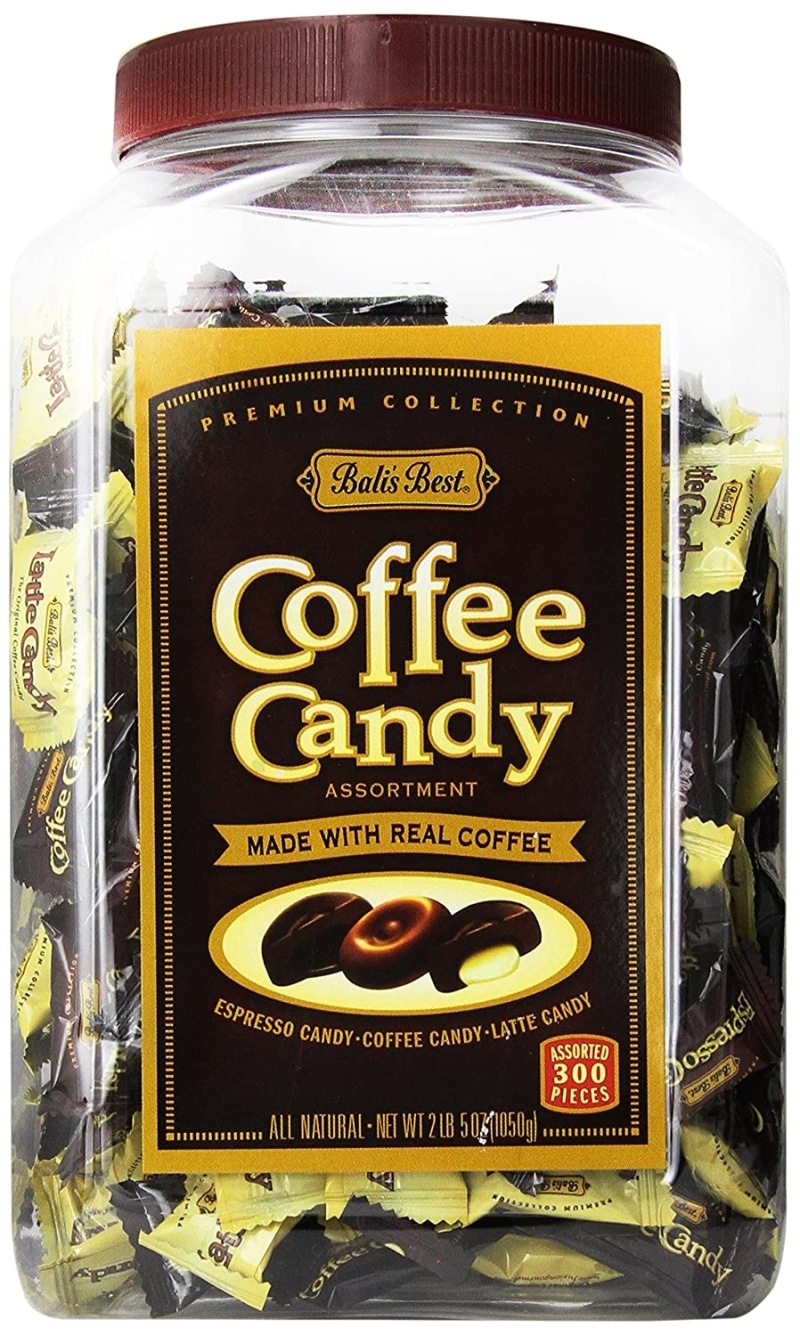 No more dilemma choosing coffee candy flavors since you can have this Bali's Best Assorted Coffee Candy Jar. There are 3 different coffee candies flavors in this one jar, the best choice to solve your dilemma.
In this single jar, you get 100 individually wrapped Bali's Best Coffee Candies, 100 individually wrapped Bali's Best Espresso Candies, and 100 individually wrapped Bali's Best Latte Candies. Apart from that, they are all high-quality candies that are made from natural Sumatran coffee, allowing you to experience the real coffee flavor in these small candies.
Original candy, espresso candy, or latte candy, are all hard candies for your sweet treat. Go anywhere with these coffee flavor candies in your pocket, it will light up your mood all day long. If you are a coffee lover, there's nothing to lose with this candy jar.
2. Kopiko Candy Variety Pack (Coffee and Cappuccino)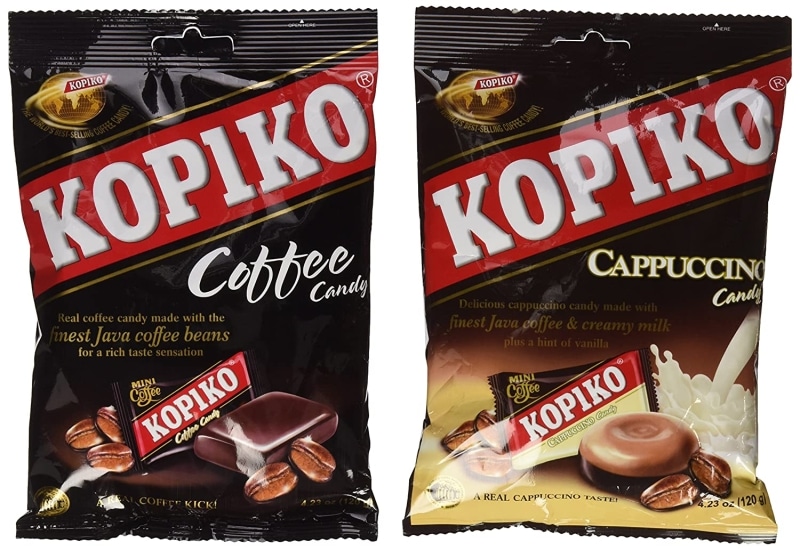 Sometimes when life isn't going as smoothly as you wanted it to, maybe you just need some smooth coffee candies like this Kopiko Candy Variety Pack. This is a set of 2 coffee packs, one coffee flavor and another one is cappuccino flavor.
On top of that, these coffee are made from the best coffee extract, giving off the authentic taste and aroma like real coffee. They are all hard candies individually wrapped and each pack contains 4.23 oz. The one with coffee flavor, the candies are rectangular while the cappuccino flavor candies are round.
Both of them have a unique taste, coffee candies are more rich, intense, highly recommended for those who prefer a strong flavor. Meanwhile, cappuccino candies are sweeter and creamy with a hint of vanilla. A bite-size coffee candy for an energy boost!
1. Kopiko Coffee Candy In Jar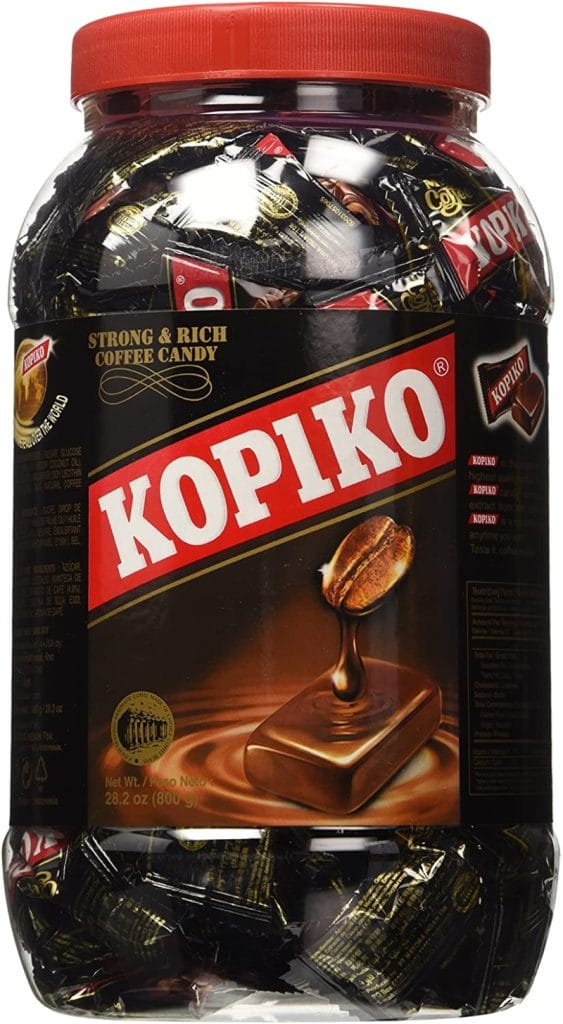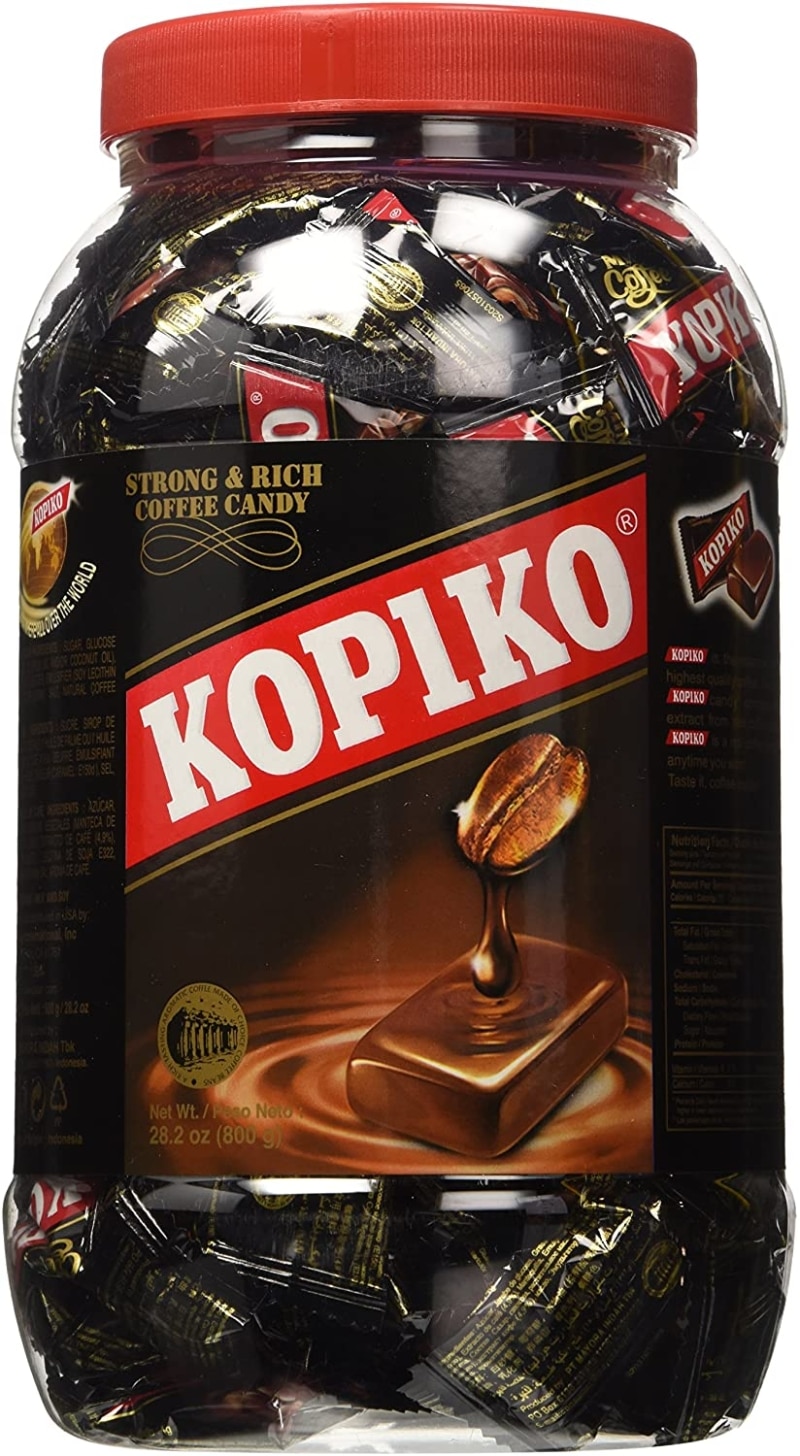 Tada! This is our last product for the best coffee candy flavor. Last but not least, Kopiko Coffee Candy In Jar will end this article with joy. A jar of hearts by Christina Perri might be sweet, but could it be sweeter than a jar of candies?
This single jar is filled with a total of 800g of Kopiko original coffee candies. This hard candy has a strong coffee flavor that eating this candy makes you feel like you are drinking coffee. And, this is perfect when you need some caffeine to move on. If this were to be explained in one word, that would be amazing because it is really amazing regarding its taste, aroma, and packaging.
The candies are rectangular and individually wrapped in the jar. These small candies are so delicious that you don't want to stop eating them. Keep your mouth busy and stay awake while driving, working, or studying. Coffee lovers would definitely love this. Kopiko is a candy that reaches your expectations.
Check out Coffee Toffee Recipe | Homemade Coffee Candy Recipe By Yummy