Coaster is a small flat object that people put beneath glasses, cups, mugs and bowls. Coasters are used to protect the furniture and other surfaces where the drinks or food are being placed from damages.
Glass that carries cold drinks naturally produces sweat, so you need to go get tissue or towel to wipe it down all the time. It goes without saying, it's kind of annoying. More than this, you have to wipe it fast. You cannot just leave it there, otherwise, the water will be flooding all over the place and leave the mess everywhere.
One more thing, do you know that the moisture that comes from your glass can create stains, ring spots and marks on your tabletop, desk, counter and other surfaces that you usually put your drinks on?
If you consume cold drinks and dessert like ice coffee, ice cream or a can of soda straight from the refrigerator at home a lot and have never used a coaster or tray to protect your surface before, you obviously might have some water spots or marks on wherever you usually place your drinks.
Even some spots are hard to notice by now, but sooner or later, it will definitely show its effect and you don't want that to happen. No wonder why almost every restaurant, bar and coffee shop never forgets to use a tray and coaster when serving their customers food and beverages.
If you're interested in shopping for a set of coaster now, we recommend you to purchase a coaster set that comes with a holder.
Coaster holders are very important. Owing to the fact that it keeps your coasters organized and helps remind you when one of the coasters is missing. Here are our 10 best collections of coaster sets with holders in 2023.
List of The Best Coaster Sets with Holders in 2023
10. Mu&Ti Walnut Dark Wood Coaster Set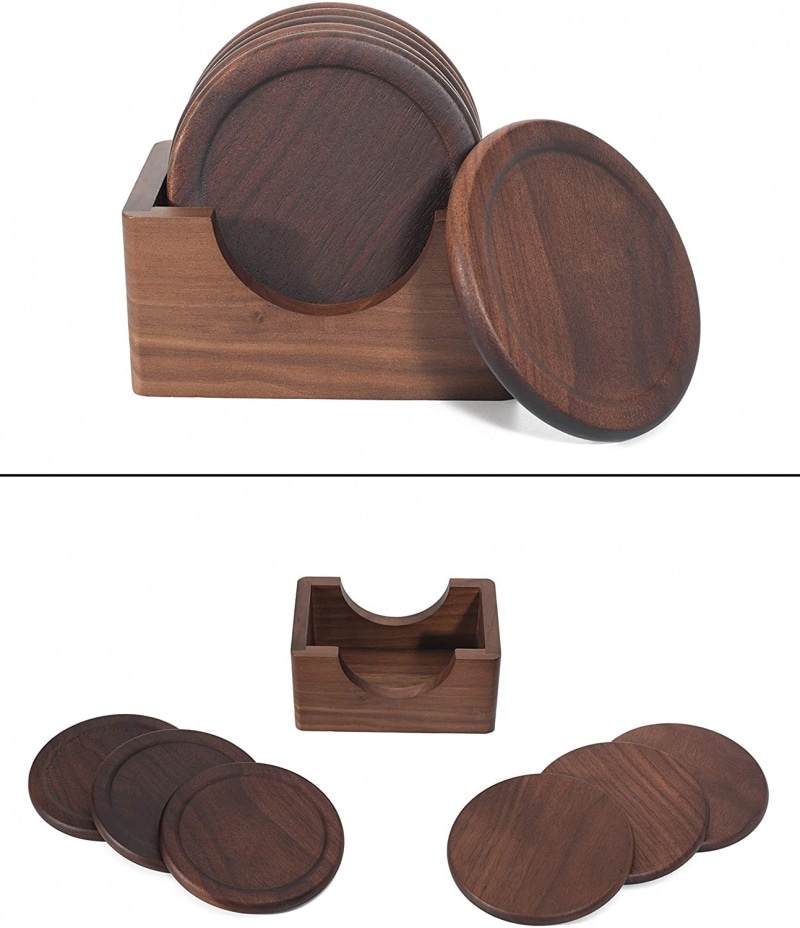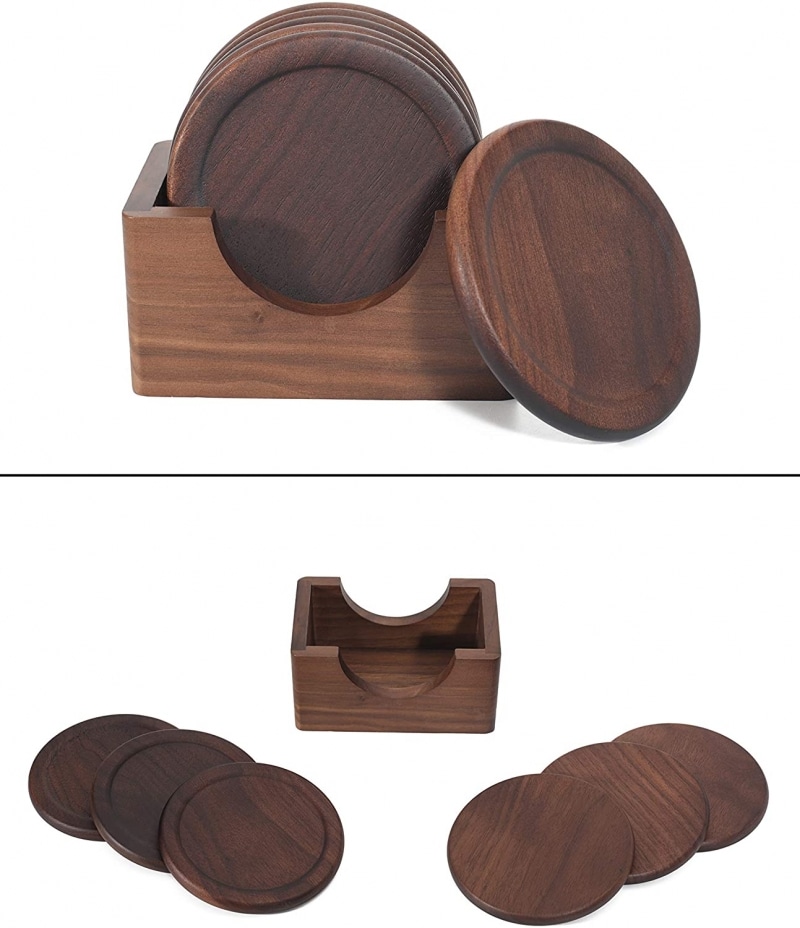 Mu&Ti Walnut Dark Wood Coaster Set is specially designed for people who are obsessed with wooden products. This is a 6 piece wooden coaster set with a wooden holder.
The whole set is made from dark walnut hardwood. The exterior has already been beautifully rubbed up and preserved by varnish. They're available in the size of 3.6 inches with the width of 0.27 that can perfectly support most of the glasses without any problem.
These coasters are suitable for many occasions and can also be used for presents. Further, if there is a wooden countertop in your house, this product will definitely leave you in shock. For sure, this is indeed the best combination you've ever seen in your life.
9. Dooke Coasters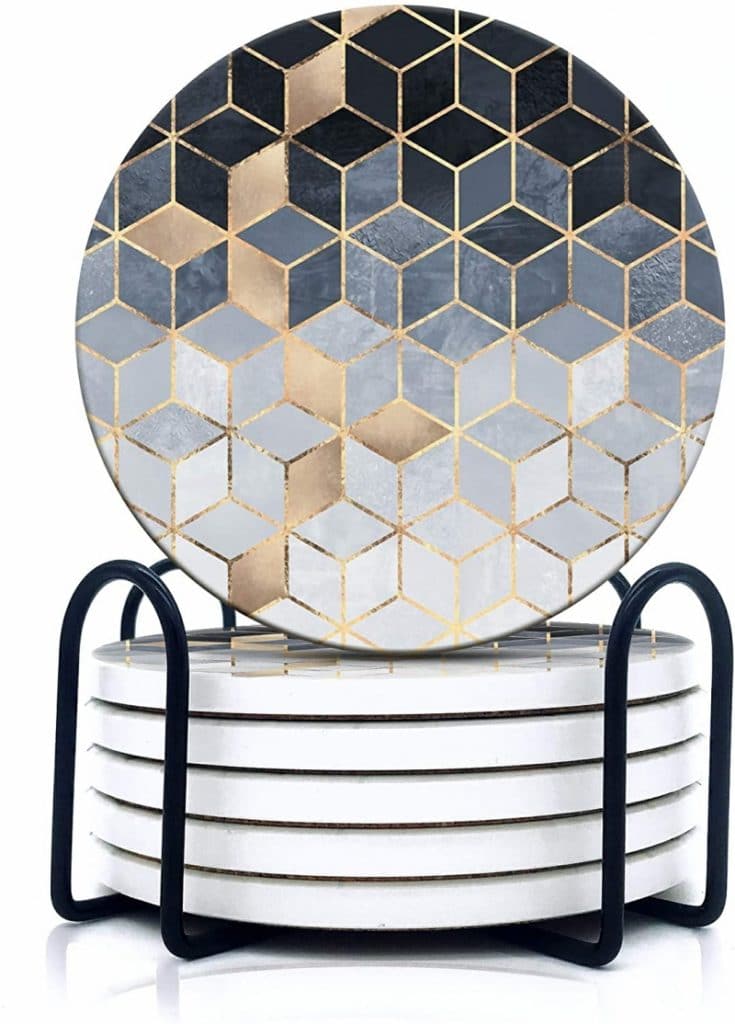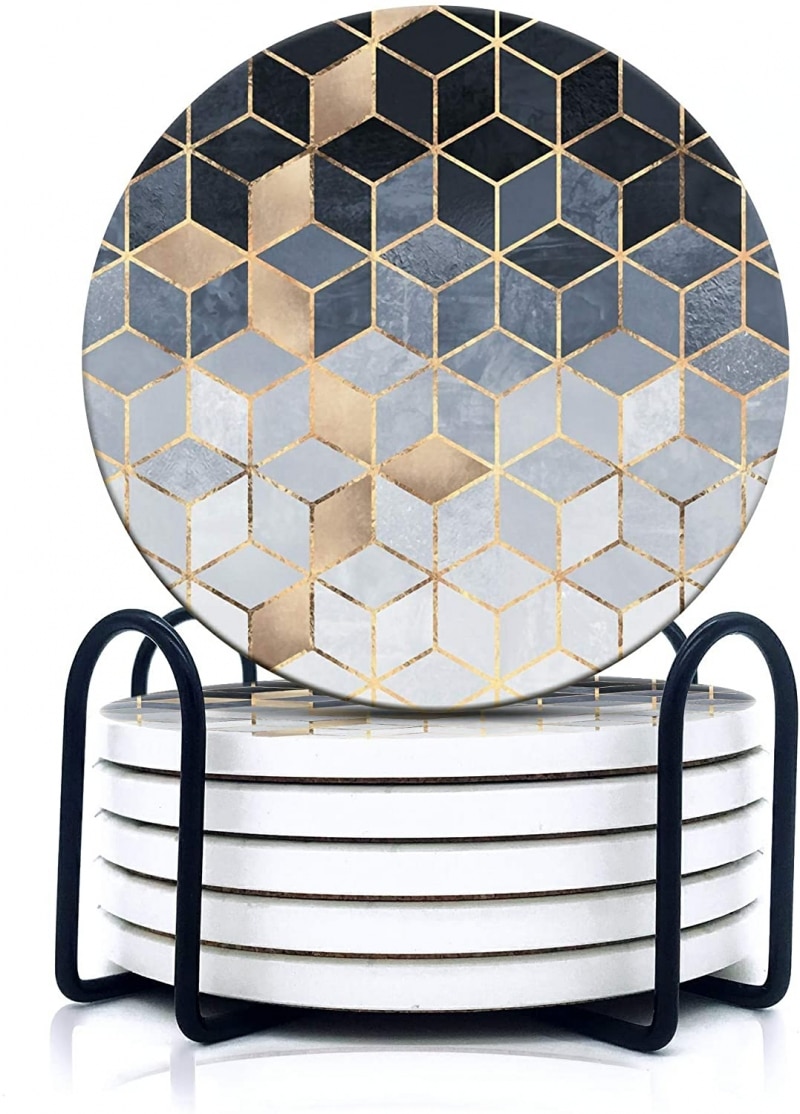 When it comes to choosing a set of coaster as a gift for your favorite person, Dooke Coasters will be one of the best options. The front layer of each coaster takes on a simulated process printing.
Under the ceramic surface is actually a dolomite that is known for its capability of absorbing water. Then the bottom of the object is none other than soft cork, to prevent them from sliding around or causing any stain and damage to your counter.
Of course, they're made in the perfect size of 4 diameters that are suitable for lots of kinds of glasses such as goblet, plastic cup, cocktail glass, silicone cup, beer container and coffee mug. Each and every set provided a classy designed iron holder. There are 6 coasters per set.
8. Ankson Leather Coasters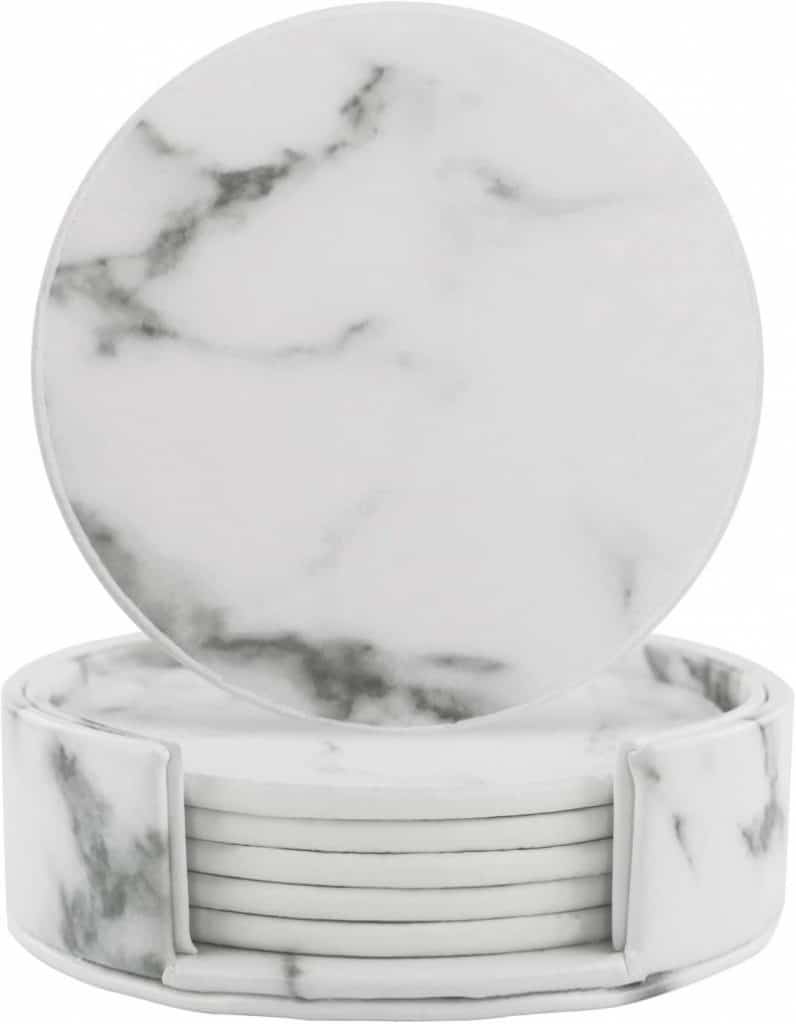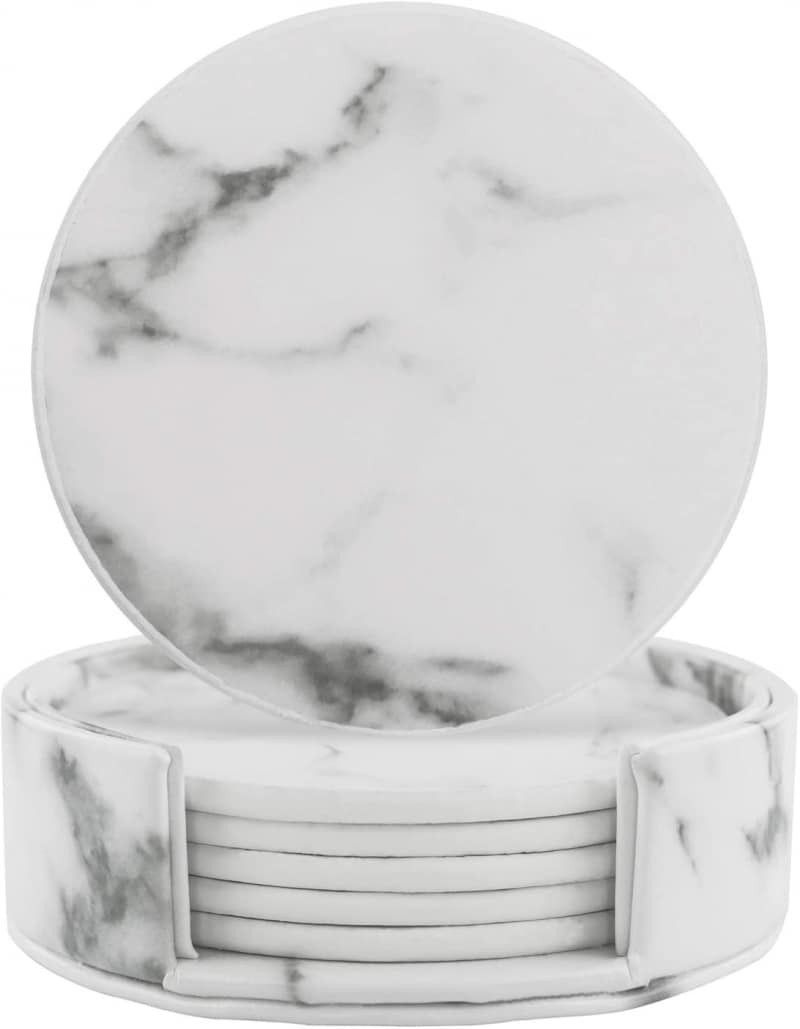 If you're a clumsy type of person or there are a lot of kids in the family, Ankson has a perfect set of coasters for you. This product is made of leather which can hold a lot of damage and is impossible to break when dropped from high place.
Also, they are able to fully collect condensation from cold beverages that could leave a stain or damage on your countertop, table and desktop. They come in 6 pieces per set plus a holder and have the size of 4 inches of length, 4 inches of width and 0.32 inches of height.
These coasters have a round shape and are available in only one color which is white. With their white marble looks, Ankson Leather Coasters are good to use with many types of glasses such as beer glass, coffee mug, juice cup and so on. Furthermore, they can also be used as a gift to family or friends on holiday, housewarming and many other events.
7. Decopom Lip Cork Coasters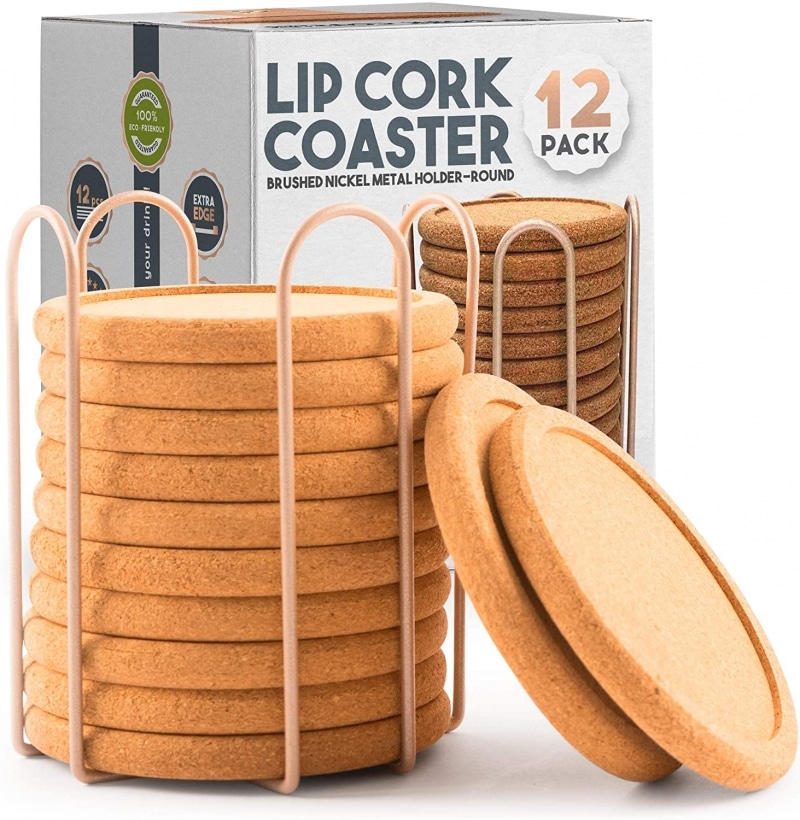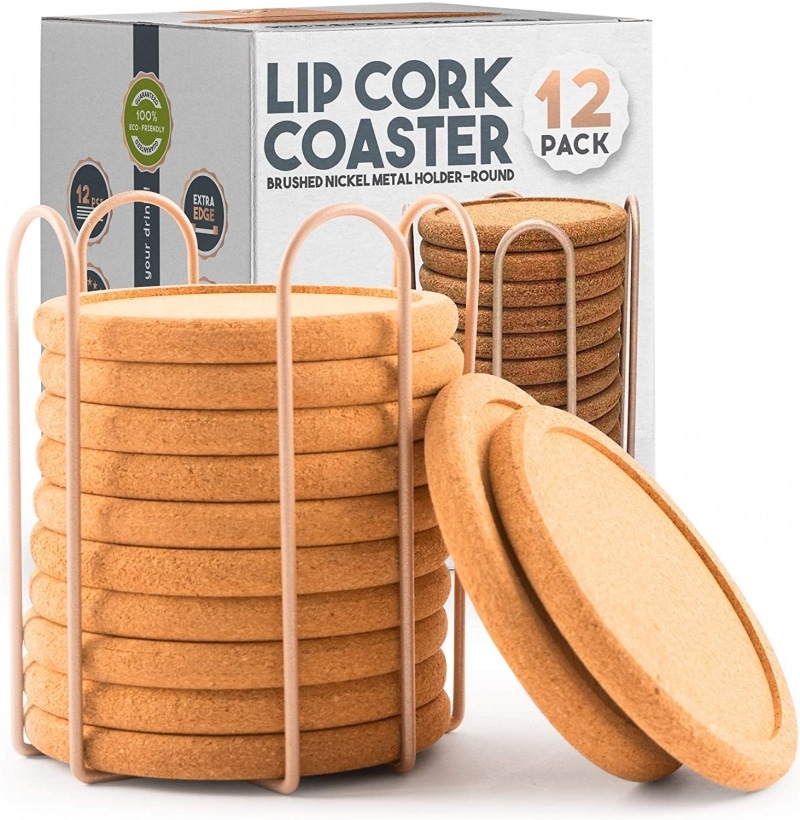 You couldn't be more satisfied with coasters that are fully made from cork. Do you know that cork plays a very important role when it comes to coasters? Evidently, cork can absorb water very well and also light in weight plus they do no harm to the surface.
Decopom Lip Cork Coasters is a set of 12 gold coasters that come with its gold holder to keep them in place. This set of coaster goes along with almost all types of décor theme or furniture.
Thanks to their bland design, they are also famous among people who do art projects. What's more, every coaster has a lip around them for the purpose of gathering water and preventing them from spilling all over the place.
Again, with this material, your cups won't stick to the coaster when you pick them up. As they come with a lot of pieces and also the length of 4 inches, the width of 4 and the height of 4, thus they're perfect for a big family daily use or any events.
6. Ultimate Hostess Blue Coasters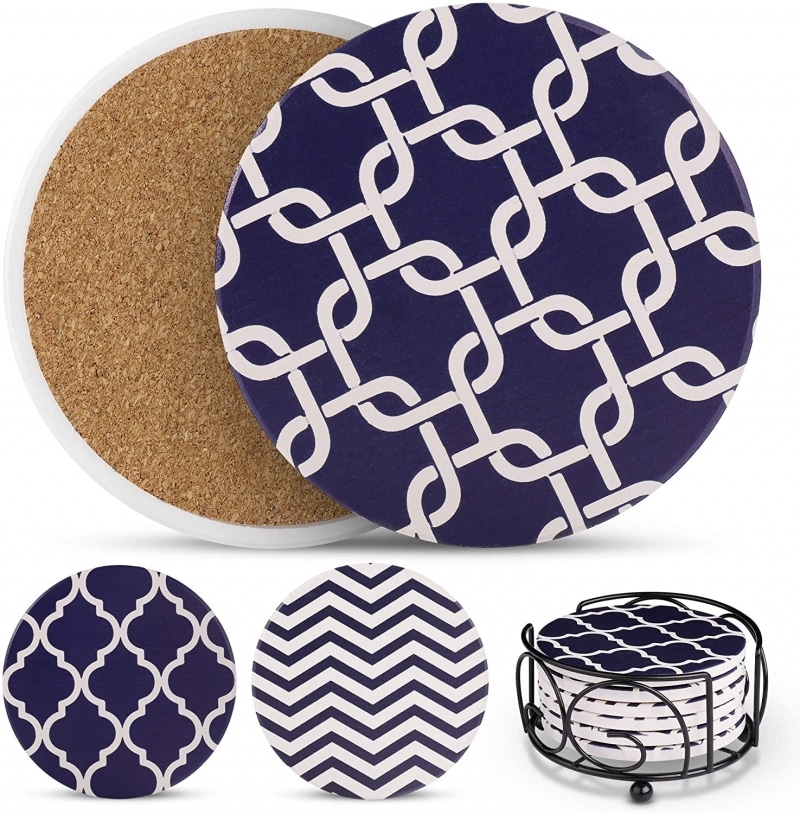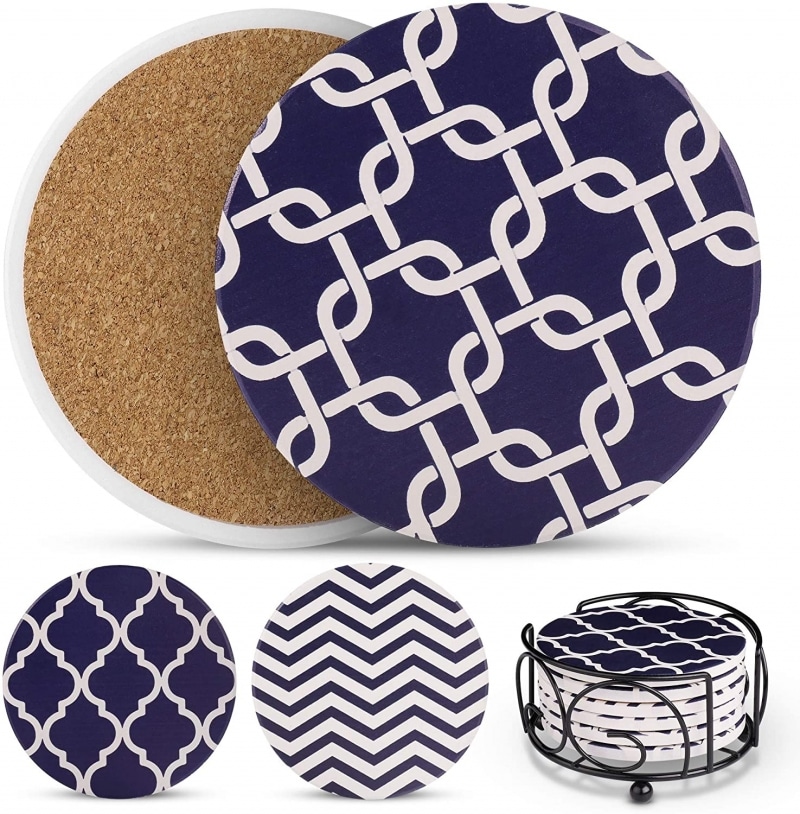 The Ultimate Hostess Blue Coasters come in 6 pieces in three different designs of Trellis, Moroccan and Chevron per set. Along with a shiny black iron holder, this set of navy blue coasters will add more decoration to your living room or coffee table.
They also make an excellent gift that you can get for your family and friends and they will absolutely fall in love with them. Despite their beautiful appearance, they can suck up all the condensation and keep your furniture from all the glass marks and stains.
We liked that they have a standard size of 4 inches which is perfect for coffee mugs, cups or even a large glass. Of course, we cannot forget about the cork at the back that helps prevent the ceramic stone from scratching your countertop and avoid them from slipping.
5. CounterArt Absorbsent Round Stoneware Coasters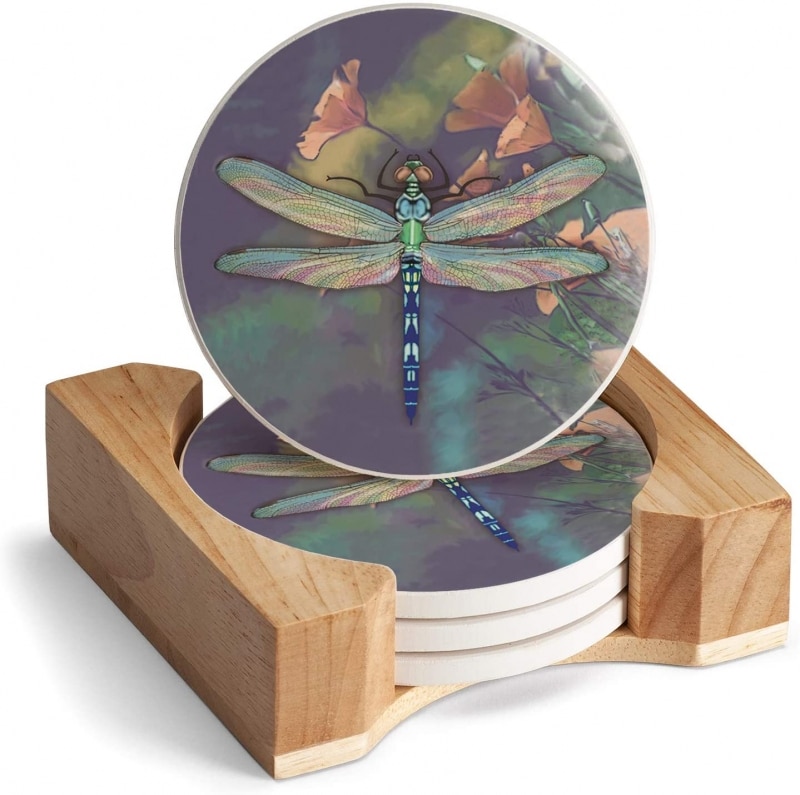 To show your support to local communities, you can purchase these CounterArt Absorbsent Round Stoneware Coasters that were carefully made and designed by a hard-working American family.
The whole product has the size of 5 inches of length, 4.25 inches of width and 1.75 inches of height. And the size of each coaster is 4 inches and 0.25 inches thick. The generous size and a cork support from the bottom allow this coaster to sturdily hold any size of glasses or mugs without any problem.
You will be surprised at how fast these coasters can collect water and sweat from cold glass. They come in 4 coasters including a sturdy wooden holder. Moreover, they are pretty easy to clean. Just wash it with some soap and rinse it off with water.
4. GALAROES Natural Cork Coasters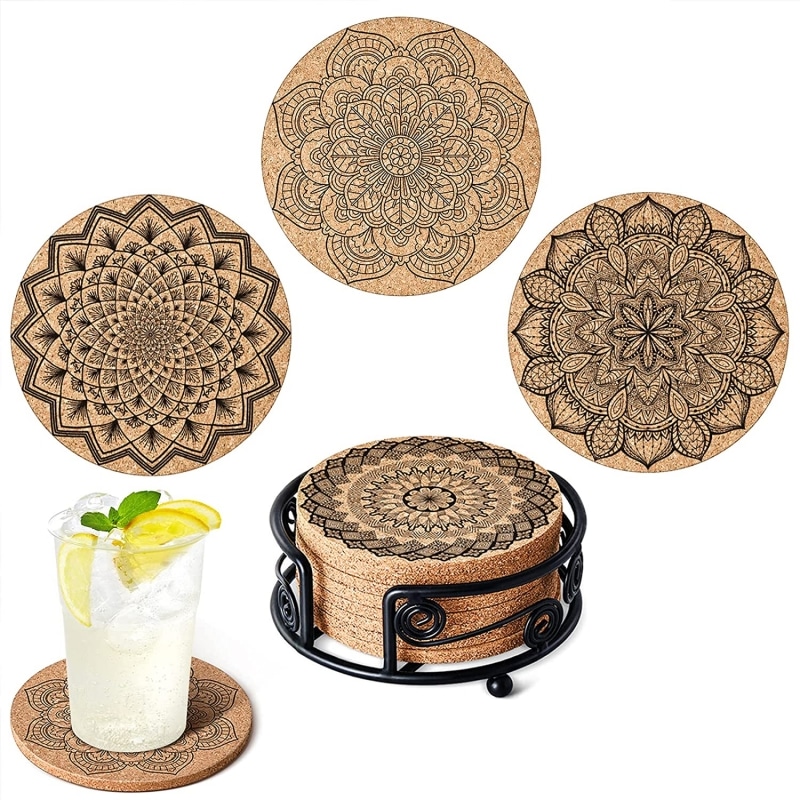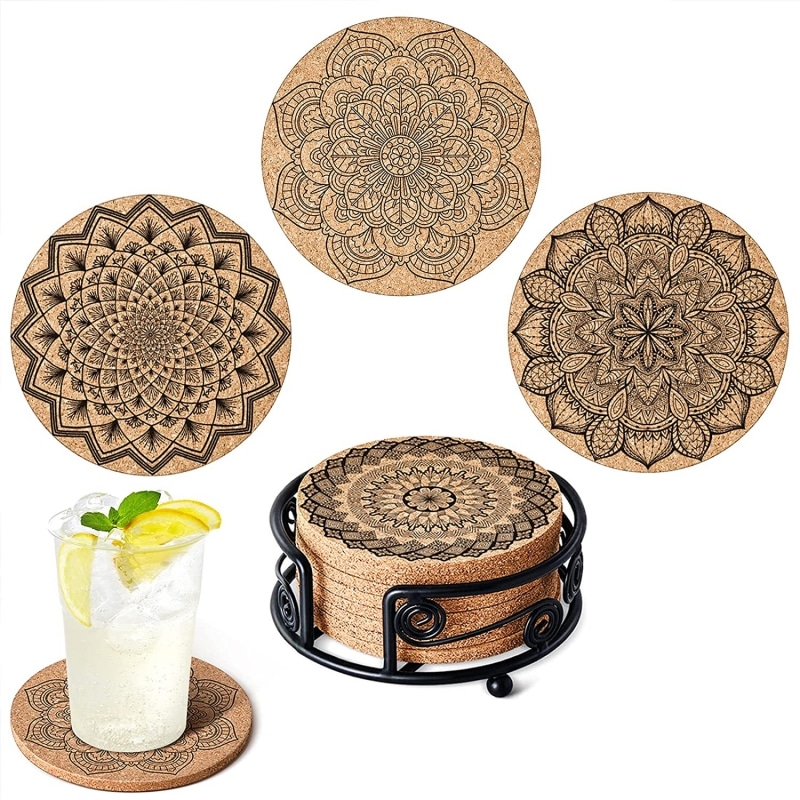 Created from 100% natural cork, these GALAROES Natural Cork Coasters are one of the top choices among baristas, bartenders, artists, interior designers and family daily use. Each cork coaster measures in diameter of 4 inches and has a thickness of 0.20 inches.
There are 8 coasters and one stylish black metal holder per set. In addition, GALAROES generously gives you 4 types of Mandala designs. This is perfect for home decoration, restaurant, coffee shop and other occasions.
These coasters are very sturdy and durable. They can handle not only cold glasses, but also extremely hot pots or pans. All you need to do is lay three or four of them together as long as it fits the size of your pot and pan.
3. LotFancy Coasters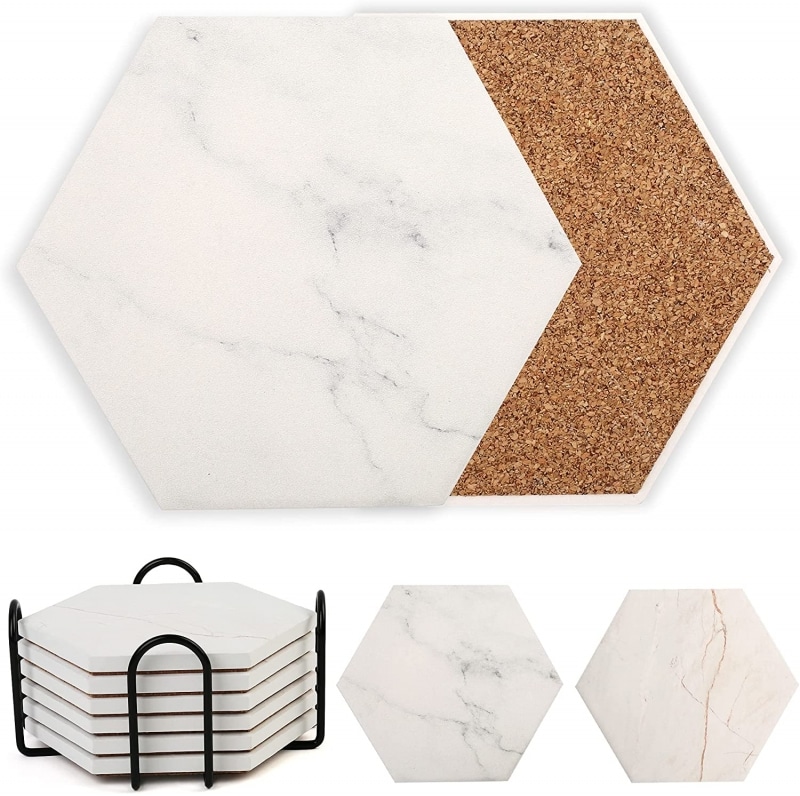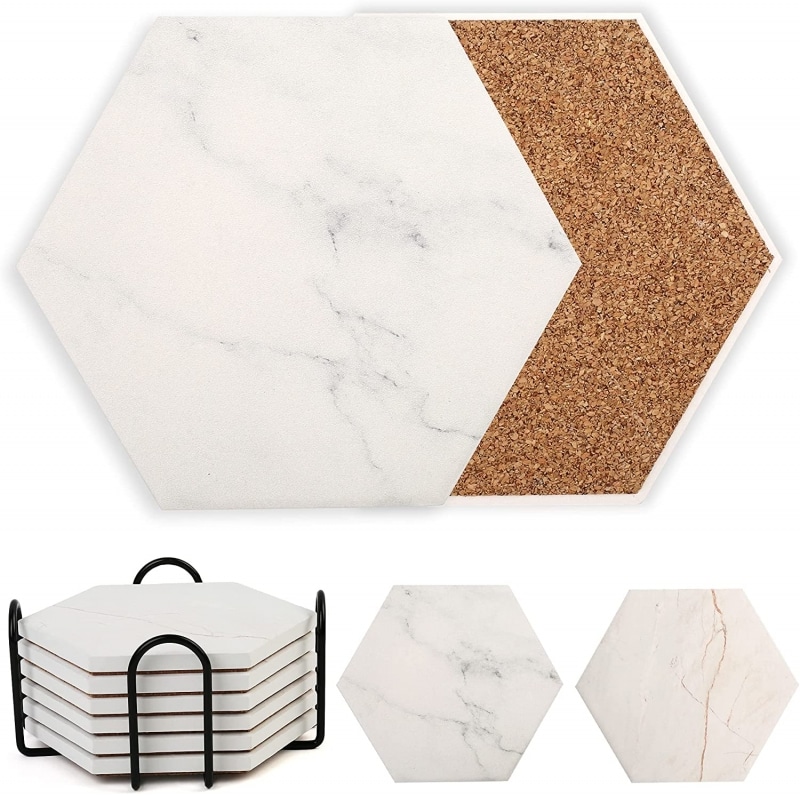 Every coaster has their own beauty, but have you ever seen a coaster this unique? What is special about this coaster is that in general, most coasters are made in round shape while LotFancy Coasters have the shape of hexagonal.
Besides, they have a ceramic externally plus a naturalistic marble design and can suck up condensation from your mug very efficiently. Moreover, their soft cork bottom saves them from slipping and prevents watermarks, spots, scratches and scuffs on your furniture.
It has a perfect size of the diameter of 4.2 inches that fits to use with all types of glasses, mugs and even bowls. They come in a set of 6 coasters including a cool black metal holder.
However, we do not recommend you to use this coaster with any mug or glass that can produce colored liquids since this white coaster will inescapably get stained from it. In case that happens, we suggest you soak them in lukewarm water with a dish cleanser overnight. It helps minimize the appearance of the color.
2. GOH DODD Drink Coasters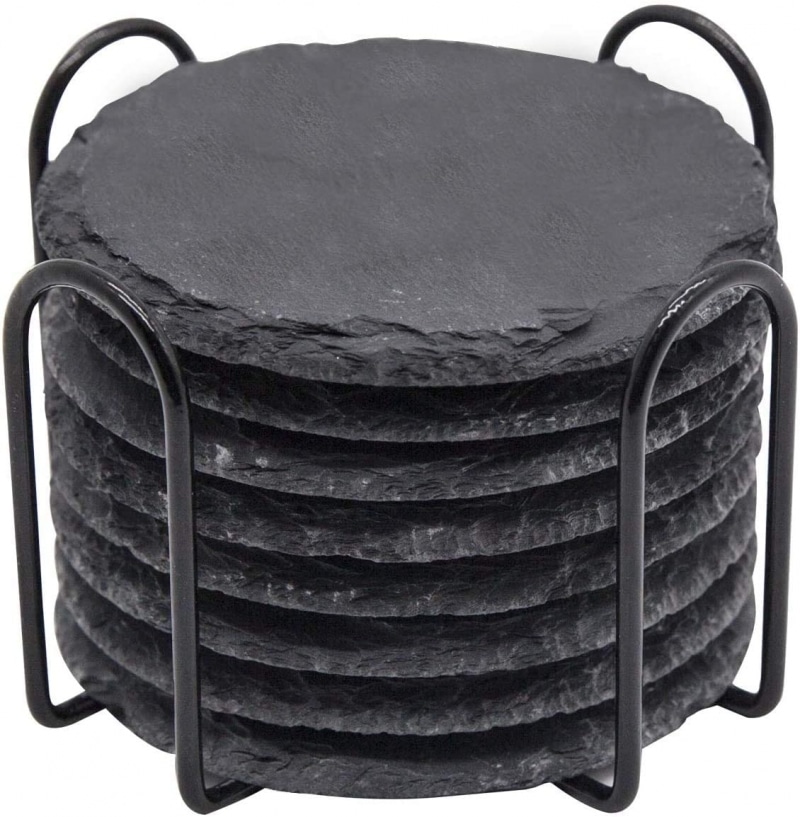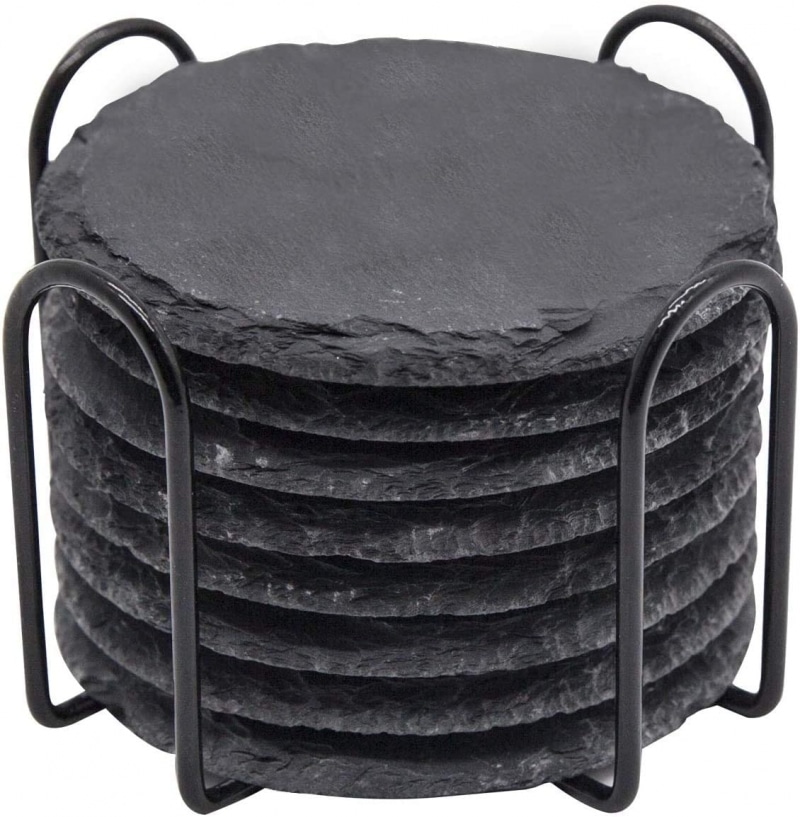 Are you looking for a cool and classy stone coaster to fit the theme of your house?
Here we have a perfect set for you. This set of 8 coasters and its shiny black iron holder are from GOH DODD. Each coaster has a diameter of 4 inches and a height of 0.19 inches. And the diameter of 4.72 inches and 2.95 inches in height for its rack.
They're handmade coasters, constructed from natural stone. These GOH DODD Drink Coasters are also toxic-free and deodorized. Again, each of them has 4 EVA bumper pads as their support to prevent your cups from spilling or slipping.
Their simple yet classy looks allow them to fit with many types of glasses such as tumblers, lowball, mugs, mason jars, highball, flasks and so on. They're also a great gift for housewarming or birthdays. This item is available in two colors which are gray and black.
1. Juvale Wood Coasters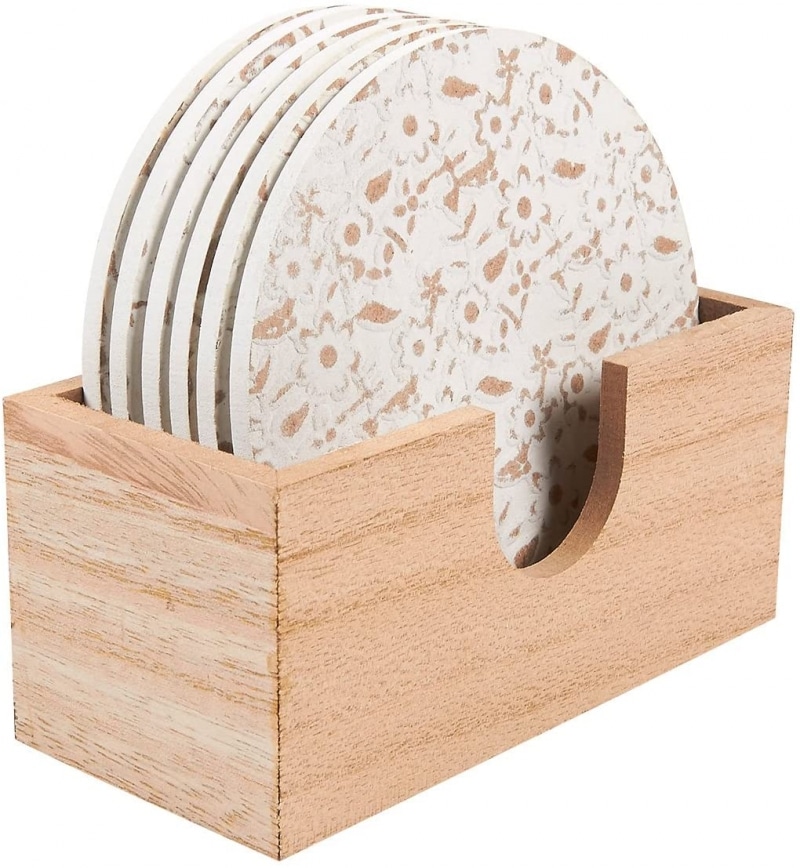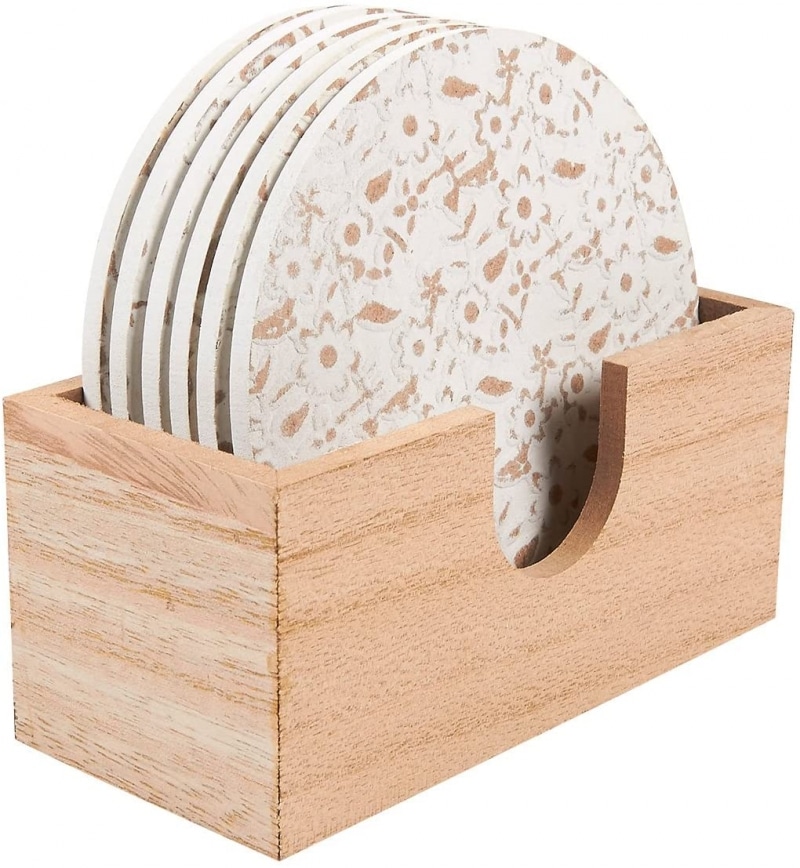 This elegant set of 6 coasters are from Juvale. The whole product has a size of 4.49 inches in length, 2.01 inches in width and 2.09 inches in height. And each coaster has a diameter of 3.8 inches.
Both coasters and holders are made from wood. They are multicolored. Plus, the design is very simple yet super stylish. They're covered in white paint and some areas on the top that were left unpainted show the shape of flowers leaving the item a vintage appearance which is breathtaking for most of us.
To prevent them from causing any stains or scratches to your countertop, table and any surface, Juvale has added three white round rubber pads on the bottom of each product.
So you don't have to worry about any damage to your furniture while using this product. As you know, some wooden tables cannot endure hot drinks. It tends to leave glass stains or spots on your furniture. This added another reason for you to purchase Juvale Wood Coasters.
Furthermore, they are easy to keep too. All you need to do is use a dry or steamy cloth to clean them up after using and put them back in the holder.