To keep the taste of the coffee fresh, the build-up residue needs to be gotten rid of from your coffee machine. The truth is coffee beans or grinds contain coffee oil that attaches to the coffee machine every time you use it. Therefore, it is essential to clean or descale your machine regularly. But, how often do you clean your coffee machine? and what do you use to clean it.
The short answer is, you definitely need cleaning brushes for your coffee machines right now! Cleaning brushes have the ability to go through every angle of your espresso machine to make sure that every part is clean. So, here we are introducing you to some helpful items from different brands for your machine cleanliness. We have selected several products that receive a lot of positive comments from customers who have purchased these items already.
Since these are all amazing items you might be having a dilemma to choose. But, we are sure that whichever you choose among these, it will be a great product that will help you.
List of The Best Cleaning Brushes For Coffee Machines in 2023
10. Urnex Scoopz Coffee and Espresso Machine Cleaning Brush


The slim shape of this brush allows you to have a comfortable time cleaning your espresso machine. Urnex Scoopz Tool For Coffee and Espresso Machine Cleaning Brush is 23 cm tall which is long enough to reach every corner. The slick design with multi-purposes provides an ergonomic handle and a small brush head with a detergent measuring scoop on the other side.
Each scoop equals 1.5g, measuring the amount of detergent that should be used can be easier and more accurate with this coffee machine brush. Made with effort and care, the bristles are strong and durable for long-term use.
9. Bretani Coffee Grinder Cleaning Brush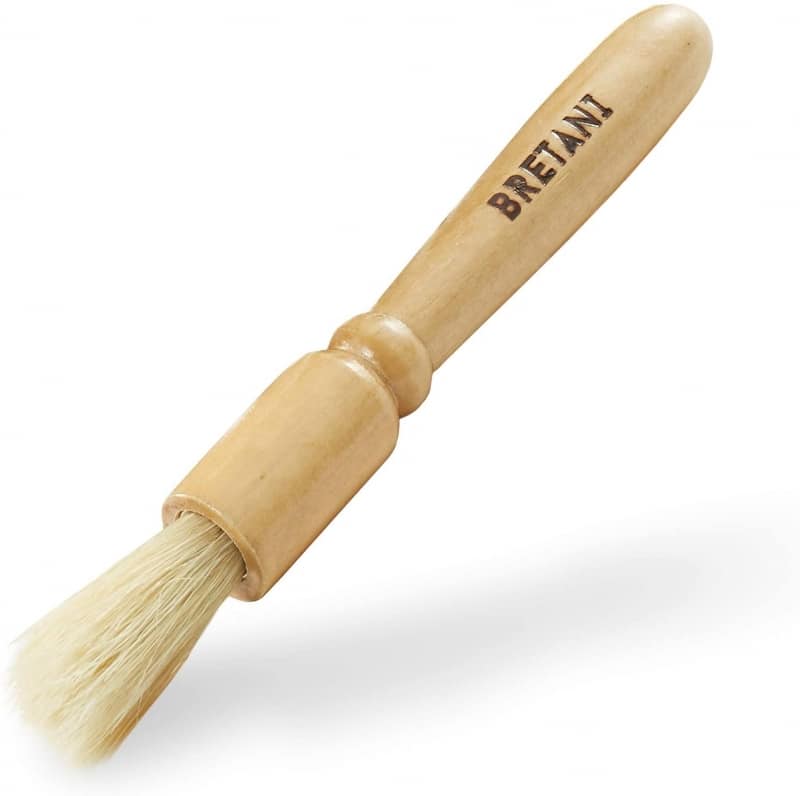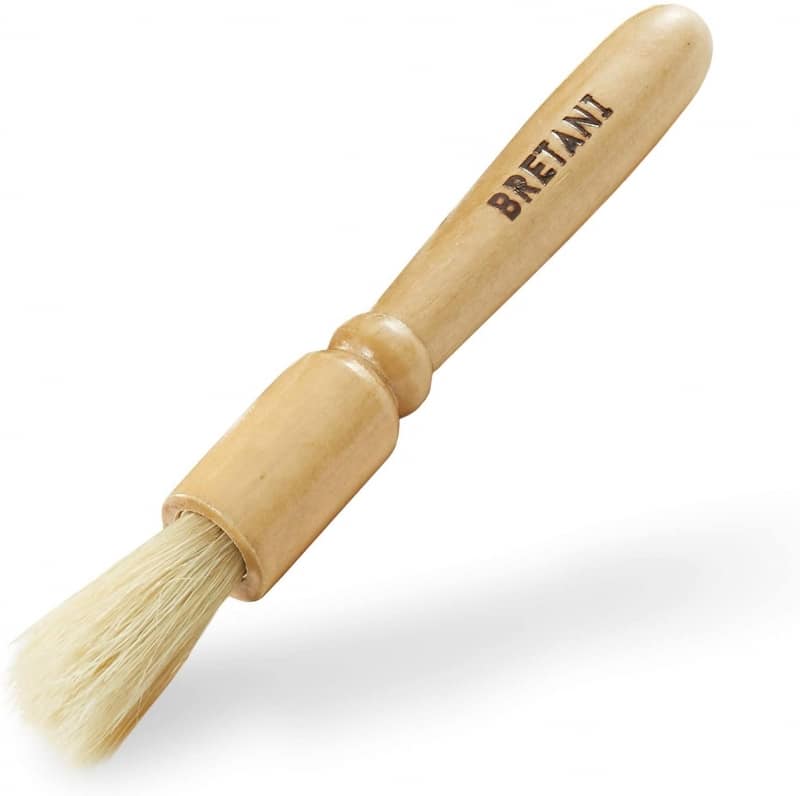 Maintain the quality of your espresso machines and your coffee like a professional with this Bretani Coffee Grinder Cleaning Brush. The simple design made with natural material gives you a refreshing mood to do your chores. In addition, the handle is made of wood with a height of 5.75 inches that will provide a comfortable grip for everyday use.
The bristles are soft enough to dust away any residue or coffee grounds that stick onto the machine or the filter, yet strong enough to stay in shape for years. Apart from that, you can also use it to brush other equipment in your kitchen.
8. ACKLLR Coffee Grinder Cleaning Brush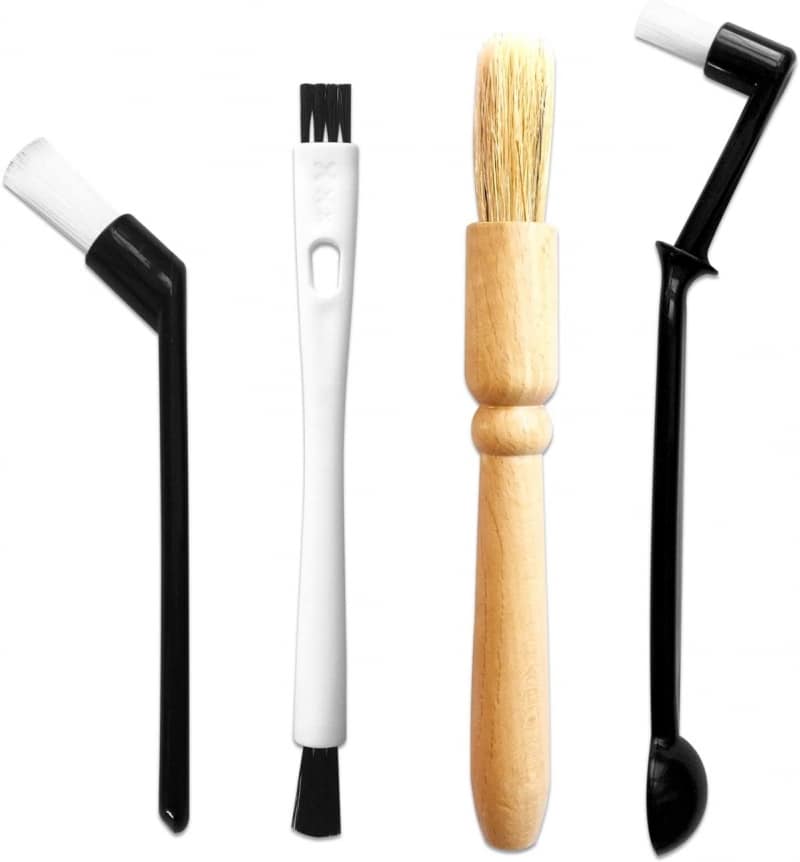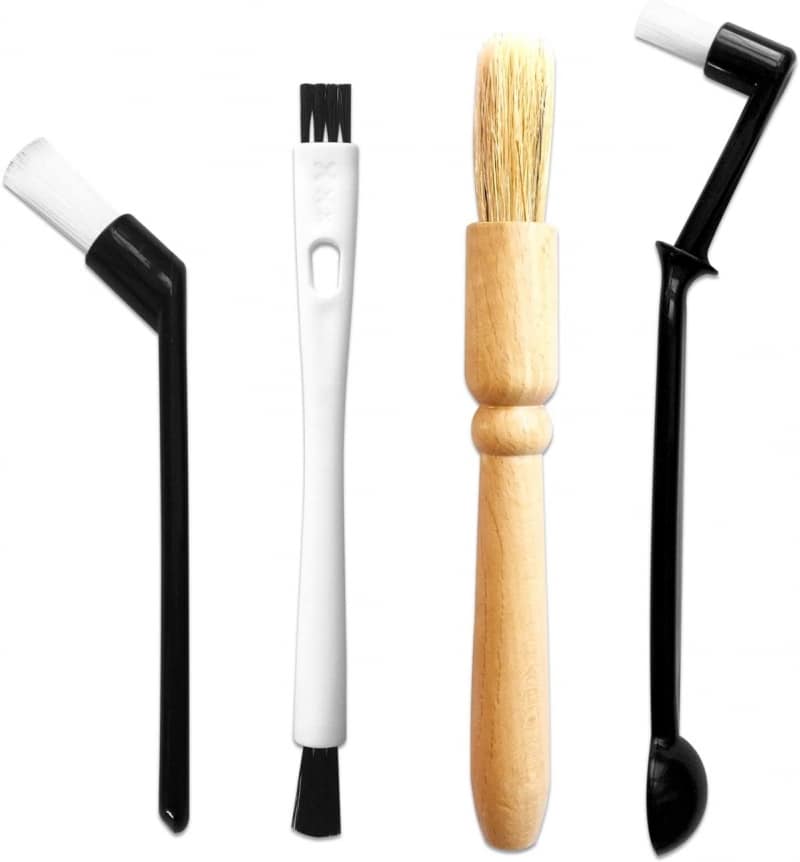 These will be your next favorite kitchen tools. ACKLLR Coffee Grinder Cleaning Brush is a 4 in 1 package that includes all the functional brushes for coffee makers. This package got 1 Big Coffee Grinder Brush, 1 Medium Coffee Grinder Brush, 1 Small Coffee Grinder Brush, and a Long Handle Coffee Grinder Cleaning Brush. This diversity of sizes and heights will dissolve your inconveniences while cleaning your machine.
The long coffee grinder brush is to clean somewhere that is hard to reach, easy to clean your group head. The shorter one is for a reachable place of the machine. The round and wooden one is designed to clean an espresso machine and other equipment. And, the one with bristles on both sides can be used to brush off coffee grinds that are left on the coffee grinder. Nothing can go wrong with his set, the best deal ever!
7. BagTu Coffee Machine Cleaning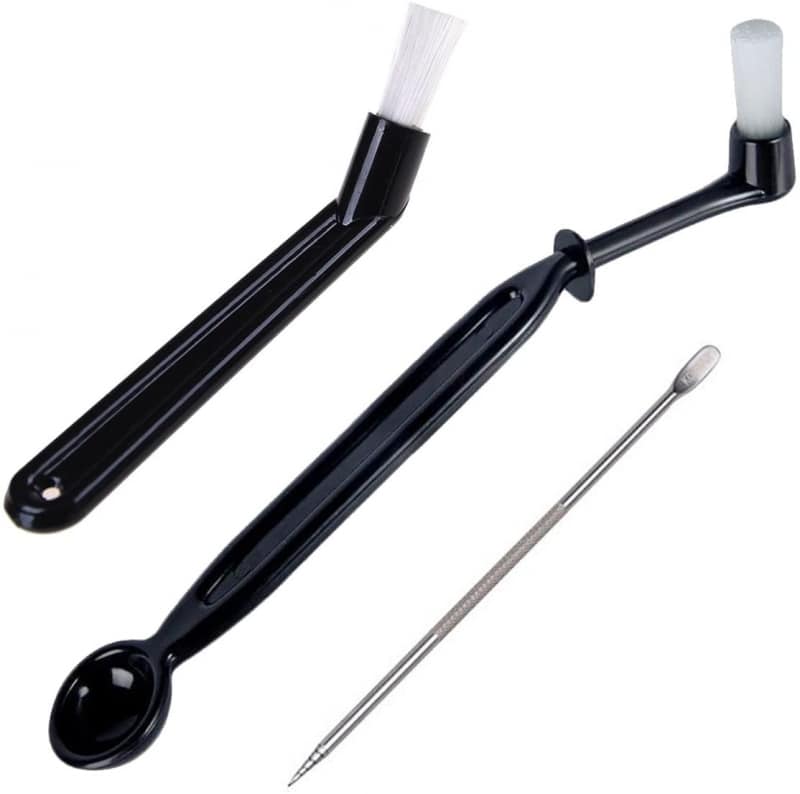 You must know that hygienic is the most important thing about any equipment that you use with something you consume, the same goes for coffee makers. In order to achieve that, proper cleaning is a must. That is why you need BagTu Coffee Machine Cleaning.
This espresso machine group head includes an 8.6 inches long Nylon brush with an elbow design measuring spoon, a shorter brush of 6 inches long, and a coffee art stencil pen to design your coffee. The angle is perfect to clean an espresso machine and the burr blades but also keep your hands safe from hot water.
6. FEENM Machine Brush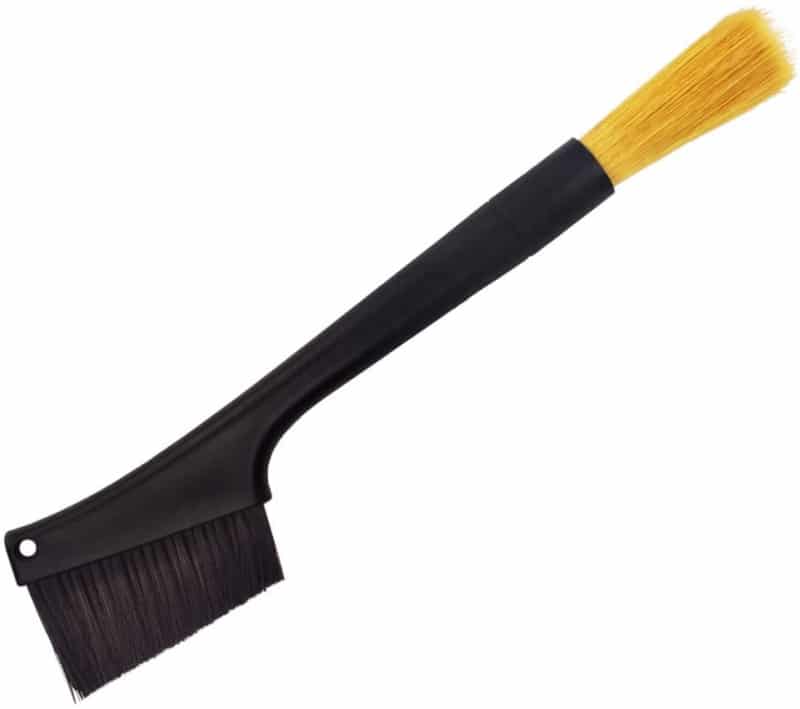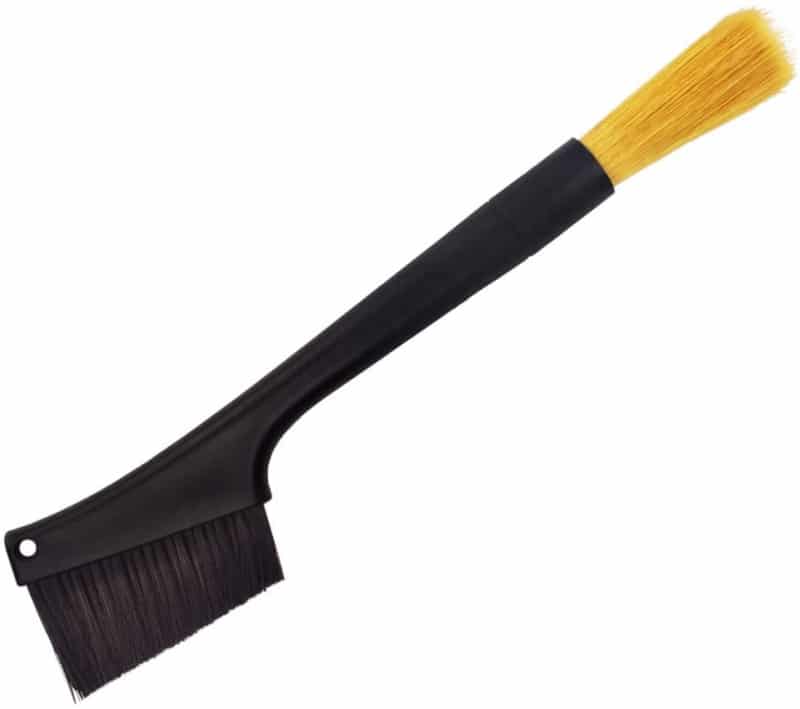 Coffee grounds usually fall onto the machine while you brew coffee. So get quick and easy cleaning with this FEENM Machine Brush. This brush has a length of 10.43 inches with bristles on each end. Compared to other brushes, this is much larger and longer.
One is a yellow soft grinder brush ideal for everyday use without damaging the blades and the other is a black bristle counter brush. Stiff and sturdy enough to wash off grinds. Easy maintenance and clean if you want to after using. Cleaning a coffee machine filter with this brush couldn't be easier!
5. SPIRIT Store Group Head, Coffee Grinder Brush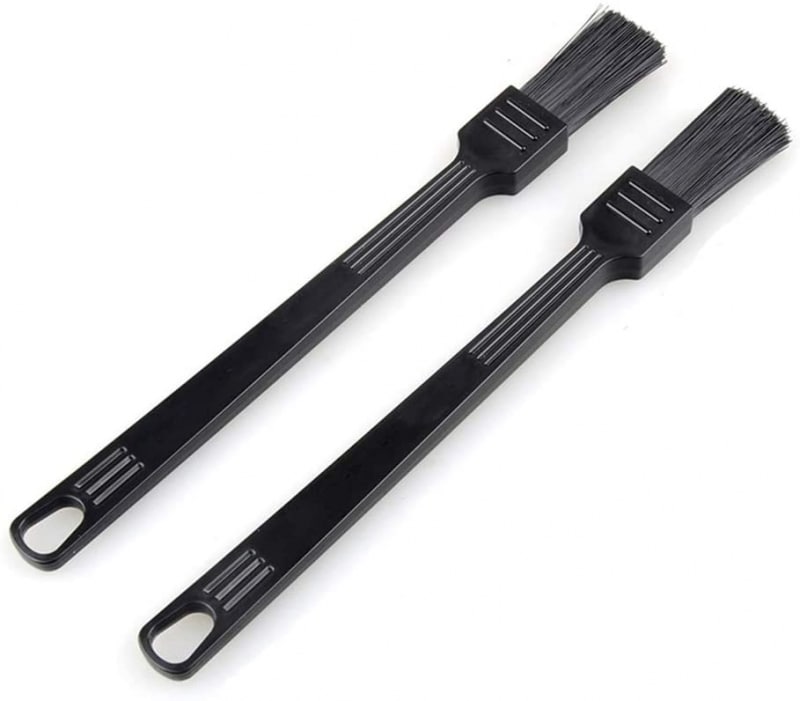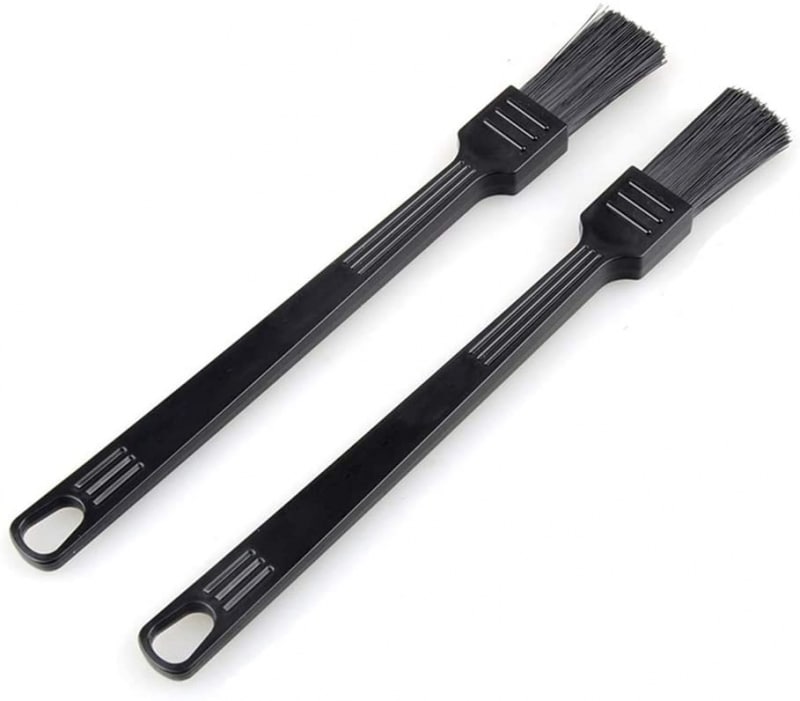 If you brew coffee often, you might need this. Clean your coffee equipment like a professional barista with SPIRIT Store Brush. This package comes with 2 brushes each and their length is approximately 19 cm long.
The handle is made with plastic, it is designed to clean in every nook and cranny. The bristle's shape is flat and black. Moreover, there is a hole at the end of the brush to hang in the kitchen. This is a multi-functional cleaning brush that can be used for pasta makers, food processors, and many more.
4. Squeak'n Clean Coffee Pot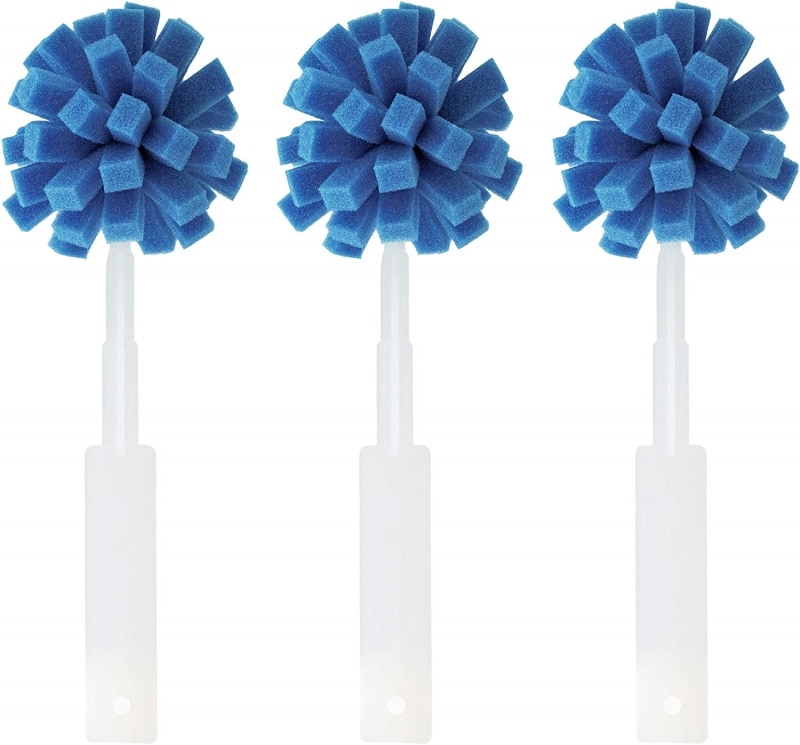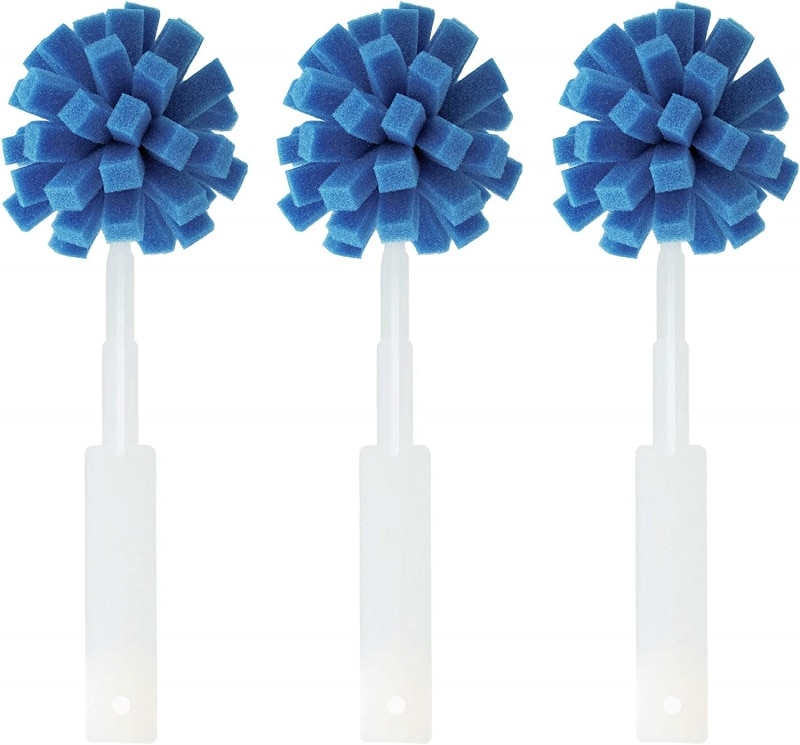 This may look like Coronavirus but it is here to wash away the virus! Coffee causes stains on your coffee pot or coffee cup and it is hard to wash, right? Squeak'n Clean Coffee Pot is here to help you keep things clean. Additionally, it comes with a set of 3. They have multi-sponge assemblies to make a round shape with a long plastic handle for sturdy grip to reach further and wash off all those stains, odor, or build-up residue. Cleaning coffee pots, coffee cups, jars, or containers in your shop is much faster if you have these. You hope you found this sooner, don't you?
3. Bunnsaver Coffee Pot Cleaning Brush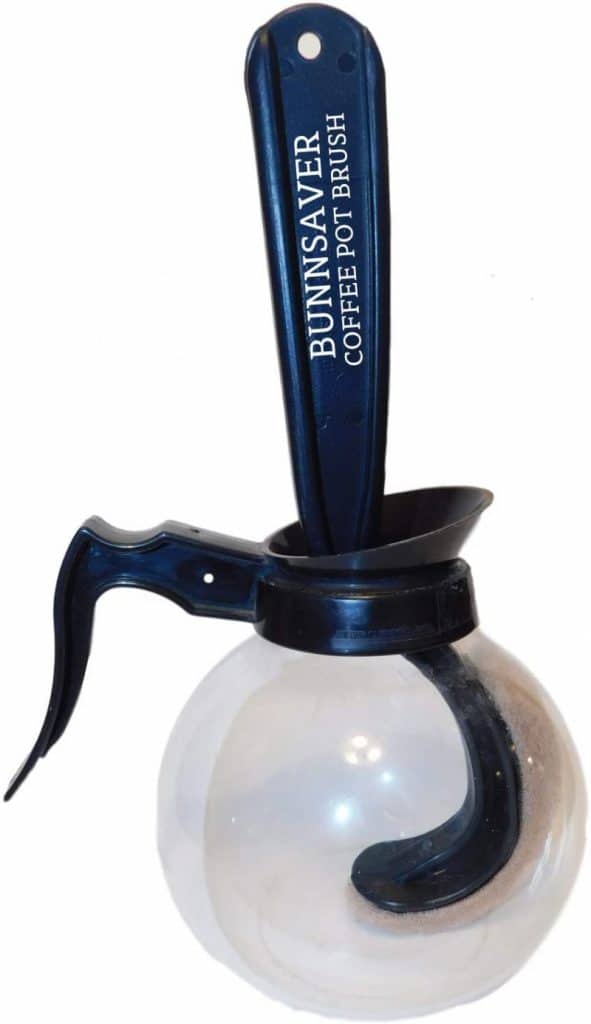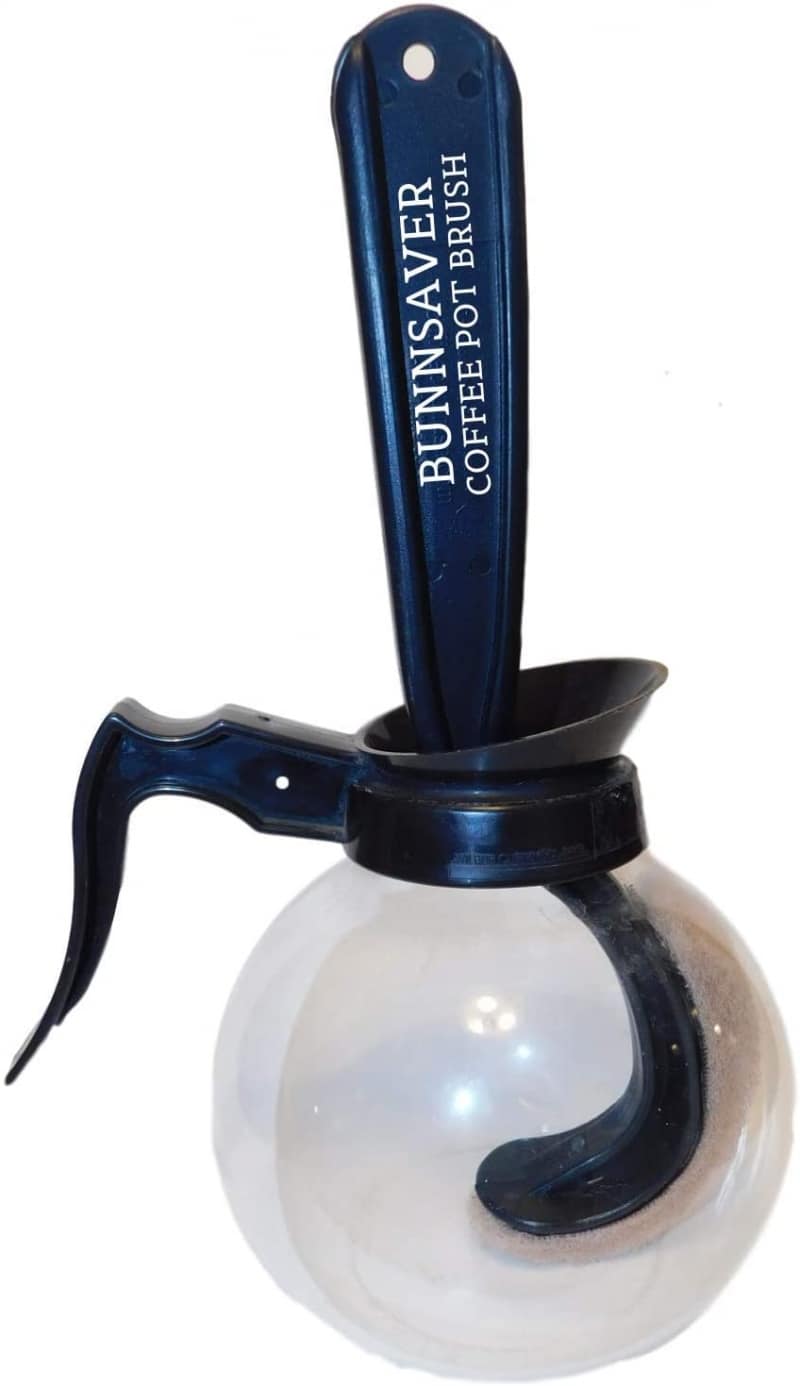 Be a help to our environment by using this Bunnsaver Coffee Pot Cleaning Brush! This is an eco-friendly product that makes recycled plastic bottles both the handle and the cleaning pad. The cleaning pad of this brush is removable, replaceable, and reusable.
When the pad gets dirty, you can just take it off to wash and put it back when it dries up. Of course, you can change to a new one whenever. The curved brush allows you to clean your coffee glass mugs or pot without bending and the thick pad is durable for long-term use too. If you compare it to the one with bristles, this brush doesn't fall out as bristles do
2. Zhehao Store Coffee Machine Cleaning Set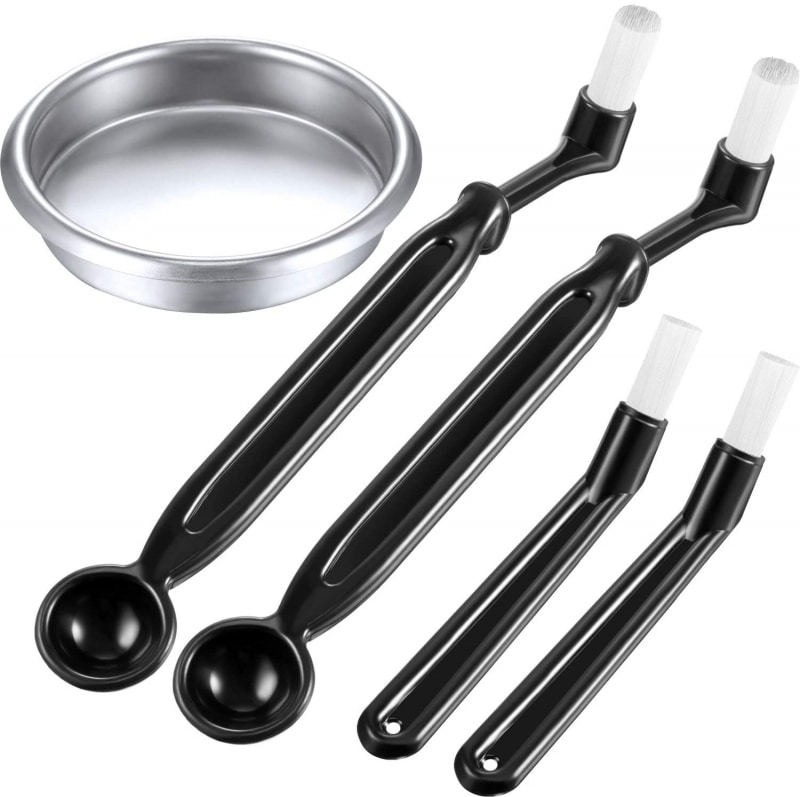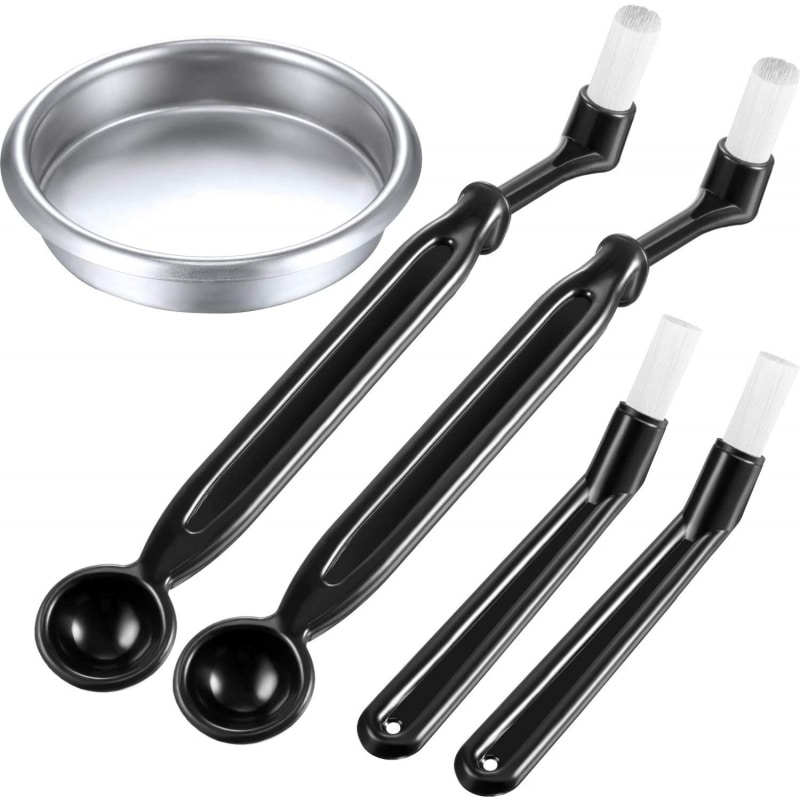 This coffee cleaning tool with a helpful design of Zhehao Store Coffee Machine Cleaning Set comes with 4 brushes. There are 2 coffee machine brushes with a spoon, 2 original brushes, and one 1piece of 58 mm stainless steel blind filter, the best combo for the best cleaning experience.
The practical shape and the deflecting fins to keep your hands safe from hot water while cleaning can get your coffee machine clean every corner as well as tight spaces. Nothing is better than having comfy tools for comfy tasks.
1. Pallo Coffee Tool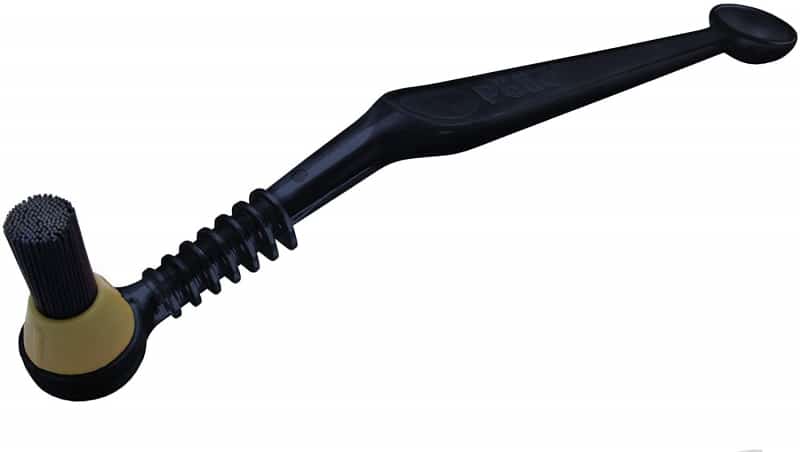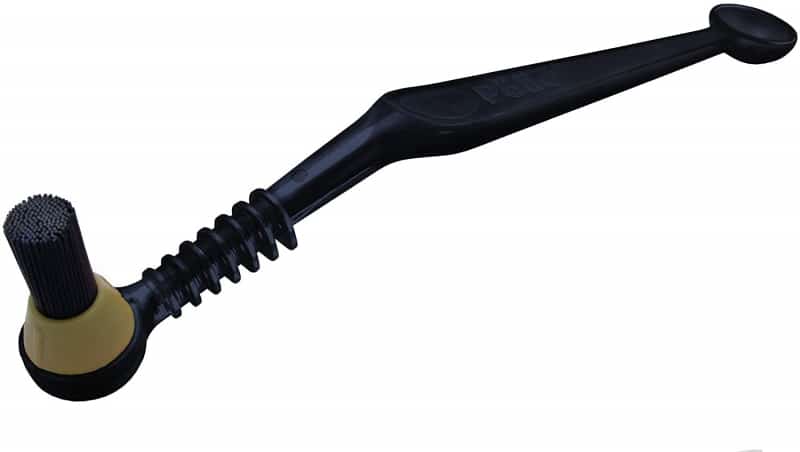 It is sad to say that this is our last coffee cleaning tool recommendation and that is Pallo Coffee Tool. Coffee machine maintenance is essential! Not to disappoint you, the unique design with water deflecting fins keep your hands cool and dry while back flushing and a measuring spoon at the end.
This 9 inches long brush is slim and long enough to clean the group head, grinders especially the shower screen. The other advantage is the nylon bristles replacements availability when the bristles are getting less stiff. To consume coffee healthily, this kind of tool can't be missed!